Well, the sun is shining today! And it's a whopping 7* outside!
That's not the kind of sunshine I have on my mind!
In case you haven't heard me mention it before, I am so.over.winter. It needs to be done, and gone. And never come back, as far as I'm concerned.
So, today, instead of complaining about the cold, I thought I would link up with Peach State of Mind and Life in the Lowcountry to write about sunshine on my mind!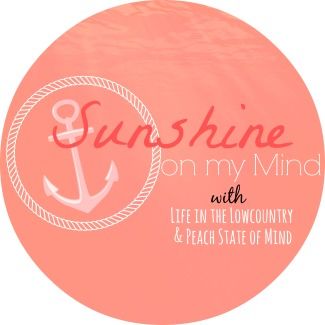 And NOT cold sunshine. No, I'm gonna recap the best sunshine I have ever experienced…the sunshine from my honeymoon!
THAT was the best vacation of my life. It came right after a full semester of college, on top of planning a wedding. Plus, it was just me and Theo, and we soaked up every minute of it!
Theo planned the whole honeymoon, and I did not know until we got on the plane where we were going. He told me what kinds of clothes to pack, and I knew I needed my passport, but that was IT! It took so much stress off my shoulders to know that I only had to plan the wedding (as if that isn't hard enough!)! And so there we were…two young newlyweds headed to Punta Cana, Dominican Republic!
We stayed at an all-inclusive resort…for 10 days. It was fantastic. I'll let these pictures tell the story. Now THIS is the type of sunshine that I have on my mind…
Ahhhh, now looking through all those pictures was a delightful break from the cold!
Now can we go back, pleeeaaasseeeee?
What about you? What was your best vacation, or where do you want to go this summer? Link up, post about the sunshine on your mind!