A couple weeks ago, a friend told me about the Dayton Mother's of Twins Consignment Sale, where members of the club collect and sell baby/children items. It's like a ginormous garage sale…but with certifiably good quality items.  I knew it would be perfect for our frugal lifestyle with the little one on the way! Unfortunately, the sale was this morning…and our anatomy scan is on Tuesday. The anatomy scan is when we find out the gender…..
So I armed myself with cash and decided I would just try to buy general baby items and avoid all the racks of gender specific baby clothing. I had my "wishlist" of a bassinet, a jogging stroller, a small activity gym….that sort of thing.
The sale went from 9-12. I was told that I should show up right away. So I pulled into the parking lot at 9:00 sharp. I was shocked and slightly dismayed to find that the line was already at least 200 people long, and stretched all the way around the (HUGE) building. It was a chilly morning, but the line moved quickly as soon as they opened the doors.
Thankfully, there was no pushing or shoving, or yelling or fighting…but there was CROWDS (and every other person brought their strollers…and their twins). I got in the doors at about 9:05 (remember, doors opened at 9), and went straight for the infant room, where all my wishlist items were located.
AND I KID YOU NOT: at 9:05, ALMOST EVERY SINGLE INFANT ITEM (activity gym, swings, bouncers, strollers, bassinets, etc) WAS GONE. 5 minutes in to the sale!!!!! And remember, that was what I was going for. I was actually more SHOCKED than dissapointed about this.
I met up with a friend from church who is due with a baby girl several days before me and we decided to hit up the clothing racks. Like I said before, there was not necessarily pushing and shoving, but you had to stand your ground if you wanted to look at certain clothing racks.
Since I have NO CLUE if we are having a boy or a girl, I started at the girl section and looked for "gender neutral", aka "impossible to find in this modern age". Finally, after looking through HUNDREDS of absolutely ADORABLE dresses, skirts, leggings, and tops I moved onto the boy section, where I did the same thing, picking through hundreds of ADORABLE onsies, pants, and shirts to find some gender neutral ones. I did end up buying some boy and girl outfits that are very gender specific. If they had a good price, and they were adorable…I couldn't resist. I figured when I find out, I can either give away the ones that won't work, or sell them to Once Upon a Child. Right?
I ended up with a bathtub, a car seat (yes, yes…I know. And it's approved. And non-expired. And never been in an accident. And frankly…you can give me the whole spiel or you can buy me a new car seat. Deal?), some maternity tops, and a bunch of baby clothes. All for $80.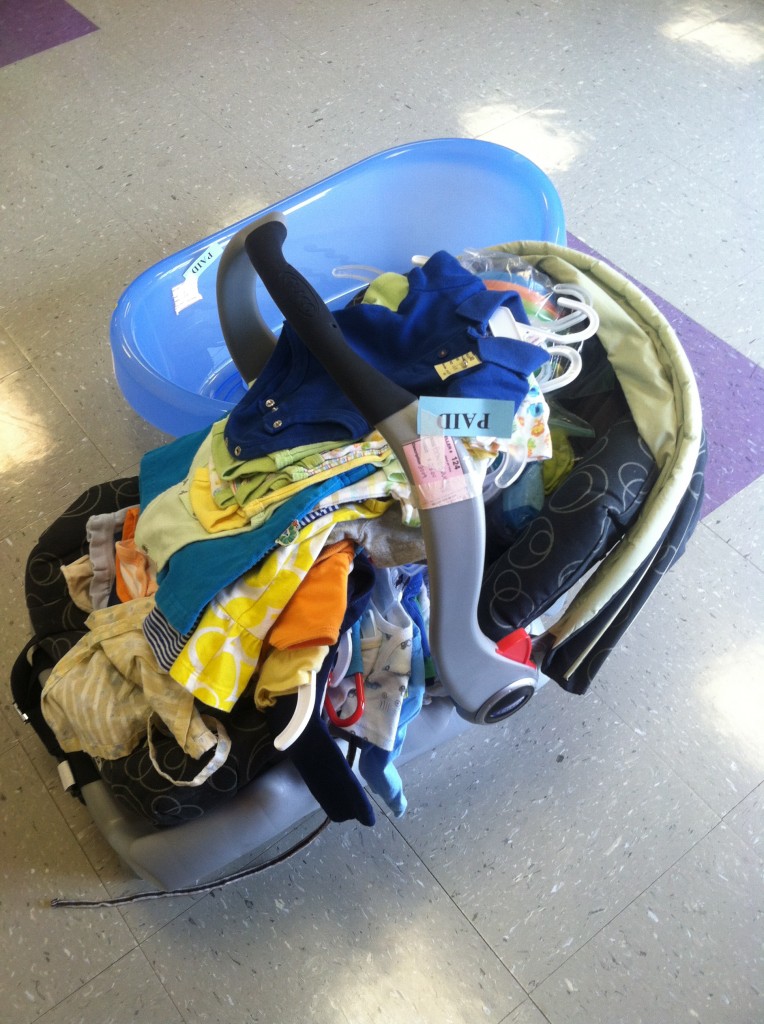 I got to the car, threw the carseat in the backseat, then took it out and rearranged it so that it looks legit. It was another one of those moments, "We are having a baby. WE ARE HAVING A BABY!"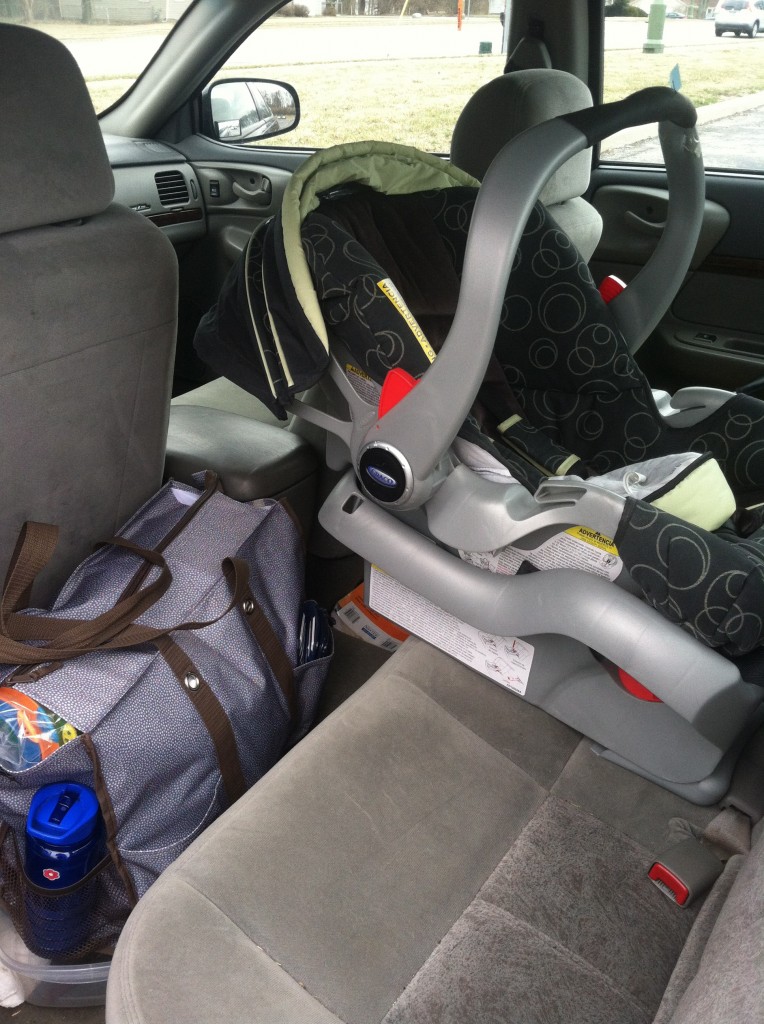 When we got home, I sorted through everything (mostly yellow, orange and green…), and unpacked this gem. I had glanced at it, thought, 'cute', and threw it in my pile. Maybe it's the teacher in me, but ISN'T THIS THE MOST ADORABLE THING???? And it gets better…the little hand mitts and the socks RATTLE! I almost cried.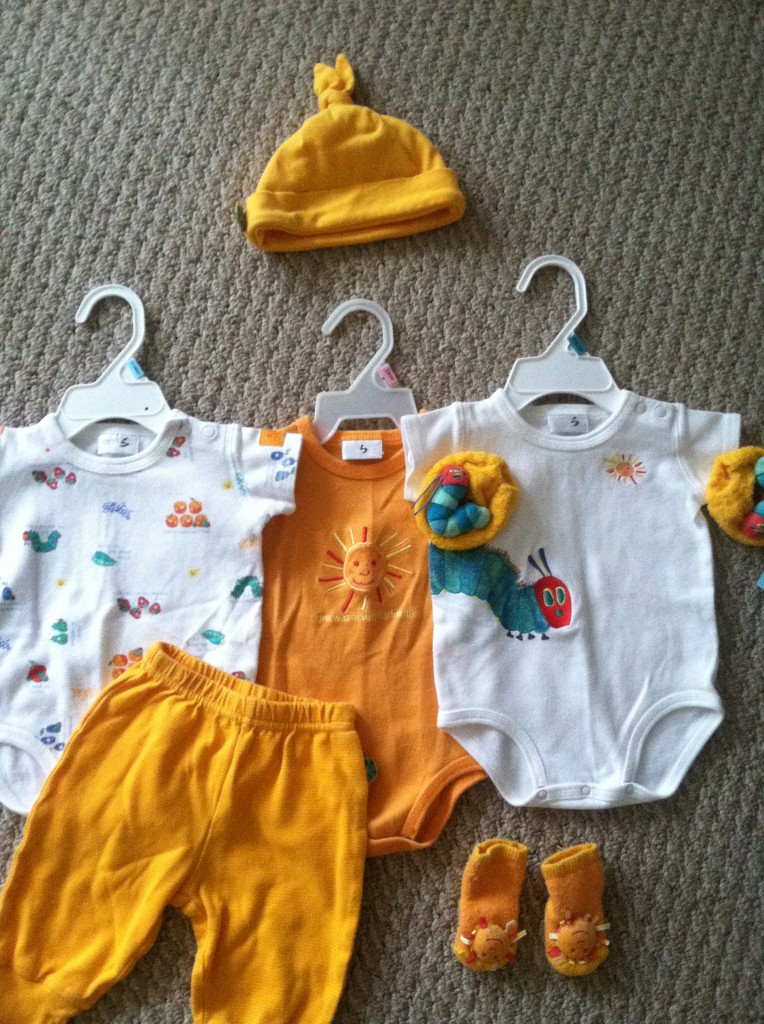 And then I flipped over The Hungry Caterpillar onsie…
It says, "but he was still hungry" Isn't that the cutest thing???
And in other baby news…
On Friday, I was trying to fit (unsuccessfully) in a narrow space, and one of my student (a boy) pipes up, "Ms. Suzanne, you are getting FAT!" The girls all disagreed, and I explained to the poor boy that he should say, "You are getting bigger", instead of "you are getting fat". Hahaha.