How Far Along:
22 weeks!
(Also, I didn't put much time/effort/energy into my chalkboard this week…whoops)
Size of Baby:
The size of a spaghetti squash….weighing in around 1 whole pound!
Total Weight Gain:
I honestly haven't checked recently. I'm pretty sure I'm right on track! But THIS is crazy to me: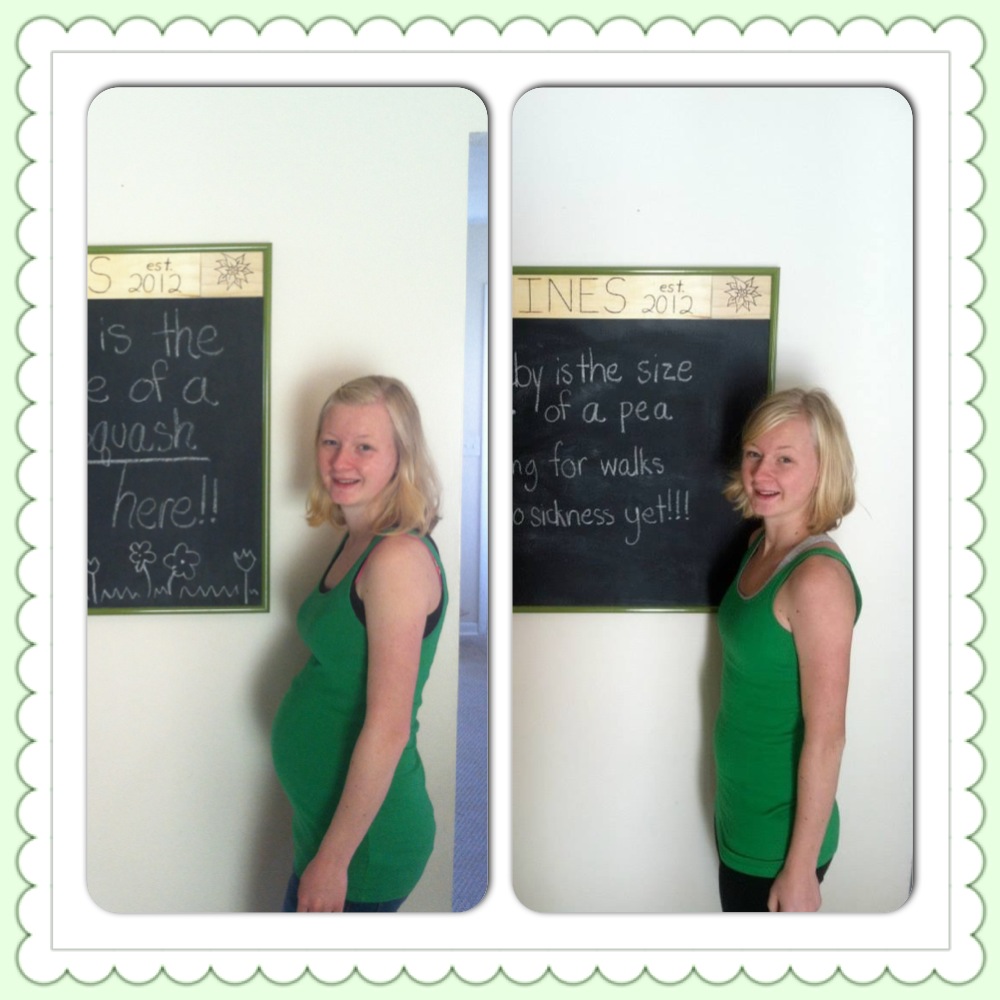 I guess since I was so small before, every single pound I've gained is quite obvious on my body! Oh dear!
And, oh how badly I need a haircut and a tan. Yes, I think that would solve some problems!
Stretch Marks:
Not yet, and no swelling that I have noticed yet, either!
Maternity Clothes: Yeppers! I'm going to visit my brother and sister-in-law this weekend, and I packed ALL maternity clothes. So strange to do, but that's what is most comfortable for me now!
Gender:
It's a GIRL! And she got her very first piece of mail this week! From her Great Grandma and Grandpa. Not only have they shown so much love to baby girl already, but I know that they pray for her by name every single day (along with their children, grandchildren, and other great-children!). What a wonderful blessing for our baby girl!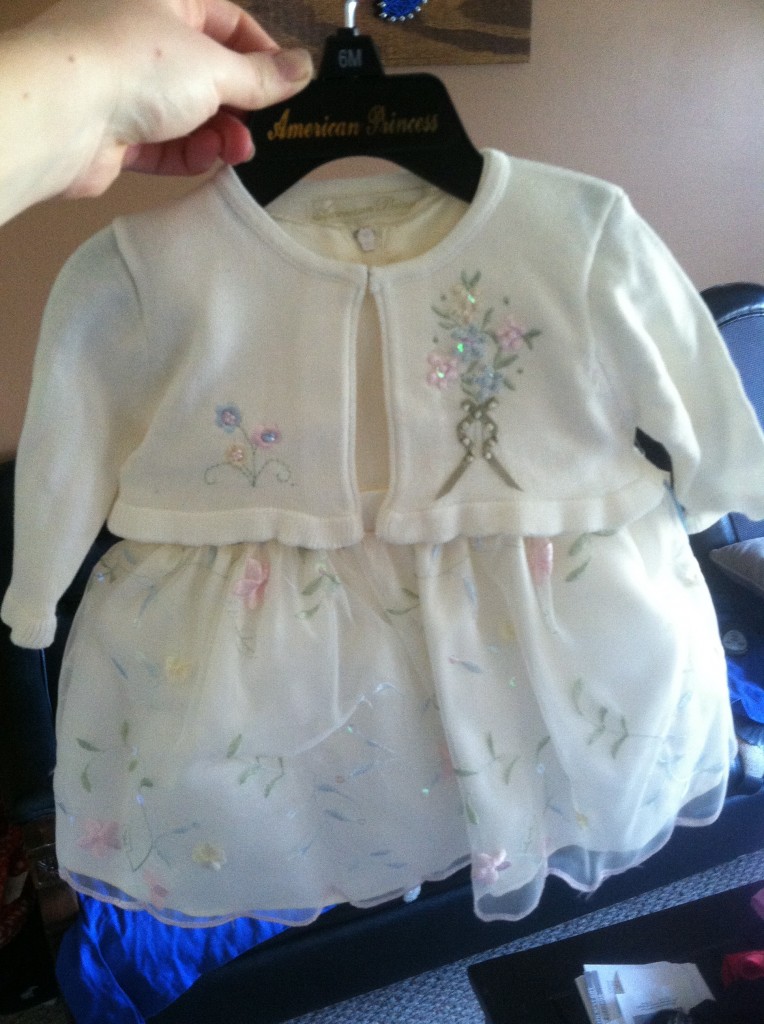 Movement:
In the morning, in the evening and sometimes at work when I sit down. Since I'm moving a lot at work and around many, many screaming/yelling/talking/crying children, I think baby girl will be able to sleep through anything when she comes out (fingers crossed).
Theo has been able to feel her kick and somersault several times now!
Sleep:
Doing just fine, although I never feel like I get enough. This morning my alarm went off at 7:30, and I rolled over and went back to sleep, only to wake up TWO hours later! I NEVER do that, but it sure felt good!
What I miss:
Nothing much this week.
Food Cravings:
At this point, I'll take anything. I have found myself eating a lot of M&Ms, but that happened before I got pregnant, too.
Food Aversions: Nothing new.
Symptoms:
A growing belly, an official outie belly button (NOOOOOOOO!), eating lots and lots, lots and lots of movement, the itch to nest…all the usual.
What I'm Looking Forward To:
Seeing my brother, sister-in-law, and best friend this weekend. The last time I saw them was the day we found out we were pregnant, so I'm SUPER excited to see them.
SPRING, SPRING, SPRING….and then SUMMMMERRRRR!
Worst Moment This Week: Since we are traveling/vacationing this weekend, Theo had to pick up some extra shifts at work. So I haven't seen him since Tuesday night (it's currently Thursday), and he won't be back until tomorrow morning, right when we leave for our trip.
Best Moment This Week: The weather! It's been rainy the past three days, but I'll take warm and rainy ANY.DAY over snowy and cold, like it's been for the past 4-5 months.
Exercise this week: Finally really and truly getting back into it. I still need to work on the running part, but Theo and I have gone for several long walks, and I have been doing simple arm/leg/torso workouts as well as a good stretching session every morning. It seems to work for me, and I love, love, love the happy endorphins the exercise releases! Plus, it really doesn't hurt that it's finally warm out! Did I mention I love the weather???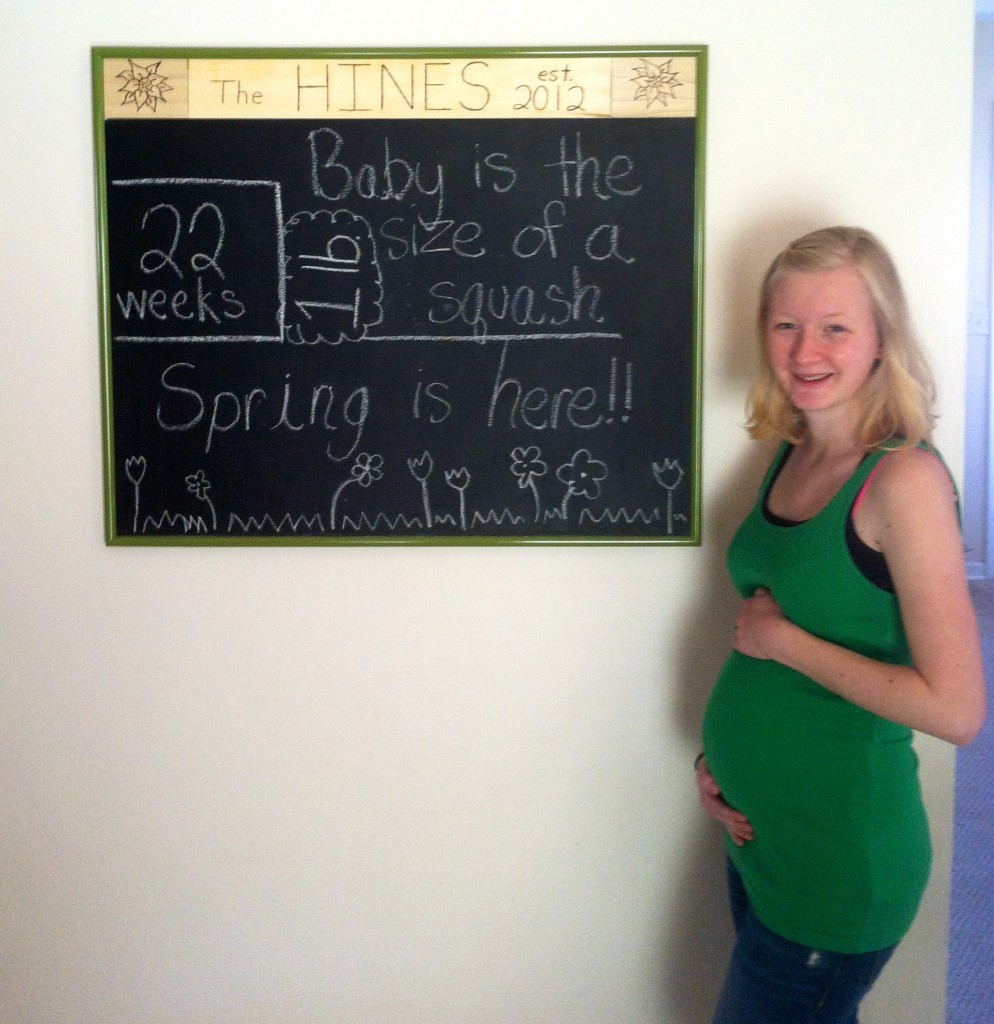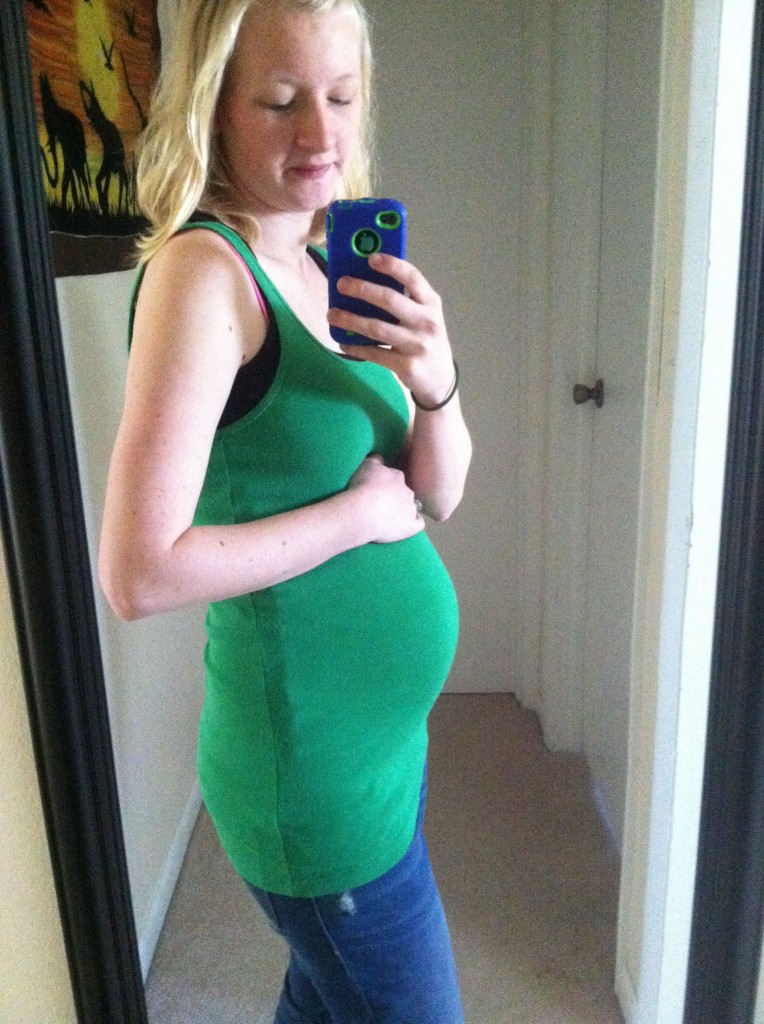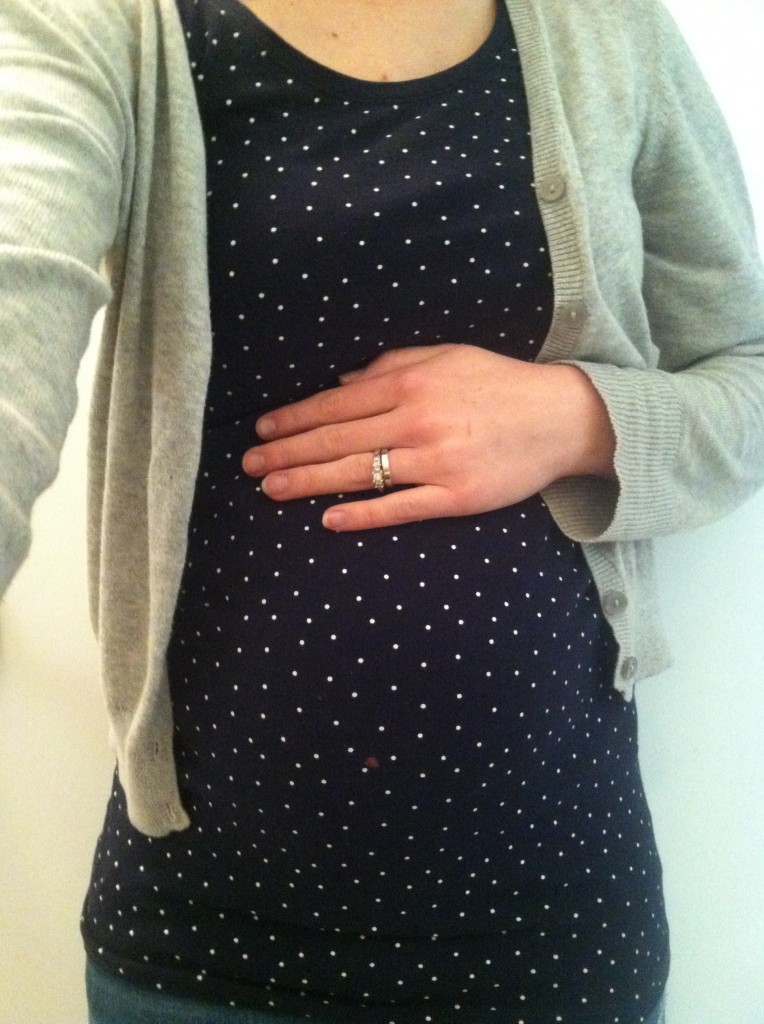 This polka-dot top is from H&M Maternity…it's my absolute favorite.
(So the rule of the world is that I would spill bleach right on the most protruding part, right?)