Sometimes, you just gotta rearrange.
I posted this post a couple of weeks ago, about how I am "nesting", and my living room was driving me crazy. I wish I had a knack for decorating, but alas…I don't.
So I did my best to let Pinterest inspire me, and went from there. Usually, when people do these types of posts, at the end they say where they purchased or aquired each of the items. I will do that, but you may be in for a good laugh when you find out where all the furniture comes from! I am also not totally done. I'd like some more framed pictures, and I'm still tossing around ideas in my head for a small gallery wall. The picture shelf above the desk is about to drive me bonkers in that spot, so it will most certainly be moved sometime in the near future.
As you come in the front door, this is what you see…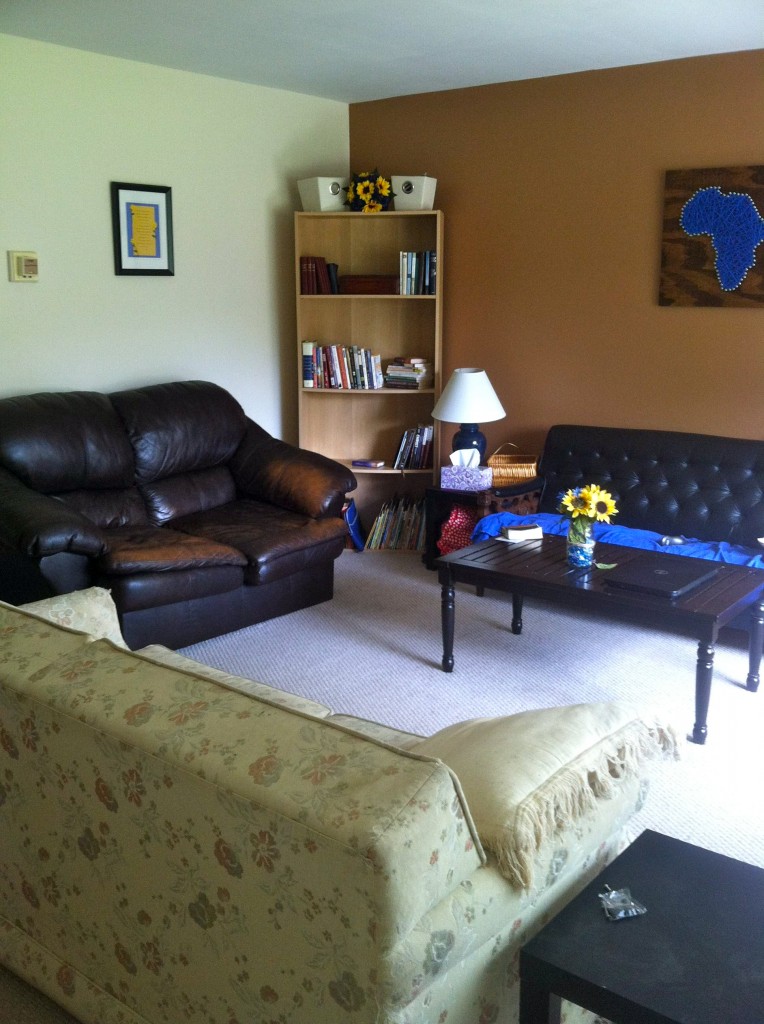 And to your left you would see this gorgeous piece of gorgeous-ness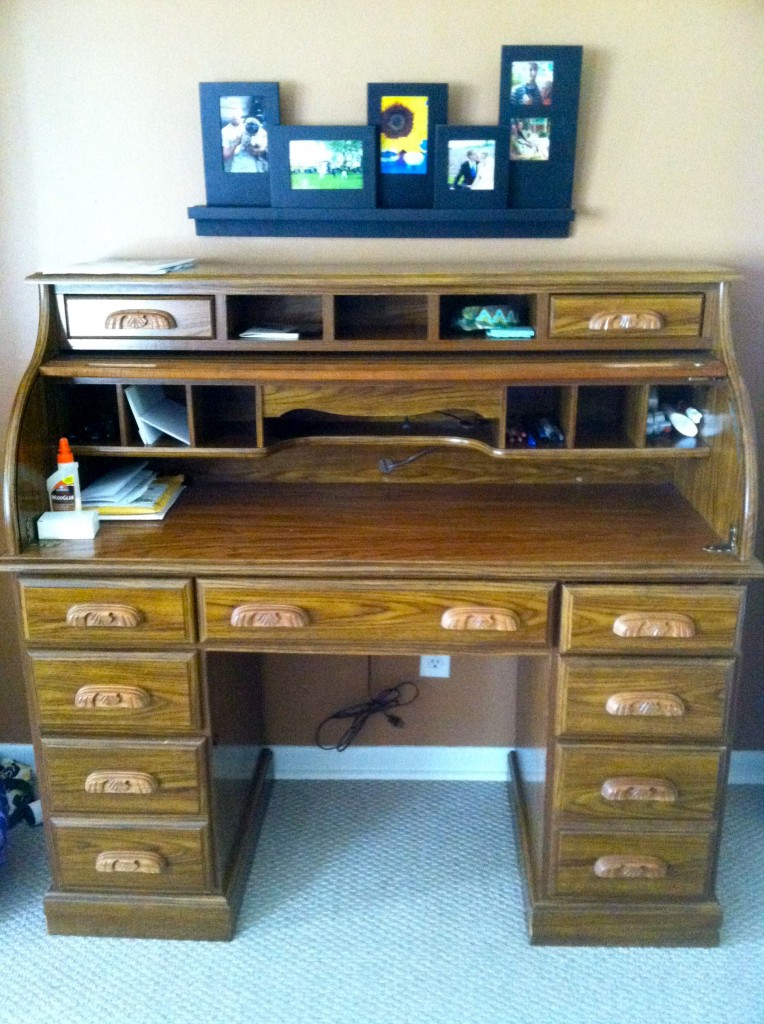 Walk straight, and turn around, and this is the view you have of the living room (now the gorgeous desk is to your right).
Since the window did a horrible job of messing up the lighting in the last picture, here is a shot of the window. I LOVE my window, the curtains and the shelf under the window. Obviously, some more decorating needs to go into the shelf and window-sill. I'm thinking two baskets in the two empty shelves, one for baby girl's diapers and one for her toys.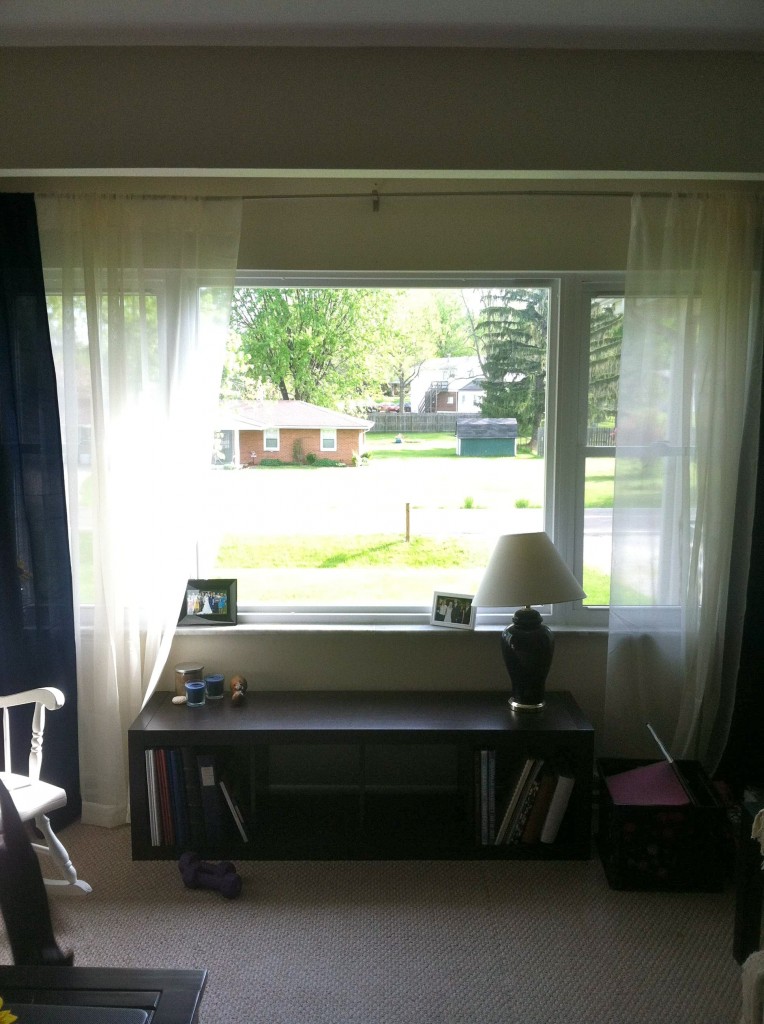 And that rocking chair right next to the window? I LOVE it. If you have a seat in the rocking chair, this is the view you get. Again, I LOVE that window and all the natural light that it lets in.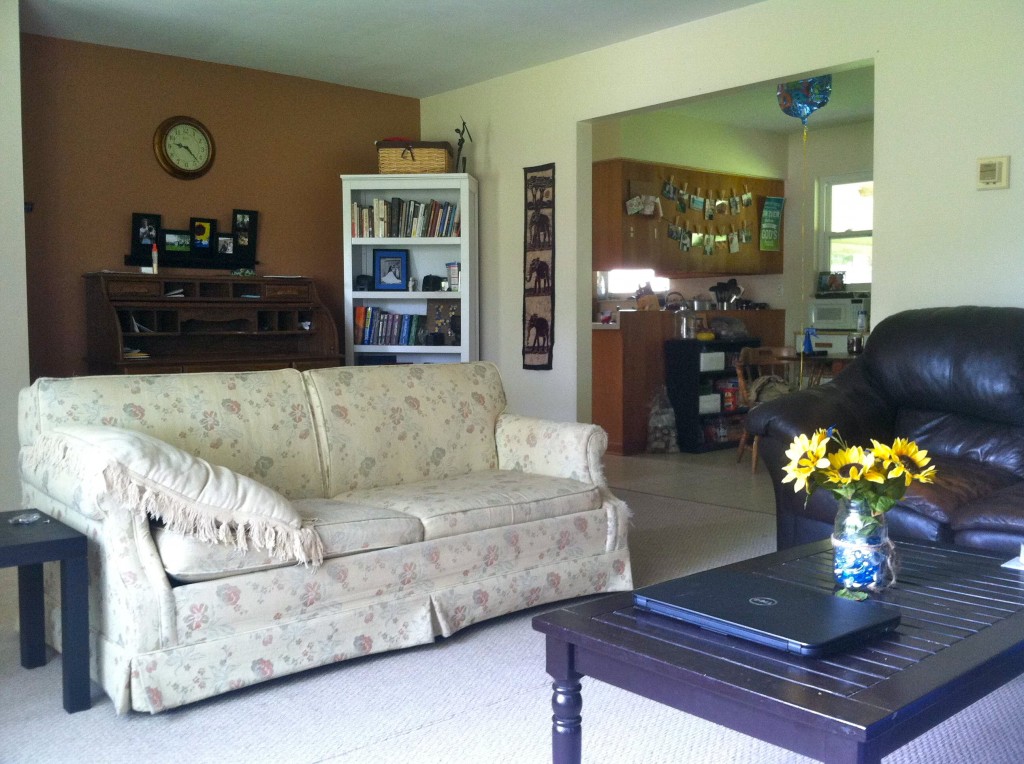 And one last shot from the other corner of the room: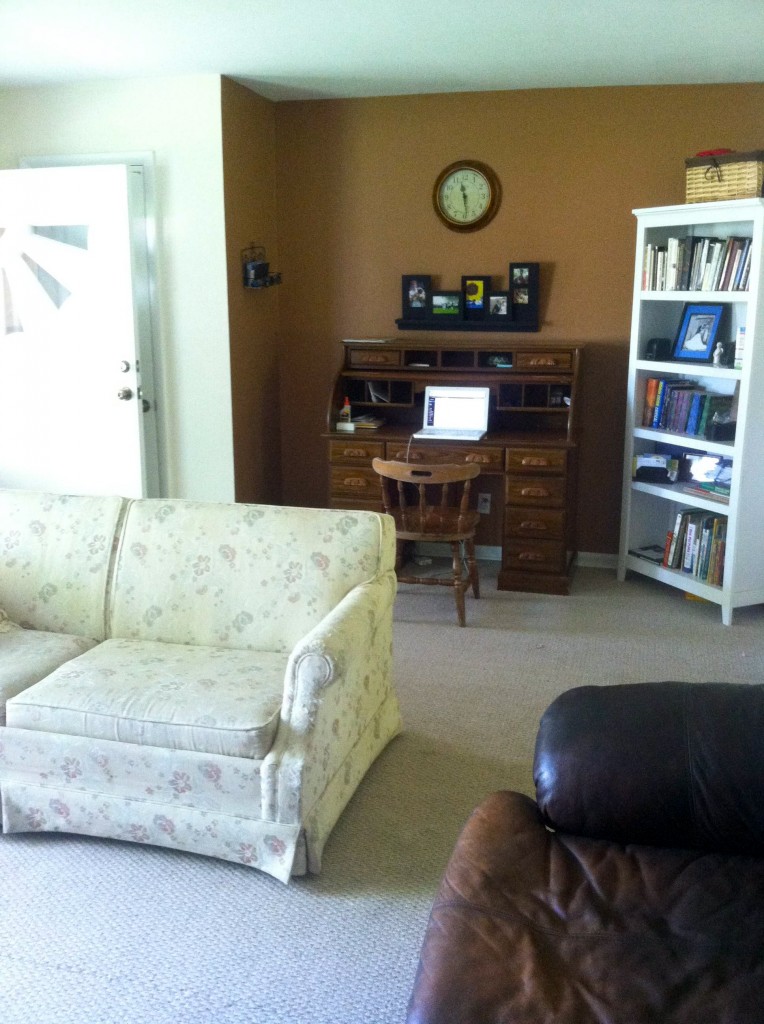 Yes, I have a huge living room, and the way I had it arranged before left so much space. In some ways, I love that, but I was just ready for a change.
Now, for where we got each of the pieces:
Ugly flower couch: // Hand-me-down
Brown Leather Loveseat: // On a curb
Black "Freud" Couch: // In a dumpster
End Tables, Brown Shelf and White Shelf: // Target
Rocking Chair: // Hand-me-down
Shelf under the window: // Walmart (and it was discounted because it was already put together!)
Curtains and curtain rods: // Walmart
Gorgeous Secretary Desk: // Craigslist
Lamps, Baskets and Coffee Table: // Garage Sales
Africa Wall-Art: // Handmade by Theo himself
Decorative Shutter: // One man's trash…. is another man's treasure!
Sooo, now that I have all the furniture arranged like I would like it, who has suggestions for me on the walls? Like I mentioned before, I would LOVE a gallery wall, but I'm afraid it would look too busy and crowded with all the furniture that I have set up. On the other hand, some of my walls are looking mighty blank, and since we will have maternity pictures taken sometime soon, I will have some stellar shots to frame on the wall! What do you think?