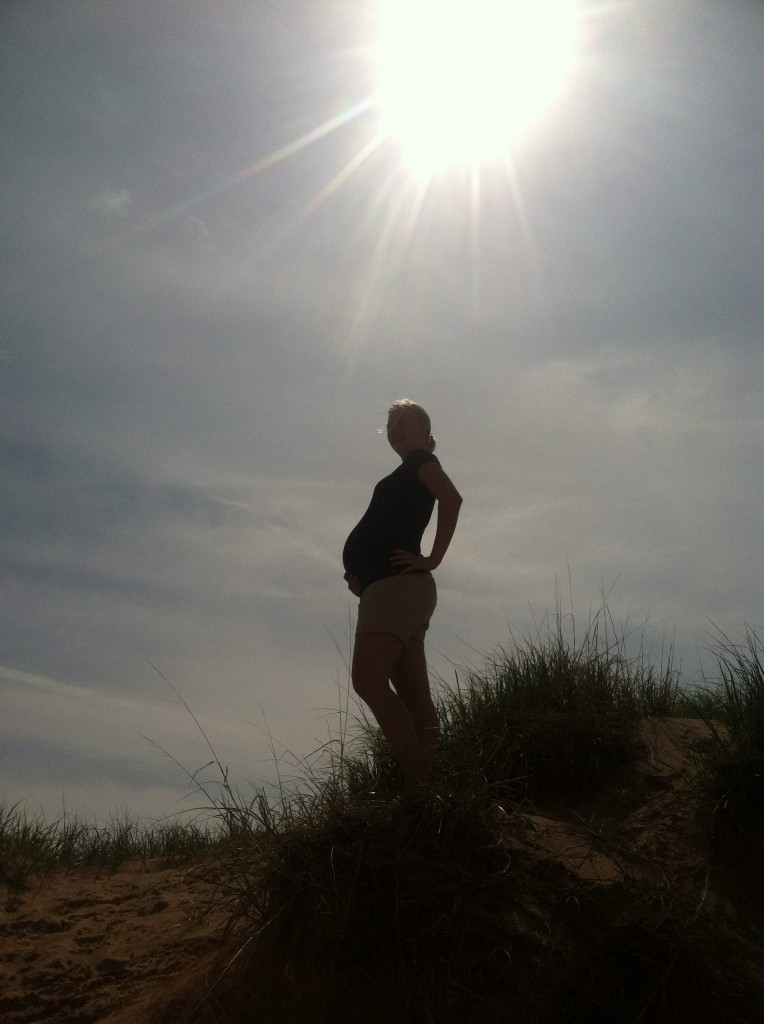 How Far Along: 34 weeks. WHAT? 6 weeks to go???!!!???
Size of Baby: A cantaloupe! My favorite! This is going to be a goooood week!
My app says that baby is around 4.75 pounds! That is really heavy! You try carrying around 5 pounds in an off-balance location! It's no wonder I'm so tired…
Total Weight Gain: Honestly, I don't know. We've been traveling, so I'm assuming that it has gone up more than my pound a week goal, but oh well!
Stretch Marks: First time putting on a swimsuit since getting pregnant, and I found two teeny-tiny marks on my thigh. I *might* have freaked out a little bit. Dang it, I thought I would make it to the end with no stretch marks. I guess not, and that is ok. People don't see my thighs anyways.
Wedding Rings: Still on. No swelling this week, even with all the time I've spent on my feet!
Maternity Clothes: Yes, yes, yes. There is no going back now!
Gender: Baby girl.
Movement: In the morning, at night when I lay down, after I eat. She is still all off on my right side, and doesn't seem to be doing any flipping or moving around my actual womb, just stretching out a lot, punching and kicking me. Sometimes I have a little freak-out when she hasn't moved for a while, so I poke and poke at her. Last night she was clearly NOT pleased with being woken up from her nap, and just jabbed me back half-heartedly once or twice, like "c'mon Moooooom, I'm taking a nap here!"
Sleep: Ah, vacation is wonderful. We've been sleeping in, staying up a little later than usual, and making sure to fit some naps in, too.
….And yet I'm STILL tired.
What I miss: Energy. Feeling like a small person. Going a full day without some weird ache, pain or fluid.
Food Cravings: I've done pretty great this week with my cravings, considering that we have been traveling! Last night I really wanted some ice cream, and sweets are most certainly my weakness!
Food Aversions: Anything strong smelling, lately. It doesn't matter if it's something that I enjoy eating or not…if it smells very, very strongly, it makes me feel incredibly nauseous. Theo and I picked up a rotisserie chicken, and while I love the chicken, and even enjoy the smell, it was very sickening when it smelled really strong. Ugh…sometimes I feel like I'm back to the first trimester!
Symptoms: Exhaustion. Back pain, hip pain. Braxton Hicks. Lots of baby movement. Excitement and nervous anticipation about labor, birth and meeting our baby girl!
Best Moment This Week: Oh, so many great moments. Isaiah and Sarah's wedding, having a vacation with my husband, taking the boat out, visiting the sleeping bear sand dunes, visiting Niagara Falls, time to relax…it's been a pretty great week!
Worst Moment This Week: Lots and lots of painful traveling. We drove from Ohio-Michigan and now are on our way from Michigan-Connecticut for another wedding. Thankfully, we are taking our time and making it a three day journey with no more than 6 hours of drive time a day. But then there is the drive back…. Not kind to my tailbone or my back.
Exercise This Week: Lots of tourist-y walks! And swimming for the first time this pregnancy…it's great, relaxing exercise!
What I'm Looking Forward To: Seeing some good friends tonight, seeing family this weekend, getting a puppy next week (gasp…did that just happen???).
P.S. Sorry that there is not a chalkboard….again. Next week, I promise. But I have some baby bump photos from our travels… 🙂
This was right before climbing up the Sleeping Bear Sand Dunes. They were massive. It was a two-mile hike one way….so four miles round trip. I probably made it about 1 mile in before we turned around. But remember that almost five pounds strapped to my belly? Yeah, that made it so much harder to go uphill!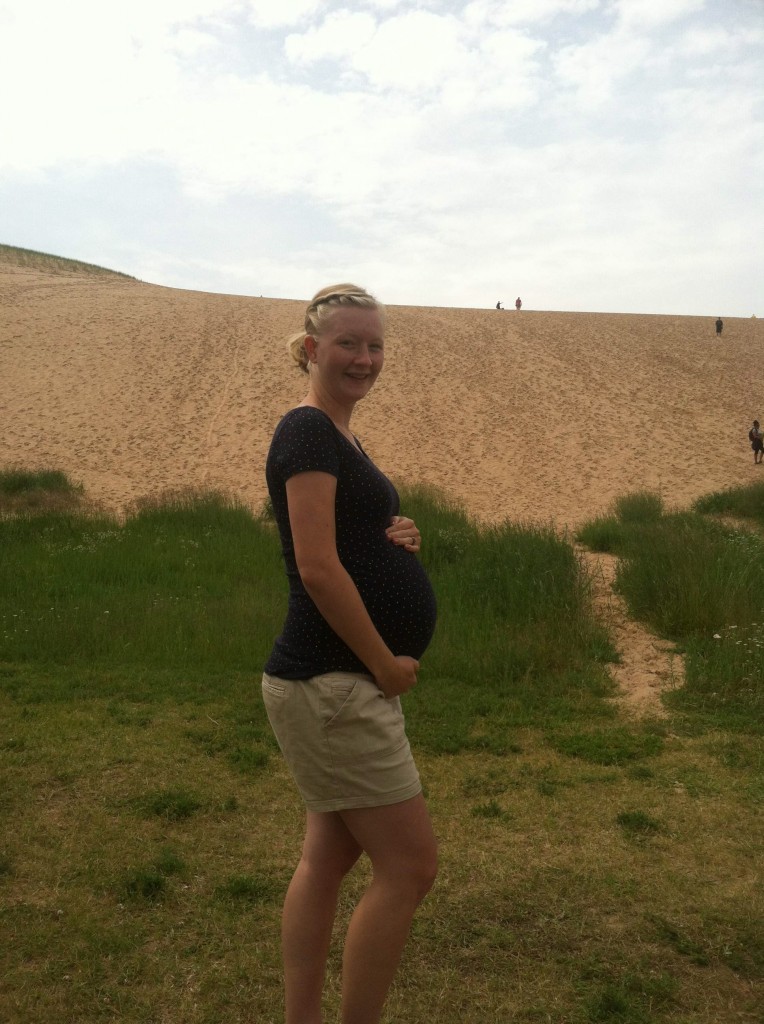 We stopped by at Niagara Falls…and got soaked. What an amazing place. We just stood there and watched water fall for a while….seems like such a boring thing to do, but it's amazing. And everyone is right…the Canada side is way better than the America side.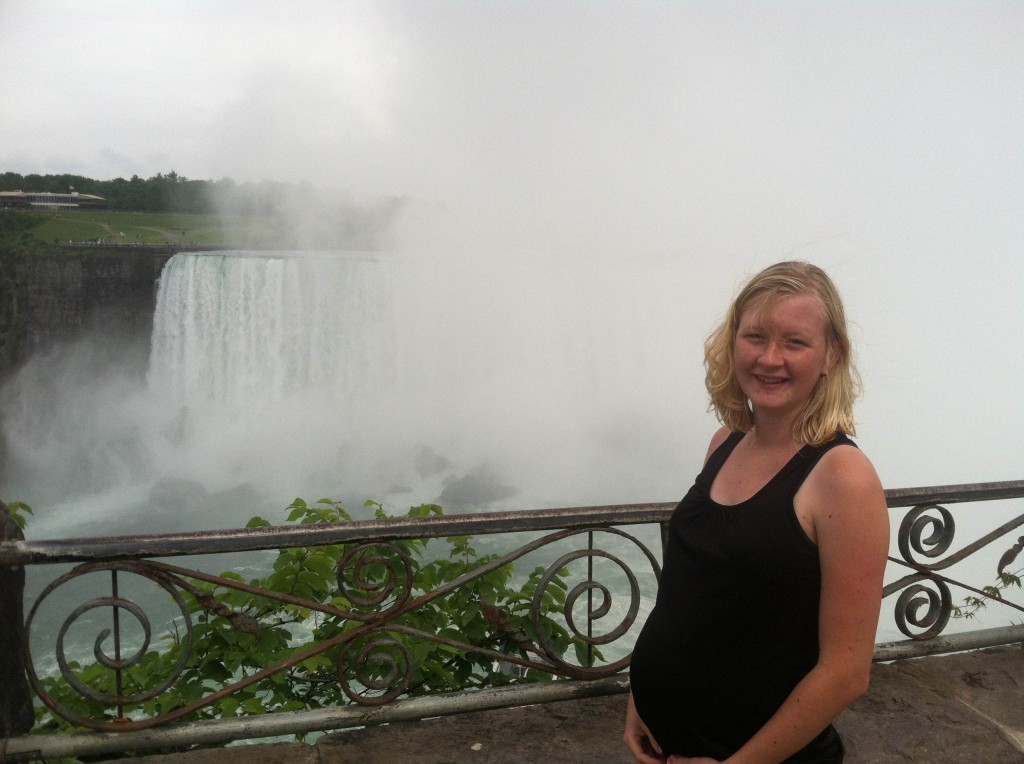 And how perfect is this adorable onesie? It's too bad that it's going to be baby girl trying to give Moose hugs, and I have the feeling that Moose will want absolutely nothing to do with sticky baby fingers, tail-pulling and hugs. I guess we shall just have to wait and see!