Ok, so our week has been absolutely insane, and I once again don't have my typical chalkboard picture. I do have a chalkboard up, although it's a really simple one, and I do have a belly picture. But by the time I've had time to do the chalkboard, Theo is at work and can't take a picture for me. So this will have to do!
Also…baby has now been to Ohio, Tennessee, Virginia, West Virginia, South Carolina, Georgia, Florida, Pennsylvania, Michigan, Ontario, New York, Massachusetts, and Connecticut. And New Jersey before I knew I was pregnant.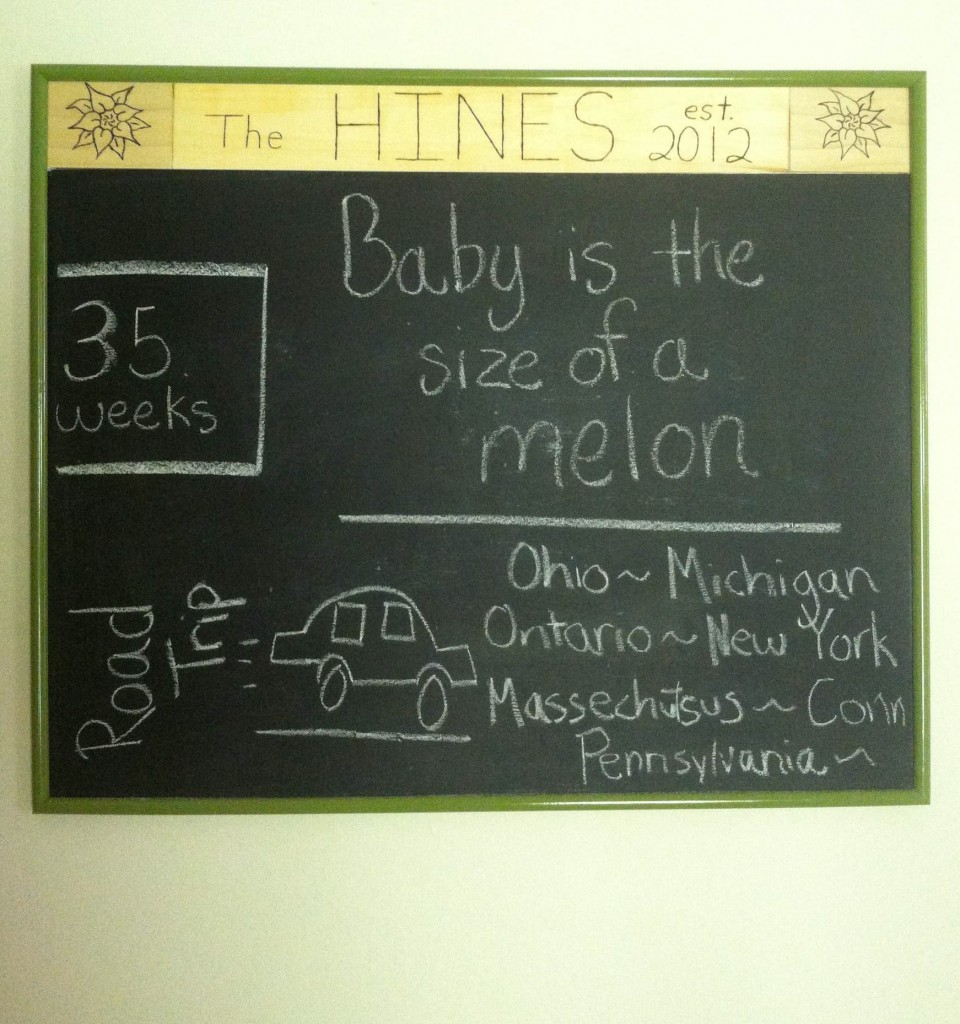 And please pardon my spelling of Massachusetts on my chalkboard…
How Far Along: 35 weeks. Today is July 4th. I am due August 6th. So, even though I have 5 weeks left…it's technically a month. ONE MONTH, folks!!!
Size of Baby: A honeydew melon! My app says she weighs over 5 pounds now, but my midwife is still saying that she is measuring a little bit small, so she is probably right around 5 pounds. I asked if "measuring small" meant that the baby was underdeveloped, or just small, and she explained that it just means she is small.
At this point, if I went into labor, they would let me deliver instead of trying to stop delivery. The risks of delivering this early is less than the risks that would occur to me if I had to be pumped full of those meds that would prevent the birth.
Hmmm…maybe I should pack a hospital bag soon??
Total Weight Gain: 30 full pounds. But I still weigh less than Theo! My goal this pregnancy was to not pass Theo…and it looks like I will succeed!
Stretch Marks: I have white ones on my thighs and the other ones look like they are here to stay, but I don't have any on my massive belly!
Wedding Rings: Despite how hot it has been here, I haven't had hardly any swelling.
Maternity Clothes: Yes, yes, yes. It's nice to be home again where I don't have to worry about my tops covering my belly all the way, and I can get away with squeezing into shorts that are a tad tight…
Gender: Baby girl!!
And I can't imagine it any other way. I cannot believe that attachment/bond that I already have with her. I can't wait to hold her.
Movement: Oh, yes! Yesterday at the midwife, she was was moving so much that the midwife stepped back and laughed, just watching her poke her limbs out stretching my belly from one end to the other. I think she was showing off. She is still head-down, and the midwife even mentioned that her head is REALLY low.
Sleep: It hasn't been the best this week, but I don't think that really has anything to do with pregnancy. I've actually being doing much better with sleeping through the night.
What I miss: The energy. Being able to bend over and hop out of the car!
Food Cravings: Not this week. Although cantaloupe and watermelon still sound really awesome at any time, and I've been enjoying my iced chai every day. I love being pregnant in the summer!
Food Aversions: Beer. Anything that smells really strong at the wrong time. Basically like in the first trimester, but without the constant morning sickness.
Symptoms: Braxton Hicks if I don't drink enough water, exhaustion, back pain, emotional…you know, the whole deal.
But, honestly, when people have asked me how this pregnancy has been overall, I have to answer that it has been great. I have been so blessed with health, and the baby is as healthy as can be, too! I haven't had any horrid symptoms besides all the regular things that my body has to go through in order to grow a human. What a miracle!
Best Moment This Week: The surprise shower that my friend hosted for me. It was a rough week otherwise, so I was SO surprised and felt so blessed by my friends who came to shower me and baby girl with blessings!!!
Worst Moment This Week: Well, we arrived home from our trip to a bug infestation in our house. It has been awful. I've spent every waking minute battling these bugs, and I'm exhausted and discouraged from it. I've also been exposed to more chemicals this week than I probably should be while pregnant, but I am doing my best to stay safe and healthy while ridding my house of this infestation.
Exercise This Week: Well, since we got a puppy, I've been taking him for a walk every day! He is a horrible walker, and still very young, so we don't go far…but it's something, at least!
What I'm Looking Forward To: Meeting baby girl, getting labor and delivery behind me (seriously, there are just so many unknowns about it that I will not know until I actually go through it!), having another baby shower, seeing my parents in just 5 weeks! There is so much exciting stuff coming up!