For those of you who wanted more pictures of Tera…this is the post for you!
This post was a lot of fun to plan, actually. I enjoyed taking the pictures all day, and I was reminded how important my job of being a mother is. Some days it will feel like nothing gets done except feedings and diaper changes. But that is ok. That is now my job! And what a privilege it is to have this job!
Sooo…what exactly does a person with a newborn do all day?
Doesn't Tera just eat, sleep and poop?
Surely you get allll kinds of things done while the baby sleeps all day, right?
Well, that is kind of true. She does take long naps, and I do manage to get some stuff done. But I am amazed at how much of my day is taken up with feeding, changing, bouncing and playing with Tera. Plus, I still have the grandparents here, so there are two extra hands to change, bounce and play with Tera.
But…without further ado…here is a day in the life of Mommy Suzanne and Tera!
2 a.m.– First feeding of the day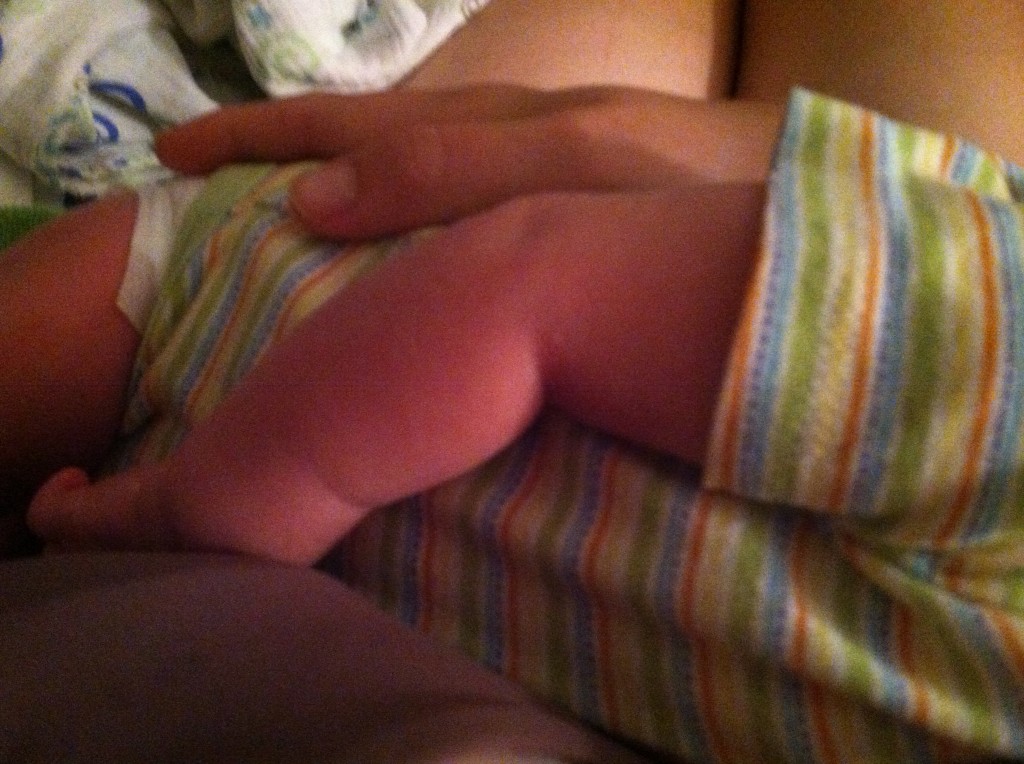 4 a.m.- Theo wakes up to head to work, so we have another feeding. In order to spare you all creative angles of my baby nursing, I will post my 4 am face:
Also, Tera actually sleeps through the night. The earlier 2 am feeding was not a usual one, and since Theo already gets up at 4 am, I just wake her up and feed her then, too. She usually goes from midnight to 6 or 7 am. How lucky am I??
We fall back asleep until 7 am, then this doll baby starts wailing her little heart out. I know it doesn't look like it in this picture, but she was very fussy and hungry.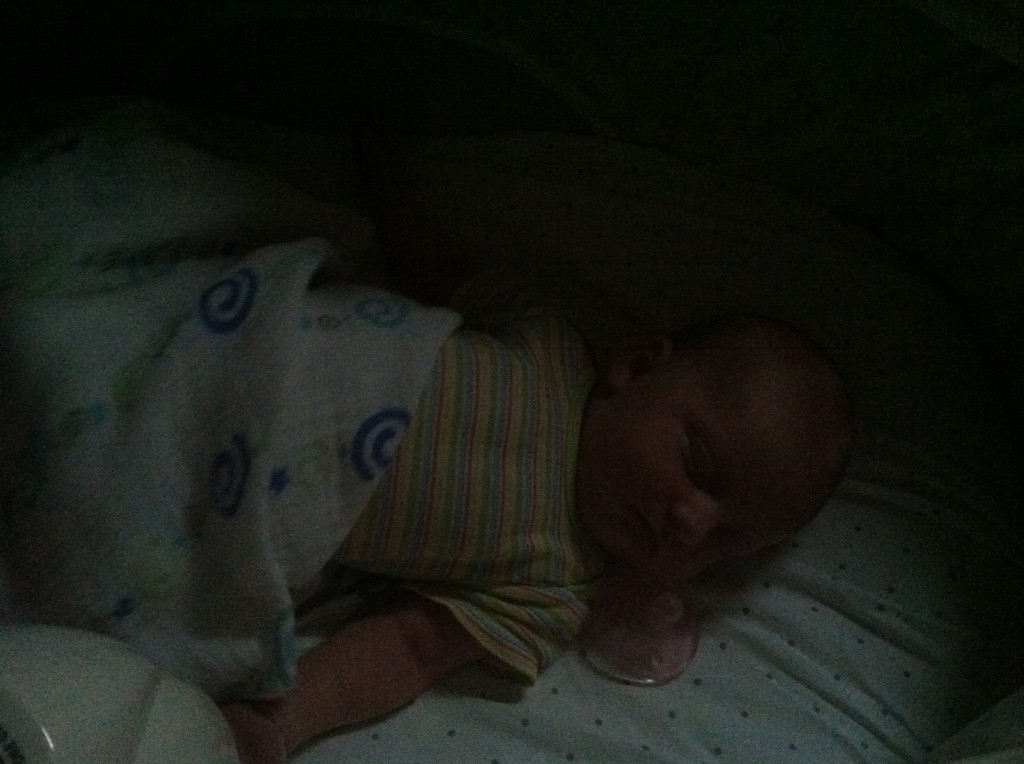 Snuggles in bed with Mommy until 9 am, then it's time to get up, get a diaper change, get dressed… Somewhere in there, I grab some breakfast and probably handed the baby off to Grandpa or Grandma for a few minutes.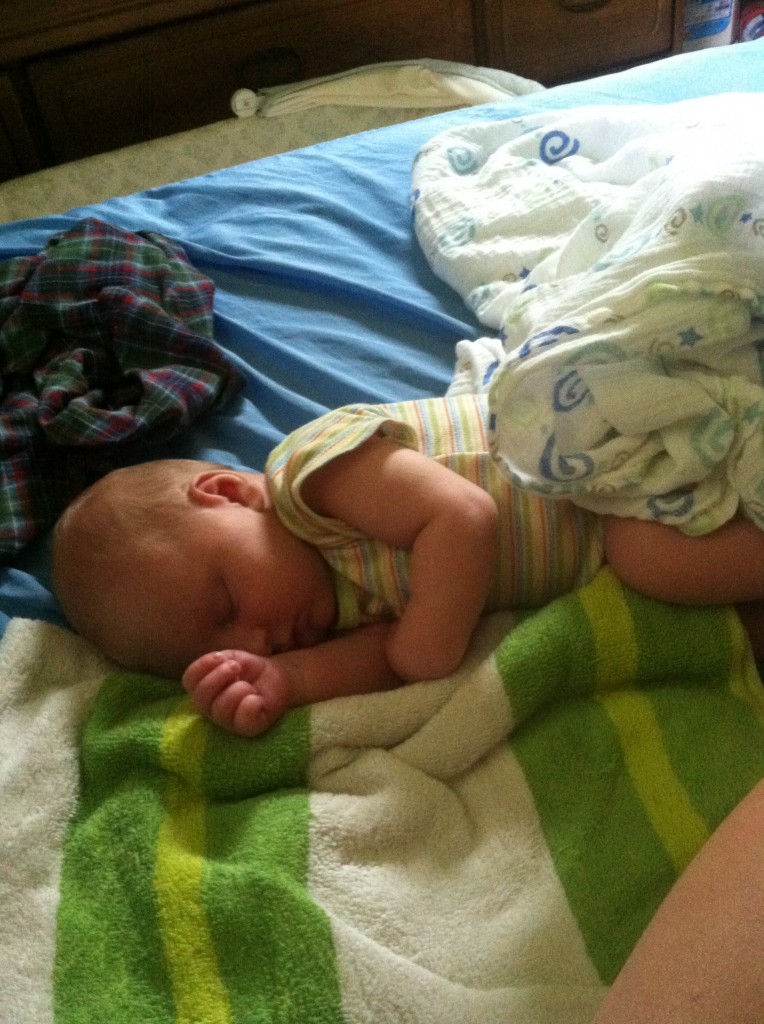 Tera falls asleep around 10… (this bassinet was worth every penny of the $55 I spent on it…it gets used all day and night!)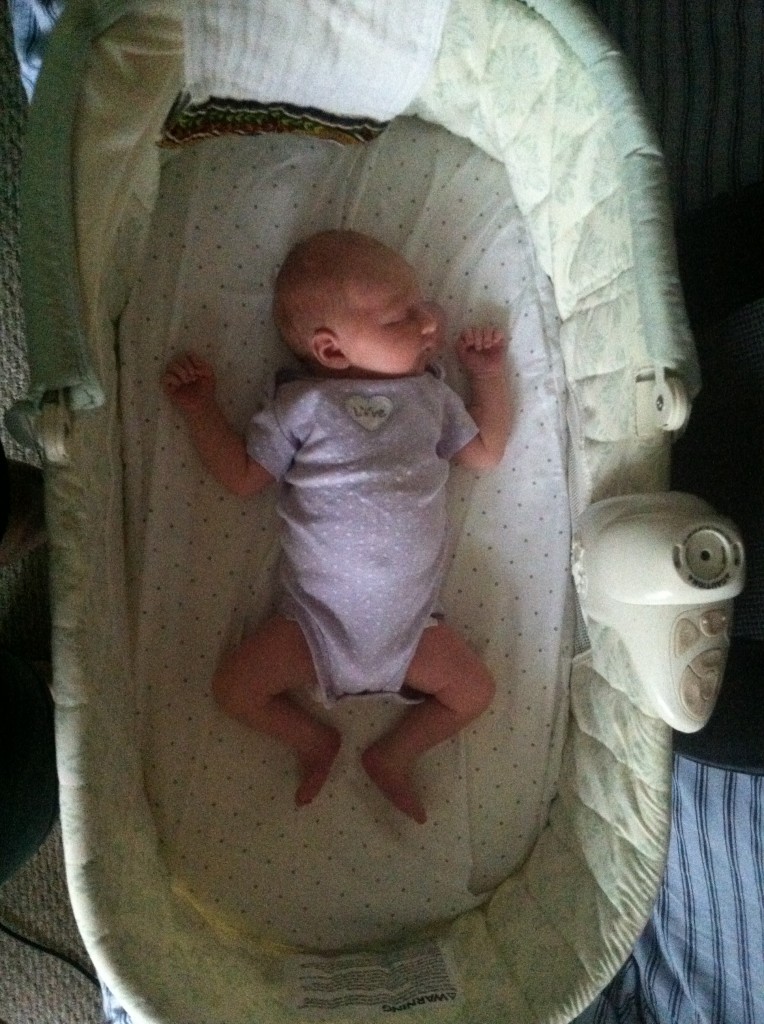 And I decide to hustle and get some stuff done around the house.
The bedroom before…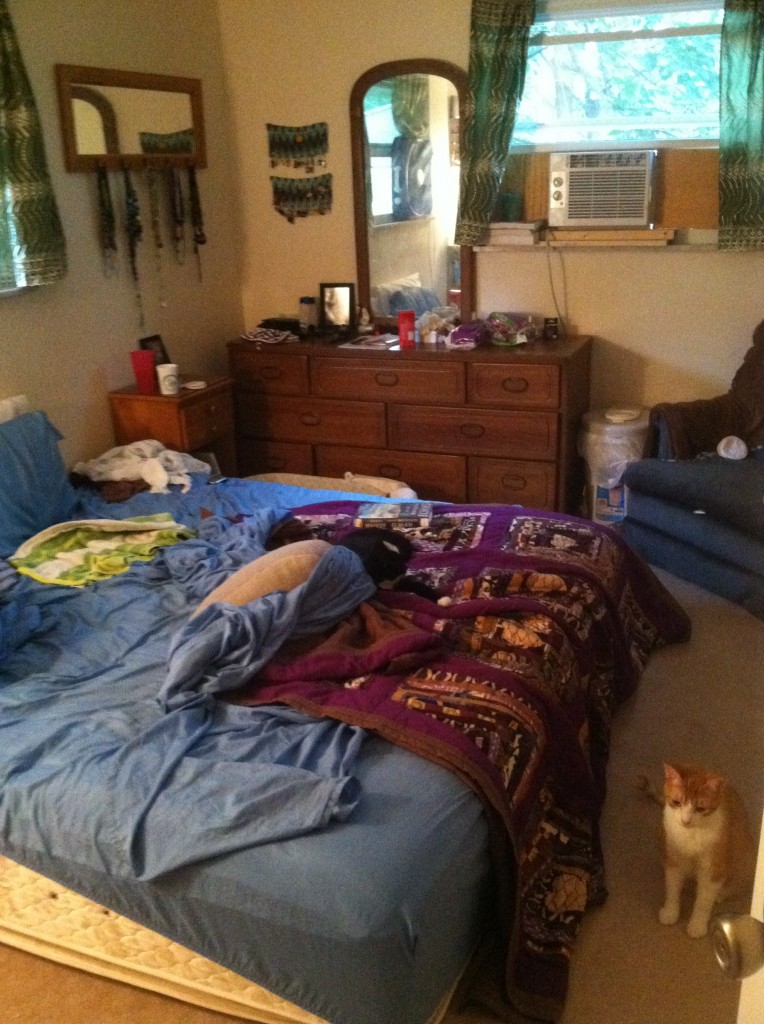 The bedroom after…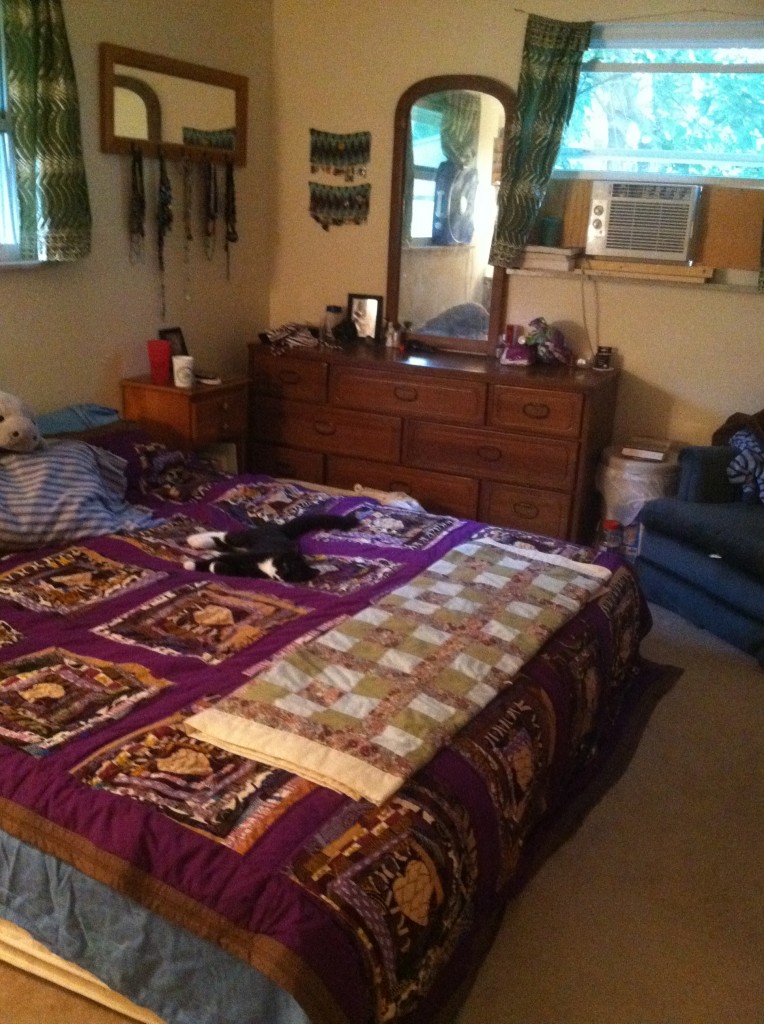 Also, working on keeping an eye on and training Cyrus. He isn't allowed in the bedroom, and he does a pretty good job. He innocently nudged his ball into the room and then looked at me longingly to come in and get it. He's a smart pup!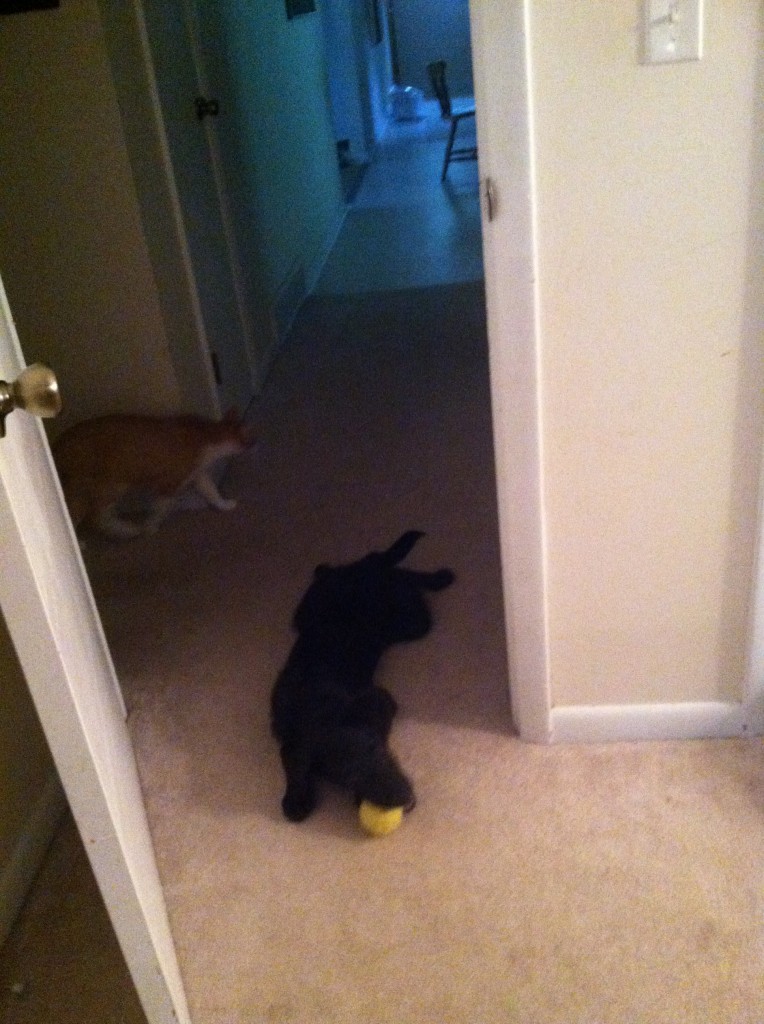 I also take a shower while baby girl is napping… (and here is my first post-partum picture that I've been brave enough to take/post)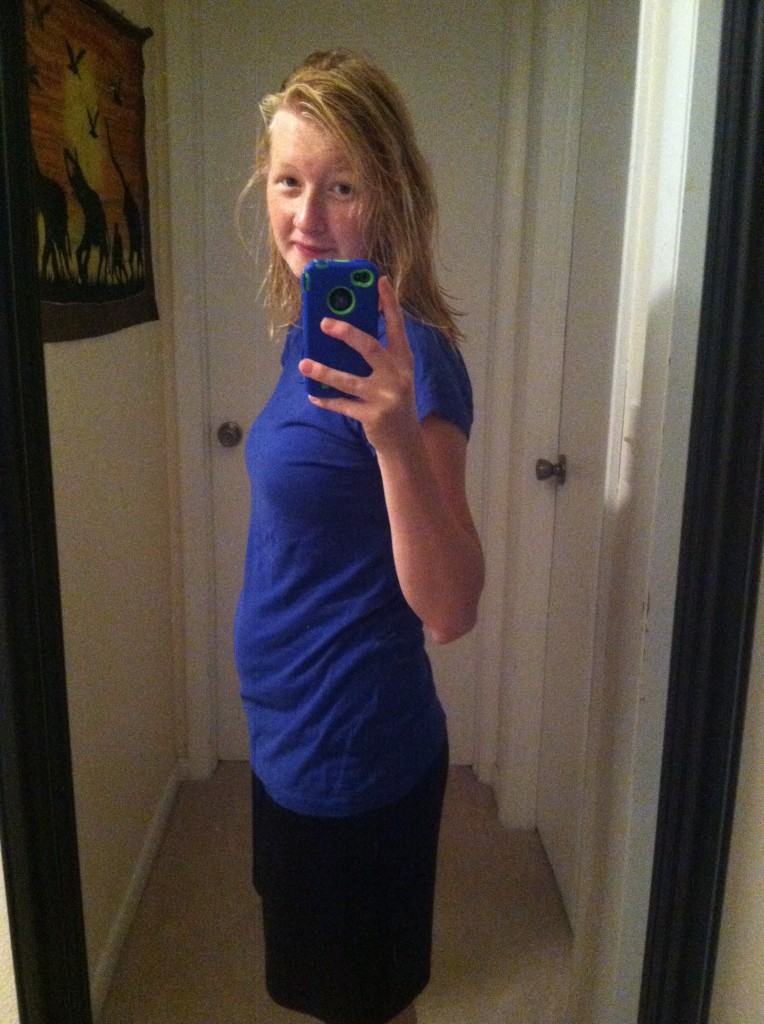 I fit in some devotions and chai…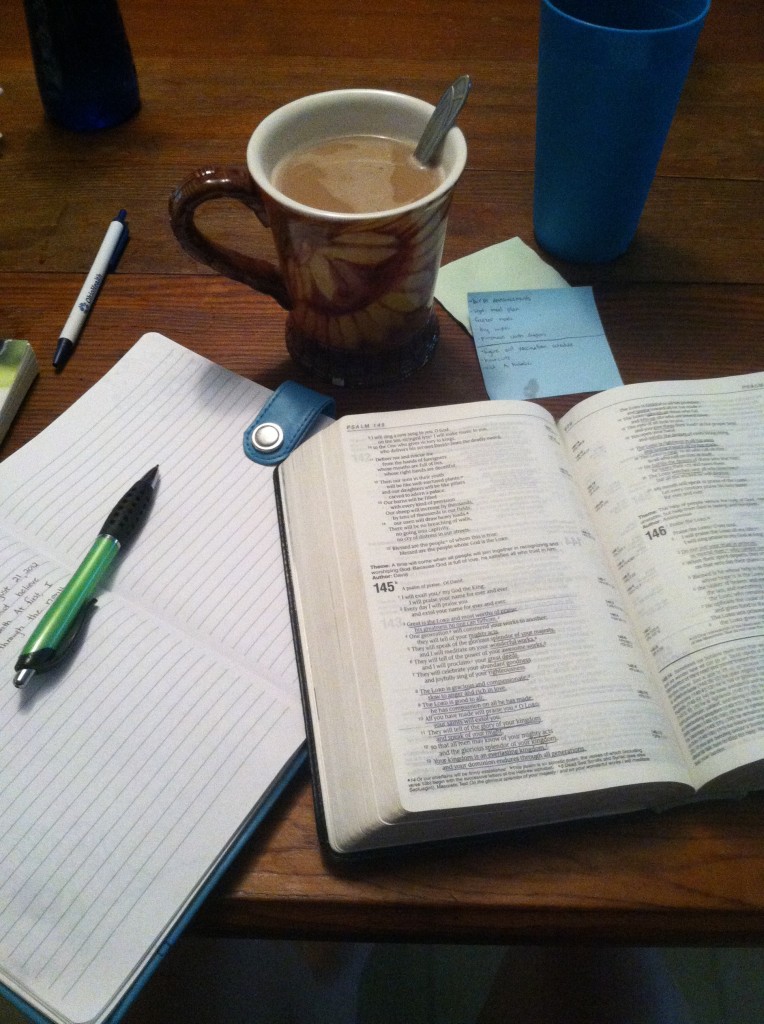 And then work on emails and catching up on blog reading while Tera naps in her bassinet next to me
Tera wakes up and starts fussing, so I hold her for a couple minutes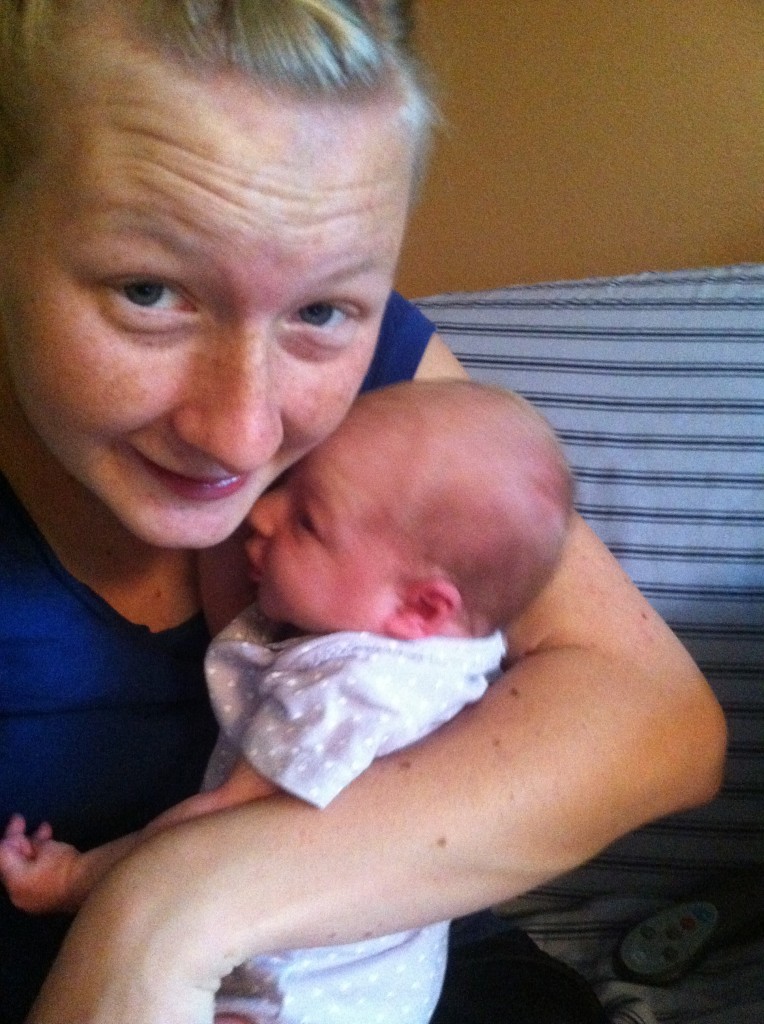 Then I feed her again.  I actually love our feeding times (except when she cluster feeds in the evenings), and just put up my feet and try to relax and enjoy the time with my precious girl.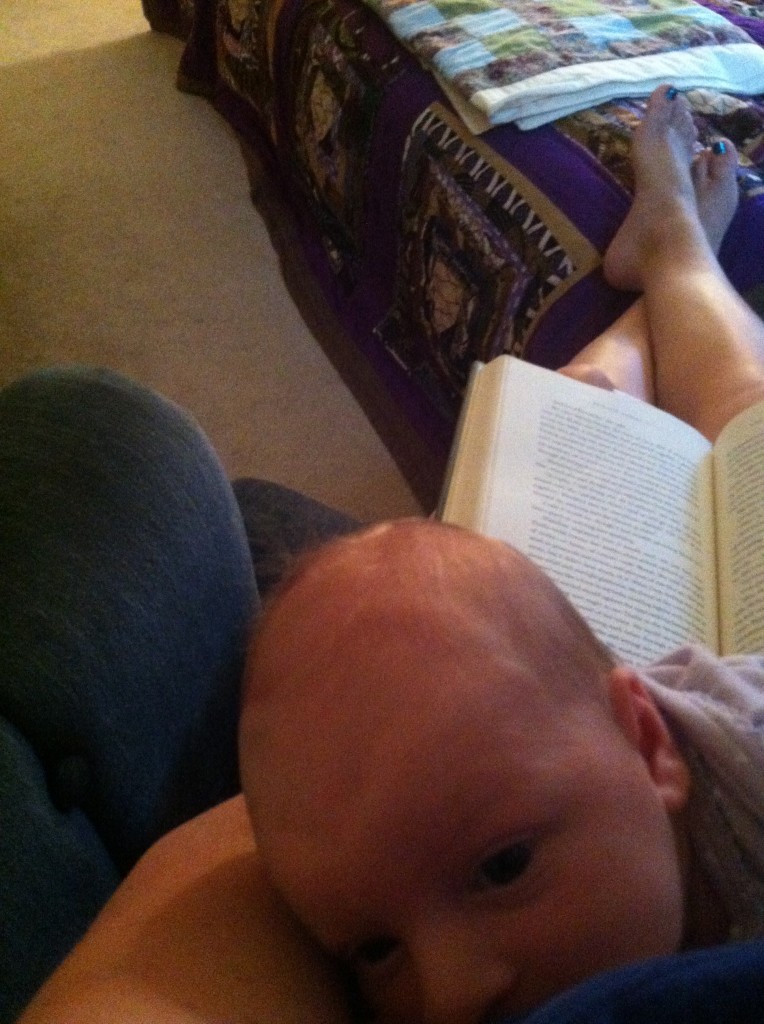 Tera filled her diaper, so I change her… (and put on her second outfit of the day). It's about lunch time, so…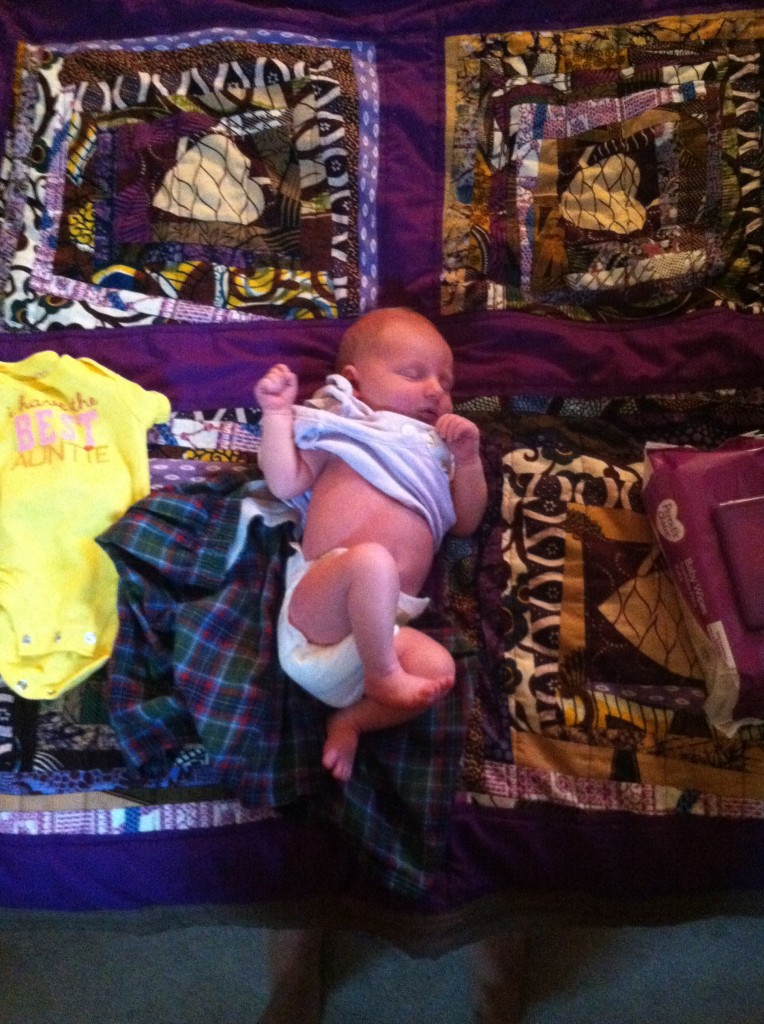 I hand Tera off to Grandma for some tummy time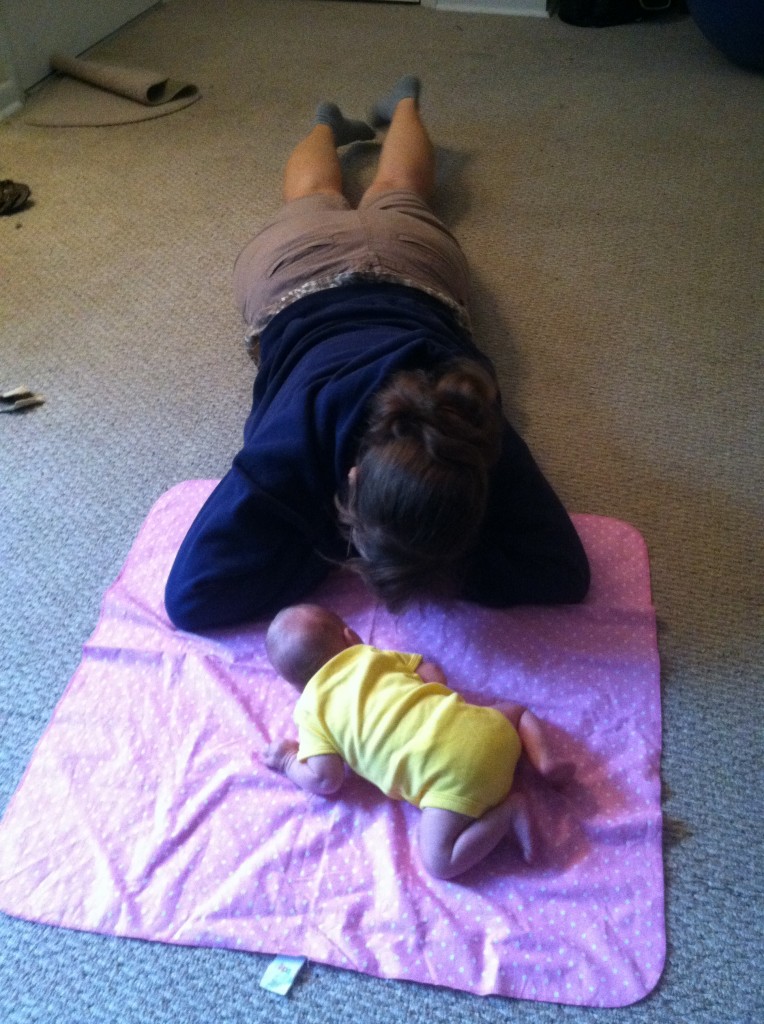 Make my lunch, eat my lunch and work on ordering our cloth diapers!
Tera is done with tummy time with Grandma and wants to be fed again, so I feed her…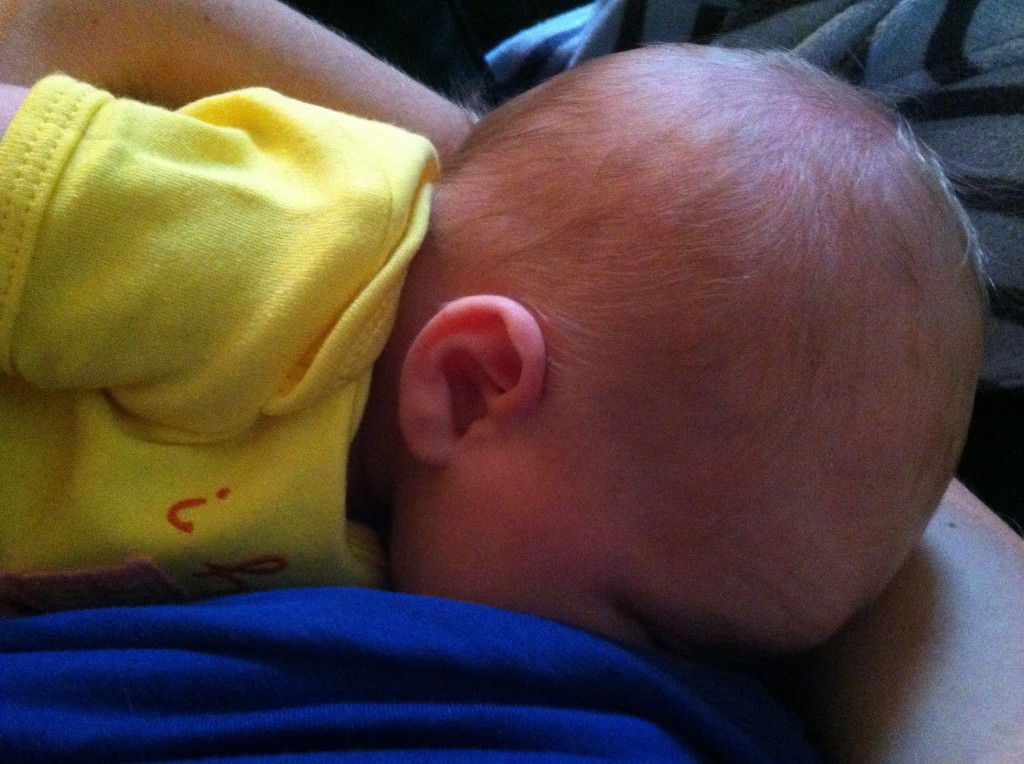 And put her down for a nap (which she never actually took).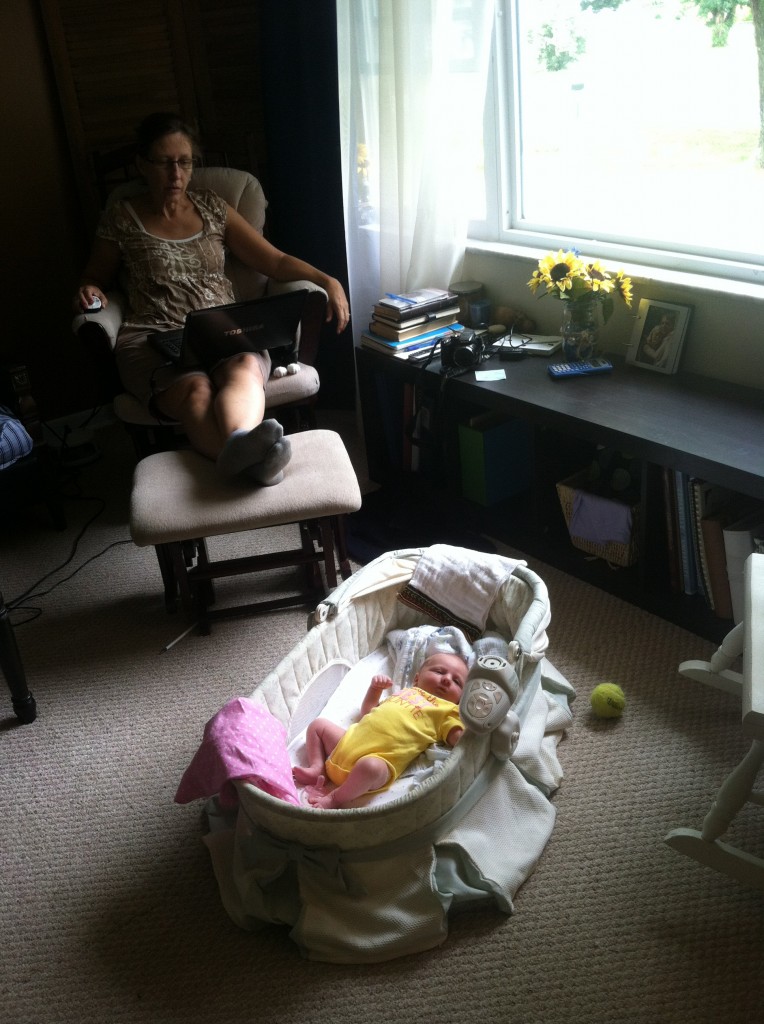 Since Tera was full and content, and I didn't have enough money in the bank to order the cloth diapers, I made a quick trip to the bank- solo!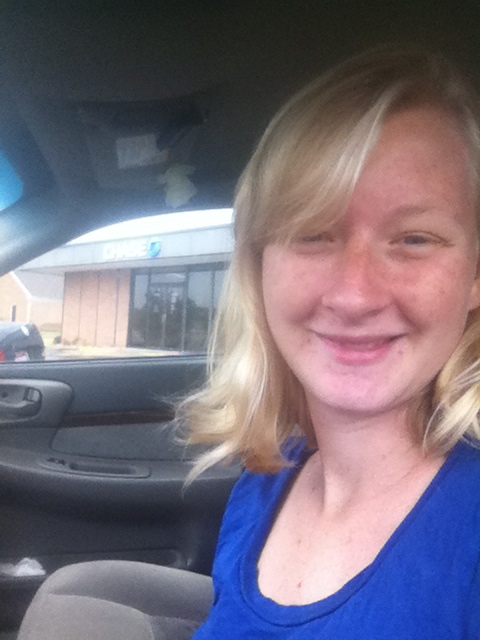 (I should also note somewhere in here that I did not record every single diaper change. In fact, she gets a diaper change almost every time that she eats).
Once I got back from the bank, Tera was fussy and ready for another meal….This is her, "Pleeeeease feed me NOW" face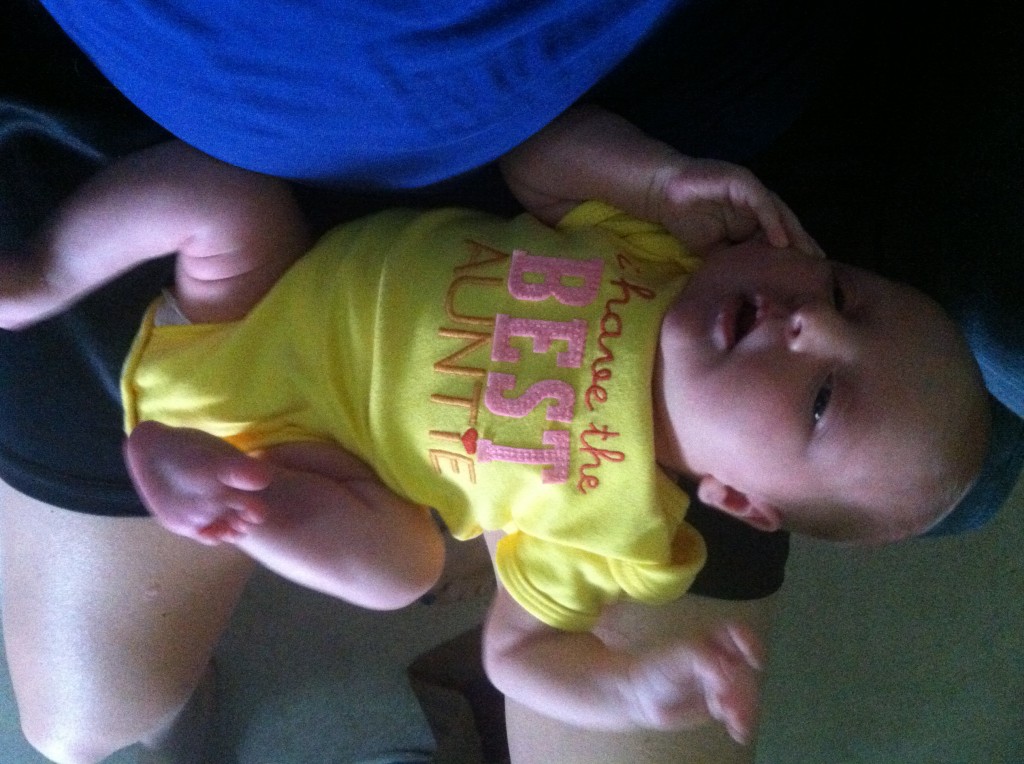 Since she didn't take a nap while I was at the bank, I was hoping this would be another long nap time…me, Moose and Tera! But Tera wasn't having much of that, and after a couple wails from Tera Moose decided he would find a better place to nap.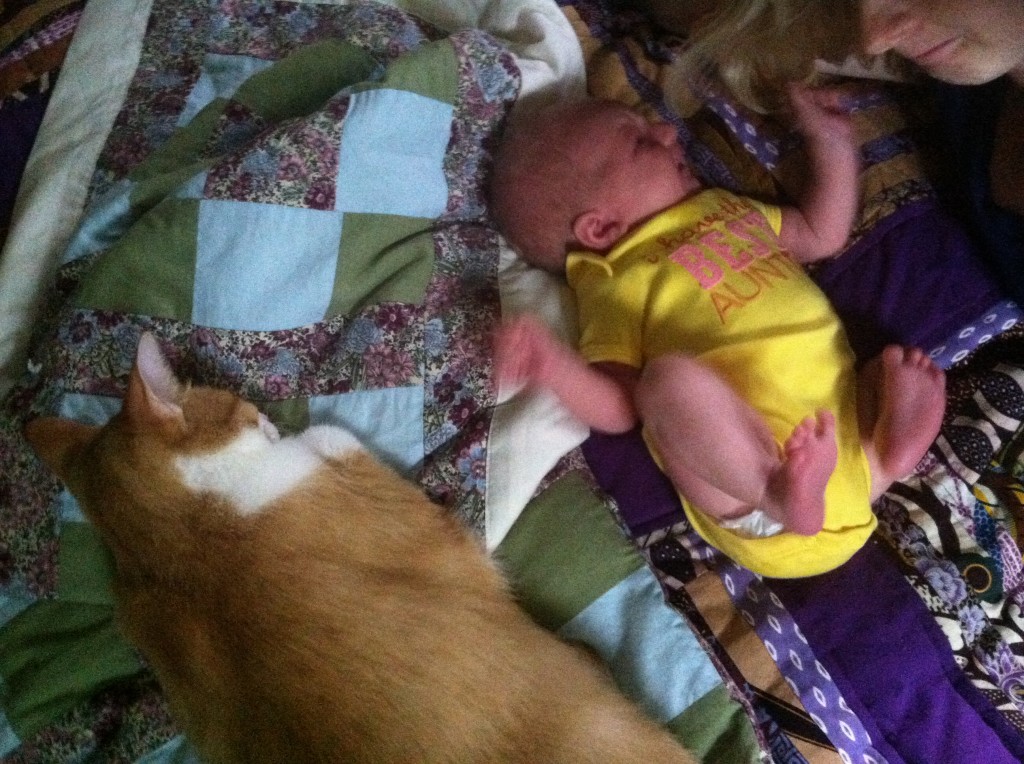 Finally, she fell asleep, so naturally my Mom and I decided to go shopping! We headed out to Joanne's (which I didn't take a picture of) to find some stuff for a baby quilt.
And on a side note, how do you all carry your babies in the store? I am NOT a fan of carrying her in the carseat. It doesn't fit on carts, and that makes it dangerous. It's also incredibly heavy and I'm not exactly the strongest person in the land. I have a great carrier, but I still need a little bit of help getting it on by myself, without a bunch of neck flopping in the newborn department. What do you do? Help a friend out!
Anyways, after Joanne's, we stopped at Wal-Mart to get some groceries. Little miss had decided she needed some food, so I stayed in the car to feed her. About halfway through her snack, she blows a massive poop. I thought to myself, "hm, I'm holding her sideways…that one could have gotten on me!" Only to realize a couple minutes later that it did in fact get on me…
It takes some wild skill to feed a baby and change her diaper without getting out of the car!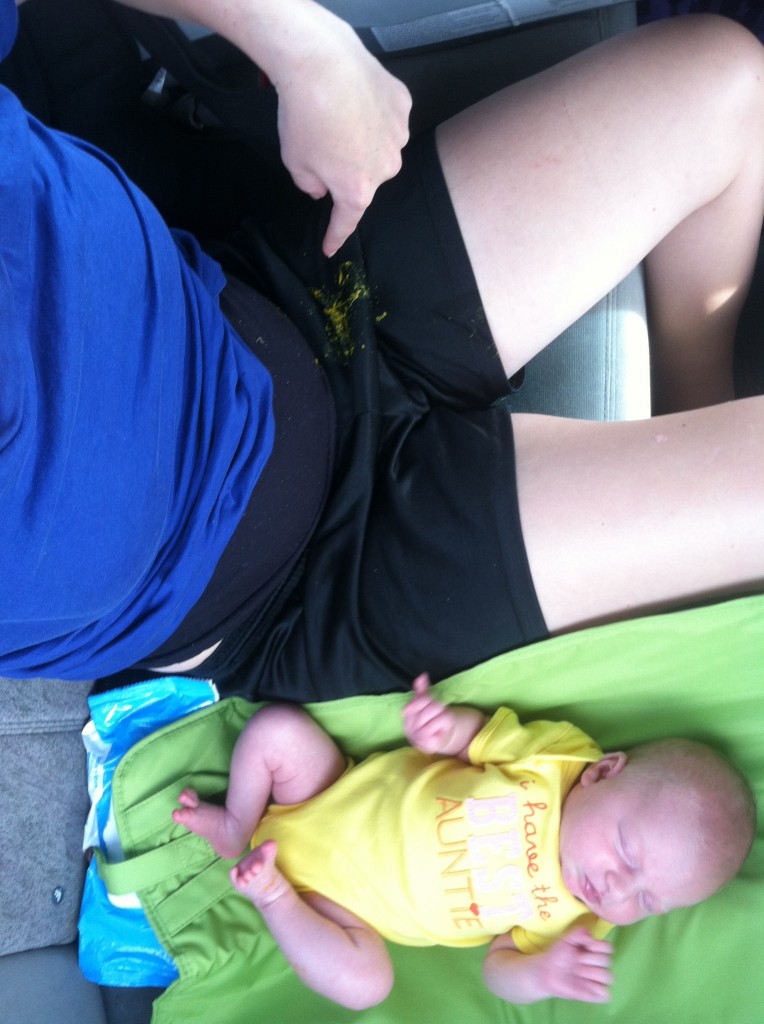 Since we were only about 5 minutes from home, I just changed her diaper and put her back in her carseat. She looked absolutely naked, but I promise that she had a diaper on!
And, yes…we gave into the pacifier…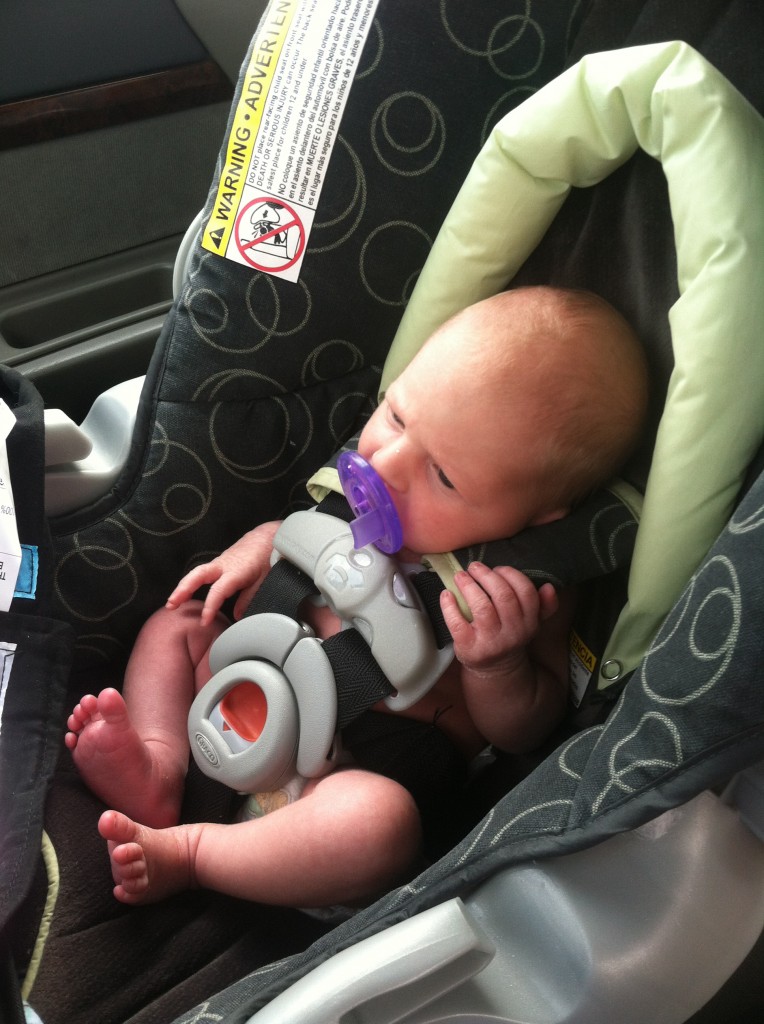 When we got home, Grandpa held Tera while I vacuumed the floors and washed the dishes. My Mom made dinner. Oh, and I fed Tera again…although I didn't take a picture.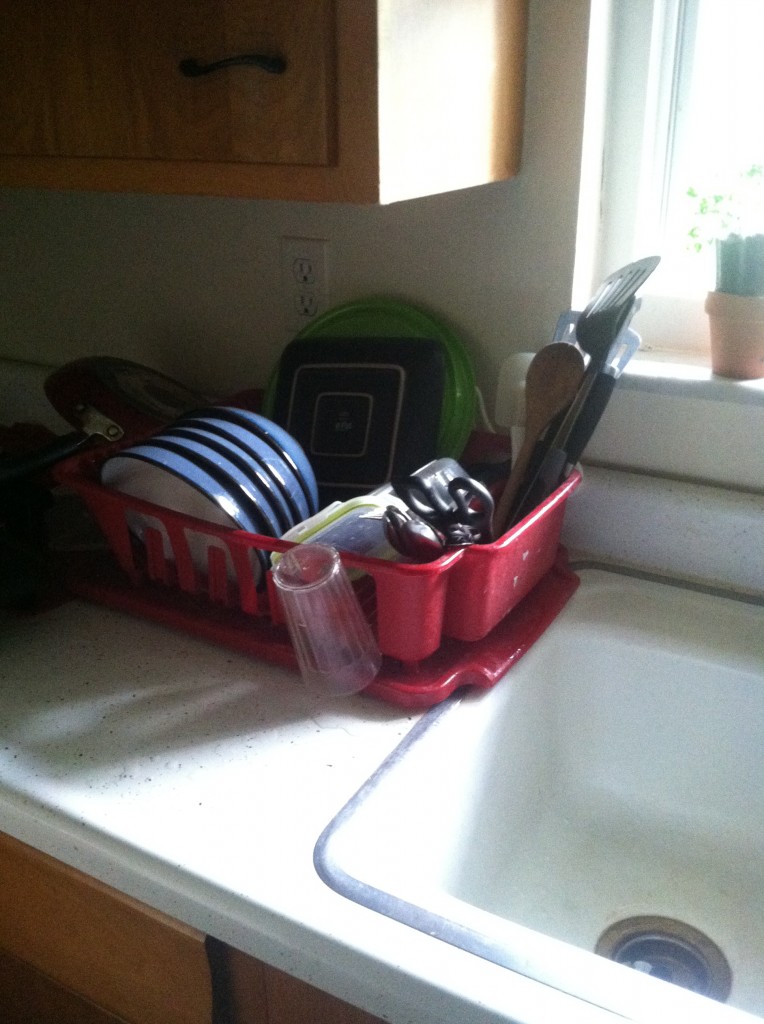 Dinner time! Sorry it's blurry. You have to understand. Dinner time begins fussy time for our darling Tera Evelynne. I had fed her about 20 minutes before, but she was not content to just lie down and coo, or even lie down and cry. She has to be held…and she still cries. So I was holding a baby, eating dinner and taking the picture all at the same time…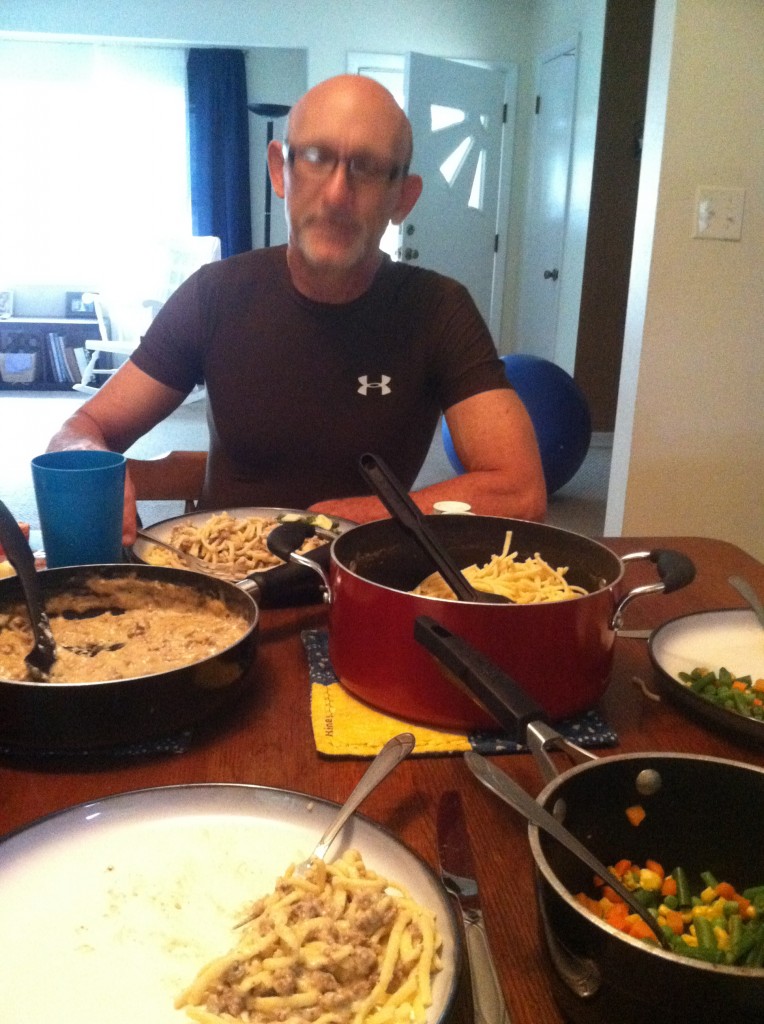 And so begins fussy time, and cluster feedings… Cluster feedings are when a baby basically doesn't stop eating. As soon as they finish a nursing session, it seems that they are ready to start another. They also seem to eat slower and therefore the feeds take much longer. So far, Tera will cluster feed and cry from around 7 to 11 or midnight.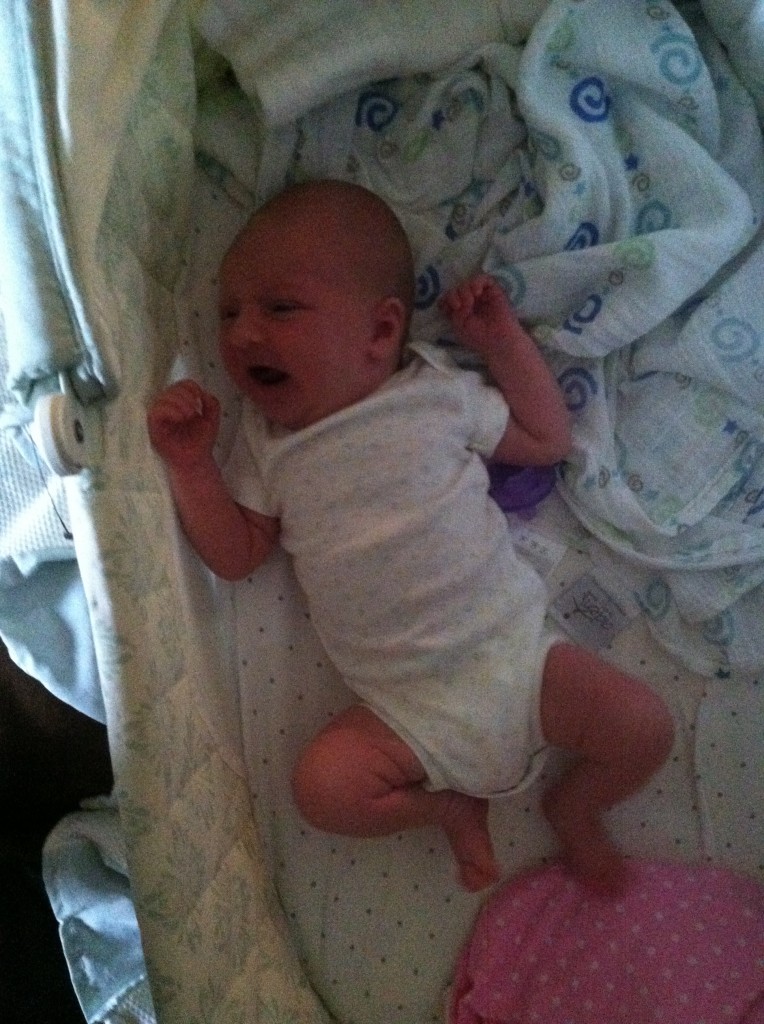 Grandpa gave her a bath, which seemed to settle her down a little bit…and then I fed her again.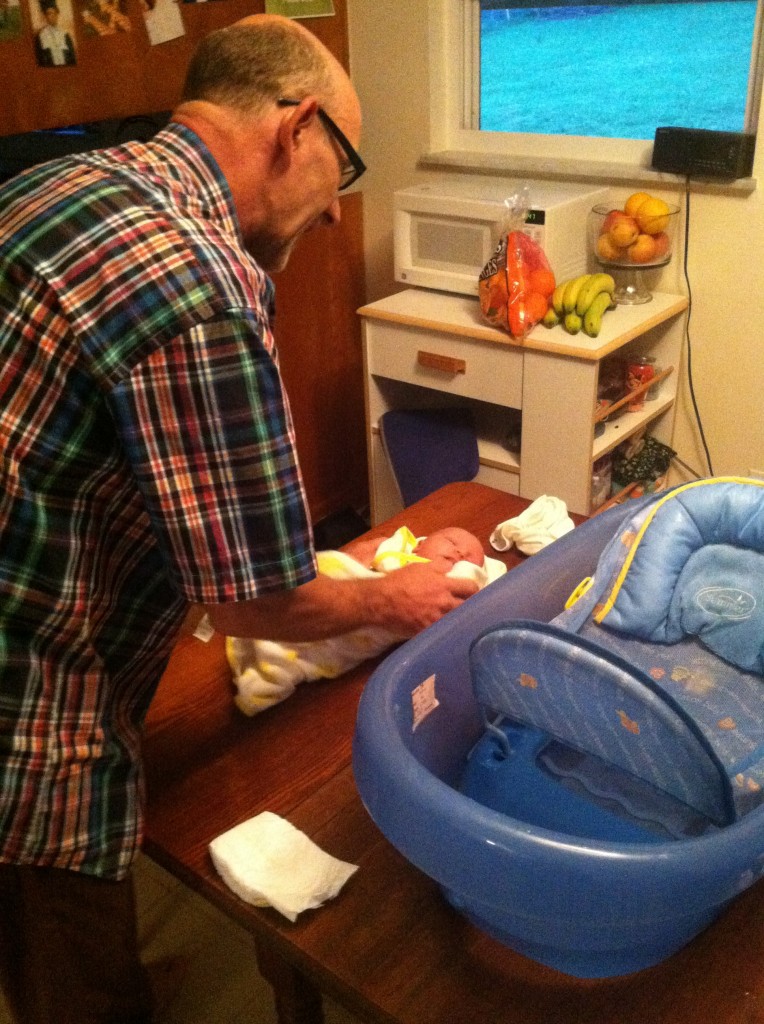 And then she did this for an hour or so. And then she finally fell asleep.
Also, she LOVES bouncing on the birth ball when she is fussy. We have decided it was because I bounced on it so much when I was pregnant with her. Maybe the motion reminds her of being safe in the womb…or maybe she just likes the motion of it.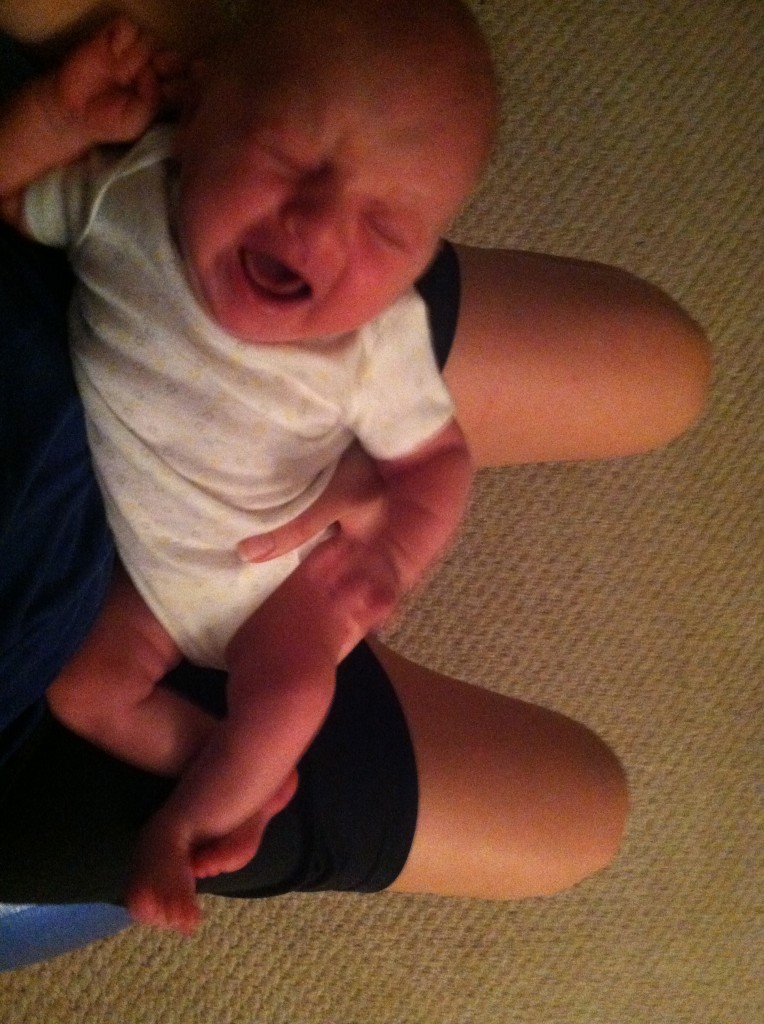 And then the best part of our day happens……… DADDY COMES HOME! Yes, Theo doesn't get home until around 11:30 pm. I try to have EVERYTHING ready for bed, so when he walks in the door we can have some cuddles and then bed!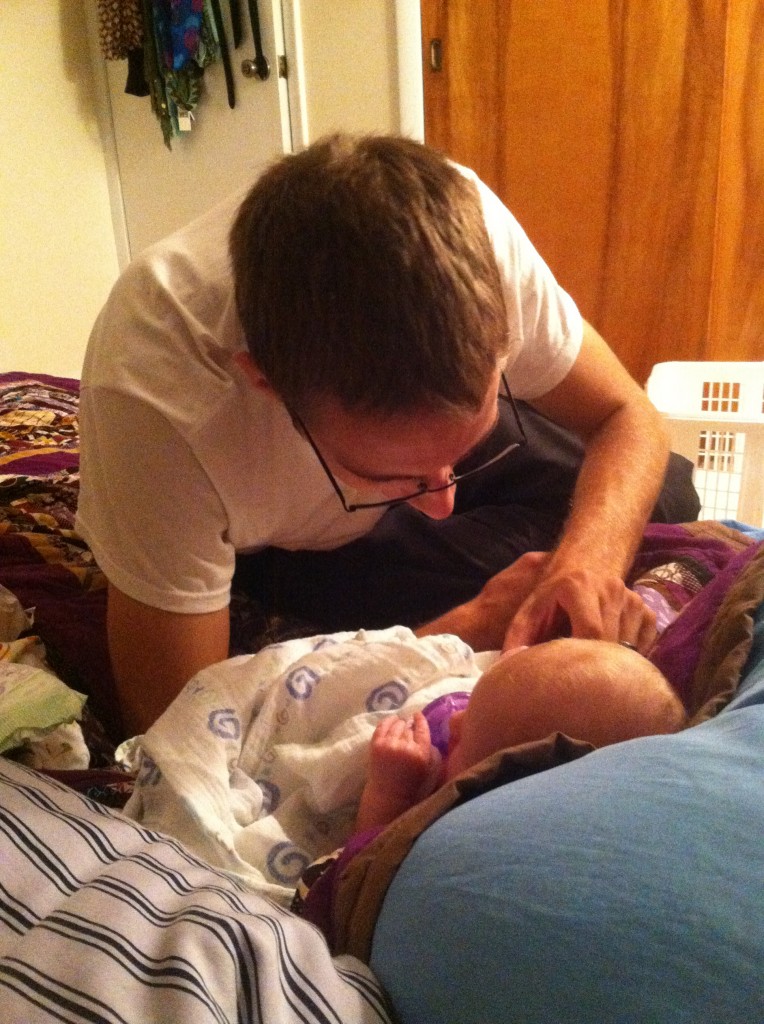 And that has been a day in the life of the Hines family!