I've decided to do a new feature here on the blog: guest posts. My reasoning behind this is two-sided. First, I have a newborn and my time is consumed with her. I want to continue this blog, and one way to do that while I have my hands full is to incorporate other contributors. The other reason that I wanted to do this is to express other views, experiences and opinions on this here blog of mine. While most of my readers know me and read because they want to follow my life, I know that some of you would also love reading stories and experiences from other people as well.
So without, further ado, I bring to you my first guest post!
It's from someone who is very, very, special to me, and who happens to be sitting in my living room right now! In case you haven't figured it out, it's my very own Mom!
My Mom is a mother, wife, missionary, blogger, personal director, mother-in-law, grandma, an excellent cook, and a do-it-yourself handy-woman, just to name a few! She loves doing laundry, and hates doing the dishes. She is the best mother I ever could have asked for.
My Mom blogs over at Hannatu's Happenings. Go check it out! I looove reading her blogs!
Here is my momma with my brand-new daughter.
Now, onto the interview!
Disclaimer: My initial guest posts will all be birth stories. Read this birth story at your own risk. It's a pretty brutal one! If you haven't had children yet, I recommend that you don't read it.  (Ha! That just made you want to read it even more…)
Disclaimer #2: This story took place in Africa. All of the complications involved would probably have been prevented or dealt with much differently in the Western world, and even in most clinics in Africa today.
Me: What are three words you would use to describe yourself?
Mom: Calm, Hardworking and Stubborn
Me: How many children do you have?
Mom: Two!- Daniel and Suzanne (yes, that's me!)
Me: Tell us about when you found out you were pregnant for the first time:
Mom: We thought we were pregnant, but we were in Niger, so we didn't know how to confirm our suspicions. So, we asked the station nurse, and she directed us to the pharmacy to buy a test. I don't remember what exactly the test was, but it was positive!
My Dad interjects: When we first got to Niger, Mom said she was sick and everyone thought she was pregnant!!!!
Mom: I wasn't SICK! I had a sore throat, and I didn't go to party. And everyone asked where I was. And you said I was sick. And everyone assumed I was pregnant.
Dad: I learned not to say that anymore!
Me: How long were you married before you found out you were pregnant?
Mom: A year and a half.
Me: Did you find out the gender beforehand?
Mom: Nope! We were in Africa, so we didn't even have an ultrasound the whole pregnancy. We listened to the heartbeat with a Pinard horn. We had no complications throughout the whole pregnancy.
Me: Can you share your birth story? (Daniel, baby #1)
Mom: He was waaay overdue. We think he was due on Feb. 8 (born on Feb. 23). I kept having Braxton Hicks, and on Feb. 22,  I woke up and my water was leaking. We knew we were supposed to go in to the hospital, even though I was only having a few contractions.
We went straight to the clinic and we had a French midwife who checked us in and checked things out. She insisted that I needed something to relax me, and I got a shot, but I don't understand why she did that, because the whole point of labor is that I need the muscles to work, not become relaxed!! We walked the halls all morning/afternoon to get labor started, but no consistent contractions came. So, in the late afternoon/evening of that day, they started Pitocin and my "real" labor started almost immediately. We worked through all the contractions together, John and I. Sometime in the early hours of the morning, the midwife said it was time to go to the delivery room. They made me WALK there (even though there were wheelchairs available!), and it felt like it was down a veerrry long hallway. It was actually in a separate building, connected by a breezeway.
When we got there, I pushed…I don't know for how long, but it felt like FOREVER. After a while, the midwife decided that the baby was not coming, and she had the nurses push on the top of my uterus to get the baby out. After reading Ina May, I have learned that the baby was stuck, and that this is common with woman whose babies are overdue and large. The mission nurse was with me throughout labor, and she was also a midwife, but during labor she was simply a doula/support person because she wasn't licensed to practice at that clinic. She couldn't say much, but when they started pushing on my uterus, she spoke up and said, "I'm pretty sure this is illegal in England." The French midwife responded, "I'm pretty sure it's illegal in France, too…but I'm doing it anyways."
He was finally born. 8 pounds 10 oz. "C'est un garcon!" they said, and I wanted to see him right away. He was doing really well, and John was holding him right away. Dean and Peggy (Dean is my brother) also held him, before I even got to see him. But the midwife took my feet and put them up on her shoulders and said, "We need to stop this bleeding!". There was all this rushing around, and the doctor was called. He was French and a resident…he lived downstairs under the clinic. It was 4:30 in the morning, and when he ran upstairs, I remember that his hair was sticking up in every direction. He ordered an IV immediately, but they couldn't get it in. They kept sticking me everywhere until they finally got one in. He then proceeded to manually removed the placenta…which hurt like crazy, because they didn't give me anything for the pain. The midwife did some stitches, since I had torn. She didn't do a very good job on that..but that's another story.
Finally, they let me hold the baby. At this point, we knew his name and we filled out all the official paperwork with his name, but we wanted to wait until the 8th day to announce to everyone else what his name was. (This is an African custom).
At this point, they took me back to my room and I was pretty much covered in blood. The doctor ordered that I have a blood transfusion because of how much blood I had lost. So my brother, Dean and my nurse friend, Sarah, each gave a unit of blood. The midwife wanted to give me more, but the doctor was concerned about the transfusion of malaria through the blood.
(and raise your hand if you trust that midwife at this point…! Yeah, that's what I thought…no one.)
The next day the gynecologist comes in, and says that all the placenta had not come out. He pushed on my uterus really hard and everything came out. (Dad: I had to leave the room!) After that, I was in the hospital for a week, because I was too weak to even get out of bed. All the ladies in the mission came in and took turns staying with me, so that John wouldn't have to be there 24/7. Daniel was with me, and I was able to start nursing him right away. Someone suggested formula due to my weakened state, and I refused. I really wanted to breastfeed him right from the start…and I did!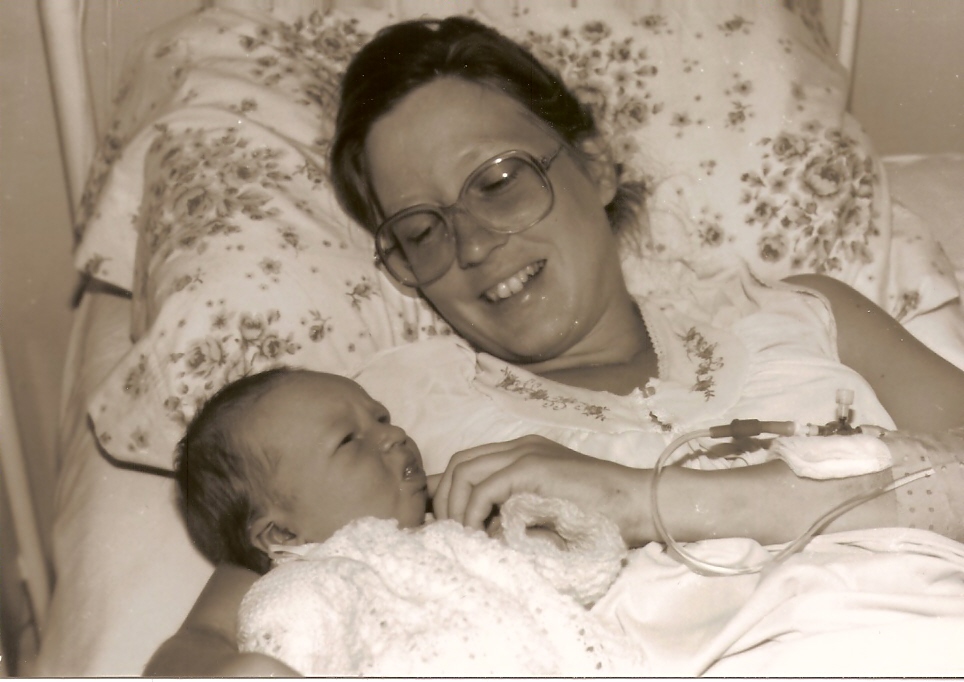 Finally, after a week I went home. We did a naming ceremony on the 9th day, because I had been too weak on the 8th day. People brought cookies and snacks and we announced the name of our baby: Daniel John. For the next week or so, ladies would come and stay with me for a few hours so that Dad could go out and get stuff done. It took me almost two months to get back to doing my regular chores! Every week I had to go and have my blood tested, to make sure that my circulatory system was kicking back into gear. The midwife had messed up the stitches, so we went to an American doctor, who declared that we needed to redo it. So then I also had to go through surgery to repair the tear and the stitches. After that, I started to feel a lot better.
The whole time I went through all this ordeal, Daniel was fine. He did great from the beginning.
Me: (bug-eyed) Sooo, is there a positive end to this story?
Mom: Welll, I'm alive, and Daniel is alive!! And we still had another baby after that!!
And also, other than the Pitocin, I didn't have any medical interventions. Dad was an amazing supporter, helping me with breathing and feeding me with ice chips the whole time. After they gave me the Pitocin, my labor was about 10 hours… and about 20 hours from the time that my water broke.
Me: Can you share one piece of mothering advice with us:
Mom: Chill out, man.
Just kidding, don't write that down!
My main mothering advice is to be consistent. If you don't want to deal with something later, don't let it get started/slide now.
Oh, and write down the funny things your kids say. Because you won't remember them…and they some really funny things!
Me: And one last question….What are your favorite blogs to read?
Mom: This one! (Me: You can't put that! Mom: Yes, I can. You have to write that!)
Deb Berruti's- Avec Duex Mains
Thanks for reading along! If you have a birth story you would like to contribute, please let me know!