The first two week's of Tera's life were honestly not too bad for me. I was totally on a high from the amazing birth and finally holding our precious baby girl. I loved having my parents here to visit, and Theo is an extra-amazing Dad (no surprise there!). After going through labor and delivery together, we felt more in love with each other than ever. I honestly get more sleep with a newborn than I did in the last weeks of my pregnancy. I even had some alone time, and I certainly had time to shower every day. I knew that was only because my parents were around to help out, and I was really dreading the day that they left.
Last Saturday, Tera fussed all day long. It was so stressful for me, and I started to wonder what in the world I was thinking doing this whole mothering thing. Surely it would be impossible when my parents left! Thankfully, last Saturday was just a one-day thing, and she has more or less settled into a much better routine of eating and sleeping and not crying quite as much (although she does have fussy times each day!). So here are some pictures from this past week:
It has been really hot this week. I mean…heat index over 100 each day, and we don't have AC. Poor Tera did not inherit my African blood and the hotter it was, the more she seemed to fuss. So we hauled the box fan out and would aim it wherever Tera was in the room…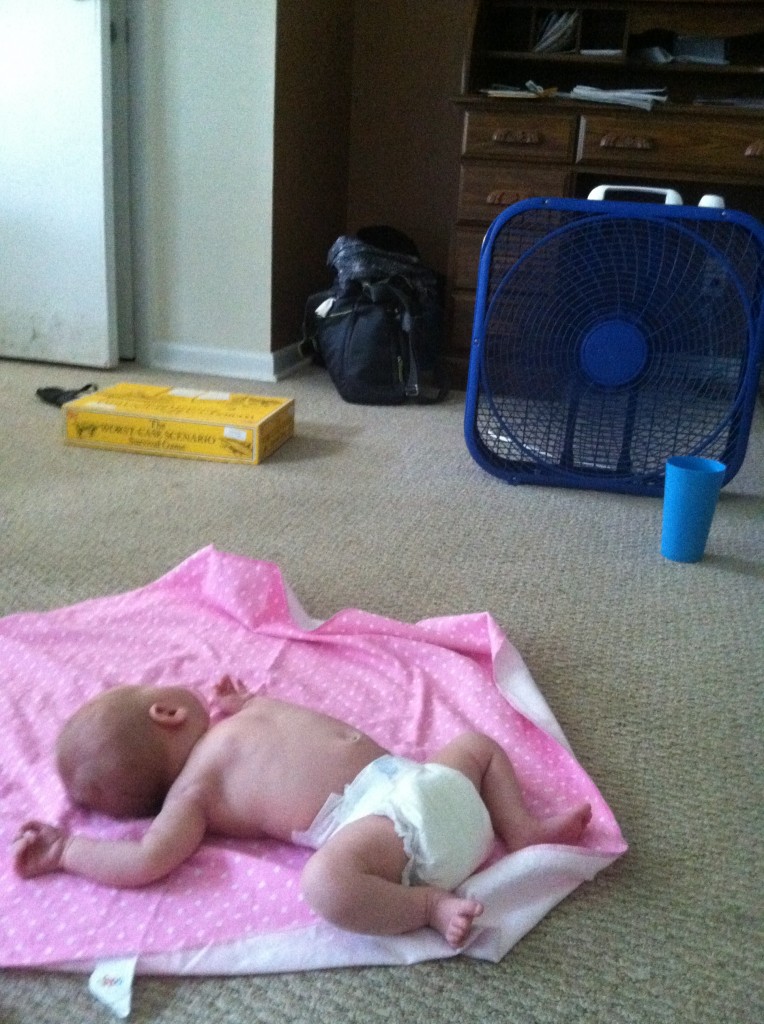 We LOVE reading to Tera, and she seems to love being read to! Even if she has NO CLUE what we are talking about, she seems really content to listen to our voices. My Mom even wrote a blog post about the benefits of reading to babies.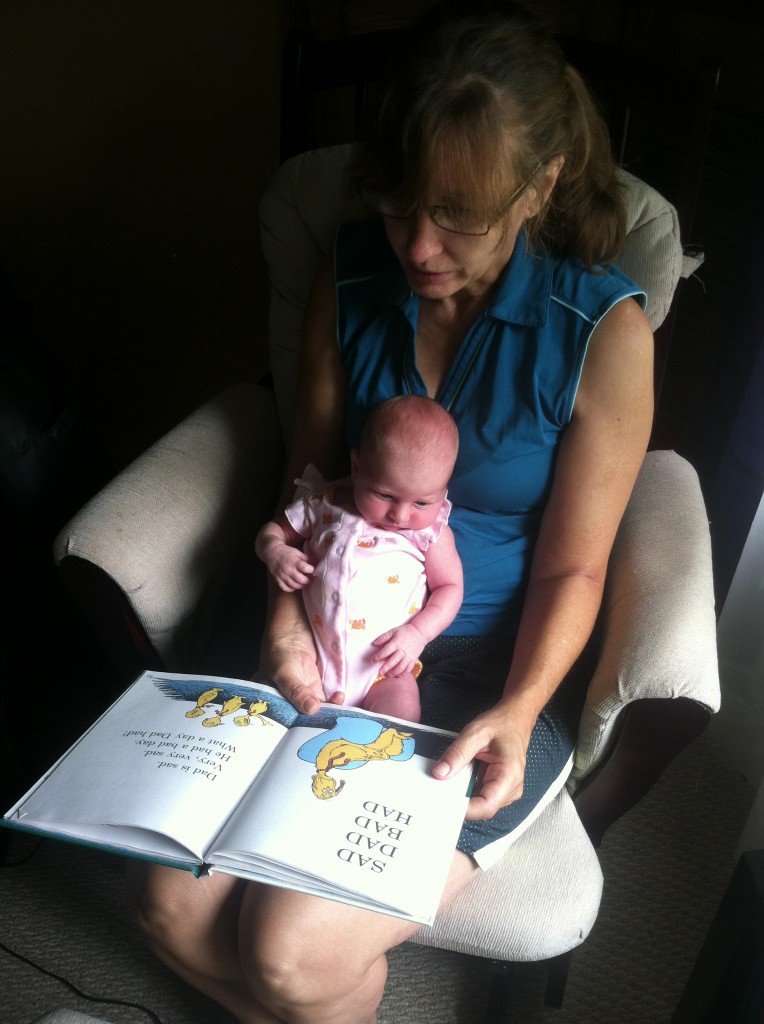 My Mom also took some pictures of our brand new family. Theo, Suzanne, Tera, and the spare tire around my waist still. Haha. Theo is going to kill me for writing that…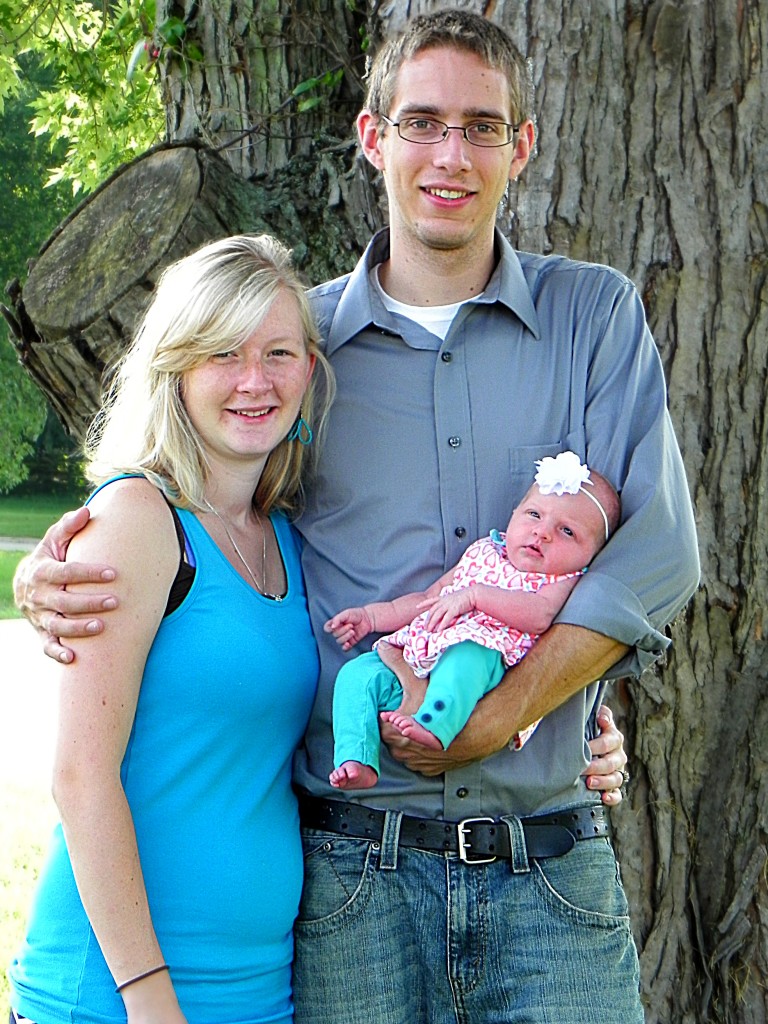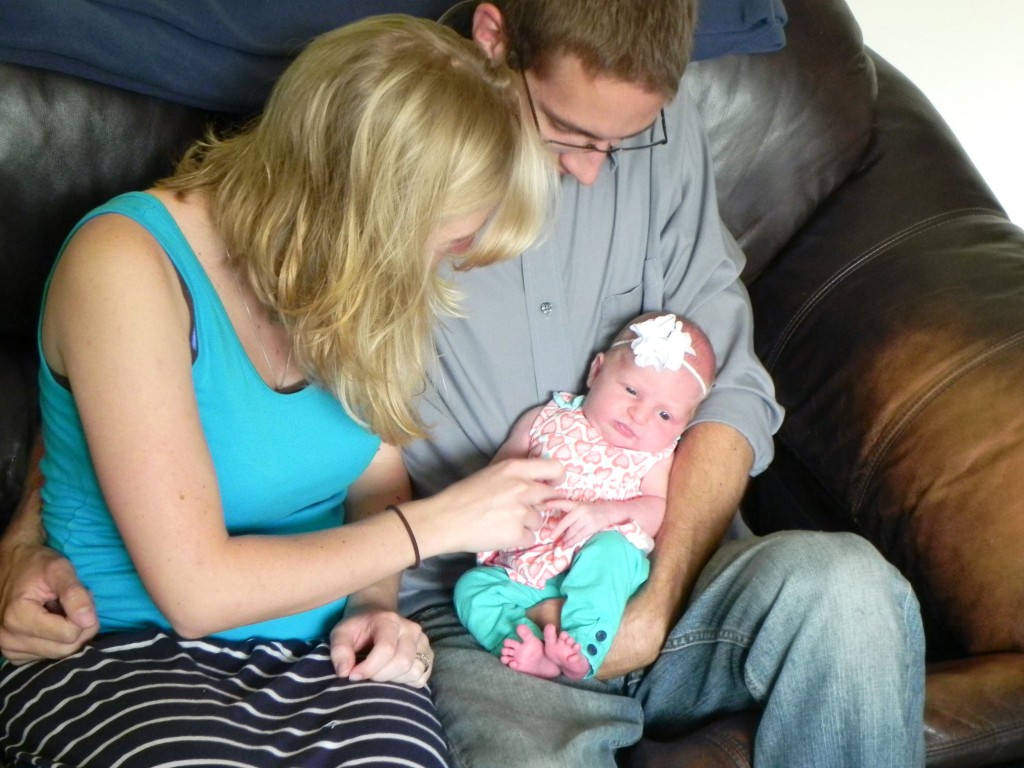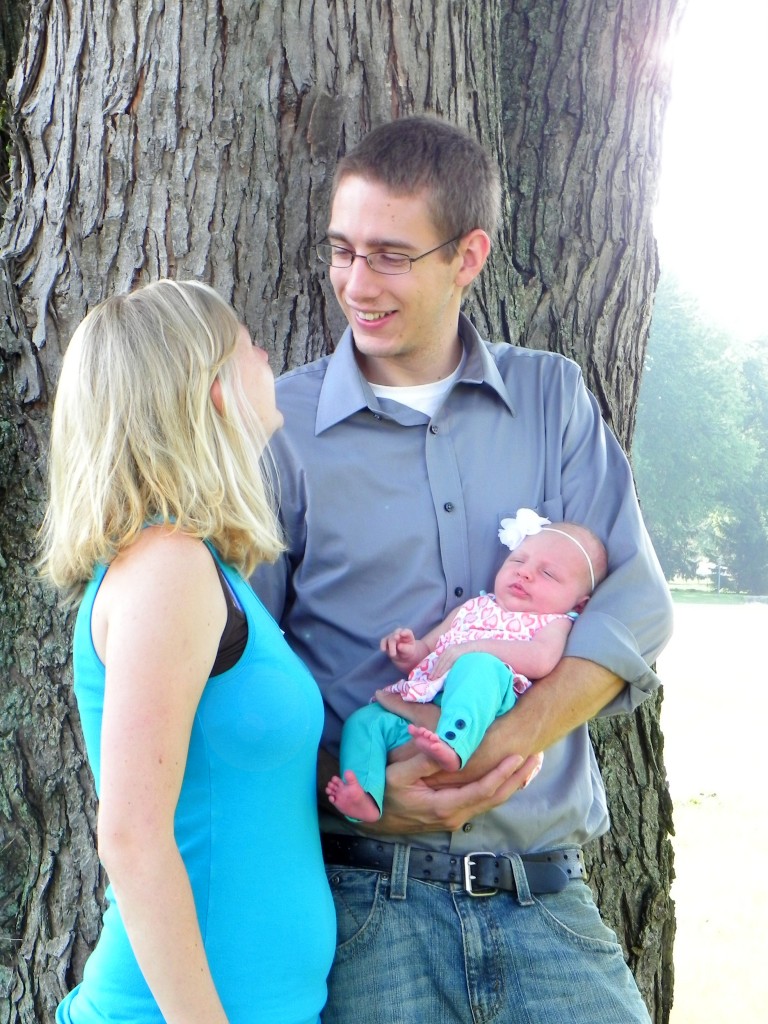 Theo had a nice little nap in the hammock with Tera. She loves being outside, and she being held and moving. So the hammock was the perfect place for her! And I'm sure Theo didn't mind…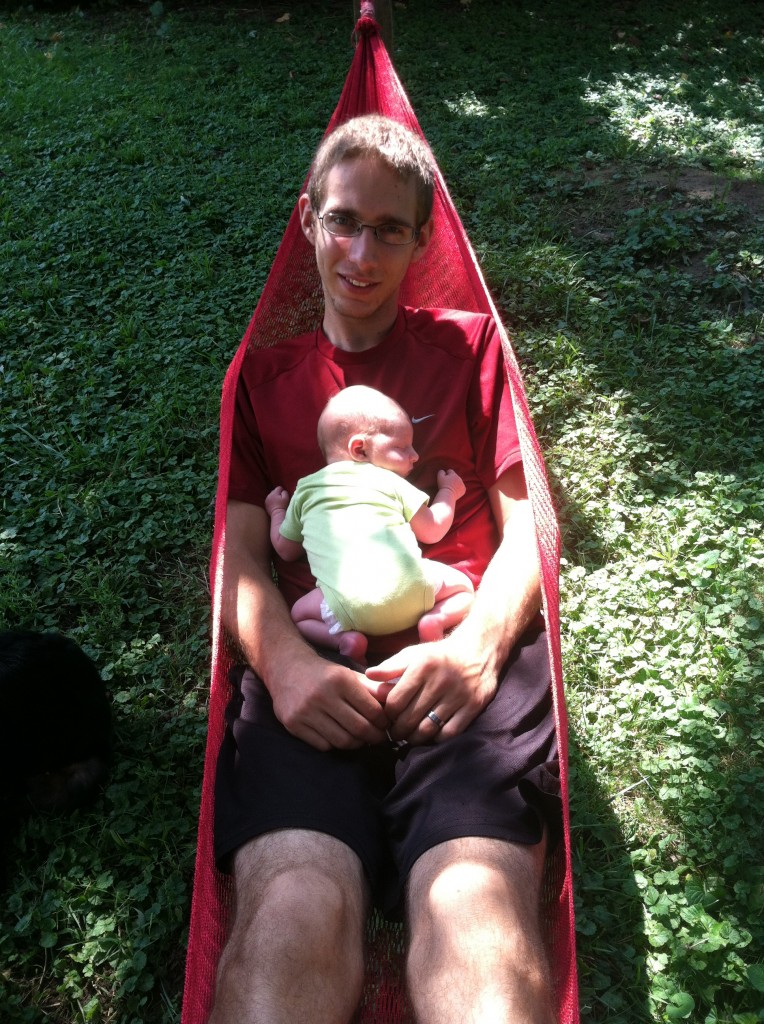 Then, my precious husband took me out on a date! I still don't have a breast pump, so in order to go on date we have to feed and run! And we know that we only have a little bit of time out. But it was still absolutely wonderful to go out just my man and me! I'm so blessed by a man that treats me like a treasure!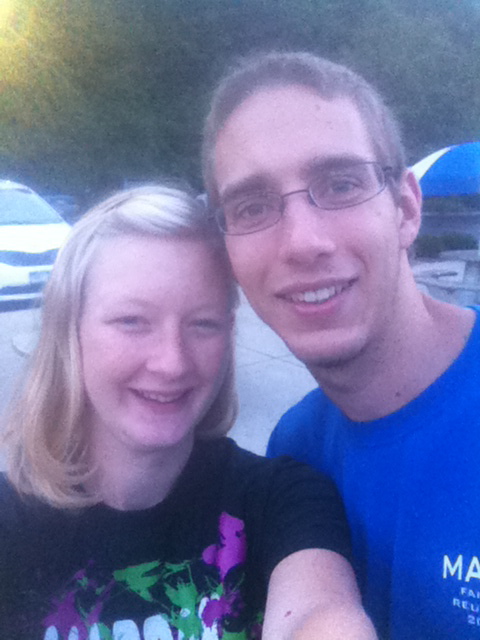 We've continued to have visitors stop by throughout the week! Charrell loved on Tera and put her straight to sleep! Oh, what a precious friend!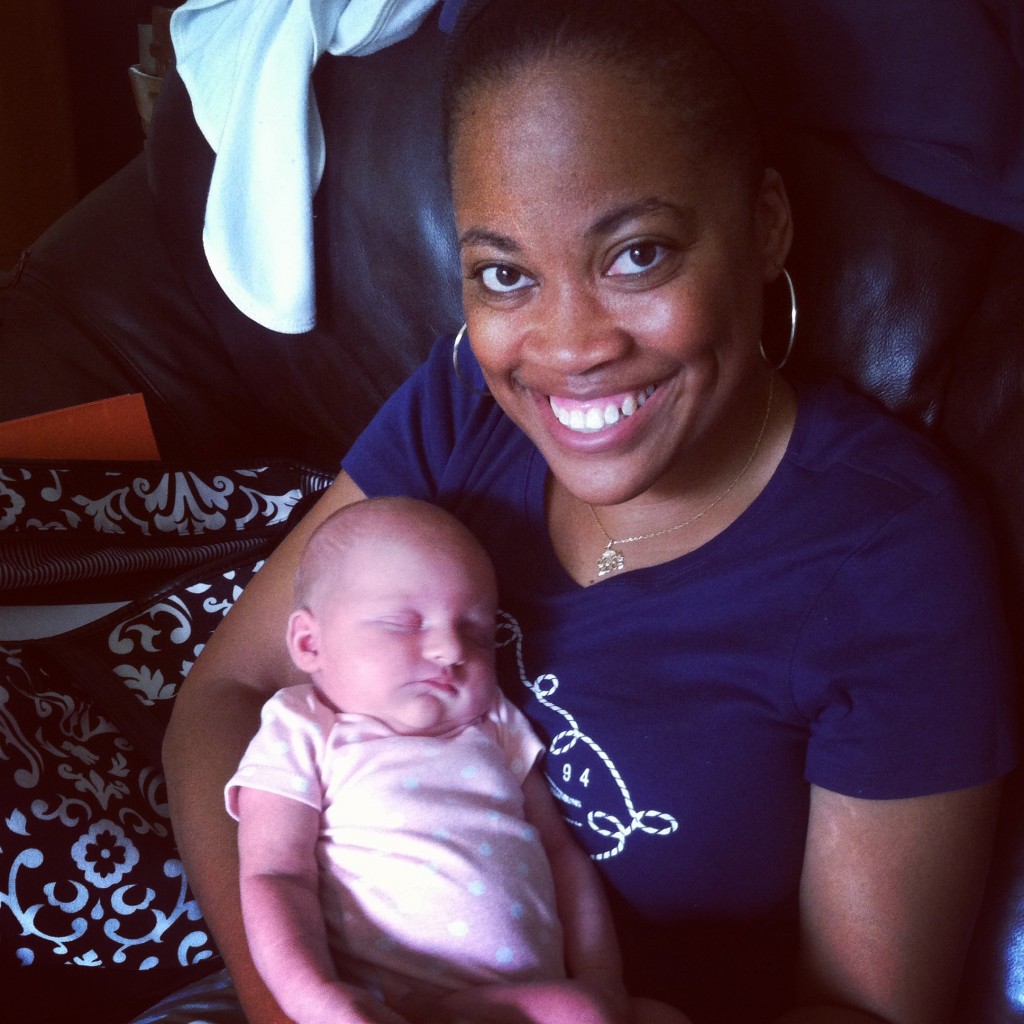 I also went with my Mom and got a haircut. For some reason I forgot to take a picture together with our new haircuts. We brought Grandpa with us to stay in the car with Tera because we didn't want to take her into the salon with all the chemicals that are in there. She slept so soundly the entire time we were getting our hair cut!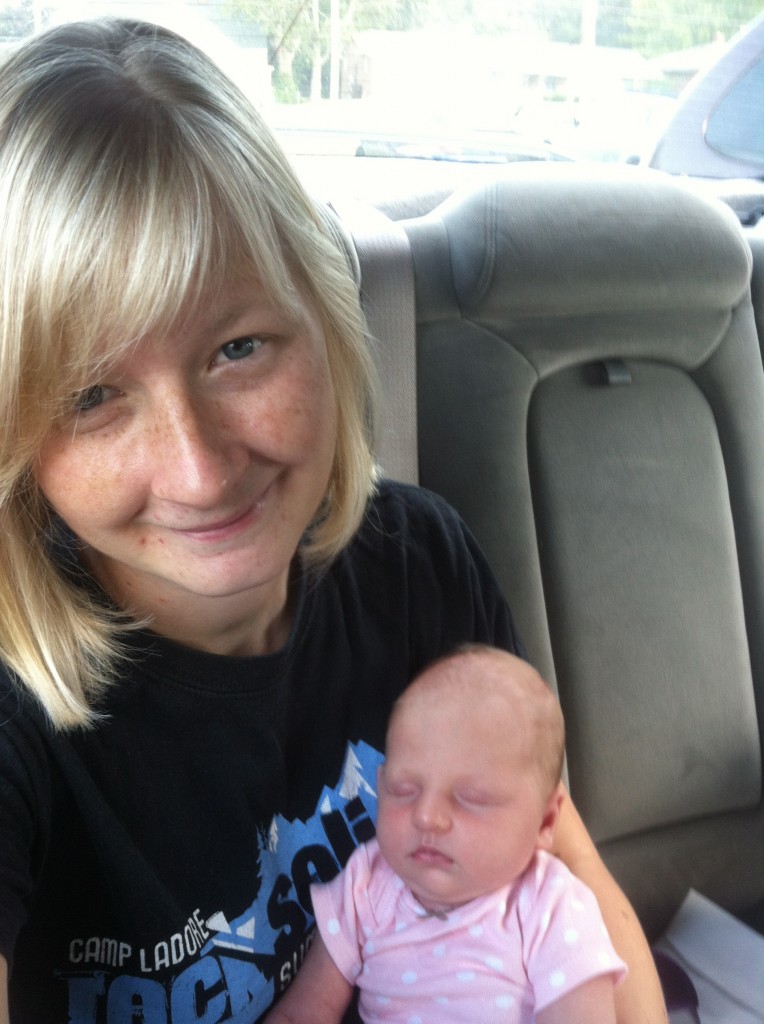 Here we are with our haircuts…and watching Call the Midwife. Theo was at work and my Dad was reading his book, so we had ladies movie night.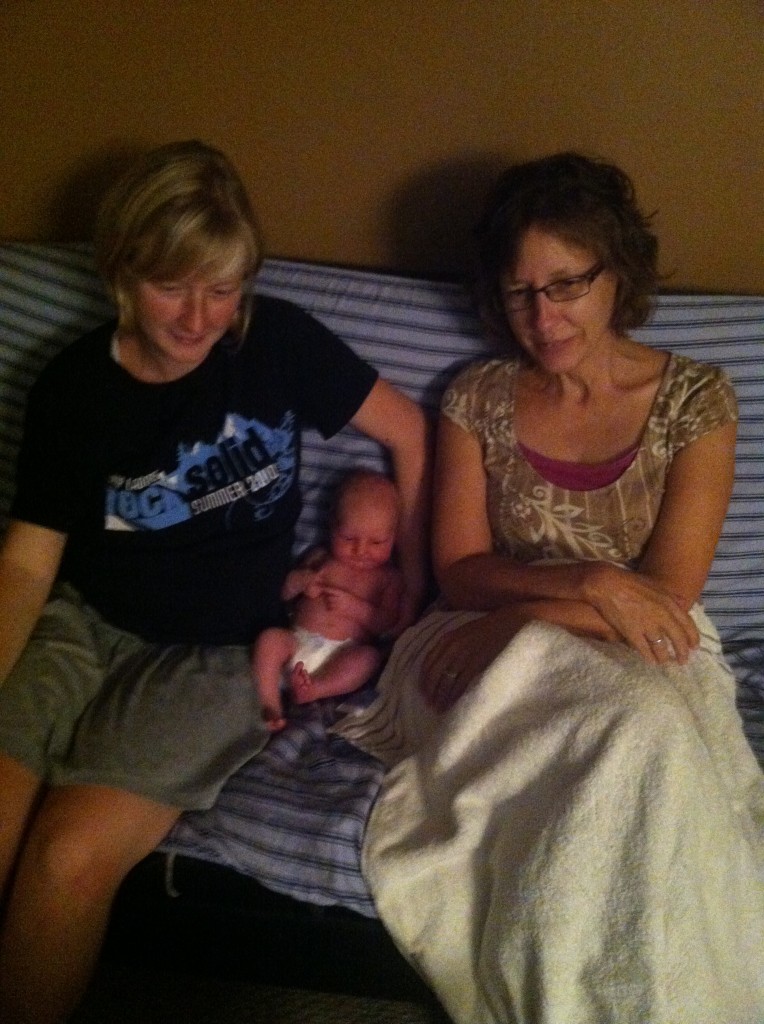 I mean..isn't she adorable? Stink eye.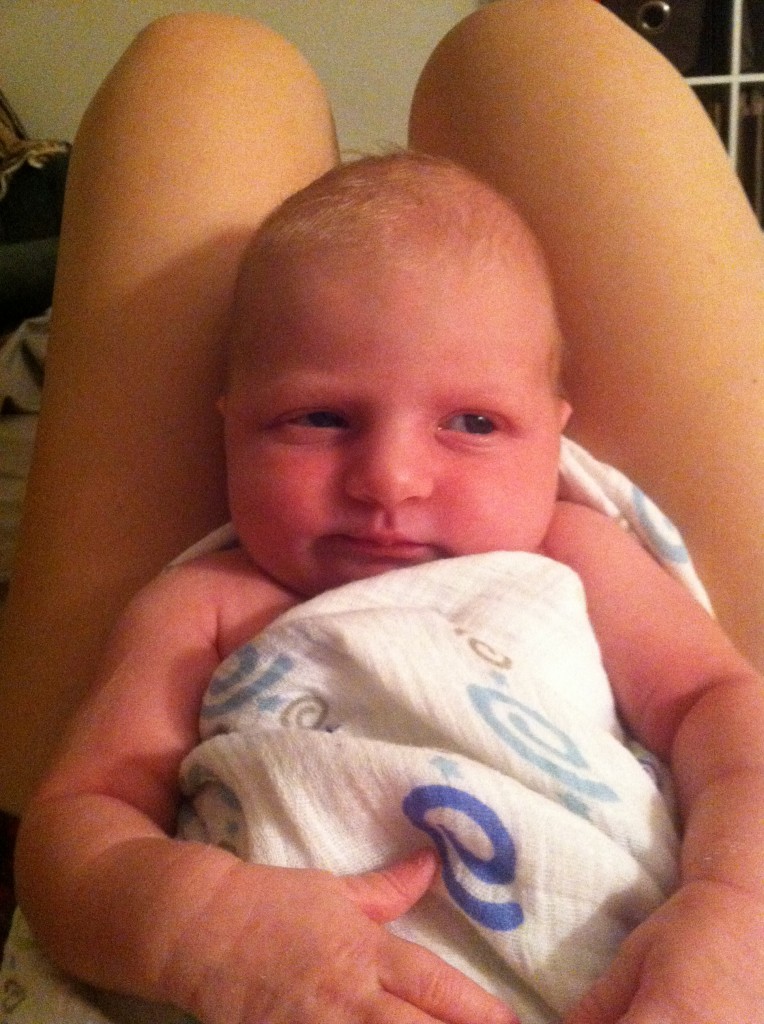 Beautiful, beautiful girl. I continue to work on my own body image simply so I can teach beautiful Tera by example. It's a struggle to remember that I now have a little girl listening to every word I say about myself. Even if she has no clue what I am saying right now, I need to work on breaking the habit now so that as she grows she learns how to have a healthy body image herself.
And on top of all that, I want her to remember her worth is not found in her image. Her worth is found in Christ. Phew, no pressure in raising a child, huh???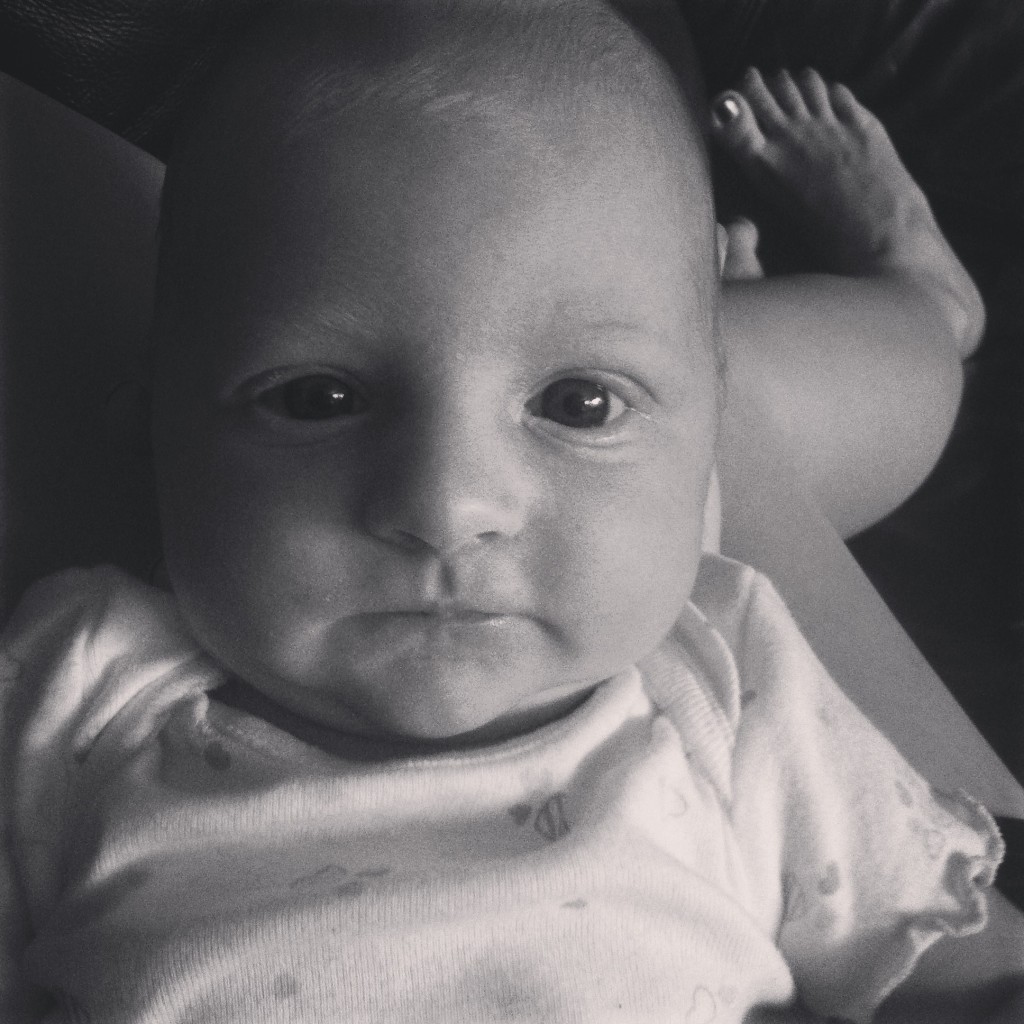 We also tried out our cloth diapers for the first time this week! We love them and have actually had less leaks with them than with disposables. I'm still using disposables when we go out and at night.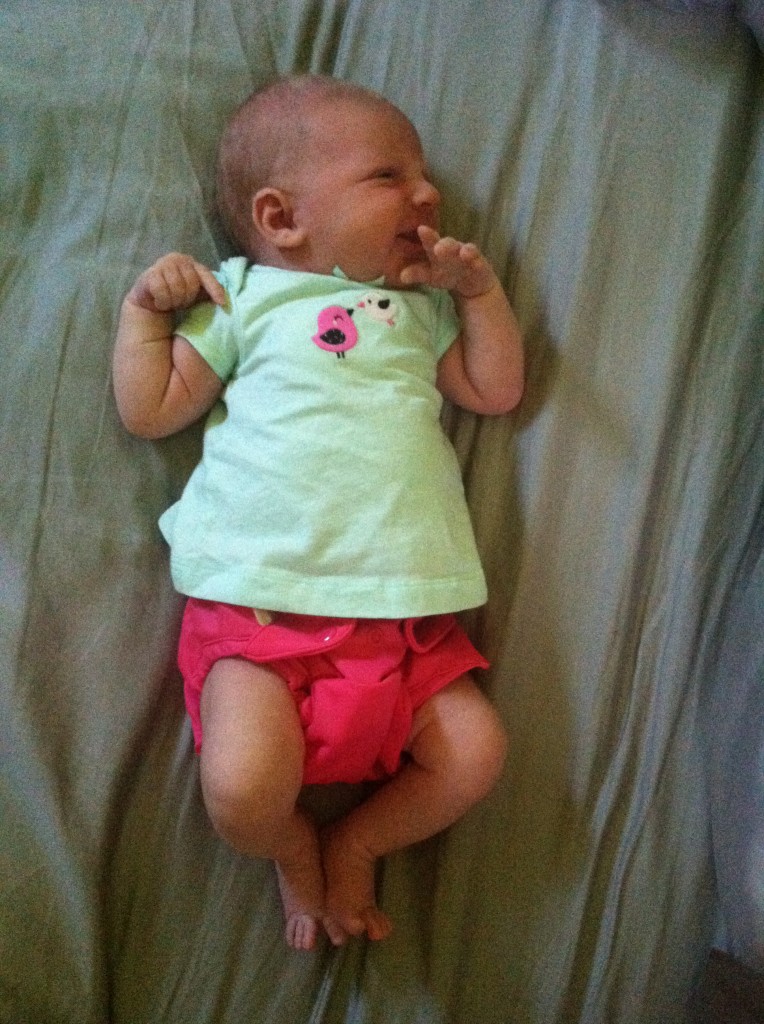 Nap time!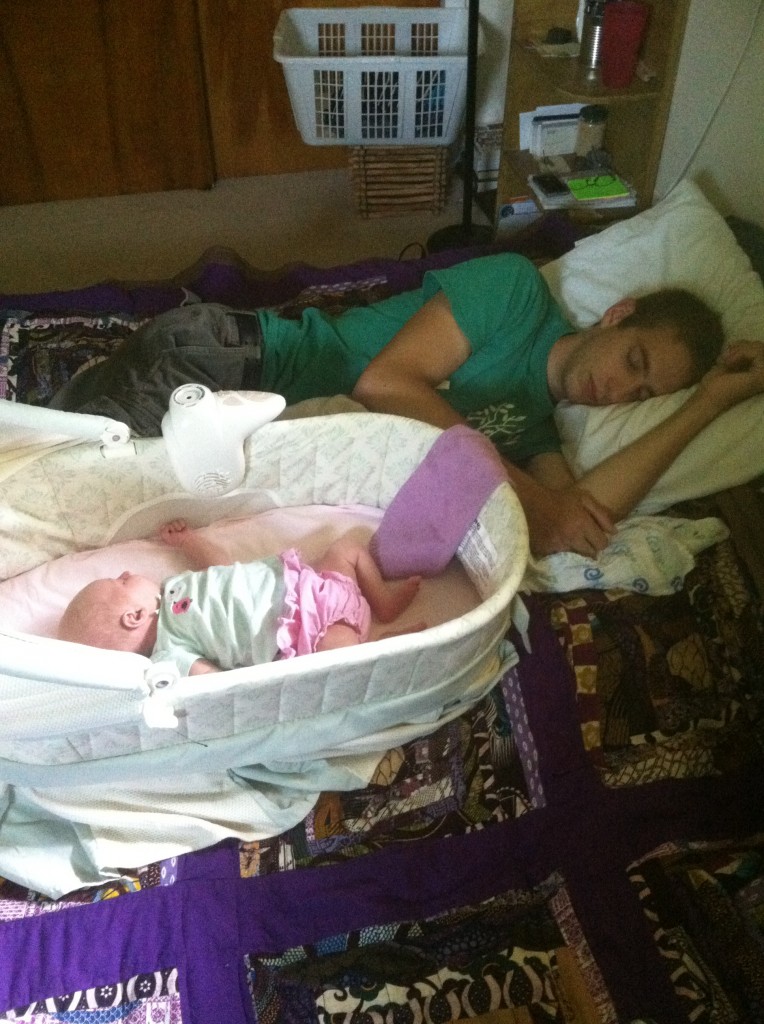 We took a last family outing to Young's to play mini golf. It was a blast, although it was pretty sad knowing it was my parents last night. Theo snapped this picture while we were waiting for my parents to come out. I absolutely love being a Mom. Absolutely love her. And she pooped through that outfit before we even got there…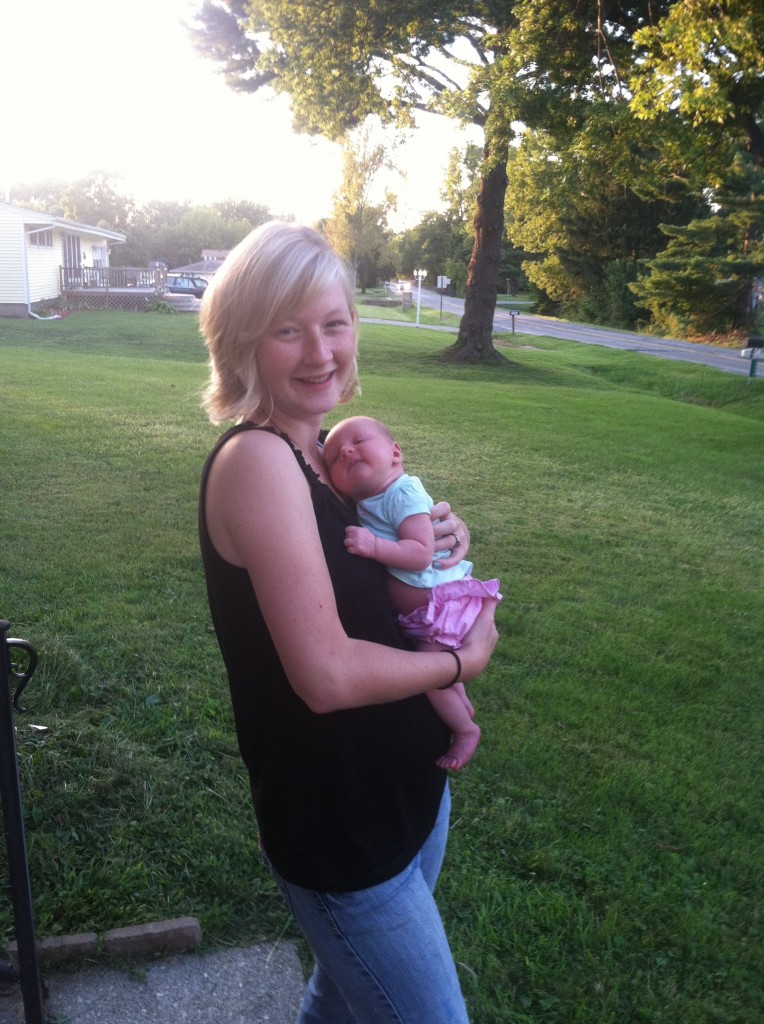 Grandpa and Grandma with Tera. Those jeans say NB. Ha. They were HUGE.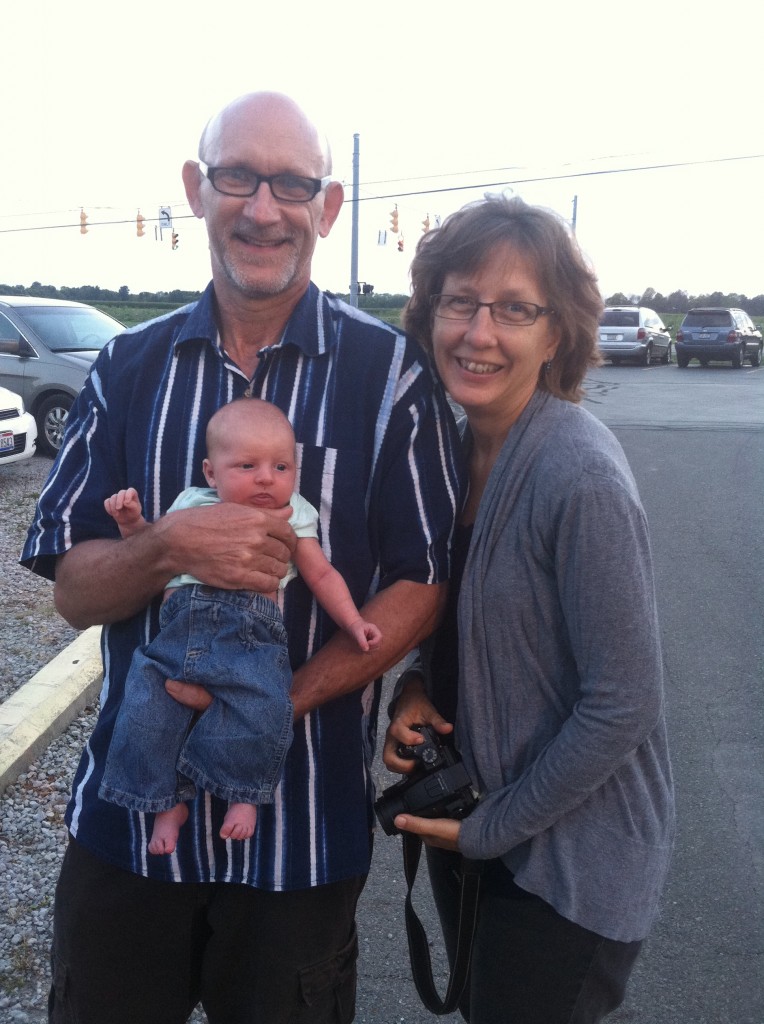 The whole (blurry) family.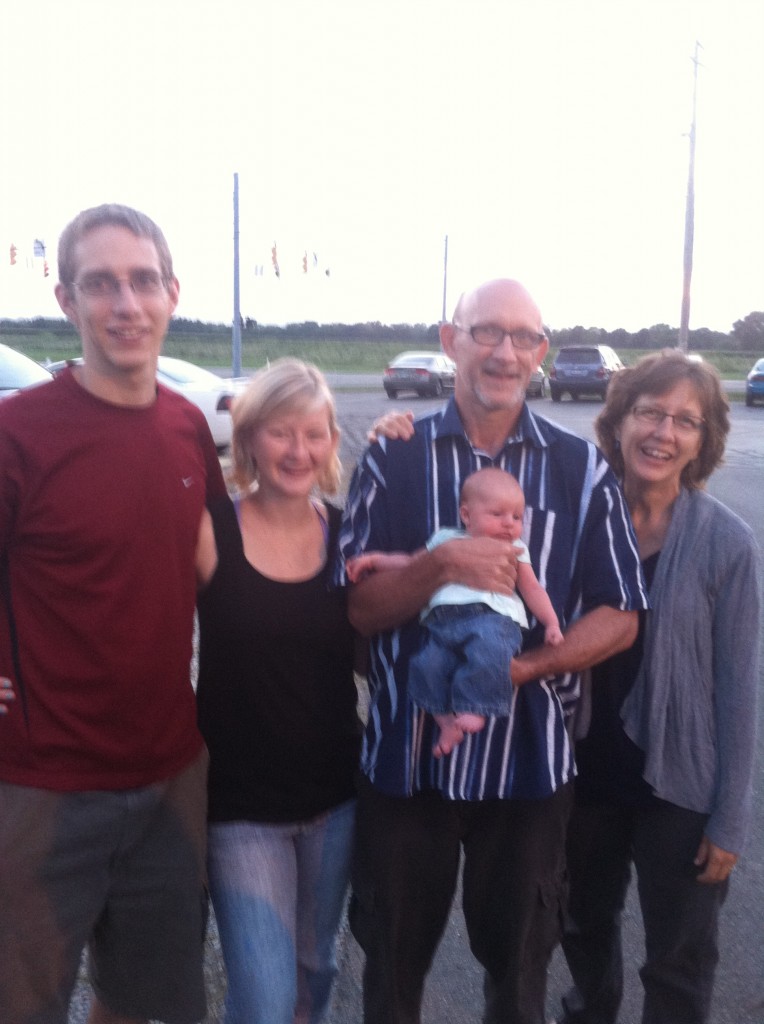 I had her in the carrier and did awesome in my mini golf game. When she got fussy I took her out and did horrible. Hmmm.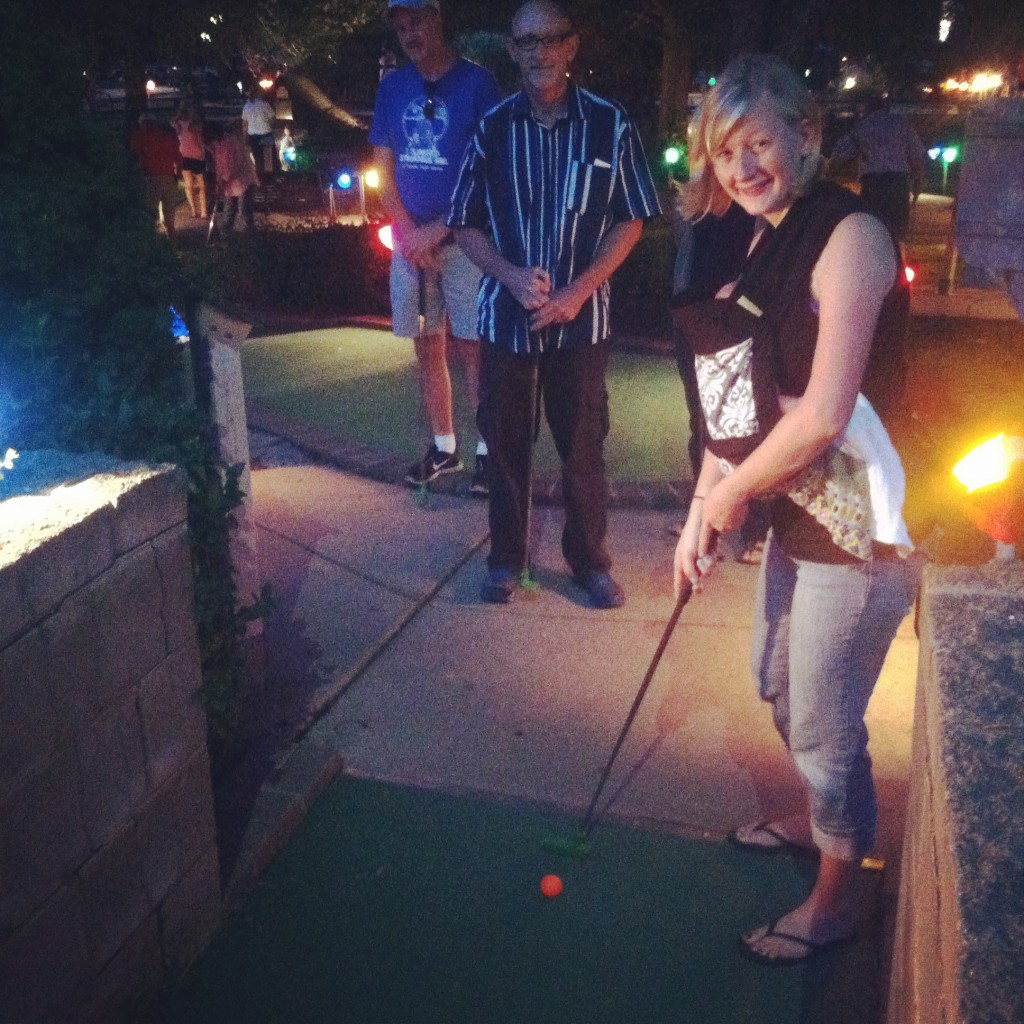 Theo golfed one-handed and got a hole-in-one. He is holding Tera in this picture in case you can't tell…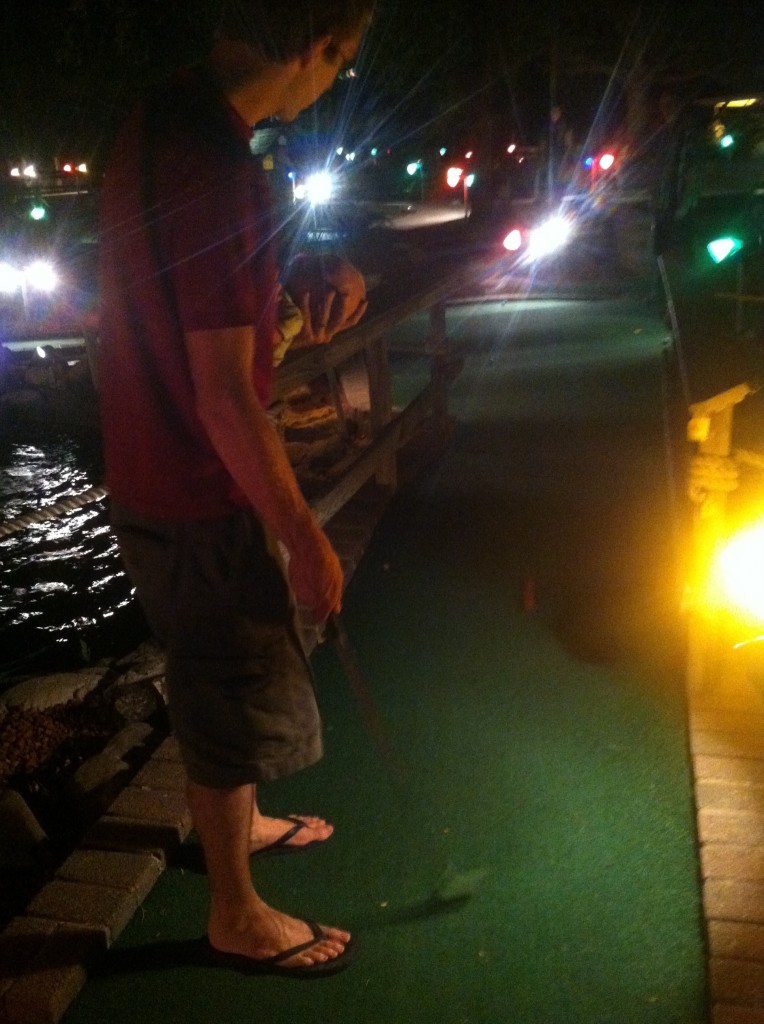 On Saturday Theo had work. I drove my parents to the airport and we got home around 2 pm. I cried for a while, and Tera cried the whole afternoon/evening. I could not get her to stop fussing. We have a theory that when I'm stressed, she also tends to get stressed. Theo got home at 11, and he had her asleep in 5 minutes. I'm not even kidding.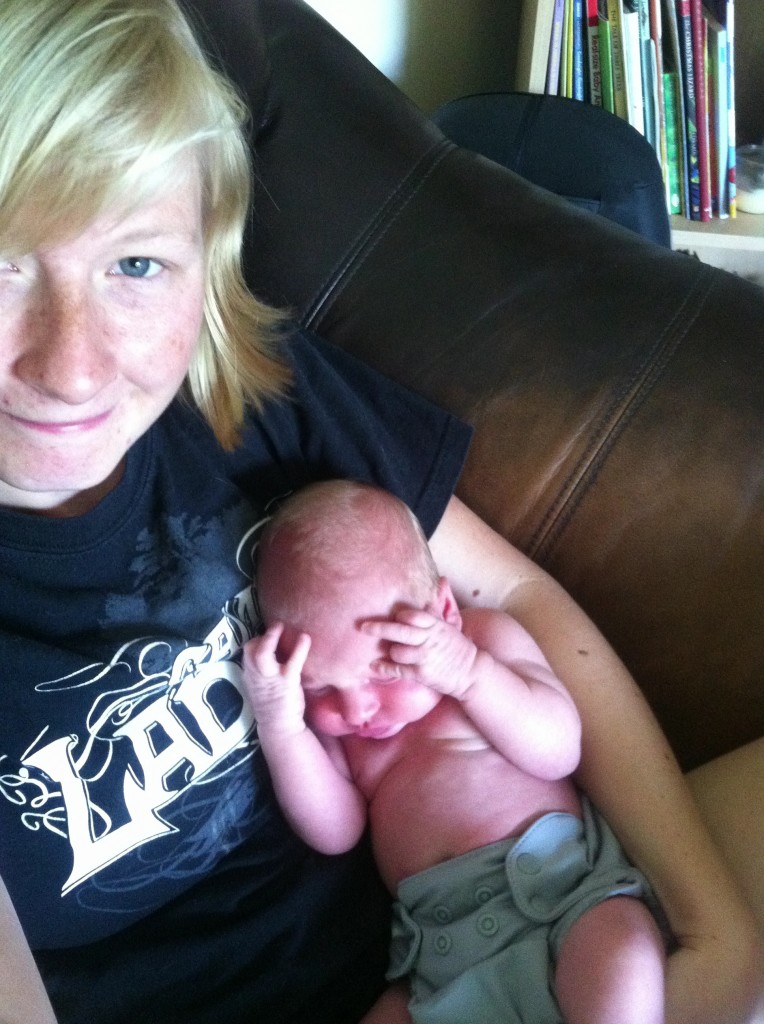 I do love baby snuggles, though. Those rolls and that hair. And that huge diaper wad.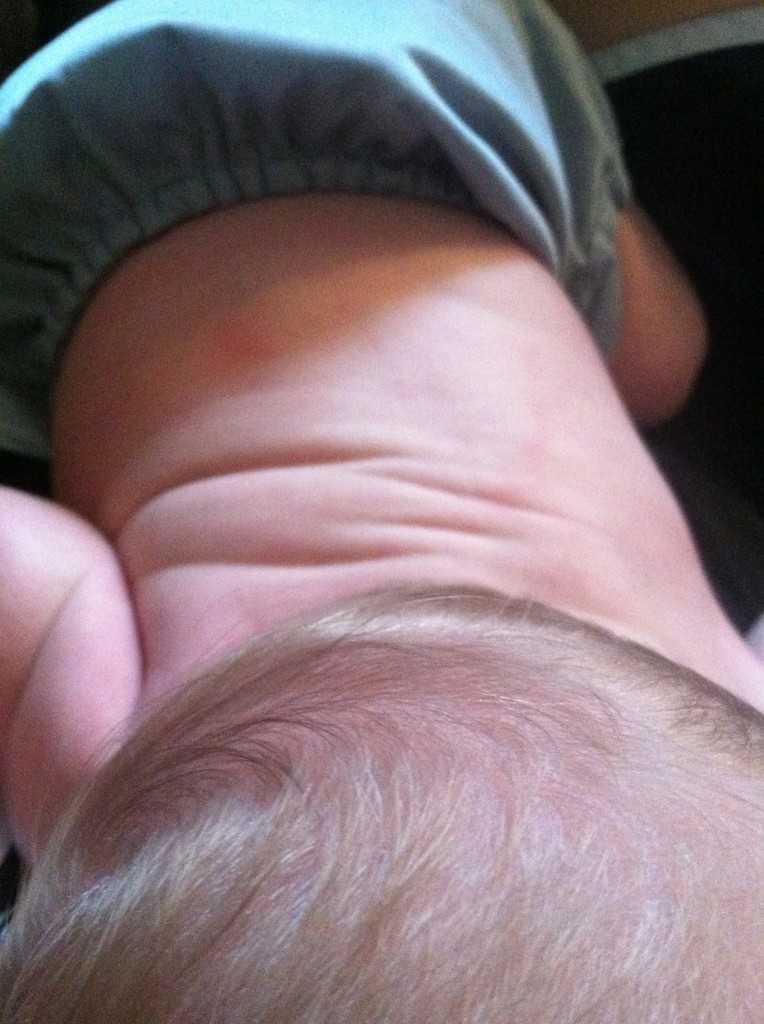 At one point, for about 20 minutes, I had everyone happy and content. Tera, the dog and the two cats! It was such a miracle I had to take a picture.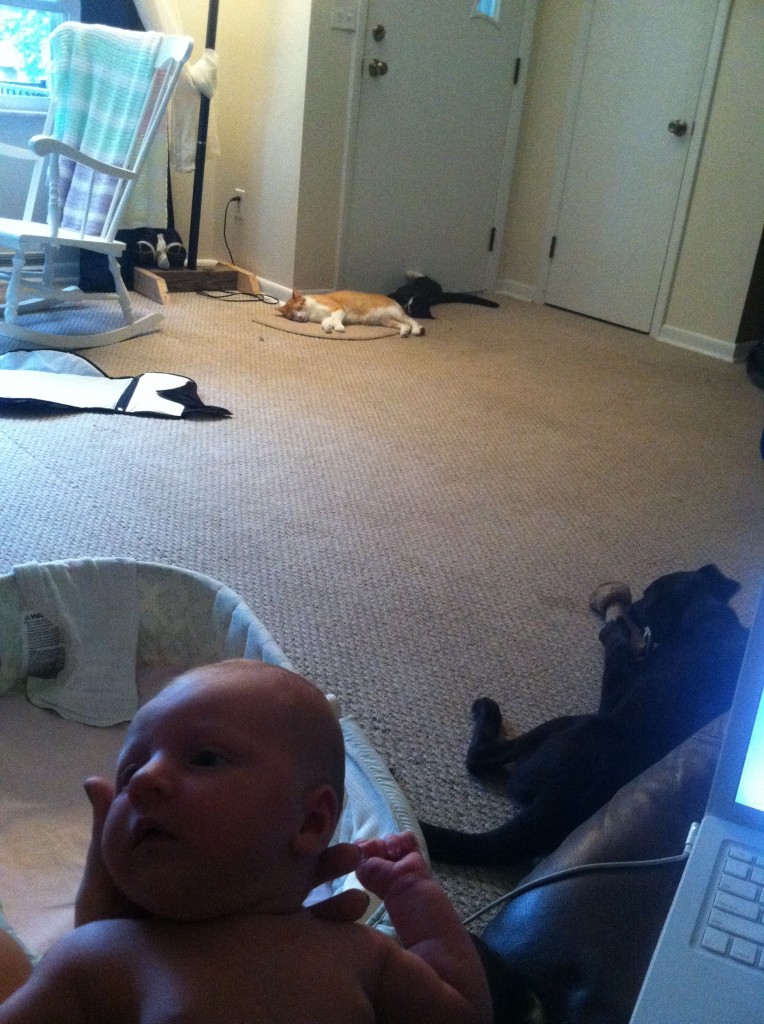 And just in case you think the cats have been neglected…they have. Poor things. But today BB came in and plopped down on my leg just like this. Doesn't look comfortable to me, but it seemed to work for him!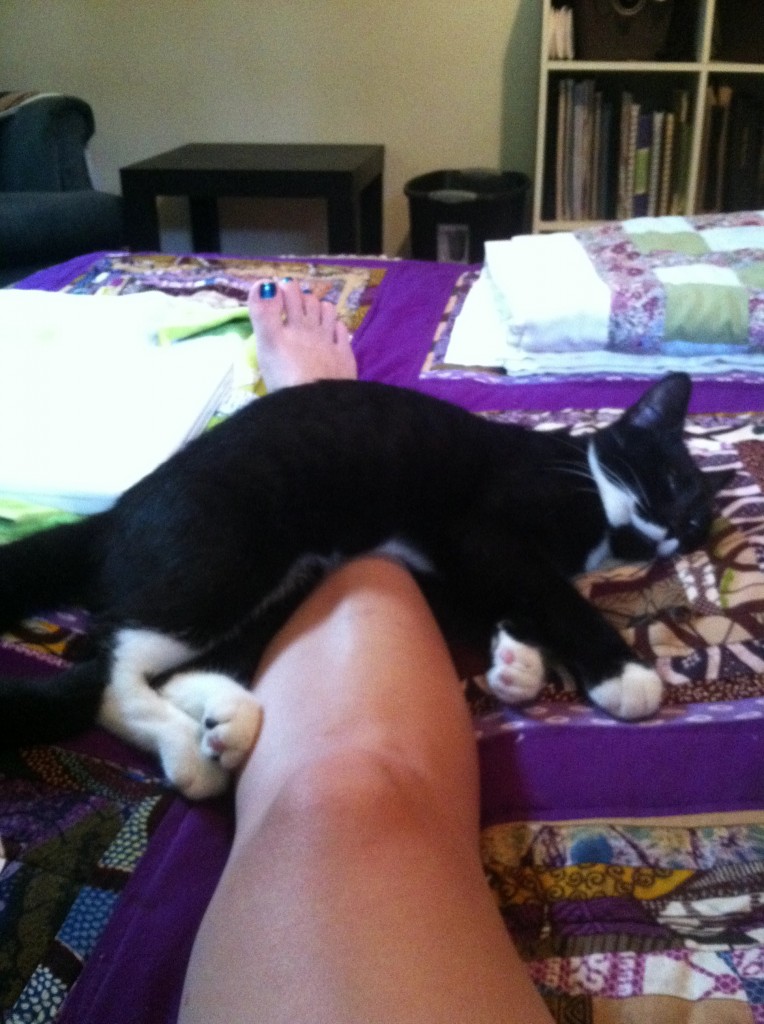 Hope you have a great week!