Well, this past week has been MUCH better than the week before it! You never know how bad it is, until it's over. Phew.
Theo works every Tuesday, Thursday and Saturday, so we don't have a typical Friday/Saturday/Sunday weekend. Instead, we enjoy our Friday evenings, and then make Sunday and Monday our weekends. It works for us!
On Monday, it was a BEAUTIFUL day! Theo wanted to take the car in to get it checked, and the mechanic claimed it would take 30 minutes, so we all decided to go. Turns out it took almost two hours…but there happened to be a park right across the street and an ice cream shop right down the street….so we didn't mind!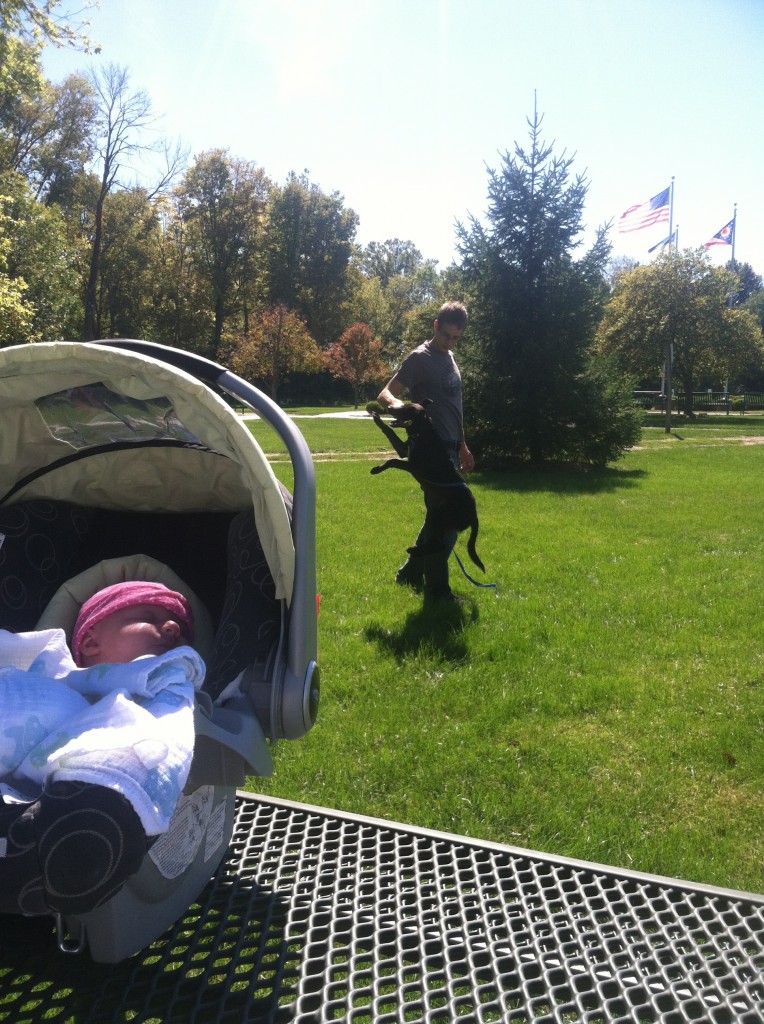 Check out how adorable Tera is. I just die over these tiny little newborn jeans. And I finally kept a hat on her head for longer than 30 seconds. Not much longer…but a little bit.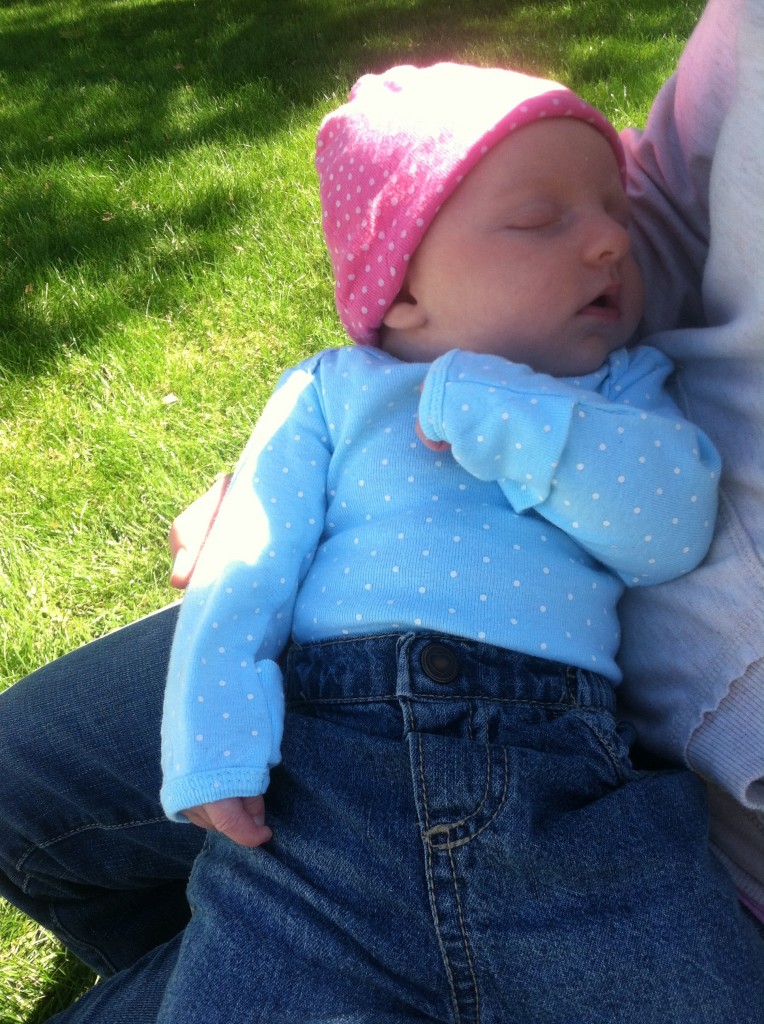 When you gotta change a diaper…you got to change a diaper.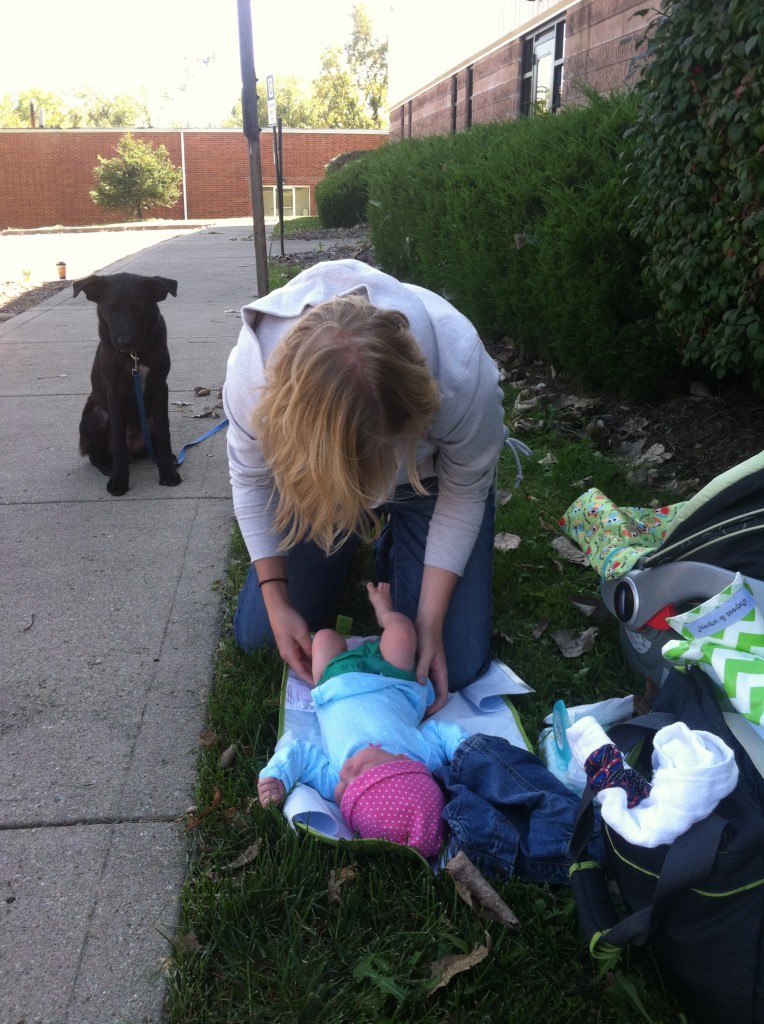 And then back home for nap time!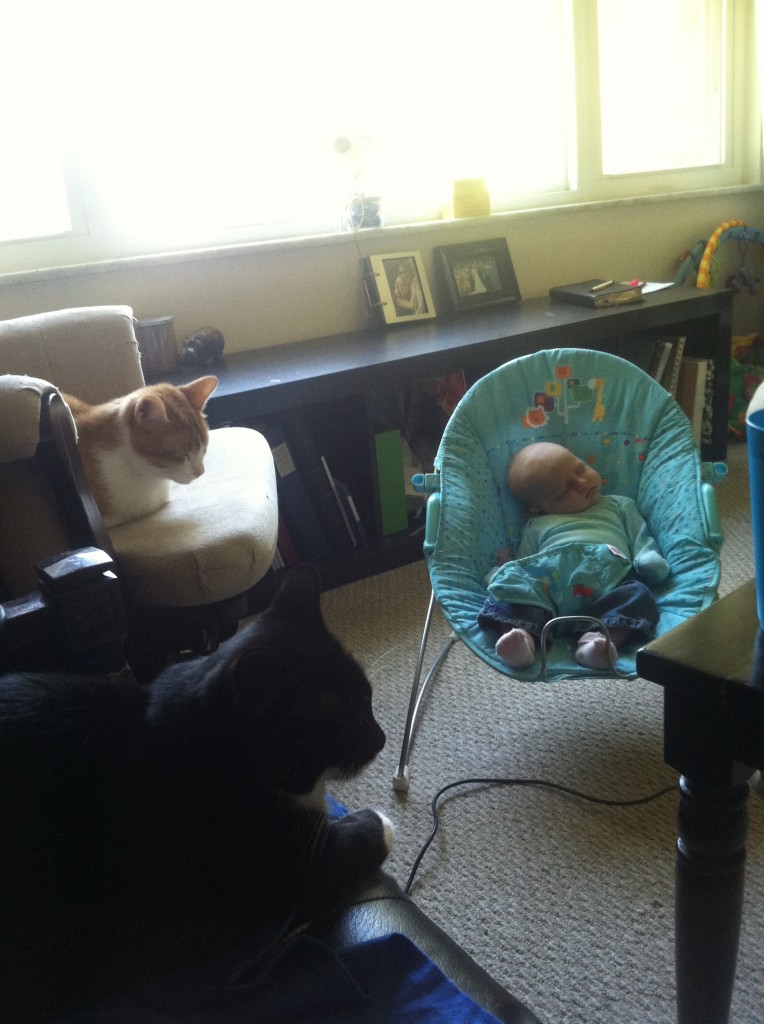 Tera's neck is getting so strong! She is not a fan of tummy time, but I was so proud of her on this particular day when she picked that head almost 90 degrees off the ground! And I love the look on her face…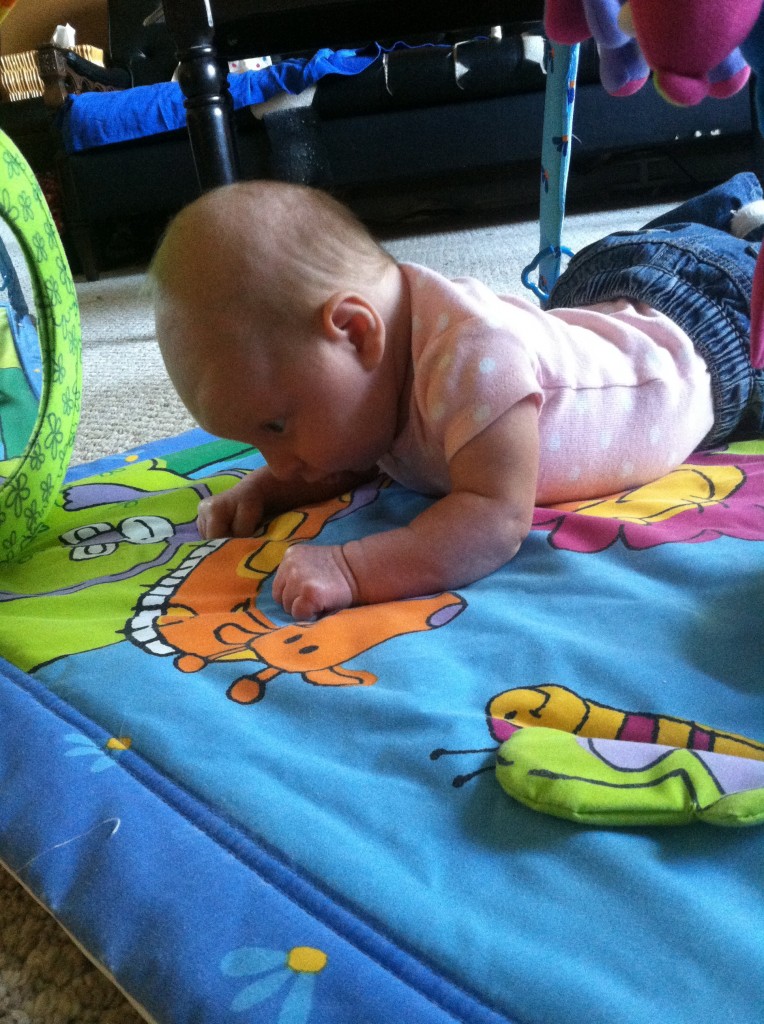 I picked a recipe for dinner that required potatoes, and lo and behold…we were out of potatoes. I asked Theo to run to the store to get some more potatoes, but he had the brilliant idea of digging them out of the garden instead. He came in with the pile to the right, and said, "do you think this will be enough to make dinner with? It's all I could find…" "Sureee", I sighed, because I really didn't feel like it was enough. And then he laughed and gave me all the rest. Ha.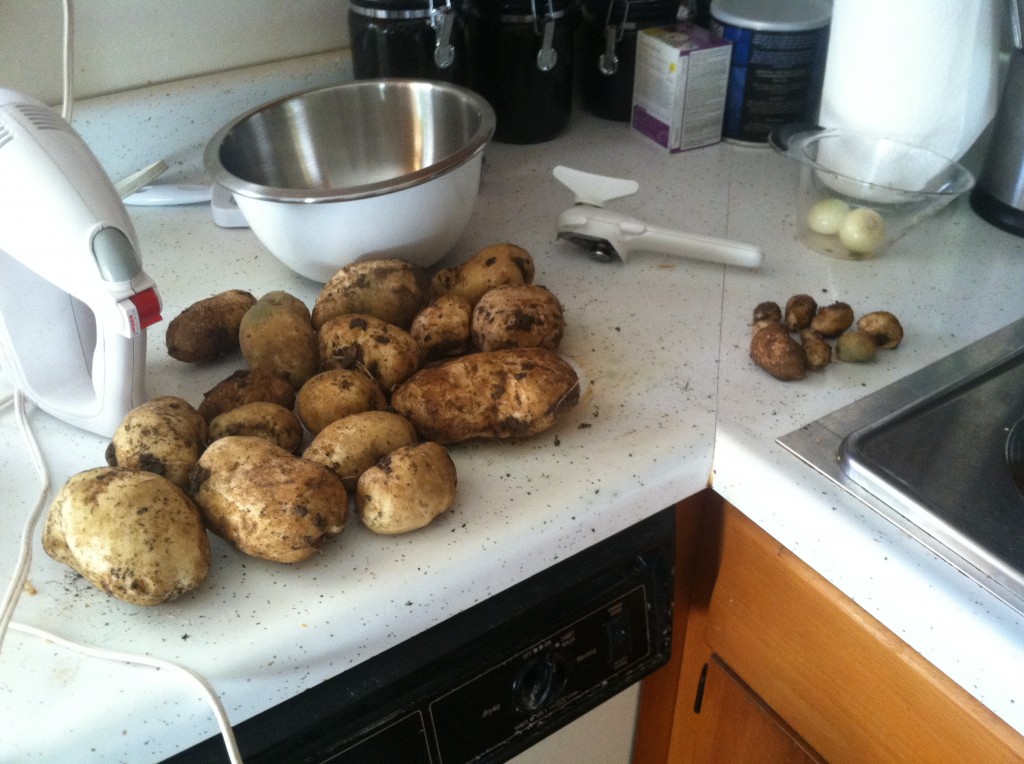 Theo has been watching Lord of the Rings, which is rather boring for me. Apparently Tera feels the same way.
I worked on finishing up organizing Tera's room, and took some pictures of it to show all you blog readers. In case you missed it, you can see it here.
Tera is a TINY baby by most standards, but to me she seems to be growing SO HUGE. I can't snap her newborn onesies anymore over her cloth diapers, and some of them I can't even snap even over a disposable diaper. My baby is growing so big! (Also, can someone please tell me why there is not a standard size in children's clothes???? It drives me crazy that she can wear newborns-6 months right now…)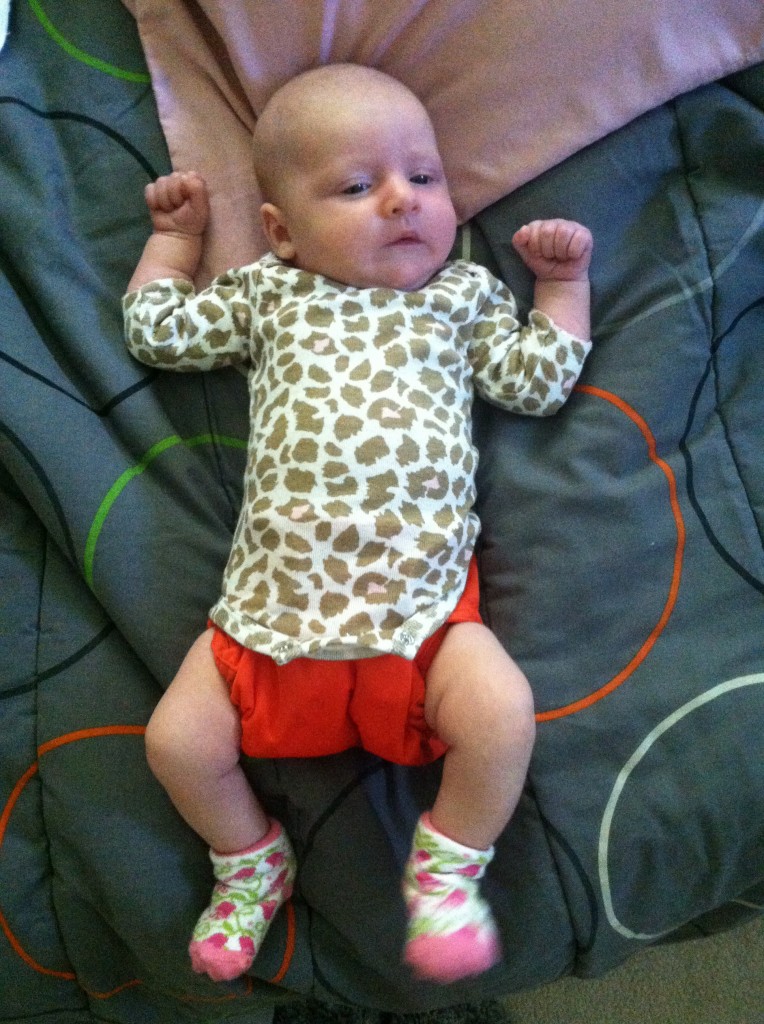 She is also starting to talk, coo and smile ALL THE TIME. I LOVE IT!!!!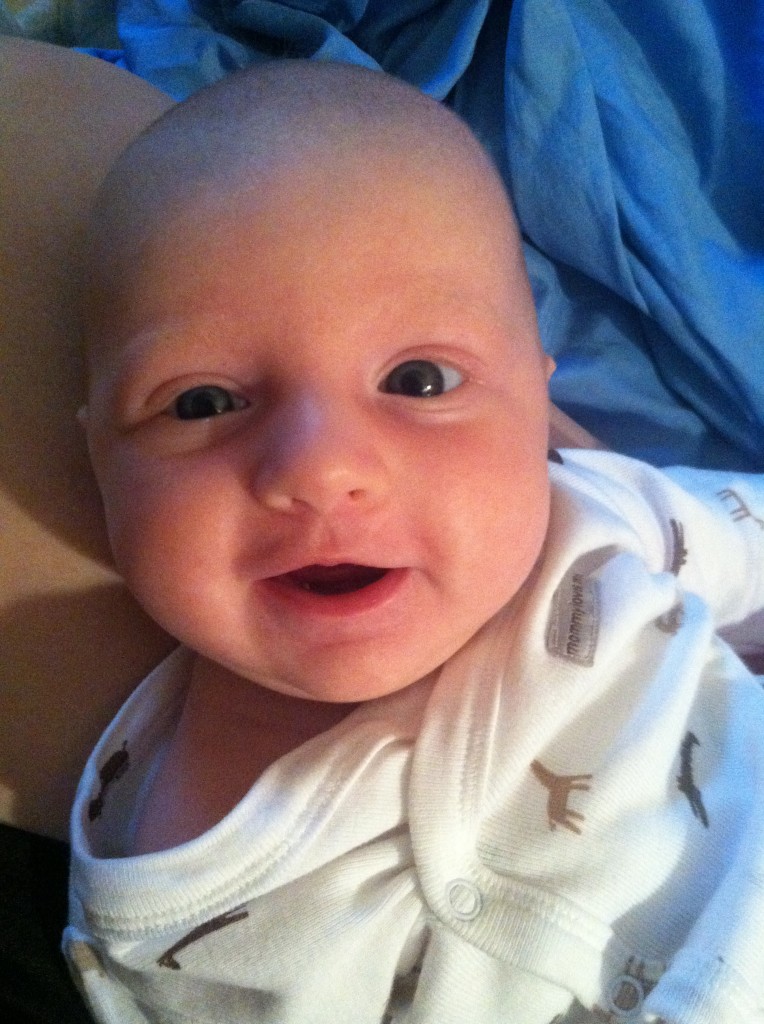 So one day this week, I asked Theo to do some tummy time with Tera. A couple minutes later, I found Tera like this. Ha! I'm so glad Theo is laid back, calm and little bit crazy, because he keeps things interesting around here. If I was the one making all the decisions, I would be so "by the book", only laying her down in an out-of-the-way spot and on a blanket and making sure that she got all the right types of interaction. That's not a bad thing, but sometimes all that "by the book" stuff can just get in the way, and tummy time can happen in the doorway on the carpet. No harm done, and I'm learning to just let go!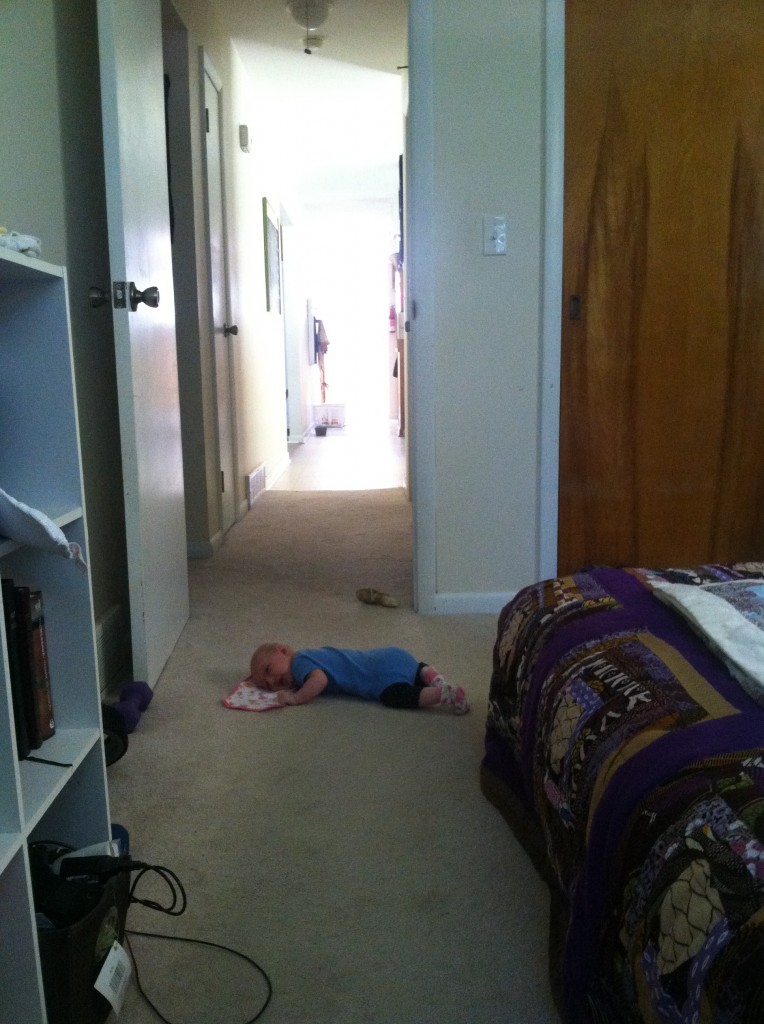 We are also enjoying this last little bit of summer. The weather has been so nice, I have taken every chance I can to go outside!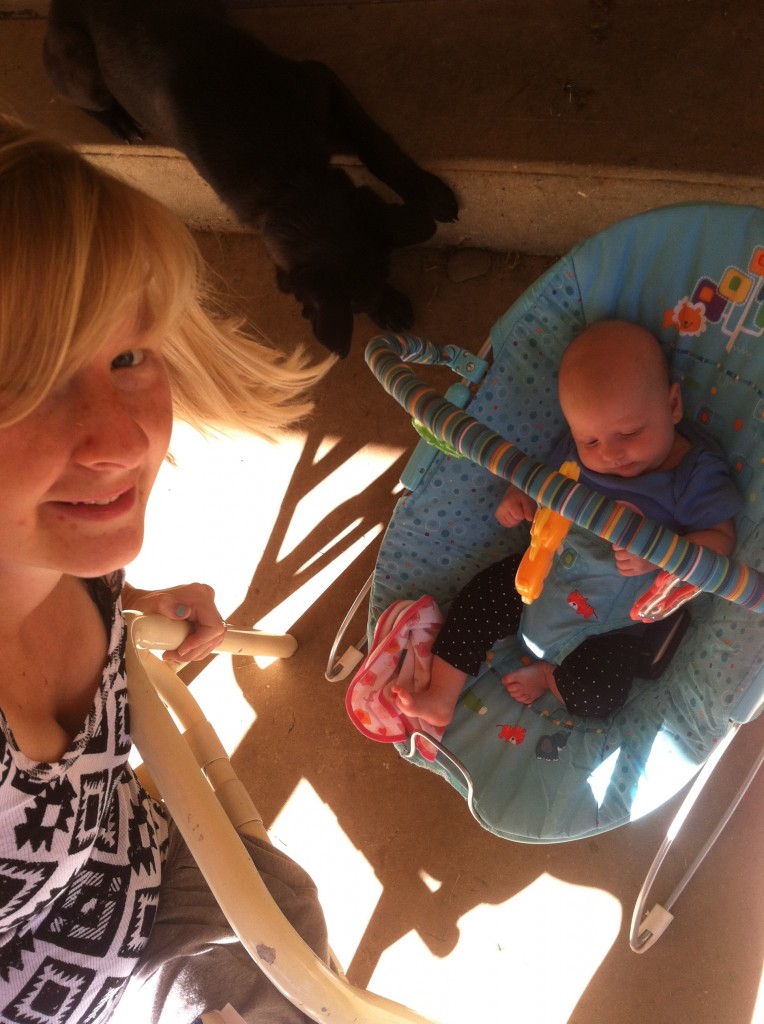 One thing I put on my fall bucket list was going to a football game. Theo and I decided that this past Friday night would be a perfect night to go. It was still warm enough, and we felt up to going out with Tera. Then, we found out it was the homecoming game. Sooo, it was a little bit crowded and loud, but we still enjoyed it.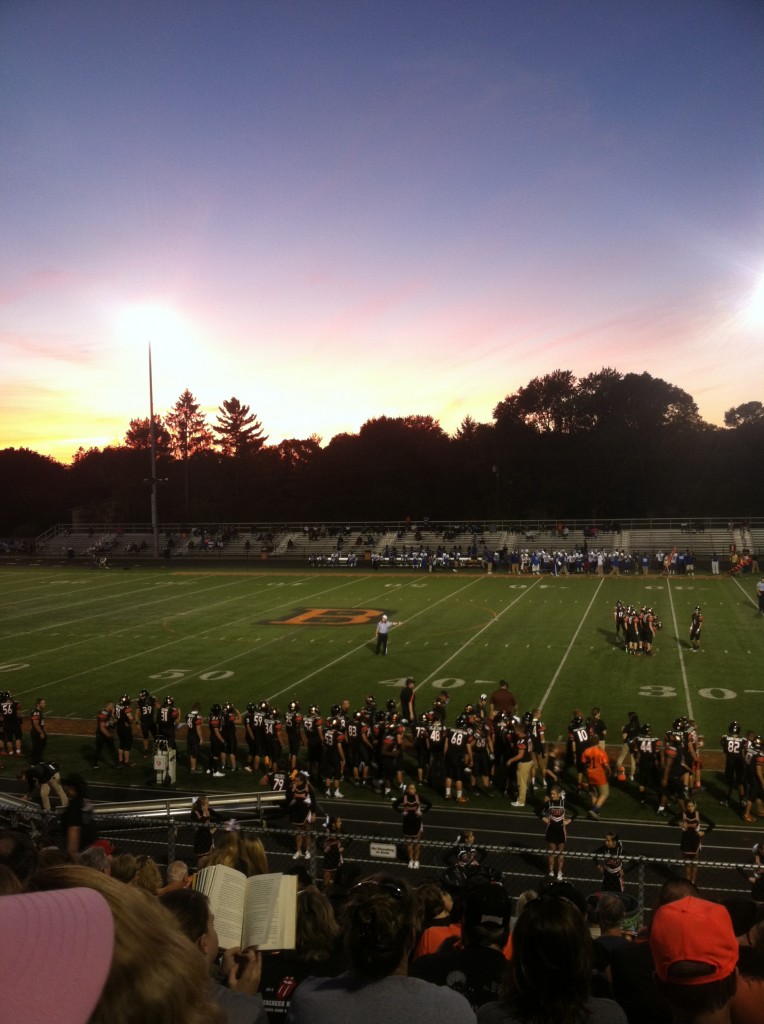 The football team was not very good (maybe that is why that kid is reading a book?), but it was still fun.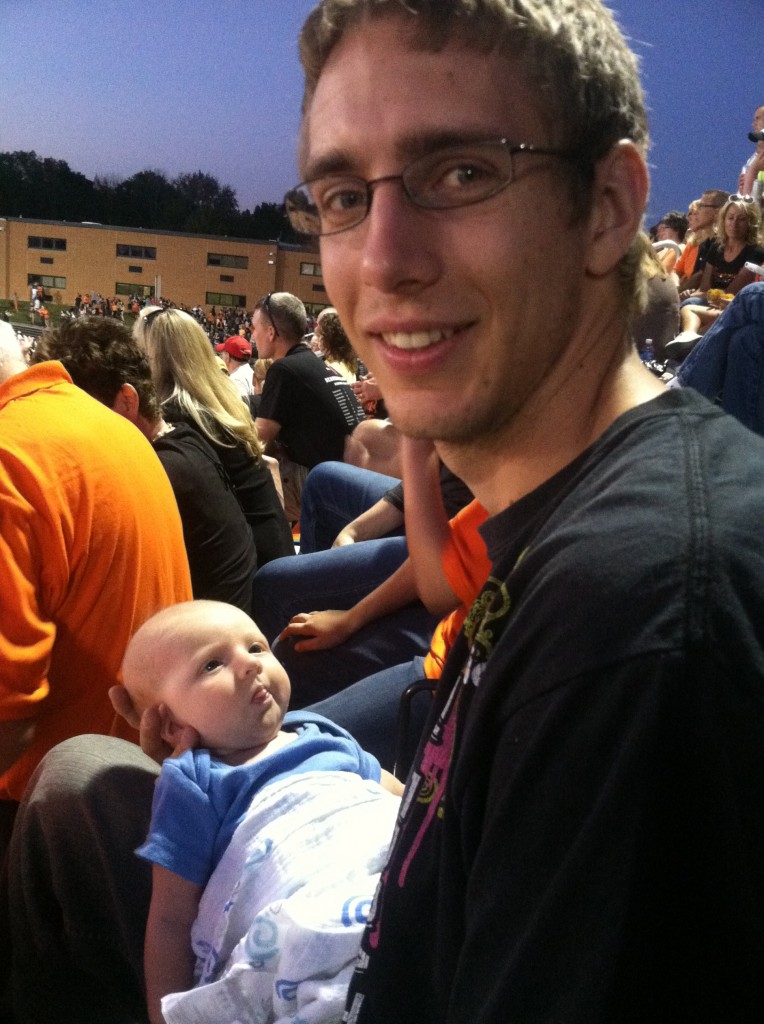 The football team might not have been good, but the marching band was EXCELLENT. It was worth it just to see them perform!
And just in case you all think that Tera is happy all the time…it's not true. Here is proof.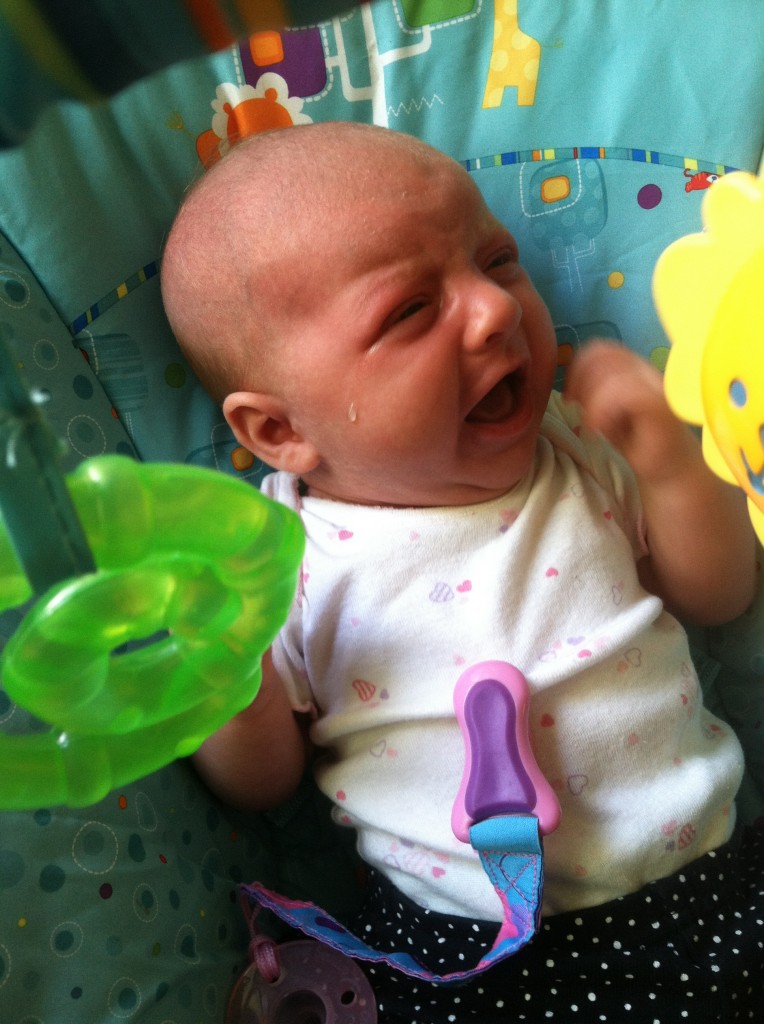 But aren't those crocodile tears just ADORABLE?
And as soon as you pick her up….all is well in the world.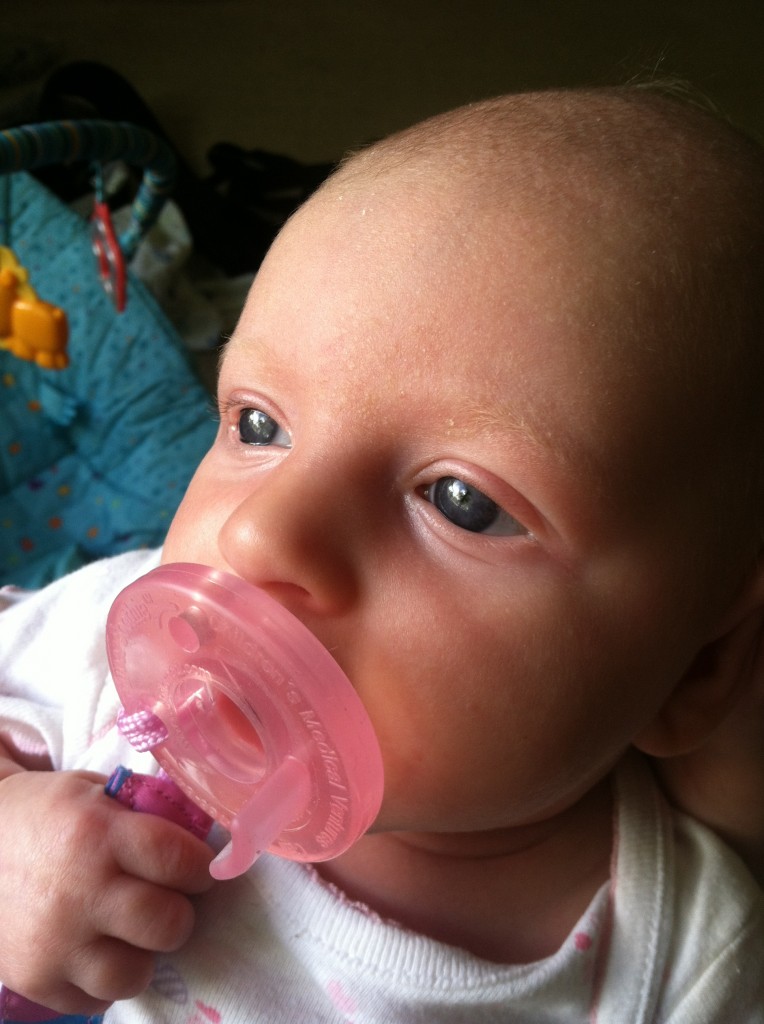 I have a cloth diaper post coming up in this next week, so I spent a lot of time snapping some pictures for it! Isn't she just the cutest?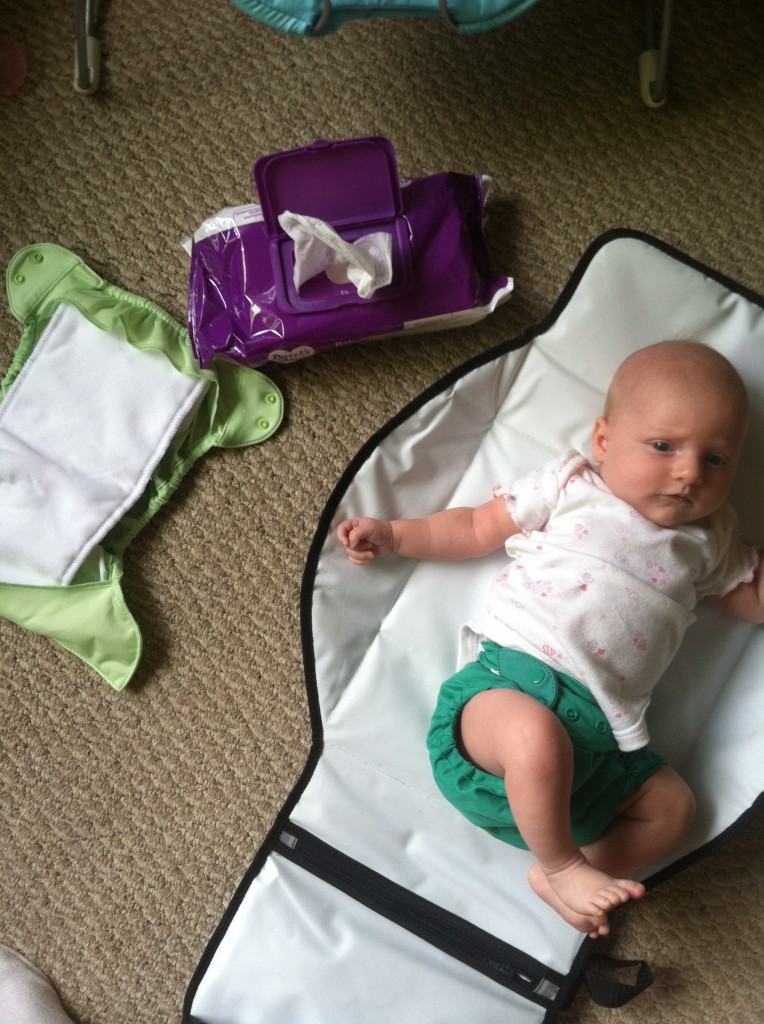 And that's all, folks! BB wishes you a happy week!