Tera has this playmat.
This thing is decked out.
It has crinkly noises, it has toys that vibrate, it has two music options (mozart or nursery rhymes). It has a mirror. It has every color of the rainbow. It has rattly toys. It has little lights that flash in line with the music. It has hanging toys, it has flat toys. It has everything Tera could possibly need when she is learning to develop her senses.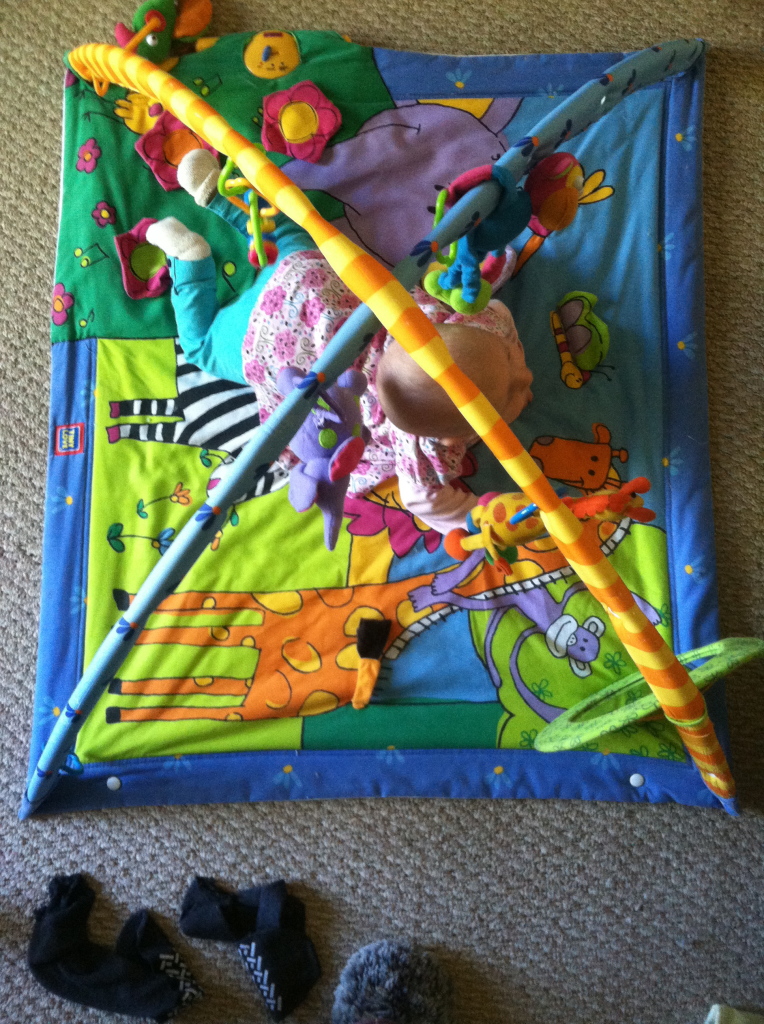 Except simplicity. It does not have that. Sometimes when I pull out the playmat, I feel overstimulated, and I'm not 3 months old with a whole world exploding all around me.
My brother-in-law and sister-in-law did this thing when they first had kids that they asked people to not buy any toys that use batteries. Not just because you have to buy batteries, change batteries, or listen to annoying nursery rhymes all day, but because if it takes batteries, it is doing something for the child. Singing for the child. Bouncing for the child. Taking away all the imagination from the child.
Sure, having music or lights are not a bad thing…and are probably very beneficial to the child's senses. However, I want Tera to be able to explore and find lights that are NOT flashing on her playmat…but instead coming from the sun shining through leaves or the pattern a light makes on the ceiling. I want her to learn to use her hearing sense by hearing our voices, hearing me sing out of tune, hearing the people of God worship on a Sunday, hearing her Daddy make up goof-ball songs because he does not know the words. I want her to hear music playing from the radio or my computer. I want her to feel different things…the vibration of the car as we drive somewhere, the thump of someone jumping on the floor, the feel of the rough carpet on her cheek, the feel of her soft PJ's on her foot, the feel of Mommy's lips against her head, the feel of the soft cat that brushed past her. I want Tera to be able to use her imagination. To use a hairbrush for a microphone, instead of one from the store that echos back at her, or plays music for her to sing along to. I want her to make a chair out of books, to make Barbie furniture out of old cardboard boxes, to build forts with cushions and blankets. I want her to have a stick for a wand, a pile of leaves for a bed and a ring of flowers as her crown.
I'm not entirely against all these new-fangled toys that are out there, but there is something to be said for simplicity.
So with all that said, I've had my eye on wooden toys for a while now. There is something about wooden toys. They are so simple, so unique and yet so beautiful at the same time! Every time I see a wooden toy I just LOVE it. I've rounded up a few of my favorites to share with you…and to put on Tera's Christmas list!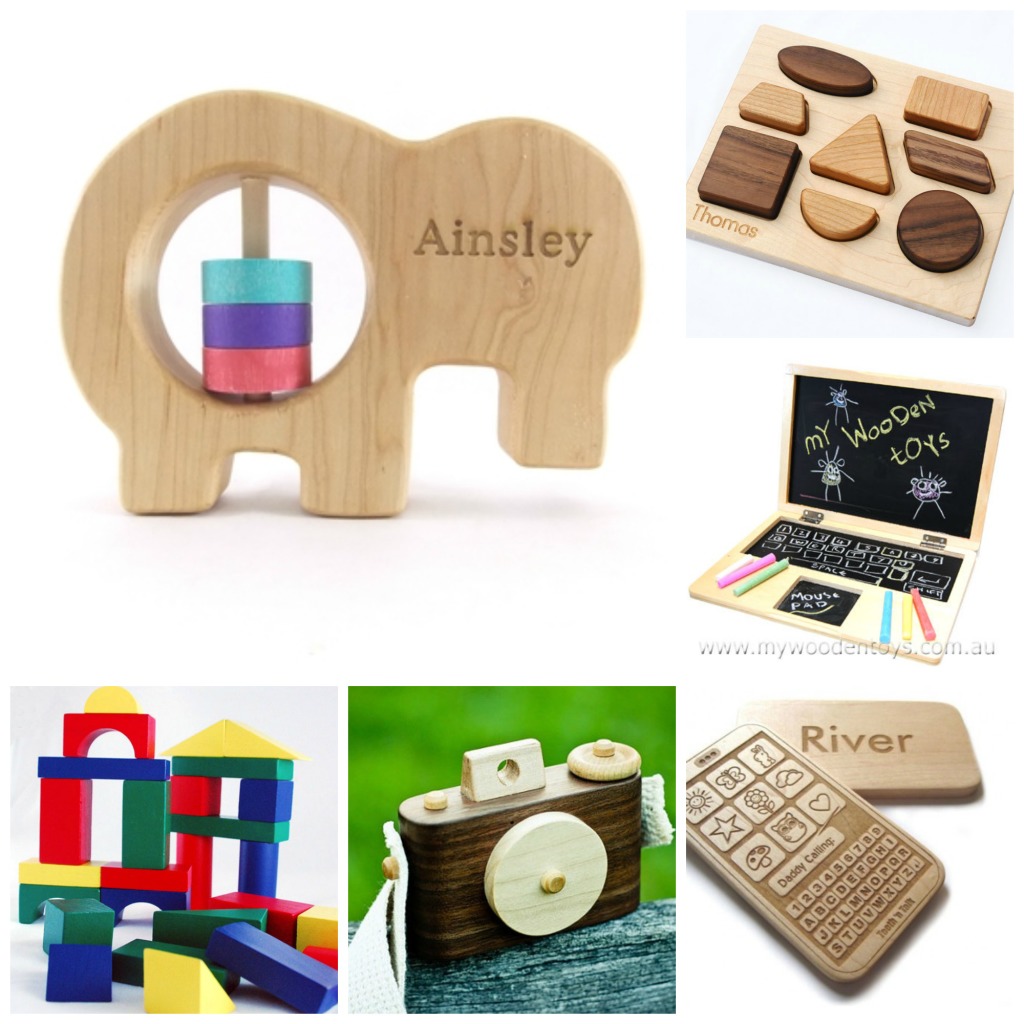 1. Check out this rattle from Bannor Toys. Its so simple, yet so cute! And I love the idea of having Tera's name on the rattle. It's so personal.
I also LOVE that this is handmade, and that nothing in their shop is mass produced. And….I think you should head over to their shop because I love absolutely everything that they have in it, and I think you will, too!
2. Or how about this block puzzle from manzanitakids on Etsy? Again…it's so simple, yet can be so entertaining. It's also incredibly beneficial to the child's senses as they can grasp the 3D shape. I love the mixing of wood colors, too. It just seems to make it pop!
3. I saw this laptop on Pinterest, and when I went to the site I found that it was an Australian shop. Bummer that I probably won't be ordering from them- but how fun is this laptop?? See, wooden toys don't have to be only old-fashioned! They can be modern and still create imagination in children. I can just see me sitting at my laptop working on my blog while Tera scribbles away at her wooden laptop.  So much fun…and so much better AND cheaper than buying her a real tablet or a Barbie computer. This particular laptop is from My Wooden Toys.
4. Along the same lines of the wooden laptop is this Wooden Iphone Toy. How fun is that? It's a little bit impractical and doesn't let the child do too much as far as play…but hey…it's a phone for them to play with or chew on! And I think it's adorable and so very creative.  This one is from Inhabitots.
5. I LOVE this Wooden camera from The Vintage Truck Goods. Again, children always want to imitate what their parents are doing. Since I have a camera in hand quite often, this would probably be something that Tera would love playing with. It inspires imagination and creativity, yet doesn't break the bank or look gaudy (like some of those Barbie ones I've seen!). Plus it's durable. What's not to love?
6. Now, who says that wooden toys have to have wooden color? How about this painted Wooden Melissa and Doug blocks? I love the simplicity of the shapes and the versatility of how they can be played with (build a tower, build a Barbie bed, use for money, use for food, etc…the imagination of a child is much less limited than mine!). I do love the colors on these, and what a helpful tool they would be for teaching colors and shapes.
So what do you think? Did you have any favorite wooden toys when you were a kid? Do your kids have any favorite wooden toys? Did you want to buy Tera a Christmas present…? *wink*wink*
And just in case you weren't sold about wooden toys and Tera, how about this adorable rocking Moose from Ikea?