I just linked up with a bunch of other bloggers to share A Few of My Favorite Things. The prompt was make a Christmas list for myself…which I did. You can find that here. But making a Christmas list for Tera sounds even more fun to me! So I decided to throw some things together.
These Are a Few of My Favorite Things…for Tera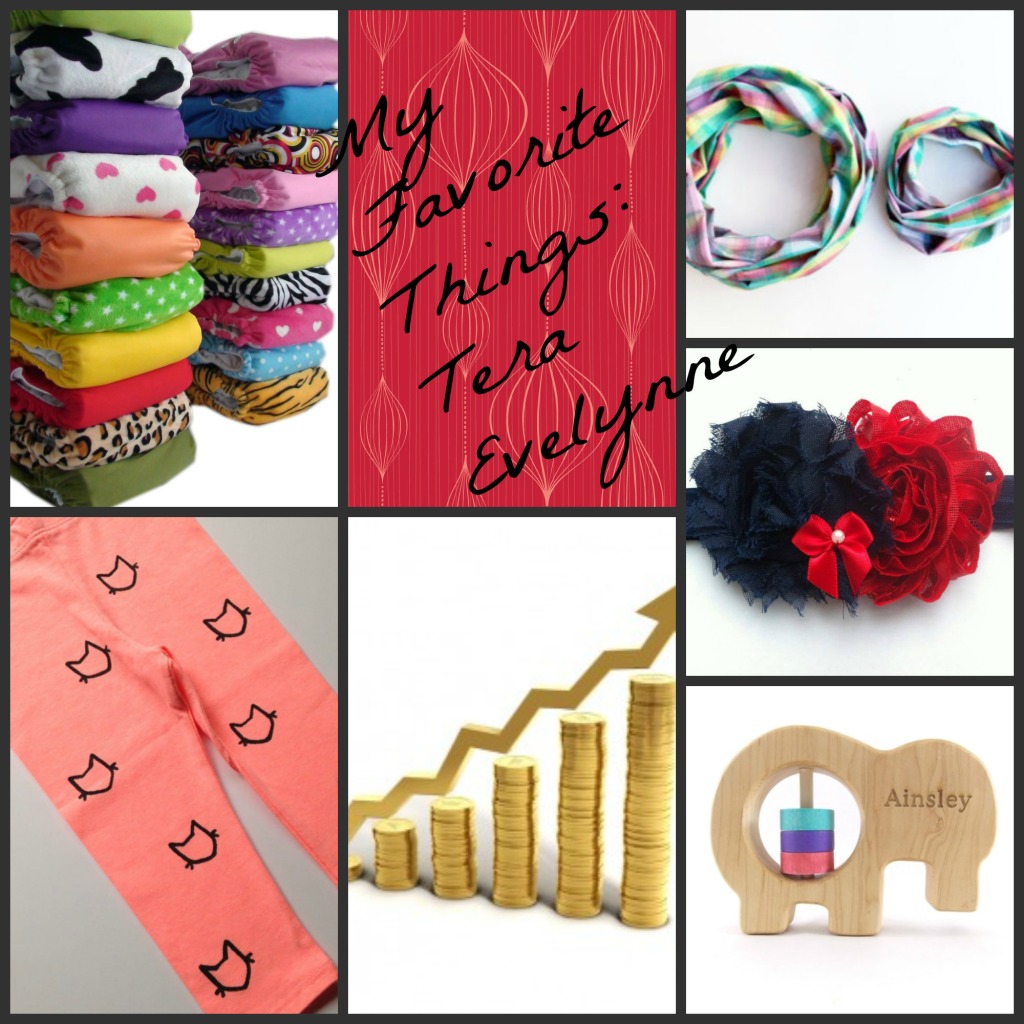 1. Cloth Diapers.
A girl can never have too many cloth diapers, right? I bought a bunch of cloth diapers for Tera, and they are working great…but I'd love some more, or some with designs (all mine are just plain colored), or a chance to try different kinds. My favorite places to get cloth diapers are Kelly's Closet, Diaper Junction or good 'ol Amazon.
2. Mama + mini scarves.
I don't particularly love the design on this scarf, but I love the idea of matching Tera! I'd love to get a matching scarf for Tera and I…so we can match, of course! Everyone already says she looks just like me, so why not encourage the thought? ha!
Etsy has so many awesome shops that make these Mama + Mini scarves! Just search 'matching scarves'.
3. Adorable Leggings
In my top 20 list of cutest things I have ever seen is a cloth diapered bum clad in leggings. I love leggings because they don't bunch up like pants, they seem to fit for longer and they are plain ADORABLE! I love these leggings with the kitty on them….I found these at a handmade shop called Kickinlegs. Adorable. But really, a pack of different colored leggings from Old Navy would do the trick!
4. Stock or Money
Tera will be four months old at Christmas. She will have no recollection of this Christmas. If we bought her absolutely nothing, she would be just fine. Theo and I are talking about the option of opening a bank account or investing in stock until Tera is old enough to actually pick and have an opinion on things that she might want. And even then, maybe putting a little bit into her account every Christmas or birthday. It would probably be a wise investment!
5. Headbands
Have I mentioned before that headbands are my weakness for my little baldy? I've bought bows and headbands from Target and Walmart..both times I have been horribly dissapointed. The bows leave dents in my poor baby's head, and I would imagine that they give her a headache. One of my friends sent me some bows for Tera…and I adore them. No dents. No headaches. Adorable. And they can be custom made. Here is a shout-out to her shop, Evie and Pip. If you need headbands…go to her! And maybe I can even get a Mama + Mini headband set! I do LOVE headbands, after all!
6. Wooden Rattle
I posted all about my love for wooden toys here. I absolutely love the simplicity and the beauty of wooden toys. Plus, Tera can chew on them! I love these rattles from BannorToys. Plus, how cute is it that I can get Tera's name engraved in the rattle? So special!
What about you? What is on your Christmas list for your child? What did you do for your child's Christmas back when they couldn't have cared less about presents?