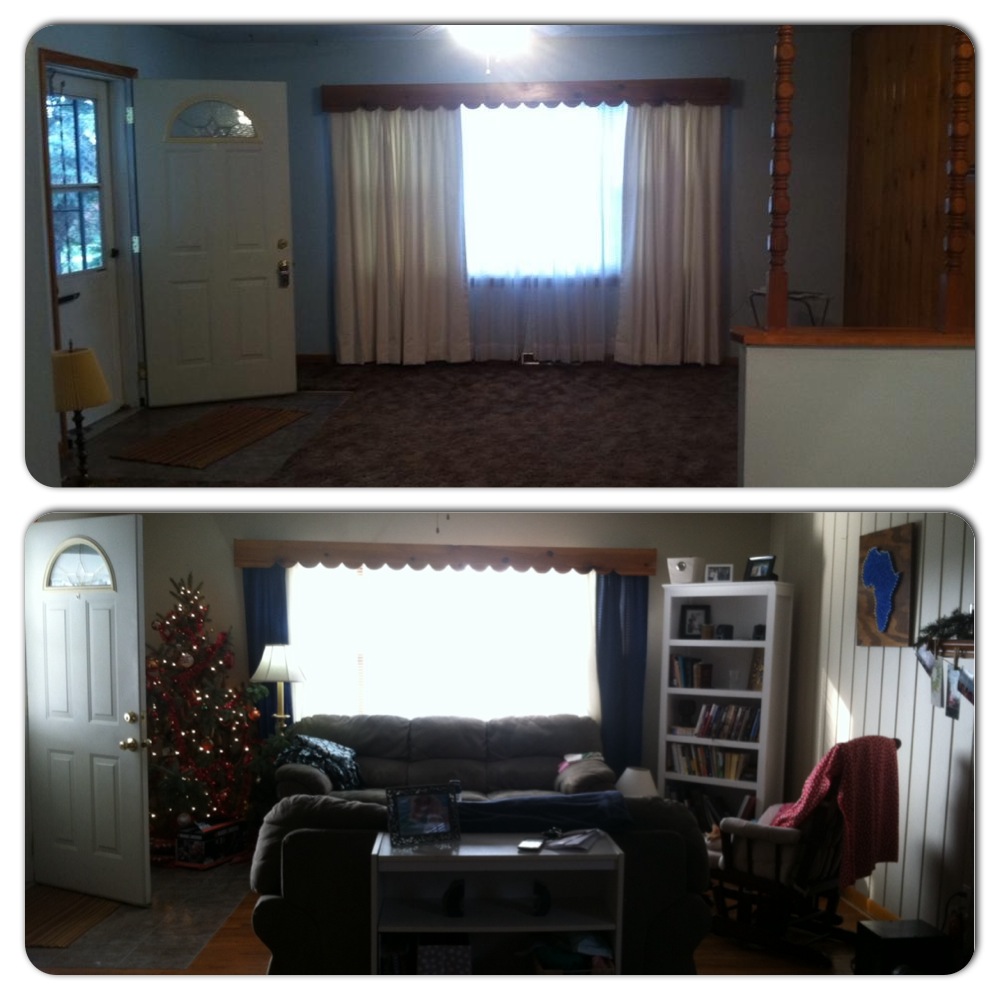 I have pictures of our newly improved living room!
To see our entire 'before' house tour, click here.
Before I dive into the pictures and the living room tour, I have a few disclaimers to make:
1. I am neither a great decorator or a great photographer. I don't claim to be good at either, so don't judge my living room or my photography skills of the living room!
2. This living room is not finished, but it is WAAAAYYYYYY improved from when we first moved in. Since taking these pictures, I now have throw pillows on all my couches, and I'm brainstorming how to decorate the mantle without Christmas decorations. We want to get an area rug between the couches, and I want to update my coffee table. But all in all, these pictures will hopefully show you the huge transformation of our living room!
I wanted to do side by sides, but I realized as I was looking through my pictures that I didn't take enough before pictures! I thought I had taken plenty, but now that I look back I wish I had actually taken more! So I will show you a bunch of before pictures, and then show you all the after pictures. Oooooh, I'm so excited!!
The Process:
We knew the living room had oak floors underneath the carpet. I have always wanted hardwood floors in my house, so I was sooo excited to reveal the floors. We were warned that we might have to do some work on them, like sanding or varnishing, and possibly even replacing some of the wood. But it turned out that the floors are in perfect condition. The only thing we had to do was scrub them!
Before ripping up the carpet, we decided we should paint the walls. Since we were going to throw out the carpet, we figured it would be a perfect drop cloth to catch all the potential paint spills. It took us several days to do the painting, mostly because of the wall of wood. That wall took one coat of primer in addition to the two coats of paint. On top of all, it was impossible to paint inside the slats with a roller- so all those slats got one coat of primer and two coats of paint- with a tiny paintbrush. That took FOREVER.
After the painting, we moved all the stuff out of the room and ripped up the carpet. From there, the rest of the work involved arranging furniture and hanging some pictures. The dining room is actually in the same room, but I don't have any pictures hung yet, so I am not showing that side of the room (yet).
The Cost:
If you know us, or if you have been reading this blog for a good amount of time, you know that we don't like to spend a lot of money on things. When we bought this house, we knew that we would be doing a lot of renovating- and we set our minds to do it as cheaply as possible, but with excellent qaulity. All of the renovations that I am about to show you came to $70.
Yes, $70.
That was the cost of the paint, primer, brushes and rollers. We did all the painting ourselves. We ripped up the carpet and were overjoyed at the condition of the gorgeous hardwood floors (that would have cost a pretty penny to put in!). We re-used the curtains and the furniture from our old house, and all the hangings and pictures are also the same. If I add the cost of the decor (new throw pillows and an area rug), that will probably tack on about $100. But, hey, $170 for renovations and decorations? I'll take it!
The Before:
Baby blue walls, a funny little half-wall, wood siding and some pretty nasty carpet (it was at least 30 years old)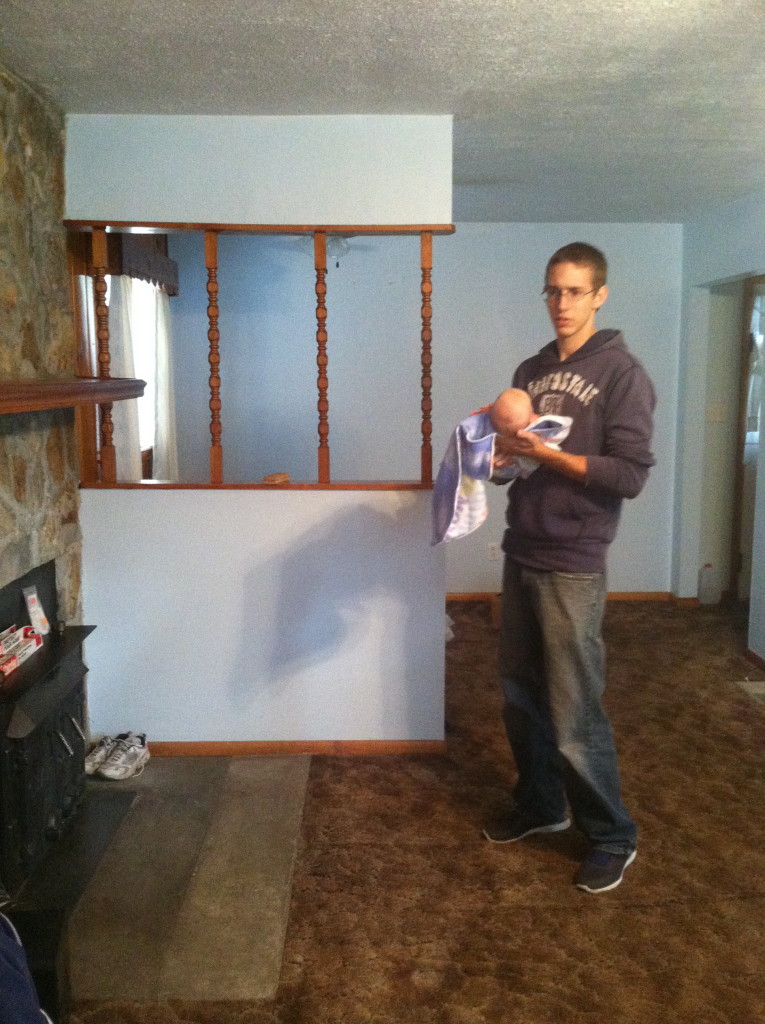 The whole back wall is wood paneling.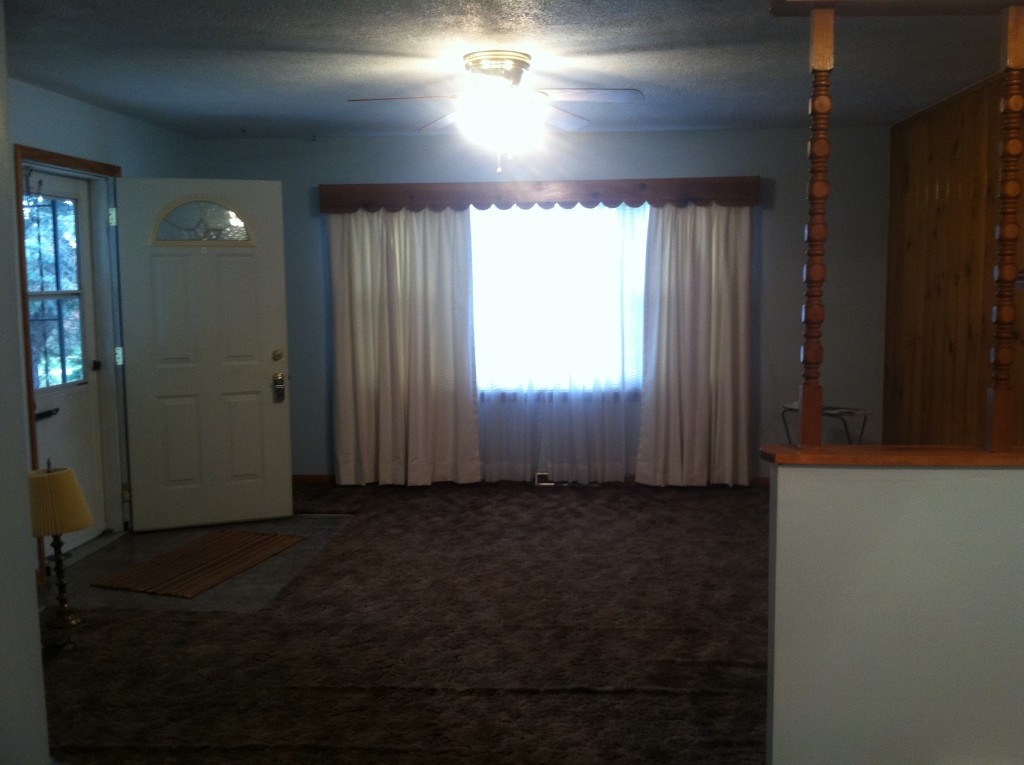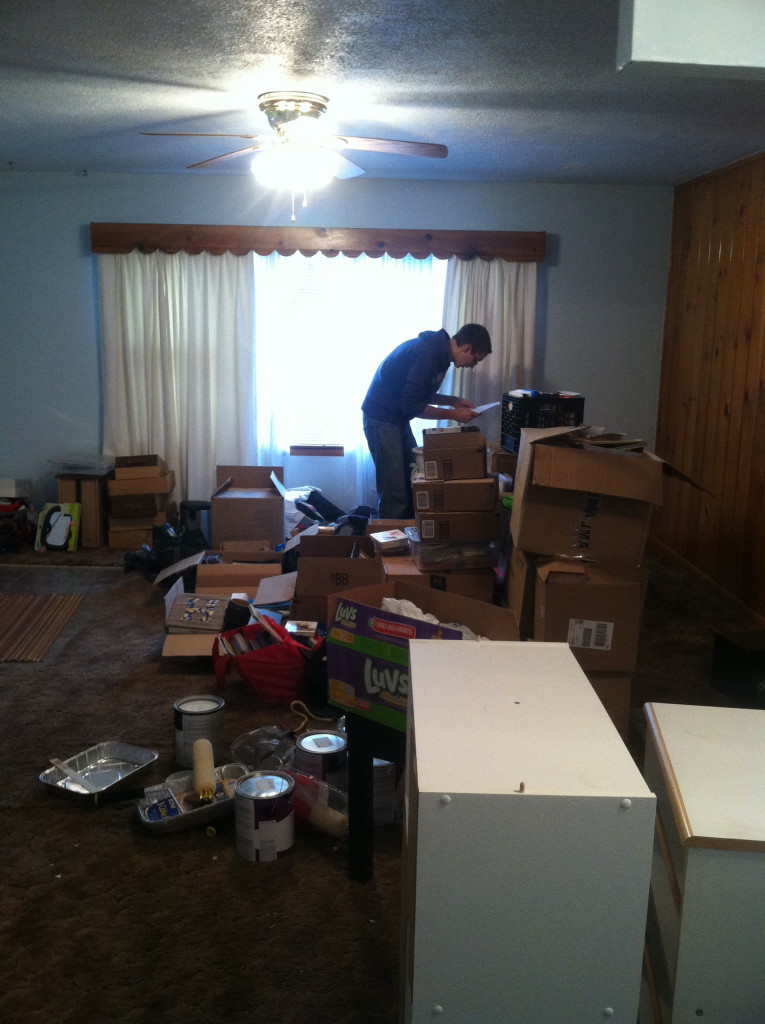 The paint is on!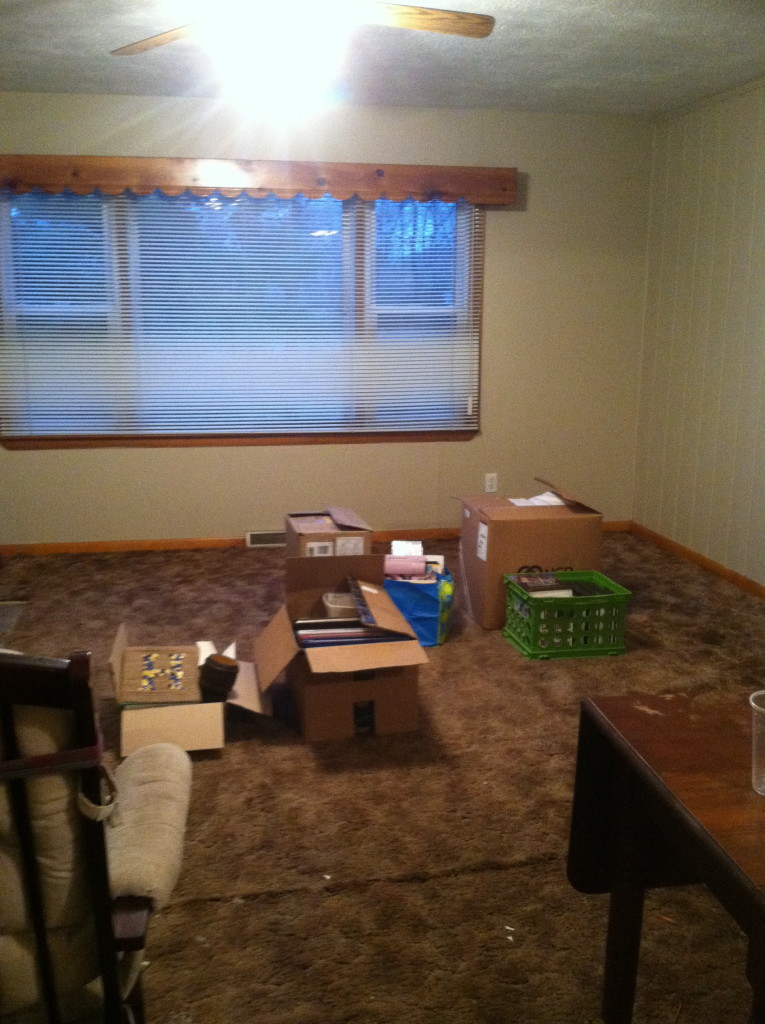 The carpet is getting ripped up!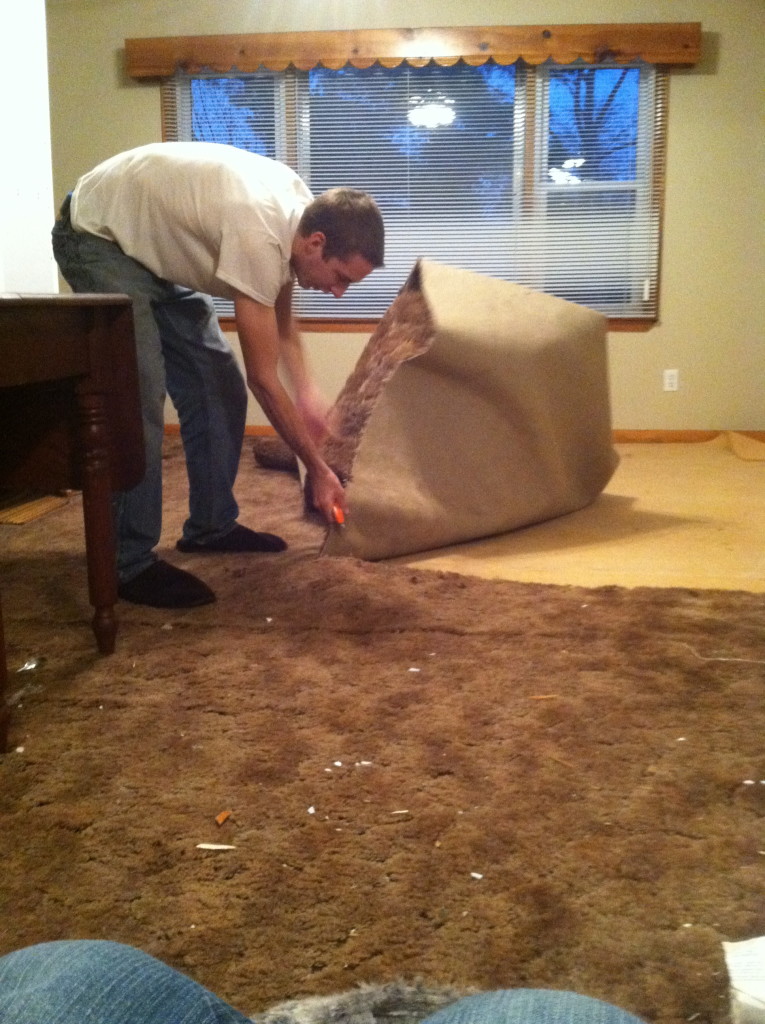 Annnnnnnnnd, The After: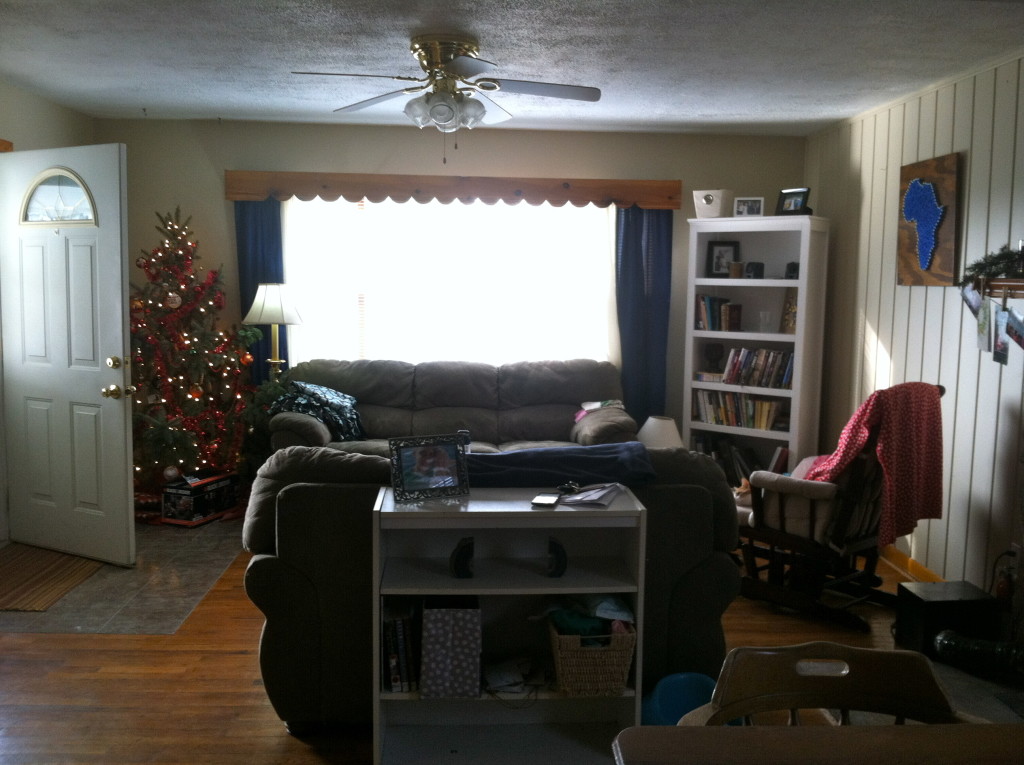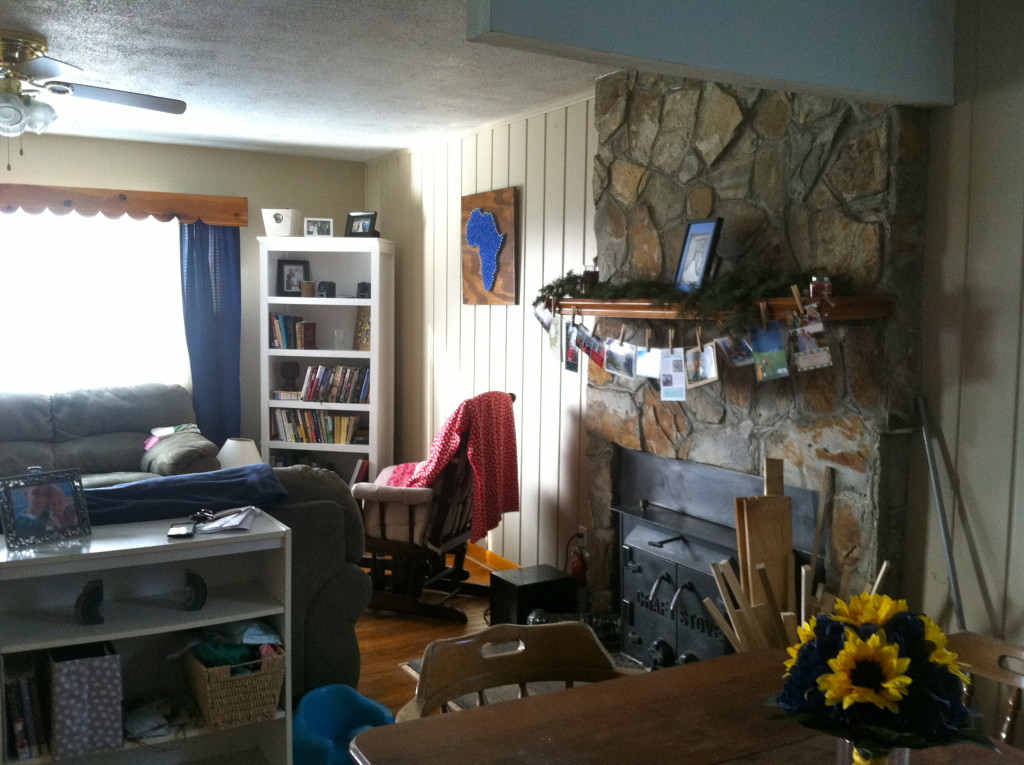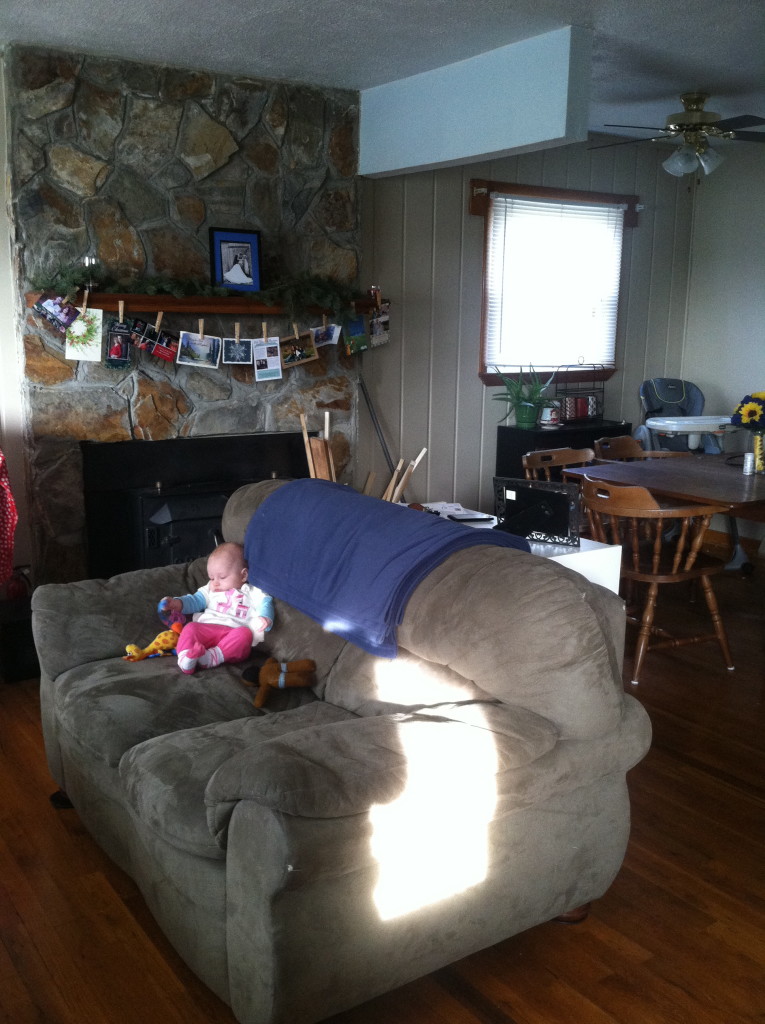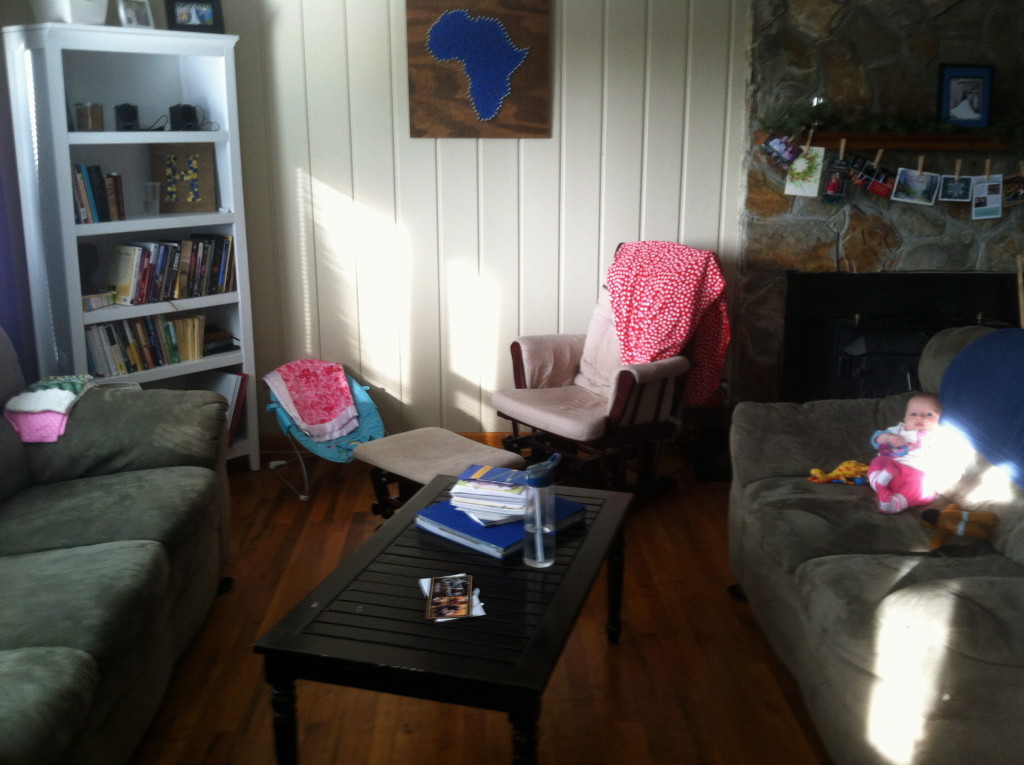 Look at those floors: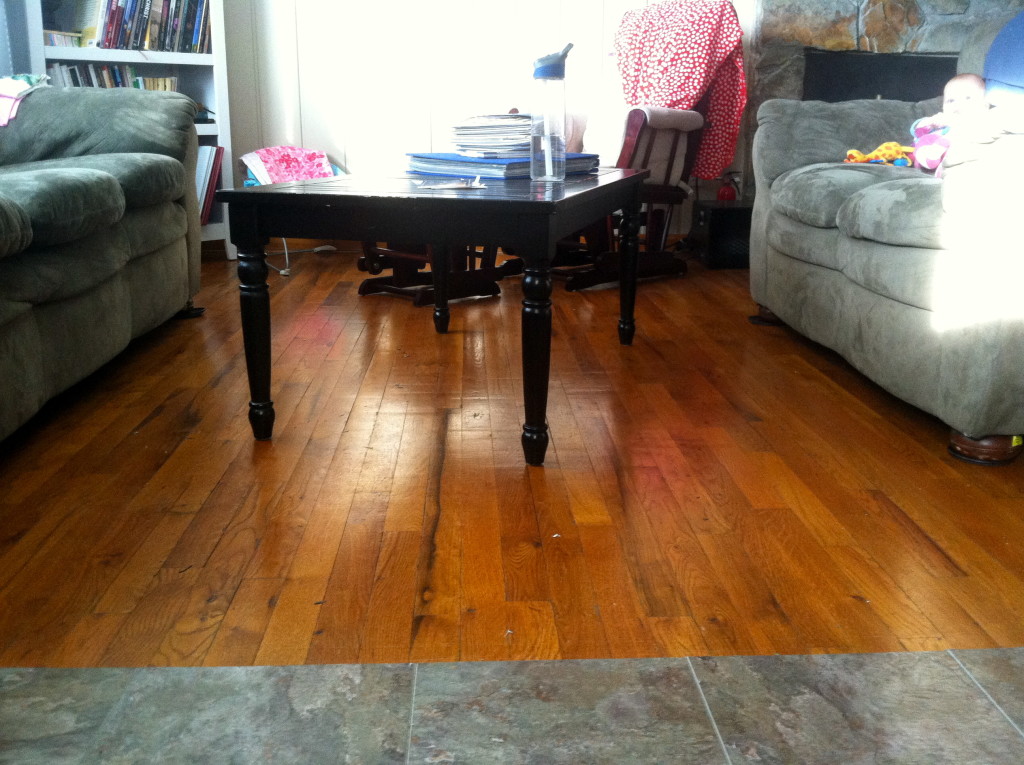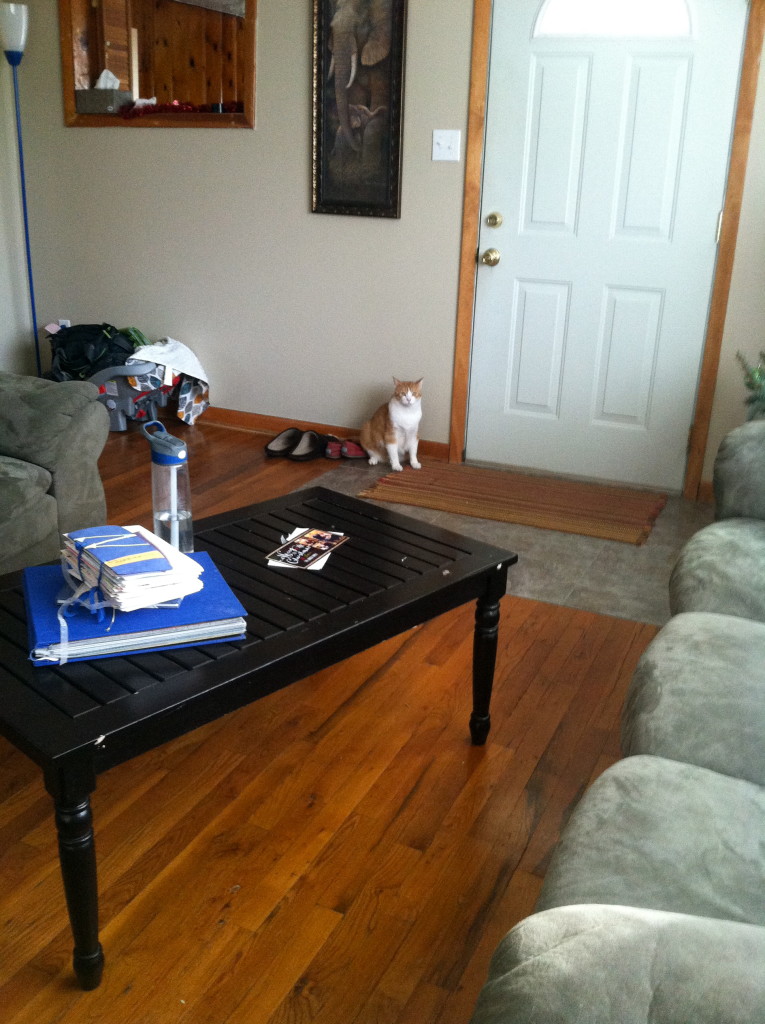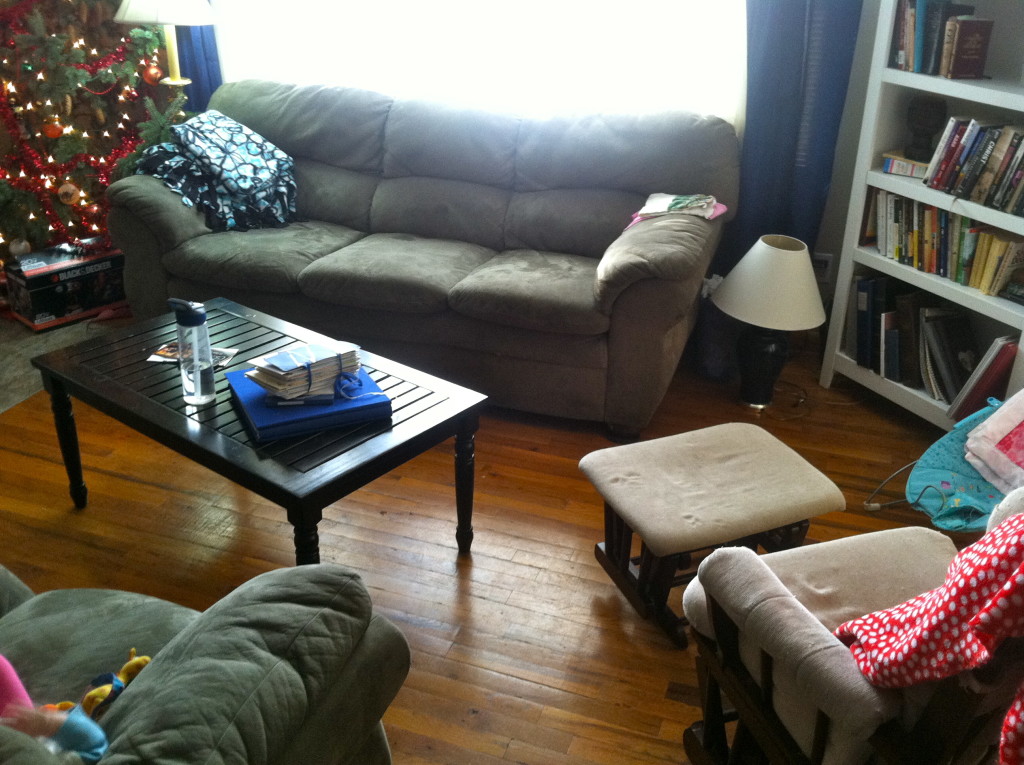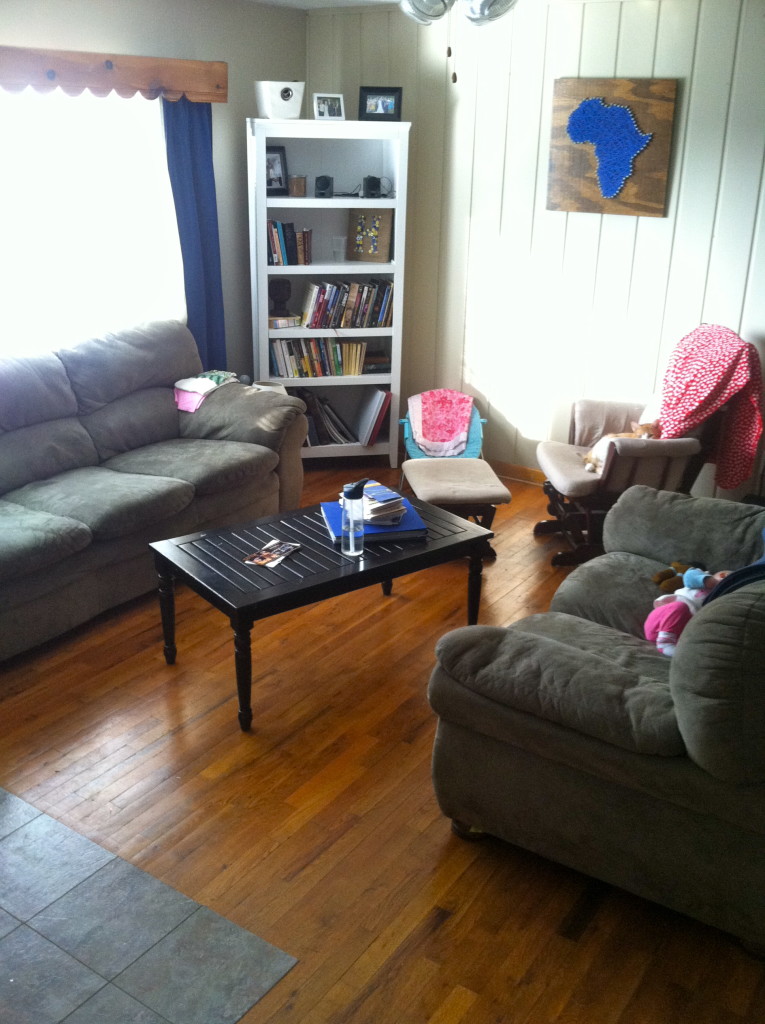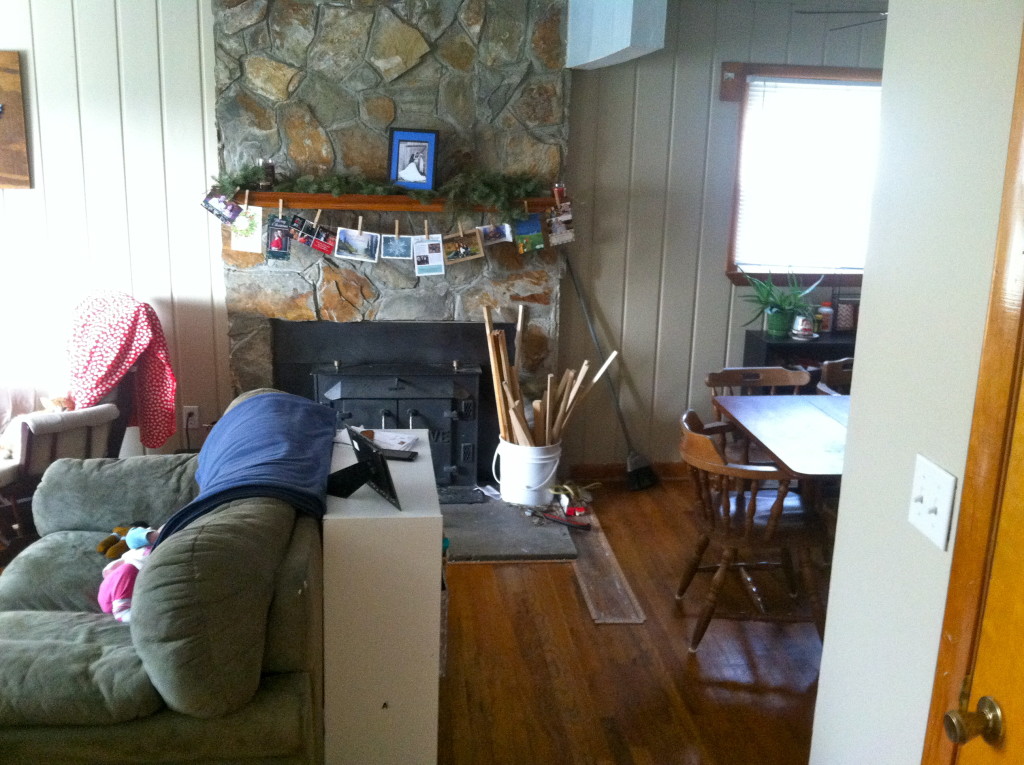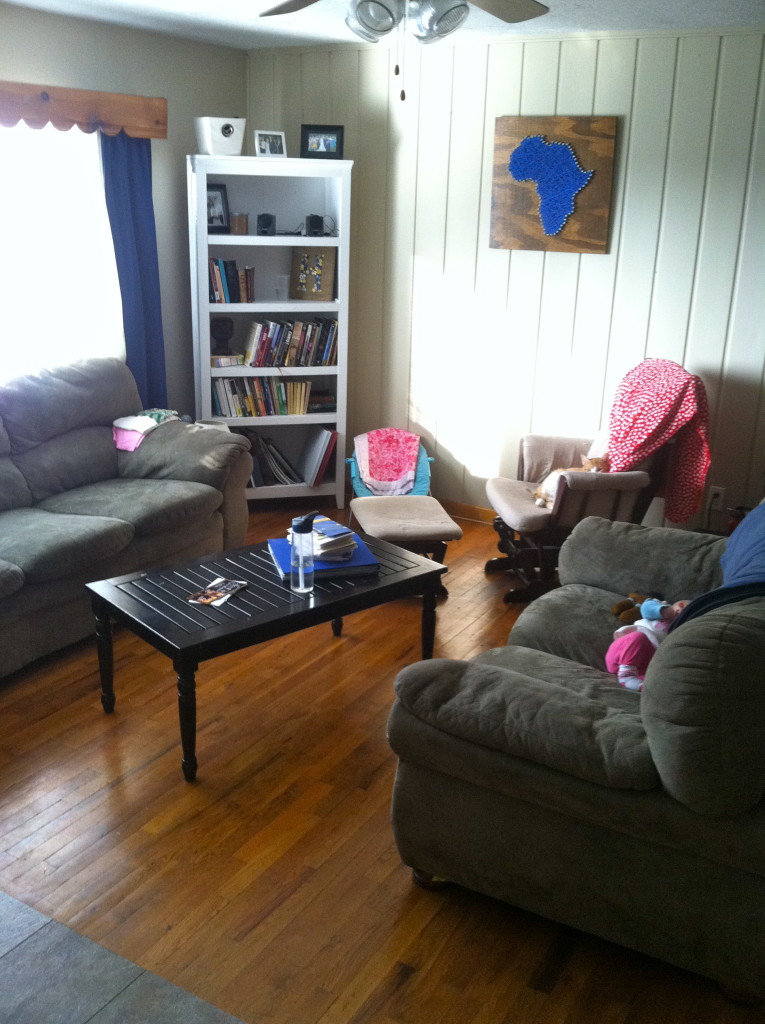 And that is our living room renovation! What do you think?