Phew! The past few weeks have been really crazy for our little family. I have done a really bad job at keeping up with blogging, but I do have some pretty good excuses! I also have a ton of pictures that I need to share with you all, so I thought a blog post would be the best way to do that!
The past few weeks I have picked up some extra shifts at work. We decided that any money I make will go directly towards our renovations. This motivates me to go to work and make some money- so I can make this old house a home! Last week it ended up being insane, with Theo working a 40 hour shift on Sunday and Monday, me working on Tuesday, Theo working a 24 on Weds, me working Thurs and Fri. Whoever was not working was taking care of Tera. Theo's 24th birthday was also on Thursday, and on Saturday our church had a bridal shower that I was involved in and Theo's parents came for the weekend. On Sunday morning we dedicated Tera to the Lord. Sound like a crazy time? Yep. You better believe it! Here are some pictures of the last few days:
Last year, I tied Theo's birthday balloons around the cats. This year, I have a baby to tie the balloon around! And take a look at our messy life…the living room is a disaster!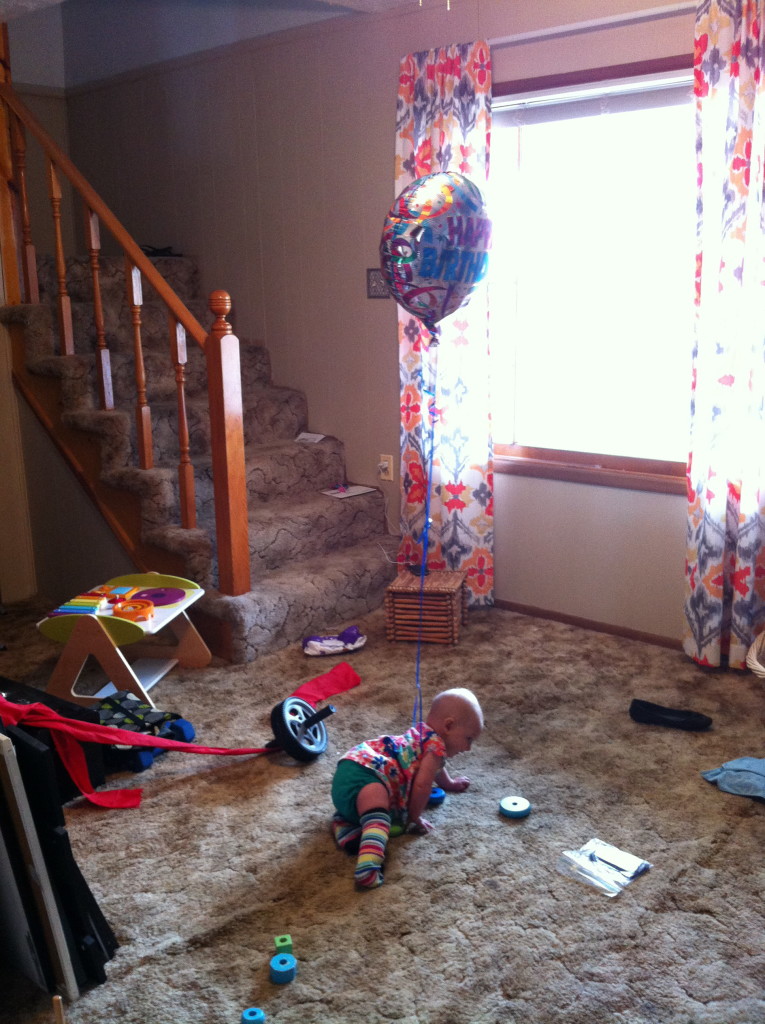 The birthday boy:
24 years old!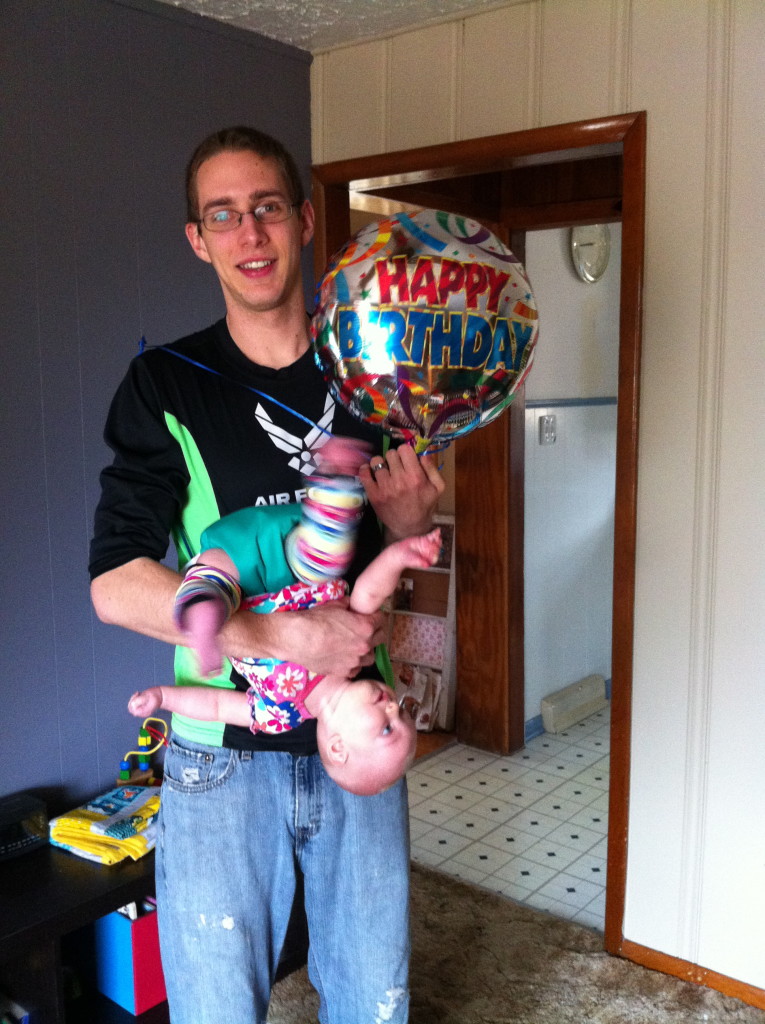 Saturday morning, a bridal shower. It was beautiful!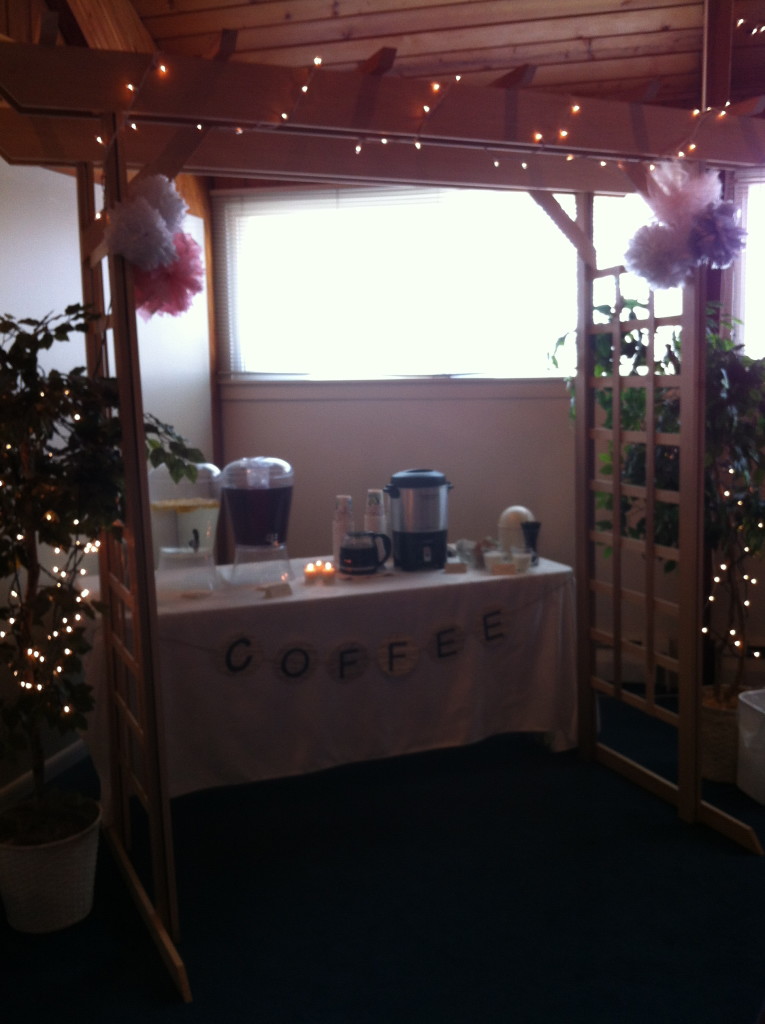 The bride and her twin sister. Getting ready to open gifts. Too bad this picture came out blurry!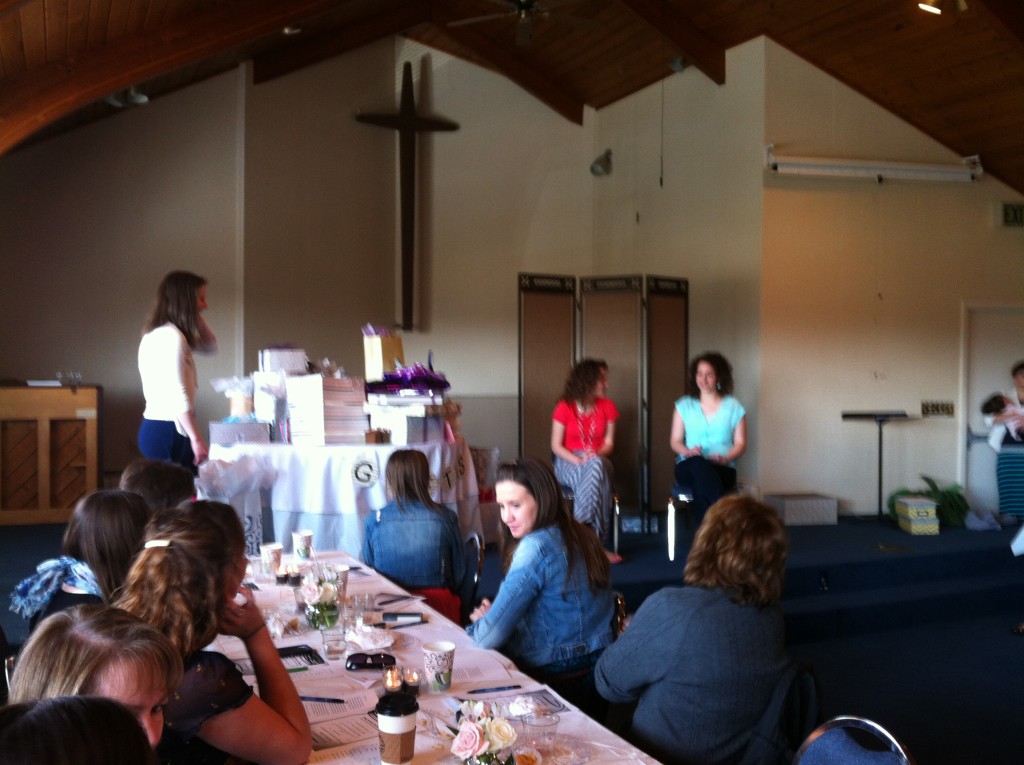 Grandpa and Grandma Hines arrived around noon on Saturday, and we went out to Piada to eat. Does anyone else have a Piada? It's like Chipotle, except you pick pasta bowls instead of burritos. It's AMAZING. And not expensive at all. If you live in the area, you have to go!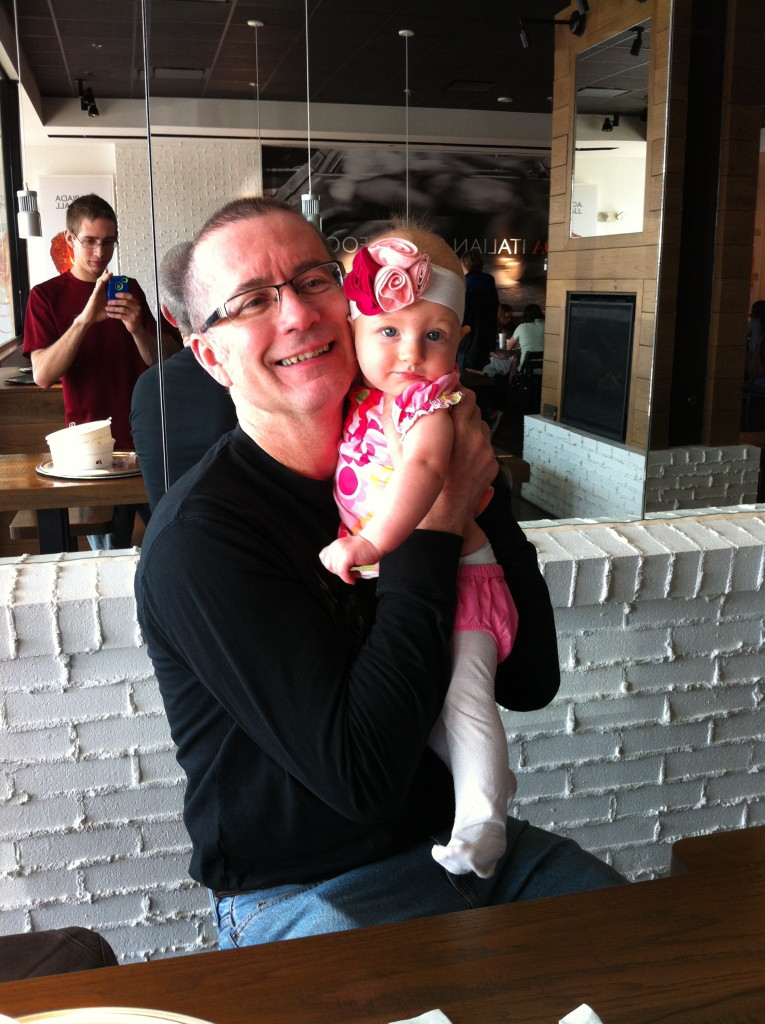 Dad and Mom had been in our house for about half an hour when they asked what project they could work on for us. They tore out ALL the wallpaper in my kitchen! Now we just have to paint, and the kitchen will be done!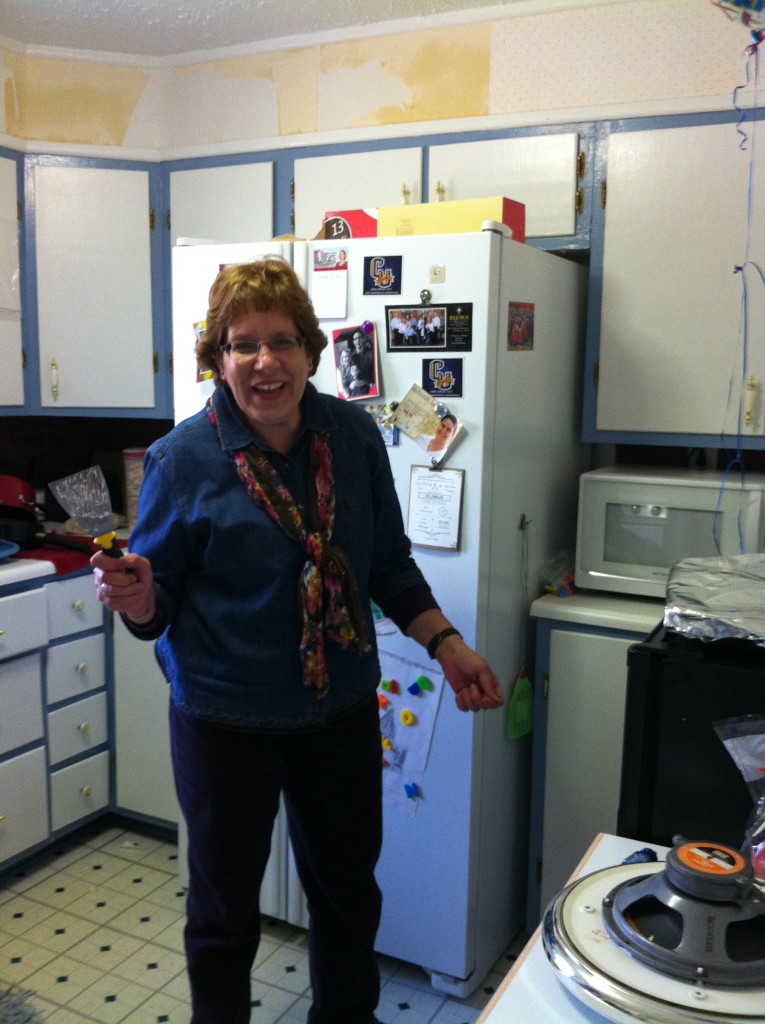 Grandma and Tera. Tera is her 8th Grandbaby (with 3 more on the way!)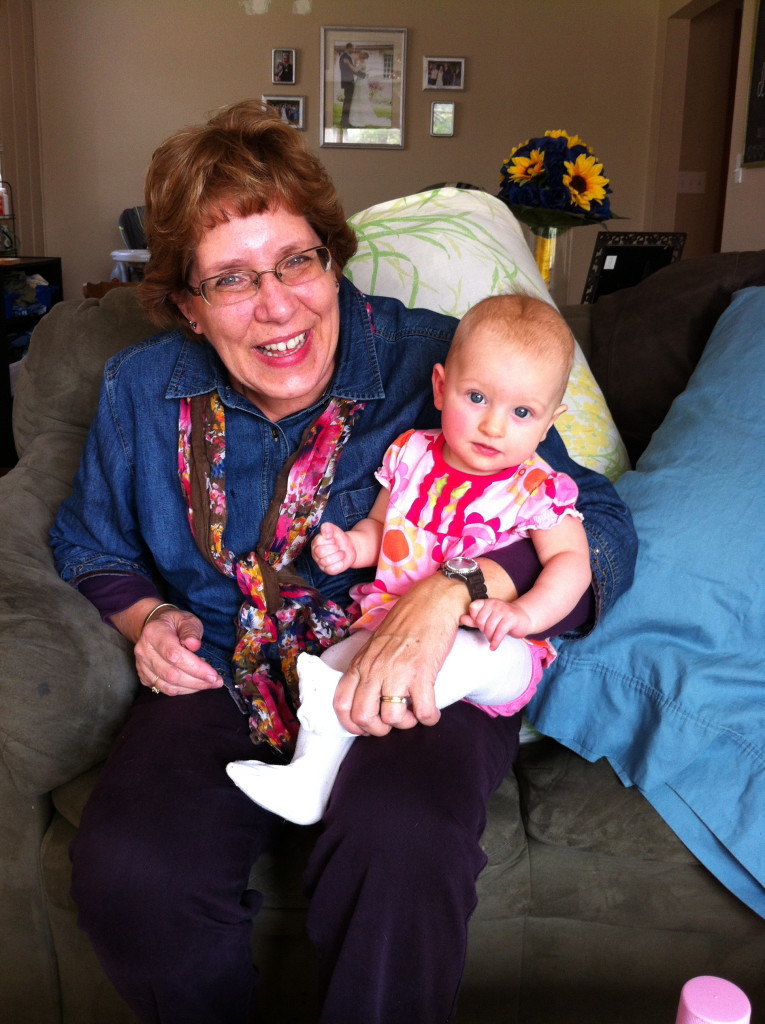 Saturday was a beautiful day, so we all went for a walk around our neighborhood.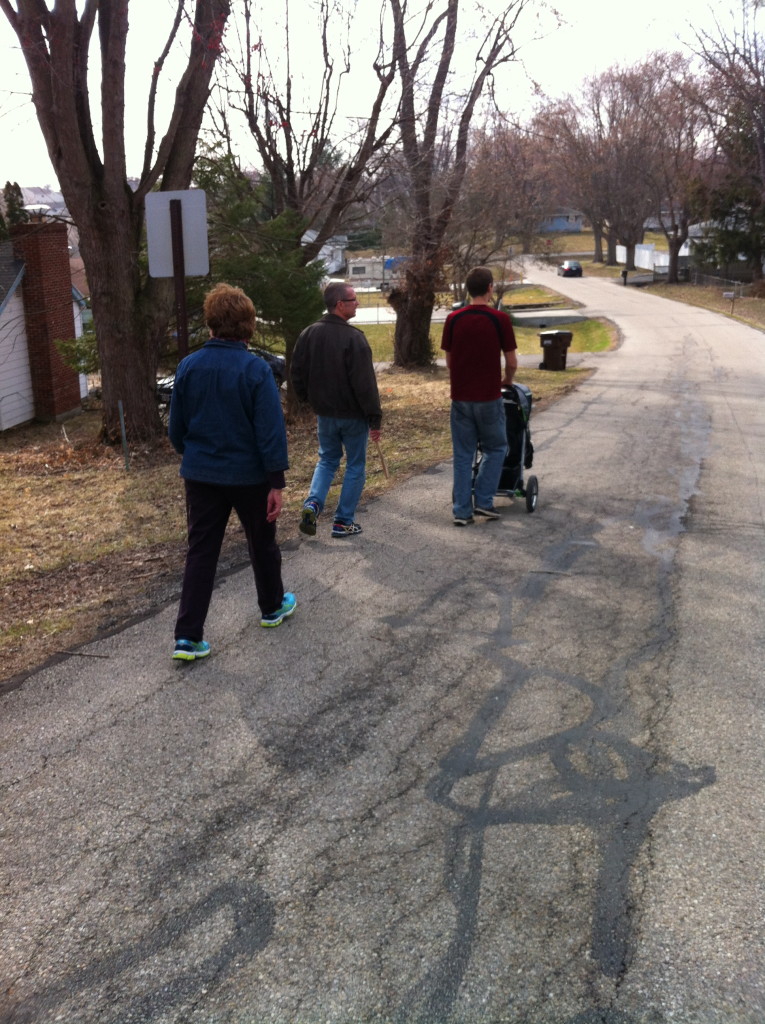 There is a park with this massive hill. We were curious what was behind the hill, so Theo and Dad ran up the hill. Apparently there is nothing on the other side of the hill. Disappointing!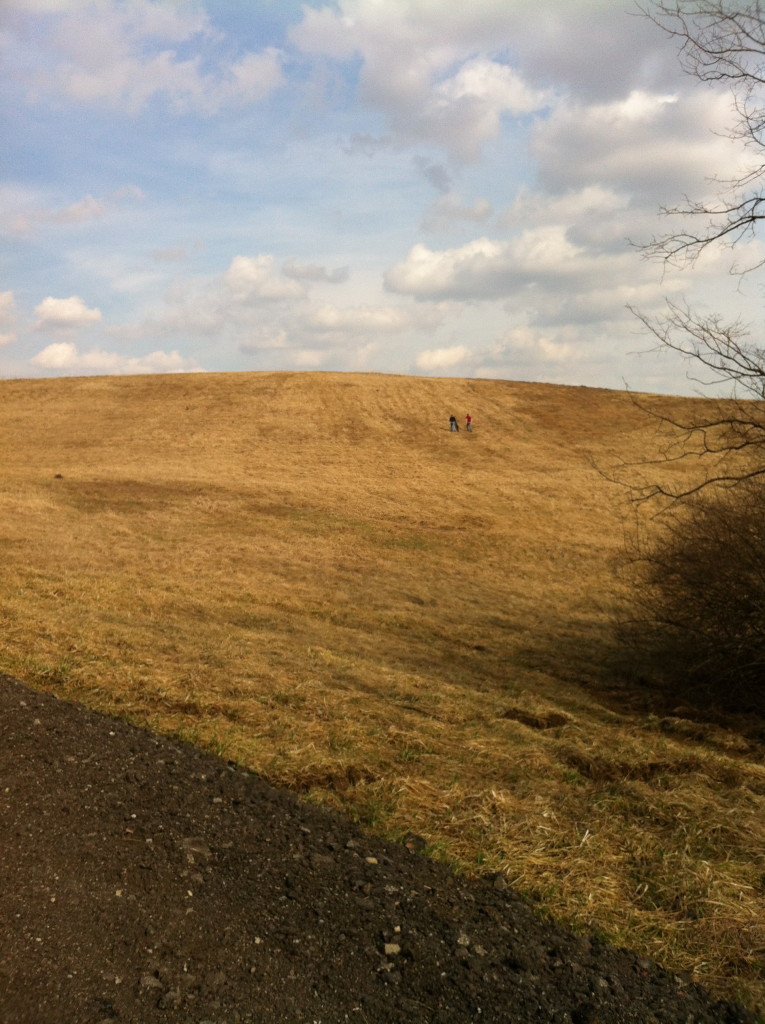 My favorite walking buddy!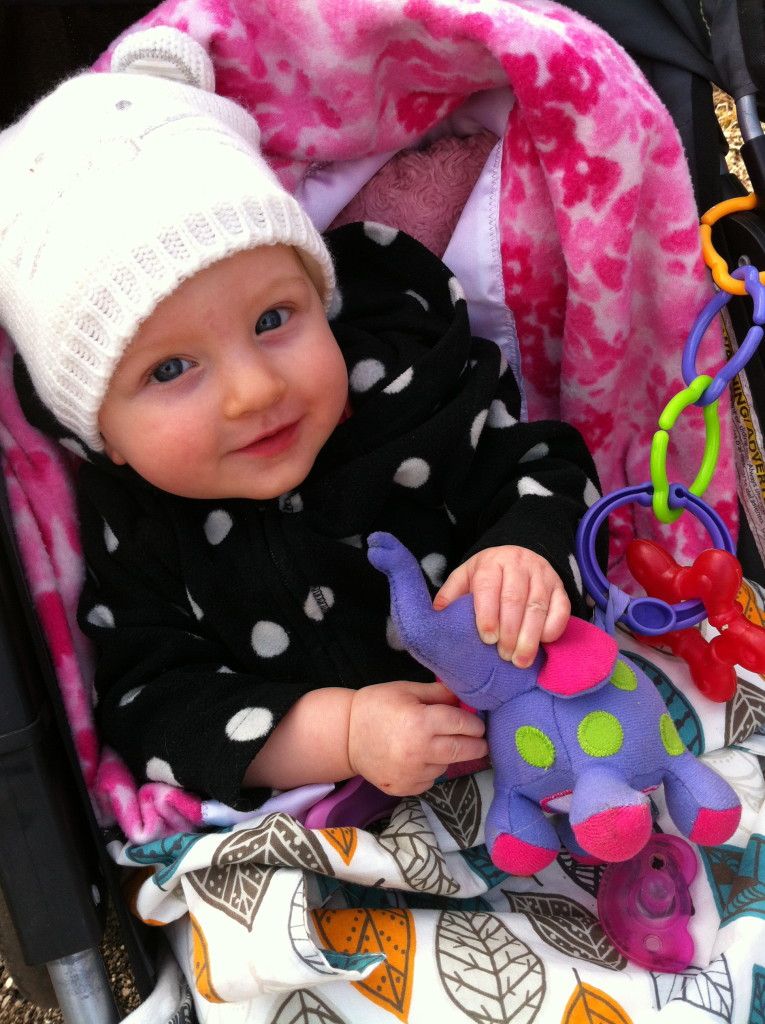 Tera and her Grandpa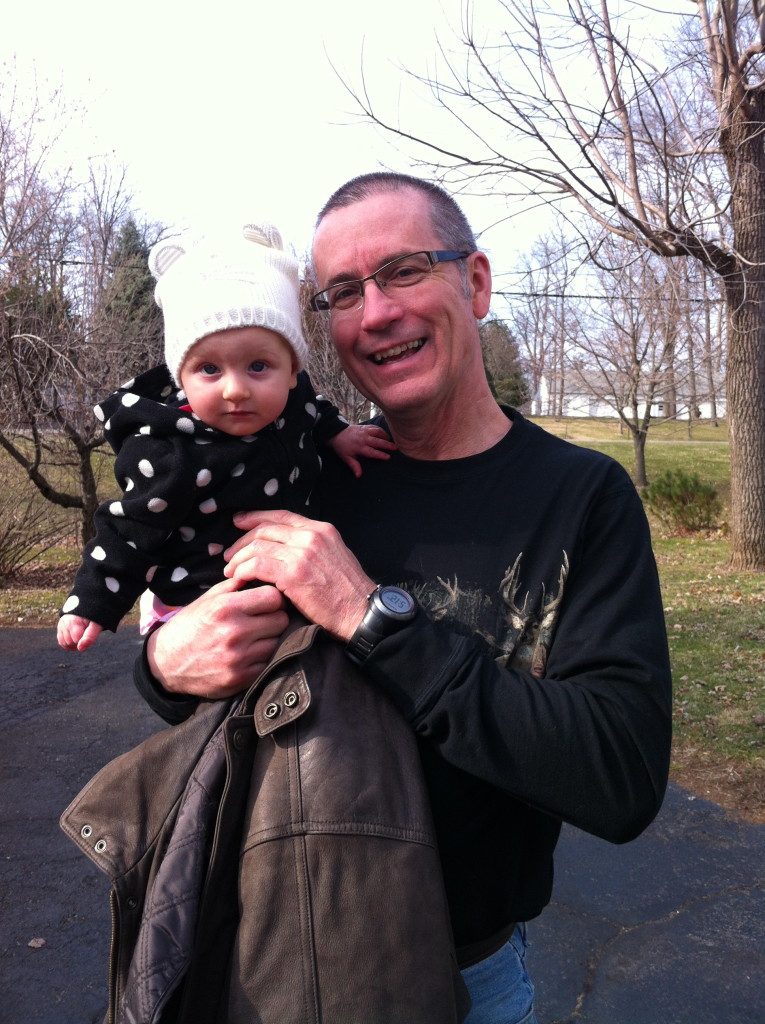 Stretching after our walk…
We went to Texas Roadhouse for dinner. There was a long wait, and it was really cold where we had to wait. Of course, Tera kept everyone entertained!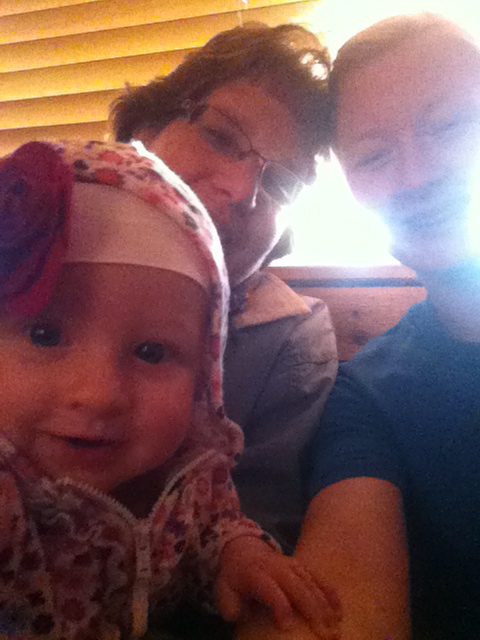 Tera enjoying her dinner (she also enjoyed grabbing everything she could off of our plates!)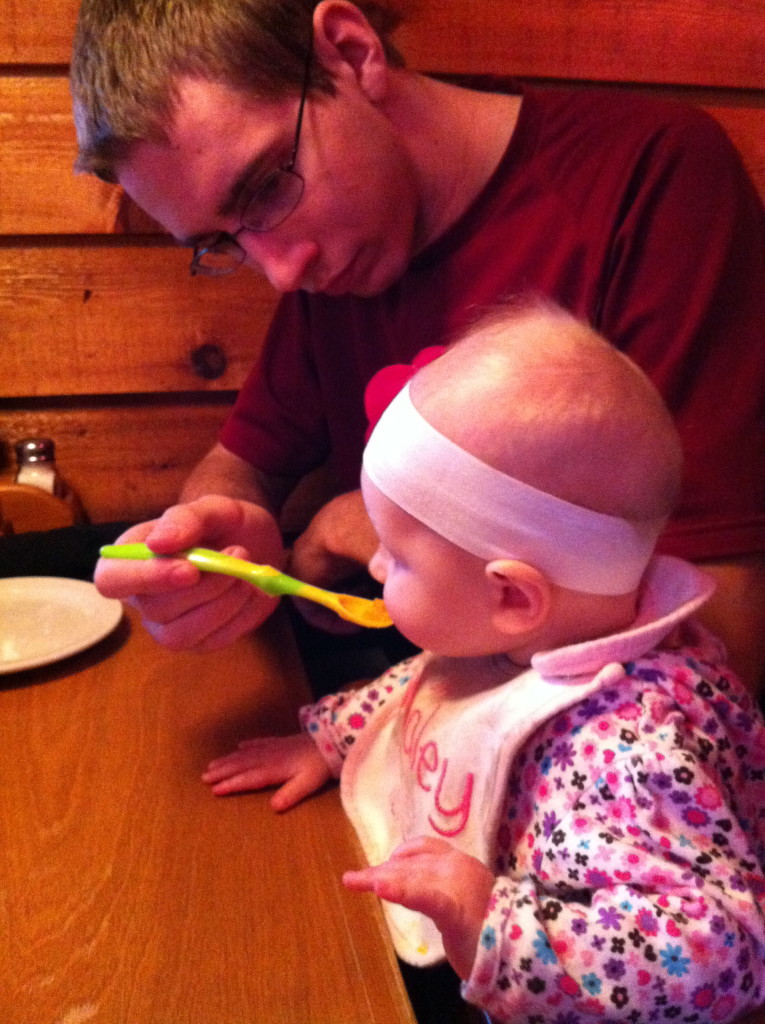 Family!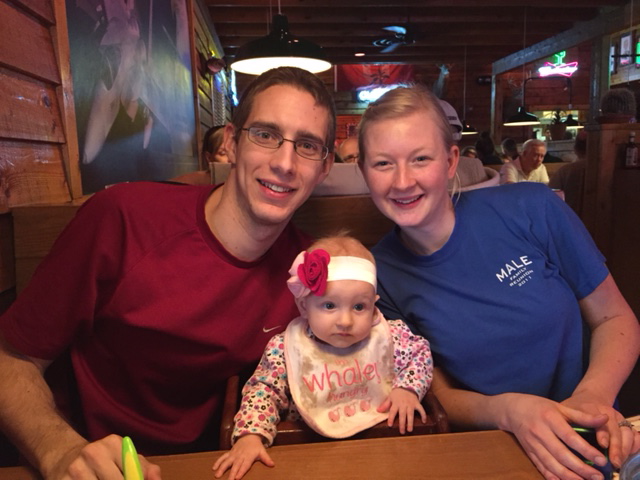 There was a lady sitting next to us that mistakenly thought it was happy hour and ordered A LOT of drinks. She was obviously *slightly* drunk. She kept looking over at Tera and she finally asked how old she was, what her name was, etc. etc. She then proceeded to (loudly) tell me all about her child and something about diapers and something and something else. That is basically what I got from the story…like I said…a few too many. Finally, her husband decided it was time to leave and she leaned over and whisper-shouted "Ok! Bye! We are off to make another baby!"
Okkkkkkkk, then. Thank you. TMI. TMI!!!!!!!!!!!!!
I mistakenly asked the waitress what they do for birthdays at Texas Roadhouse, and she said that they bring out a saddle. I had no idea what that meant, but it turns out that they bring out an actual saddle and make the birthday person sit on it while they sing. Tera's face says it all.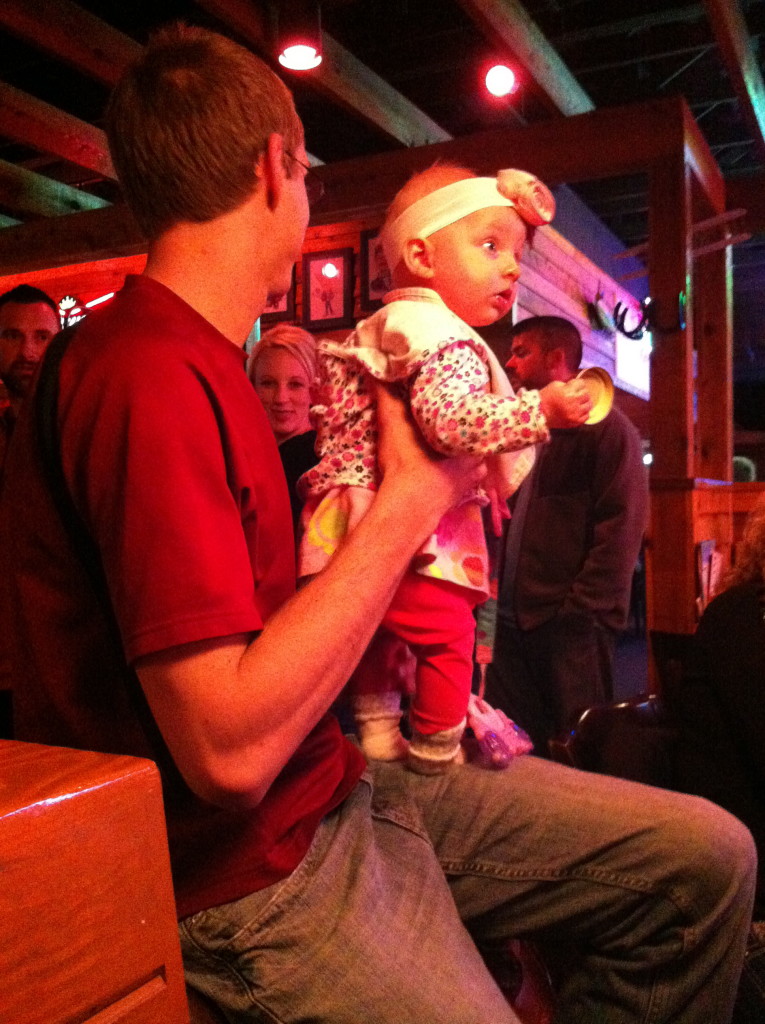 On Sunday morning we dedicated Tera. I will write a separate blog post on that, but here are a few pictures that I snagged during and after the ceremony.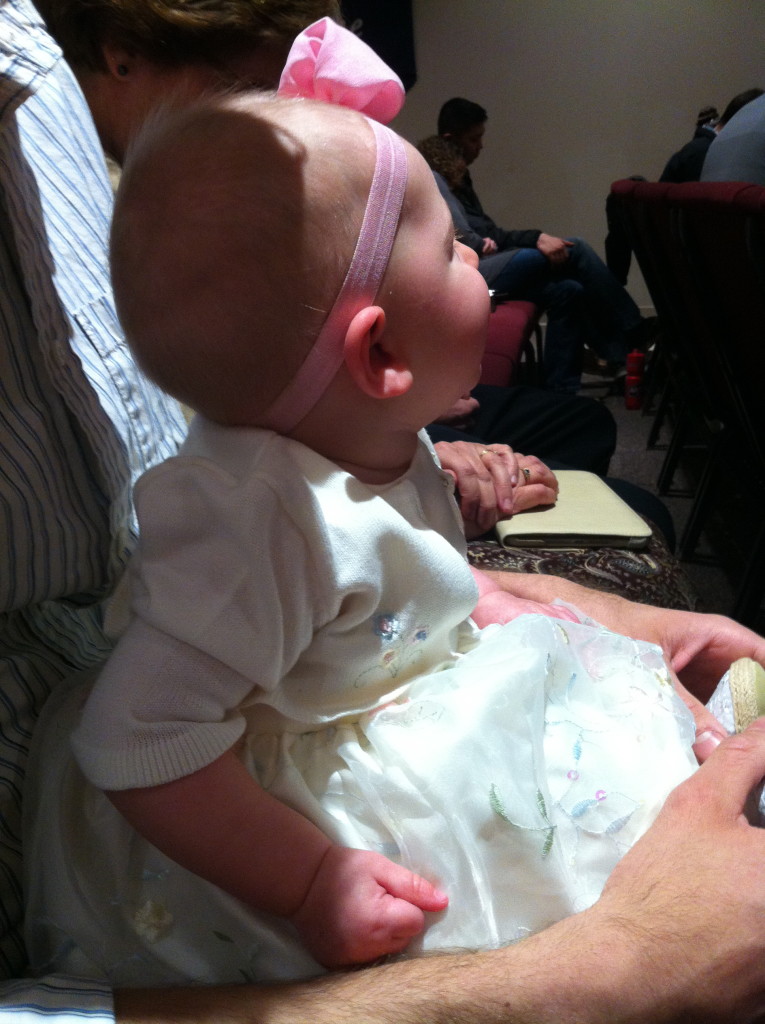 We have a lot of families with babies at our church! Three other families also dedicated children.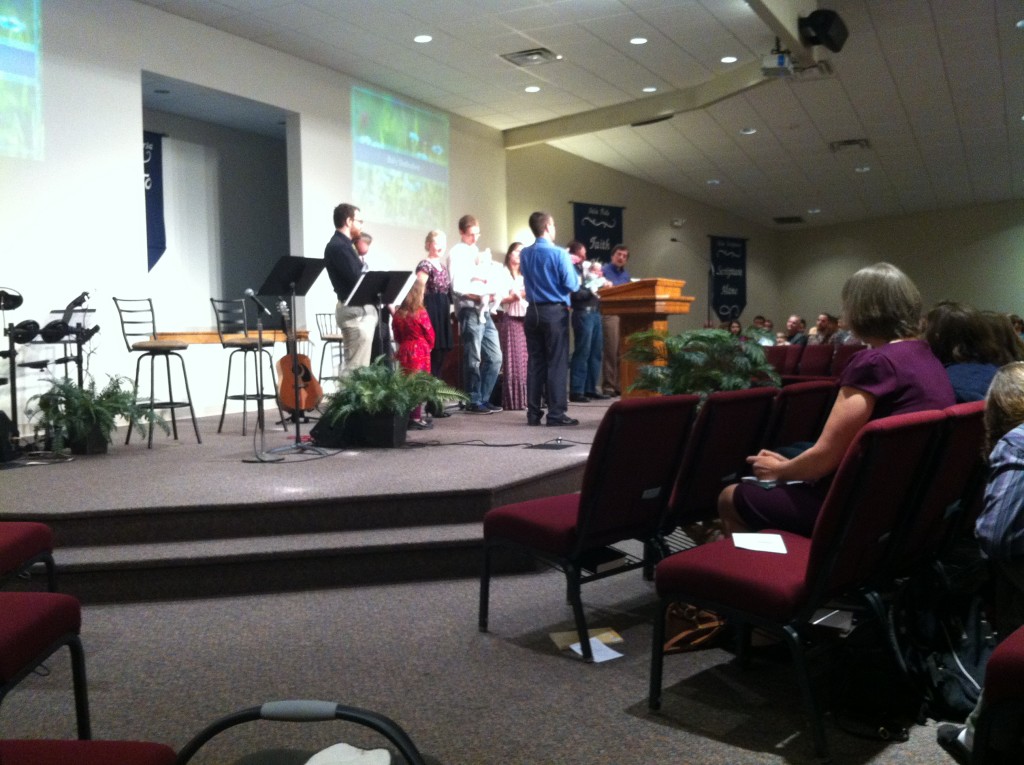 Three generations.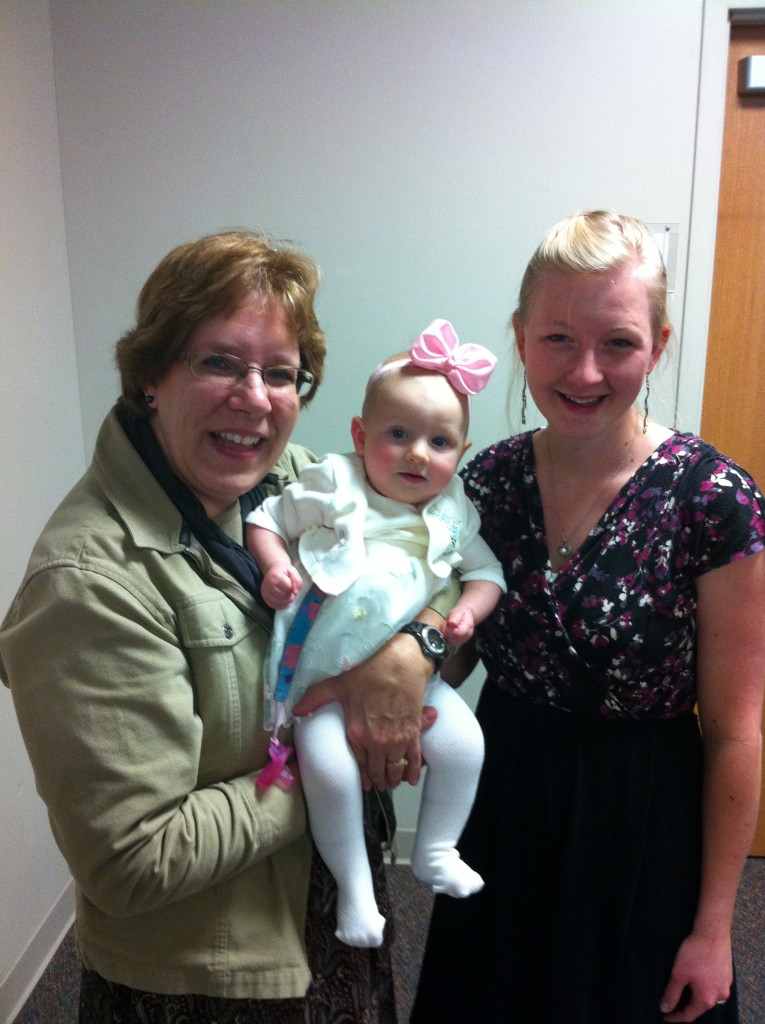 Our little family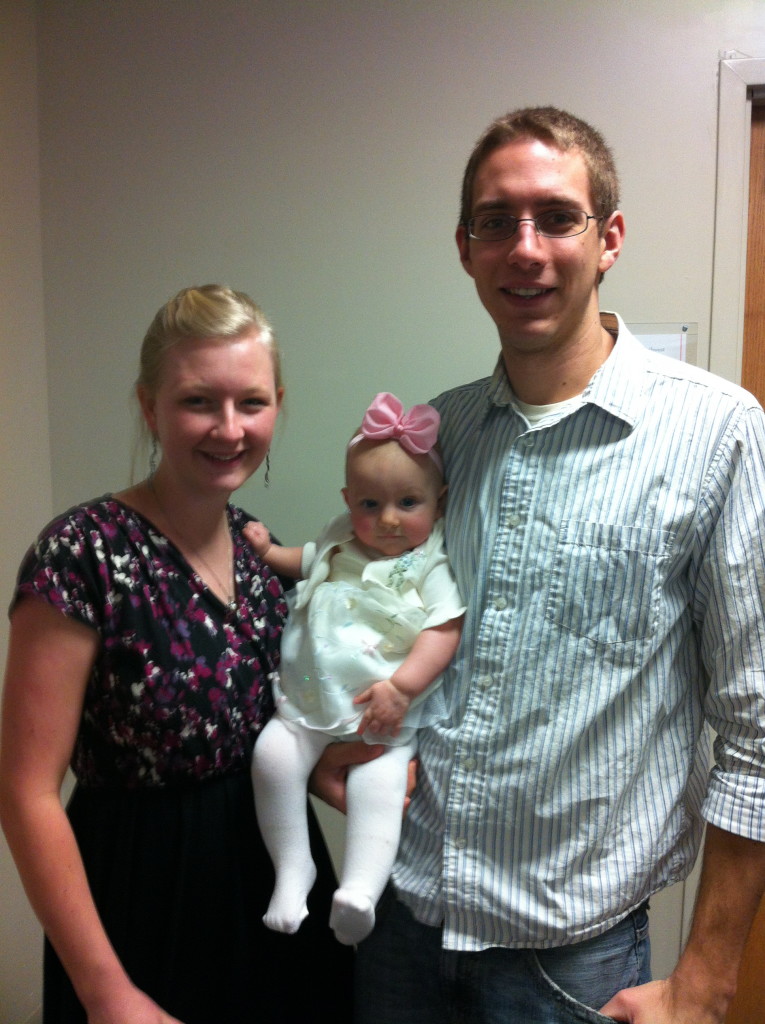 Blurry…but here we are with Theo's parents.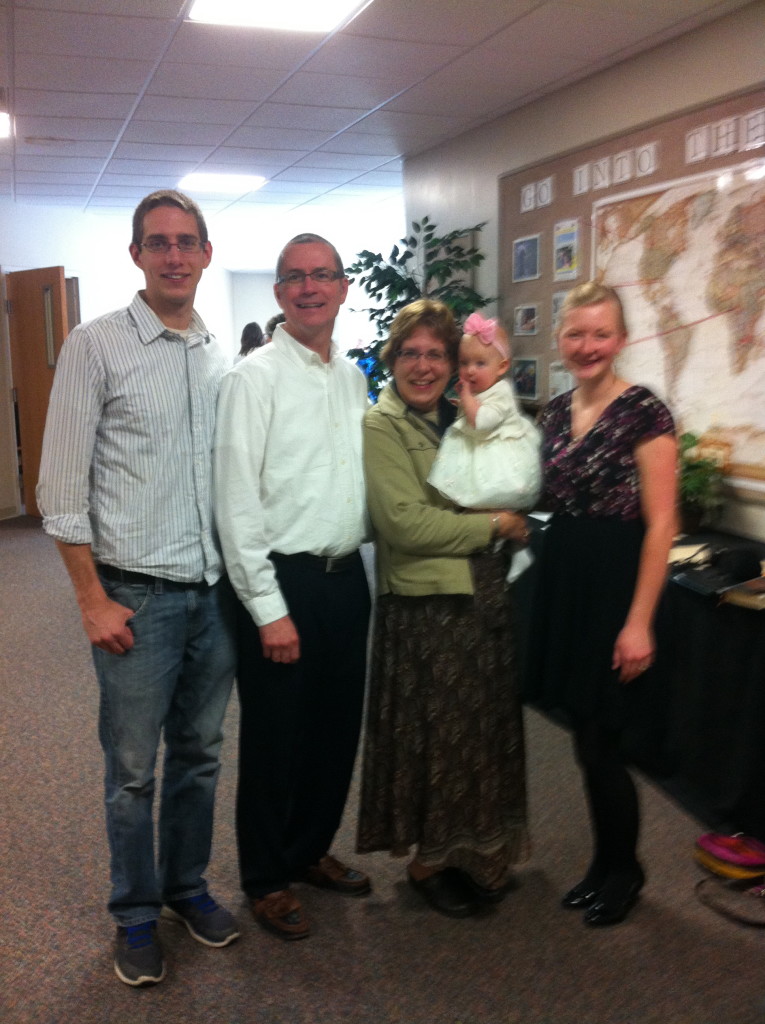 My aunt Natalie and cousin Alesha came to the dedication to represent my side of the family. Alesha and her husband have four kids, so this was quite a crew! I'll point out to you that I got a picture of EVERYONE looking.
Me and my blessing from the Lord.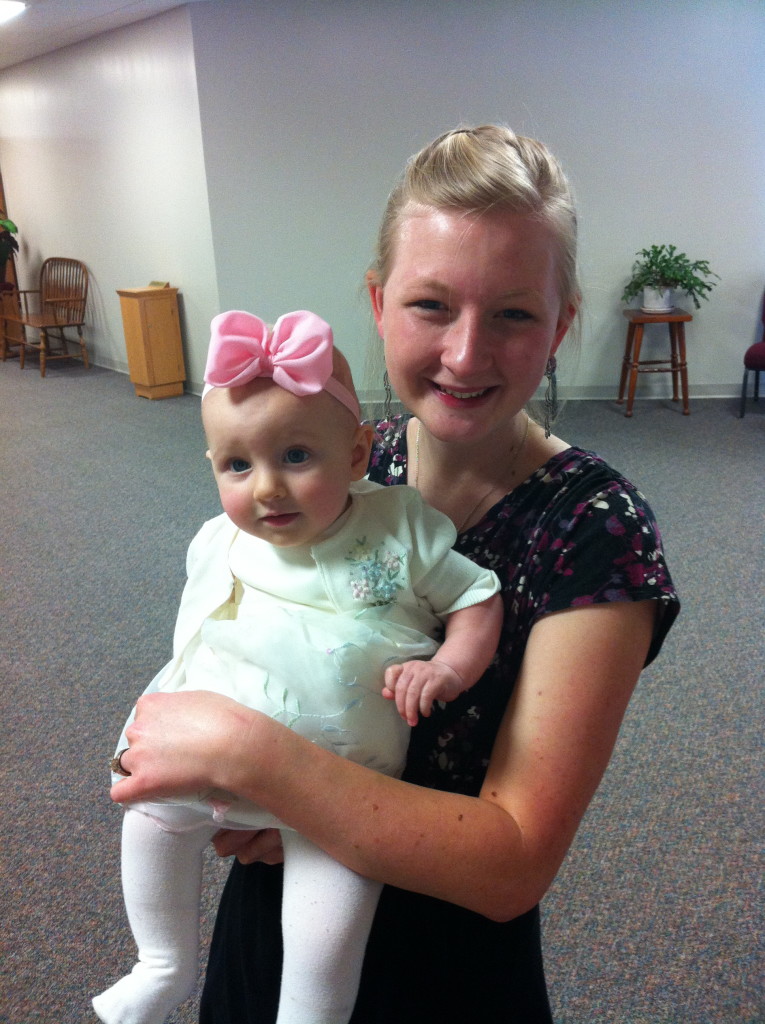 On Saturday afternoon, we were exhausted and needed something to wind down from the crazy weekend. We live about a mile from family video, so we decided to jog to the movie store, get a movie and jog back. We ended up walking and jogging and it was a wonderful, relaxing time!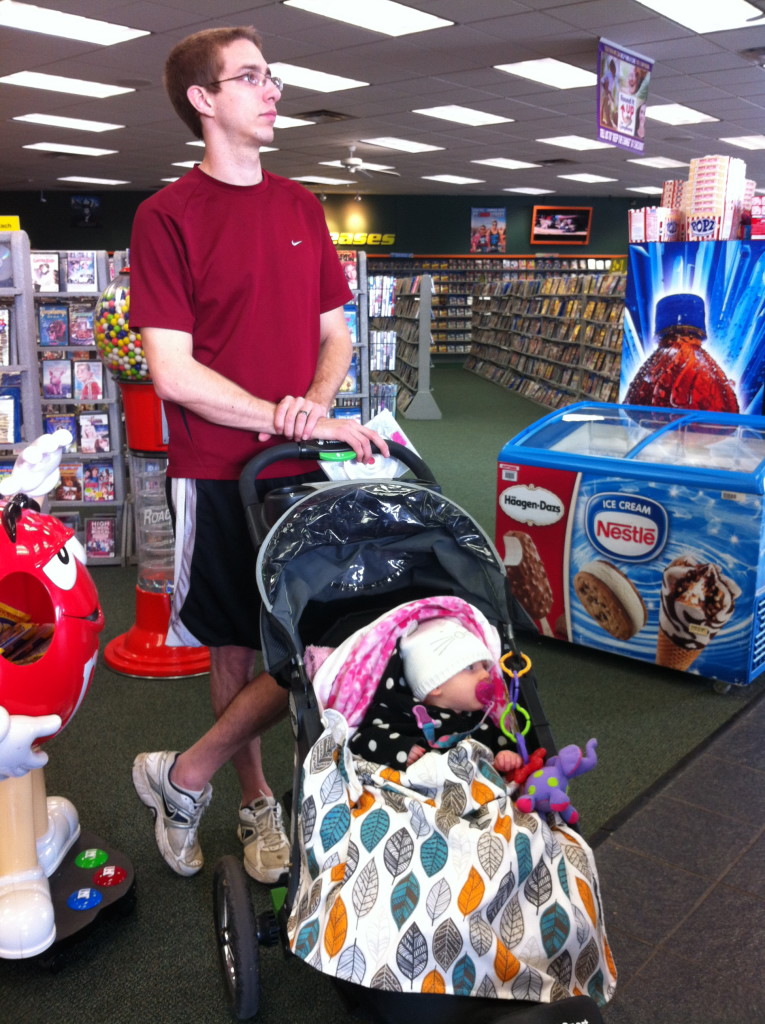 Phew! I have one more bridal shower this upcoming weekend, and then my time will be much more free, so I hope to be back to blogging on a regular basis.
Thanks for sticking around and reading!