About a year ago I was approached at my church and asked to be in charge of bridal showers. There is something in me that just loves details and event planning, so of course I said yes.
However, before I wax on about how great I am at this job, I will just take a moment to explain how incredibly stretching it has been for me. Honestly, I'm not that good at it…in any way. I'm not great at delegating, I'm not great at coming up with ideas and I'm not that great at MCing the whole thing. I will, however, brag that I AM good at set up and tear down. Oh, yes, you better believe it!!
Anyways…last year (2014) I had the pleasure of "planning" two bridal showers for our church. It is a lot of fun to bring all our ladies together to celebrate a new marriage. Sometimes my job is to simply delegate to other people. Sometimes my job is a little bit more involved. It honestly just depends on the girl, her level of involvement in the church (how many people she knows), her personality and the time of year/availability of people. One thing that I am learning to do is delegate. I'm a horrible delegator but I'm a super people pleaser so somehow in the end it all works out.
But, alas! These bridal showers are not about me, they are in fact about the beautiful brides! My hope at the end of the day is that everyone is pleased with these showers…but most of all, that the bride is honored and "showered" with love, advice and blessings for her new home/life.
This year we got to celebrate two special ladies, Rachel and Rebekah. Rachel and Rebekah are twins, and they are both getting married this summer!
Here are a couple of pictures that I took at the showers. I just wanted to share them here as a way to document these beautiful events!
First up…Rachel's shower.
Rachel is a music major…and a very talented one! Her theme was "Coffee & Music". The ladies that decorated did such a beautiful job. Thanks, Paulettte and Sarah!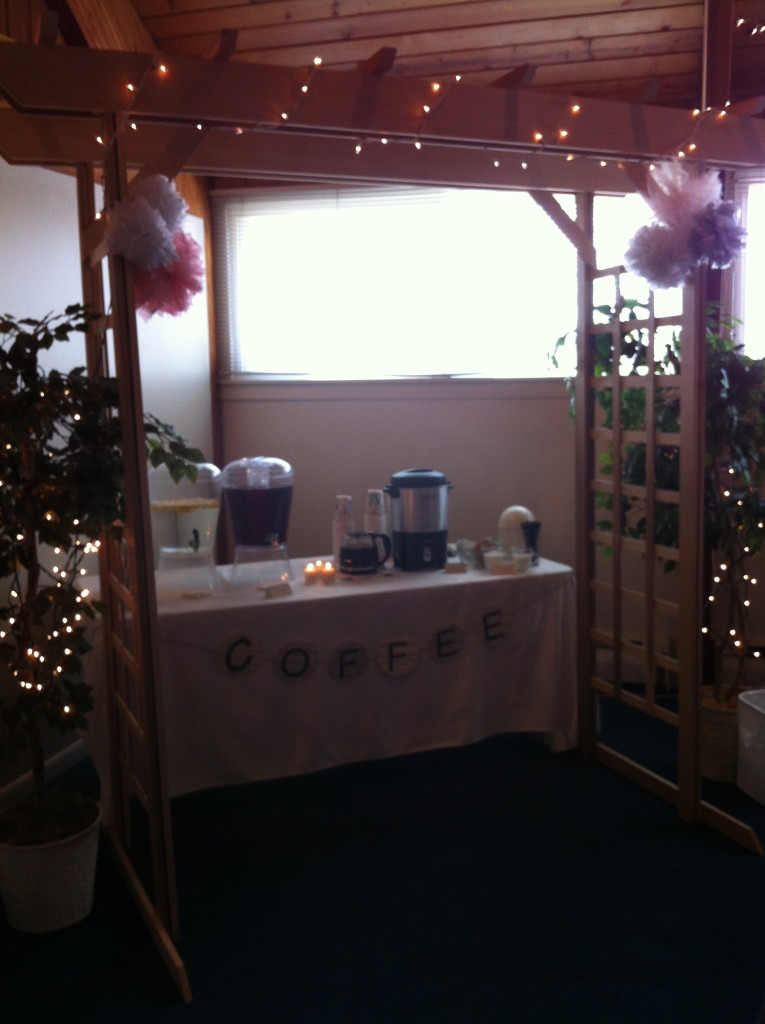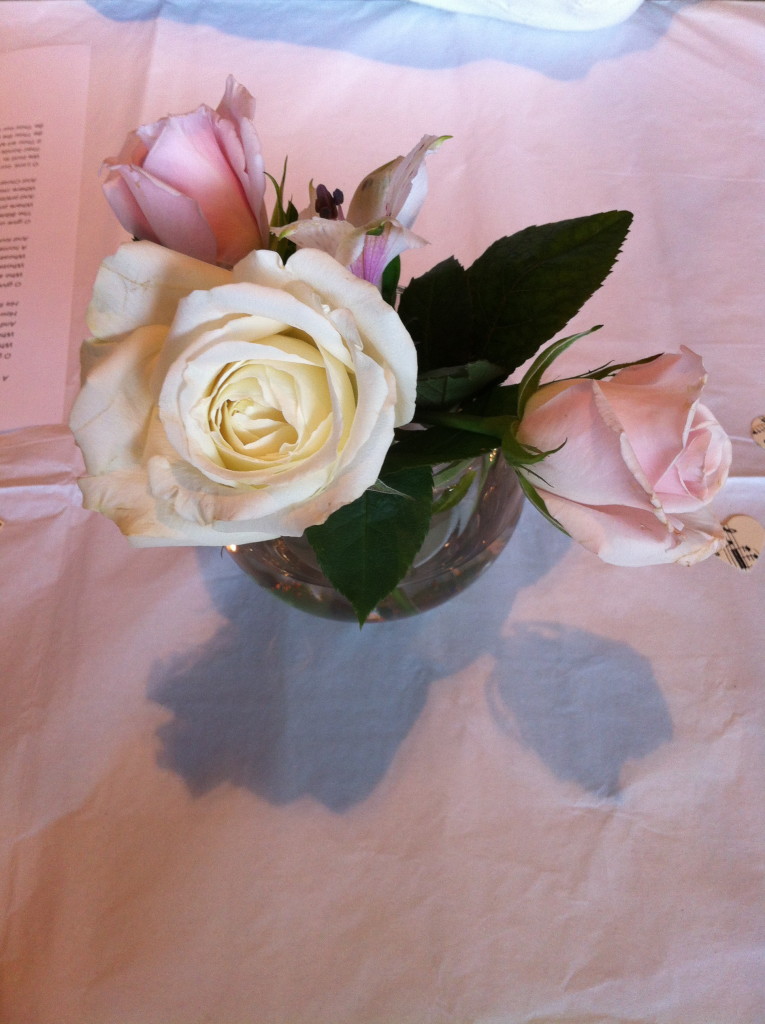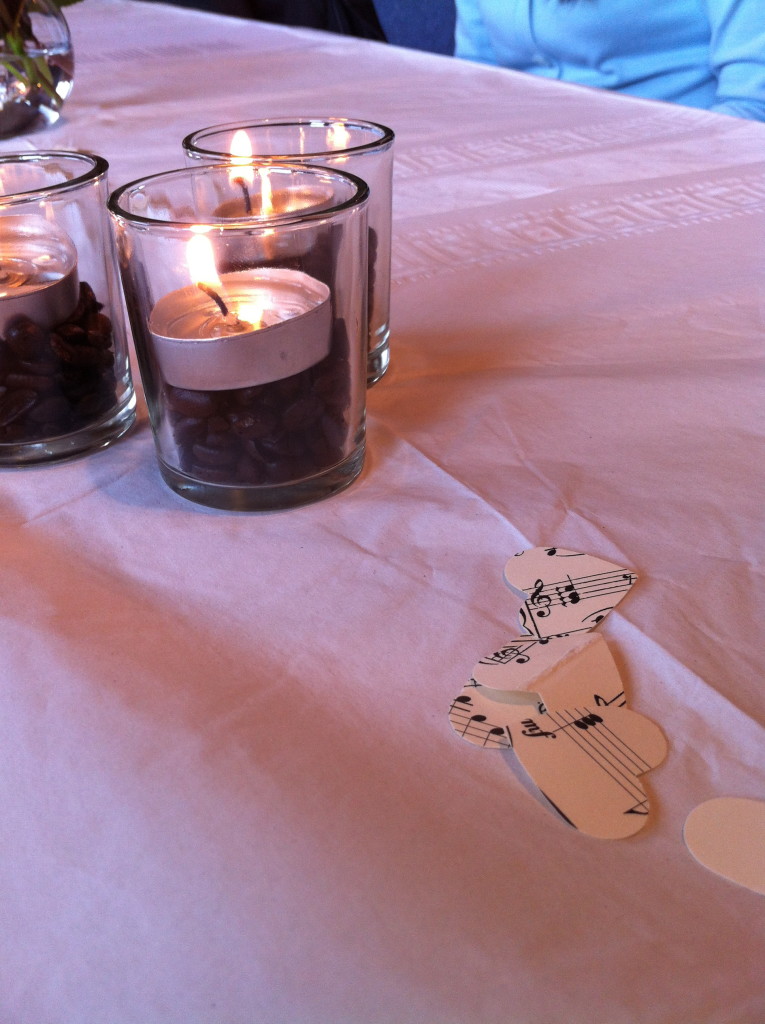 How beautiful and delicious does this look???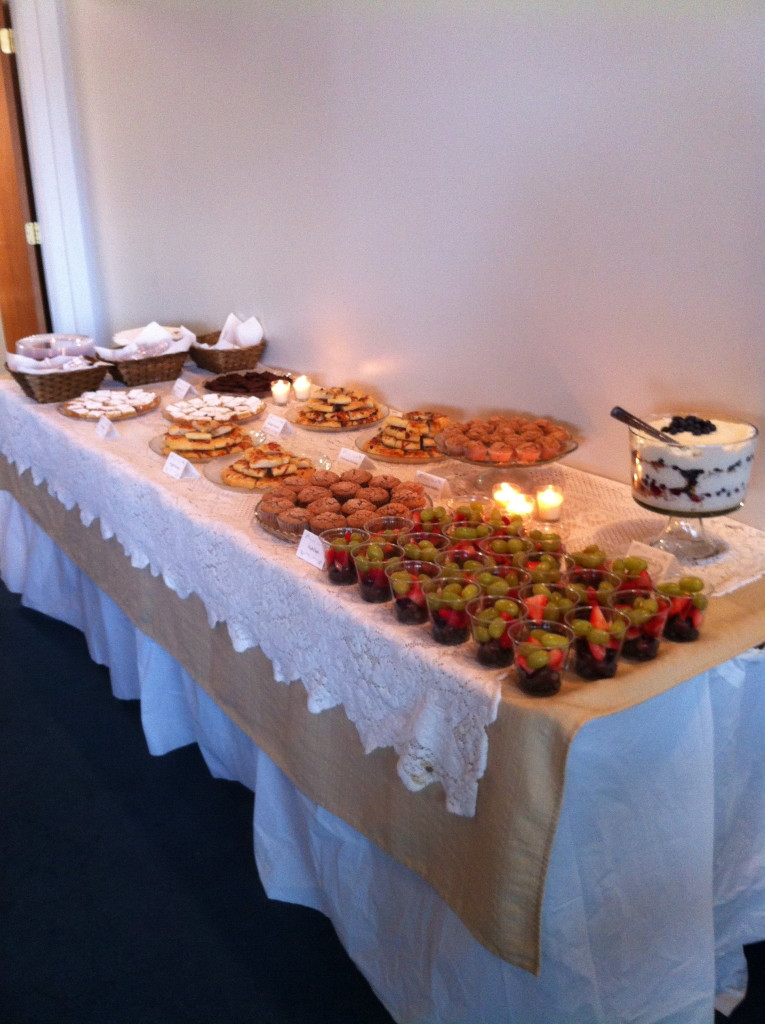 Our bridal showers are always well attended, and these two girls are very special to our church family. We had about 50 adults and 10 kids! Now that is a party!
We try to keep the showers simple, with a few short activities, a song and a devotional. Opening 50+ gifts can take a while, so a large chunk of the shower is reserved for that!
At Rachel's shower, we sung a beautiful song called A Christian Home. This was followed by food and fellowship and then a short devotional. The devotional was led by Nancy, who with her husband did Rachel's premarital counseling. Now, that is special!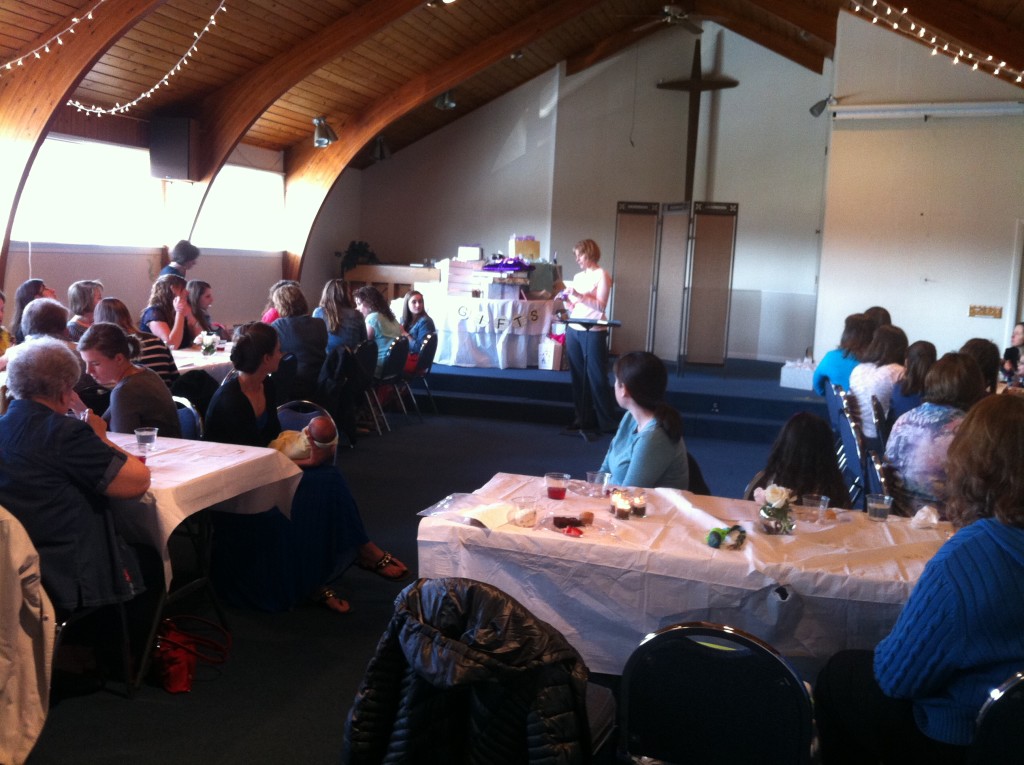 Rachel's shower was wrapped up with gift opening (ha! see what I did there?!?).
P.S. How I managed to not get a single picture of the bride is beyond me…whoops!! So sorry, Rachel!
The following weekend was Rebekah's bridal shower!
My friend Shannon, who is the future sister-in-law of the bride put a lot of hours into the decor. Shannon was the mastermind behind it all, and she was very patient with me as I worked to make my paper flowers look one quarter as good as hers! Seriously…this girl has talent.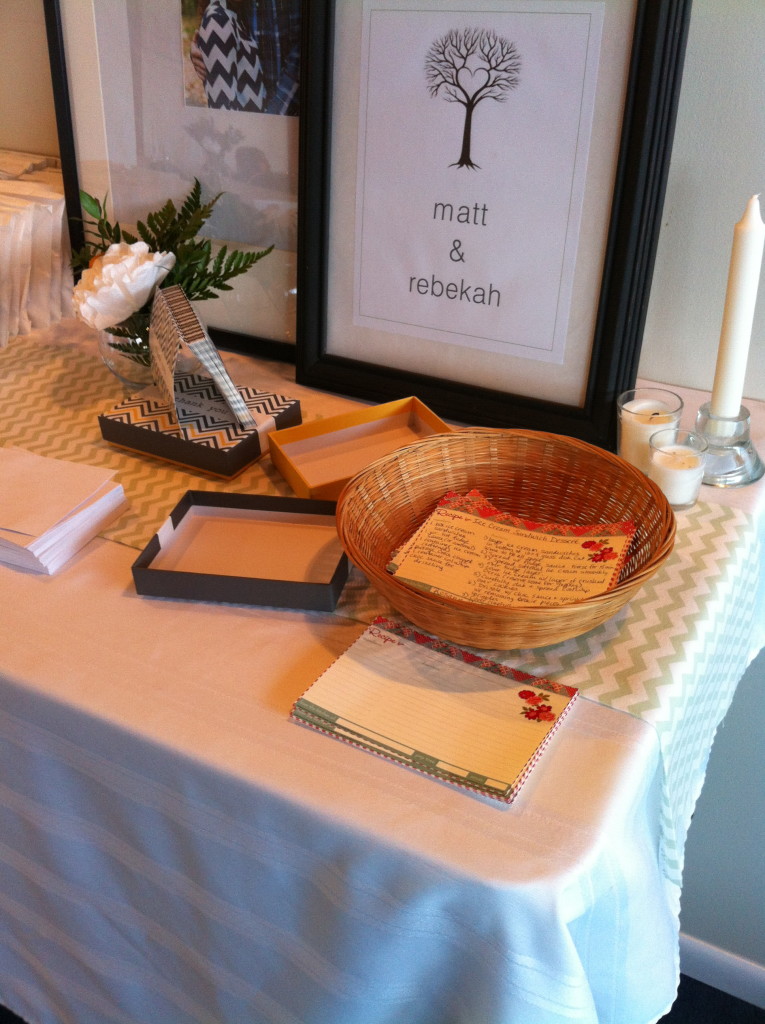 For both showers, we asked everyone to bring a family favorite recipe to share with the bride. We also have out thank you card envelopes. Everyone write their address on an envelope. That way the bride doesn't have to worry about finding addresses! Plus, it is a really nice hostess gift to give the thank you cards to the bride. I baked about 6 dozen LARGE chocolate chip cookies and stuffed them into all those bags (which are called glassene bags juuuust in case you spend a couple hours trying to find them, like Shannon did!). The cookie bags say 'So sweet of you to join us, THANK YOU'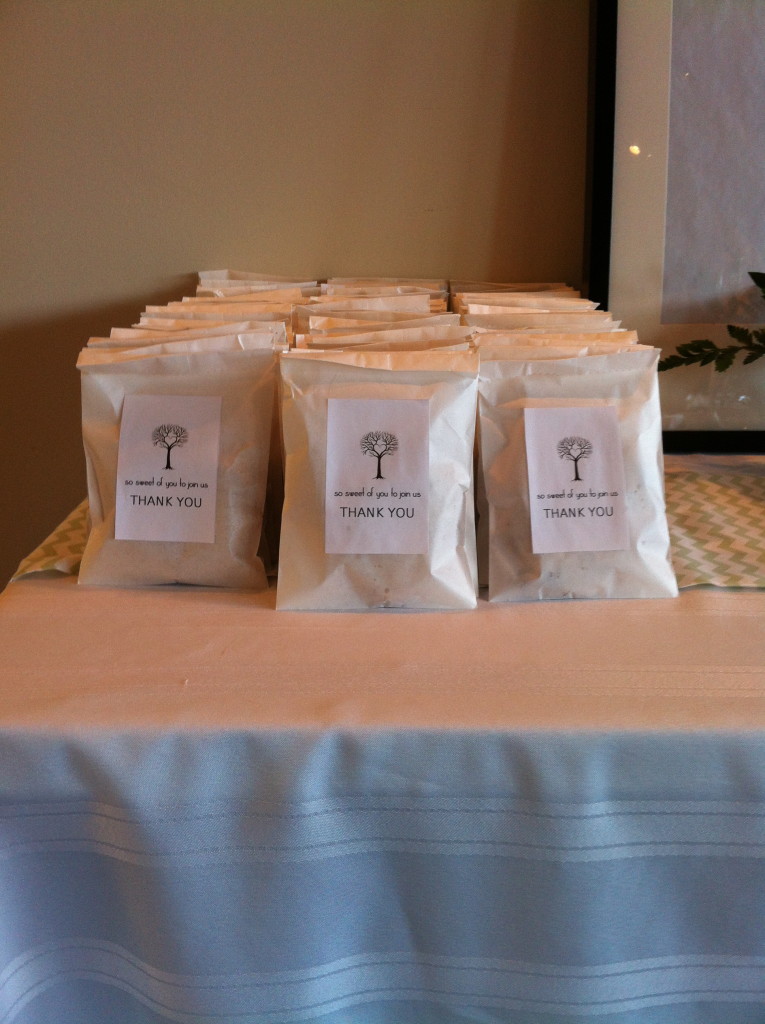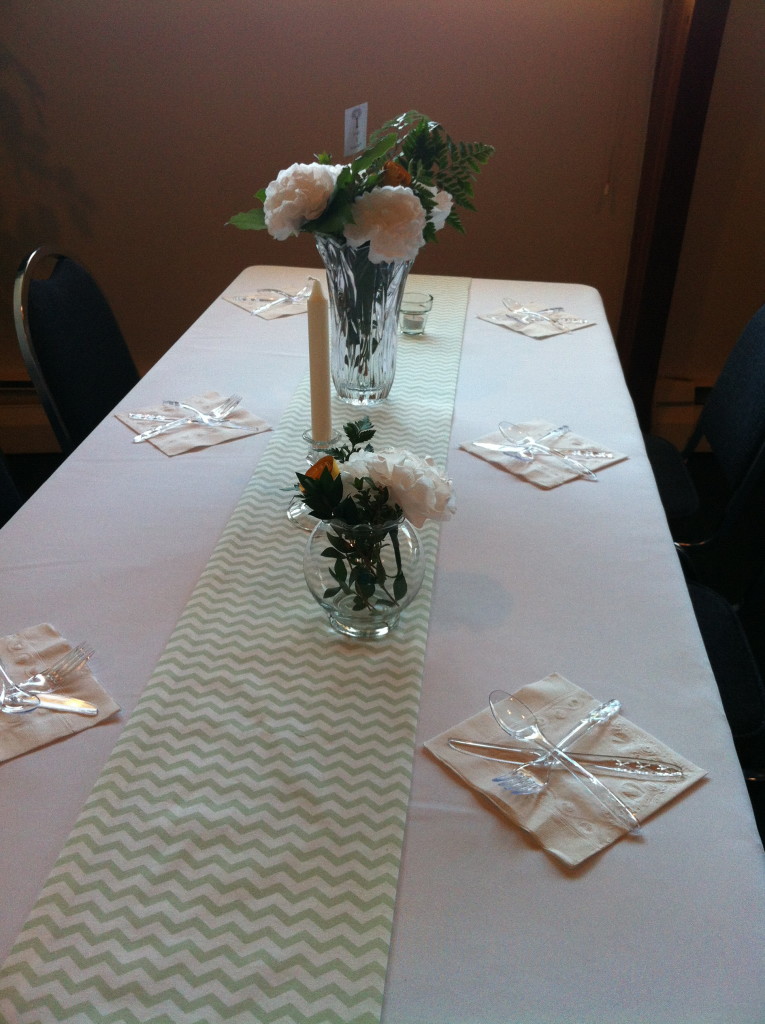 The white flowers are made from coffee filters, and the yellow papers are from cardstock. The greens are from Kroger flower spot.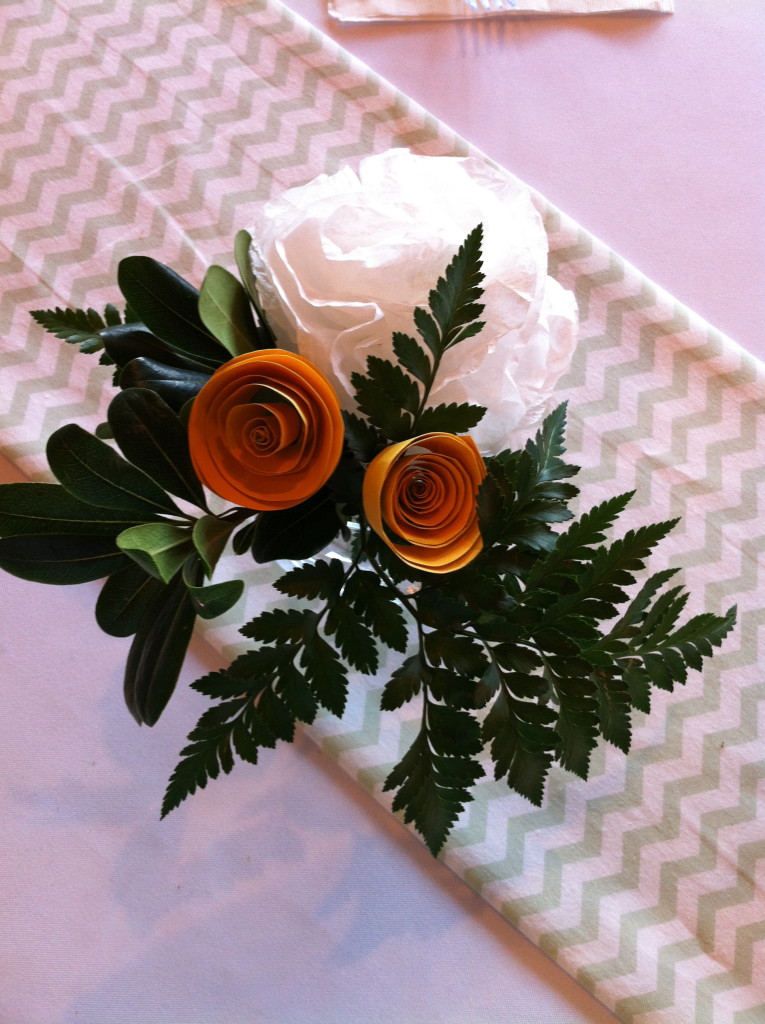 We hung the lights from floor to ceiling. In between the lights are heart garlands- the hearts are cut from cardstock and then Shannon sewed them together with her sewing machine.
And let me tell you what…it was a kid magnet. They could NOT stay away. Haha, so adorable.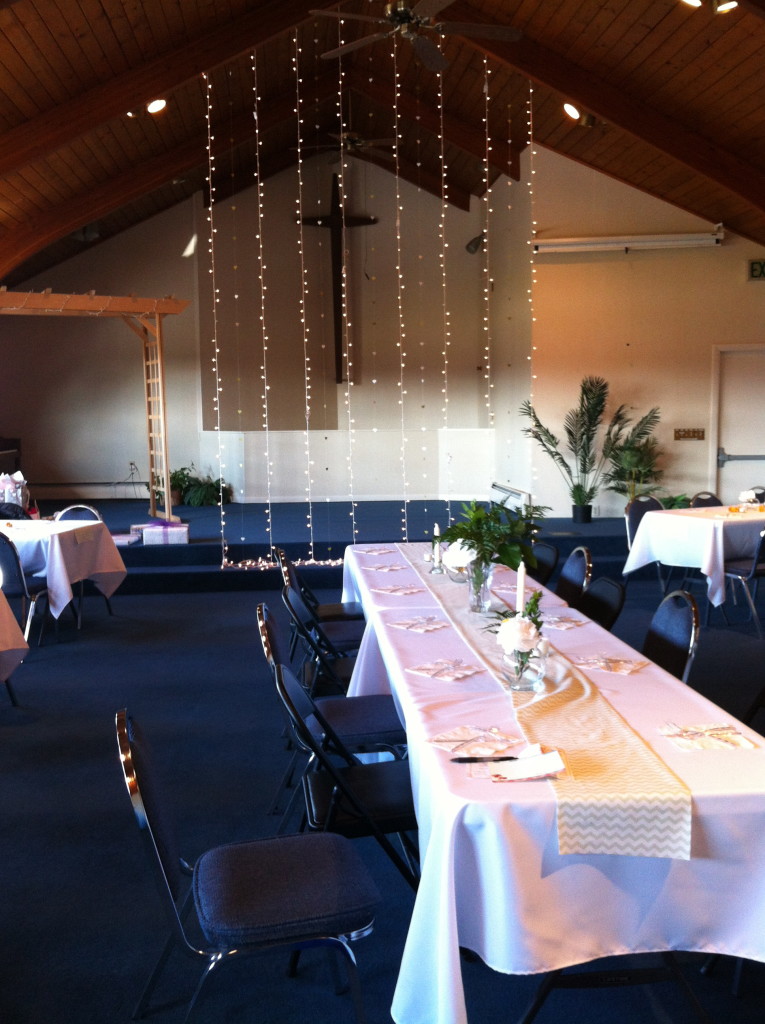 The order of events for Rebekah's shower was similar to Rachel's shower- we started out with a short introduction and prayer…then dived into the food (which I completely forgot to photograph!). After the food was a short devotional by Carla: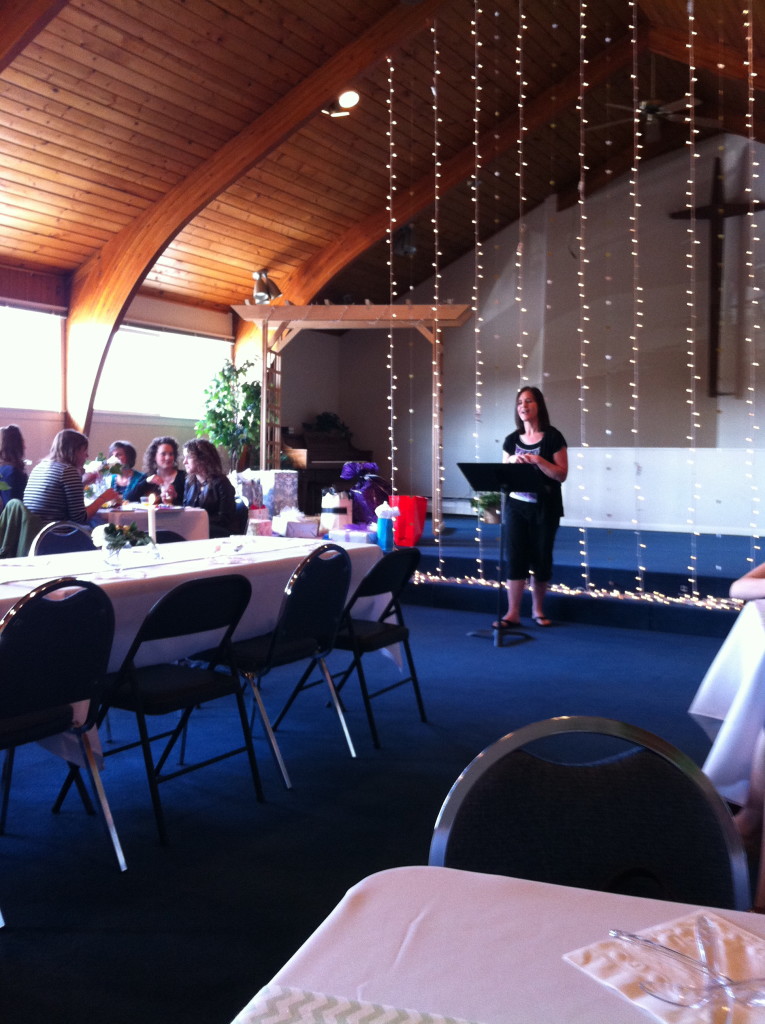 Jill, Rebekah's future mother in law also gave a sweet "toast" to Rebekah- in Swahili! Rebekah is a brave girl to marry an MK! 😉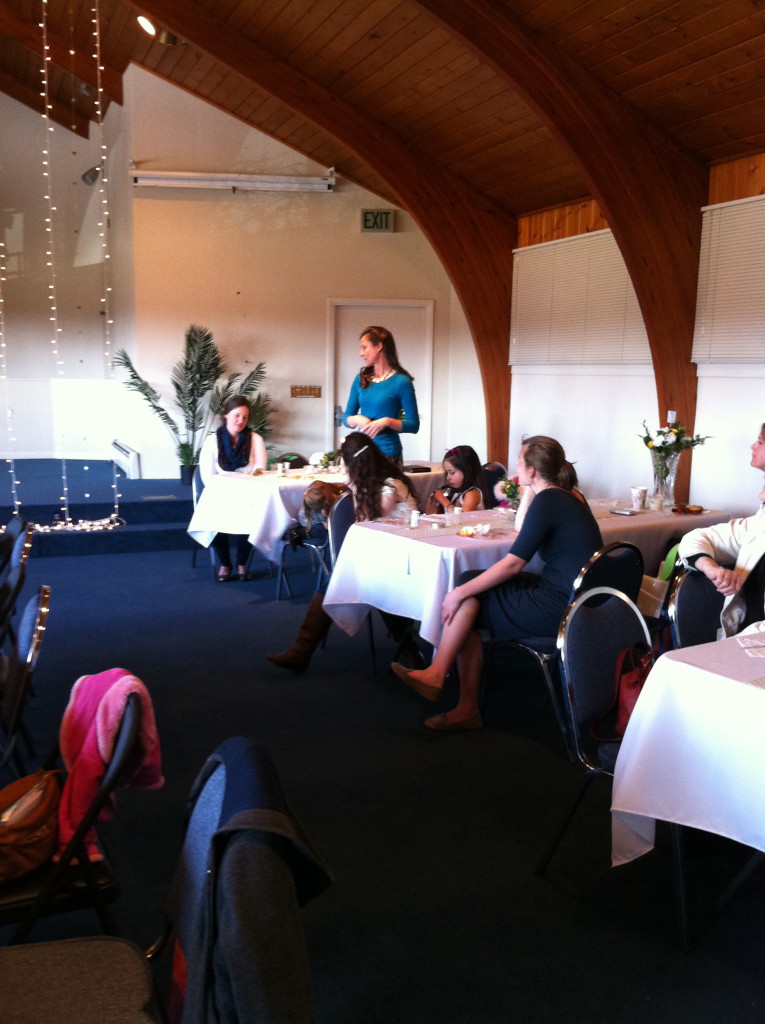 We then proceeded on to the gift opening!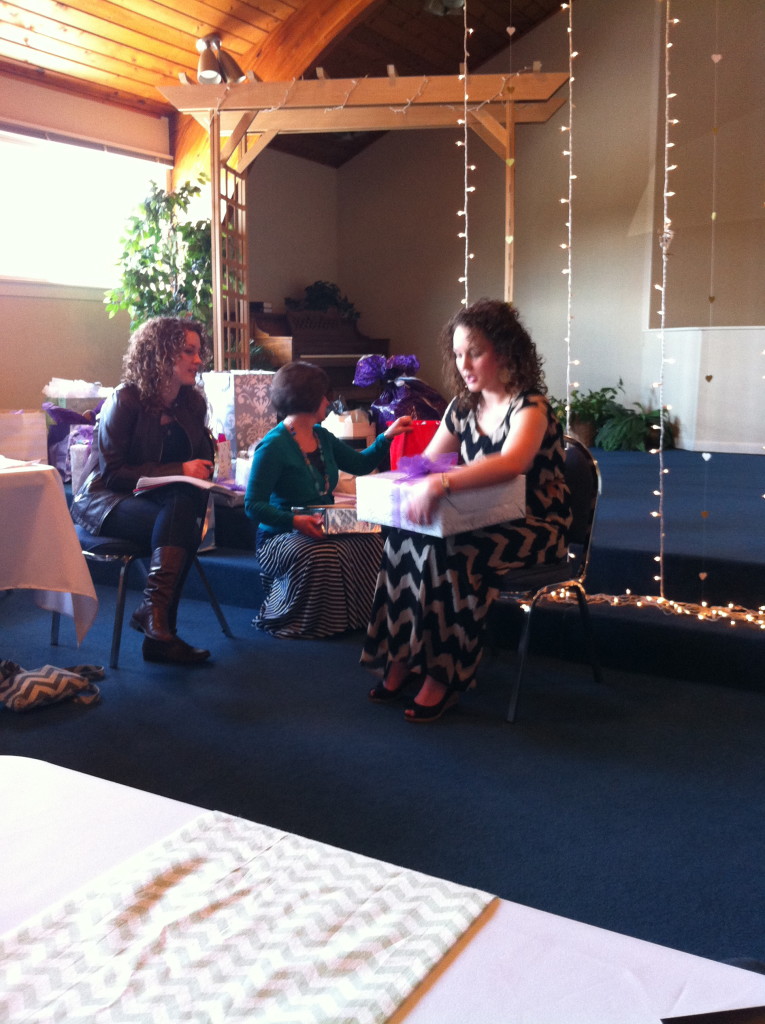 I just wanted to conclude this post with the lyrics to the song A Christian Home, which we sang at Rachel's shower. Oh, how I pray that this will be true for both Rachel and Rebekah's marriages…and that it will remain true for mine as well!
O give us homes built firm upon the Saviour,
Where Christ is Head, and Counsellor and Guide;
Where ev'ry child is taught His love and favor
And gives his heart to Christ, the crucified:
How sweet to know that tho' his footsteps waver
His faithful Lord is walking by his side!
O give us homes with godly fathers, mothers,
Who always place their hope and trust in Him;
Whose tender patience turmoil never bothers,
Whose calm and courage trouble cannot dim;
A home where each finds joy in serving others,
And love still shines, tho' days be dark and grim.
O give us homes where Christ is Lord and Master,
The Bible read, the precious hymns still sung;
Where prayer comes first in peace or in disaster,
And praise is natural speech to ev'ry tongue;
Where mountains move before a faith that's vaster,
And Christ sufficient is for old and young.
O Lord, our God, our homes are Thine forever!
We trust to Thee their problems, toil, and care;
Their bonds of love no enemy can sever
If Thou art always Lord and Master there:
Be Thou the center of our least endeavor:
Be Thou our Guest, our hearts and homes to share.