Yesterday we participated in a 5k!
This 5k was put on by a woman in our church who home schools her boys through the Dayton Christian Home School program. She is also very passionate about running and has many marathons under her belt!
Kelly has now planned and coordinated this event two years in a row, and we are already looking forward to it next year! Last year I had every intention of doing the 5k, but when the time rolled around I was largely pregnant and pretty lazy, and decided not to sign up. I wish that I had, though!
I love running, and I love race day…but one thing that I hate is the price of some of these races! It's so much pressure for me to make sure that the money I spent was worth it, that I just get dissapointed if I don't do well in races after spending so much money on it. That is not the case with this race, though! It was affordable, plus…I knew that the entrance fee was going to a great cause! Although I don't know much about Dayton Christian Home School, I do know lots of people who are involved with it…and I know that it is something I may be very involved with in the future!
Another thing that I loved about this event was that strollers were allowed! It is so hard to find races that allow strollers. If I can't push Tera in the stroller then I have to find a babysitter and then I have to make sure that I drop her off in time, etc. etc. etc. It's SO much easier when I can just take Tera along!
The weather was perfect for running yesterday! It was rather crisp for just standing around, but it was great for running 3 miles!
Before we left, I dressed Tera, and I couldn't resist putting her in some 'running' shoes!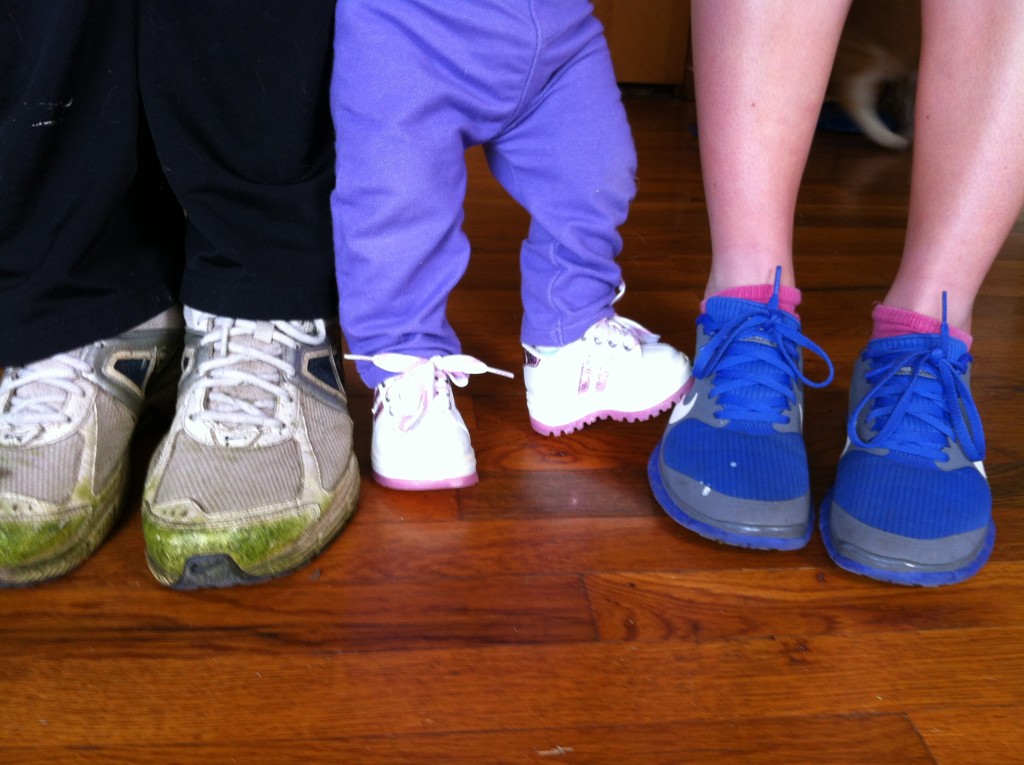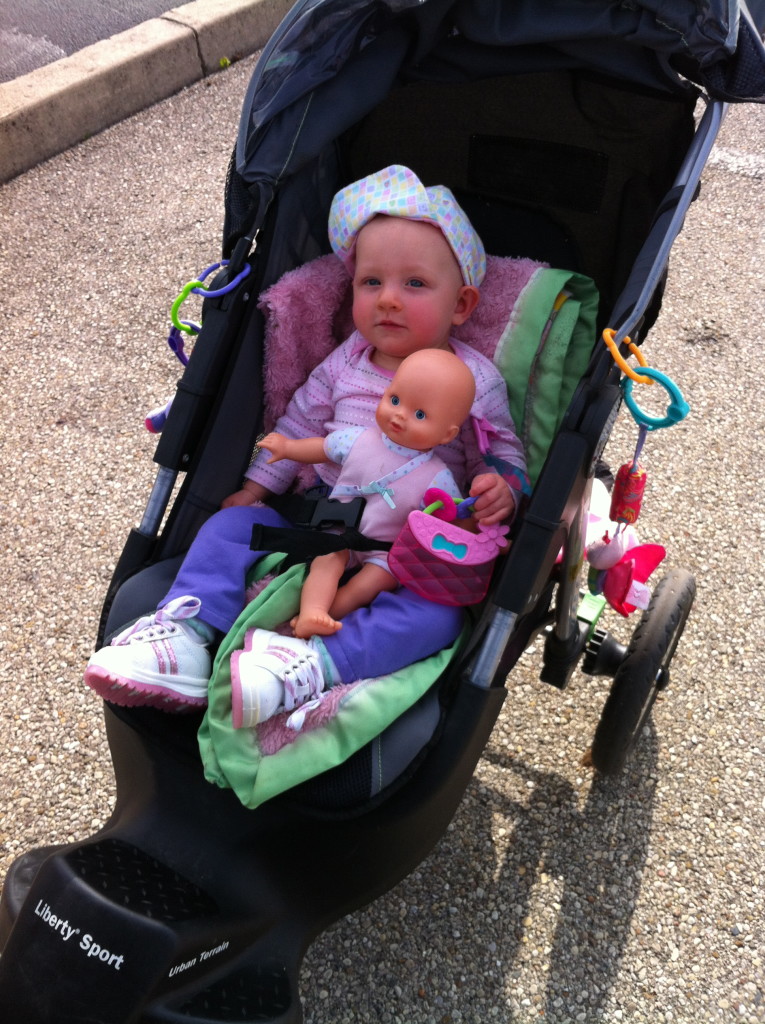 Some pre-race pictures: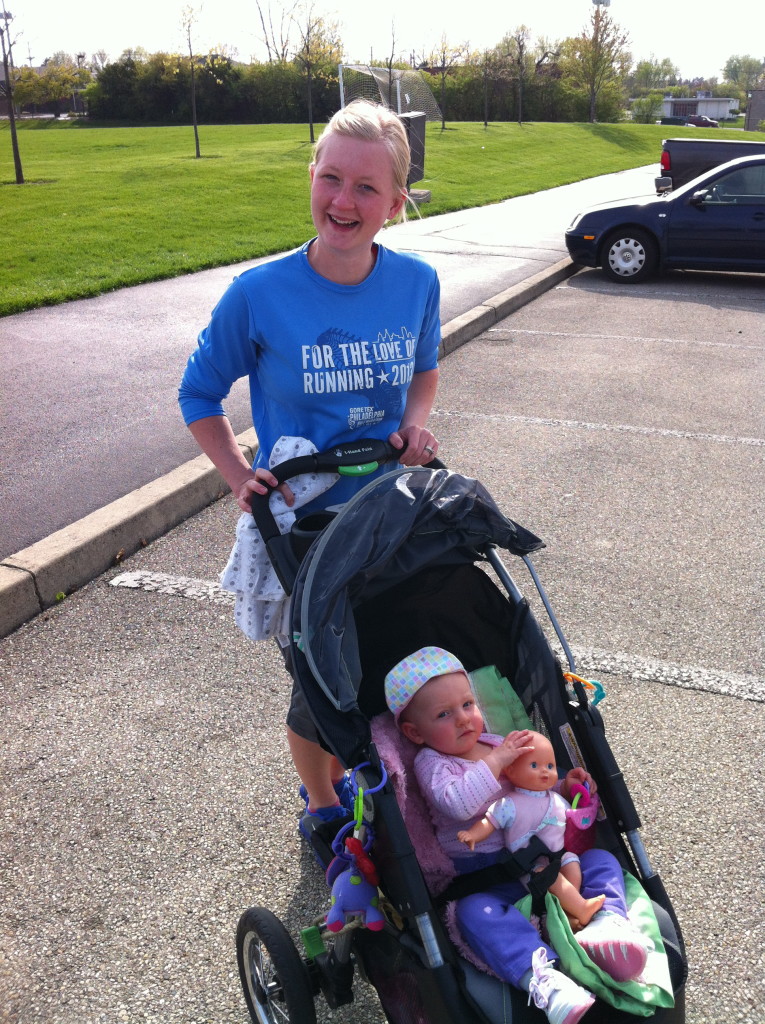 At the start line, waiting to run! We got shirts, too…and apparently we were one of the few who didn't put them on. What is race etiquette in that area, anyways? Do you get the shirt beforehand to wear it during the race, or do you save it for afterwards to wear it as a badge of accomplishment? Or both?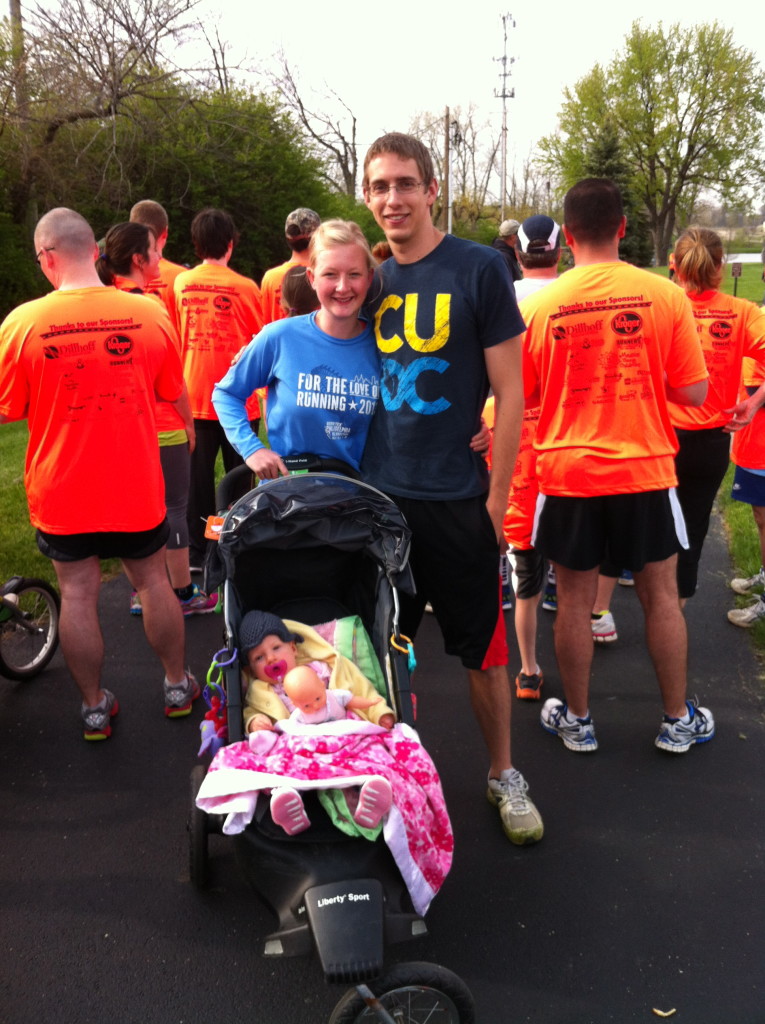 Theo went back and forth about running with me or trying to place for the race, and he decided right at the start line that he would try to place. As soon as the race started, he stayed hot on the heels of another guy. He stayed right with him until a couple hundred meters before the finish line, then he passed him and won the race! He ran each mile in just over 6 minutes! It was so fun because Tera and I were at a part in the race course where we could actually see the finish line, and we got to see Theo finish…even though we still had a little ways to go. Turns out that the guy that he beat is a principle at a local Christian school. Ha! Hopefully he wasn't too defeated about Theo's underhanded tactics to follow him the whole way and then pass him right by!
After the race, they had doughnuts and bagels and water and gatorade and bananas. Tera sure did enjoy her snack after she did all the hard work of sitting there looking cute for 3 miles!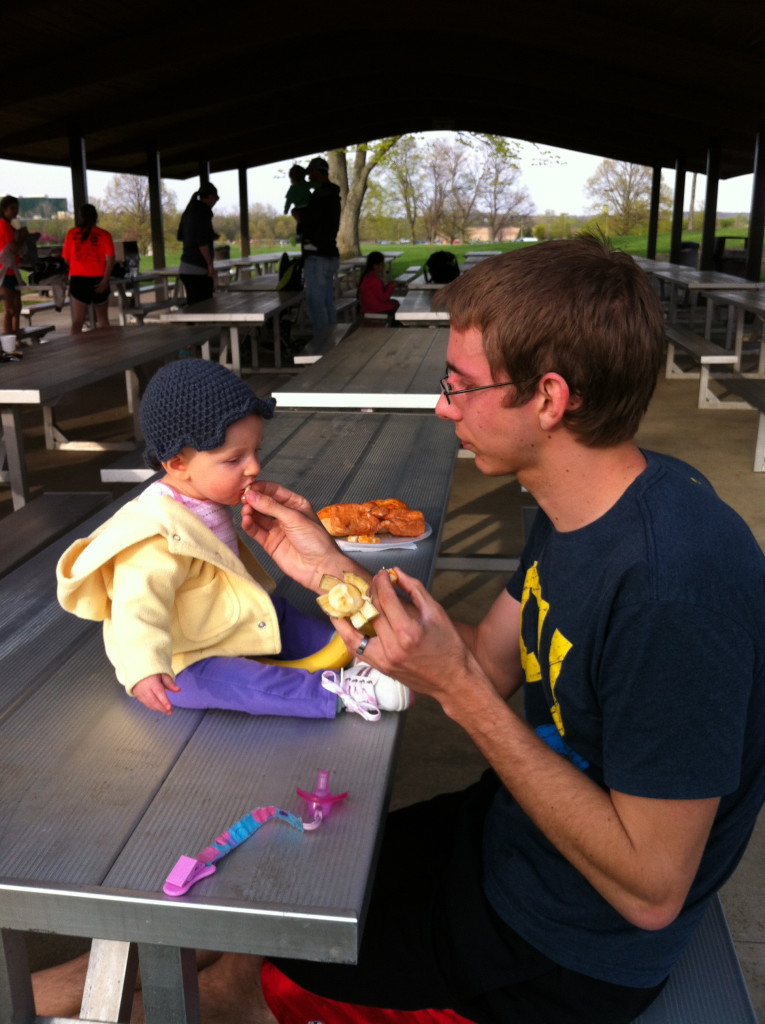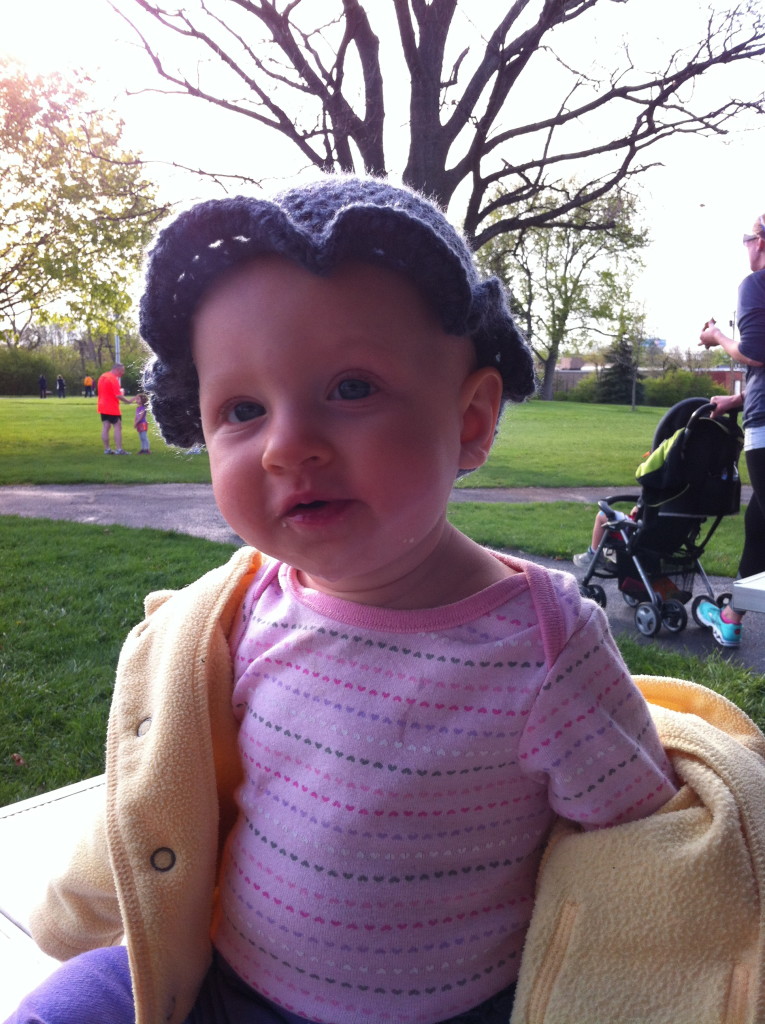 We took some pictures at the finish line: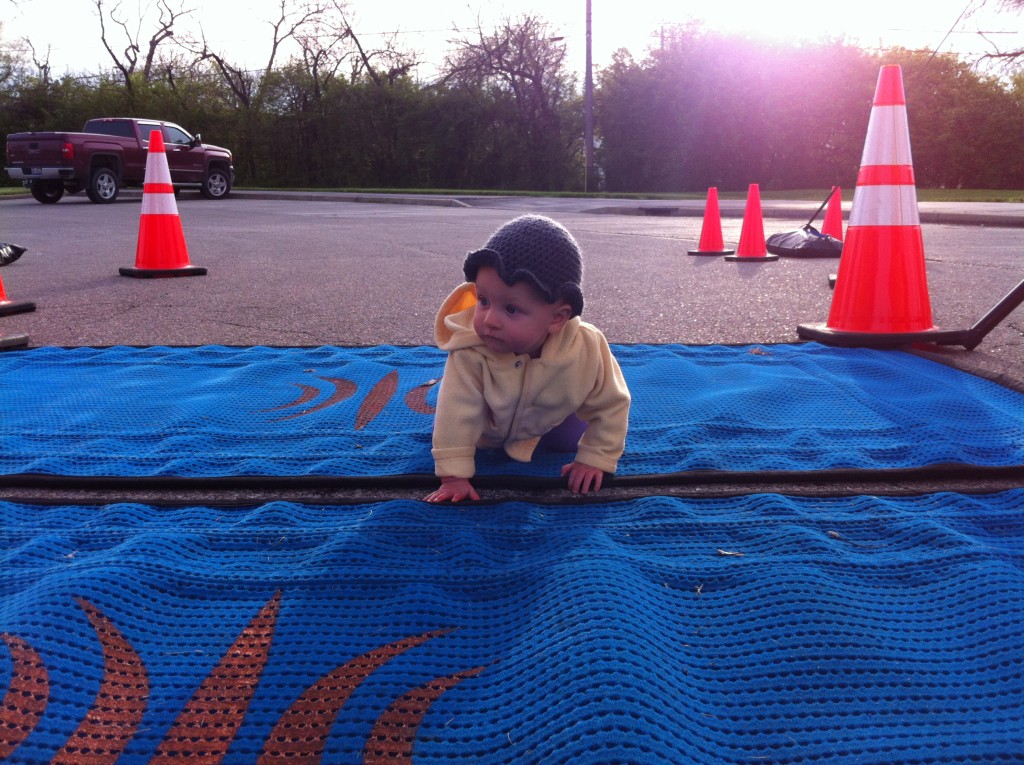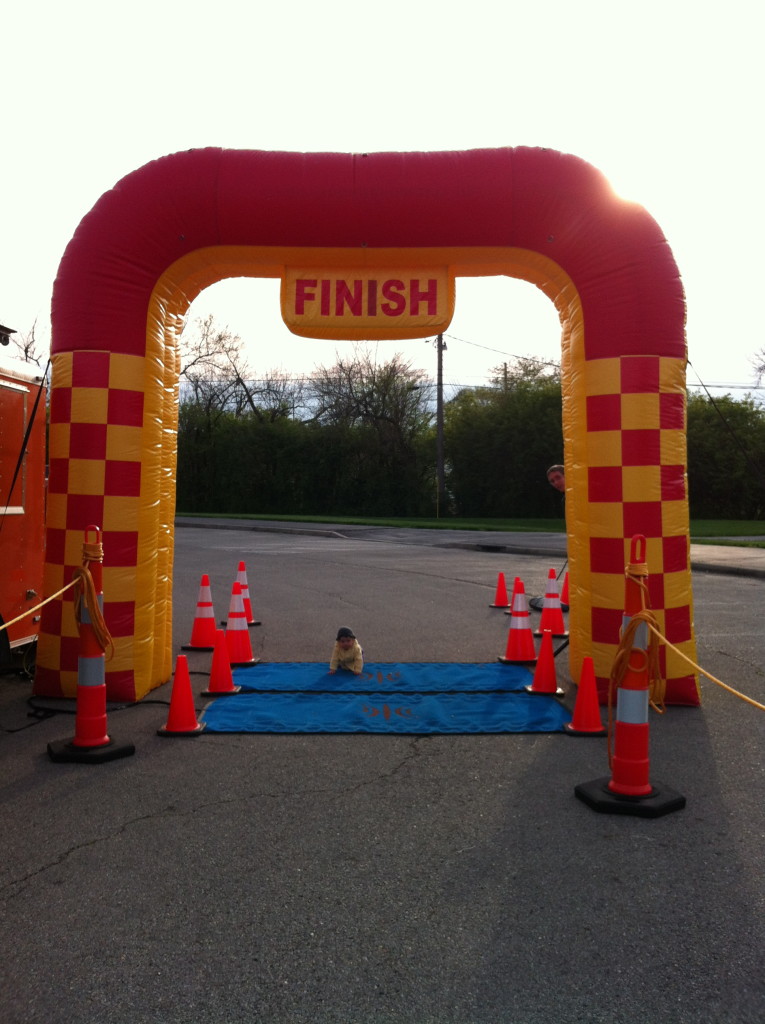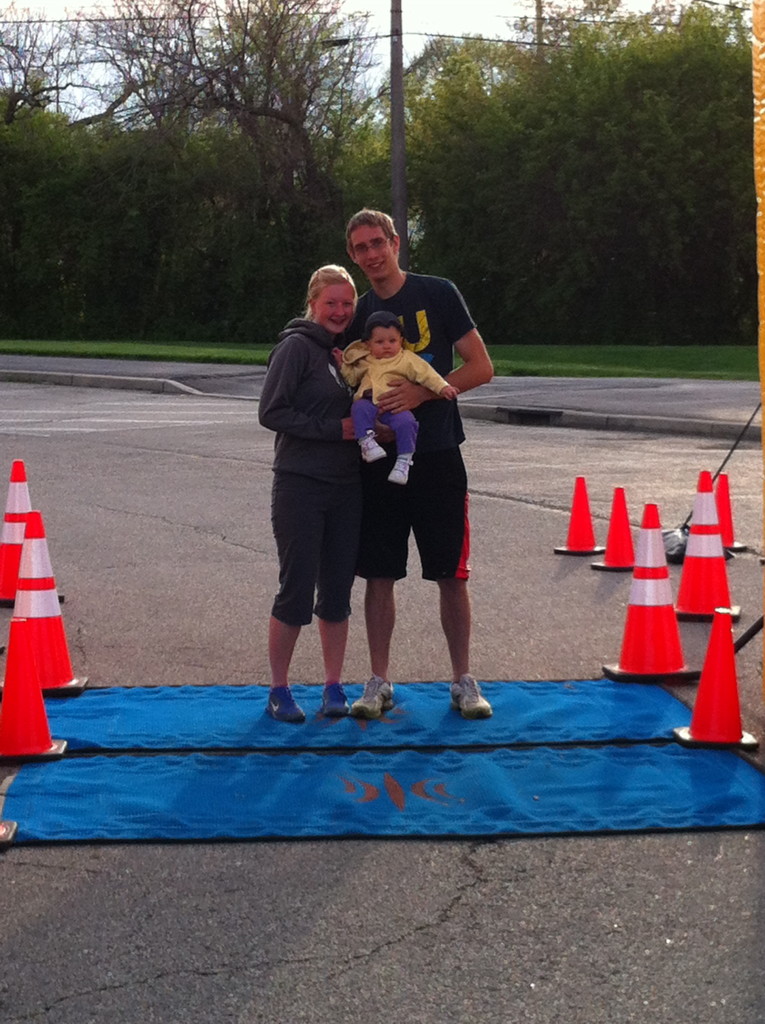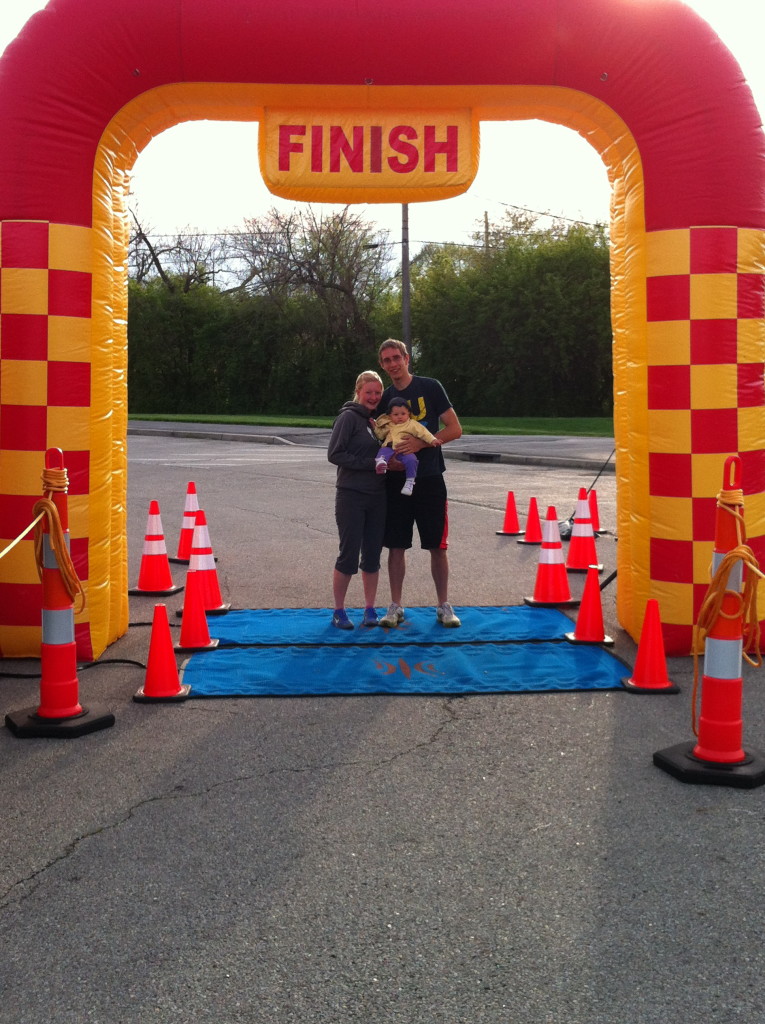 And then we had the awards ceremony!
Theo was first place overall!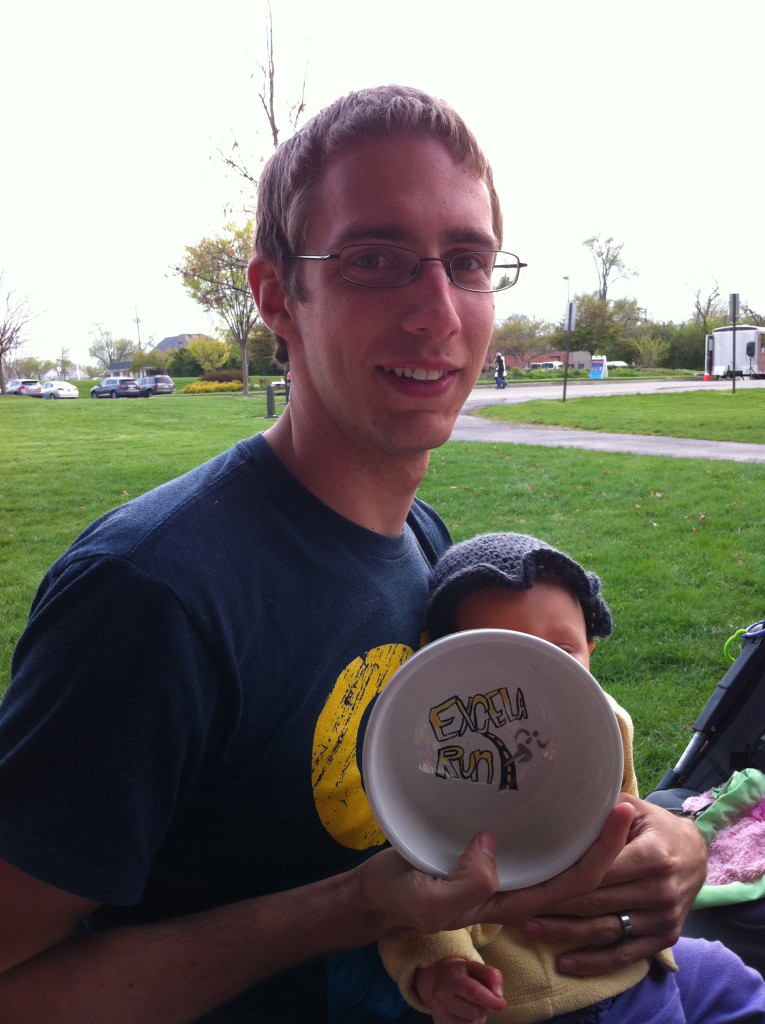 Theo won first place overall, and my friend Margaret won first place female! Not only did she win first place female, but she did that while pushing her two year old in a stroller AND at while pregnant! Now that is impressive! Good job Margaret! The other two winners were the boy and girl student winners. It was so fun to see so many young people and families participate in this event.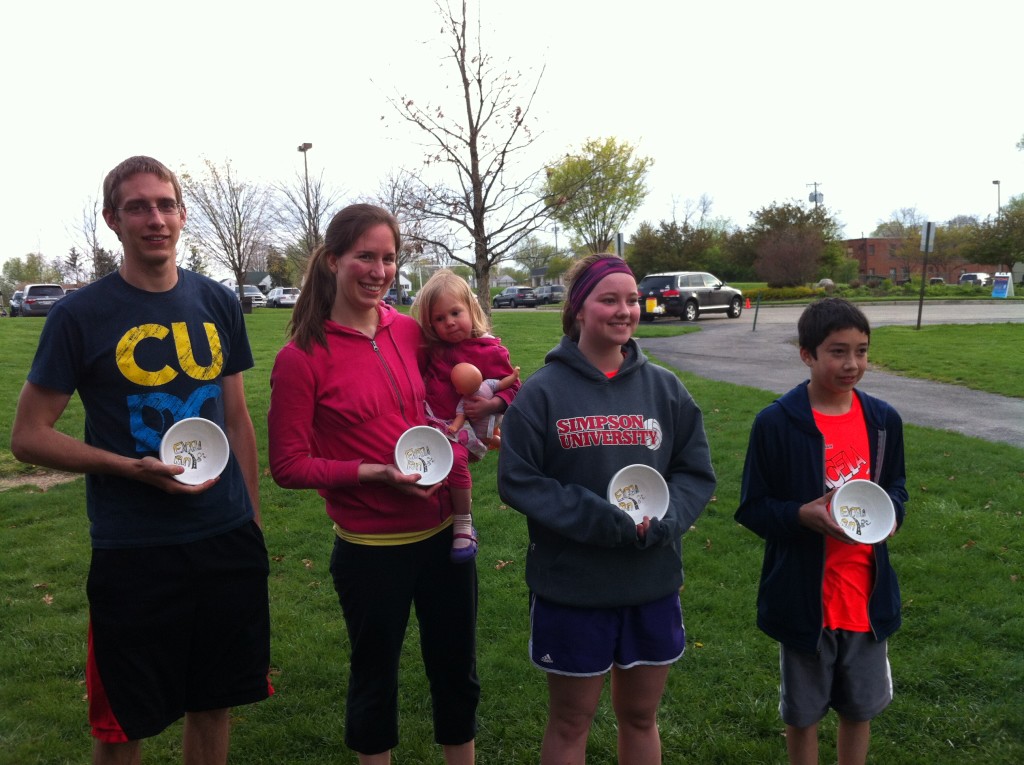 And one final shot: Kelly, her husband and their three boys. Ian and Owen (the two oldest) also ran the 5k. Owen is 5, and it was his first 5k! He did great!!! Margaret and Evelynne also go to our church, so this was our 'church picture'. I love having friends that inspire me to be fit…and not only be fit, but to be fit as a family! So fun!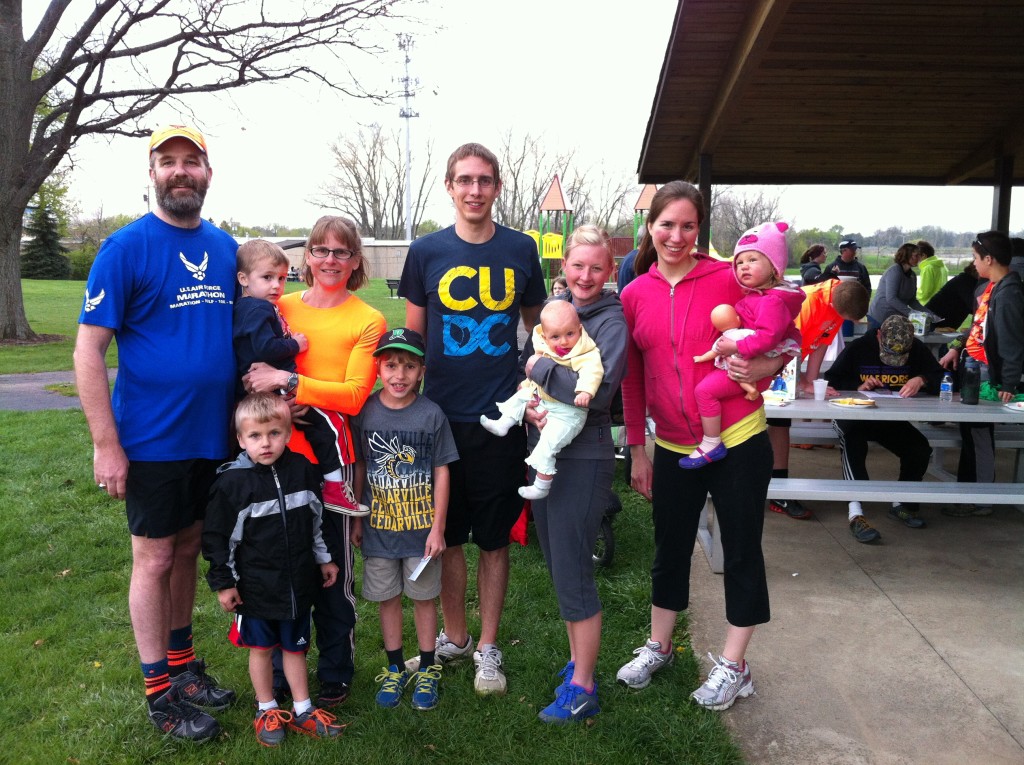 Thanks for a great time, Kelly! We look forward to participating again next year! And recruiting lots more people to compete against!! 😉