Last week my cousin Alesha took me to a little store in Troy.
Alesha was on a mission to try on a Tula baby carrier…and she decided that I would love this shop and that I just *needed* to go with her.
And boy was she right!
Samozrejme is a store that sells eco-friendly family products. Cloth diapers, wooden toys, eco-friendly swaddle blankets, breast feeding supplies, teething supplies and baby carriers. You name it- it's there. One thing that I loved about all their products is that it's available in person! So many of the items that the shop carries are only available online, so it's refreshing and comforting to be able to see it in a store before shelling out money on it.
Alesha and I spent over two hours in the store (with 5 kids in tow!). We just loved it that much.
When I was in the store, I snapped some picture because I knew that my words couldn't do it justice. These were all taken with my iPhone, and I must have been shaking with excitement because 80% of them are blurry. Oops. But, you will get the picture! (Ha, pun actually not intended until I read this back over. Hahahaha.)
Let me give you a little tour and point out all the things that I absolutely loved about this shop!
First up: cloth diaper station.
Samozrejme sells cloth diapers. ALL TYPES of cloth diapers. This is great for Mom's who know exactly what type of diapers they use and what print they want and how much they want to spend for it. This is rather overwhelming for Mom's who are interested in buying cloth diapers but have no.clue where to begin. Samozrejme has a solution!
Dolls. With every type of cloth diaper. You can stand there and touch and try every single type of cloth diaper until YOU find what your heart (or your baby's butt) desires. And of course, an employee can walk you through everything.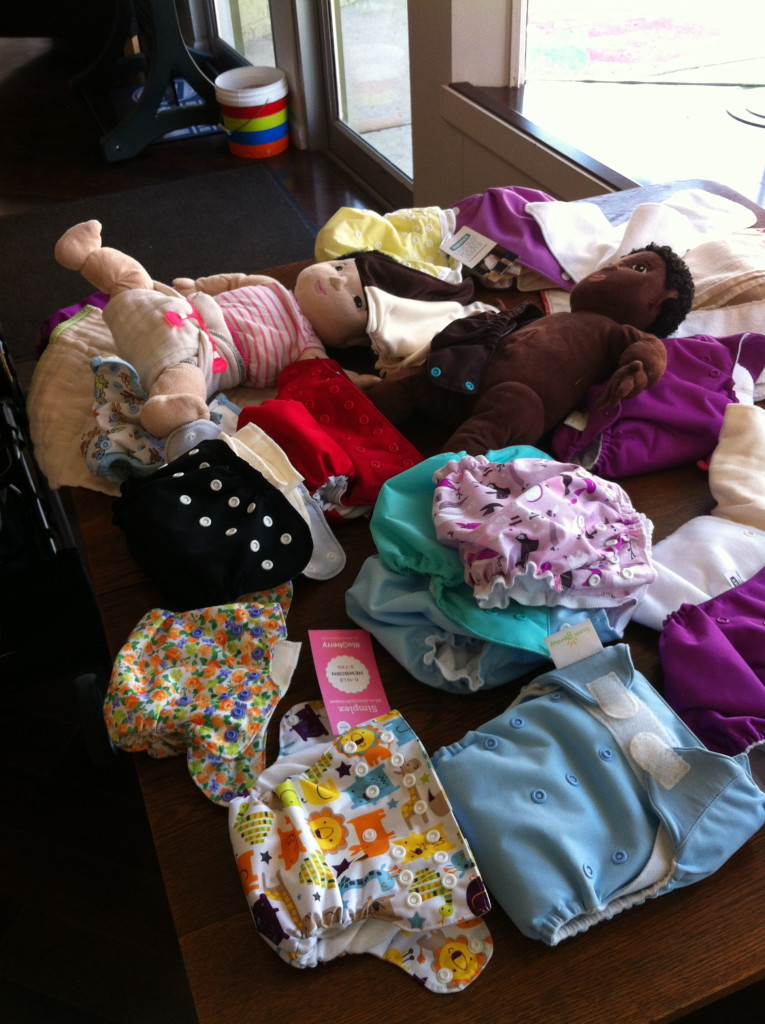 The beautiful cloth diaper wall (and a super cute baby!)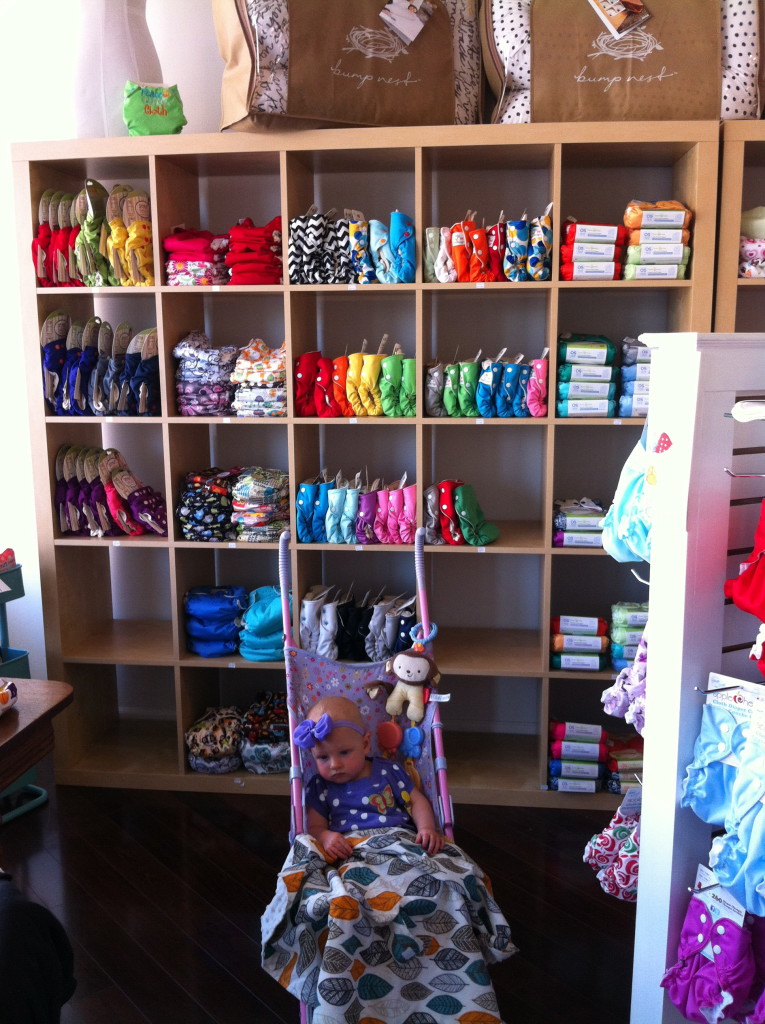 Next up are all kinds of eco-friendly kid products. I'm sure anyone that works at the store could go into great detail about how and why all these items are eco-friendly. I will just say that if you want to "go green", this is the place to get your products!
Eating and drinking supplies: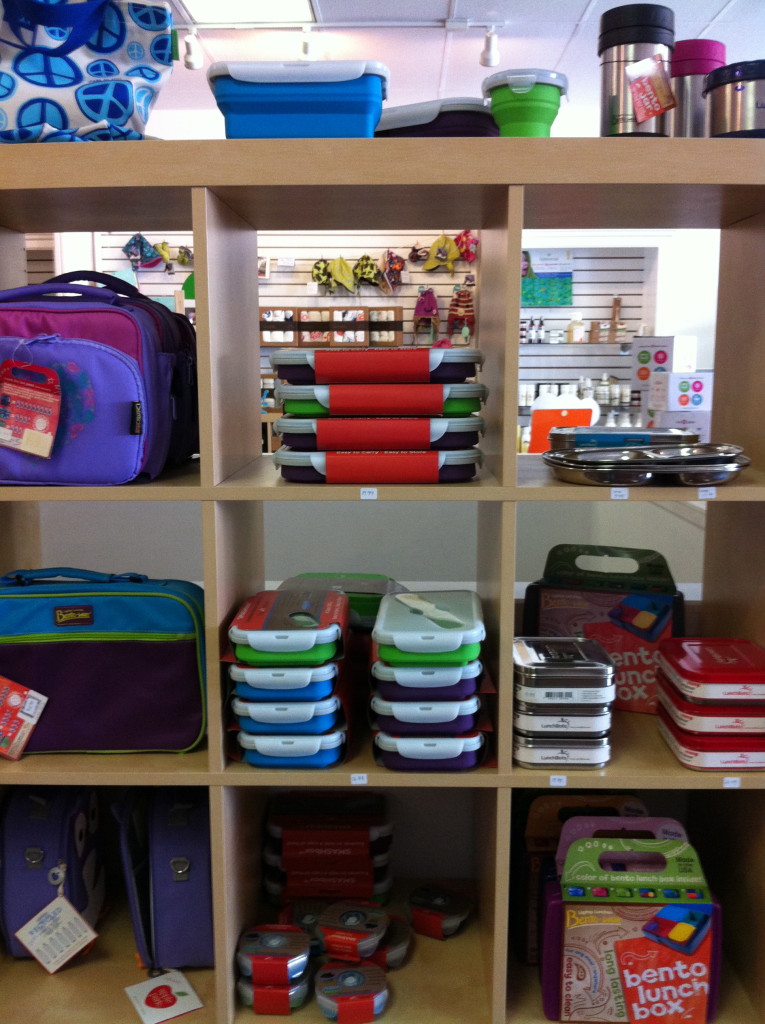 Wooden or recycled plastic toys:
Seriously, I was SWOONING over the doll house that they had. I already have a doll house for Tera, but all the sets that go with the doll house are now on Tera's Christmas list. Plus, I love how all the toys are NOT generic plastic junk. The average American child does not have that specific dump truck or doll house or teether.
Teething toys: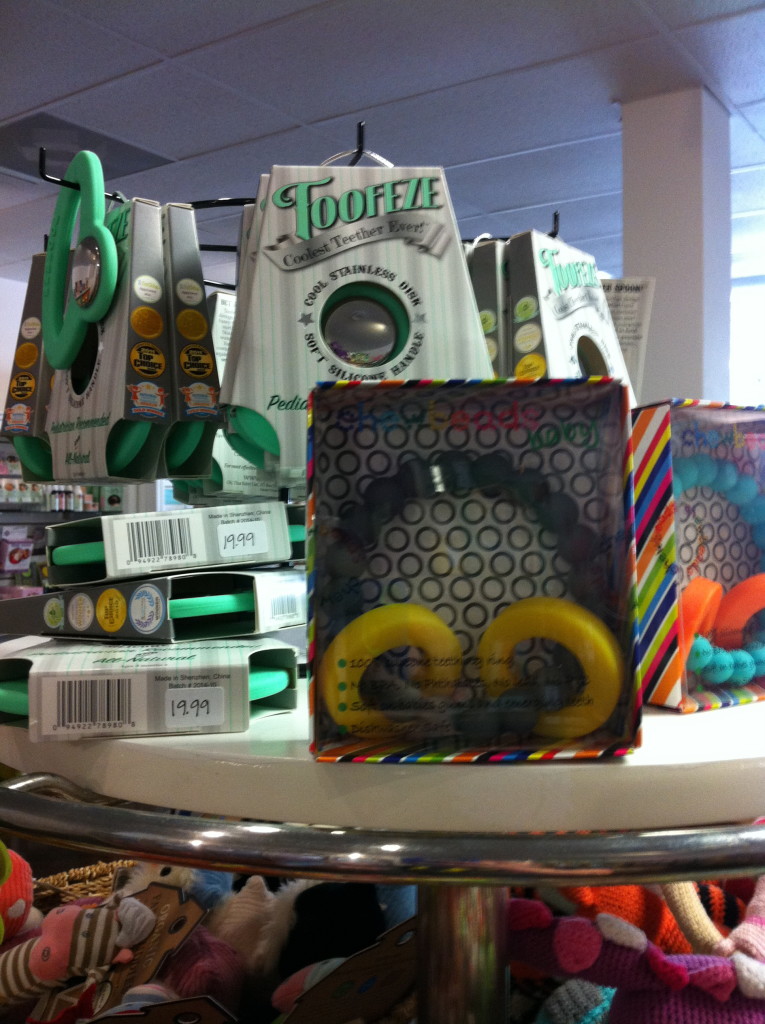 All kinds of breastfeeding/maternity/mommy supplies: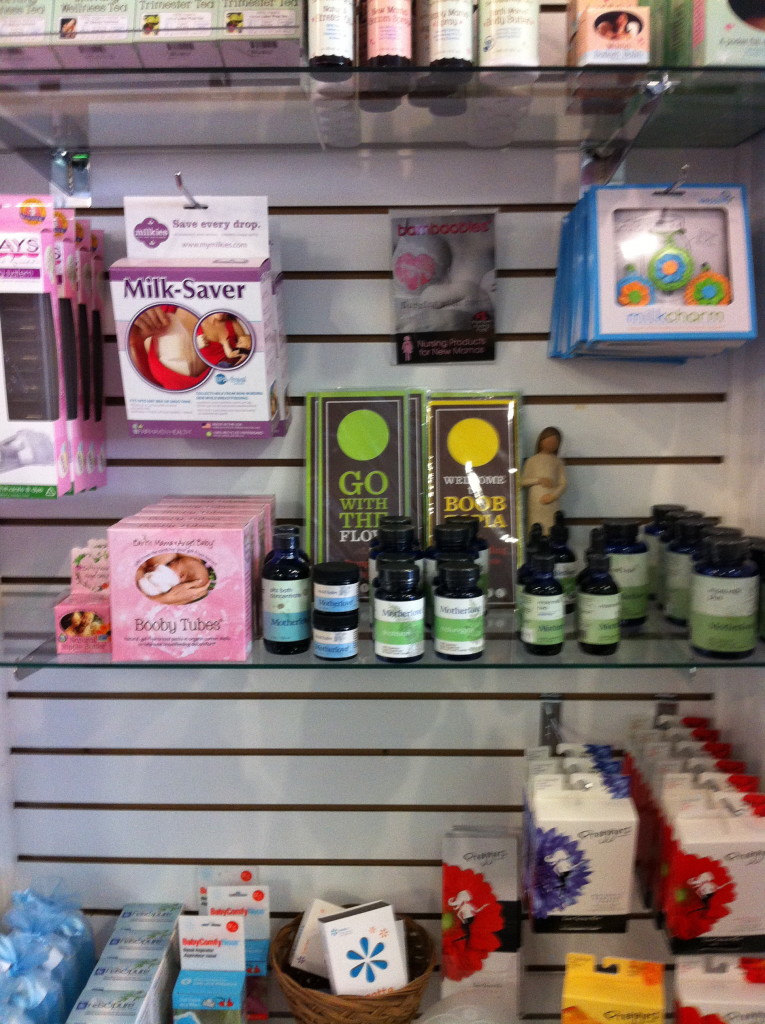 And of course, the carriers. I'm so upset that this picture is blurry. This wall was beautiful. Sakura Bloom ring slings (all the heart eyes). Hold on to your horses and I'll talk more about the carriers in a minute. But for now, back to the store.
The store itself is a quaint little shop. It's a beautiful place and SO family friendly. Have I mentioned that the customer service was great? It was.
They have a little reading nook in the back.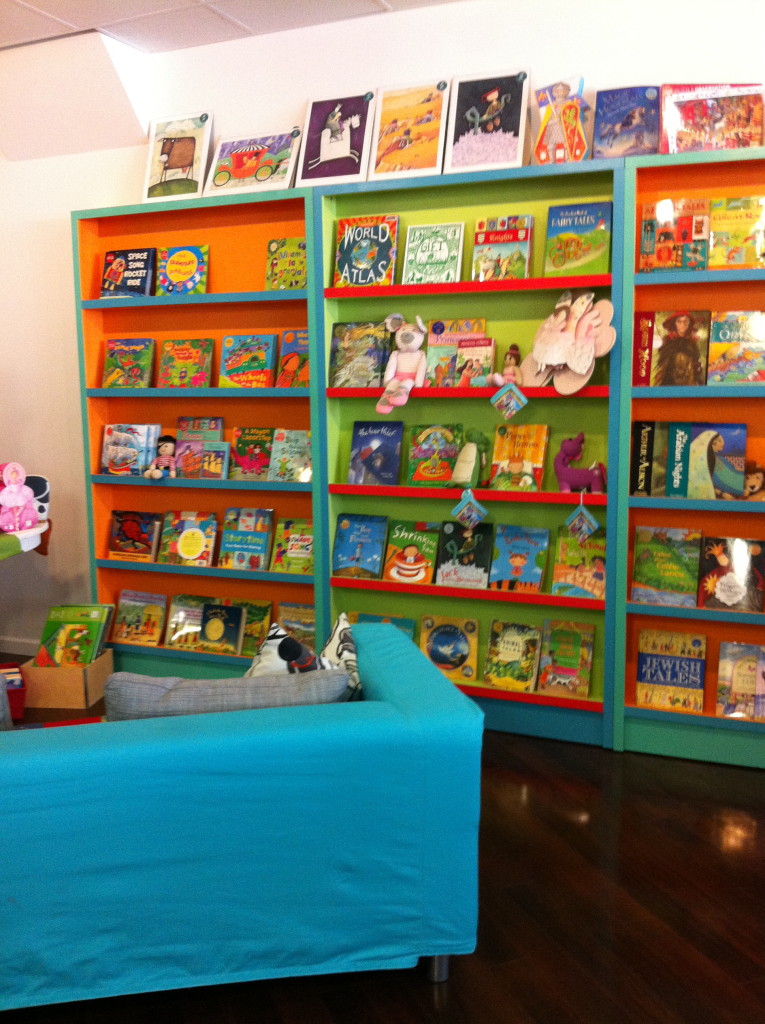 And a play area right in the center of the room. (and a smaller one up in the front, too!) I'm not sure why Shane is lying on the floor, and that is NOT a baby next to Tera…it's a doll. Although a couple times when I saw the doll being thrown down the slide I almost had a heart attack.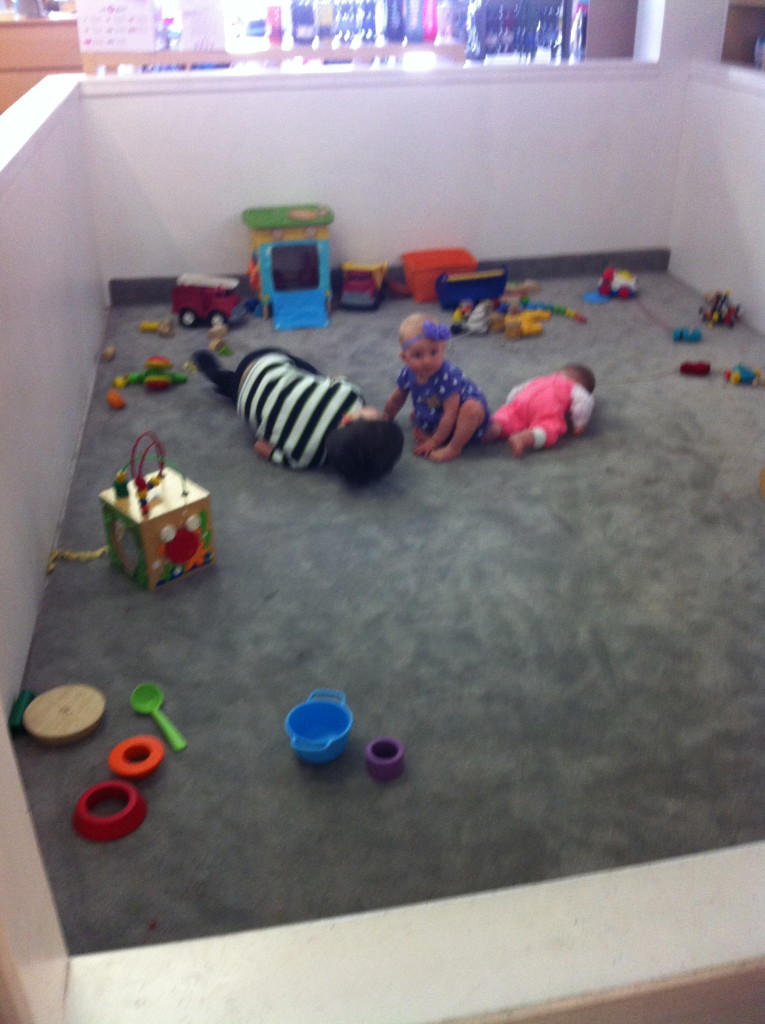 Beautiful floors, beautiful layout (and a super awful blurry picture!)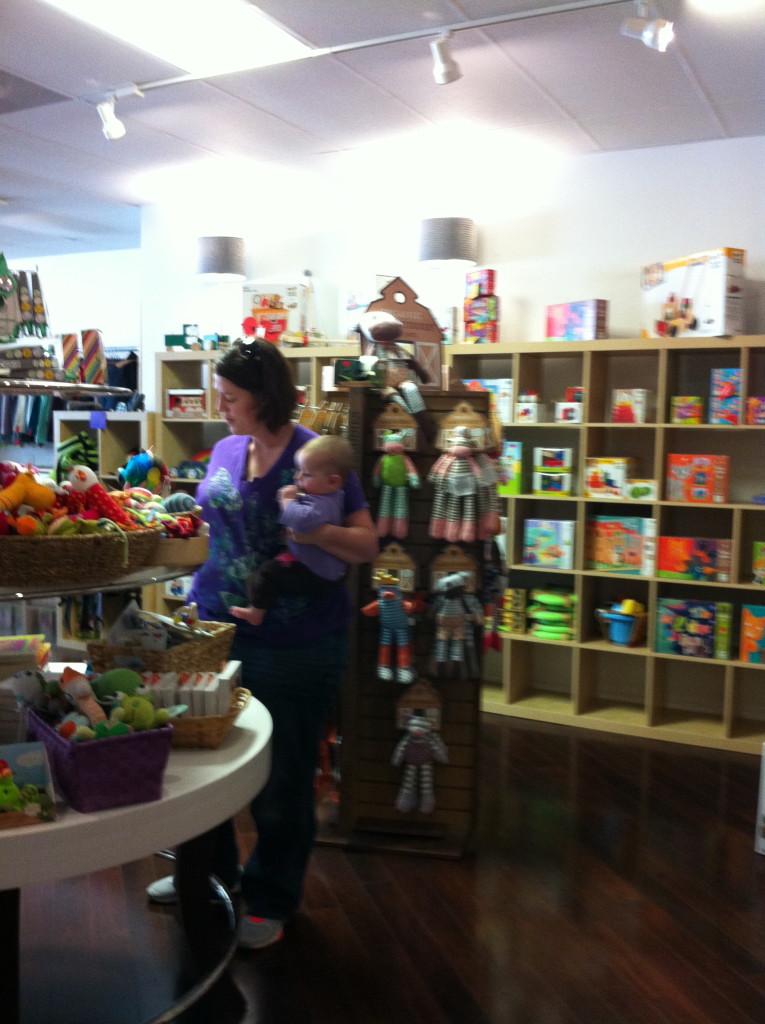 Now, onto the carriers! I'm not an expert on what they have in stock, so I'm not even going to try to attempt to list what they have. They have demo's for all kinds of carriers, so you can go into the store and try them all on. Not only do you get to try them on, but you also get instructions on how to do it and what the pros/cons of each carrier are. It doesn't feel like a sales pitch. It doesn't make you feel like you have to buy it. It simply helps you to be comfortable in carrying your baby, with no pressure to buy right then and there (although I can't promise that you won't fall in love and shell out some mula right then and there!).
Again, an awful picture, but here is Alesha getting instructions and allll the details about certain carriers.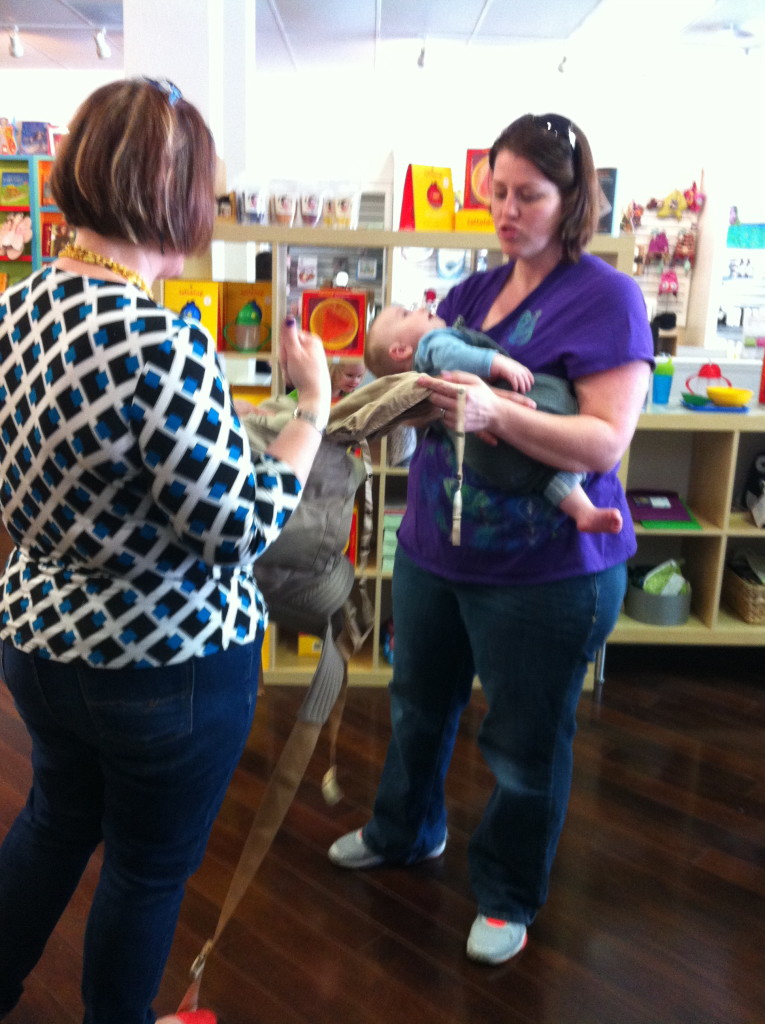 Baby wearing twins!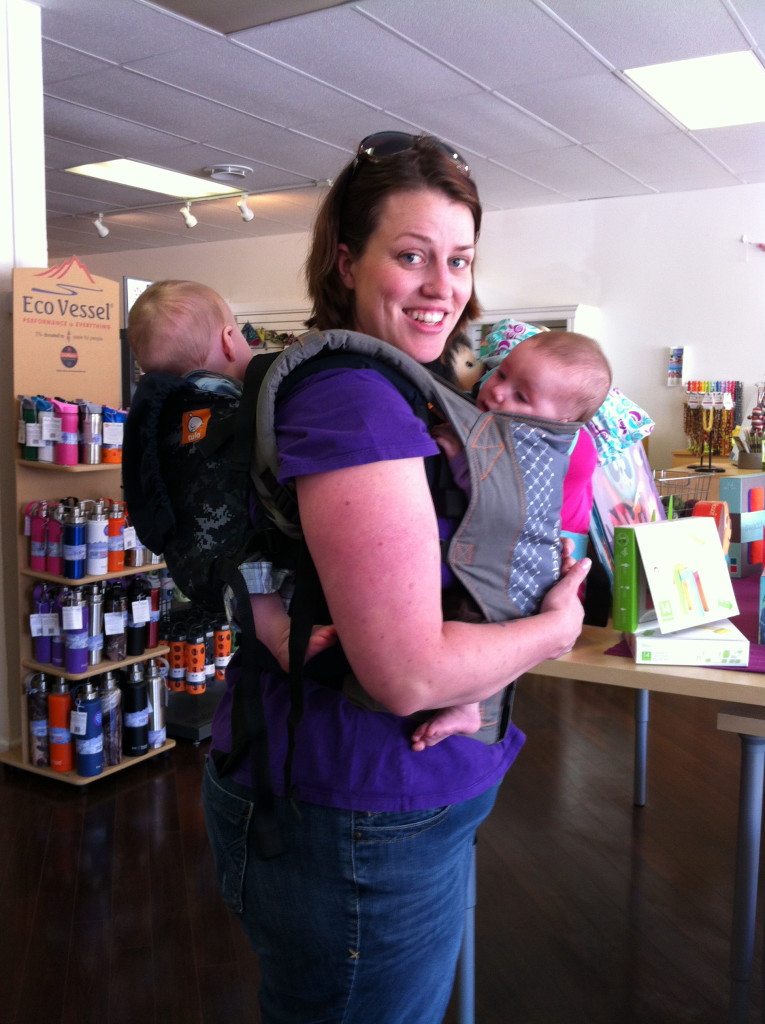 Here I am with Tera in a Sakura Bloom ring sling: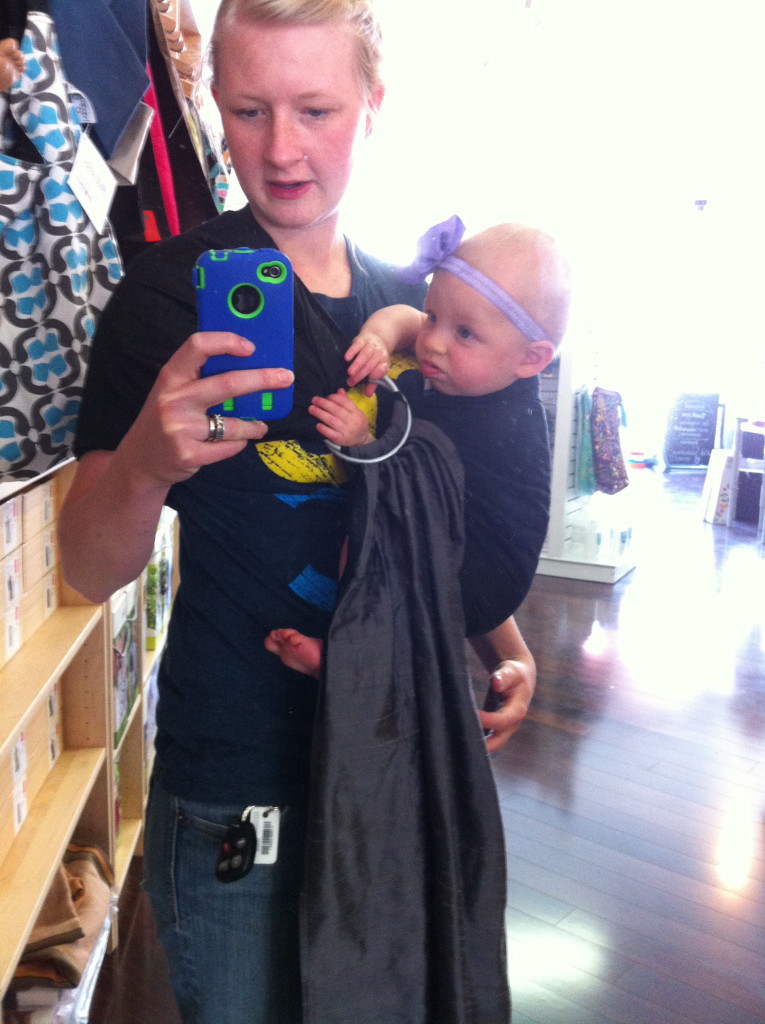 I LOVE the looks of these beauties. I love the looks of the Mom's who wear them. I love the cloth, I love everything about them….except how much extra cloth there was on my small frame and that Tera was NOT a fan. See? It's a good thing I went to Samozrejme and tried it on…otherwise I might have shelled out some big bucks on something that didn't work for us.
Next I tried the Boba.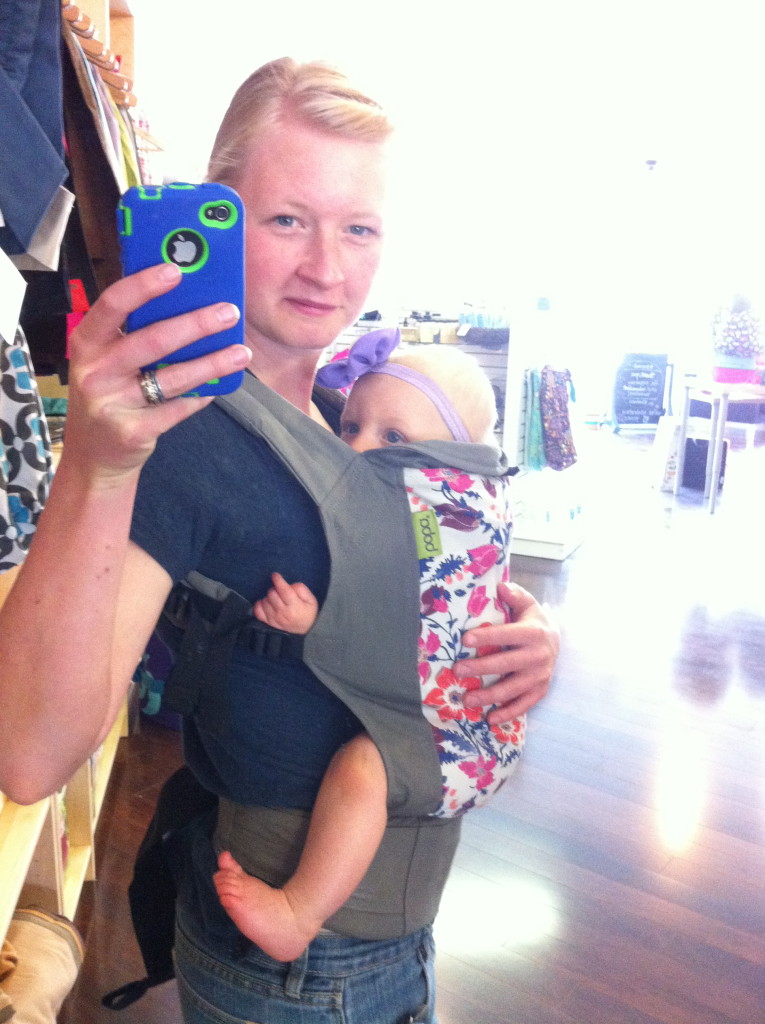 LOVE. I didn't take it off the rest of the time. Tera alllmost fell asleep in it (Tera never falls asleep). Super comfy. Gorgeous. I know what I'm doing with my Mother's Day/Birthday/Christmas money.
And this is an absolute favorite picture:
#wearallthebabies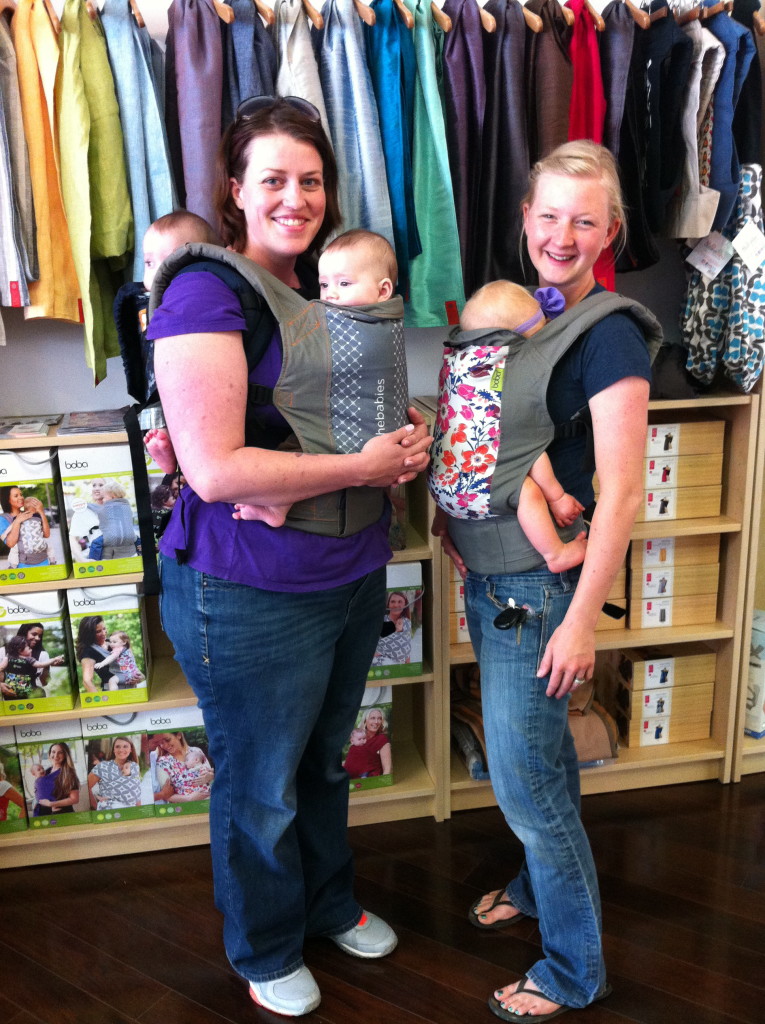 So there you have it! Samozrejme. If you are a "crunchy Mom" at all…this place is for you! Even if you aren't a crunchy Mom, it would probably be worth one trip just to see what it is all about. And if you are wanting to dive into something like cloth diapering or baby wearing, this is a great place for you. It's a safe place where you can ask questions, try things on and make an educated decisions that you feel comfortable about.
They also host events such as cloth diaper resales and kids yoga. Just follow them on Facebook, or call for any questions you might have!
Cons:
It's local- meaning I have to drive to get there, inside of just popping inside of Walmart and being able to pick up these products.
I still cannot pronounce the name. I just slur through a bunch of letters and then declare, "that store!" and smile really big. Who really needs to call the store by the name, anyways? I'll get it right one of these days!
I'm not rich. Oh wait…that isn't their fault! No, but in all honesty we have to remember that the price of these products reflects the quality and availability of the products. There are many items in the store that are well beyond my price range, but if I were to need/want that item, I would be more than willing to pay that price at Samozrejme.
So what are you waiting for? Go take a trip! I promise you won't regret it!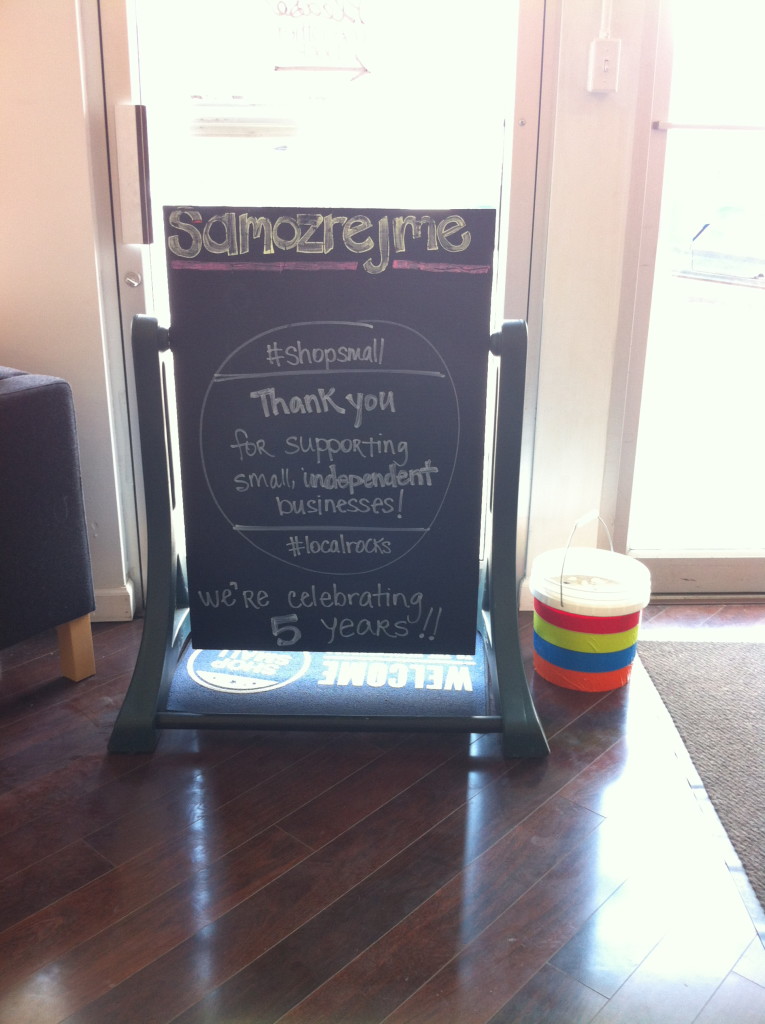 123 S. Market St.
Troy, OH