Tera and I have done a lot of traveling the past few weeks!
Theo has been working some extra long shifts, so we decided to take advantage of the "alone time" and go visit some nearby-ish family. My brother Daniel just moved to Michigan, but his wife Kelly still had to stay in D.C. while she finished up teaching for the school year. Daniel was by himself and I was by myself, so why not pay him a visit?
We got there just in time to pick Daniel up from work and headed back to his apartment. Daniel and Tera played some peekaboo:
And then we went out to eat! Daniel and Kelly live in a college town with LOTS of ethnic food options, so we went for some Turkish food! It was great, even Tera loved it!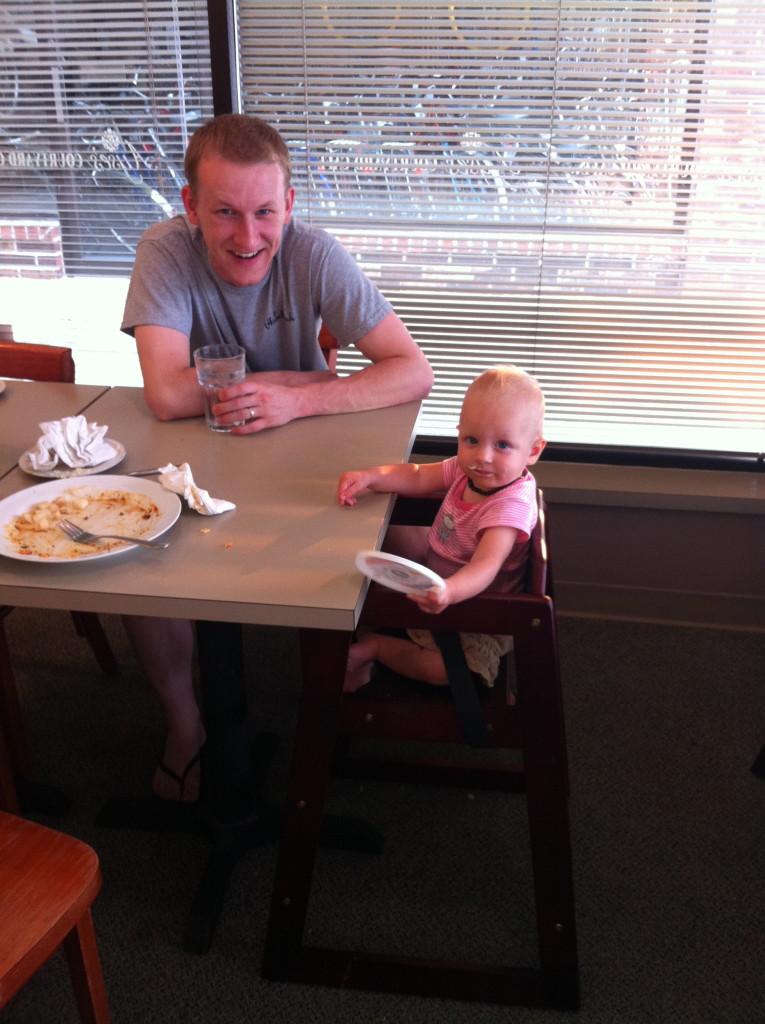 Since Theo was at work, I did all the packing for the trip by myself. Let me ask you this…have you ever tried to fold a pack-n-play? It's not as easy as it looks. After much blood, sweat, tears and maybe even a curse word or two (and I never curse, I'll have you know)…I finally managed to break the thing and then blood, sweat, tears and curse it into the car. That was not fun. When I got to Daniel's place, we used a stick to prop up the broken side so it wouldn't collapse on her. When we got home Theo took one look at it and fixed it. And then proceeded to fold it up into an itty-bitty package. Go figure.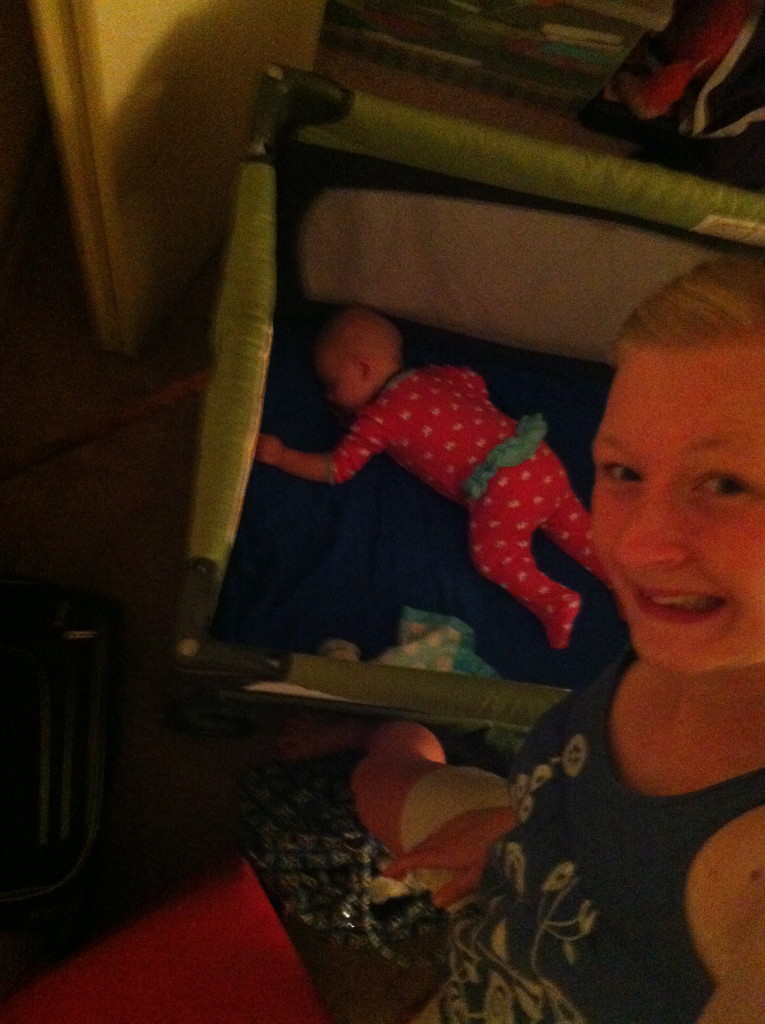 Tera made a mess in Uncle Daniel's apartment. Whoopsies!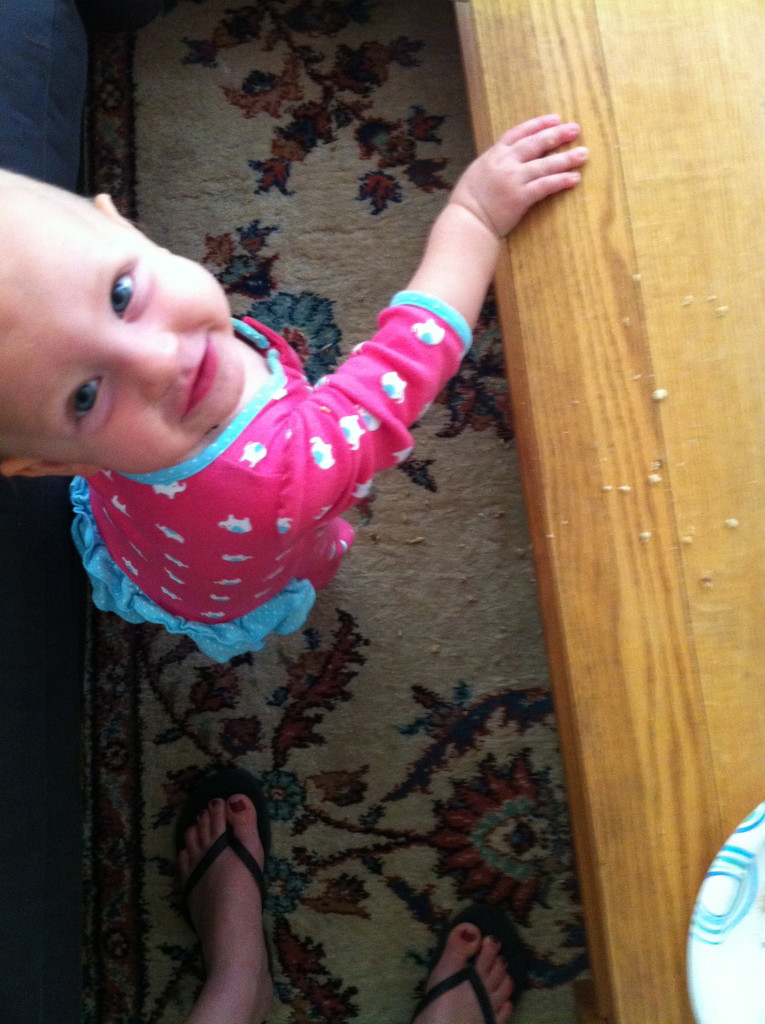 Daniel had to go to work early in the morning, but he told me that there was a petting zoo right down the street from his work. So after we dropped him off, we headed to the petting zoo. It was actually Tera's nap time, and planning something fun during nap time is never a good idea, but Tera loves animals SO much that she didn't even fuss once.
The llama came right up to us and let Tera pat him on the nose! Tera thought that was the greatest thing.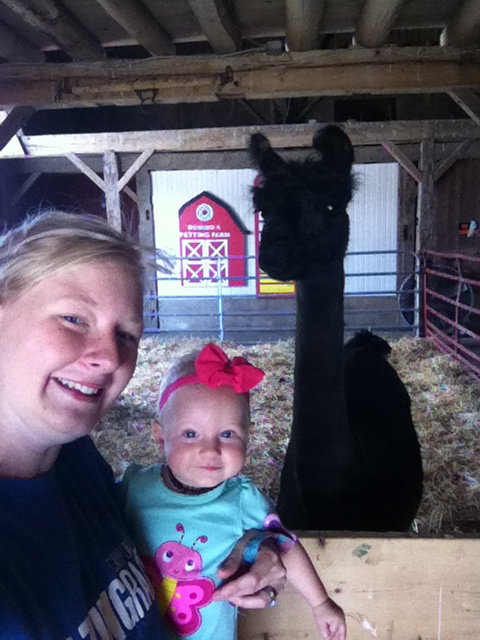 I guess maybe it was an alpaca…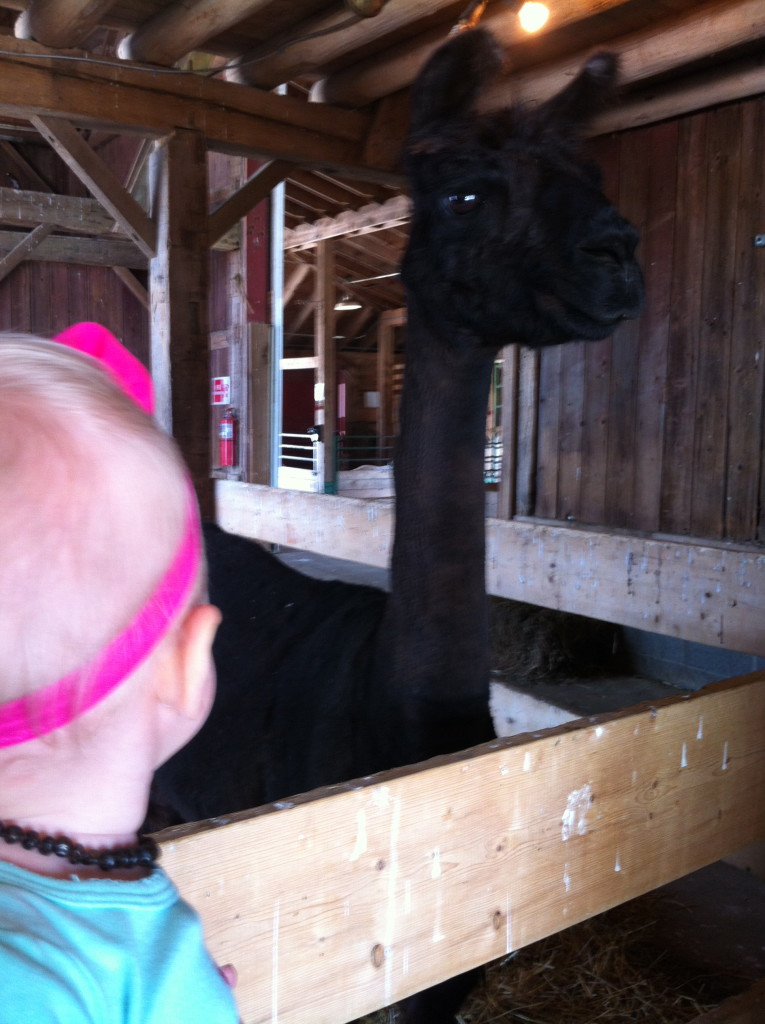 There were pigs and goats and a pony and some chickens and rabbits. Tera loves all animals, but she especially liked the ones that would come right up to the fence. I don't think that a chicken that is 10 feet away really phases her.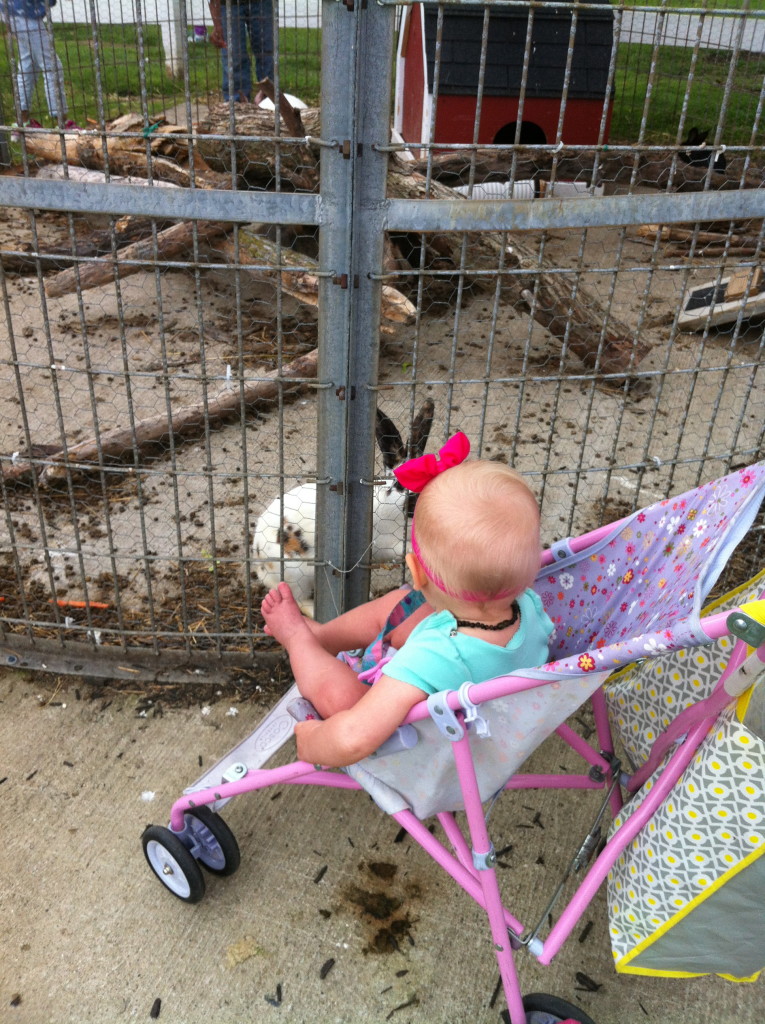 These geese were all over the place, and Momma Goose was not happy that there were also children all over the place. She kept hissing at Tera until I left.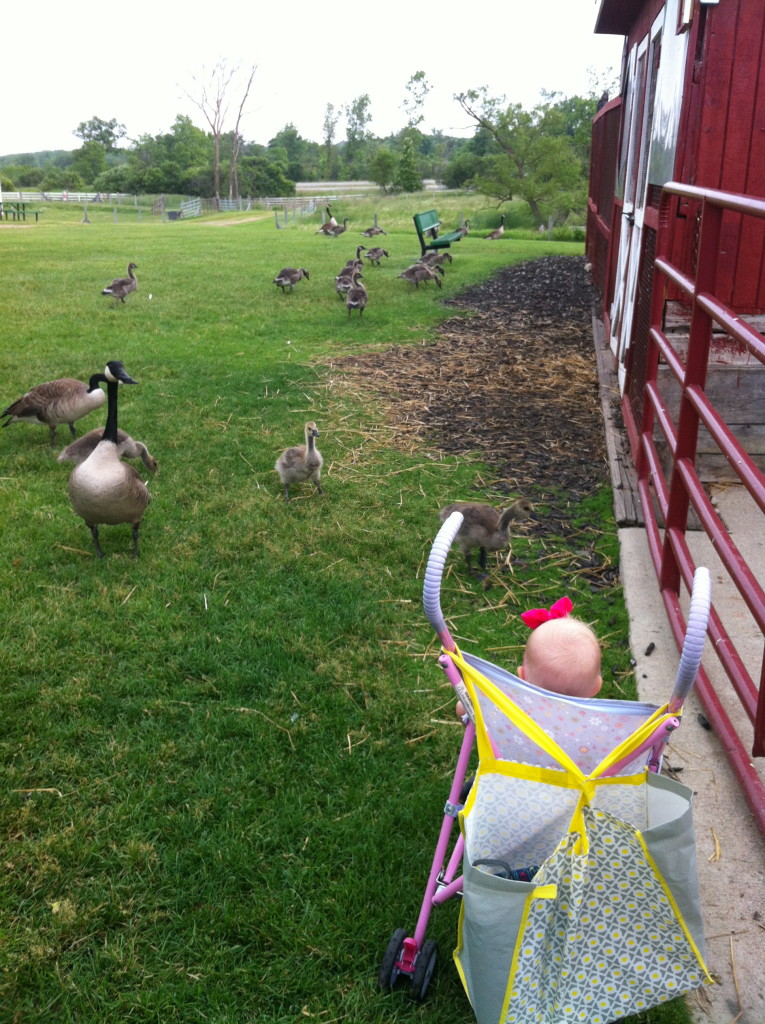 SO CUTE!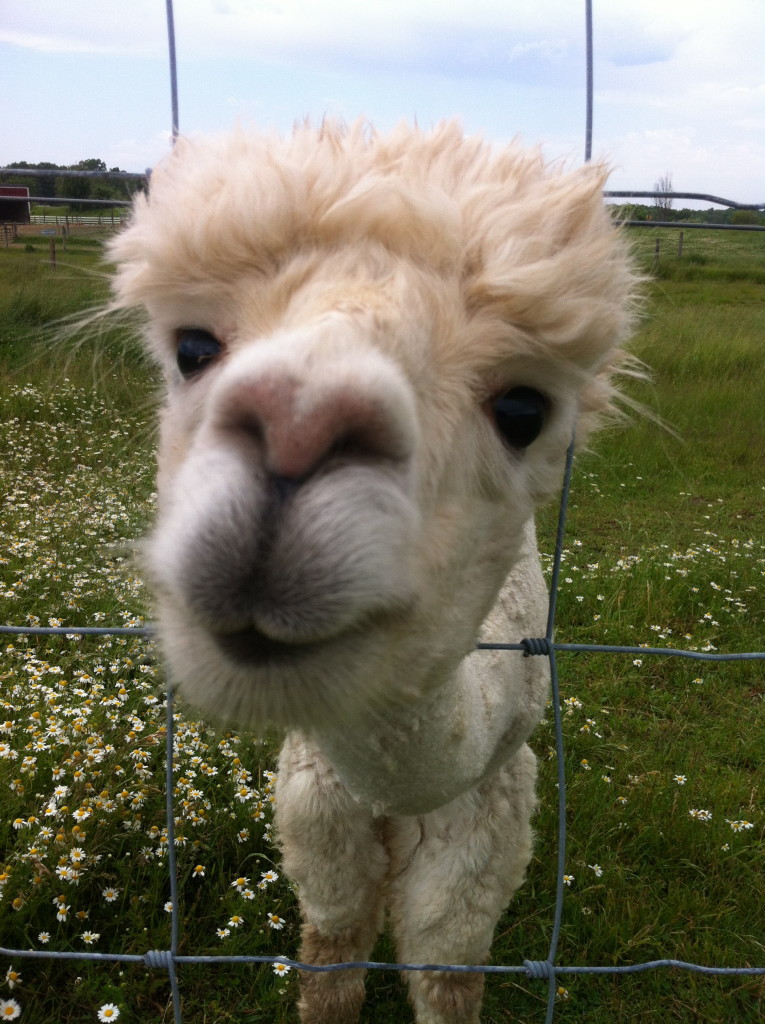 Alpaca's in the field!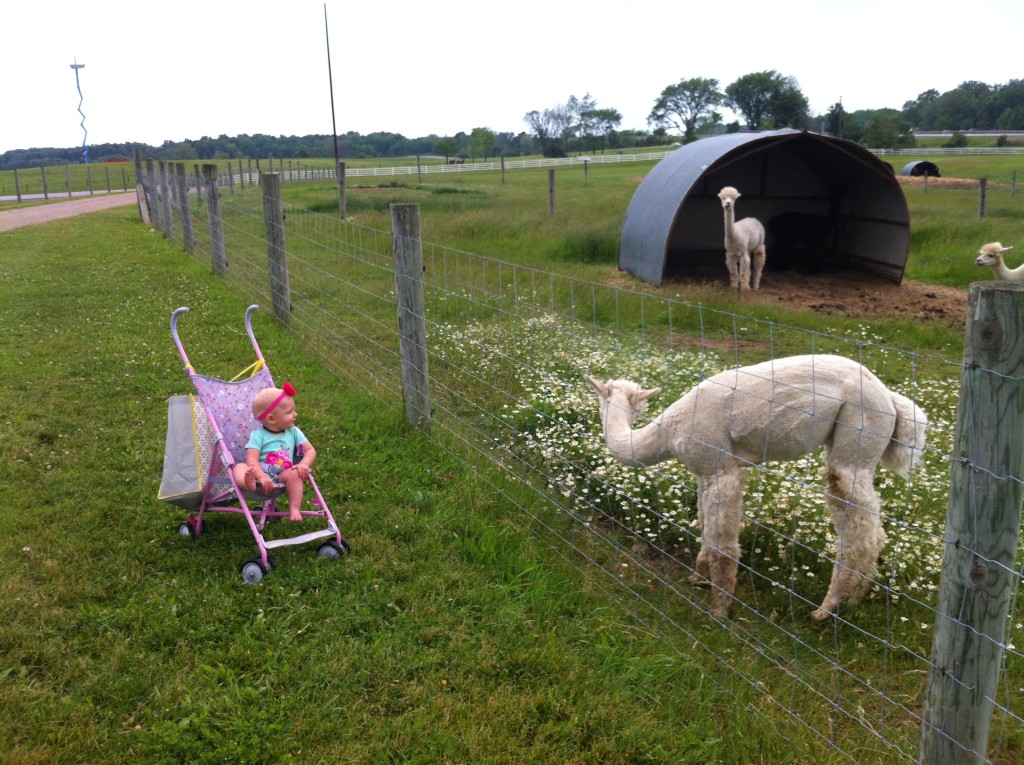 After visiting the petting zoo, we decided to continue on our journey and visit Theo's parents. Theo's two nephews were also visiting and Tera loved playing and watching her cousins. The weather was beautiful so we spent some time outside.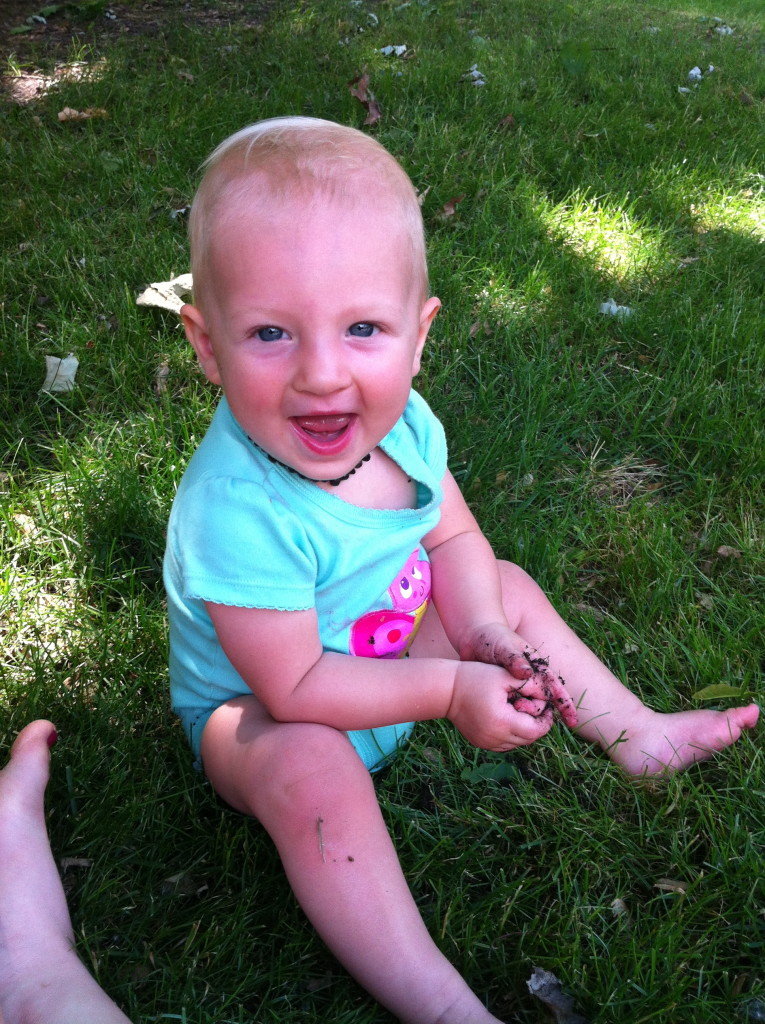 Tera got dirt allll over me…
Tera wanted to play Uno, too!
I literally turned around for 5 seconds and then found her like this: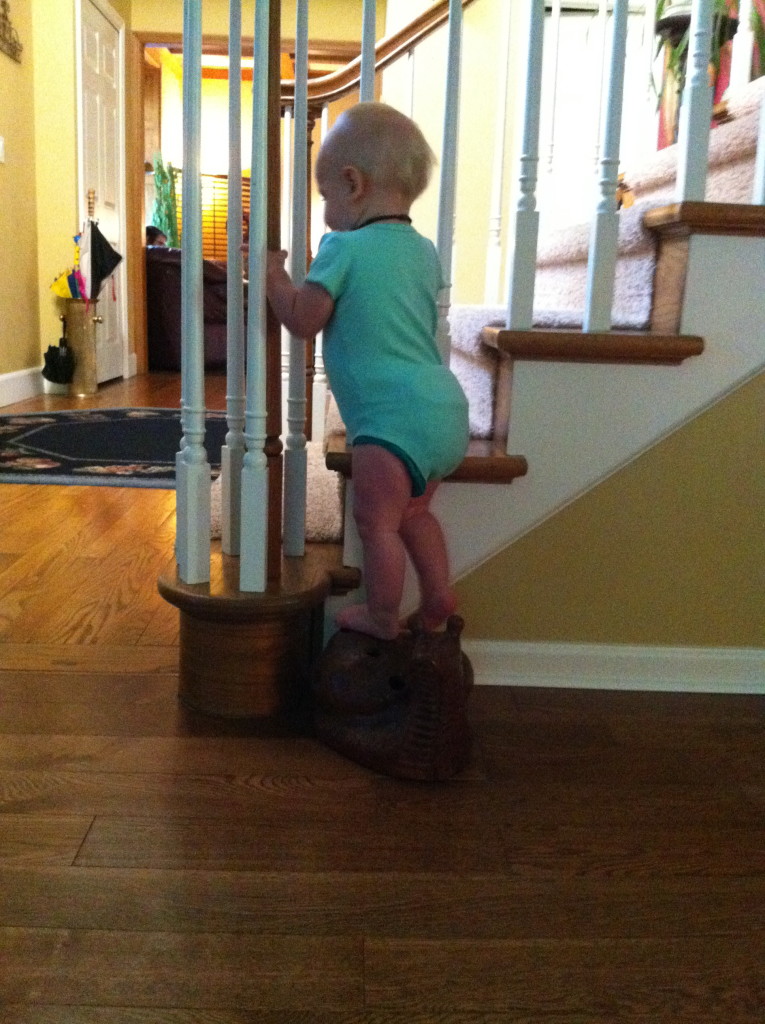 The next day, my mother in law planned a birthday party for a friends twin boys. We headed to a park/splash pad with some treats and our swimsuits!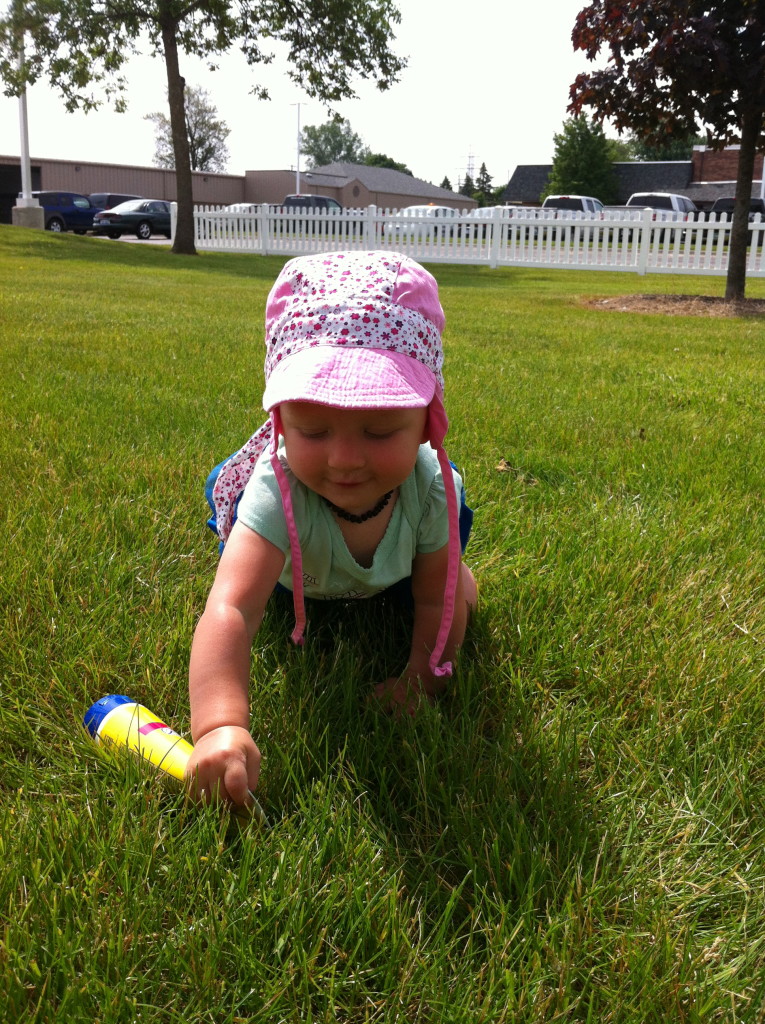 Tera loves swinging!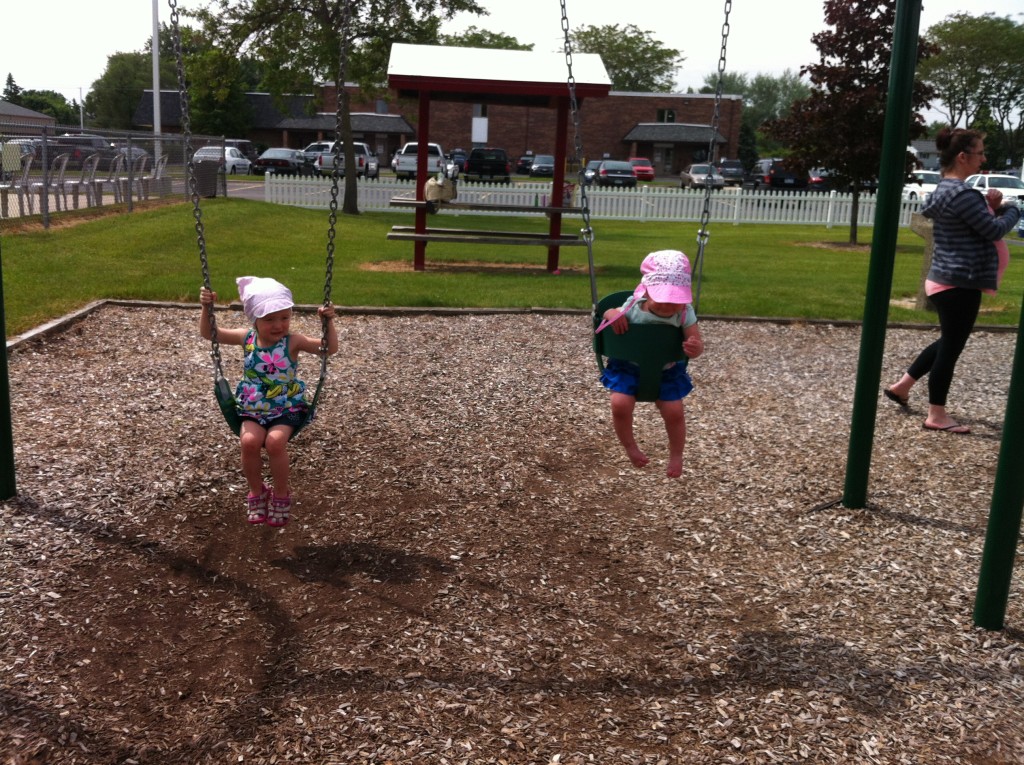 Our picnic lunch…
Picnic lunch!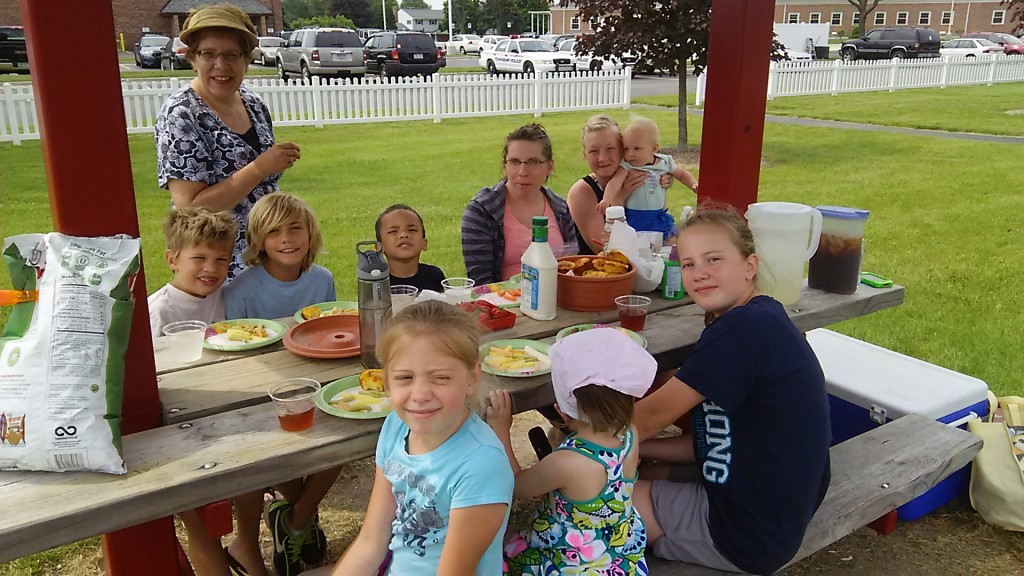 This was Tera's first time in the water! It was about a foot deep…and 2 seconds after I took this picture she face-planted in the water. Thankfully I grabbed her really quick and she looked at me like I had pushed her in or something. She didn't breathe in any water and was perfectly fine but for a few seconds I was in panic mode!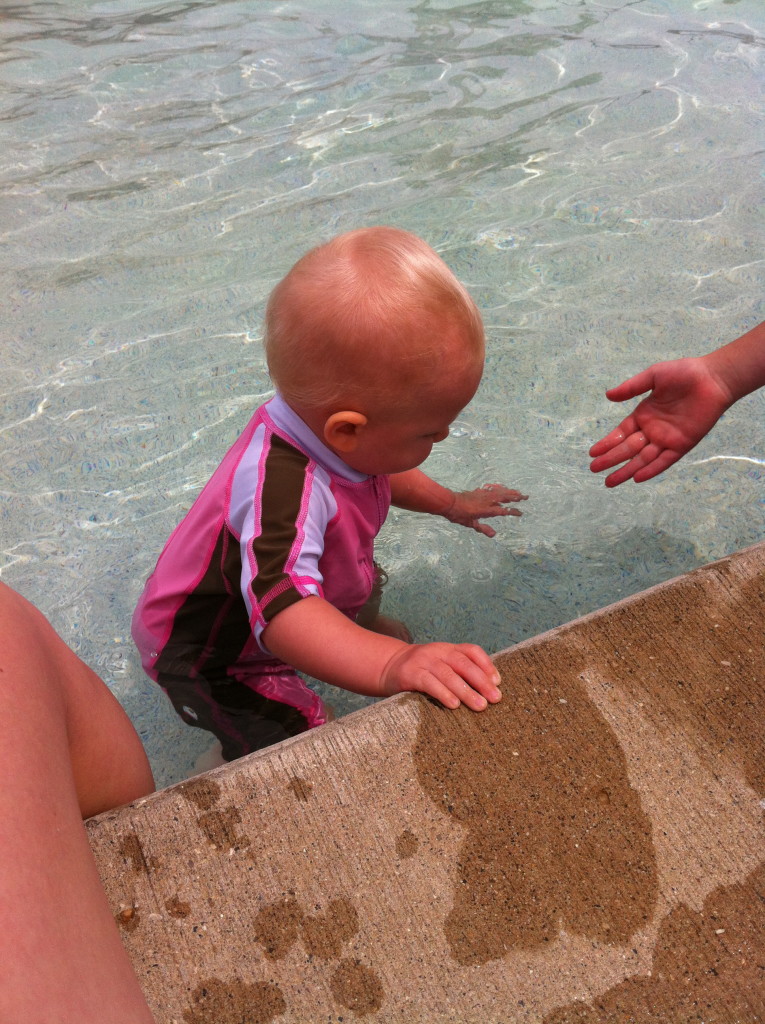 Me and my goober!!!
Grandma was singing to Tera, and although she doesn't look delighted in this picture, she was actually very happy!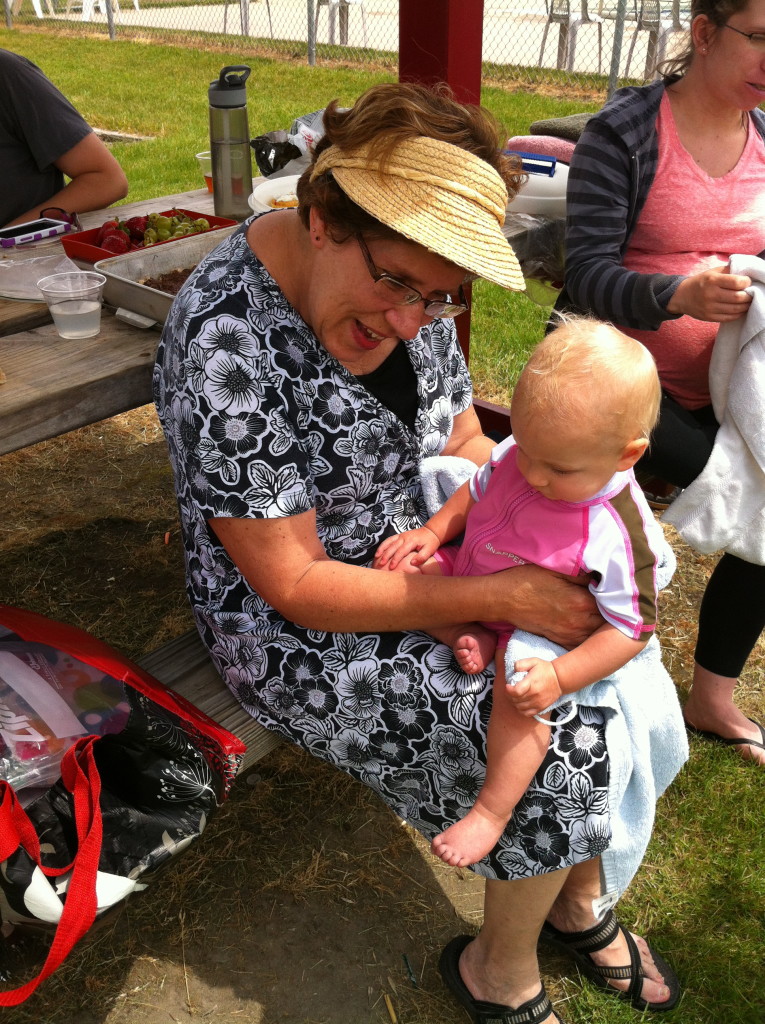 And after that we were off to head back home to Ohio! It was a whirlwind trip but it was a whole lot of fun! I'm a huge fan of letting Tera spend as much time with family as possible!