I have another guest post for you today and tomorrow. Eeek! I LOVE sharing from other people. I know there are lots of you out there who have so many things to share, but don't necessarily have the time, energy or desire to pursue your own blog. So it's perfect that I want to share you stories, your projects and your writing on my blog. I figure all you readers must get pretty tired of just reading the same 'ol person. And you will LOVE today and tomorrow's posts from Chara.
I met Chara freshmen year of college. We were in the same unit, and although we didn't have too many similarities, we really did connect simply through living together.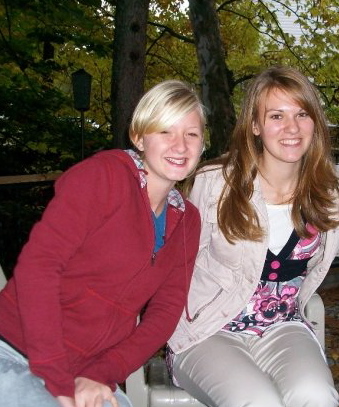 Chara is sweet, genuine and hard working. I've kept up with Chara through social media the past few years, and her lifestyle choices have really inspired me. Chara eats well, trains hard and shares about it all in a way that makes me feel like it possible. Sometimes I see people on social media who live this crazy-intense-super-fit lifestyle, and although I would love to be where they are at, I see it as impossible. It's not like that with Chara. She is very inspiring, and makes it seem possible (although not without a lot of hard work!). But I'll let Chara tell you all about it herself…
_______________________________________________________________
A little about me: Hi! I'm Chara. I live in the driftless region of southwest Wisconsin with my husband of three years, Tyler. I currently work for a non-profit organization that works with adults with disabilities, but I will be starting a new job in a few weeks in the records department of my local police department! My dream job, however, is to be a stay-at-home homeschool mom. My favorite things include running, kayaking, hiking, shooting (guns and bows), organizing, planning, budgeting, and peanut butter!
What is your daily exercise routine?
Right now I am training for a half marathon, so my daily exercise routine includes a lot of running!
This is the training plan I'm using: http://www.halfmarathons.net/20-week-half-marathon-training-schedule/
I have modified it a little bit to make sure I include hill repeats, track intervals, and core exercises.
My typical week looks like this:
Monday – Recovery day. I usually go for a walk or do my PraiseMoves DVD http://praisemoves.com/store/dvds/praise-moves-dvd/ I am a big fan of stretching, but not a fan of yoga. If you're curious about my personal experience with yoga, please ask me!
Tuesday – A 3-5 mile run, depending on the week. I try to incorporate intervals into this run. If I make it to the high school track, I will run 4 x 400 meter sprints. 4 x 400 just means I sprint 400 meters (one lap around the track, or ¼ of a mile) 4 times, with recovery laps in between. Once I'm done with the sprints, I'll just finish out the rest of the mileage at a moderate pace. If you don't have access to a track, you can still do intervals! Run 30 seconds at a hard pace, followed by 90 seconds at an easy pace.
Wednesday – In the early weeks of my training, Wednesday was core day. I do either PiYO Core or PiYo Hardcore on the Floor DVD. You don't need DVD's to get a good ab workout in though! Browse Pinterest or Youtube for some ideas. Personally, planks are my favorite core exercise. They work every muscle in your core (not to mention your arms, shoulders, quads, etc.)!
Now that I'm 2 months into my training, Wednesdays are another running day.
Thursday – Another 3-5 mile run. I try to incorporate hills into this run. There is a cemetery near my house that is extremely hilly. If you don't have hills nearby, get creative. Find some stairs, bleachers, etc. to run. Hills are really good for endurance and building muscle in your legs and glutes!
Friday – Fridays are technically an off day. Depending on how I feel, I may do one of my PiYo core DVD's, or I may do nothing at all.
Saturday – Long run day! I love the fact that the training plan I'm following increases my mileage so gradually. The first "long run" was 4 miles.
Sunday – Sundays on the schedule call for a 2-3 mile run. I usually just do 2 miles.
Also, every day after I run I spend 15-20 minutes stretching and foam rolling.
What are your goals?
My half marathon is in September, and my goal is to run it in under two hours.
My lifelong fitness goal is that I'm fit enough to try anything I may want to do (hiking in the Grand Canyon, surfing in Hawaii, rock climbing in Glacier National Park, etc.). I don't want to be limited by being out of shape.
How have you gotten to where you are at?
I started getting interested in fitness when I was in high school. I bought a couple of workout DVD's and would do them in my basement. However, when I went to college I made some really unhealthy choices. I still "worked out", but the workouts consisted of running one lap around the track, followed by a couple minutes of walking, followed by a lot of ice cream. I gained 10 pounds that year.
I didn't go back to college after that year, which drastically improved my eating habits. I continued on with my workout DVD's from high school, and lost the weight I had gained. One of my friends introduced me to the INSANITY workout (by BeachBody). By the time I got married, I was 10 pounds less than when I was in high school.
I had never run more than 1.5 miles before I was 22. I turned 22 and had this crazy idea that a half marathon sounded like a good idea. I talked my sister in law into signing up for one with me and we started training for it in 2013. My plan was to run it and cross it off my bucket list. I never intended to continue running. Since 2013, I have completed 2 half marathons, 1 10k, a 5 mile cross country run, numerous 5ks and a mud/obstacle run.
What are some of the most important factors in having a healthy exercise routine?
Learning to listen to your body is extremely important in a healthy exercise routine. I'm learning when to push myself and when to take it easy. There are days when my legs really hurt, or I've recently tweaked my ankle. Could I push through the pain? Probably. But it is more beneficial to let your body heal from minor injuries instead of pushing through them to create major injuries. However, if it's something like normal muscle soreness, period cramps, or feeling tired, that's the time to push through it.
Recovery days are important. They are included in a schedule or routine for a reason. Don't skip them.
Also, drink water. Lots of it.
What made you decide to get fit?
I wanted to be able to do things. I wanted to hike without getting winded after five minutes. I wanted a 2 mile run to feel easy. I wanted to climb lighthouses, kayak in the ocean, or go for a bike ride through Amish country and actually enjoy it.
How can I do what you are doing?
Sign up for a race, download a training plan, and lace up those running shoes! It's really as easy as that. I didn't start running until I had committed to a race. Starting is always the hardest part.
You can check me out on Instagram (@chararuns) for all my running updates!