The annual Hines Family Reunion! Every year in August (or late July), the Hines family gets together for a reunion. The first few years I attended this event, it was a little bit overwhelming for me.You see…Theo's immediate family has seven children, five are married, and all but one couple have children (ahem ahem Isaiah and Sarah…we are waiting!!) ;). So his IMMEDIATE family alone consists of 23 people (including us 3). Then, the reunions are also attended by Theo's uncle Jack and Aunt Ann, who have 10 kids. Add to that another uncle and the reunion is all rounded out….with a HUGE group of people.
Now that I have been to a few reunions, I'm learning better how to deal with large crowds of family and this time I was greatly looking forward to the reunion.
Theo and I left as soon as we possibly could on Friday afternoon, and we hit Northern Michigan just as the sun was setting. What a treat that was! This was the view ahead: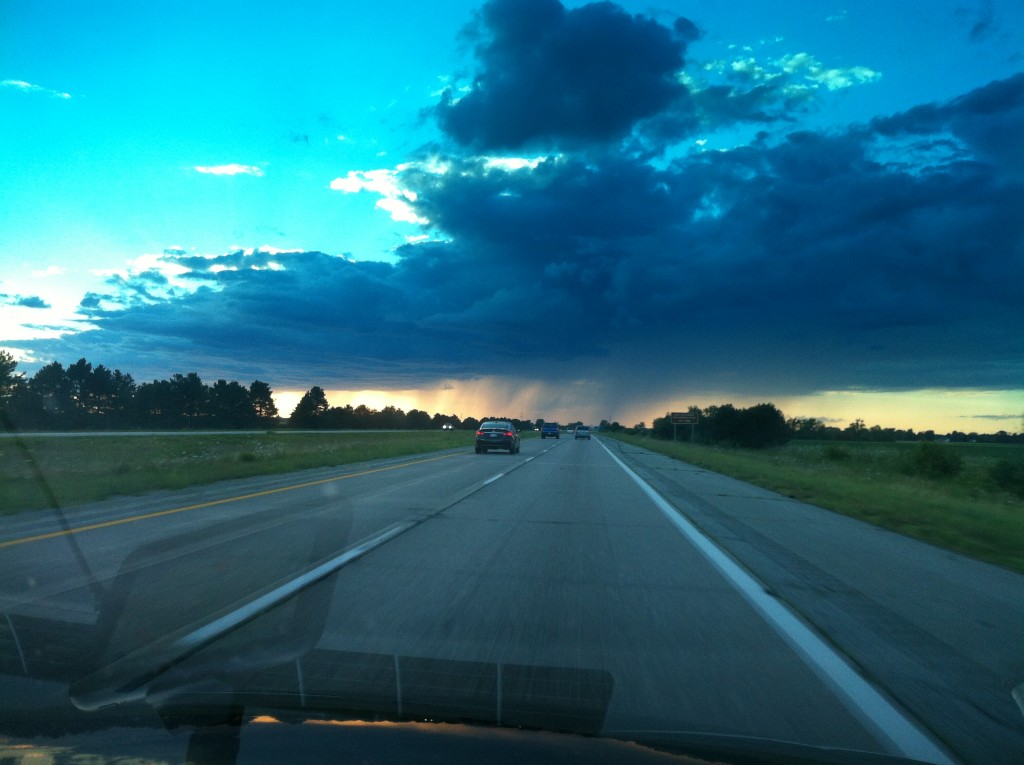 The view to the left: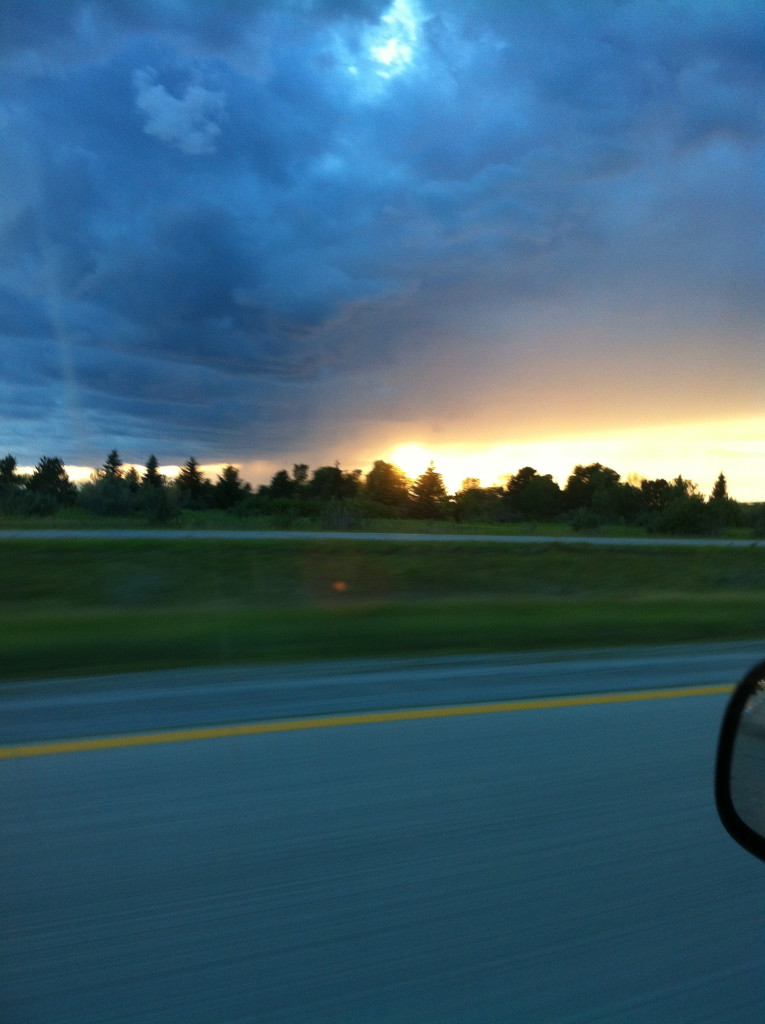 And the view to the right. Wow.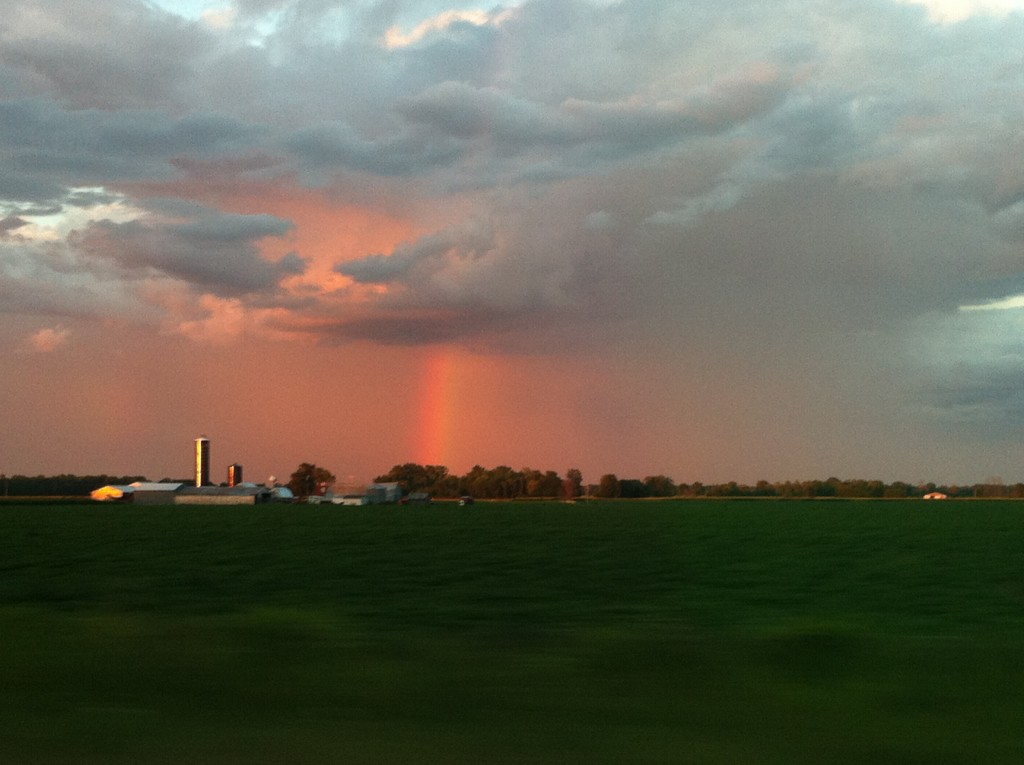 We arrived late that night, and the excitment of getting there trumped the need to go to sleep. We finally hit the sack around midnight, but were up and at 'em early the next morning.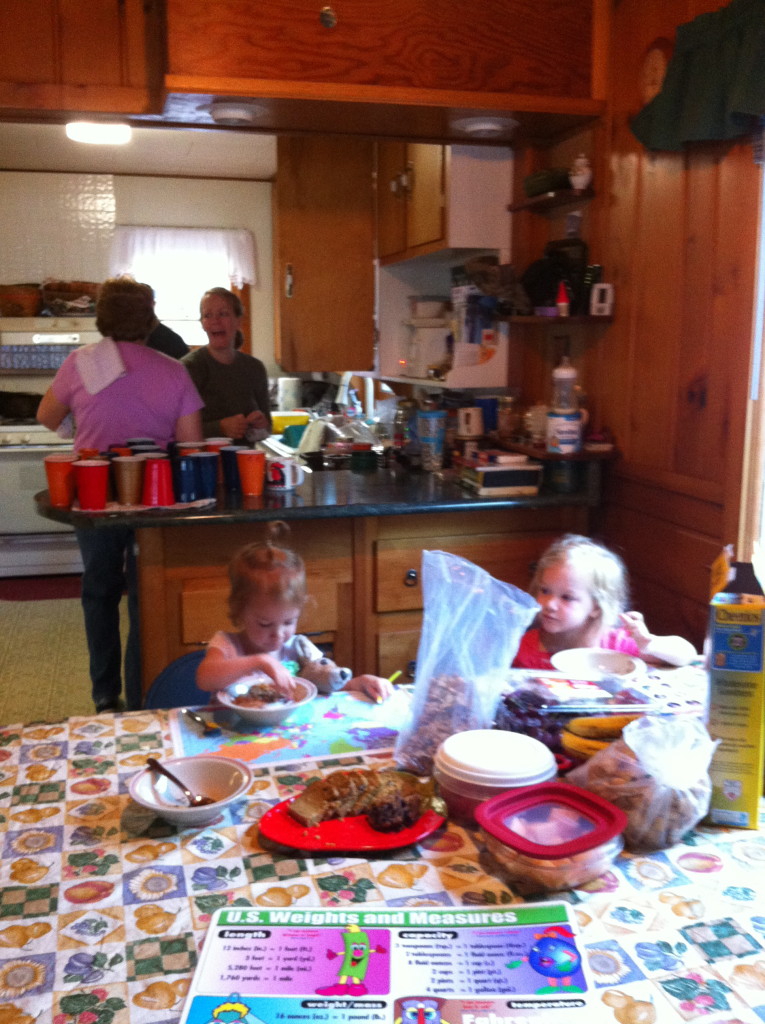 This picture is a little bit blurry, but Seth LOVES babies. He loves to rub their soft heads, and he was in heaven at this particular moment because he got to rub TWO babies heads at the same time!!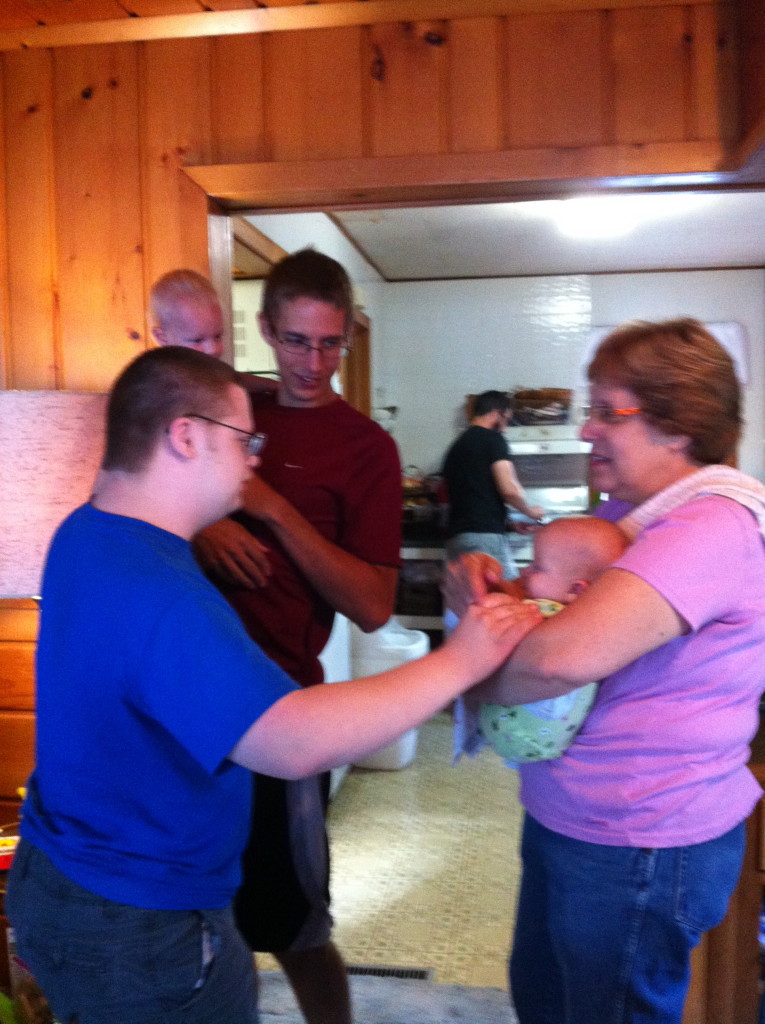 Grandpa has a Treasure Box that he lets the kids pick one treasure out of each day. It's so fun seeing the kids run to the treasure box and have Grandpa help them pick something out. I love this picture because each of the Dad's were "helping" their kids pick a treasure. And by helping I mean fascinated with the treasures themselves. Hahaha!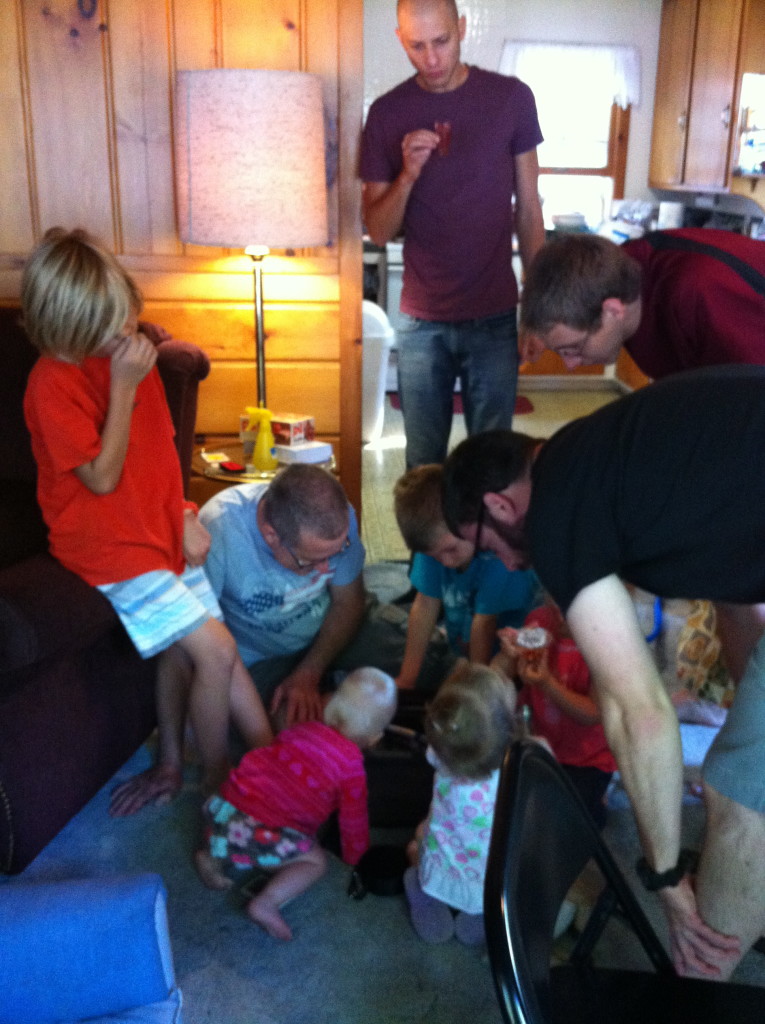 Saturday was a gorgeous day and after lunch we headed out to the boat to do some tubing!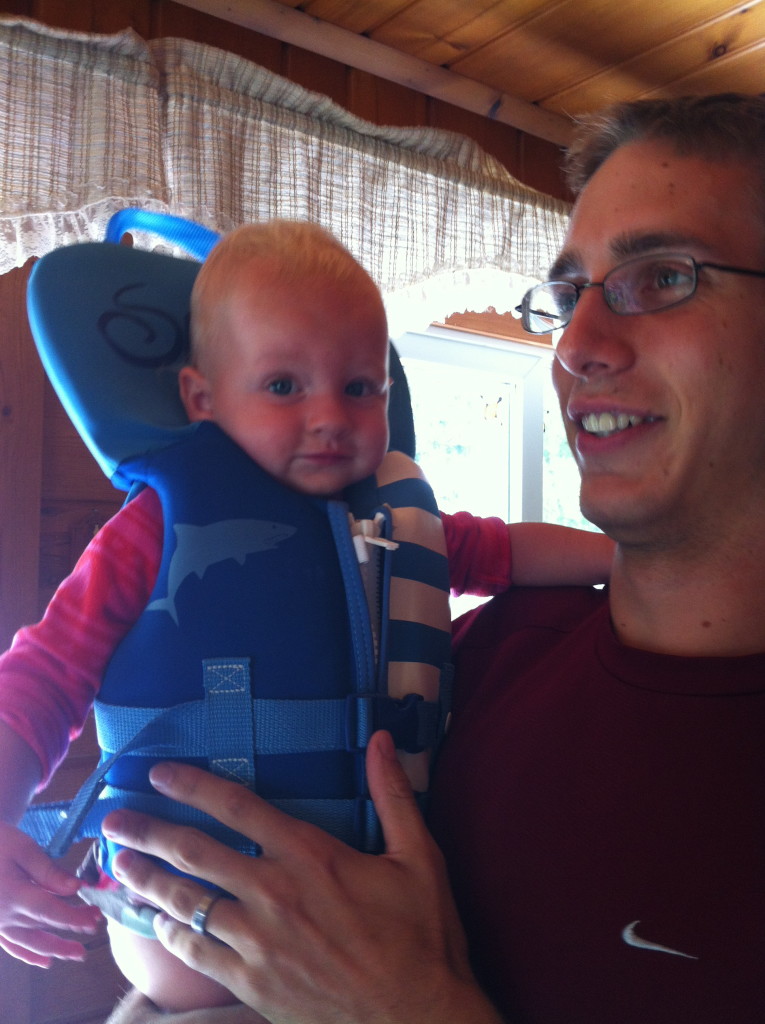 Gorgeous.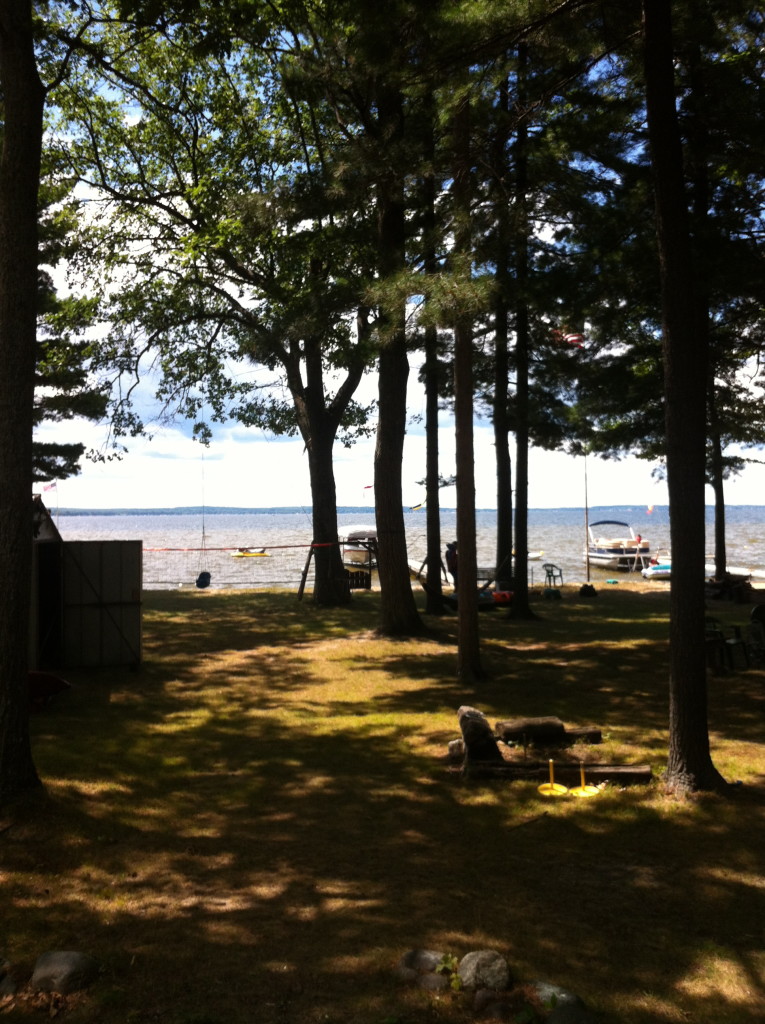 Waiting to load up the boat!
Brother and their children. I love this picture.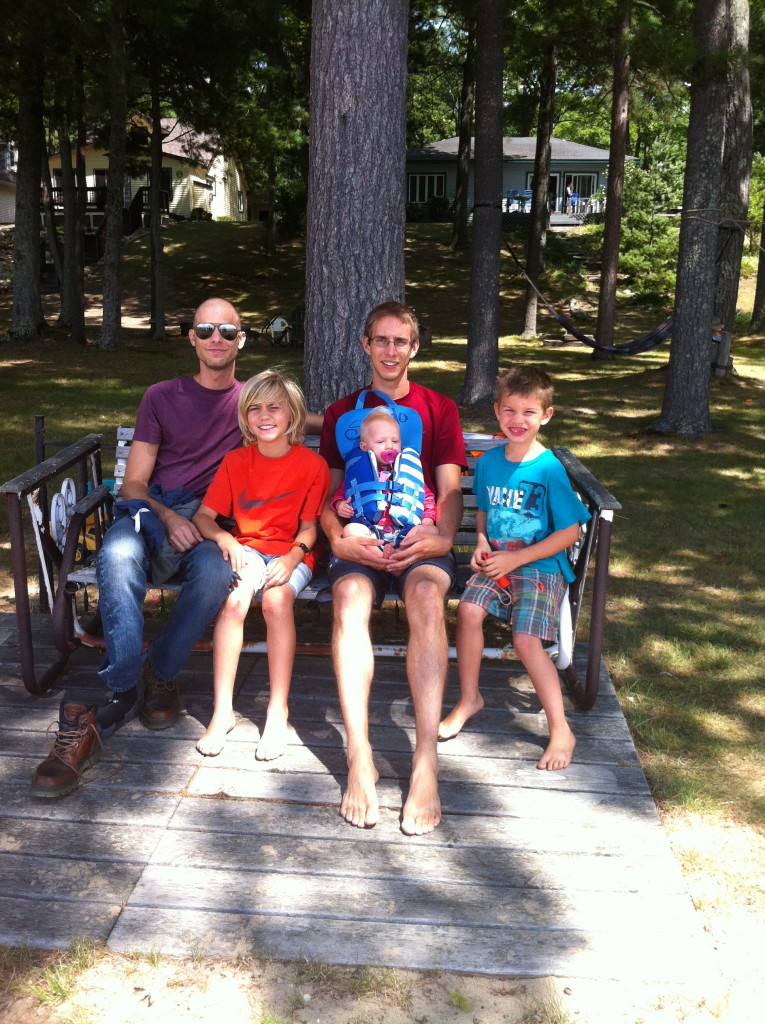 Sarah, Samantha and Gracie are all "my" cousins. It's crazy how much you gain when you get married! A whole new family!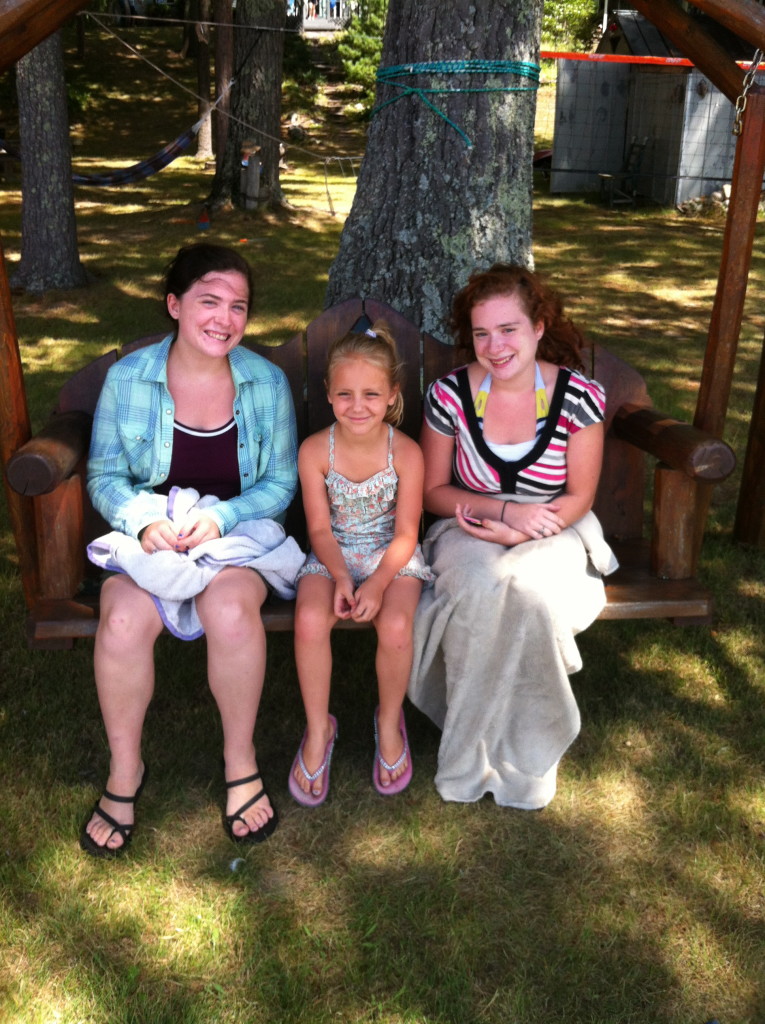 A little bit of tubing for Tera…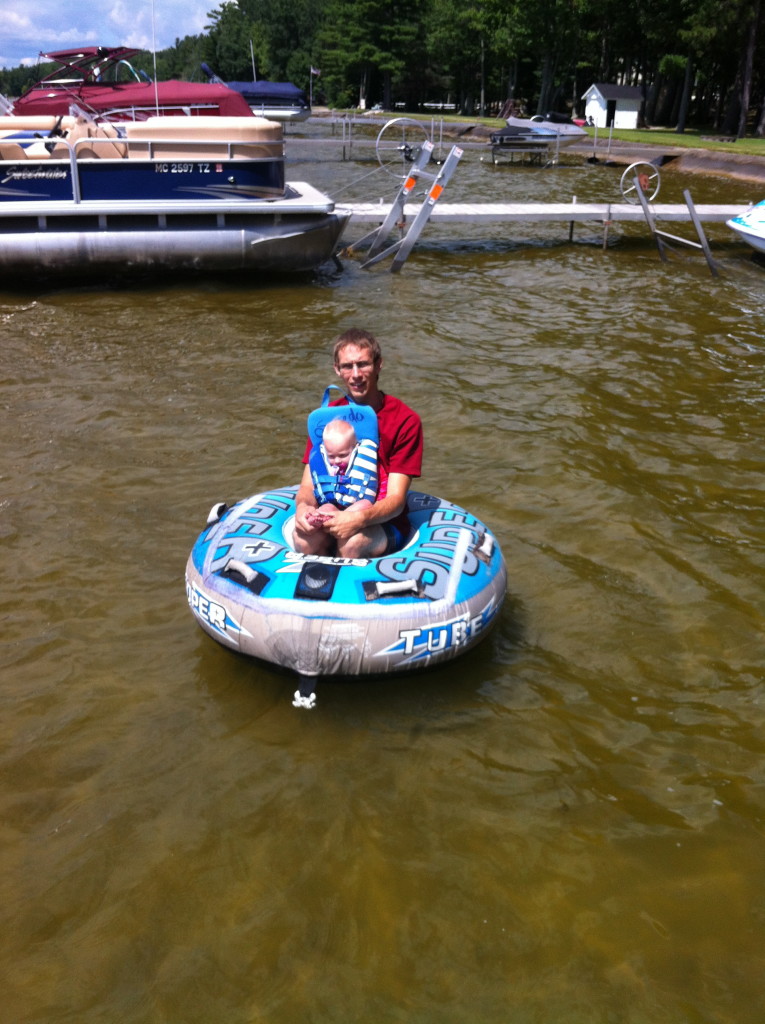 Look at that sky! Ready to get out on the lake!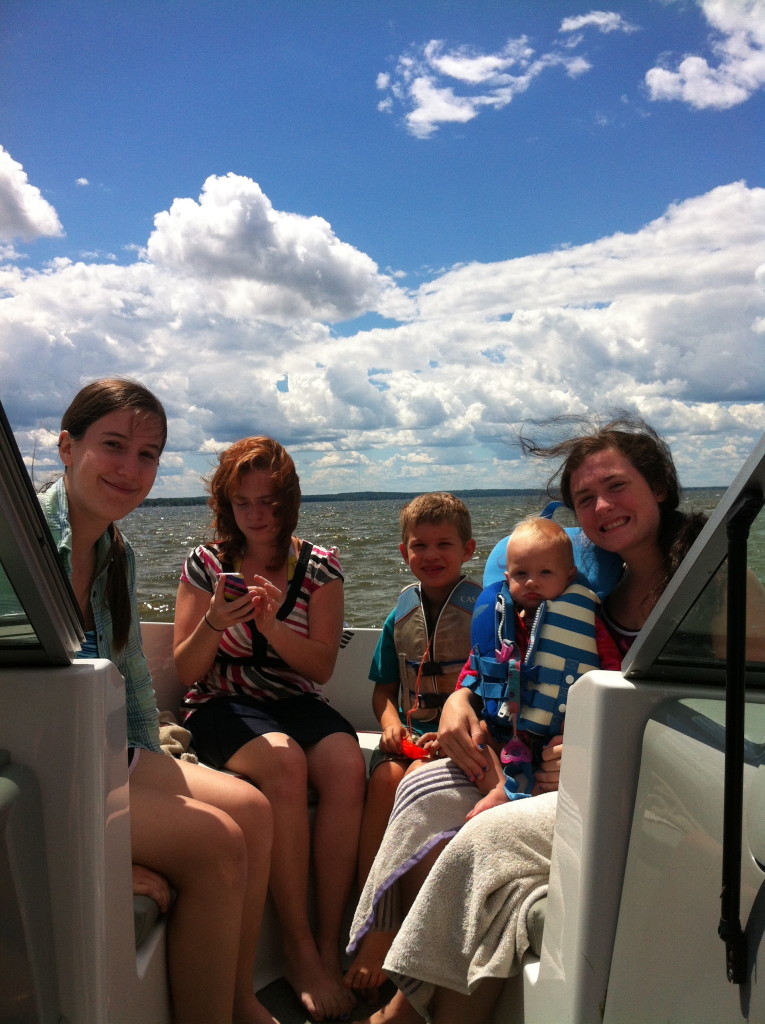 Isaiah and Sarah up first!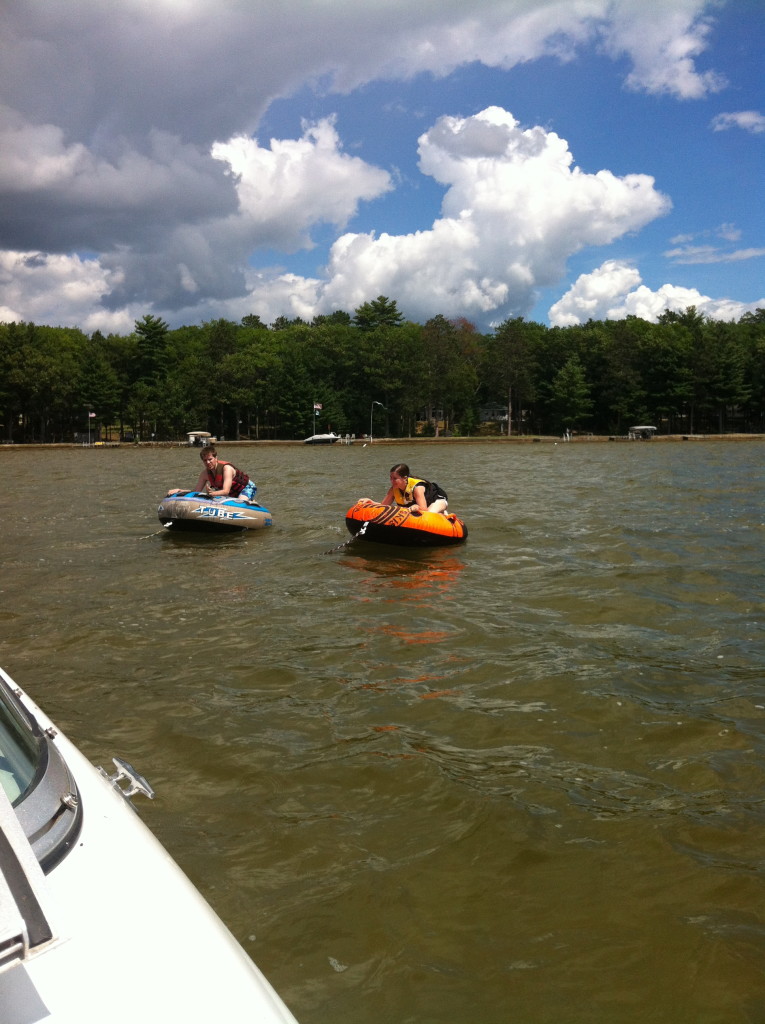 Tera loved being on the boat, although her life jacket was rather constricting. It certainly kept her calm!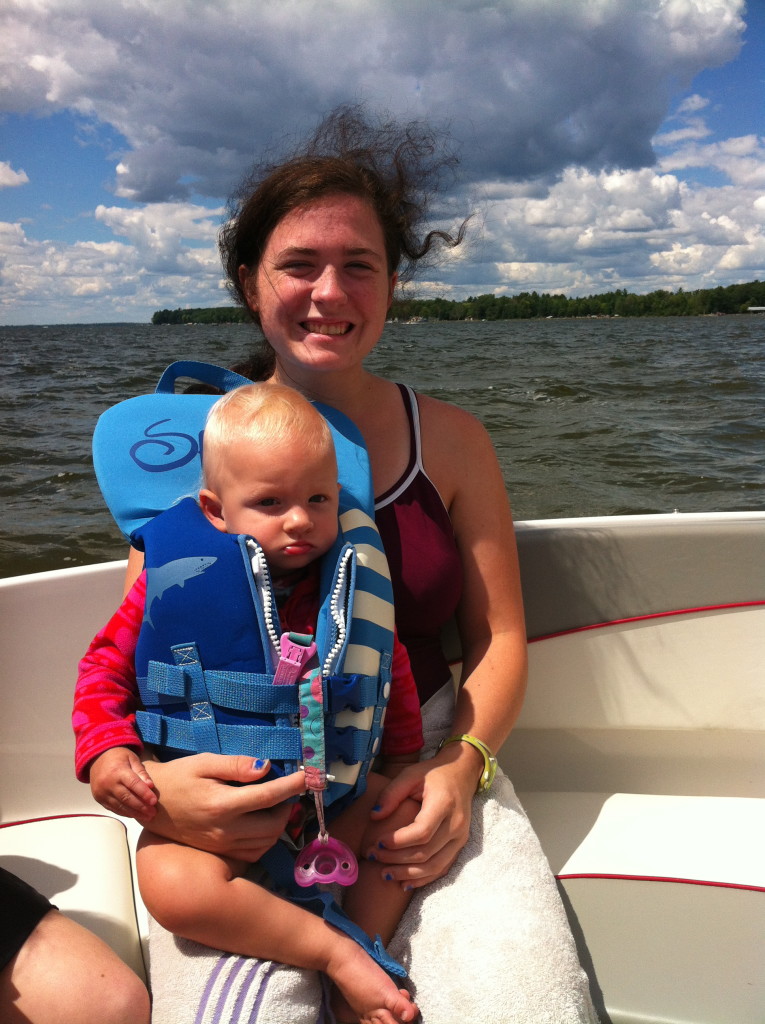 Love this shot. Tubing and the jet ski. Does a day on the lake get any better than this?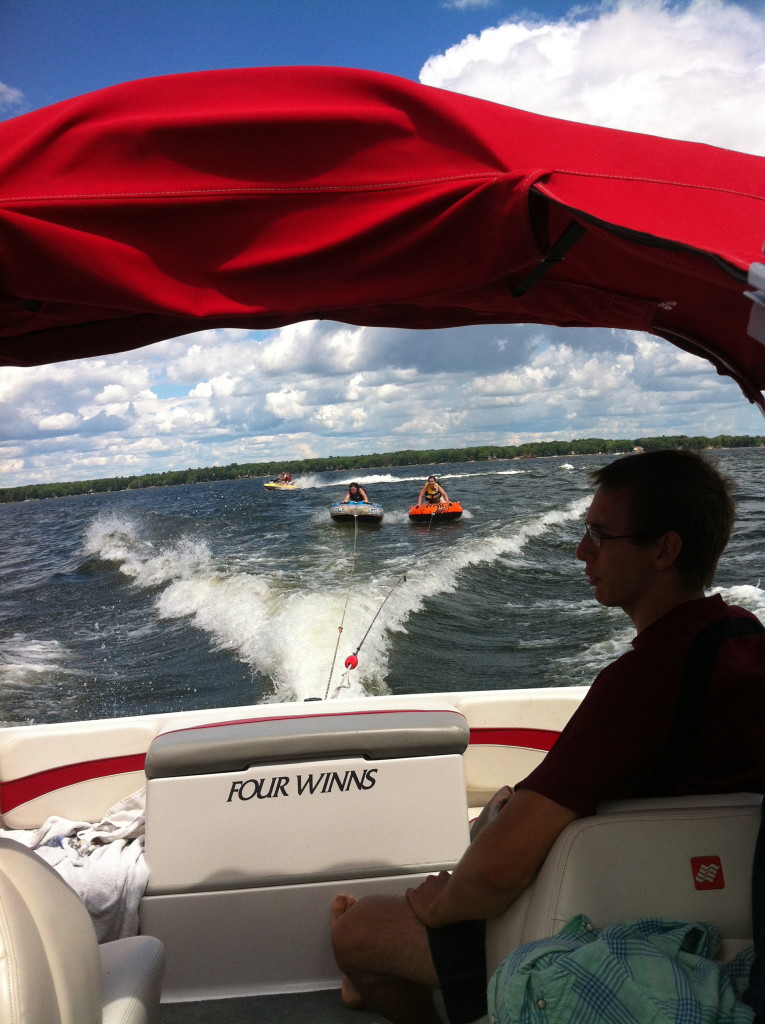 It was a very windy day and the waves were pretty big for the little boat. If you sat at the front of the boat you would get doused with spray when the boat hit a big wave. Isaiah looks delighted. Haha.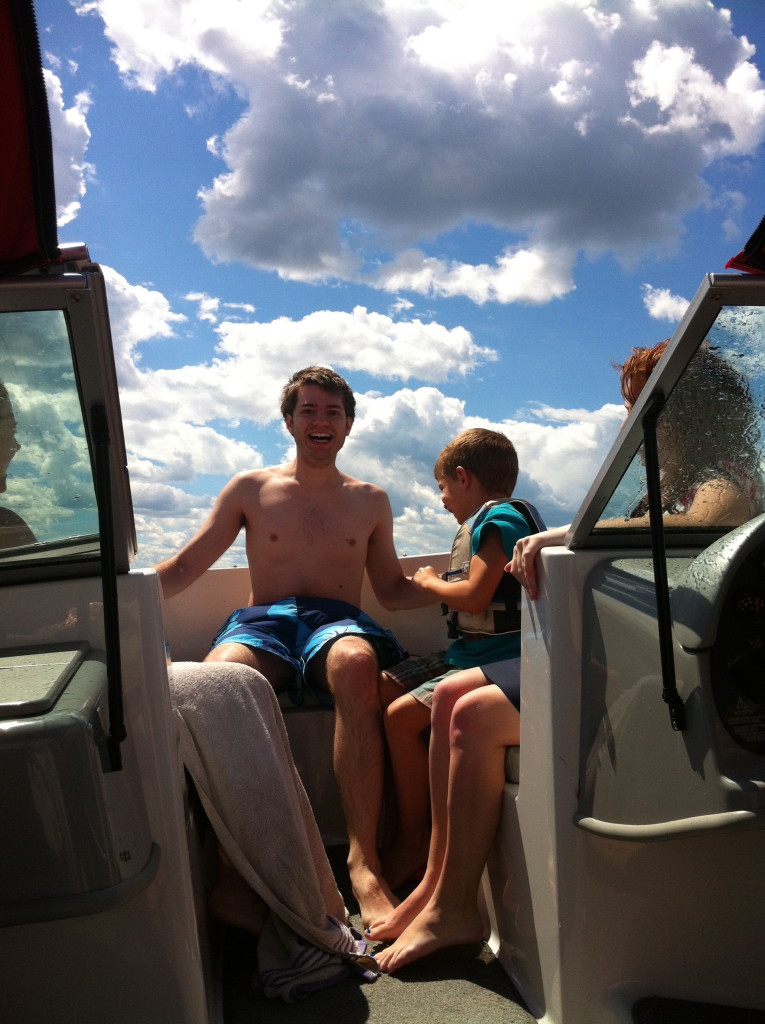 Theo and I took a turn on the tubes, too. I was doing great until I got knocked off and then I declared myself done with tubing for the day! It was a great shoulder/upper arm workout to hold on for dear life.
After getting pulled back to shore, someone special got to go on the tube, too. Don't look too close, Grandma….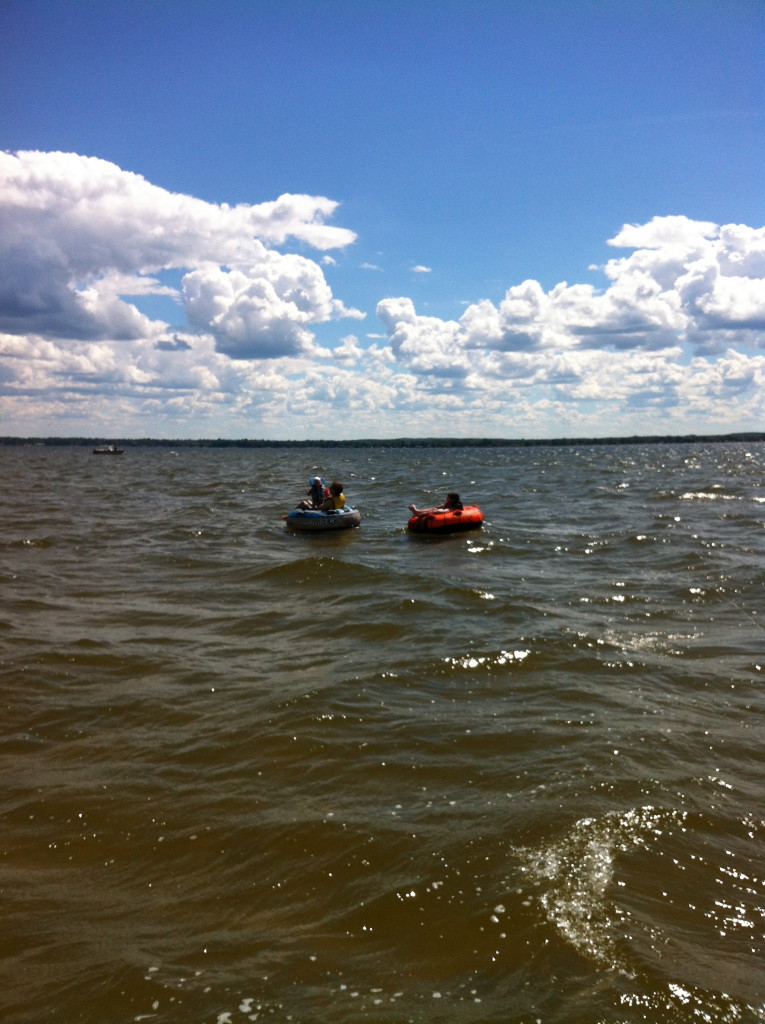 I SAID DON'T LOOK TOO CLOSE!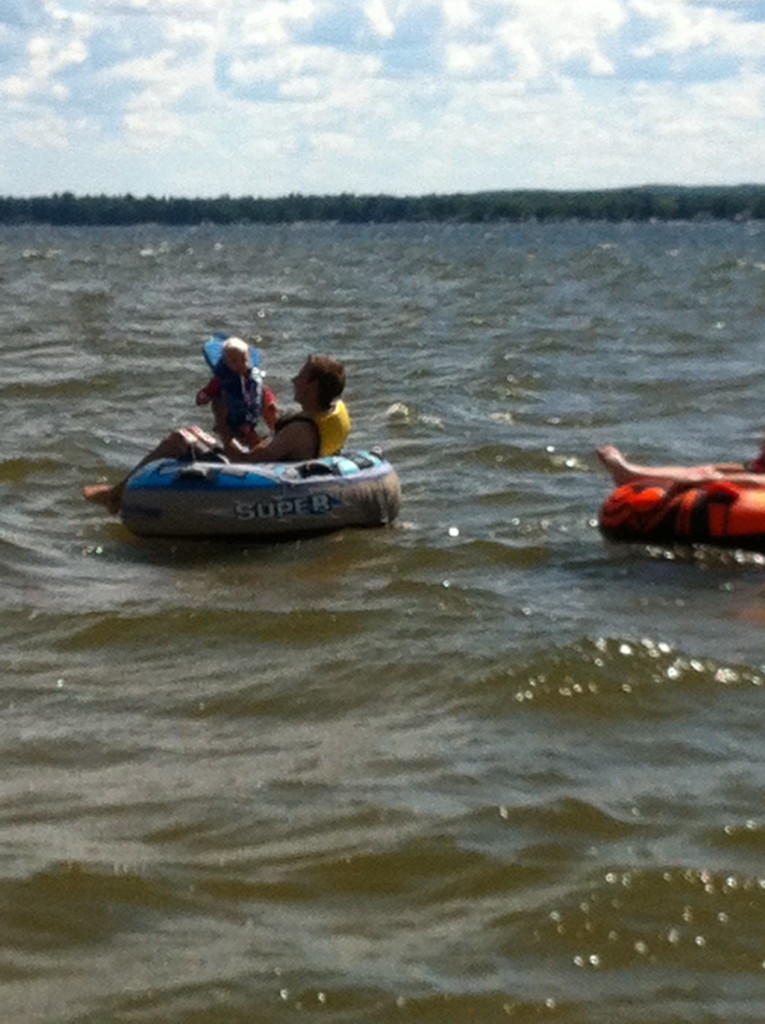 Don't worry, we were going VERyyyyy slow.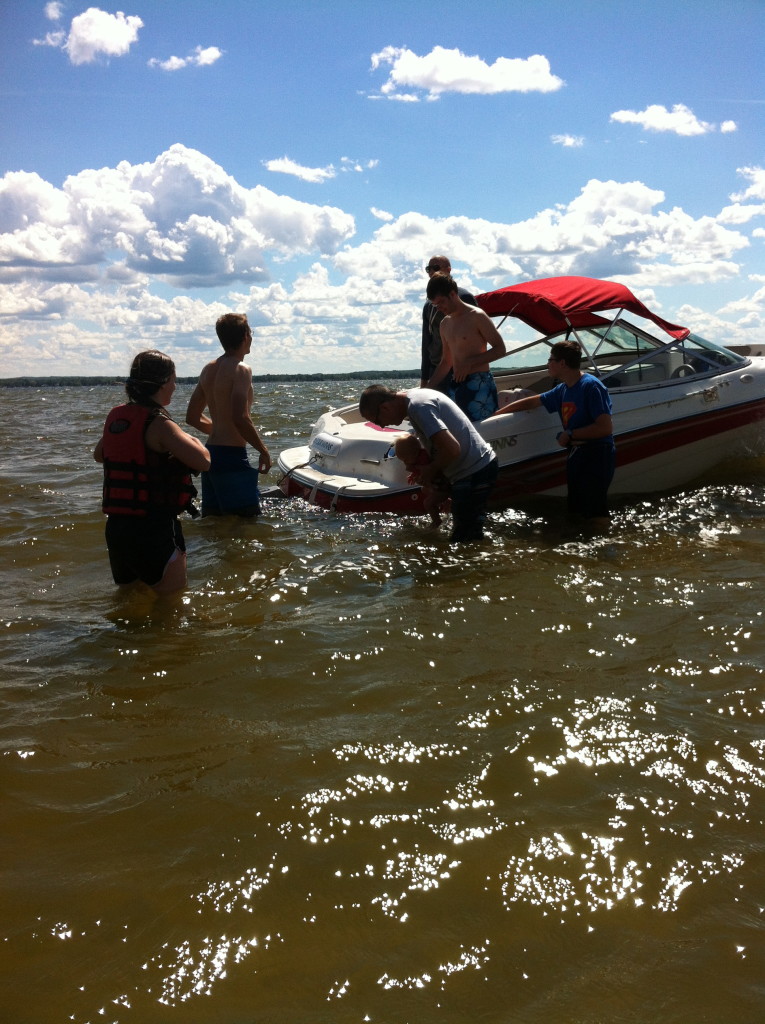 Titus caught a ride back to shore after Dad declared everyone had to walk the last few feet (it's a very shallow lake…but not shallow enough for someone wearing jeans!)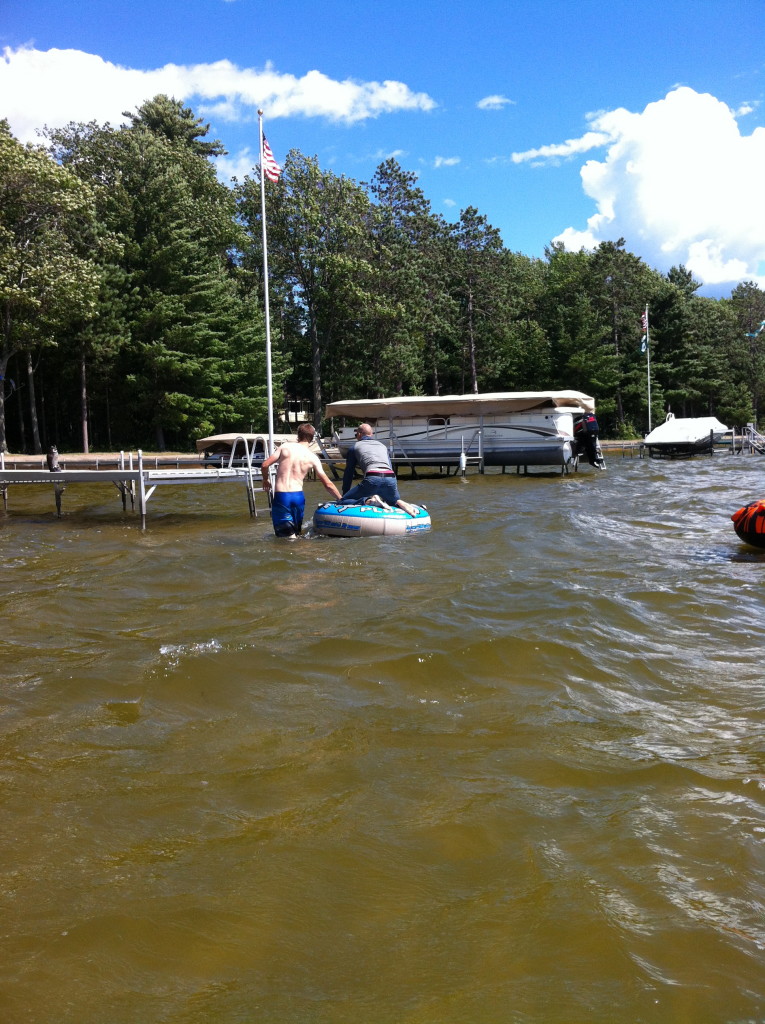 Sarah and I made a birthday cake for Tera's first birthday party!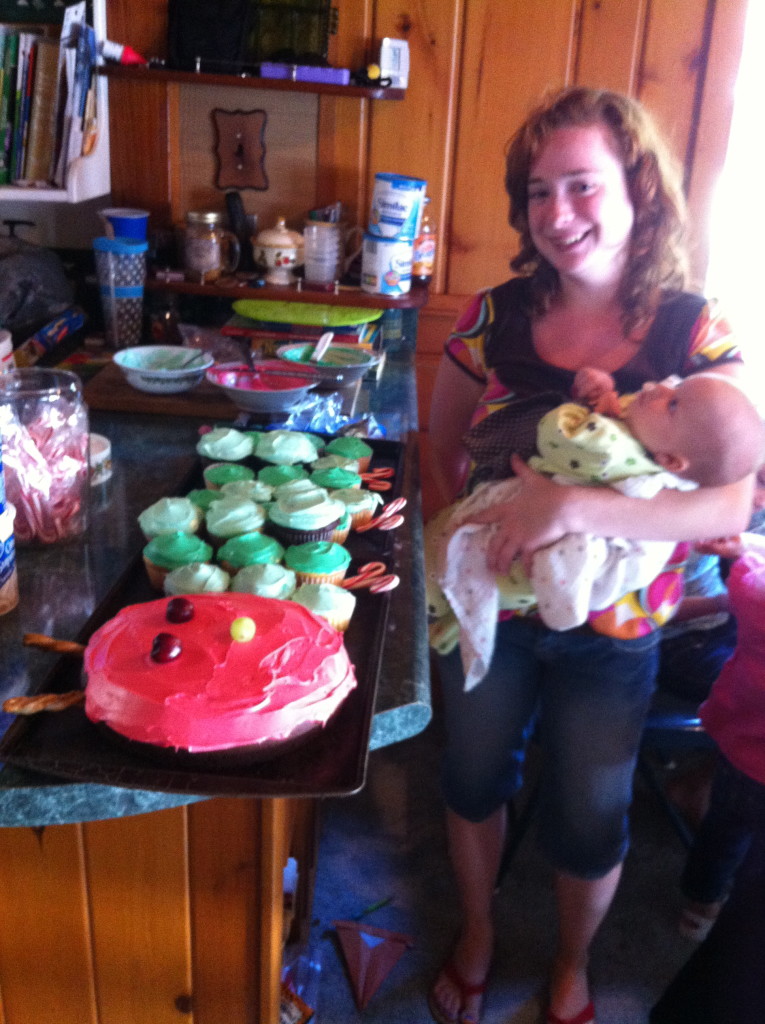 Tera is turning one in a week, but we decided to go ahead and celebrate!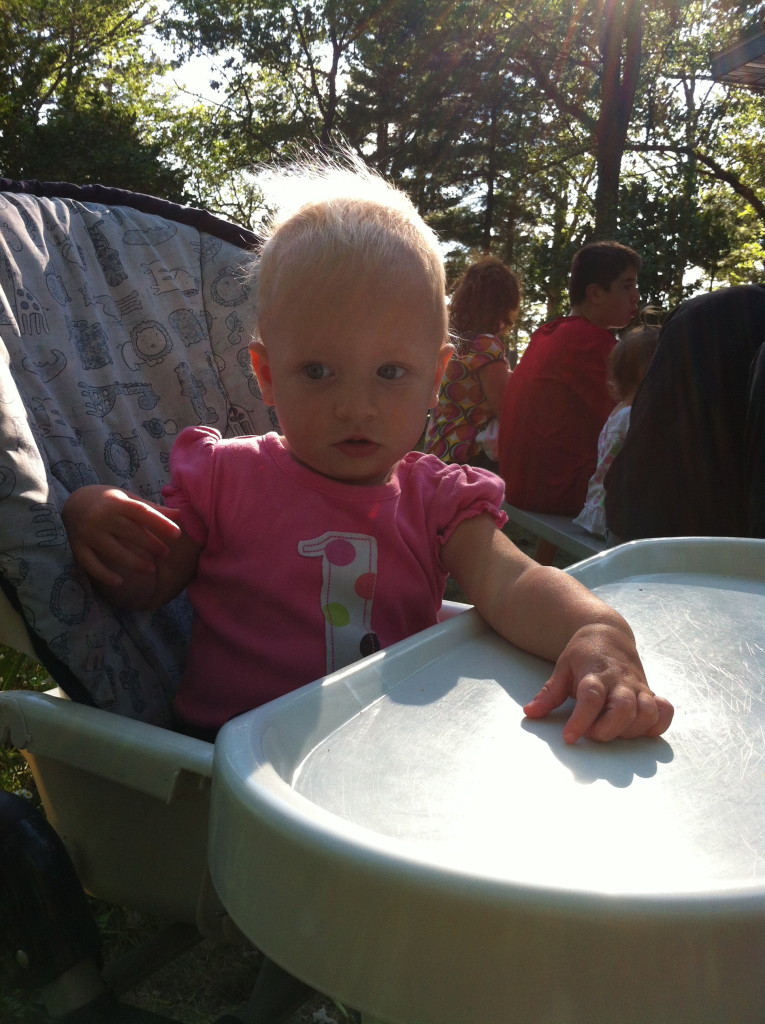 Tera's very hungry caterpillar cake. We had to get creative with the eyes, nose, antenna and legs!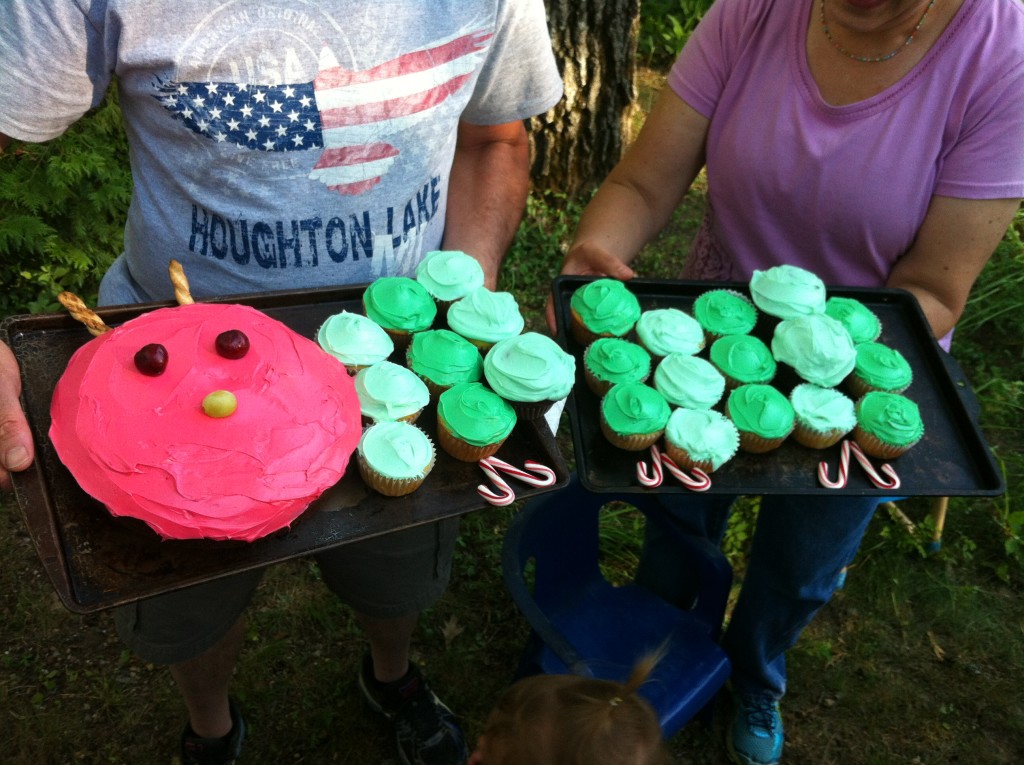 I don't have any pictures of Tera eating her first cupcake because Theo was using the phone to take a video. It was the cutest thing!
After dinner we had a talent show!
Evie kicked off the night with some interpretive dance….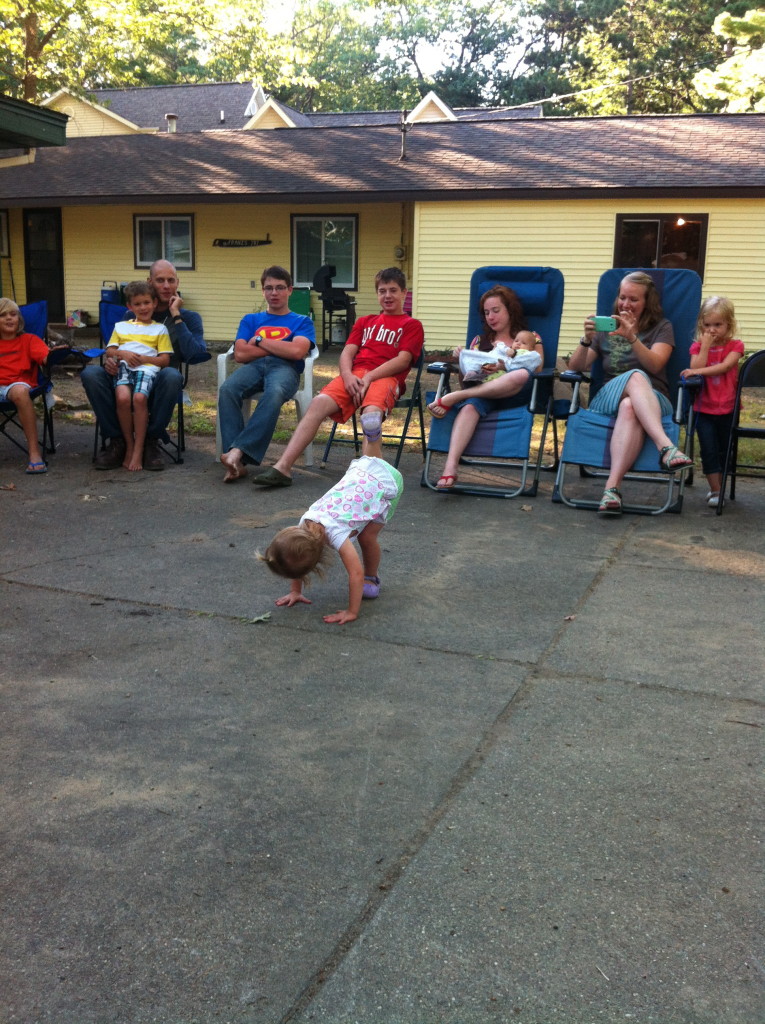 TWINS!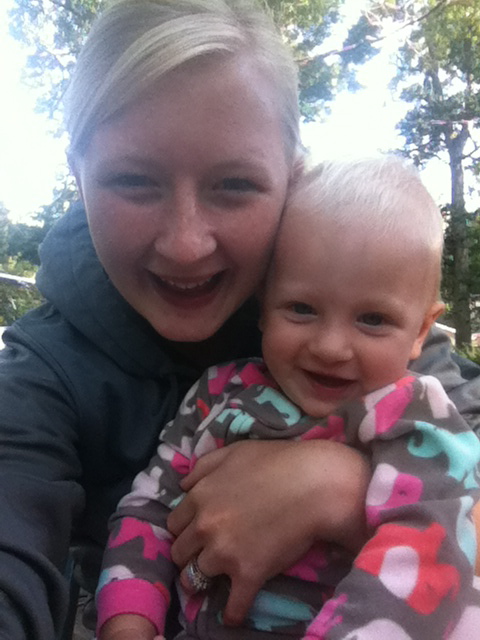 It was so great having so many extra hands to hold Tera!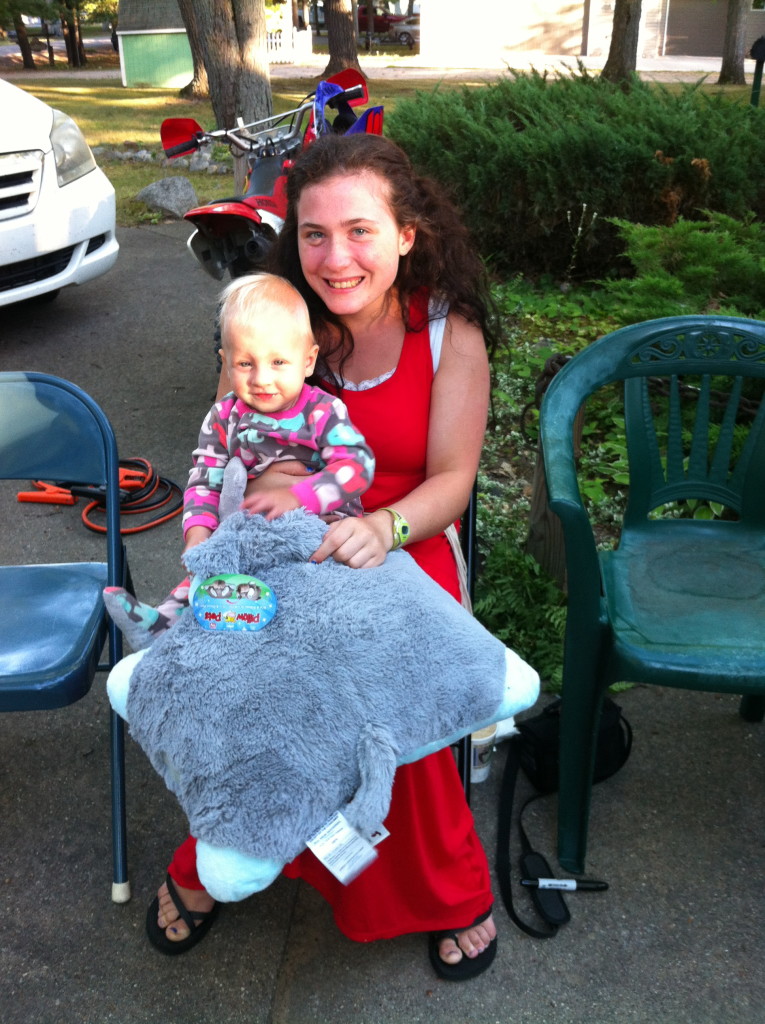 Tera got to open a couple of presents from Grandpa and Grandma.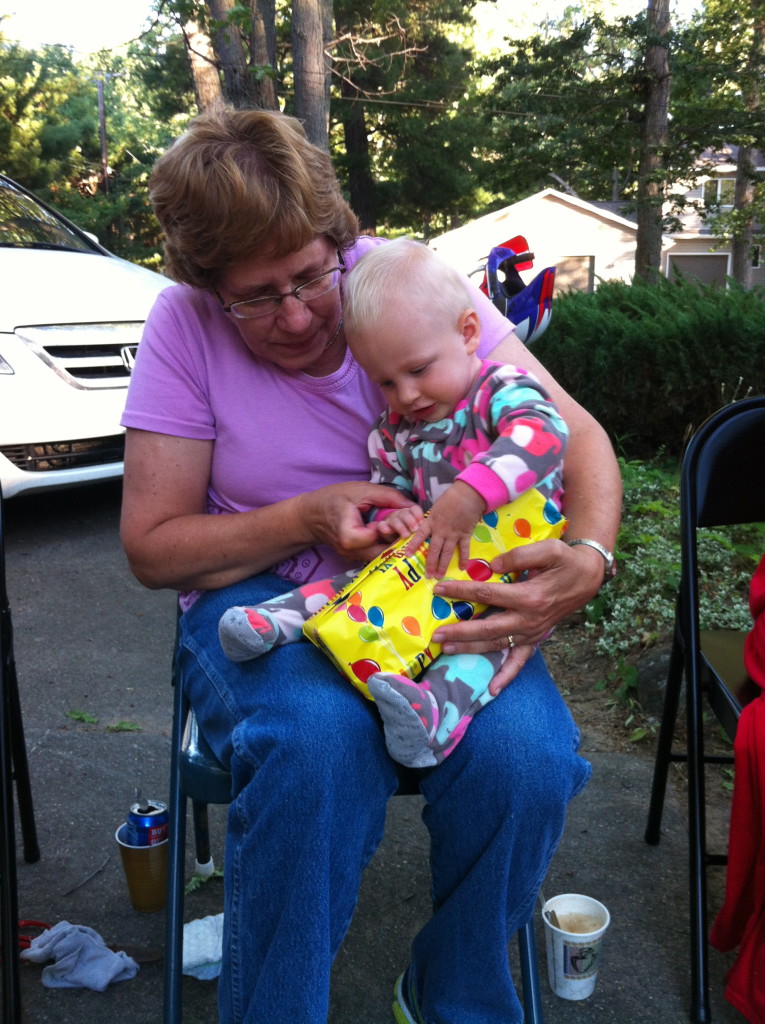 She got a stuffed cat that looks just like Moose! She has not put that thing down!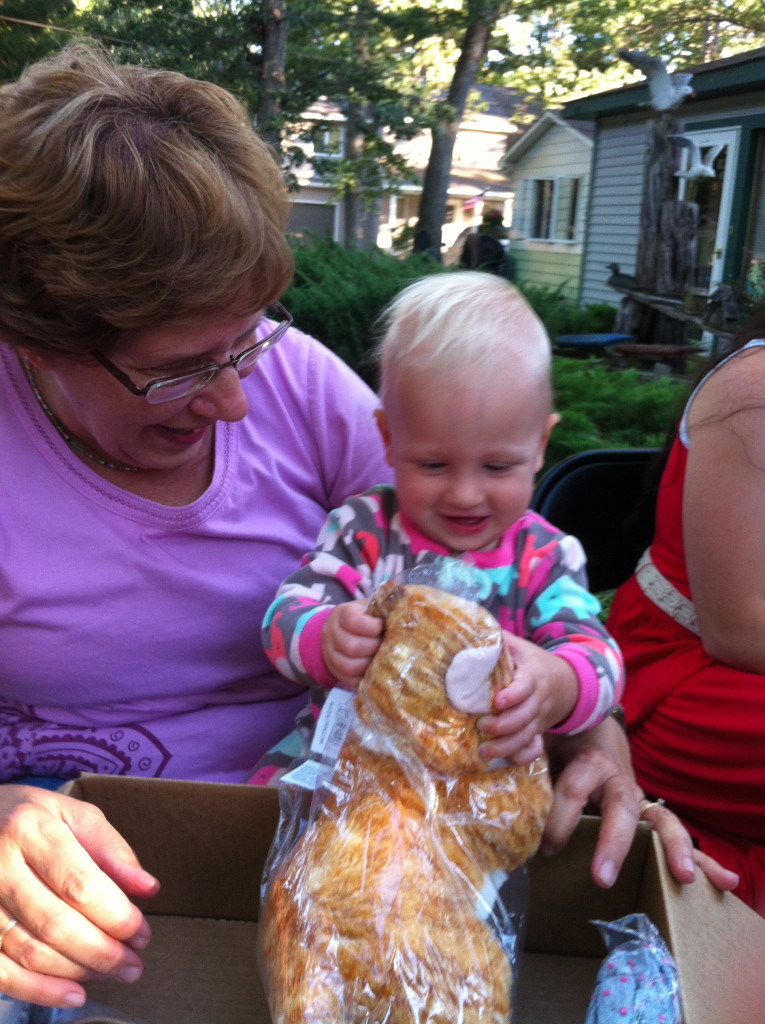 This one is a framer.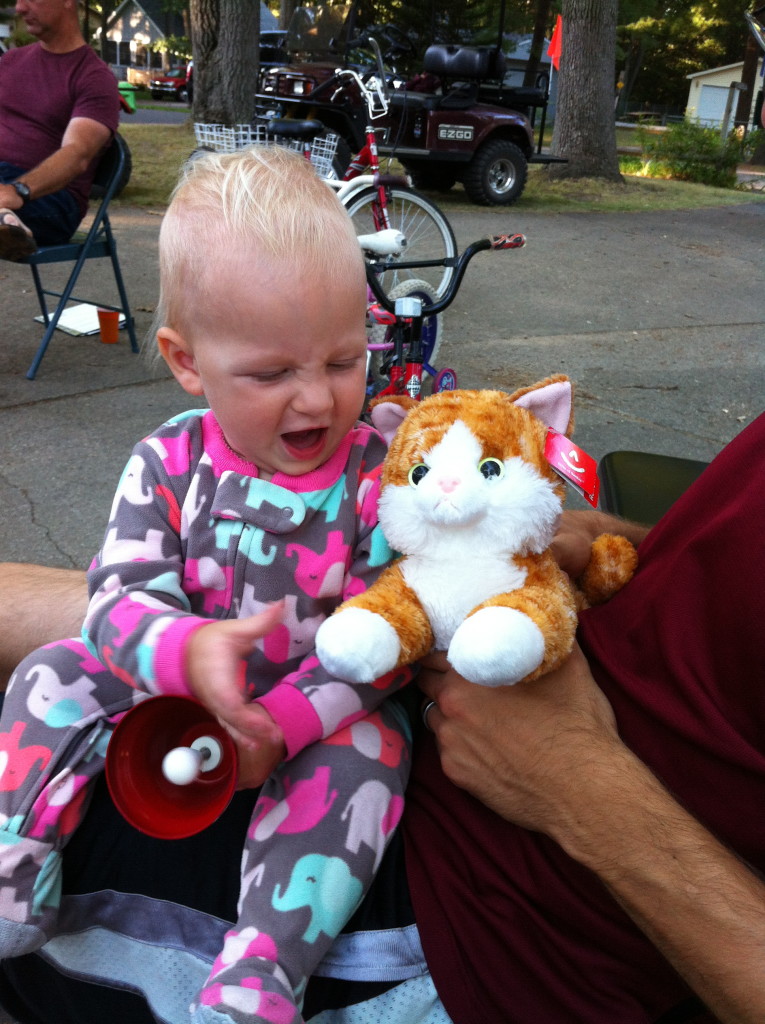 3rd annual talent show. When you have this many people in a family….you have a lot of talent!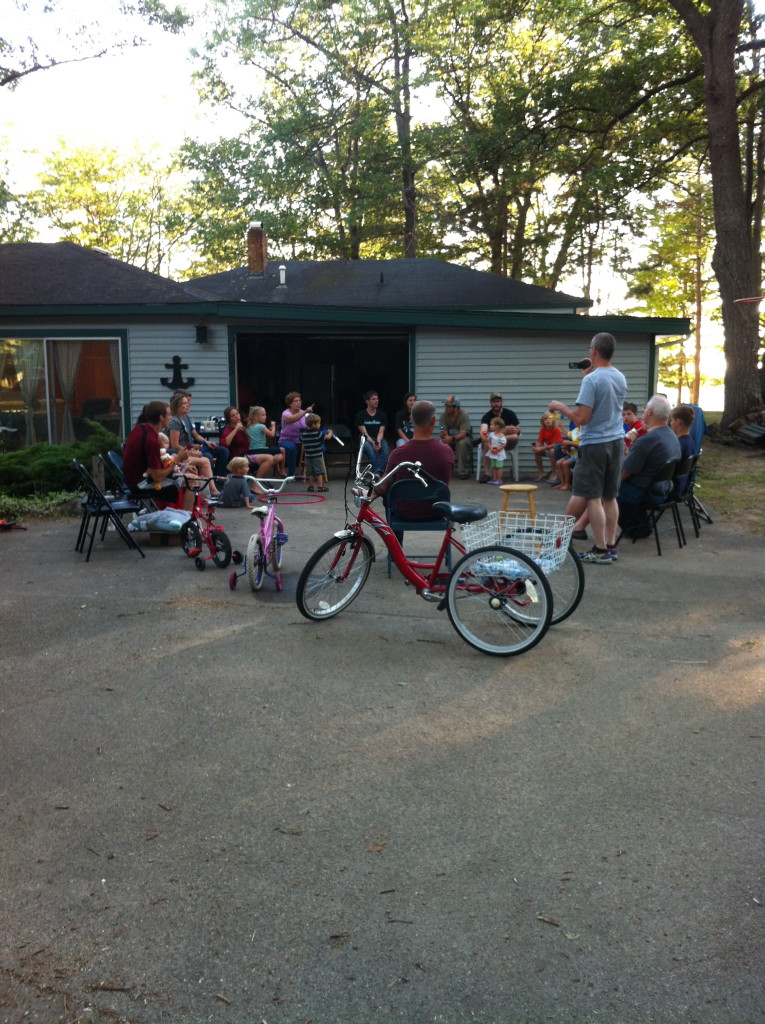 A readers theater skit.
Grandpa and Grandma with all the grandbabies that were at the reunion. We were greatly missing 3 (and 90% of one on the way), who are off in Africa doing some crazy life work called being missionaries.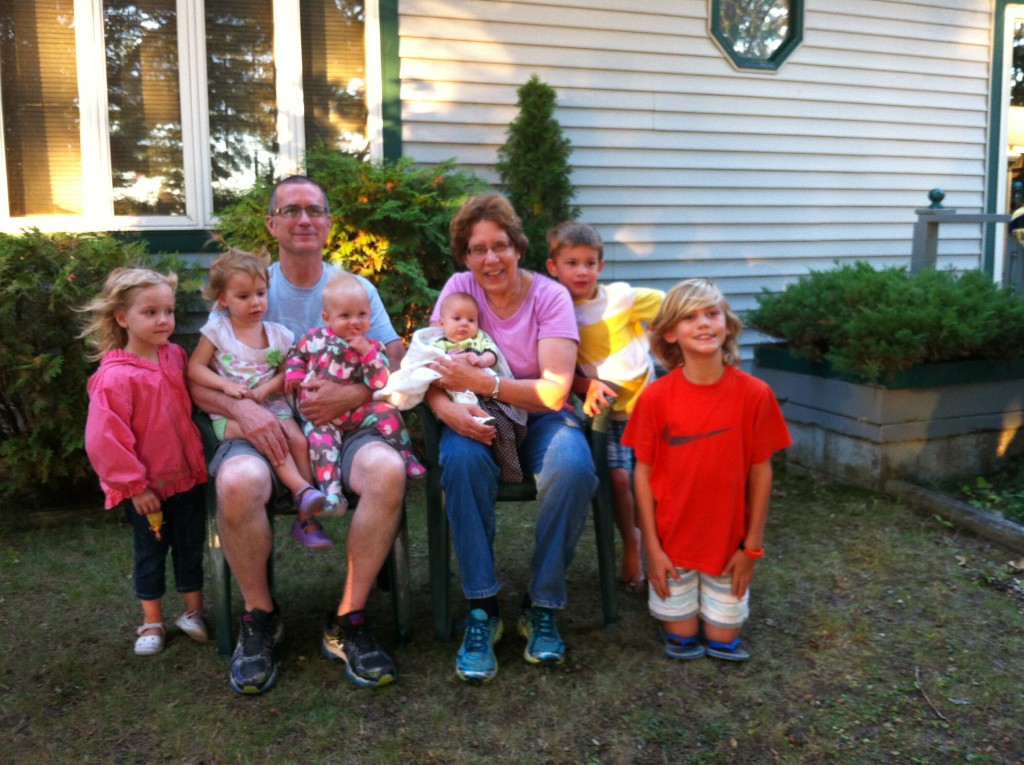 Isaiah and Sarah who sadly live way too far away from us.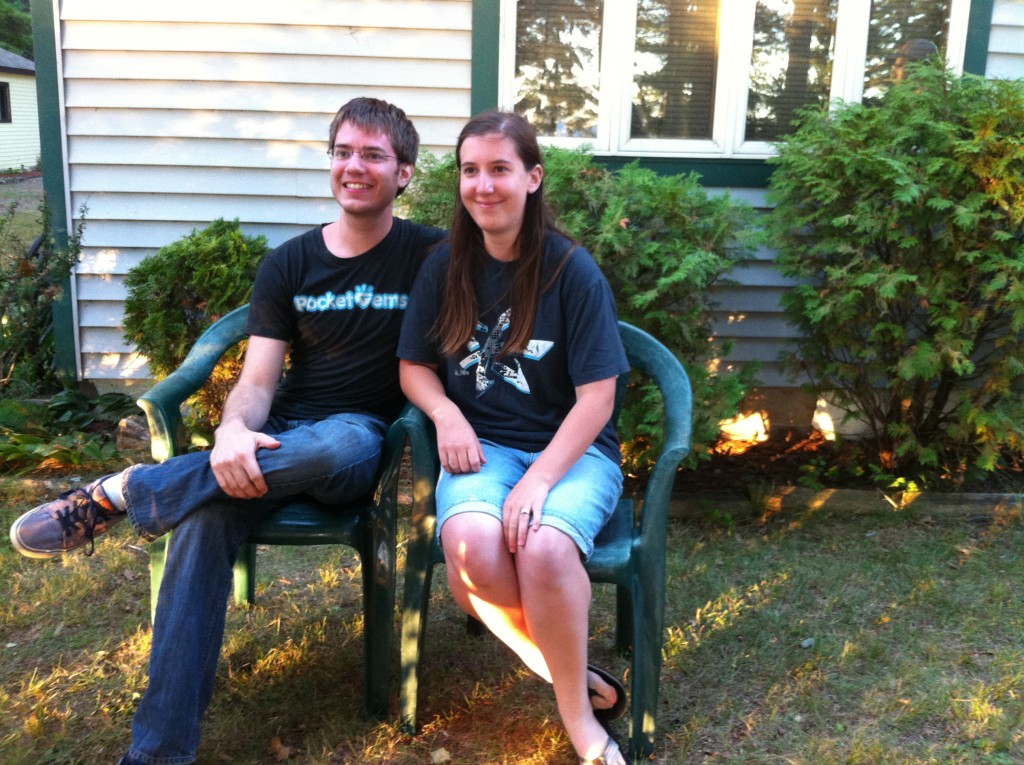 Aaron and Seth.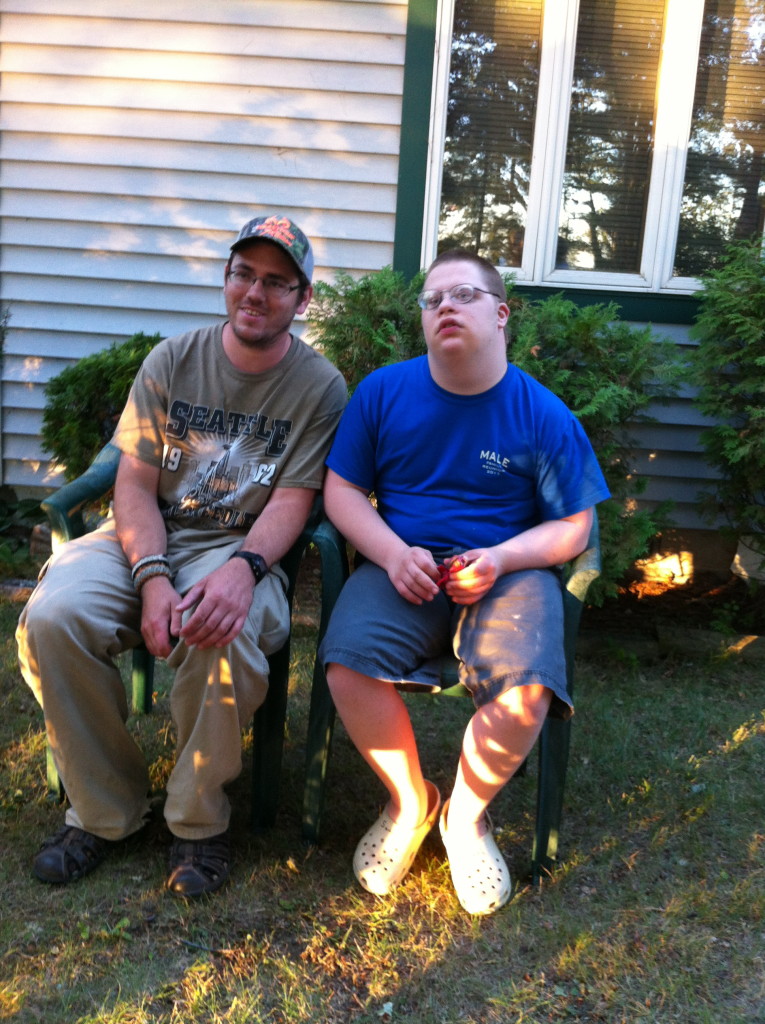 My favorite candid shot from the entire weekend…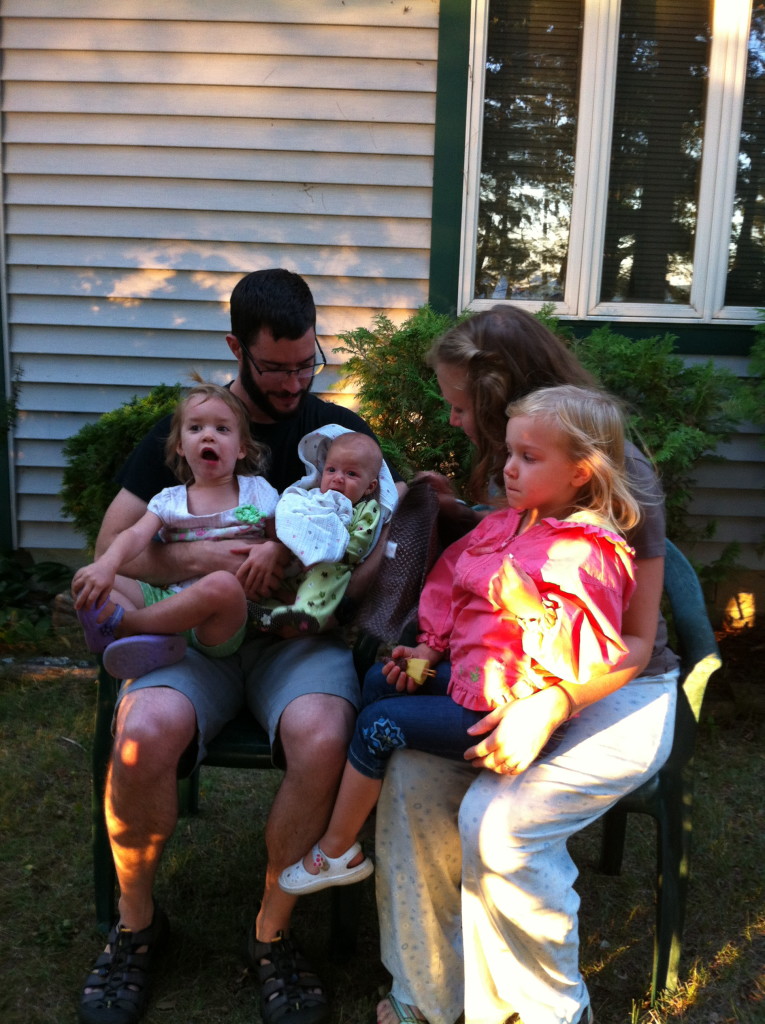 And Barnabas and Eryn with their three girls.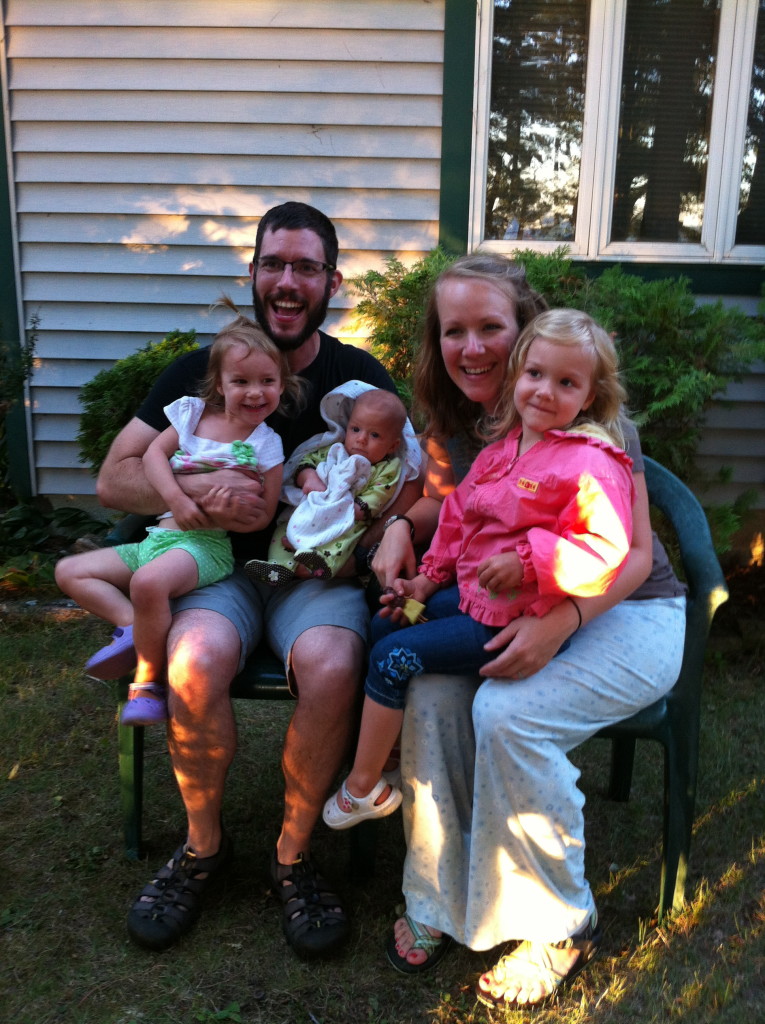 Titus and his boys.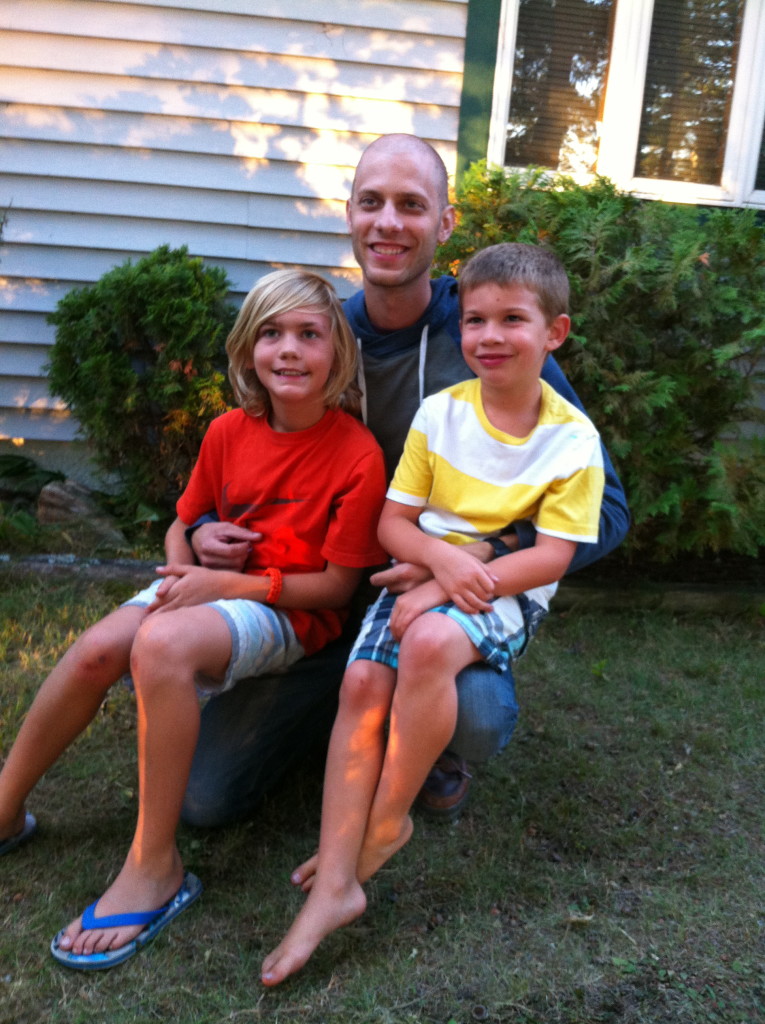 Holding baby Josie while Tera investigates. I cannot imagine how you mothers of Irish twins do it! You deserve a certain type of motherhood medal!!!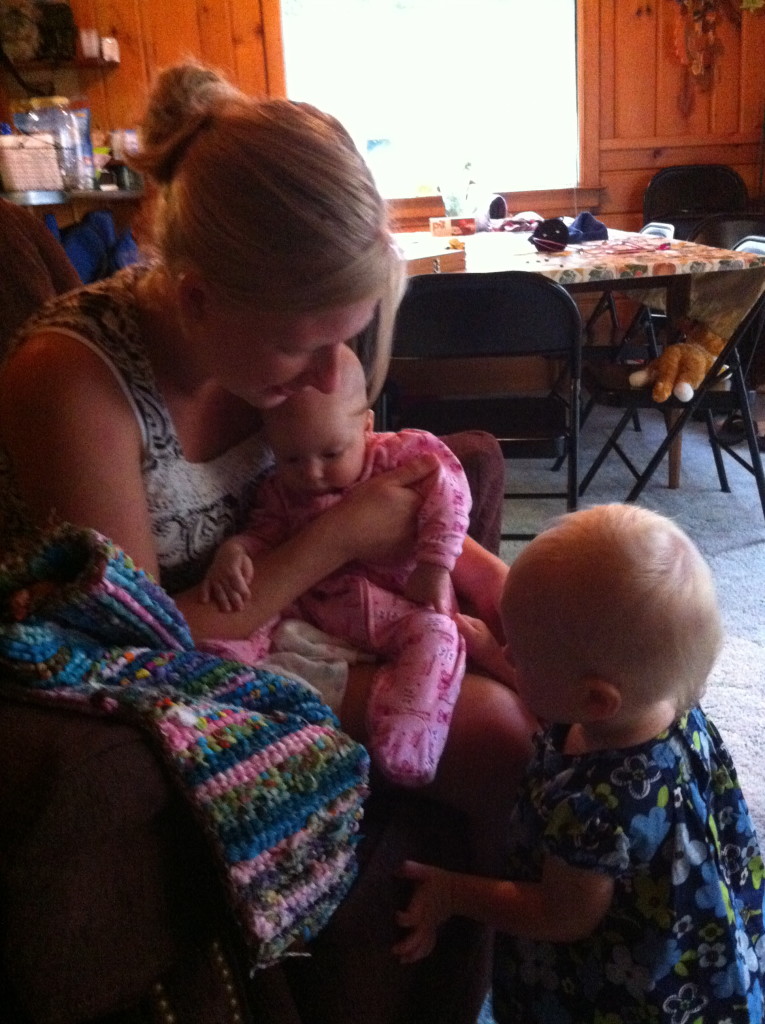 Sunday was a rainy day and we spent most of the day working on an impossible puzzle, saying goodbye to individual families as they left and eating some good food. Oh, and we can't forget about all the games that were played!
We left early Monday morning, and this about sums up how we feel now: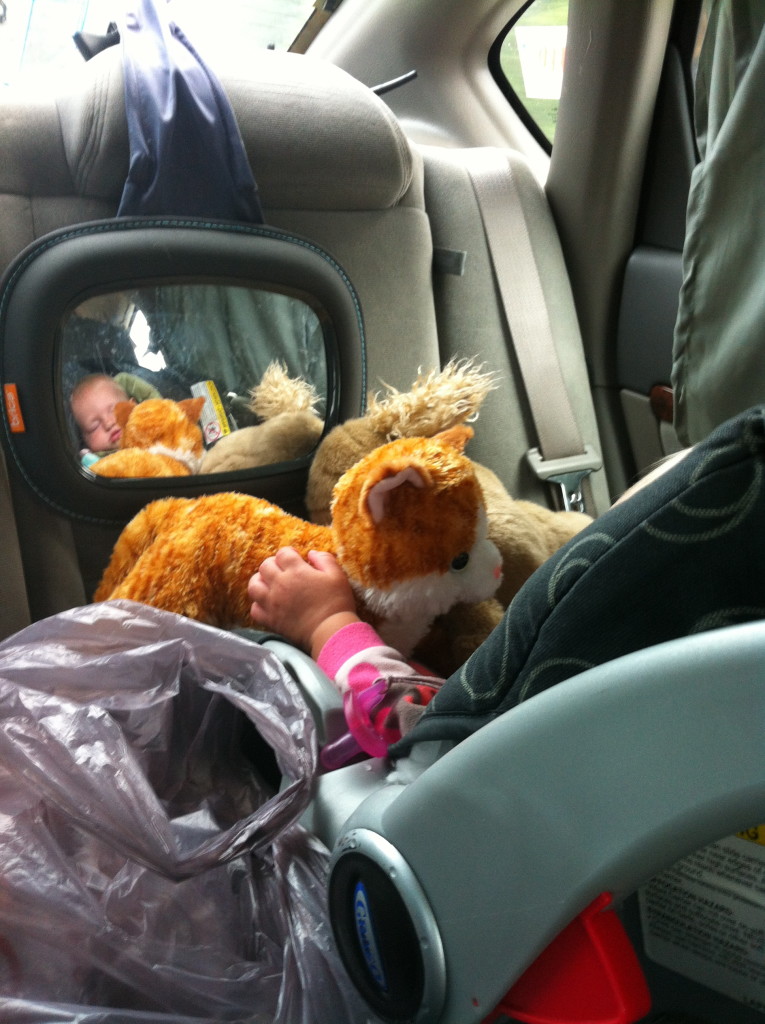 Phew! Lets hit the ground running into this week! Tera turns ONE this upcoming weekend! STOP THE CLOCK!!!!