A few weeks ago I did a house tour on the blog. A lot of this pictures will be exactly the same, but I wanted to do a progress post showing before and after.
Since buying a house that needed A LOT of cosmetic work, I've realized that I will never really be 'done' decorating my house. I kept waiting and waiting to take these pictures only to realize that I will be waiting a LONG time before everything is done to my liking. I still want a cute armchair in our room, and some more things to hang on the walls, and I'm not entirely done with Tera's room…but I decided I would do my before and afters of the upstairs portion of our house.
The upstairs has a small hallway/stairs, two bedrooms and a bathroom.
Hallway:
BEFORE:
AFTER: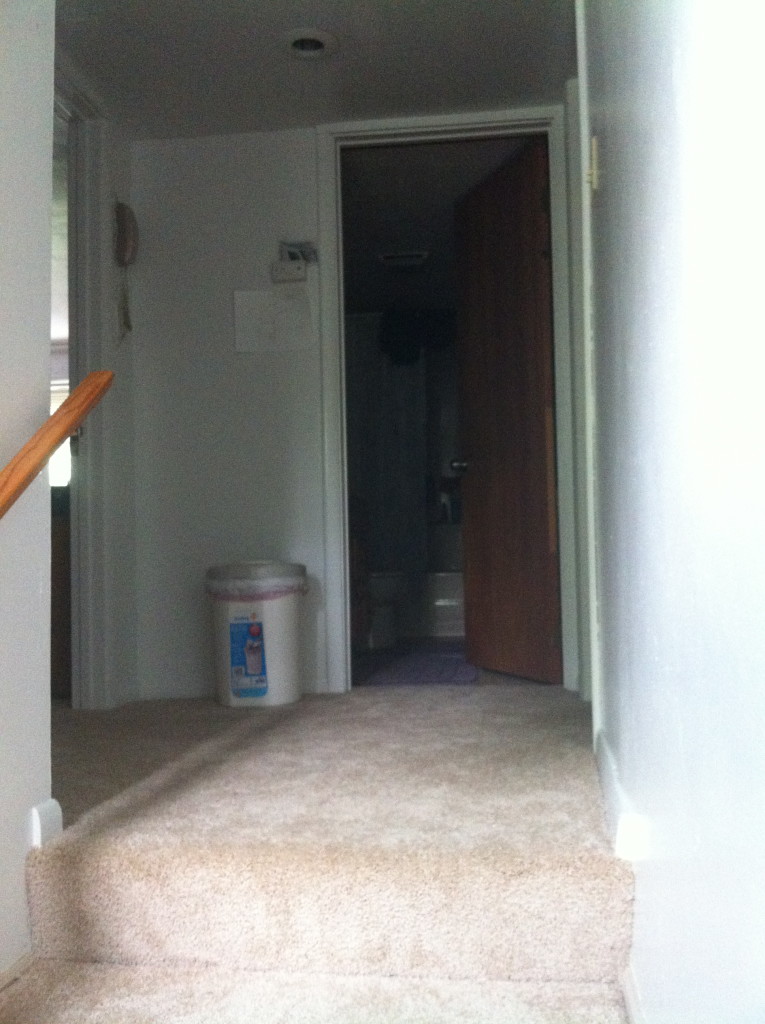 What we did:
Tore out old carpet and put in new carpet
Made the random corner into Moose's very own luxury bathroom (gross).
What we still need to do:
Put shelves into that closet for bathroom towels and sheets
Hang up things in the hall area (not sure what, but it's way to blank for my tastes)
Bedroom #1 (our bedroom):
BEFORE:
AFTER: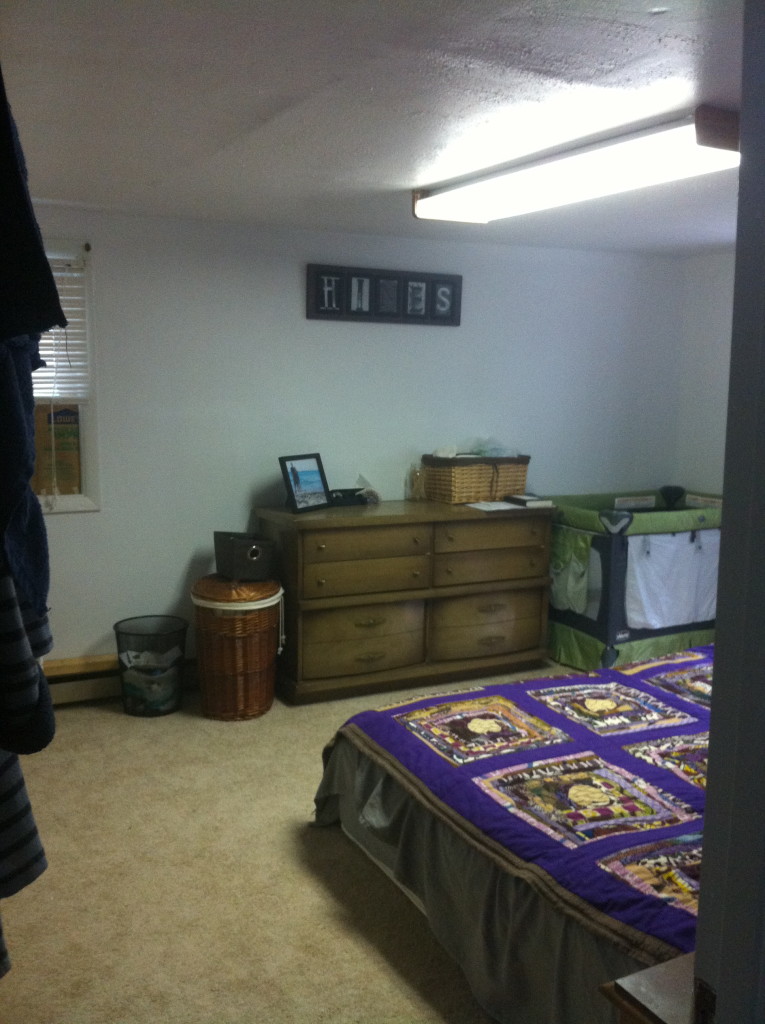 BEFORE: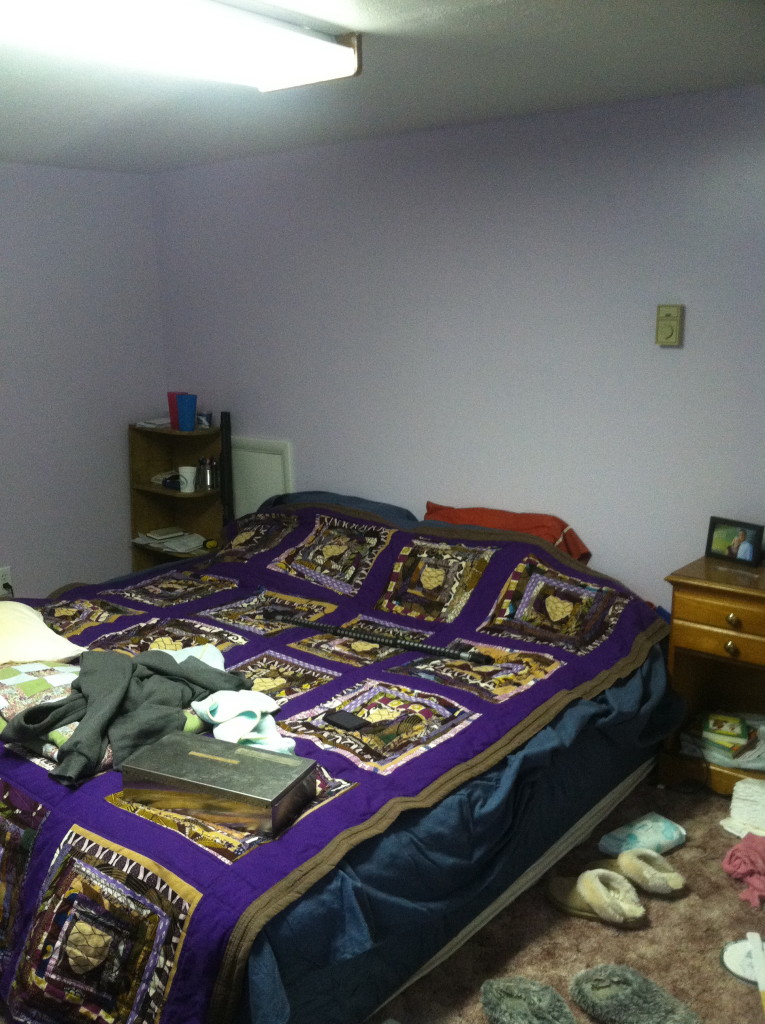 AFTER: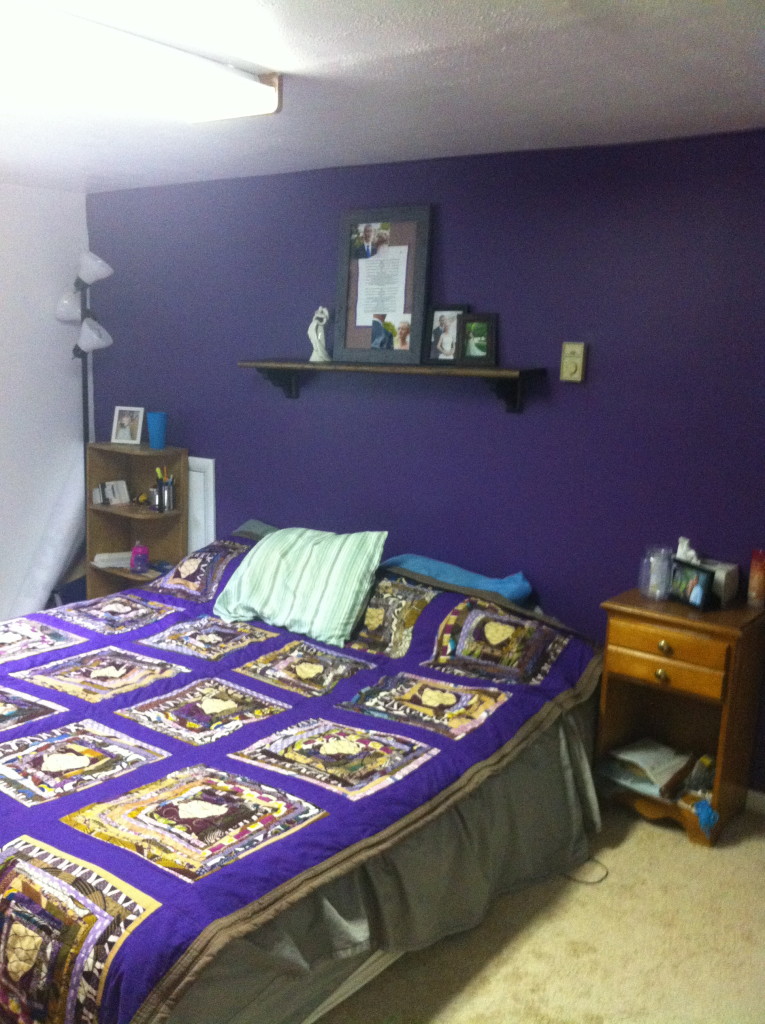 And a final AFTER angle: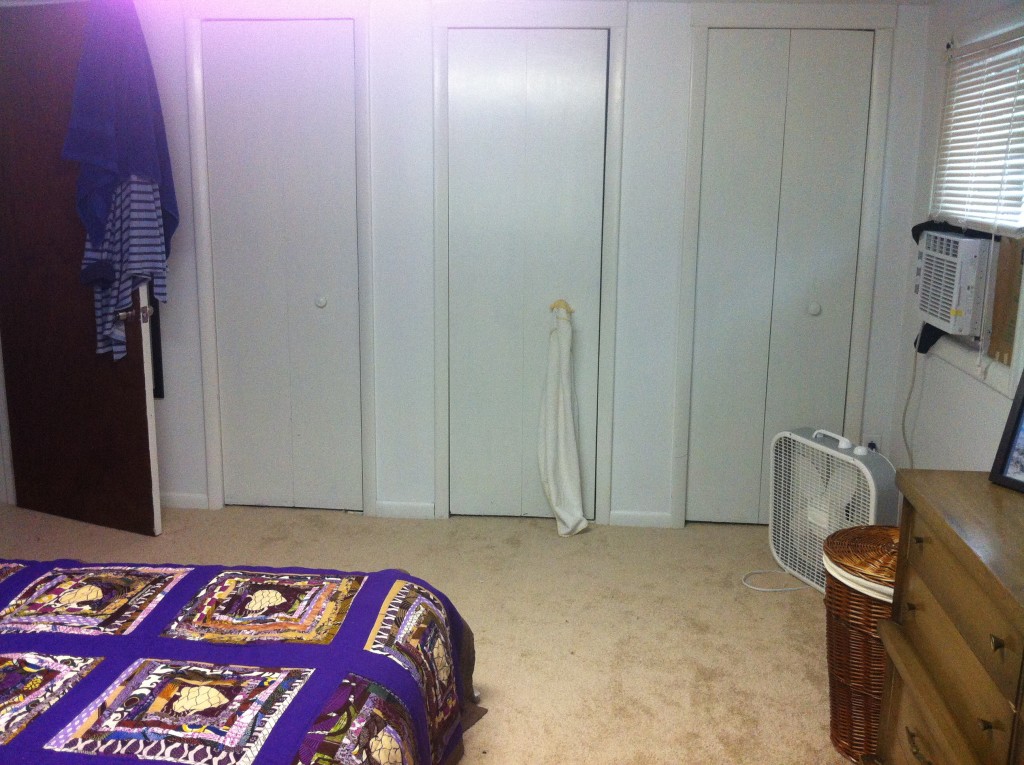 What we did to this room:
Painted all the walls white with one dark purple accent wall (as opposed to pastel purple all over)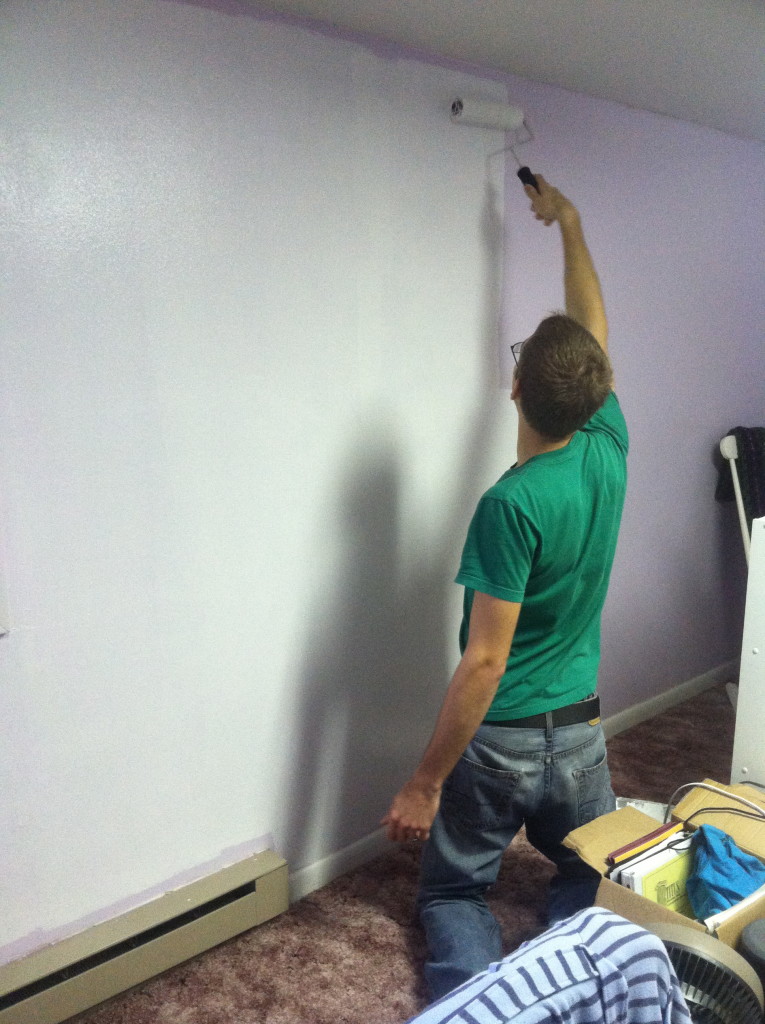 Tore out old drapes and hung new, brown floor to ceiling curtains, which makes the low ceilings look much higher
Debated getting an actual bed/headboard, but decided to leave our mattress on the floor and build a shelf for above the bed
Tore out nasty speckled purple carpet and put in a brand-new tan carpet
What we still have to do:
Hem curtains
Find a matching curtain for the third window
Finish hanging decor and furnishings
Find new light fixture (the current one seems to take up the whole room, which doesn't help with the low ceilings).
Total cost of renovation:
$50 for paint
$10 for dresser
$10 for shelf above bed
$1000 on carpet for both bedrooms, hallway and the stairs
Bedroom #2 (Tera's room):
Before:
AFTER:
BEFORE:
AFTER: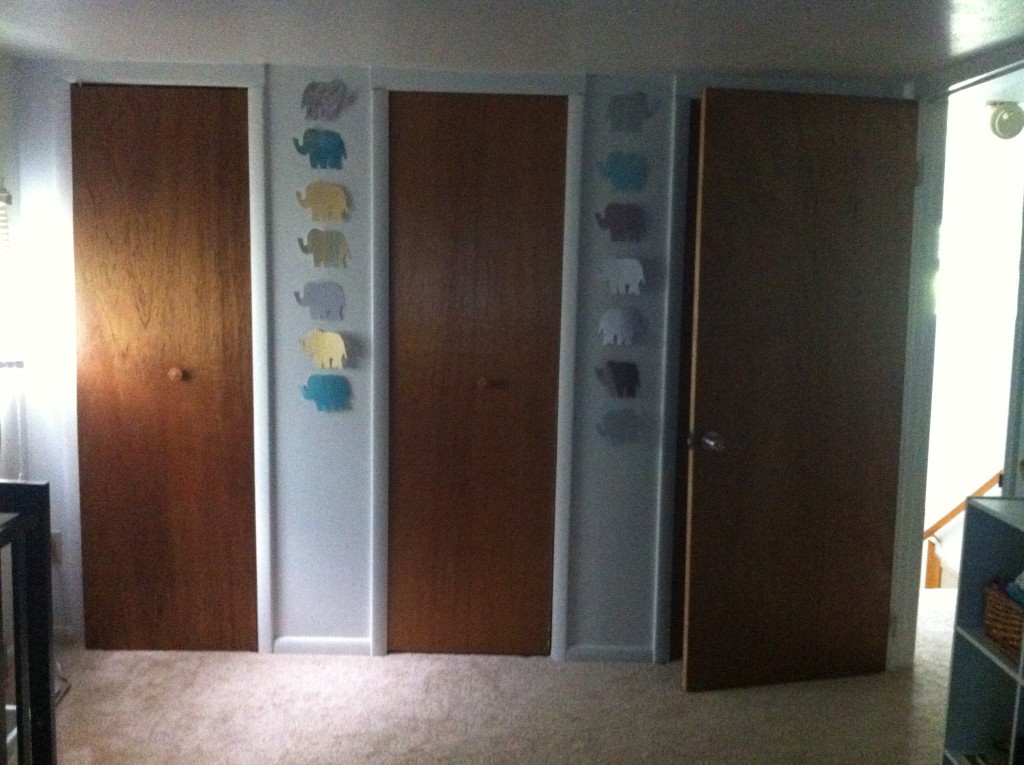 What we did:
Tore out nasty pinkish carpet and put in tan carpet (Side note: In all this decor changing, I am learning how fluid style is. I'm sure the next owners of this home will write a blog post about the hideous, boring tan carpets that they tore out in favor of orange shag carpet. It's just the way of the world).
Ripped down pink drapes and put up Tera's blue ones.
What we would still like to do:
Paint walls
Finish hanging decor
Possibly paint closet doors
Cost of bedroom #2:
Cost of carpet (see above)