We celebrated Tera's first birthday party on Sunday, August 9th with friends and family.
I have so many pictures to share, so I plan on letting them do most of the talking.
Why have a birthday party for a one year old??? Well, for the parents, of course! It was a chance to get together with those we love and celebrate.
I tried to keep things simple, but the birthday party Mom in me was not too good at that. Theo gave me a budget of $50 for the decorations and food, so I had to keep things low in cost. I think I went a little bit over that, but only by $10-$15, so I'm really proud of what I was able to do with what we had.
Thanks muchly to my cousin Alesha who took all of these pictures. I texted her 10 minutes before the party started in a total panic because things were not falling into place like I hoped. She arrived and immediately starting snapping pictures, which helped put me at ease. Thanks, Alesha! I've looked through these pictures at least a dozen times since you gave them to me!
Let's start off with the invitation. The theme of the party was The Very Hungry Caterpillar. These invitations were simple to make and I found a free printable here. I cut out all the red and green circles from my massive stock of cardstock paper. The crazy thing about the red and green cardstock paper is that it was left over from making my wedding invitations! The pack came with blue, yellow, red and green. I used all the blue and yellow for my wedding invites and so I had lots of green and red left over!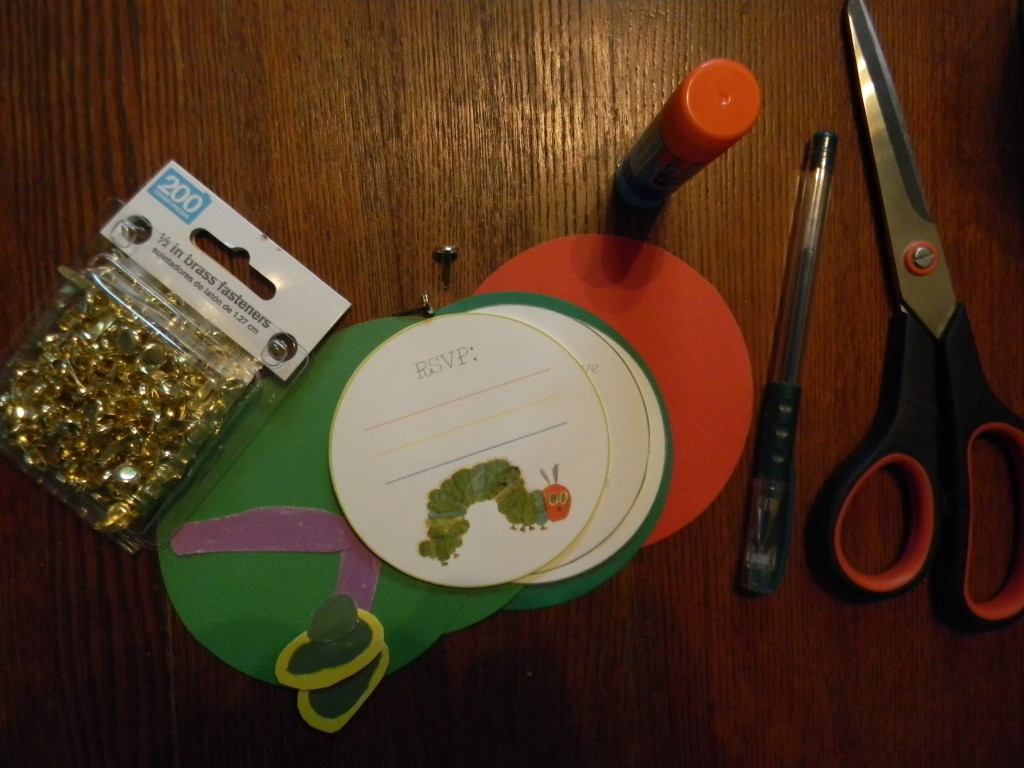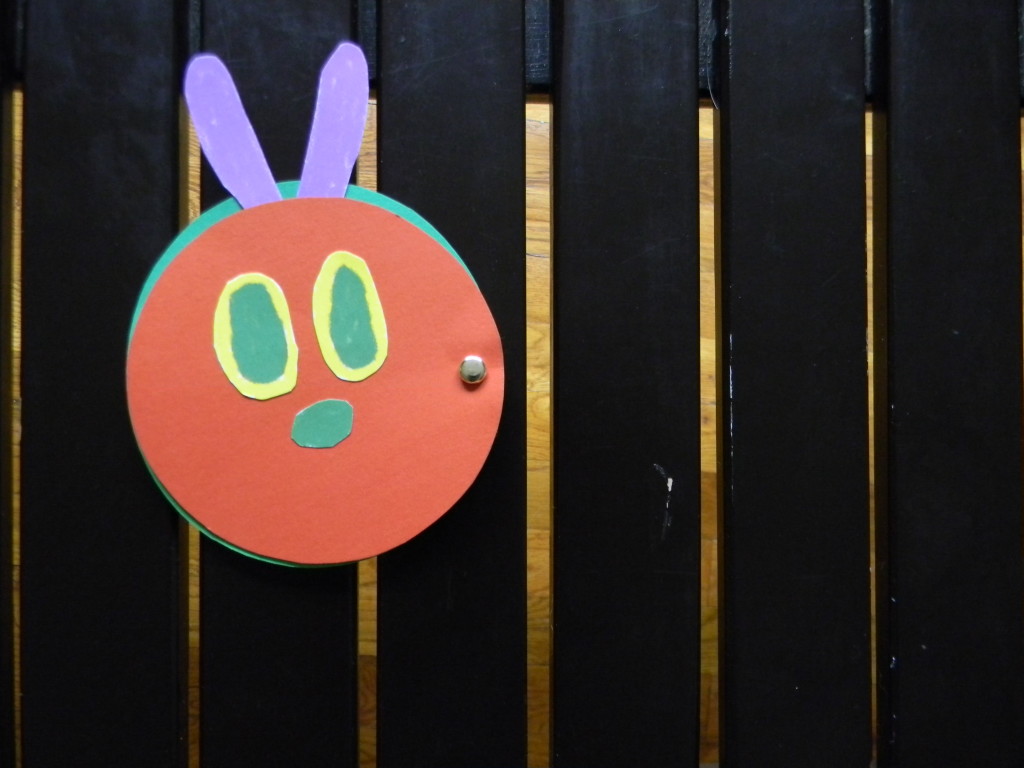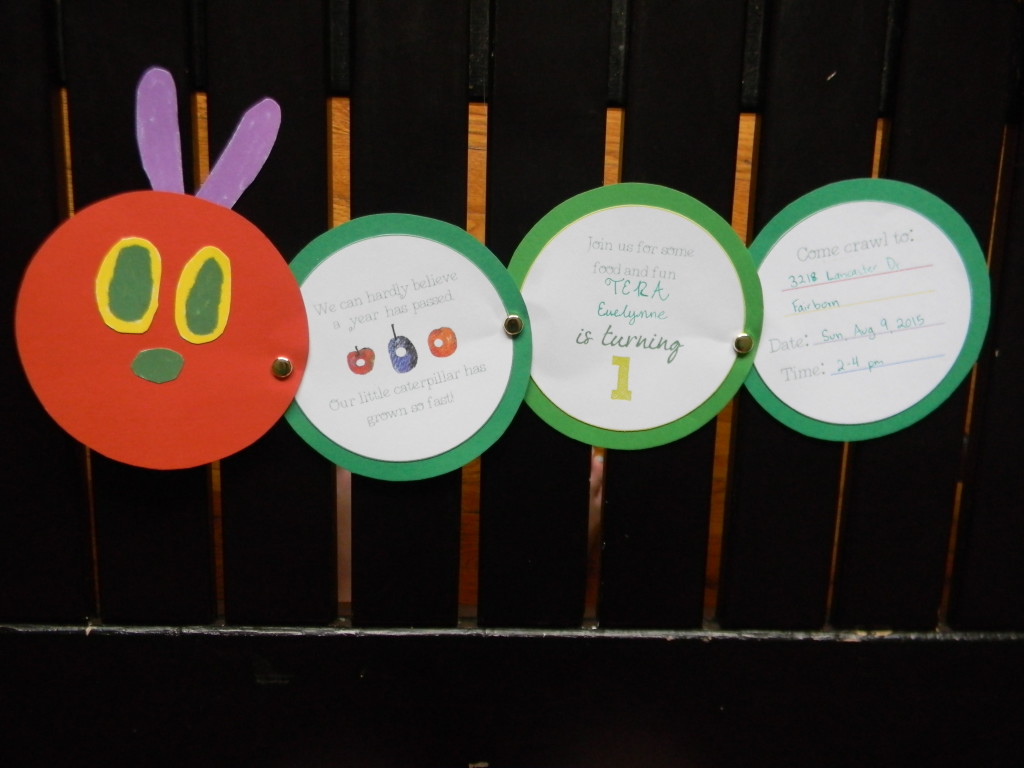 I made Tera's cake from one round cake and three dozen cupcakes. Super simple. SUPER SIMPLE! I bought the red icing and then made two different shades of green.
Tera's smash cupcake.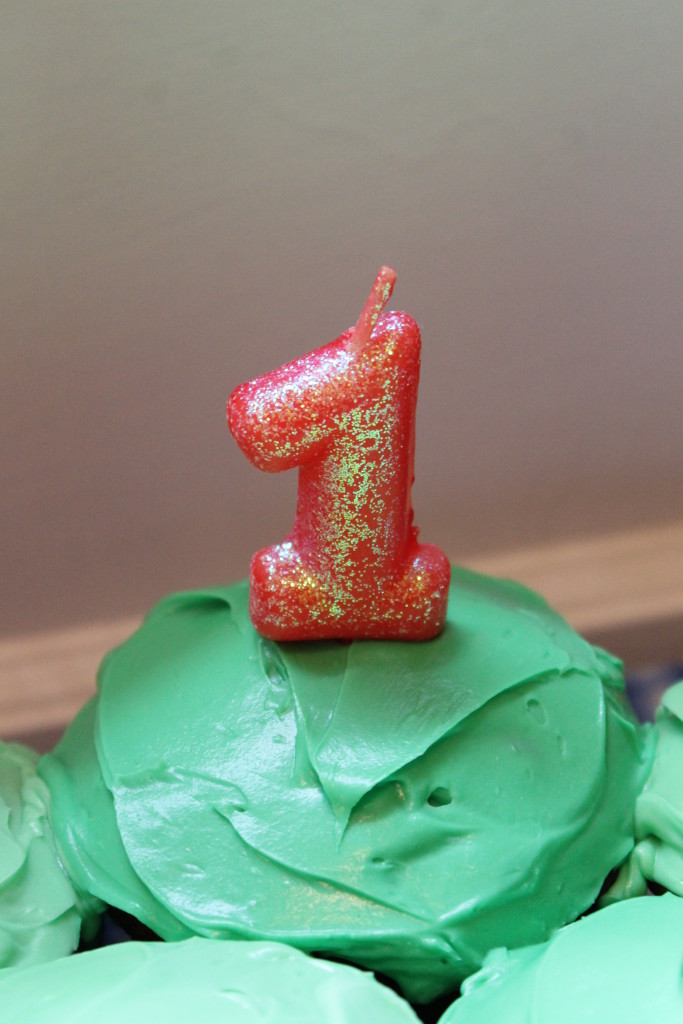 I hung a steamer wall all along my dining room wall. I had to use 6 rolls of dark green streamer and one roll of light green. All that totaled $4, not including the tape. We taped it at the top and then twisted it and taped it at the bottom again. Unfortunately, the twists kind of fell out by the time for the party, but I think it still looked great!
I also tried to keep the food simple. I went with the food that the caterpillar eats throughout the story. I also found the labels on Pinterest, and Theo fabricated the stands. I skipped a table cloth and just went with colorful naplins and plates from the dollar store.
For drinks, we had lemonade, coke and water. Again, keeping it simple!
Tera's pile of presents.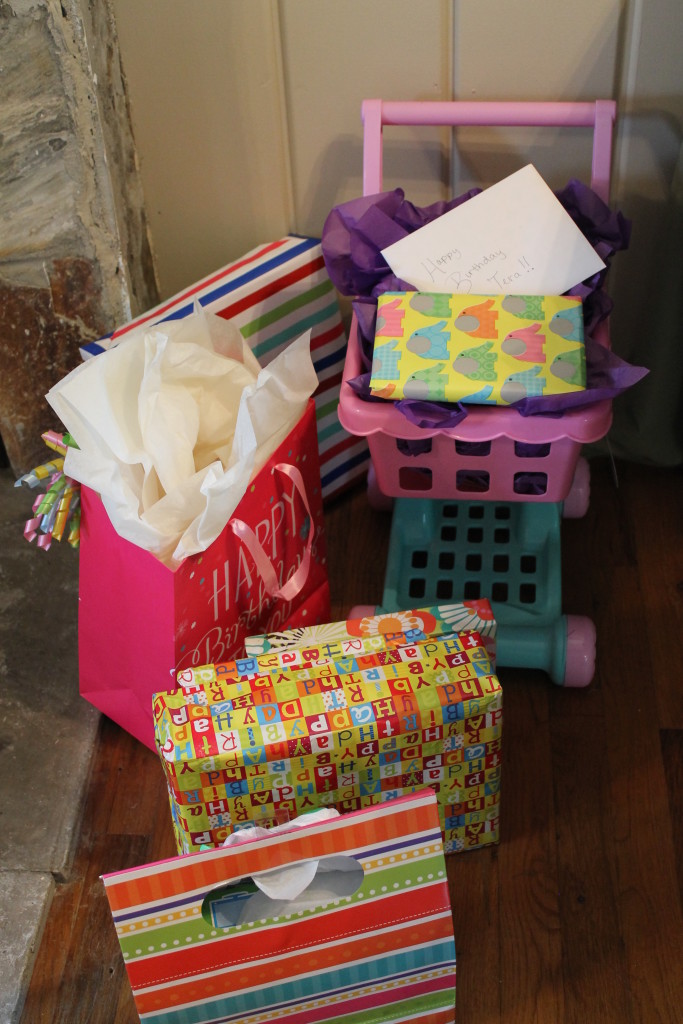 I'm so delighted that I have a mantle to decorate! The pictures are months 1-11.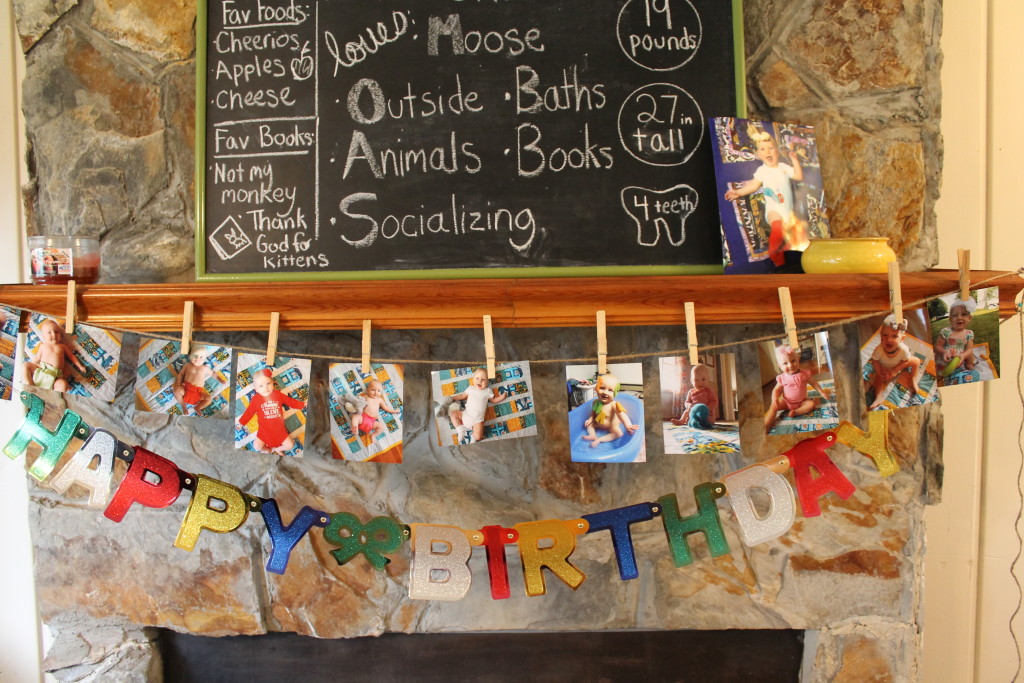 I'm no pro at chalkboard lettering, but I enjoyed doing this one!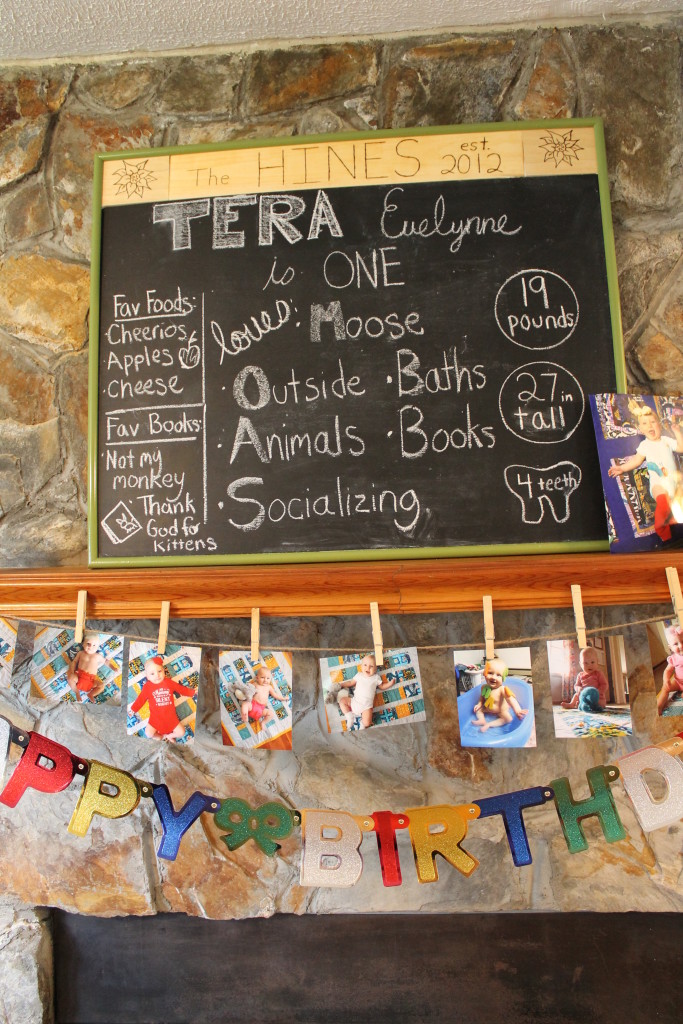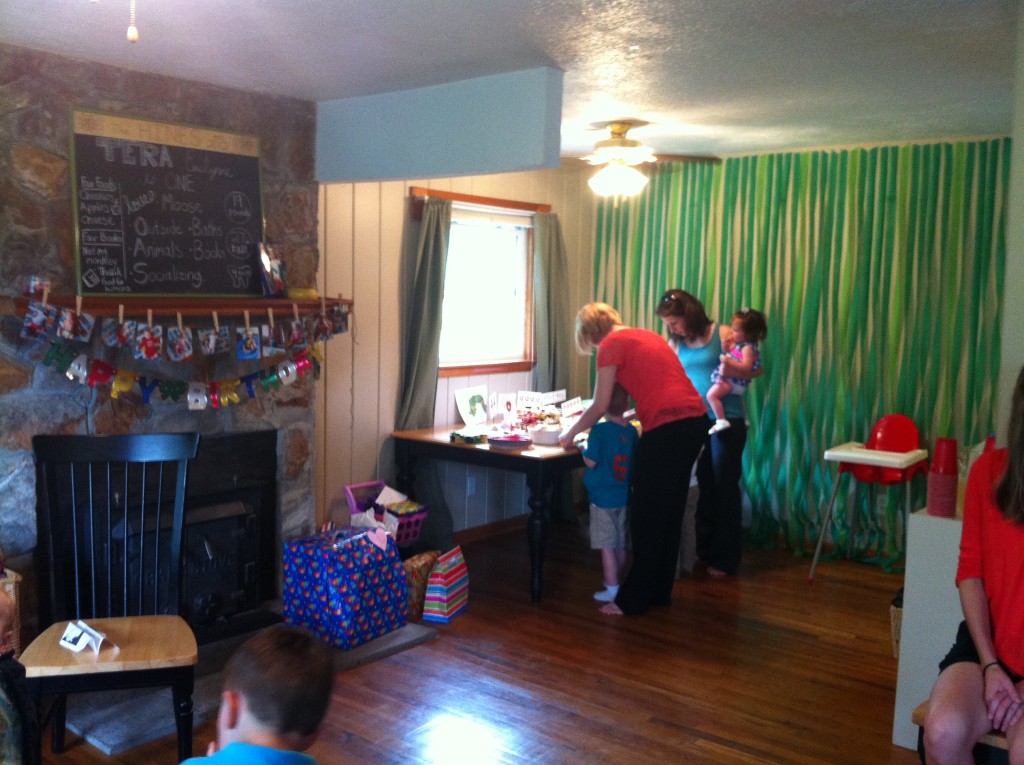 Our house was full of family and friends!
First birthday parties are absolutely for the adults to socialize and celebrate, lets be honest.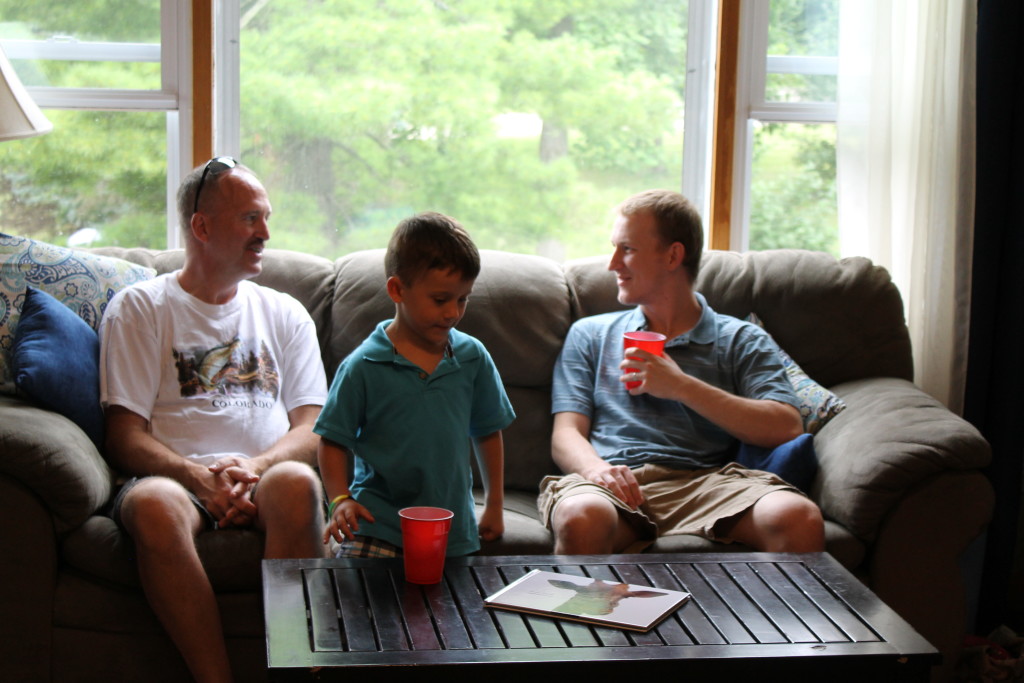 I absolutely love having a toy room. Kids just gravitate towards it.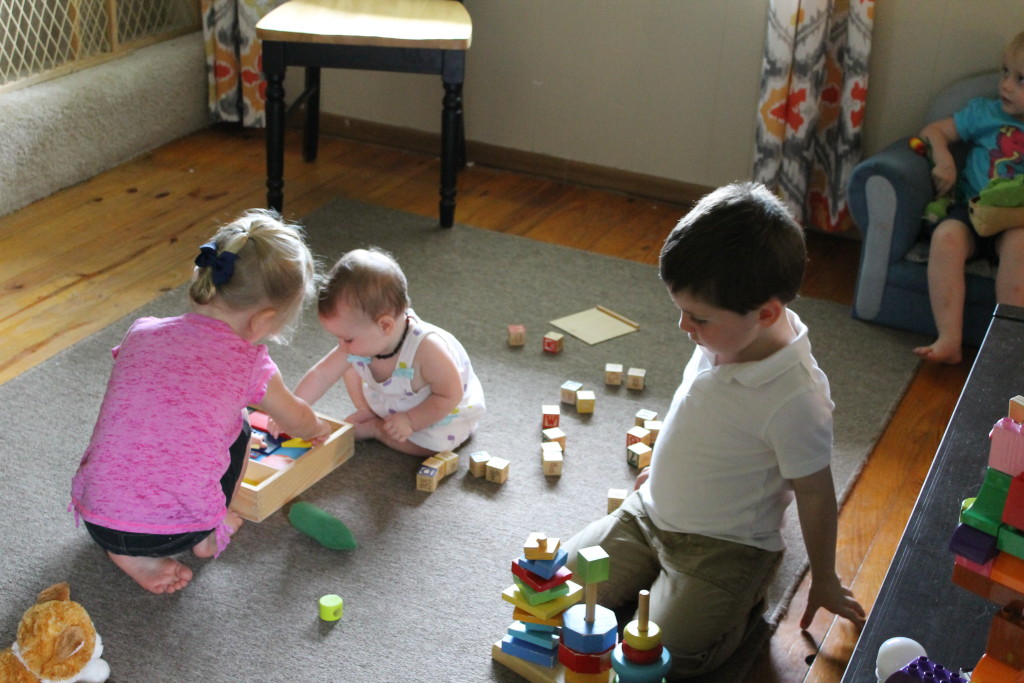 I had to wake Tera up from her nap for the start of her party. Then I shoved her into this scratchy tutu and she was NOT happy. She cried every time we put her down or someone smiled at her. This is so unlike my Tera-girl. Poor thing.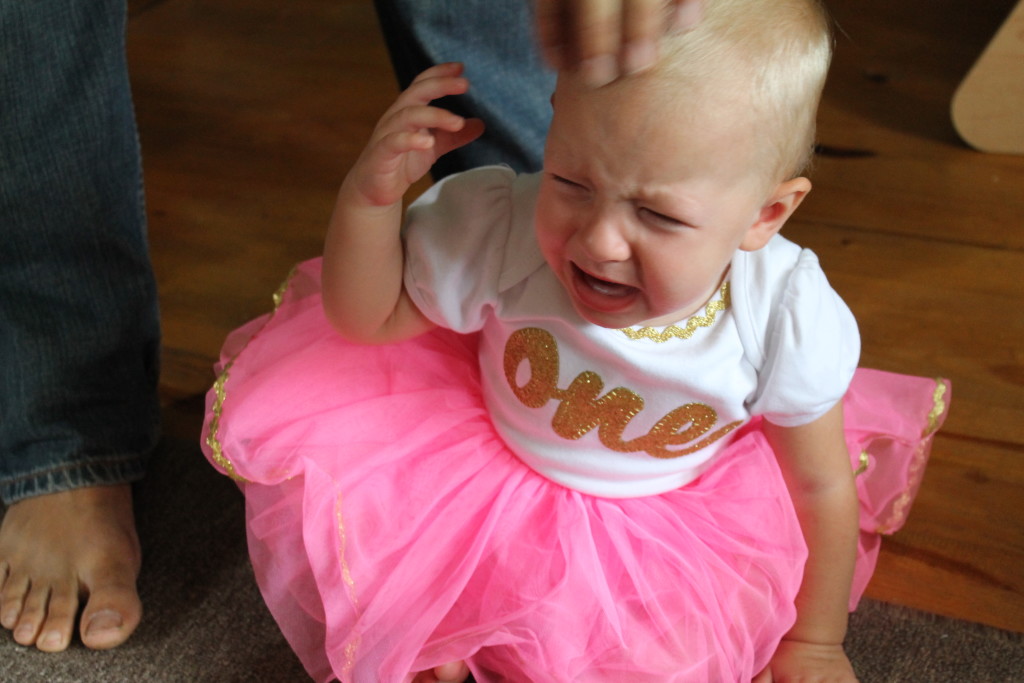 Uncle Duane, the patriarch, praying to get the party started.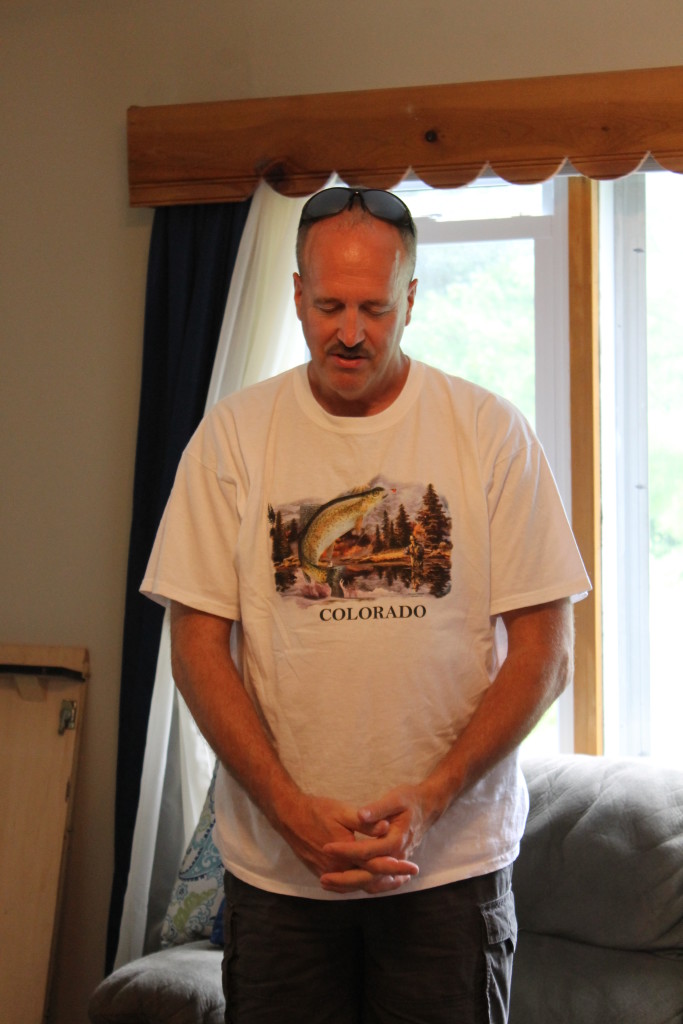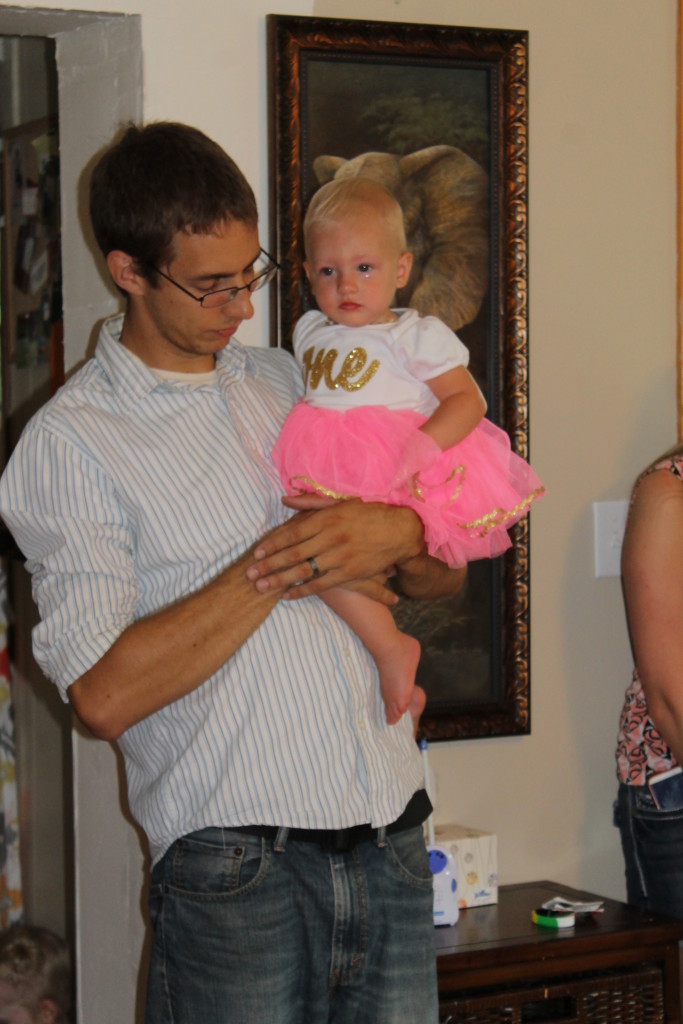 Happy First Birthday to the girl who made us parents!
Tera finally warmed up enough to be put down, and she started warming up enough to crawl around and start getting into trouble.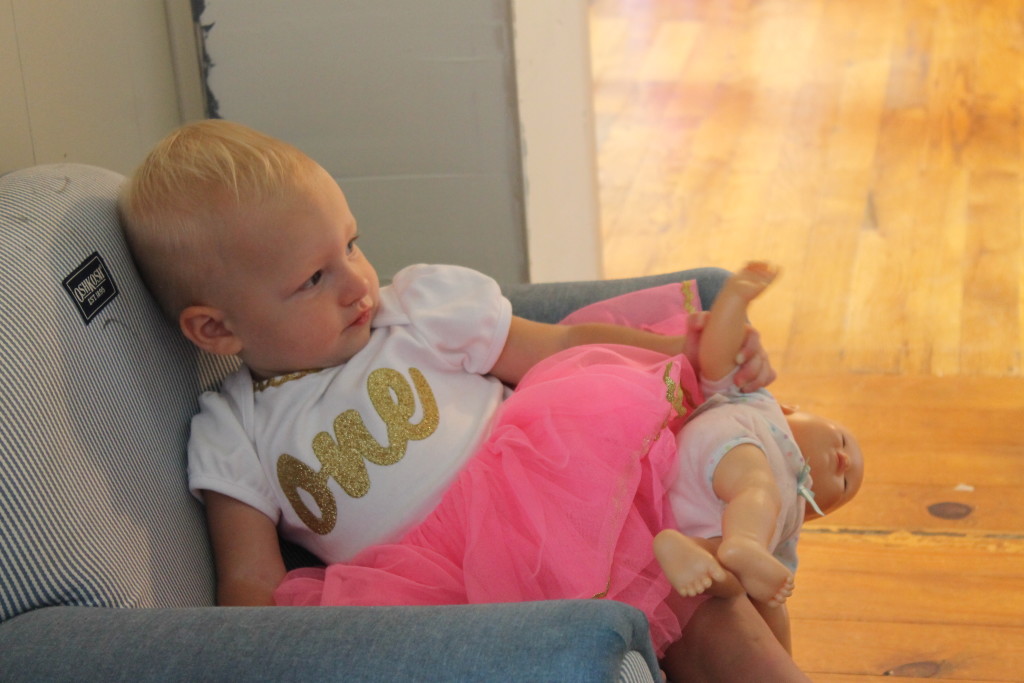 She seriously thought the massive pile of shoes were her presents!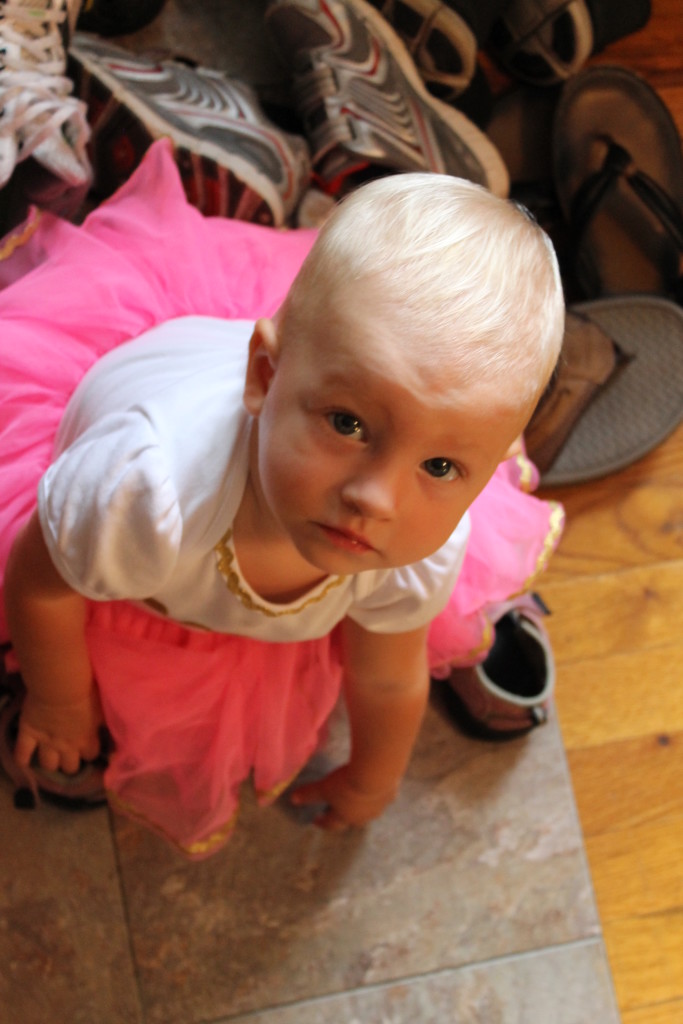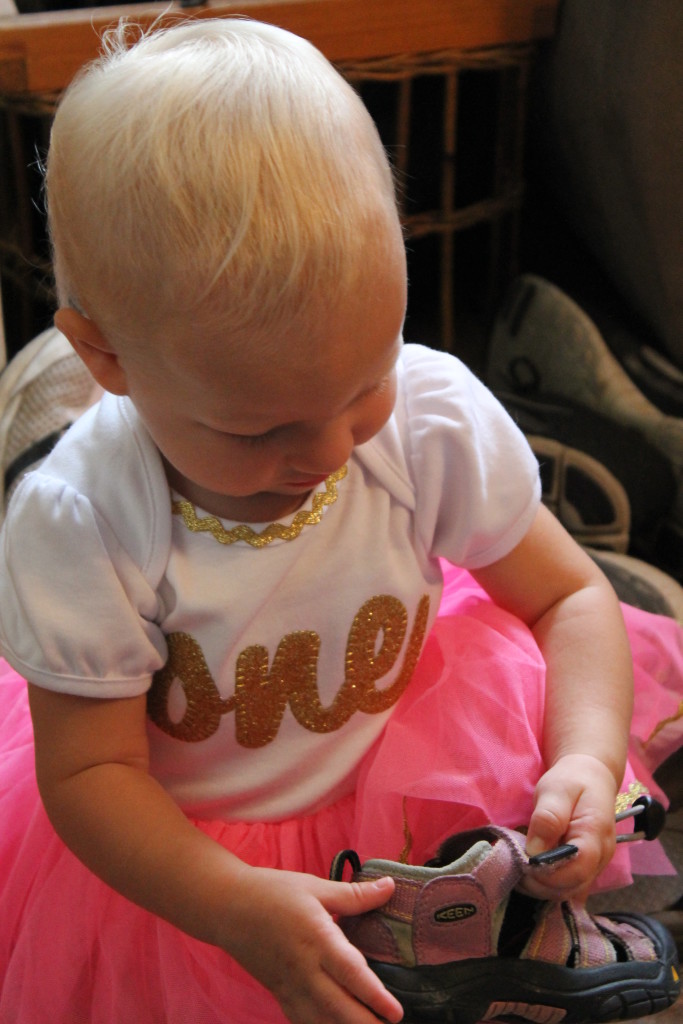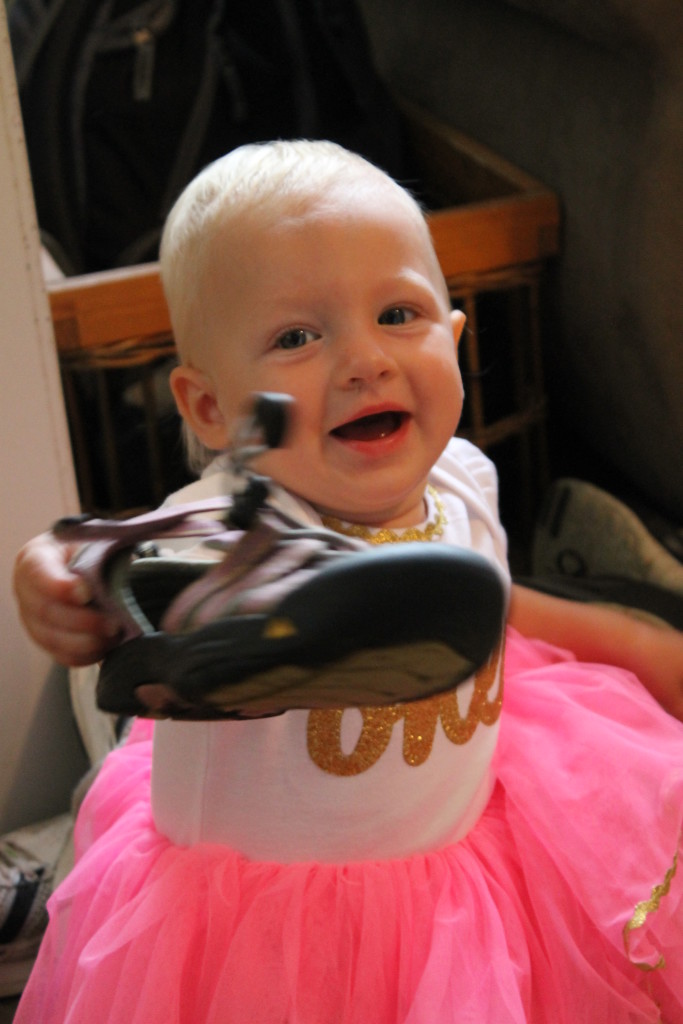 How can you be so beautiful at one year old?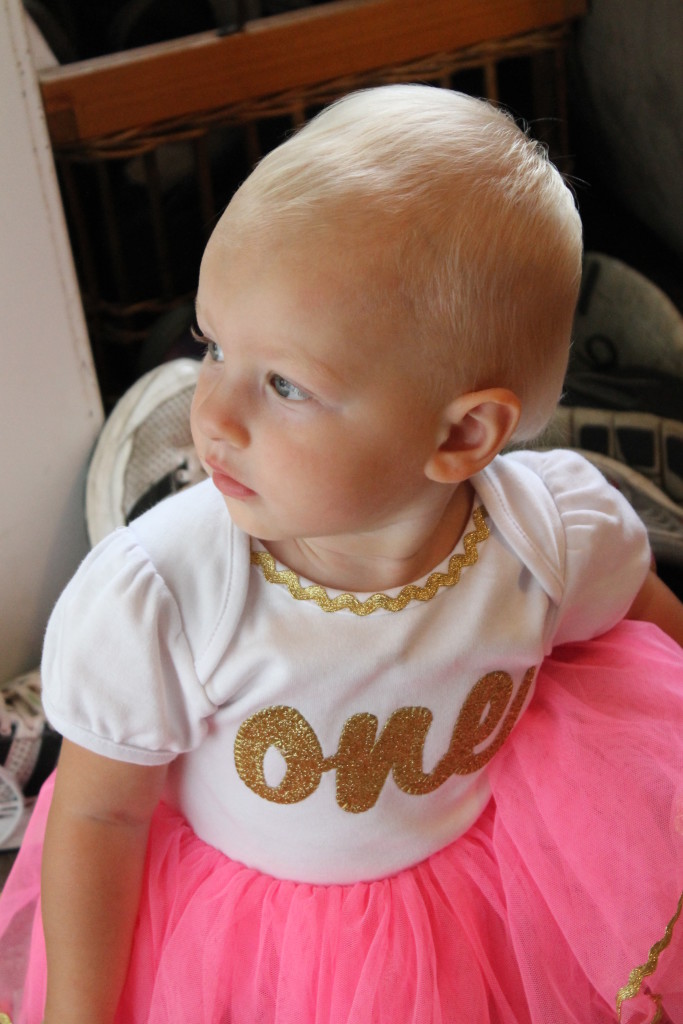 *Ahem* We interrupt the 9000000000 pictures of Tera for a picture of another cutie. The person taking the pictures (*ahem* Alesha *ahem*) might have been just a little partial to some of the other children in the room. Here is sweet Dani: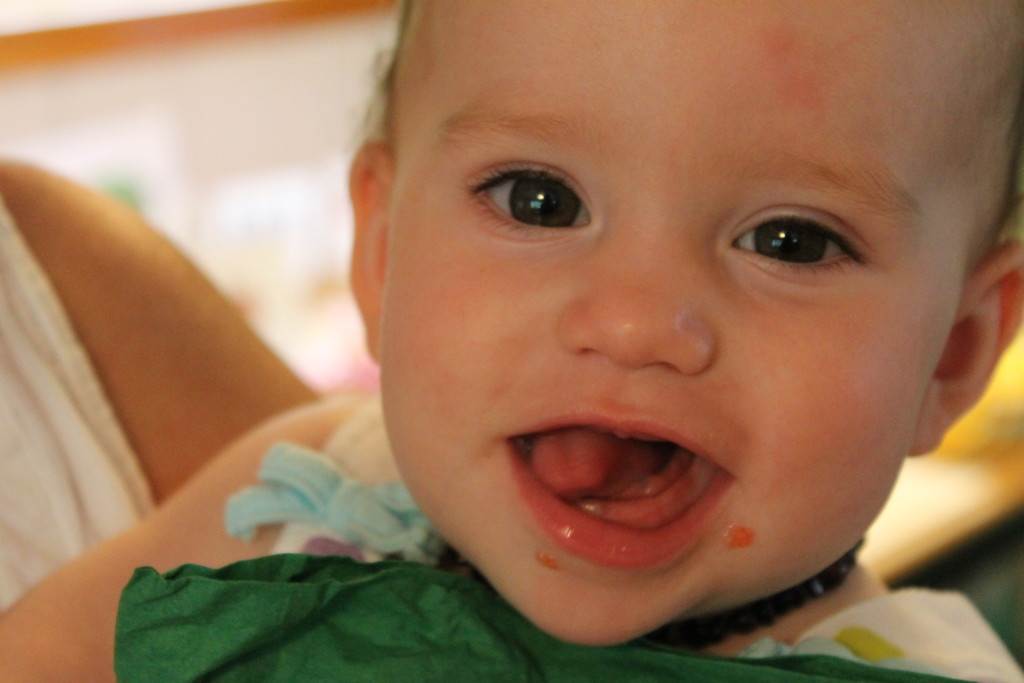 And yours truly:
This was probably the only thing I actually got to eat the whole party.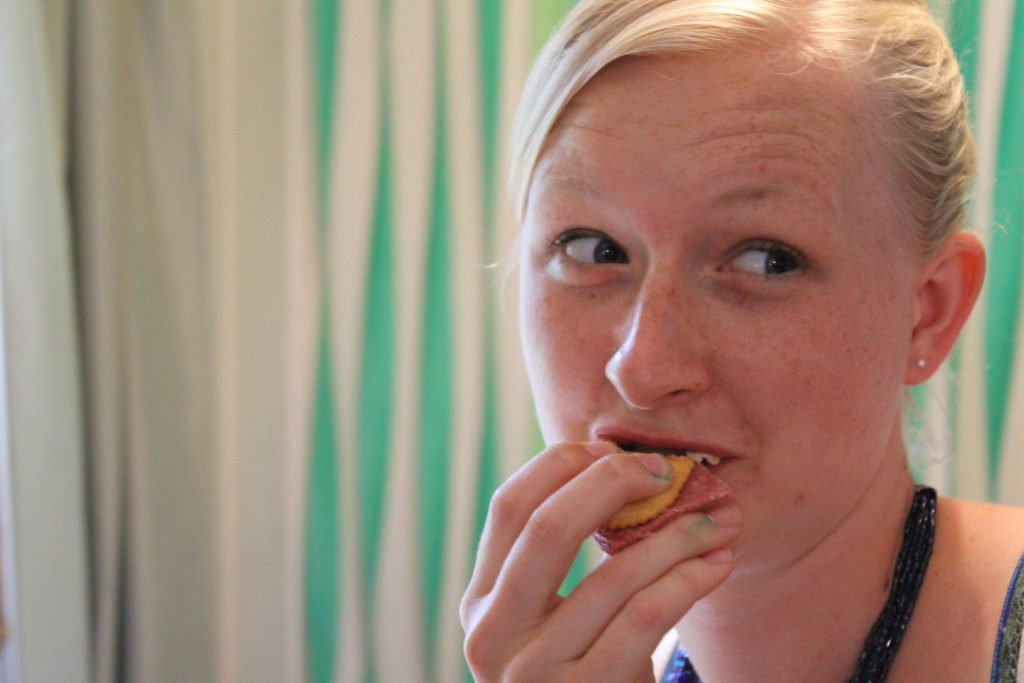 Tera is well-loved by all, and she has never met a stranger…but she certainly has some favorite people! Uncle Daniel is one of those. Obviously.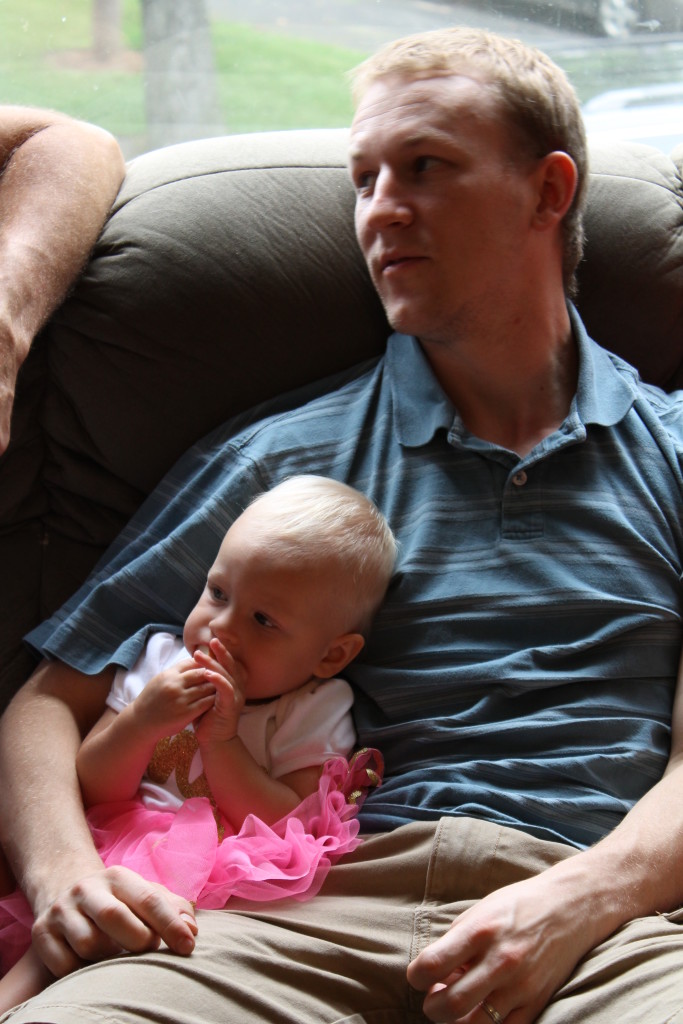 We were treading lightly around her poor delicate, stressed mood and this is the best picture we could snag of her outfit. She also had a bow, but that was promptly torn off as soon as it got put on.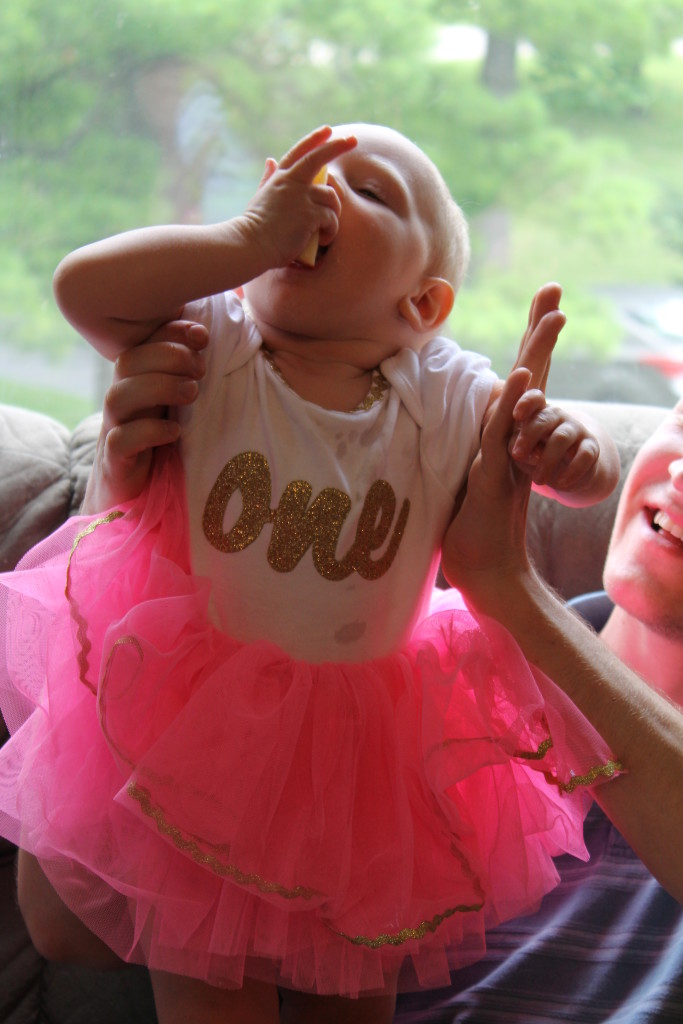 People were filtering outside to play some croquet and kick some soccer balls around, and Tera had to get in on that action. She wanted to climb down the steps all by herself.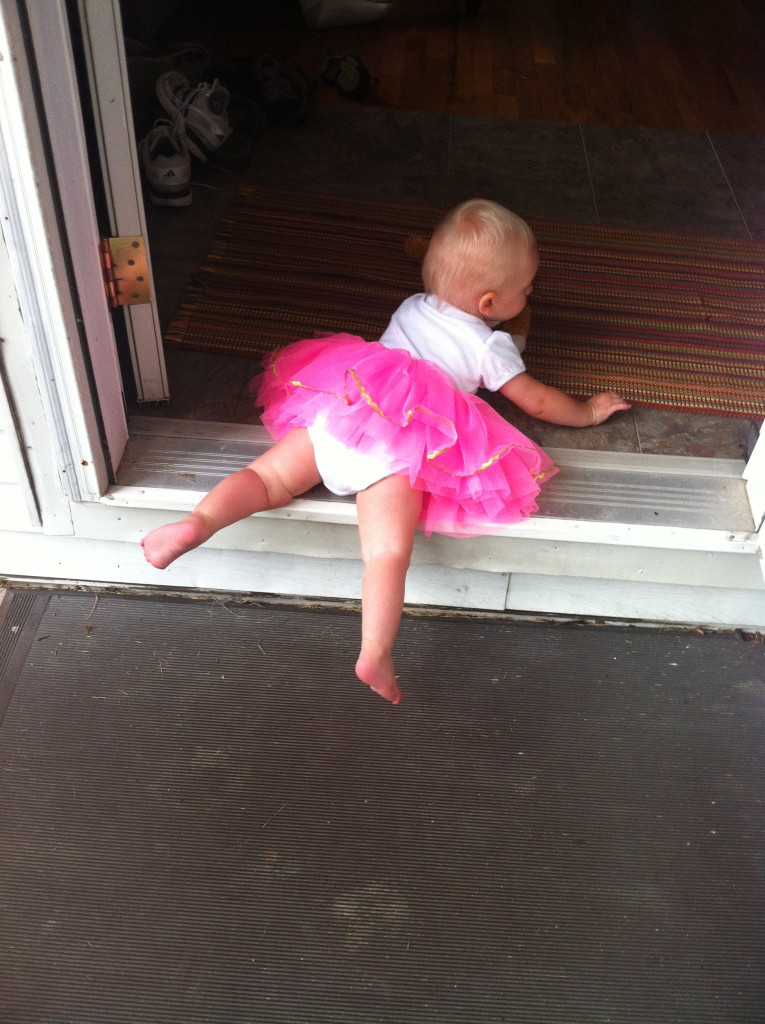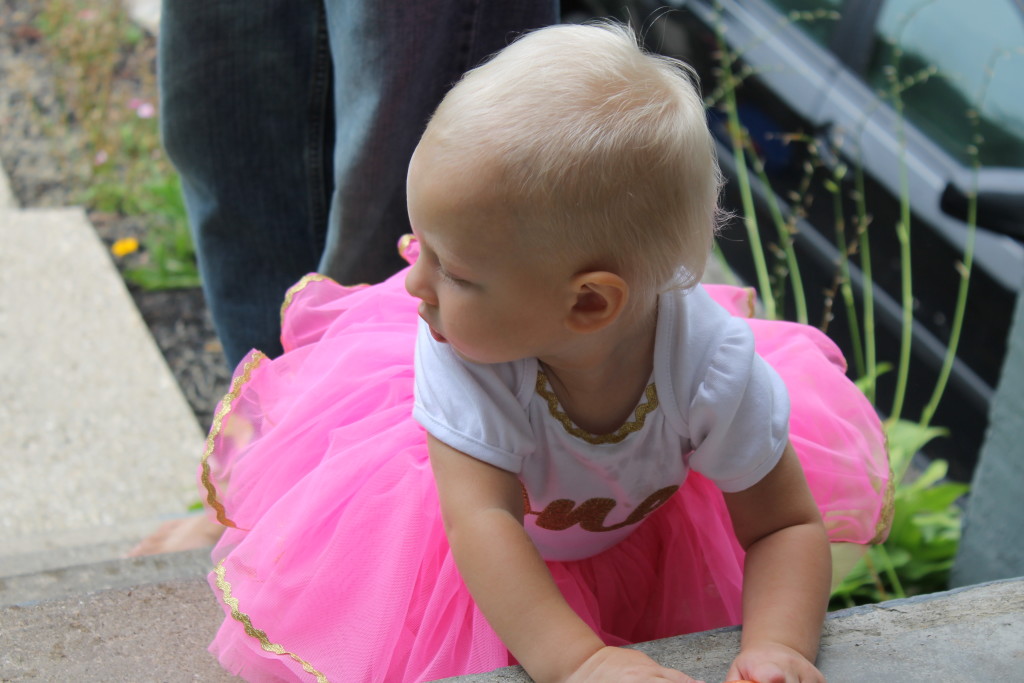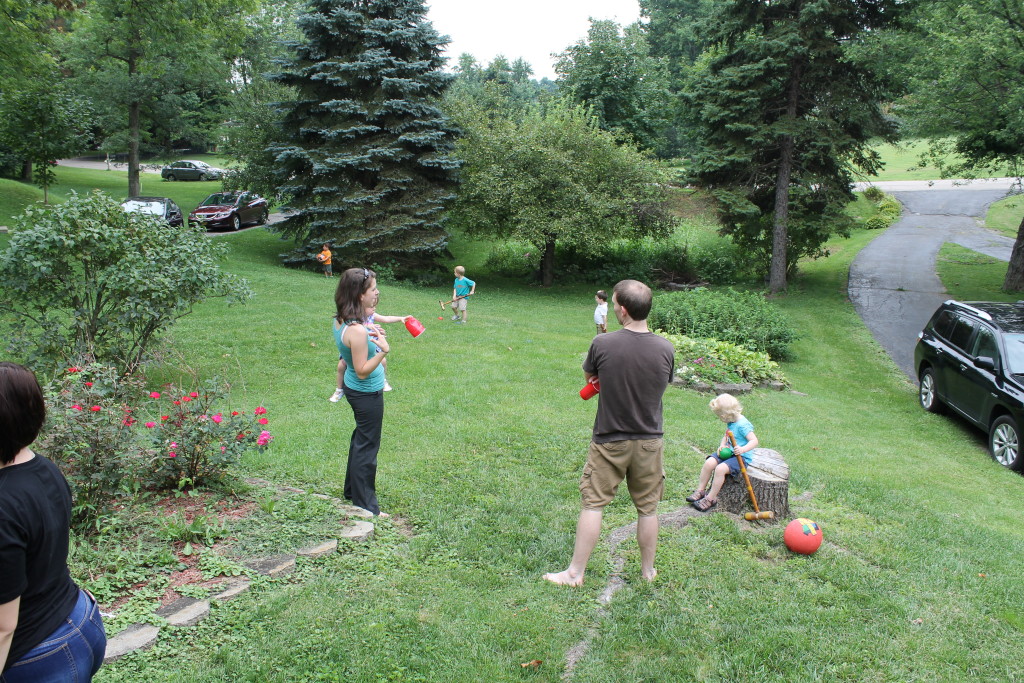 We scheduled a time to skype my parents in to the birthday party, and here Theo is passing them around to say hi to everyone.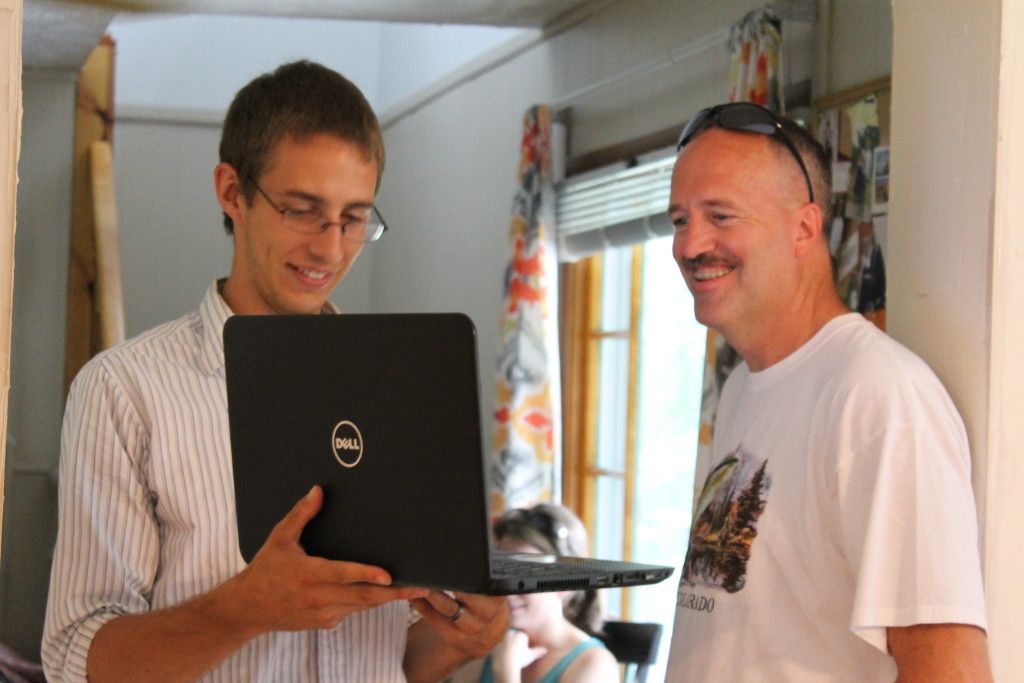 Tera all ready for her cake smash!
T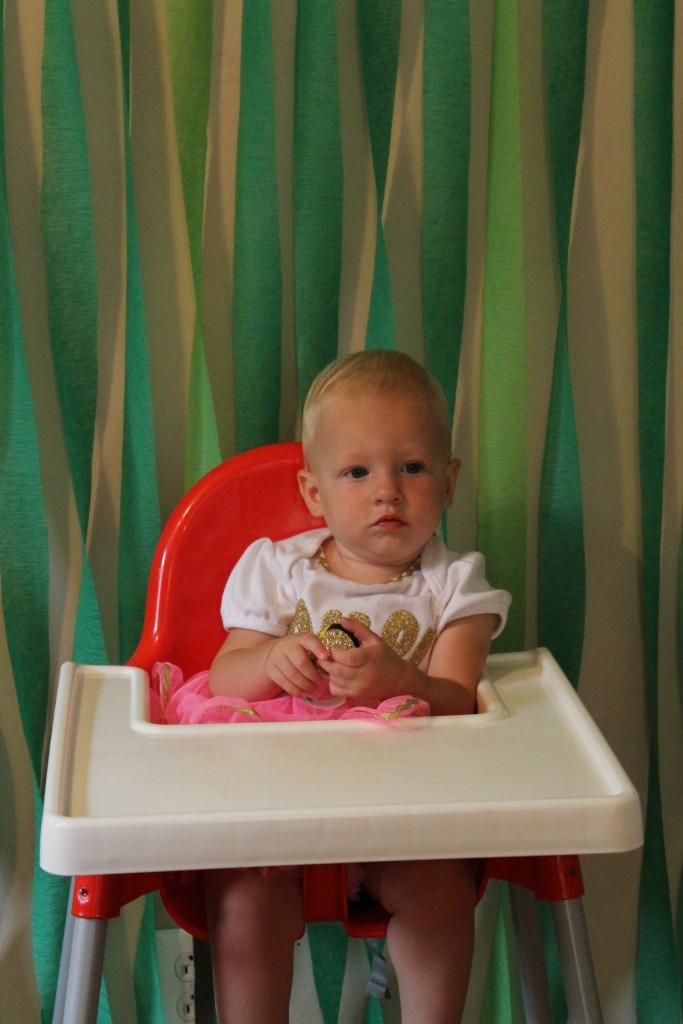 Saying hi to Grandpa and Grandma!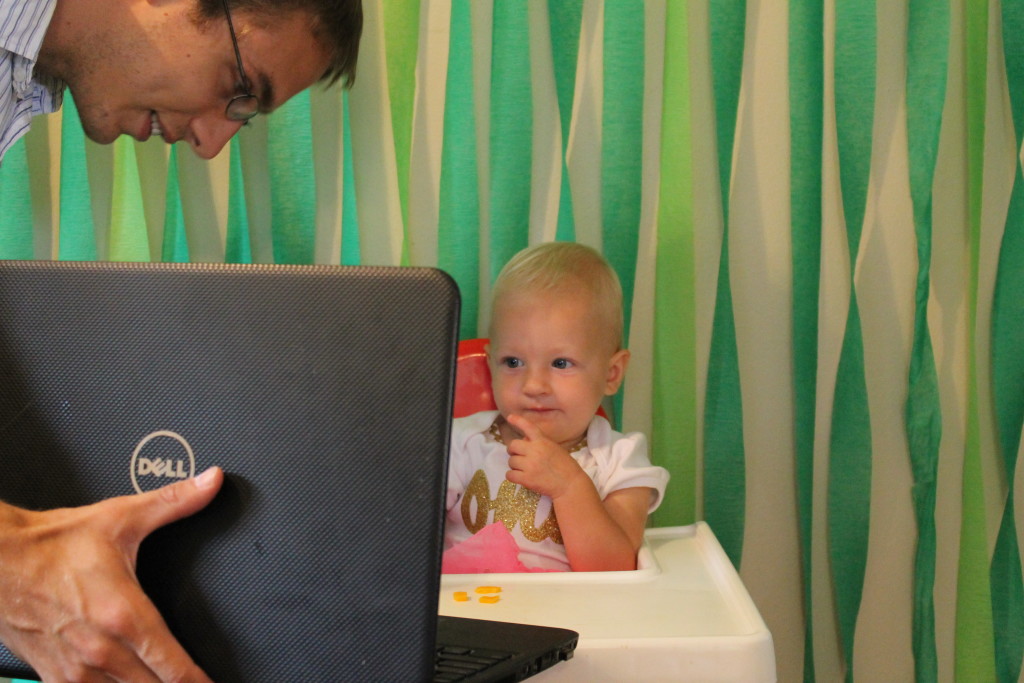 Love this one.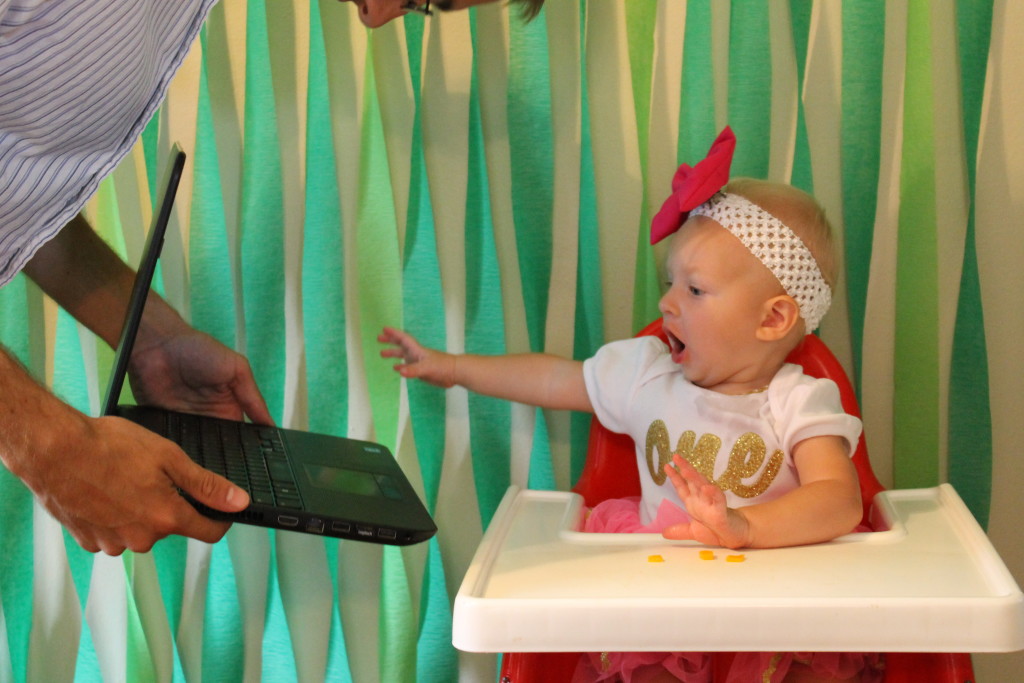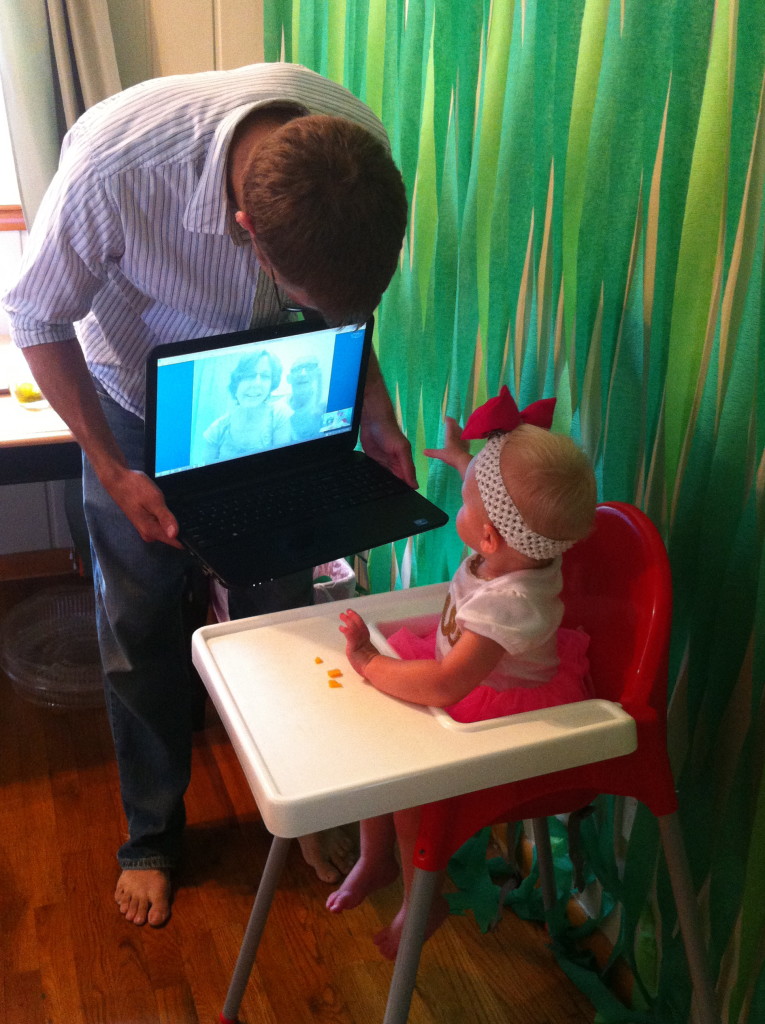 I just love all of these shots. I'm sorry (not sorry) for including so many!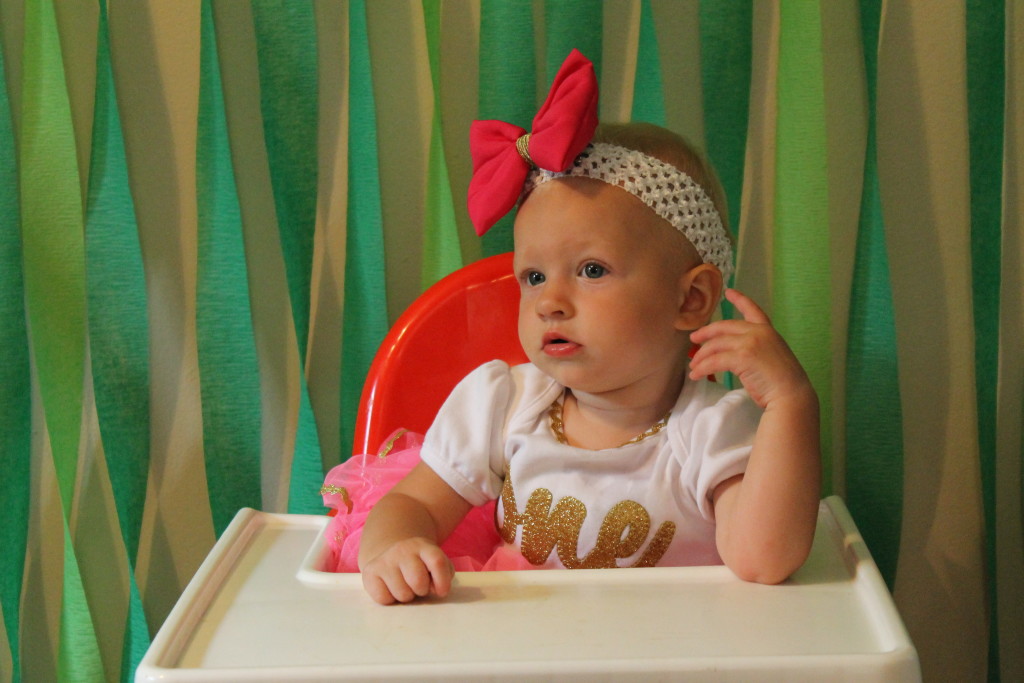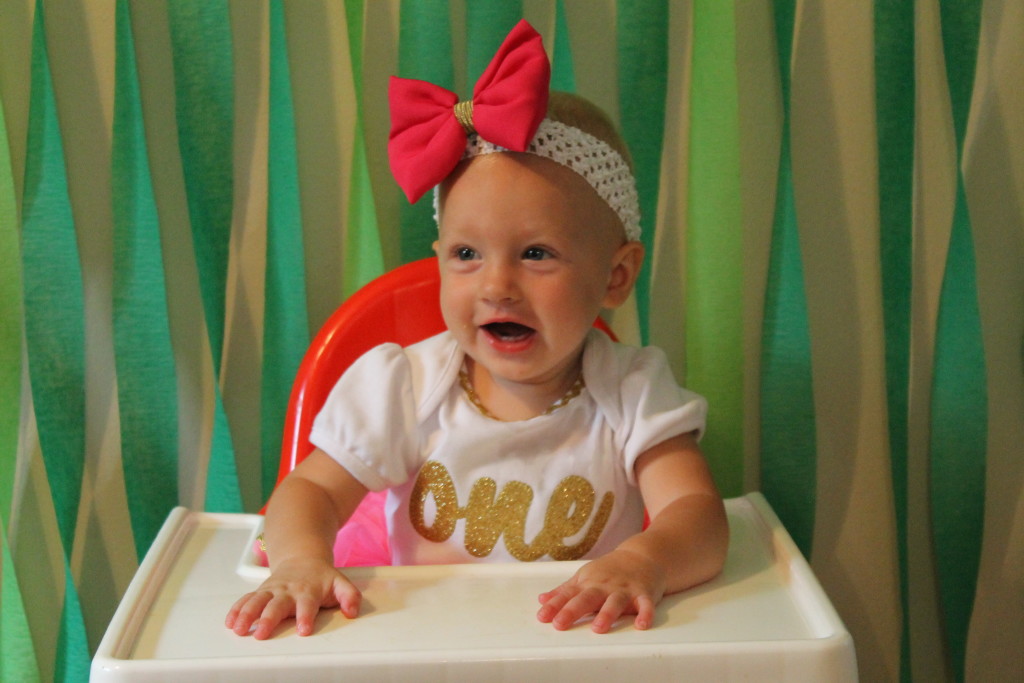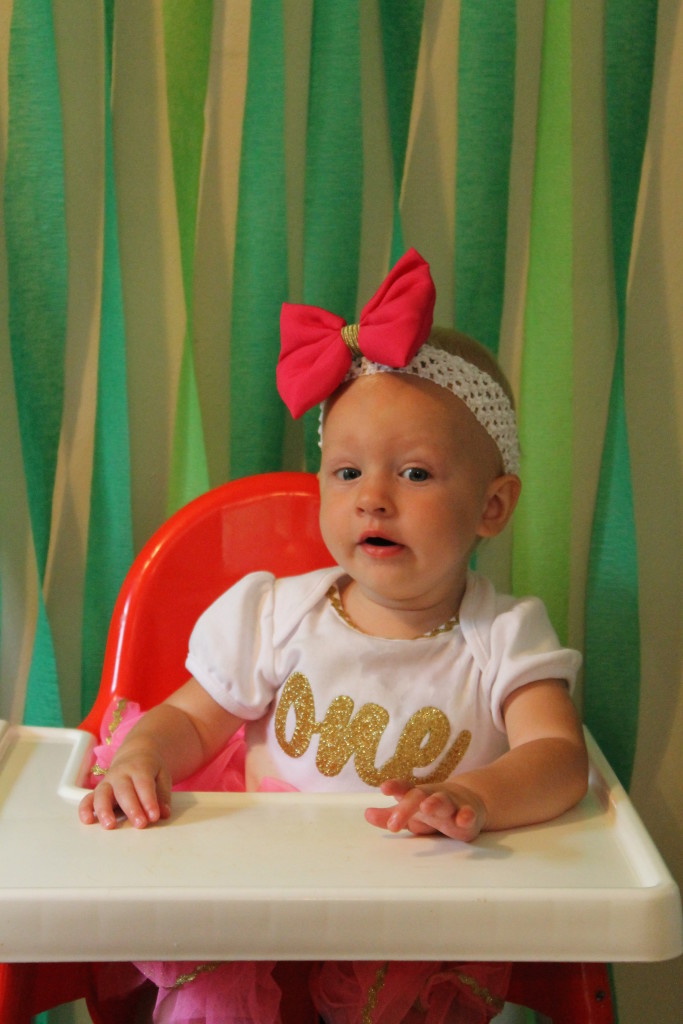 Getting ready to sing!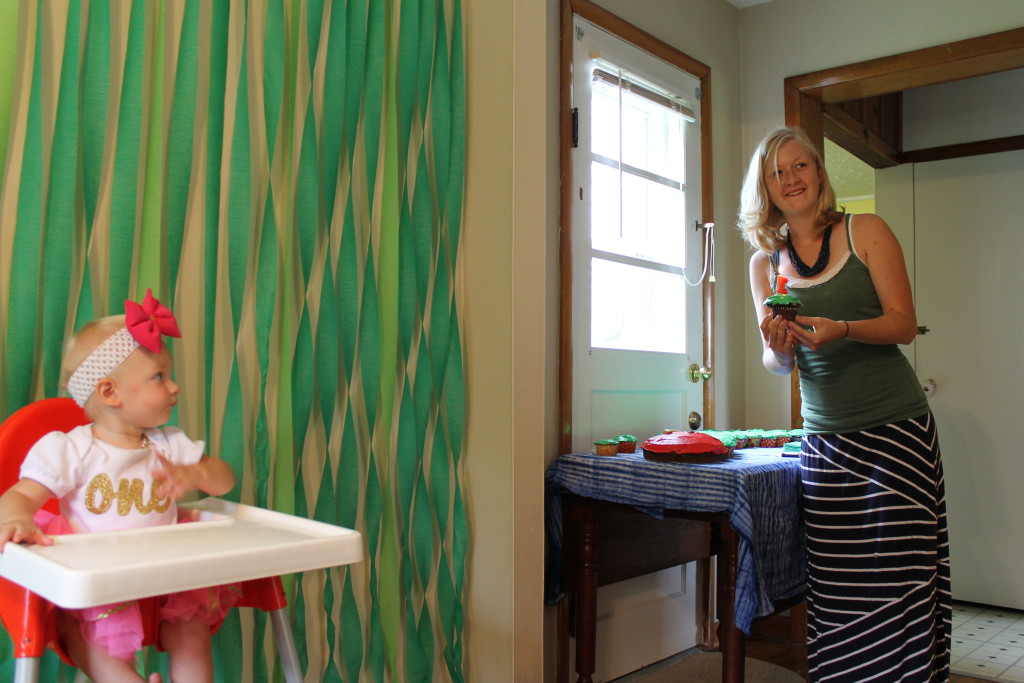 Happy Birthday to you!!!!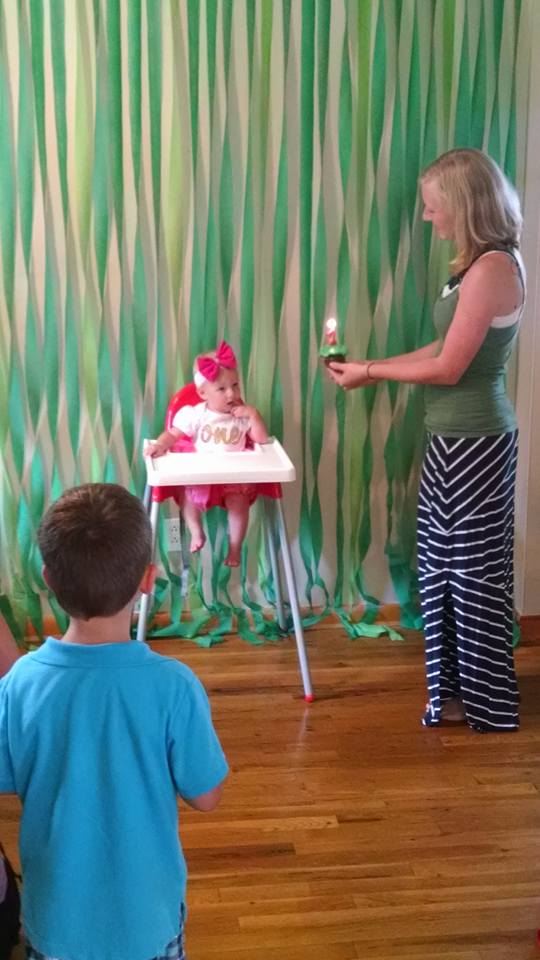 Probably my favorite shot.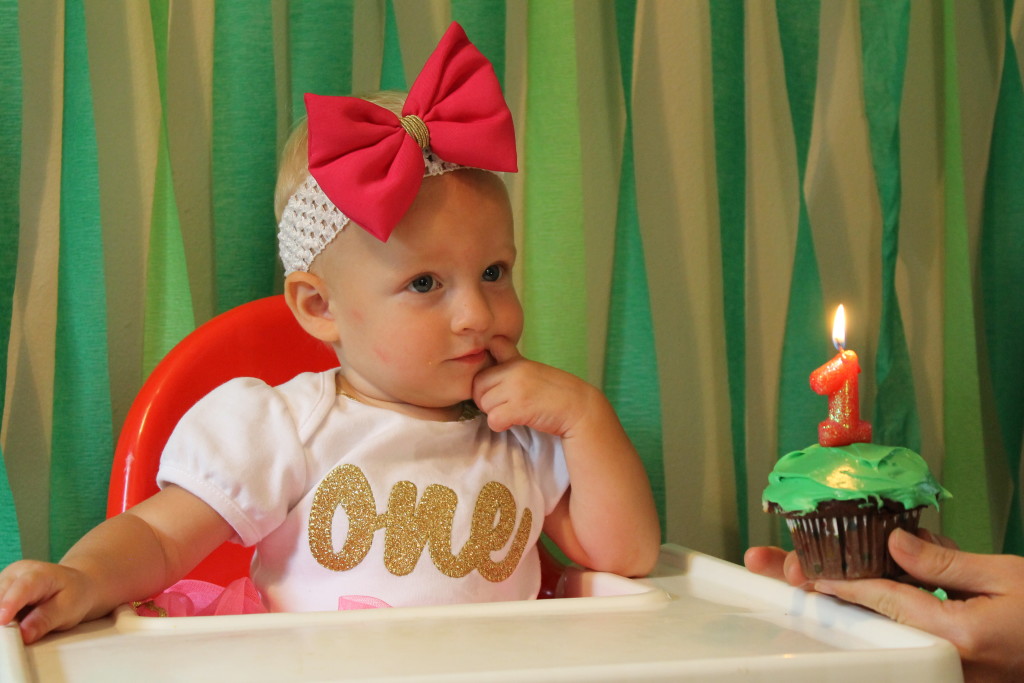 She wasn't sure what to do about the cupcake. She played around with it for a while before she finally took a few bites.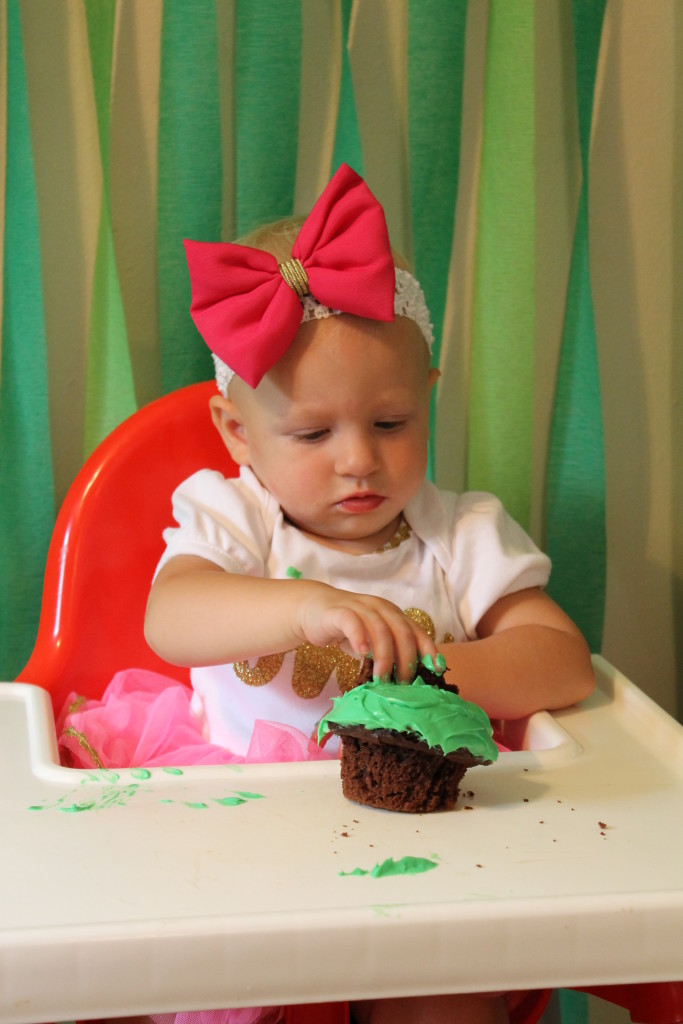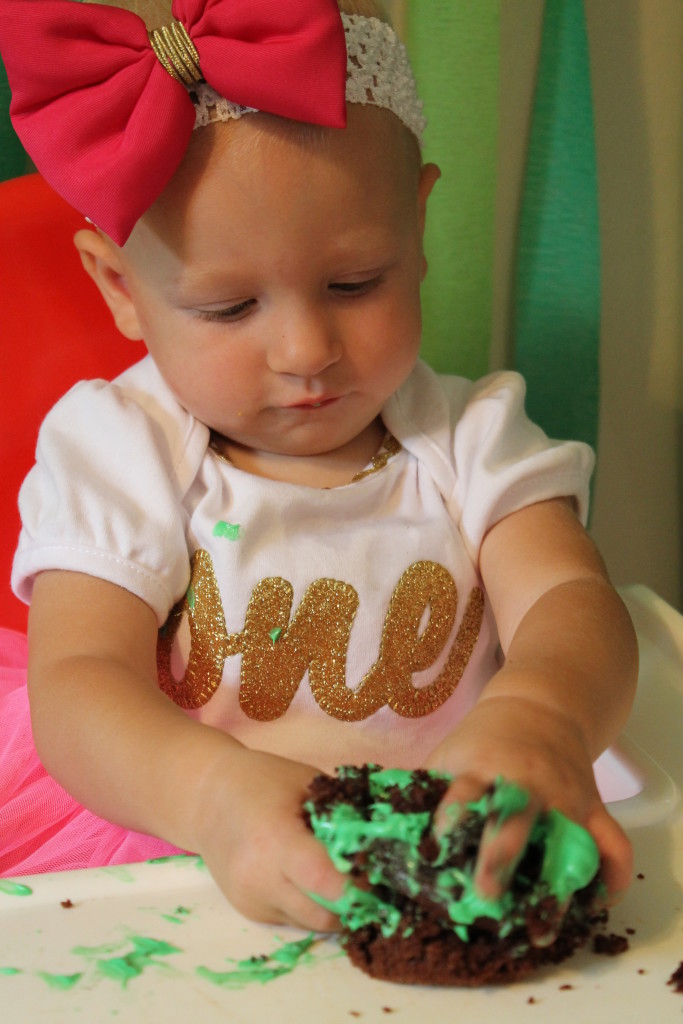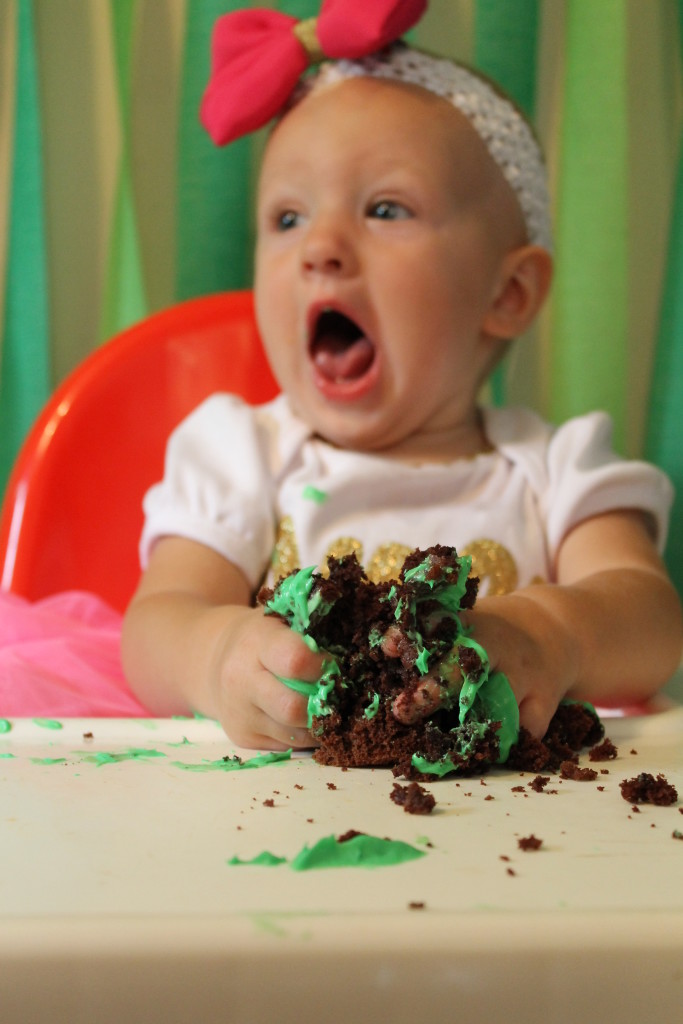 Tera was smiling at her Daddy in this picture. I love it.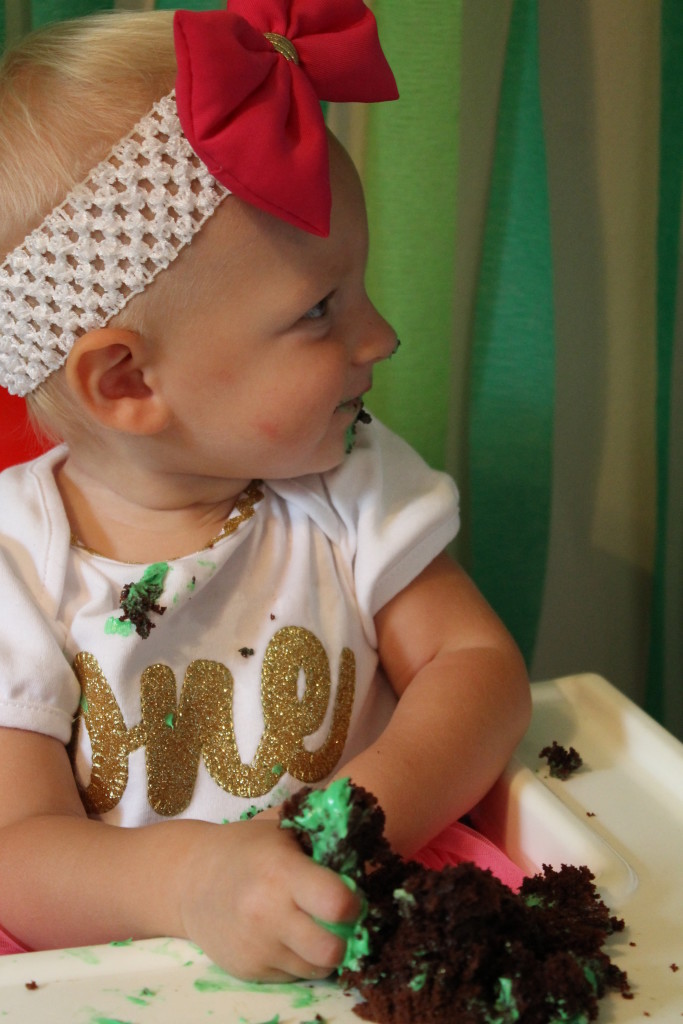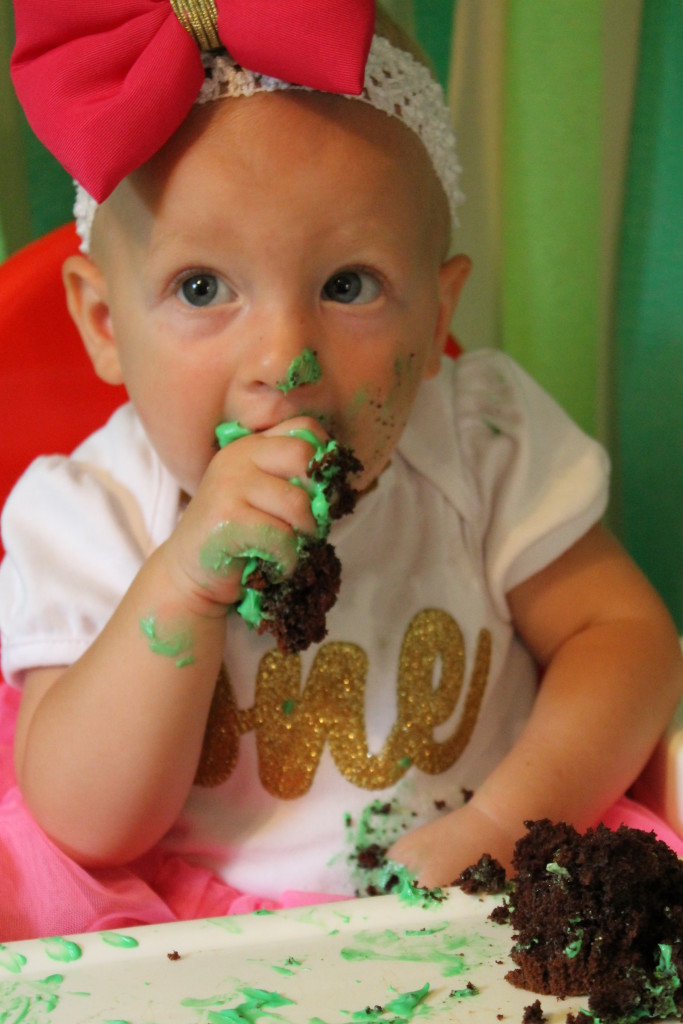 As people started leaving, I wanted t make sure I got some pictures with some of the ladies who have helped me make it through this first year of motherhood.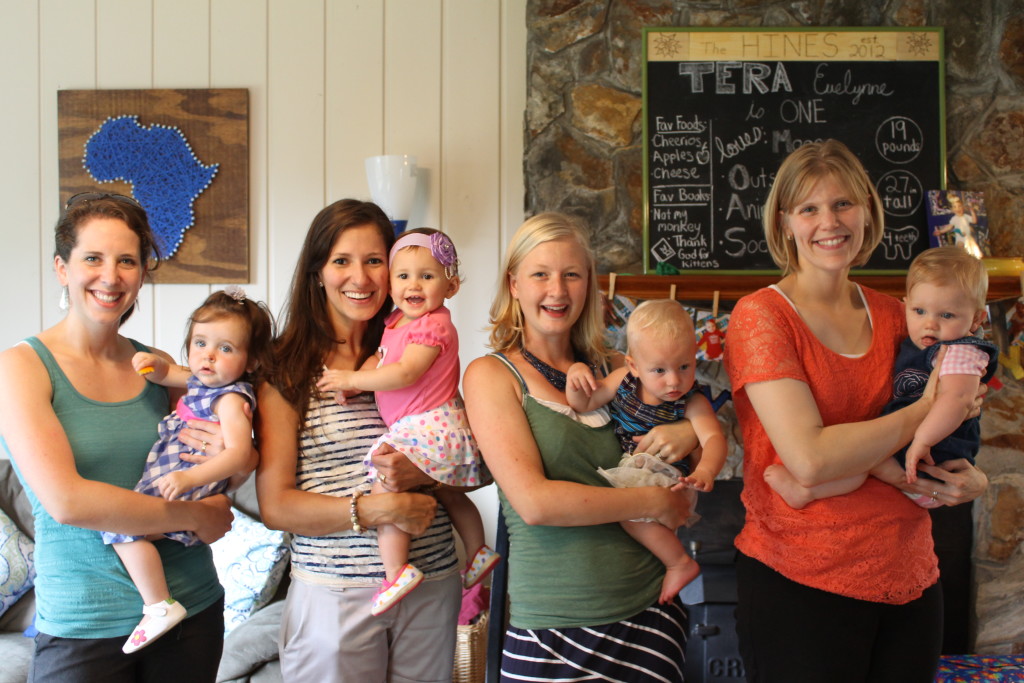 I'm so thankful for these ladies.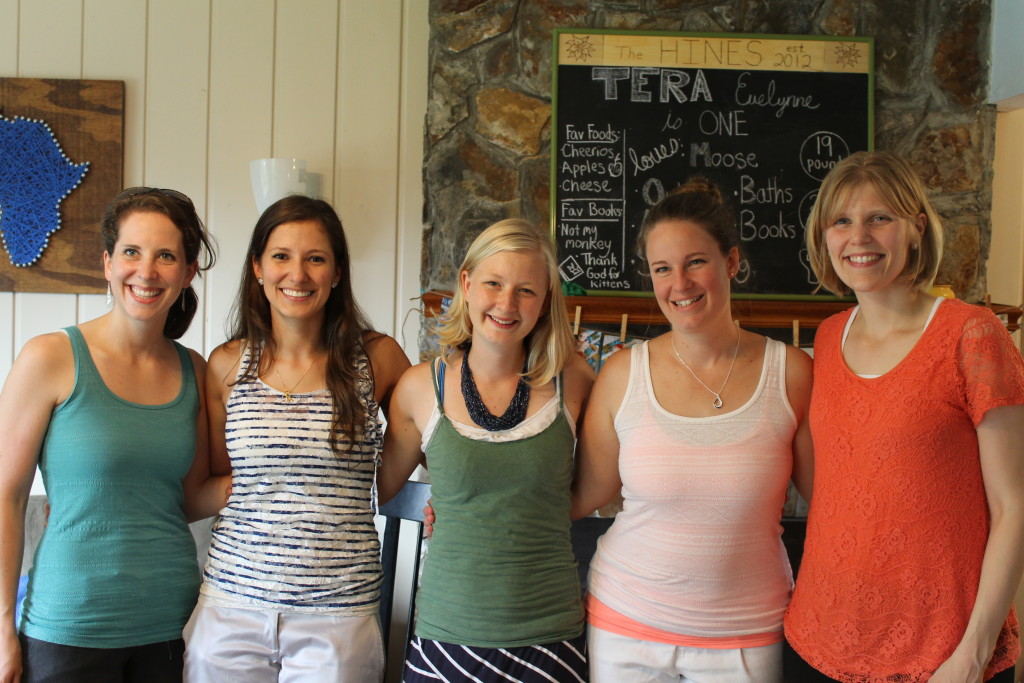 We opened up some presents next! Shane and Azaria were way more interested in the presents than Tera. Haha.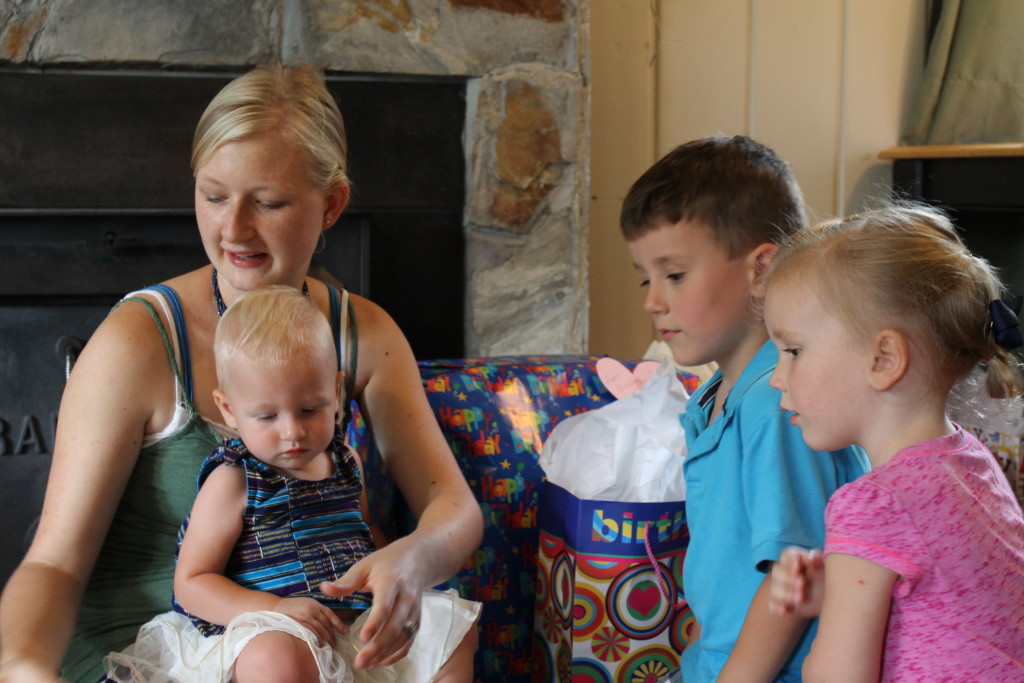 Her sweet little chubby fingers. I hope I never forget the way she concentrates with everything when she picks things up.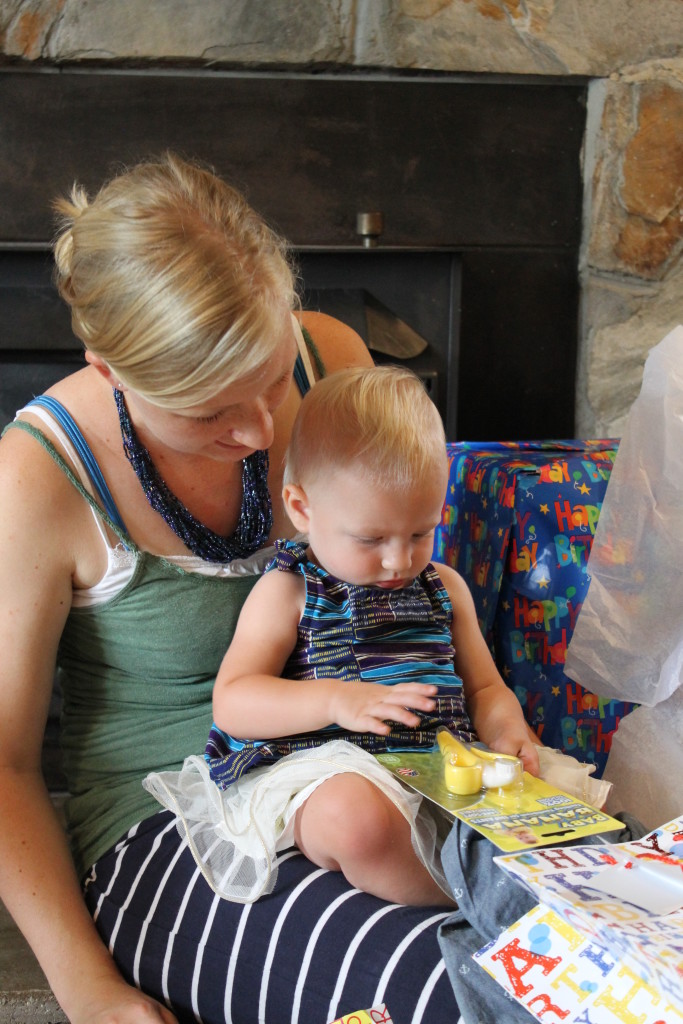 Well, that present was exciting!!!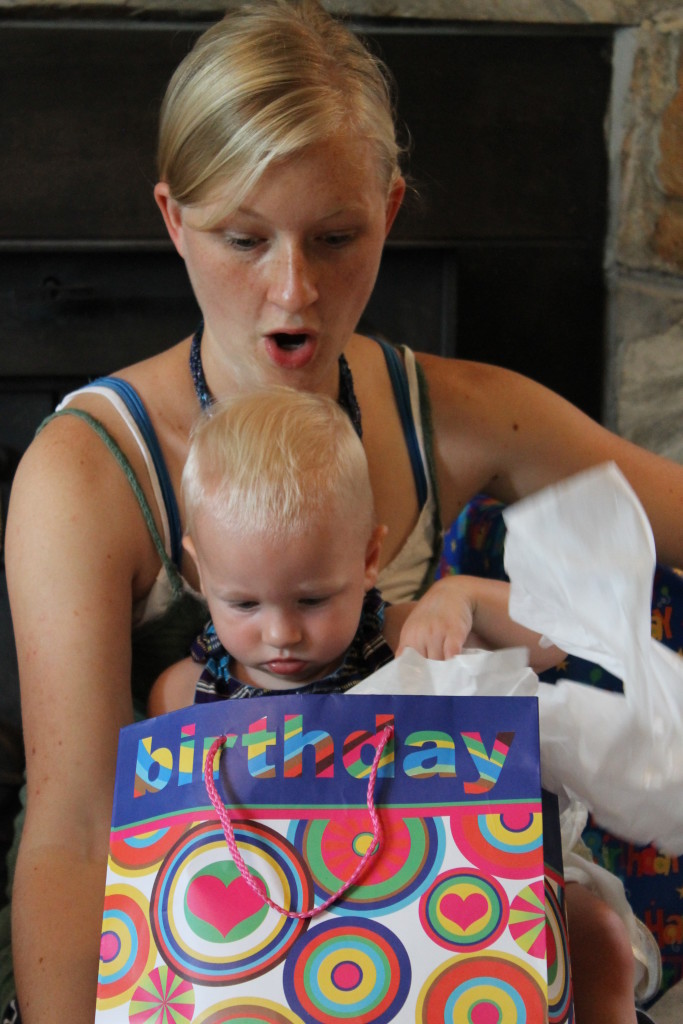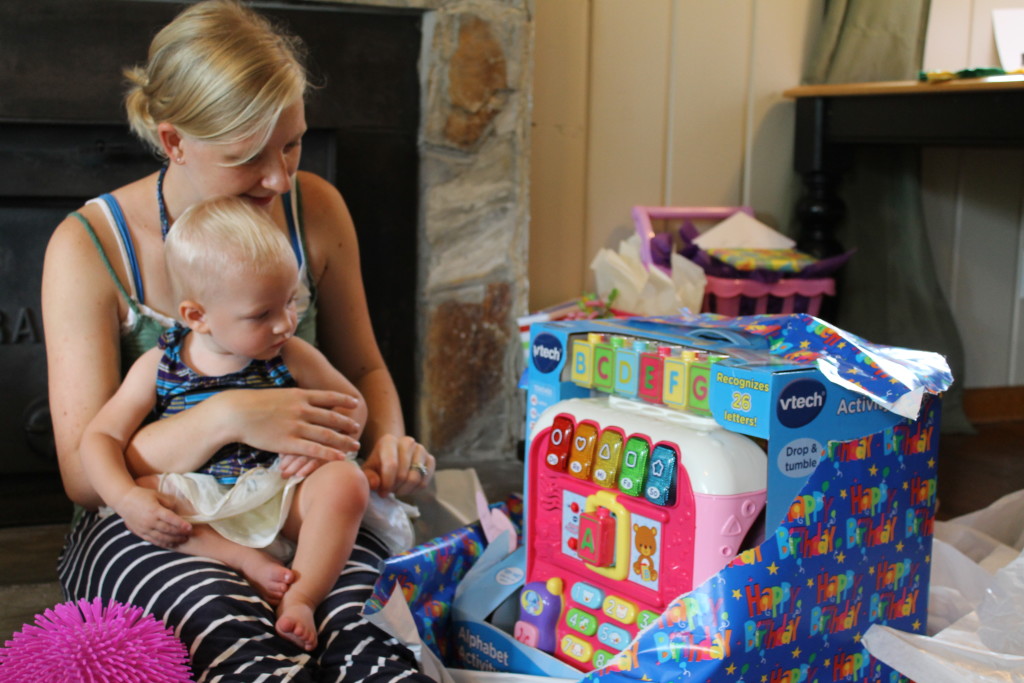 Moose made himself scarce for most of the party, but during the gift opening he came inside and plopped down in the the middle of the ring of children. I couldn't believe my eyes! I guess a year of being a cat brother has really changed him!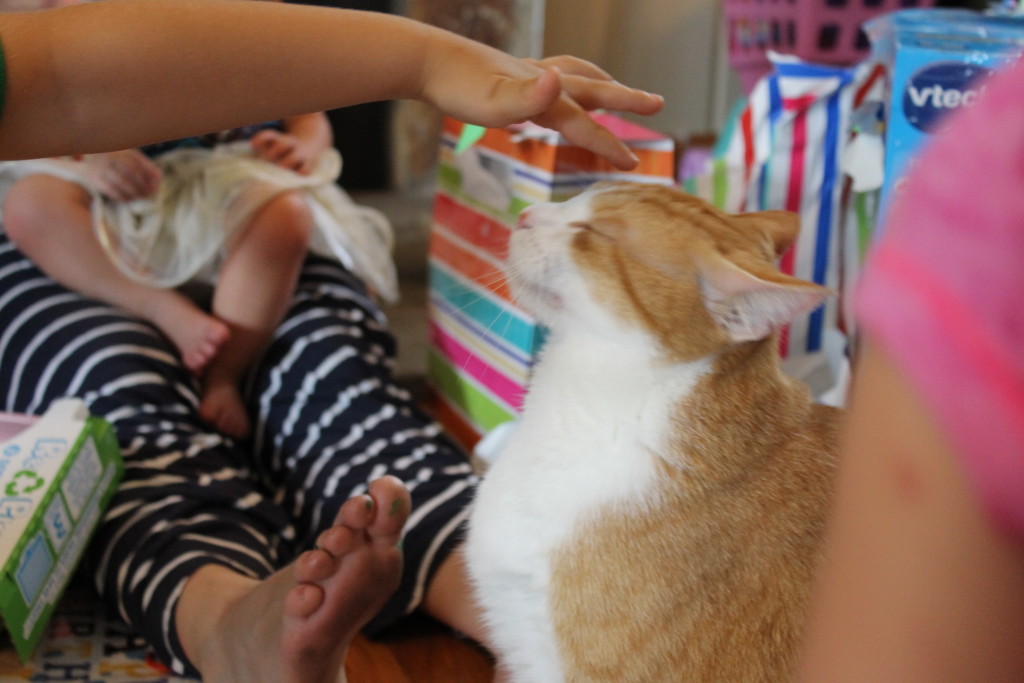 I think I was laughing that I planned her whole Hungry Caterpillar party and then realized that we didn't own the book.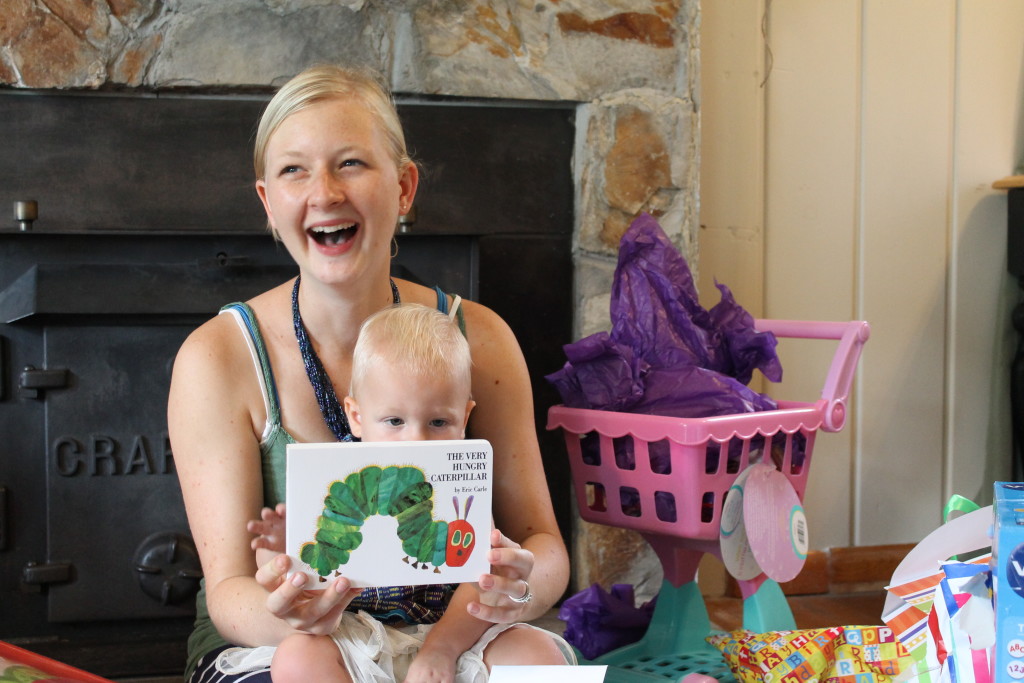 Like mother, like daughter.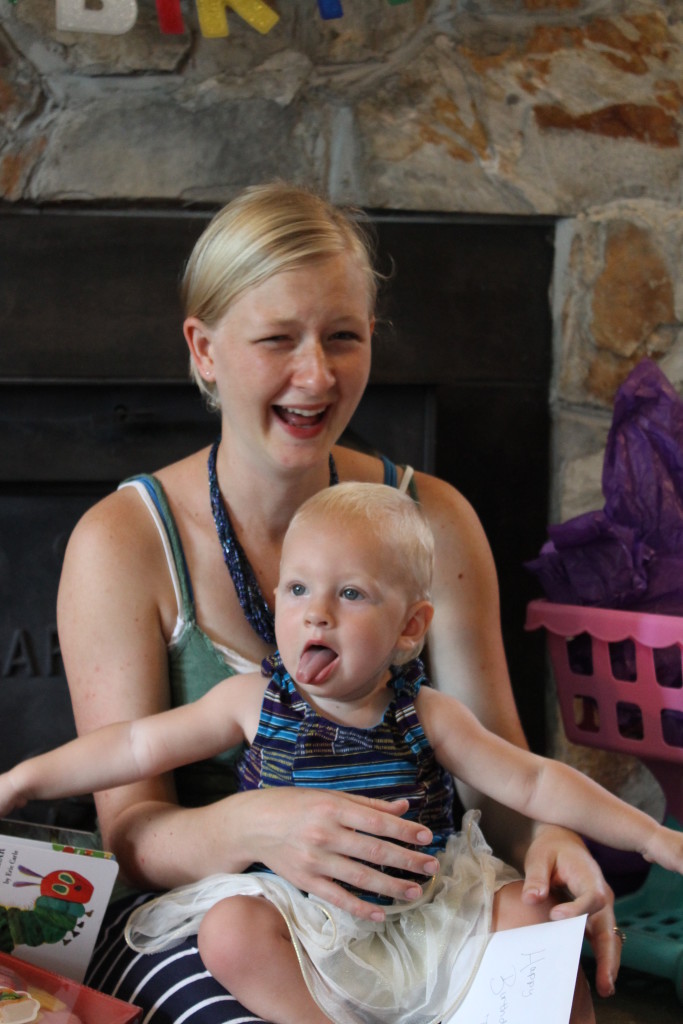 Once Tera saw Moose she was DONE with the presents and on to chasing Moose around.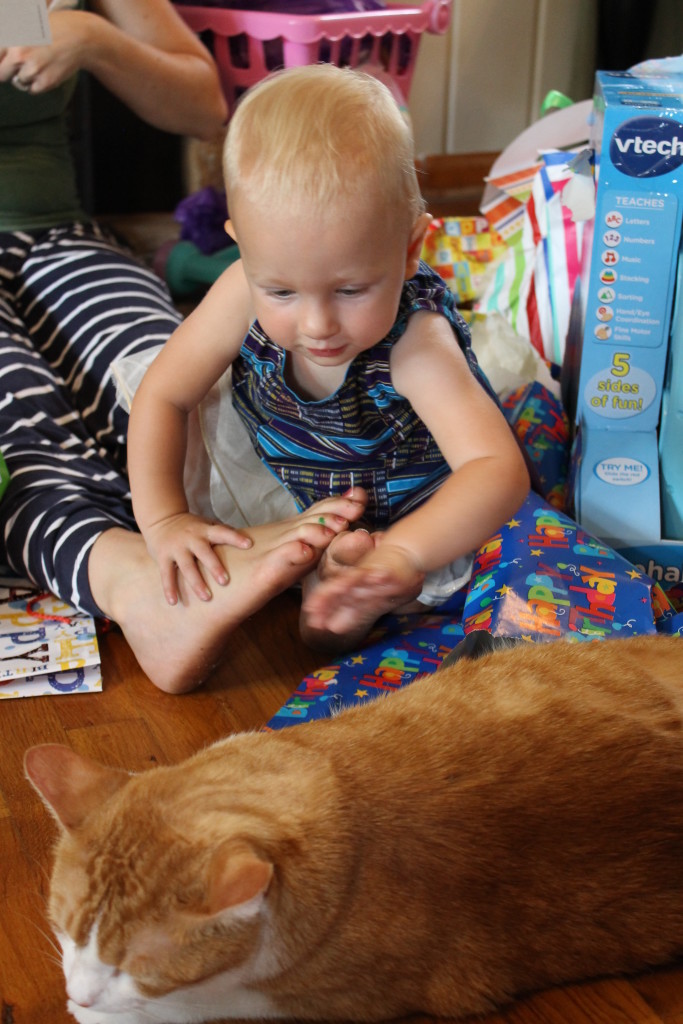 After presents most people left and we took a few more pictures followed by clean up! I'm so grateful to have some family in the area. I'm also super thankful that my brother Daniel and his wife Kelly were able to come, too. For some reason they didn't make it into many pictures, but they did SO much to help.
And that about sums it up!
Of course, there is always the aftermath: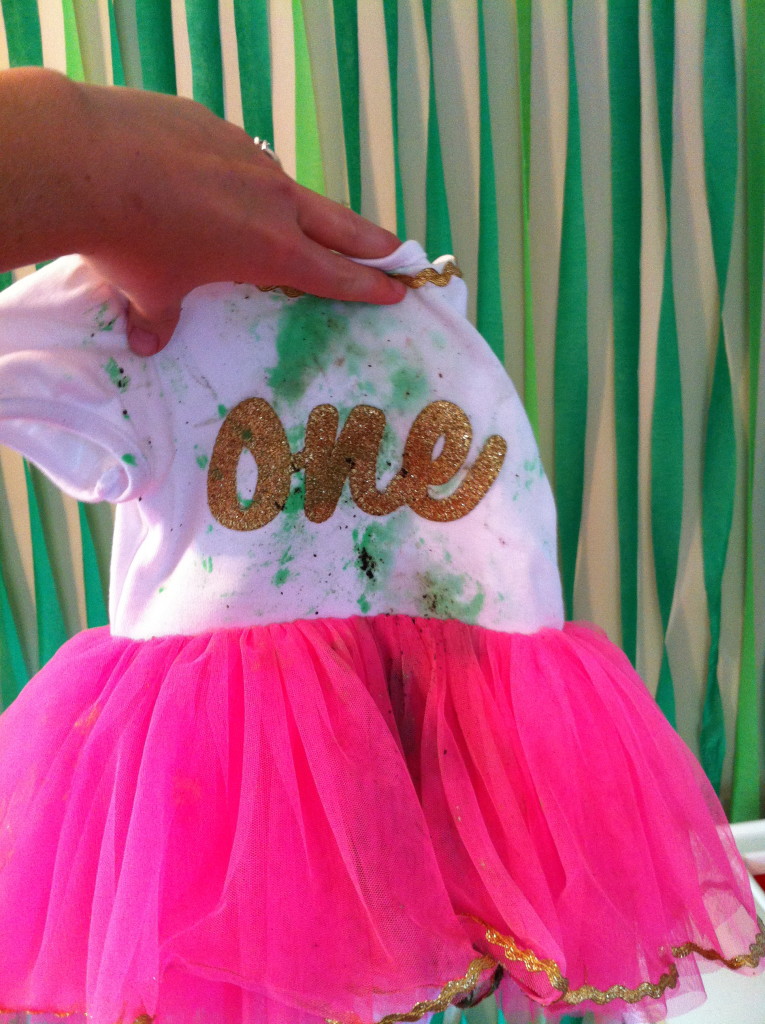 And just in case you were tempted to think that this party was perfect and I once again have a perfect life, think again:
Theo was sick as a dog. I mean, he hauled himself out of bed (with his handy trashcan) an hour before the party started, and crashed back into it as soon as everyone left.
I had a super cute dress on and splattered green food coloring all over it right before. Hence the interesting outfit choice on my part. I clearly did not even look at myself in the mirror!
Tera was an absolute grump for 90% of the party. It was so unlike her, and it made me a little bit flustered until I reminded myself that it is all ok if she cried the whole time.
It wasn't Pinterest worthy, but it did the trick. We celebrated Tera's life. We had fun. And that is what counts.