Tera turned one!
Before she turned one, I got a lot of questions about what Tera wanted for her birthday.
Ummmmm….she's one. She doesn't want anything. She also doesn't need anything. So I was unsure of how to answer that question.
The first thing I did was create an Amazon wishlist. This way I could organize my thoughts into what Tera might want or enjoy, and I threw in a couple of things that I thought she would need.
I even googled 1st birthday present ideas, but I didn't come up with much. Really, children who are turning one don't need anything.
A lot of people simply went and bought her a gift. After her party I was blown away by the creative gifts that people gave her, and I thought I would create a list here. To give you some ideas. And because (once again) I know that Grandma in Africa wants to know every single detail of Tera's birthday weekend.
1. Books!
Tera got several books for her birthday. I love books. The Poke-A-Dot one is a huge hit. It has little plastic bubbles that you push in and they make a POP sound. Tera loves it and has already figured out how to make them pop. She will just turn the page and pop pop pop. So fun.
The Colors book has each color of the rainbow, and on each page is adorable pictures with fingerprints that have texture. Tera also loves that.
I got her The Very Hungry Caterpillar, which was the theme of her party. For some reason we didn't already own it. Thank you, internet, for helping me plan her party without the book!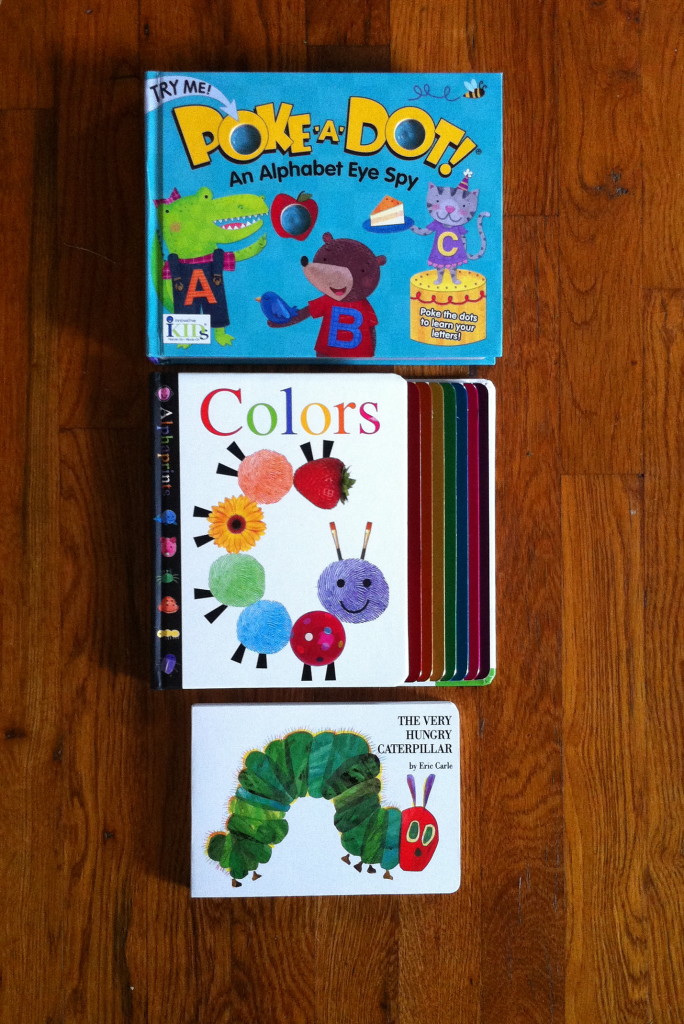 Here is a blurry picture of Tera popping her poke a dot book.
2. Clothes.
Some people complain about getting clothes for baby's birthday, but I personally don't mind one bit. I mean…look at how cute!!! In a closet full of hand-me-downs, sometimes some new outfits are just the pop Tera Mommy needs! Besides, that elephant is adorable! And the little romper on the far right is a 24 months, so I love that my friend Vanessa was thinking ahead until next summer.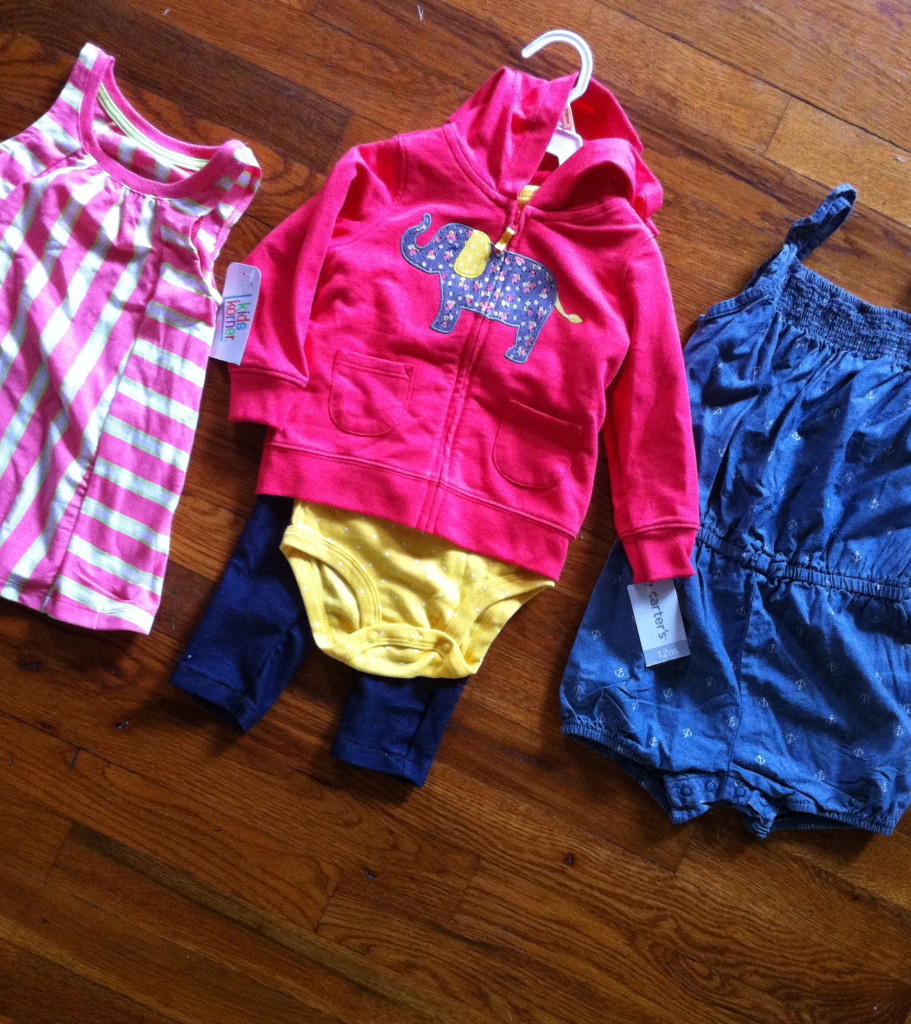 3. Wrapping paper and bows.
Tera has played with this bow non-stop since her party on Sunday. Haha.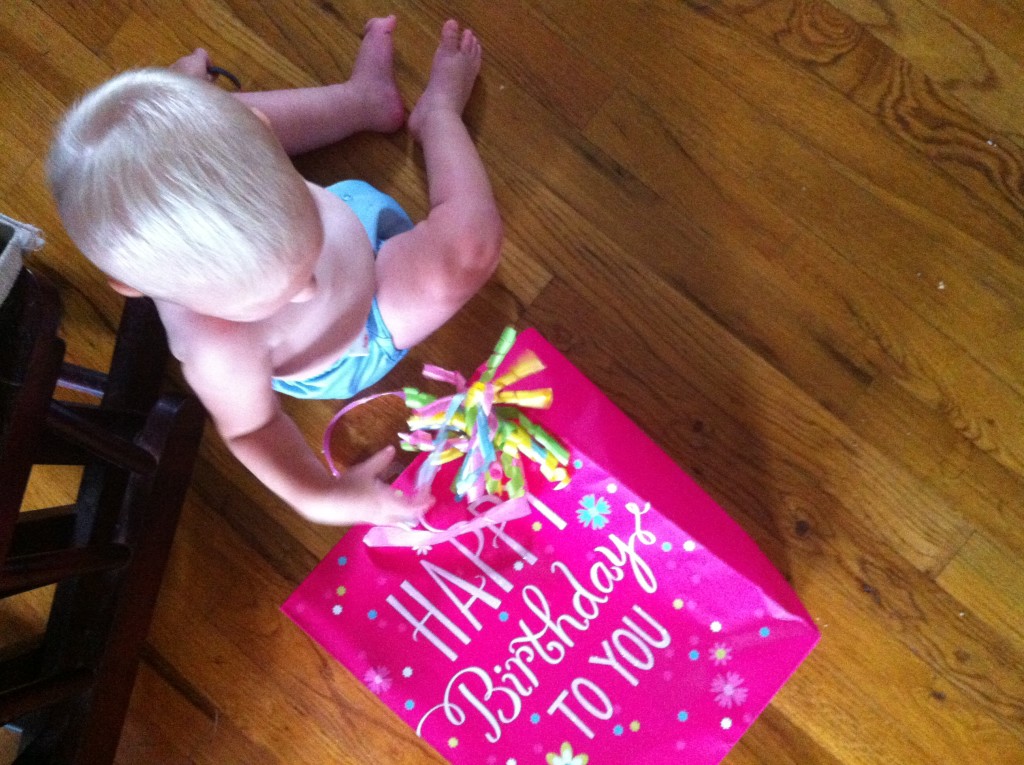 4. Practical household items.
The baby doesn't care if she gets plates and toothbrushes for her birthday. And the Mom will love you forever because you honestly just saved her hours of researching what type of toothbrush or plate she should buy, a trip to the store hauling the baby in and out of the carseat AND the money spent on the item. So go for it. Buy those practical items and give them to "the baby" for his/her birthday party.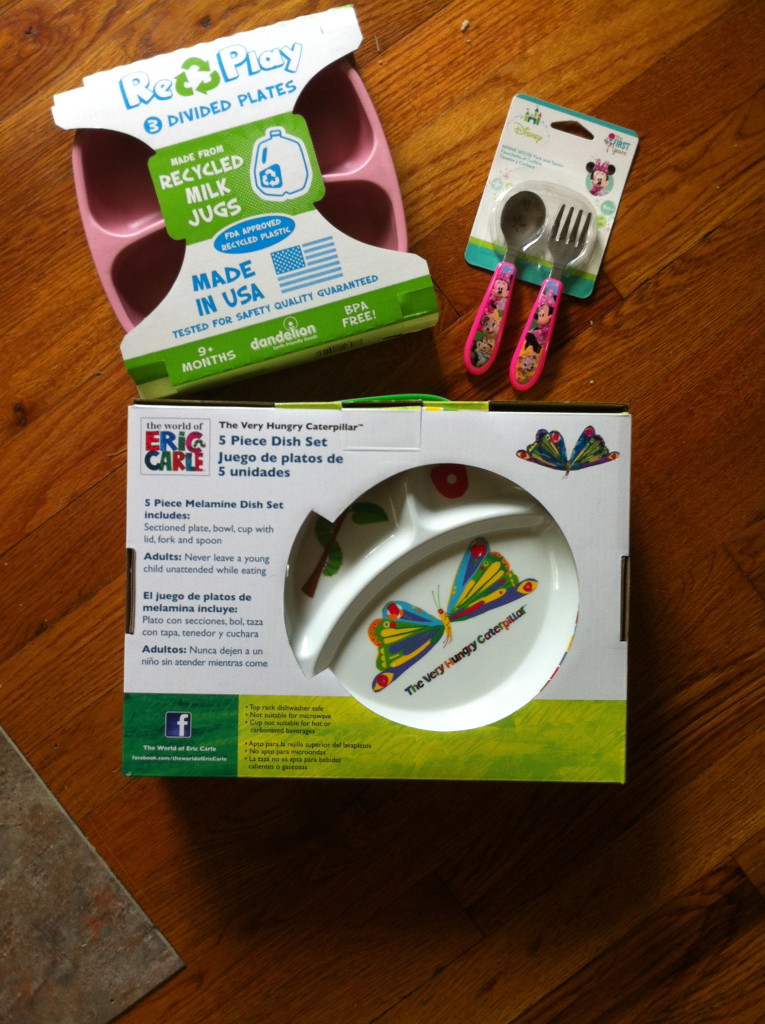 5. A fun bouncy crazy ball
My friend Shannon got this for Tera. Shannon bought a similar one for a 1 year old recently and that baby LOVED it. To be honest, Tera is afraid of this thing….and I'm not entirely sure why. It might have to do with the fact that someone threw it in her face, and it startled her. And that Theo kept bugging her with it after she showed signs of fear. Anyways I still highly recommend this as a first birthday party present!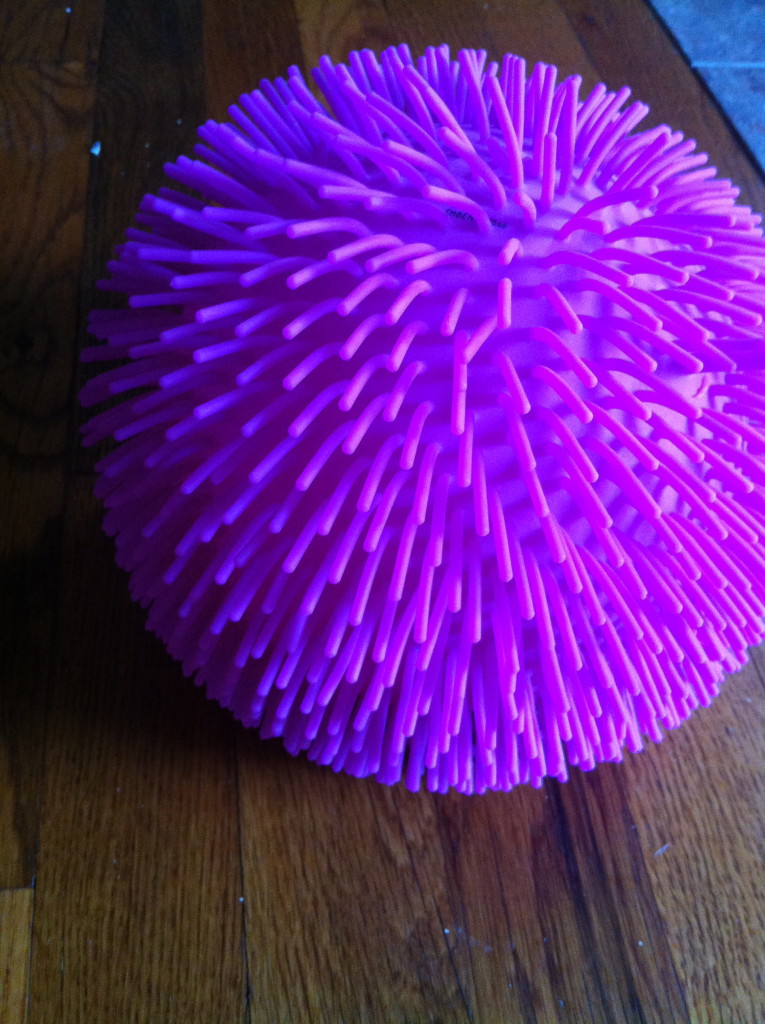 6. A singing toy stacker.
Yeah, it's not something I would ever buy for Tera myself, but our neighbor boys bought it for Tera and I'm going to go ahead and admit that she loves it. Today I put it in the bathroom and had an uninterrupted shower. Plus, it has an off button so until she figures out how to switch it on I can at least have peace and quiet when I choose. Plus, it has "five sides" that she can play with and only one side sings. I say "five sides" because that is what the box says. It sings and talks and tells Tera to play with blocks "alllllll day".
7. A shopping cart
Uncle Daniel and Aunt Kelly bought this for Tera. And the funny thing was that Theo was going to buy it for her until he saw what they had bought. She loves to put her toys inside of it, and we are all hoping it will help her learn to walk. Right now it moves too fast for her and she faceplants, but it's going to be perfect in a few days or weeks.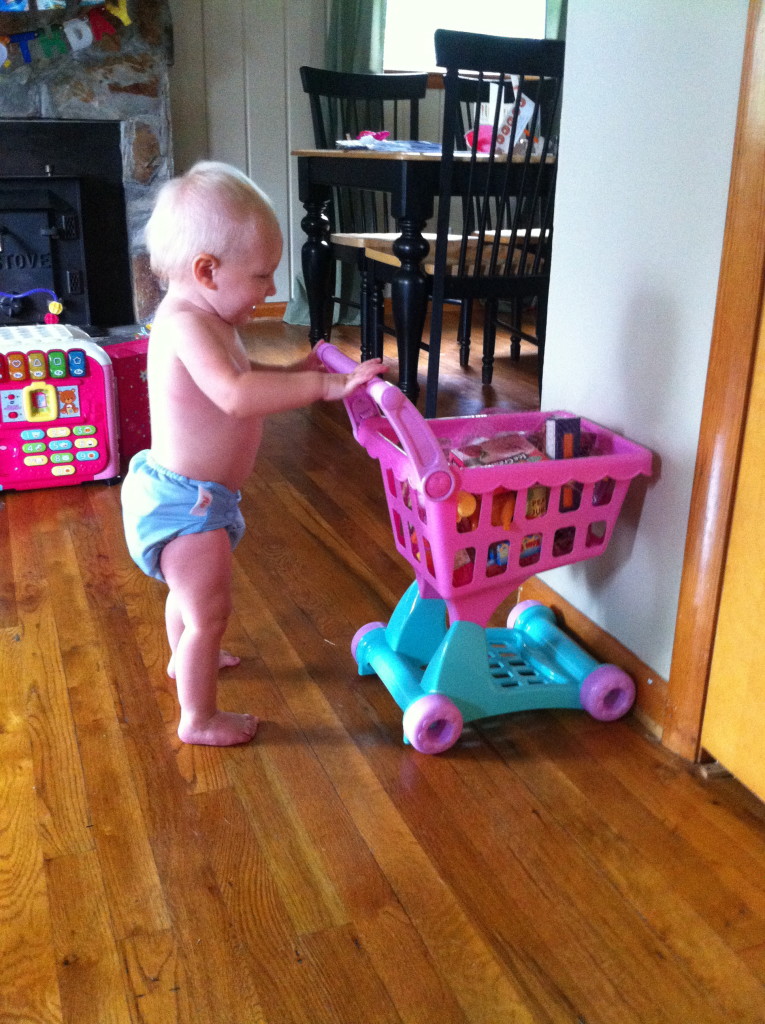 8. Gifts for the parents.
Always acceptable first birthday gifts.
9. Play food
This is a fantastic gift, especially paired up with the above shopping cart! This is a Melissa and Doug felt food set, and it can be found on amazon or at Target.
I have actually realized that this is a little bit advanced for a one year old, unless you want to be picking up felt peppers and mushrooms and pizza slices all across the house. I put this one away for a while, but that does not make it a bad birthday gift. There is nothing wrong with putting some things away for a while!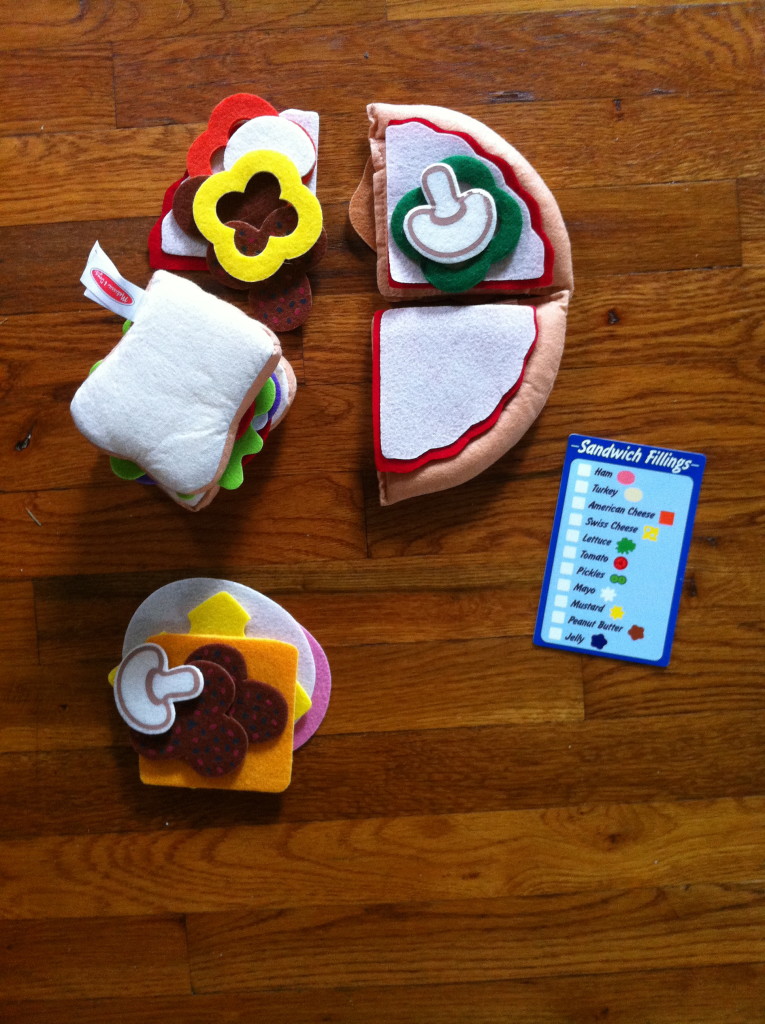 10. Dog Toys.
Laugh. Laugh all you want. I told Theo that he had to buy Tera a first birthday present. He was going to buy the shopping cart, but someone else already picked that one out. So he went to the store to browse for a gift. And he returned with this hedgehog. It makes noise when you squeeze it and Tera loves this thing. Theo is a brilliant man.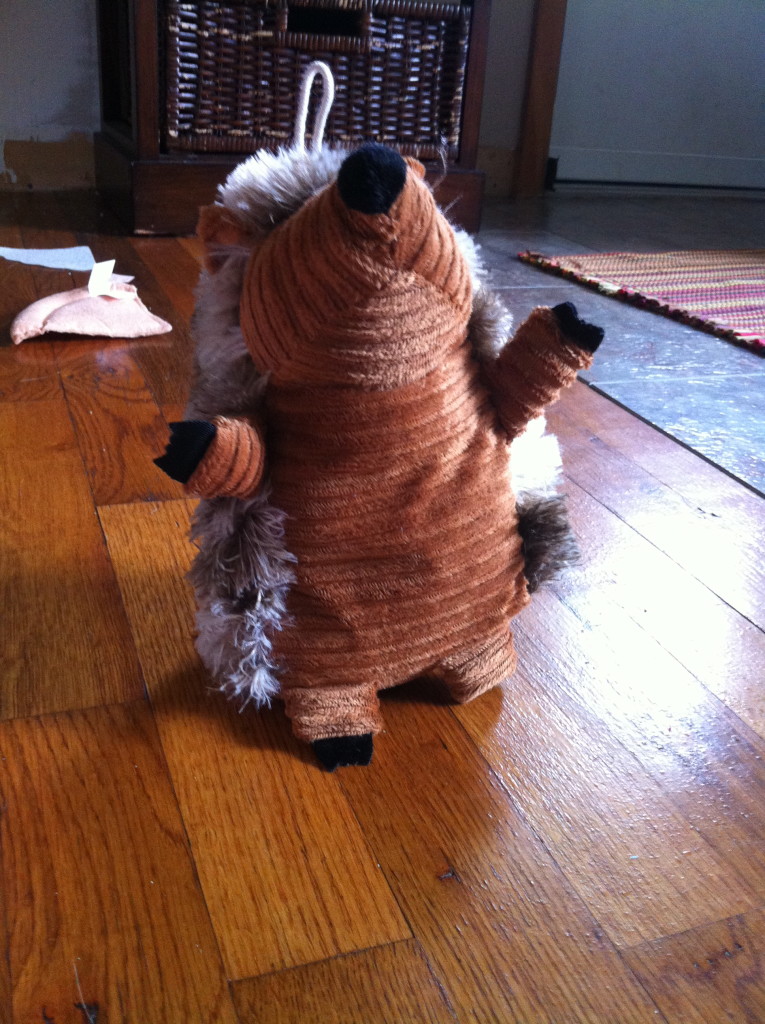 11. And on that above note…stuffed animals
Tera loves her stuffed animals, and this is always an 'easy' gift. Again, some stuffed animals can be put away and rotated through every couple of months. My one child does not need this many stuffed animals.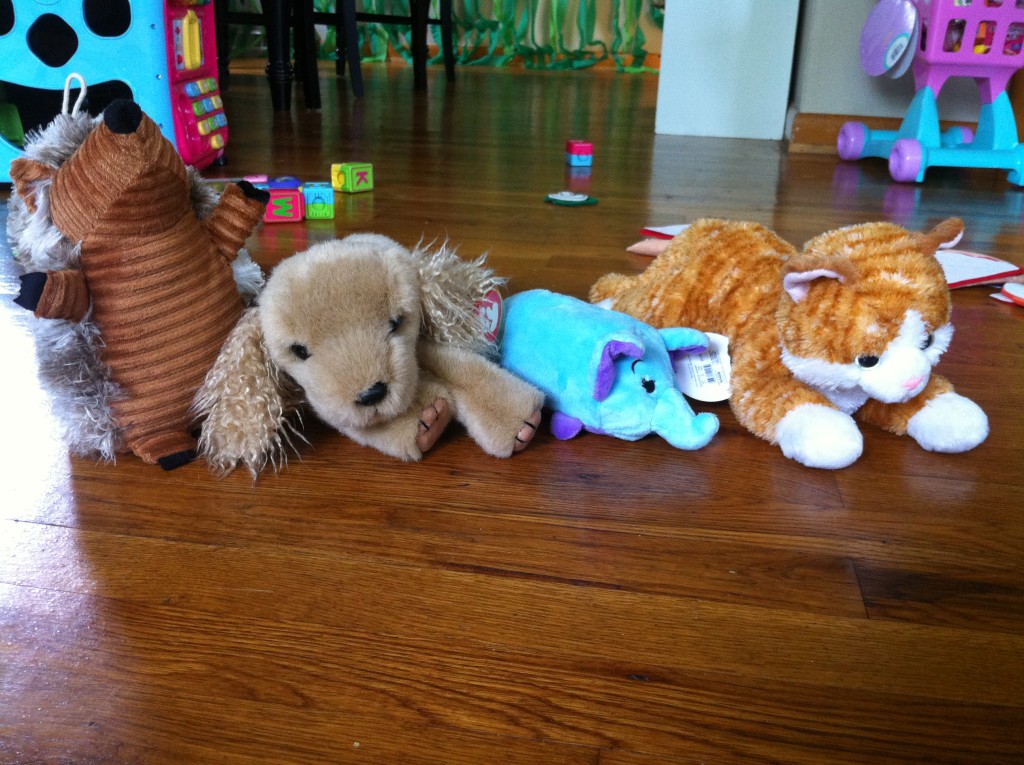 12. Headbands
Of course, this only applies to baby girls…but Tera's birthday was a perfect excuse to ask for some headbands! We love the bow ones that she usually wears, but I decided to go ahead and get some different kinds as well. I think Tera is all set on headbands!
13. Handmade.
It's not quite done, but this is what I gave Tera for her birthday. I need to do the outlines and then frame it and hang it in her room. I've been working on this since Christmas.
14. Puzzles.
Tera got this puzzle for her birthday. It's a little bit advanced for her, but she likes taking out the pieces. There are lots of puzzles that are completely age appropriate that would also make a great first birthday gift.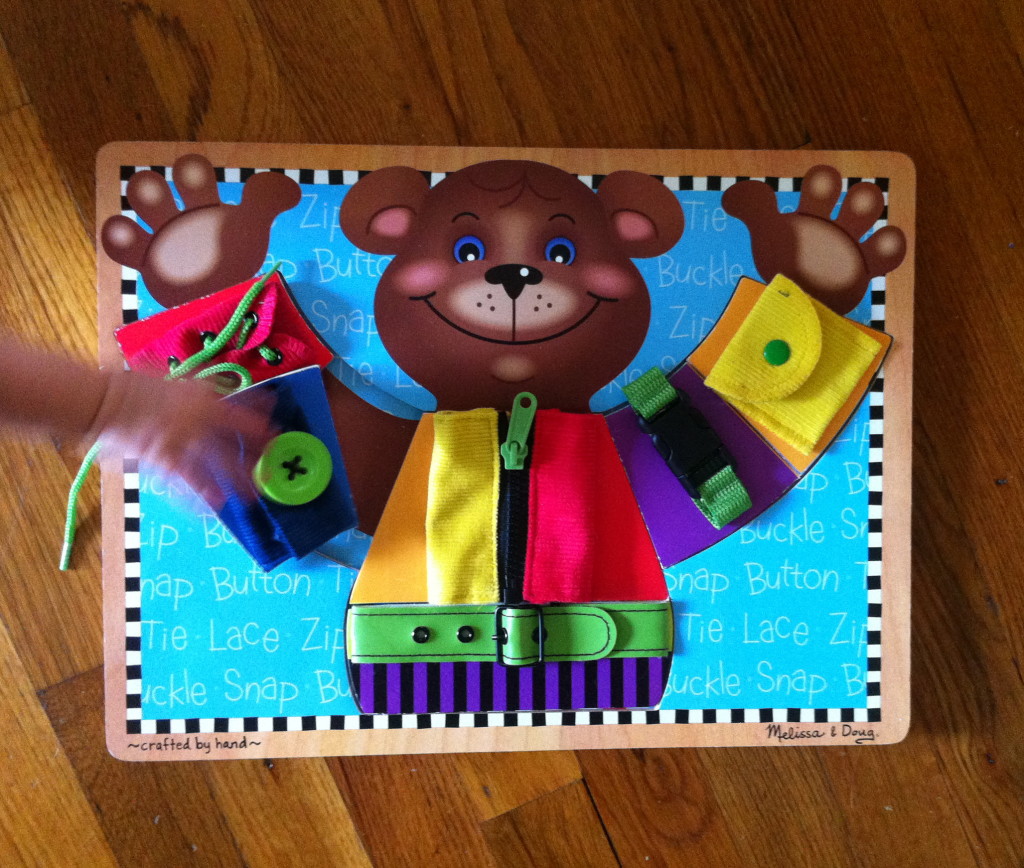 15. Calico Critters.
These are 'collectable' and there are tons of different critters and they have all kinds of furniture. I found Tera a huge dollhouse at a garage sale but most of the furniture is broken so this is a great collection for me to add to the dollhouse. One little set at a time.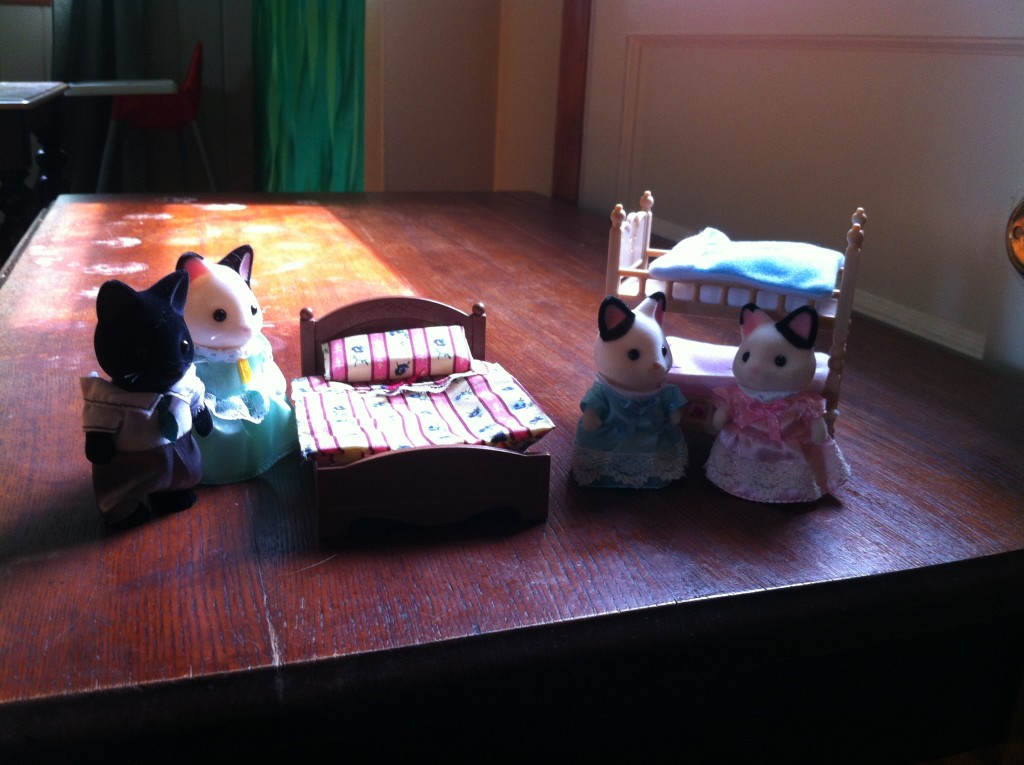 16. A homemade alphabet book
My Mom made this alphabet book for Tera. It's probably my favorite gift. It wasn't expensive and it wasn't difficult (as long as the internet works). And it's so, so special.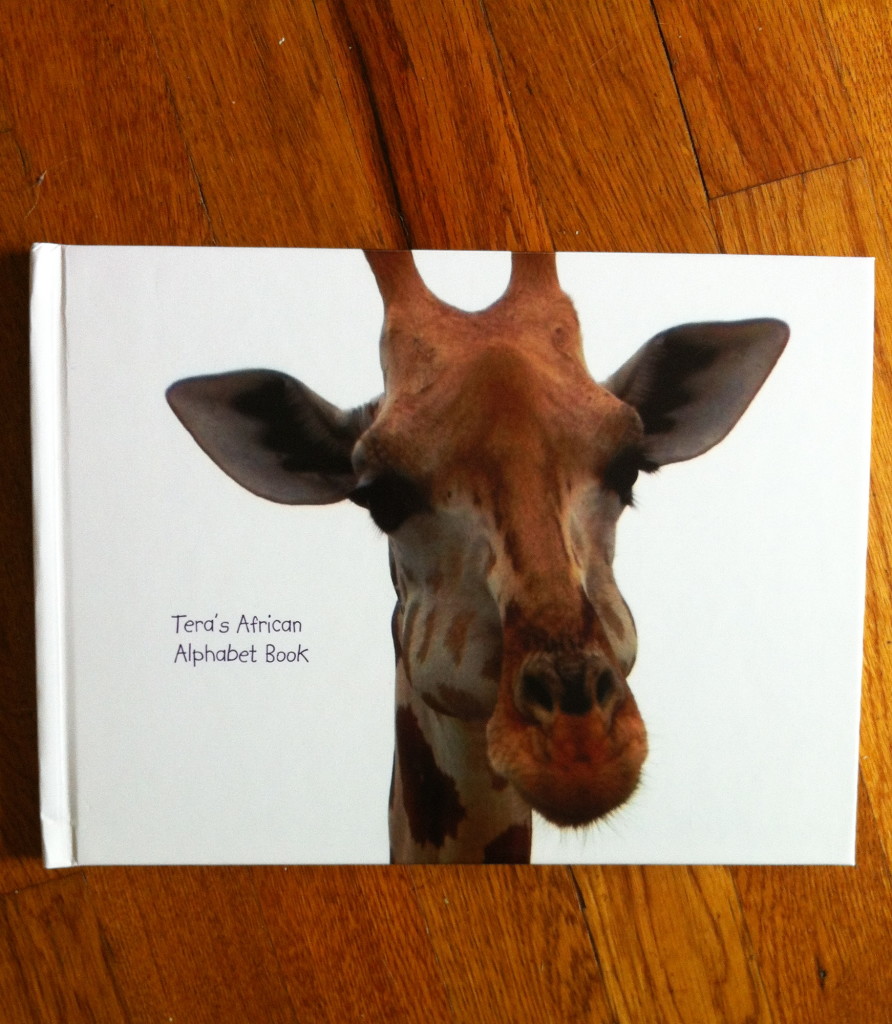 She took pictures for each letter of the alphabet and wrote a small caption.
Love. it.
After I took each picture of each gfit for this blog post, Tera took it upon herself to play with each and every item. All across the living room floor. I walked into the room and my head almost exploded with all the toys everywhere.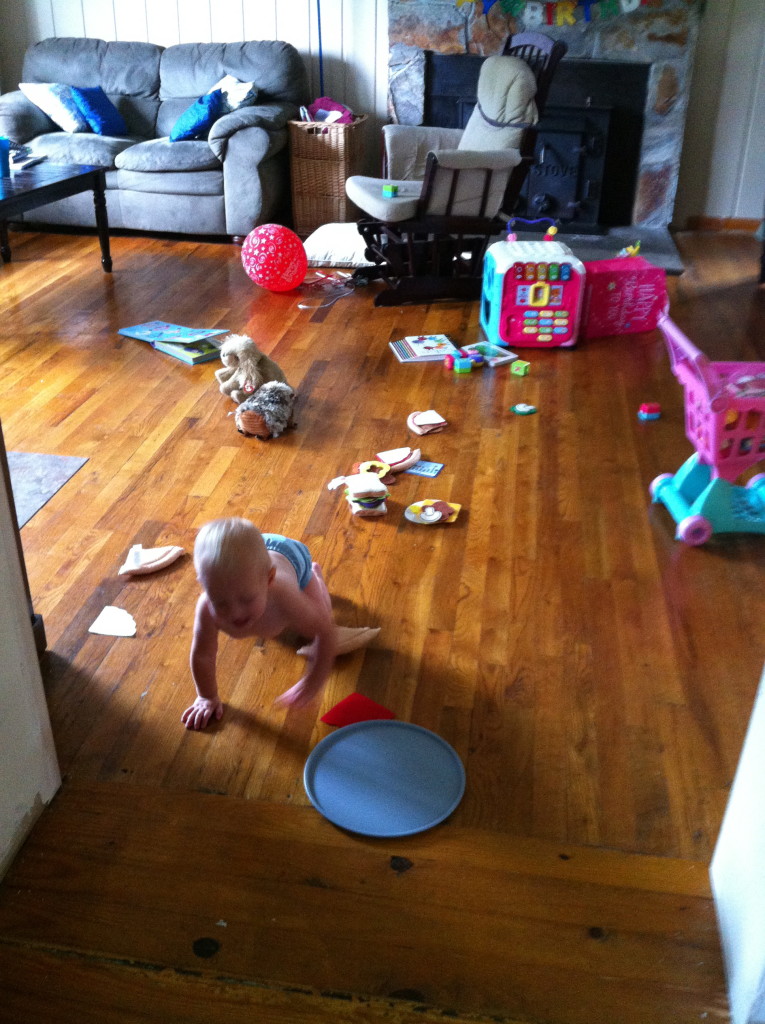 And you know what I did? I went through all her toys. I purged. I packed some away to take out for later, and I put away all the baby toys and all the ones that are a little bit too advanced.
I want all you readers to know that while I just gave you an extensive list of ideas for a 1st birthday, I don't think that your kid needs anything more. They will be happy with a bow and a kiss and you will be happy if you don't spend hundreds of dollars on their first birthday. Keep it simple. You'll thank me later!