It's time for another life lately post! Basically, I will just bore you all with pictures of my little family and our little adventures. The past two weeks have been crazy, and this one that we are currently in the craziest of all!
First up: we got our foster license in the mail three weeks ago! We are still waiting for our phone call for a placement. While my heart anxiously wonders who will be placed in our home, I am thankful that there hasn't been a need. We have a meeting with our caseworker tomorrow and then it's more waiting!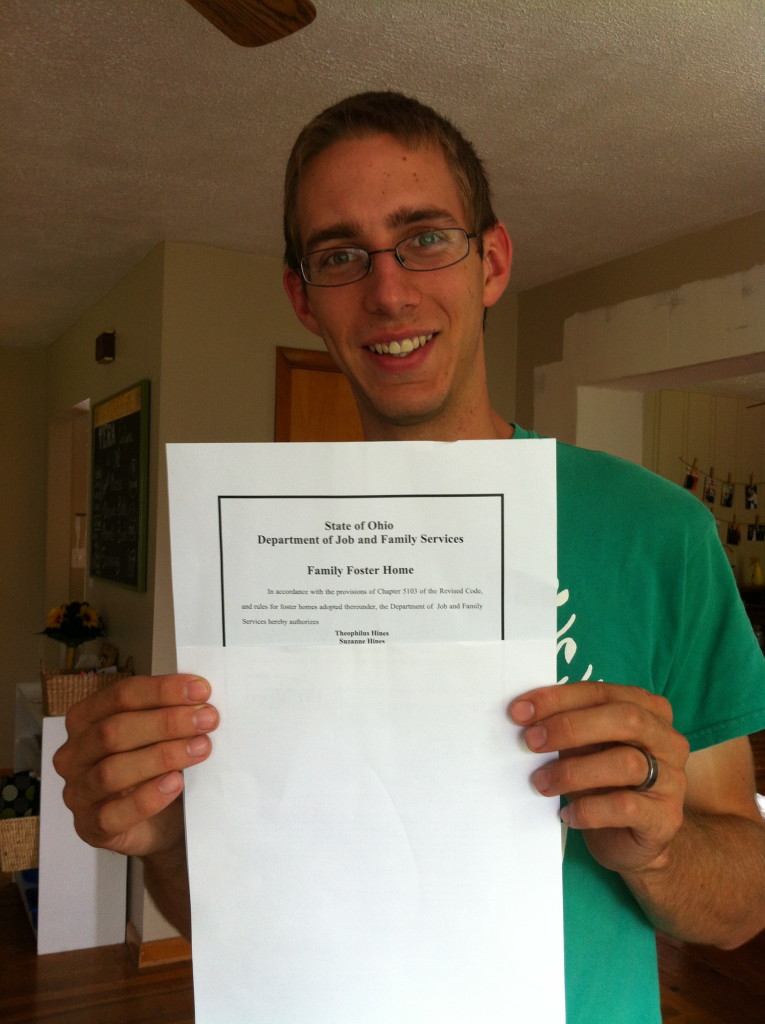 Tera LOOOOVES her shopping cart. She loads all her toys into it, then pushes it around and unloads all her stuff elswhere. It's a grand 'ol game until Mommy can't find her flip-flop and Daddy's keys are missing!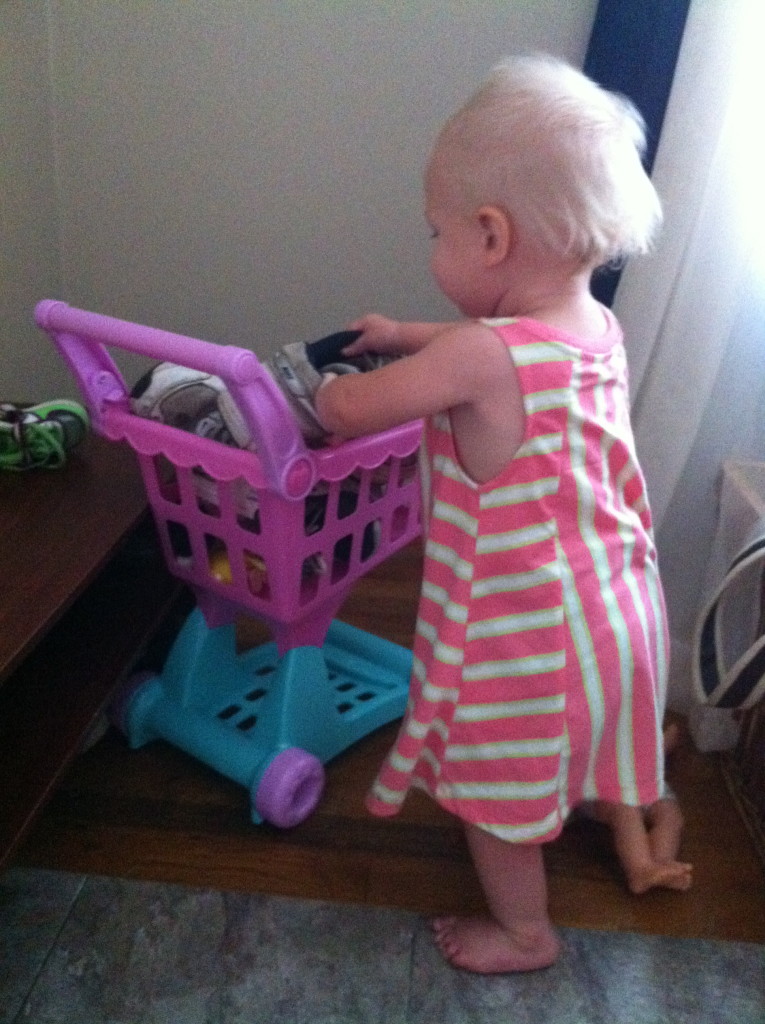 Last weekend we went to the Montgomery County Fair. This fair is in the heart of Dayton…and Dayton is not exactly the safest city. It was also rainy and a Thursday evening…but there was NO ONE there. It was like a ghost town. Tera loved the animal barns! It was totally worth it to us to take Tera through all the animal farms that were not crowded at all!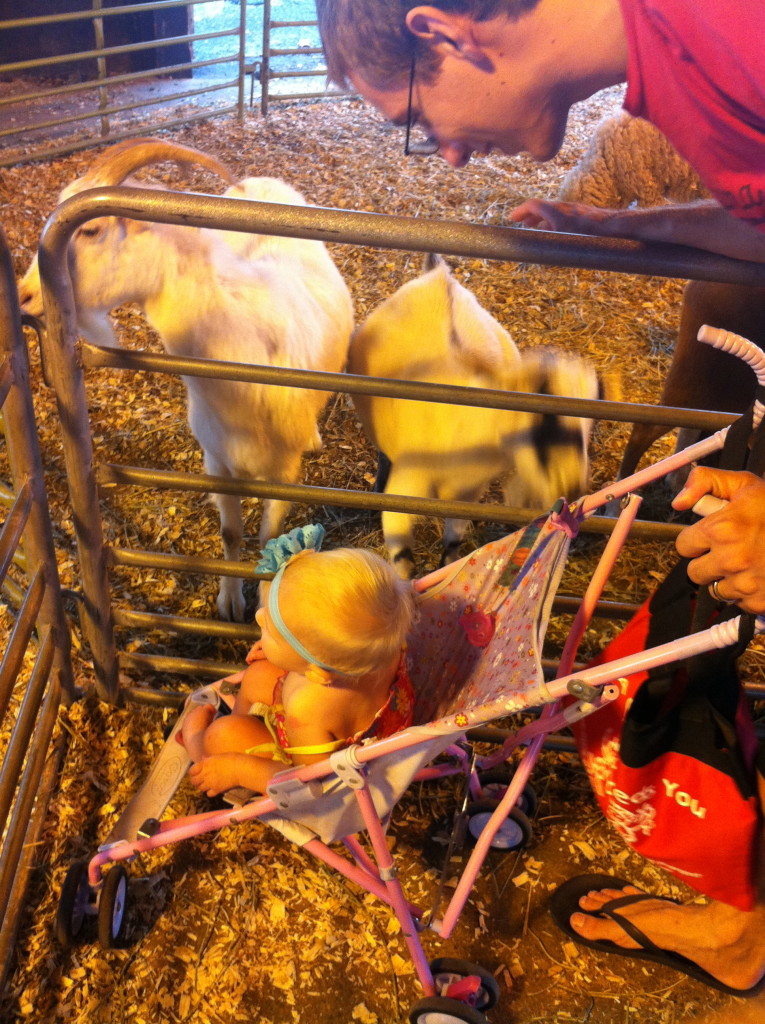 It got chilly and rainy and we had dressed Tera in a warm summer romper. Oopsies.
Later that weekend, I went to my friend Hannah's baby shower. It's a girl!! We are so excited to meet this little one!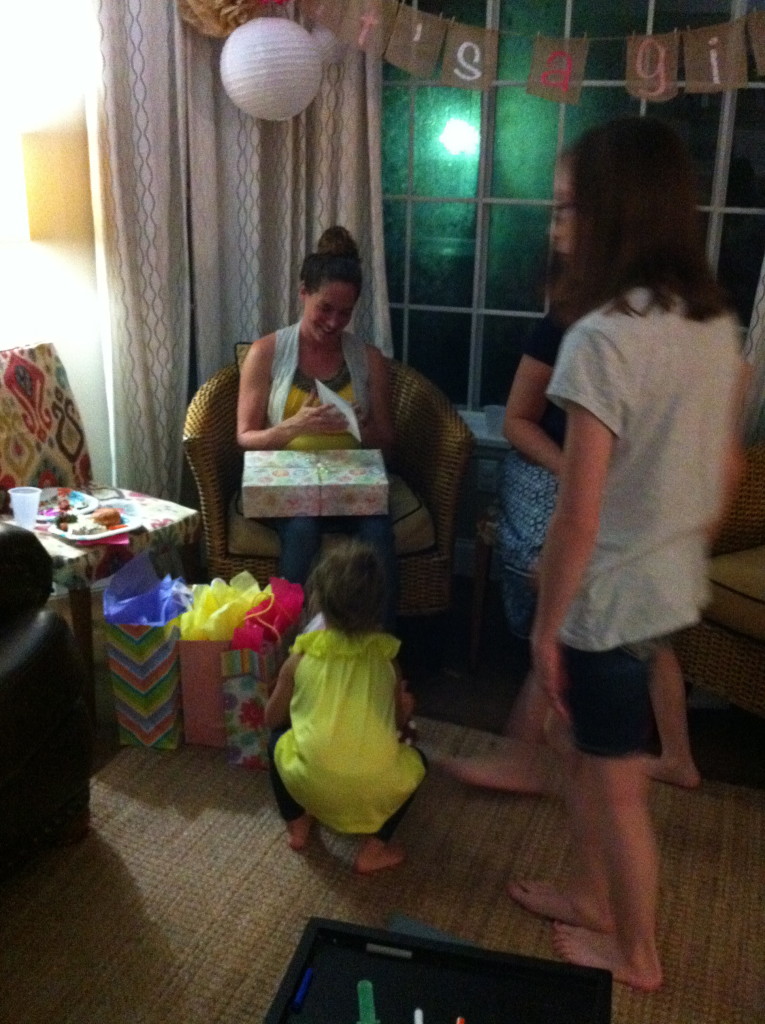 My friend Shannon planned the shower, and instead of having baby shower games, she bought little pegs and we all got to paint one for the baby! So fun! Some people were really, really, really good at it! Some people (*ahem* me) were not so great.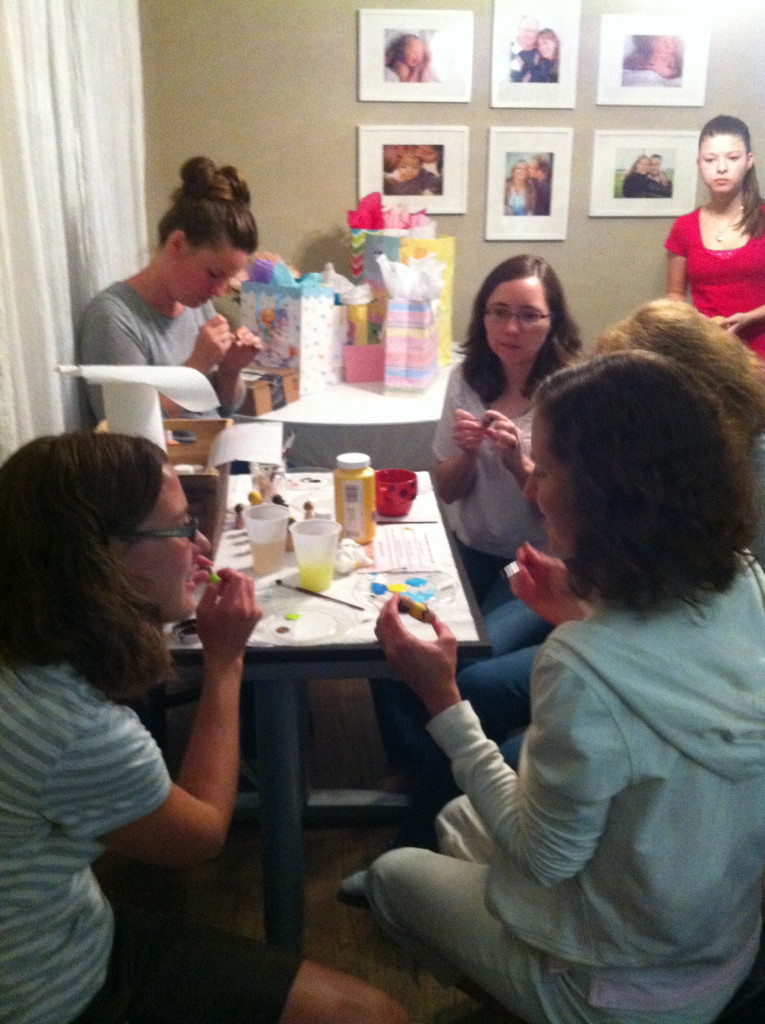 Cute baby girl outfits!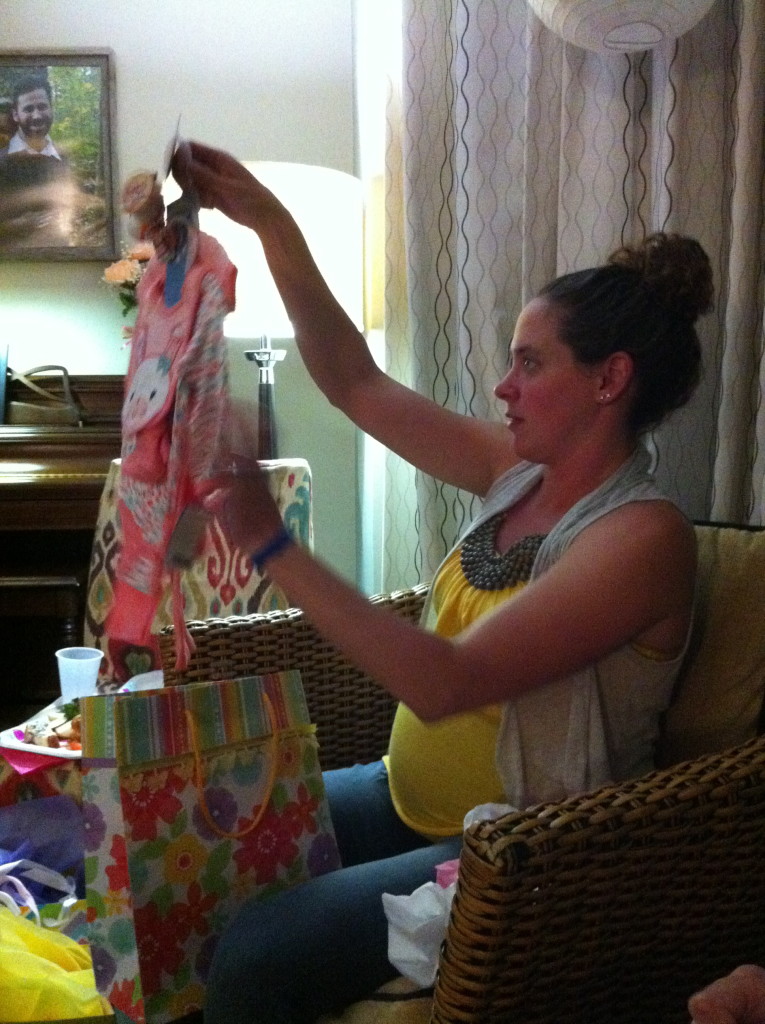 This is my new favorite picture of Tera. She is watching Theo mow, and looking at the neighbor dog who was barking at Theo. A few minutes after I took this picture, she took her first steps!!!!!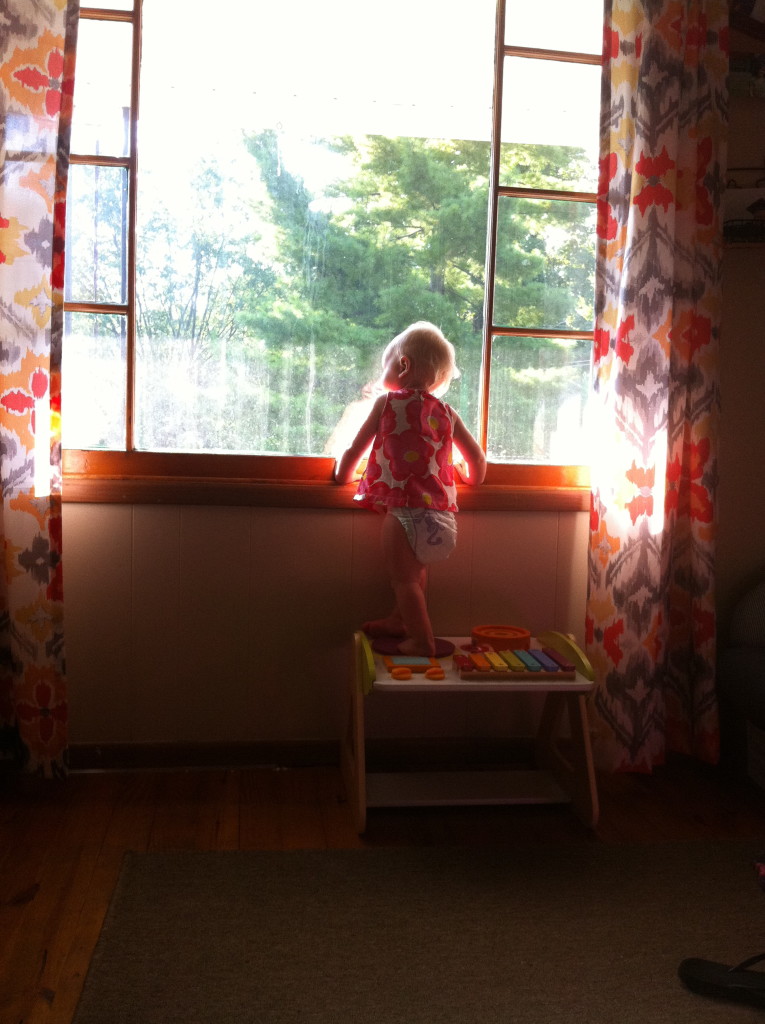 Labor Day weekend also happened to be Theo's long weekend, and we were able to go down toe Cincinnati for the Labor Day fireworks. This is something that Theo did with friends before I was in the picture, and then we all did it as a group the first year we were married. The two years in between Theo had work and we had a newborn, so we weren't able to go. It was so fun to go this year and take Tera with us!
The fireworks are set off of a barge on the river. There is no charge to get right up front on the banks of the river and it is CROWDED. There are a couple of overpriced food booths and live music playing, but mostly it's just TONS of people and the fireworks.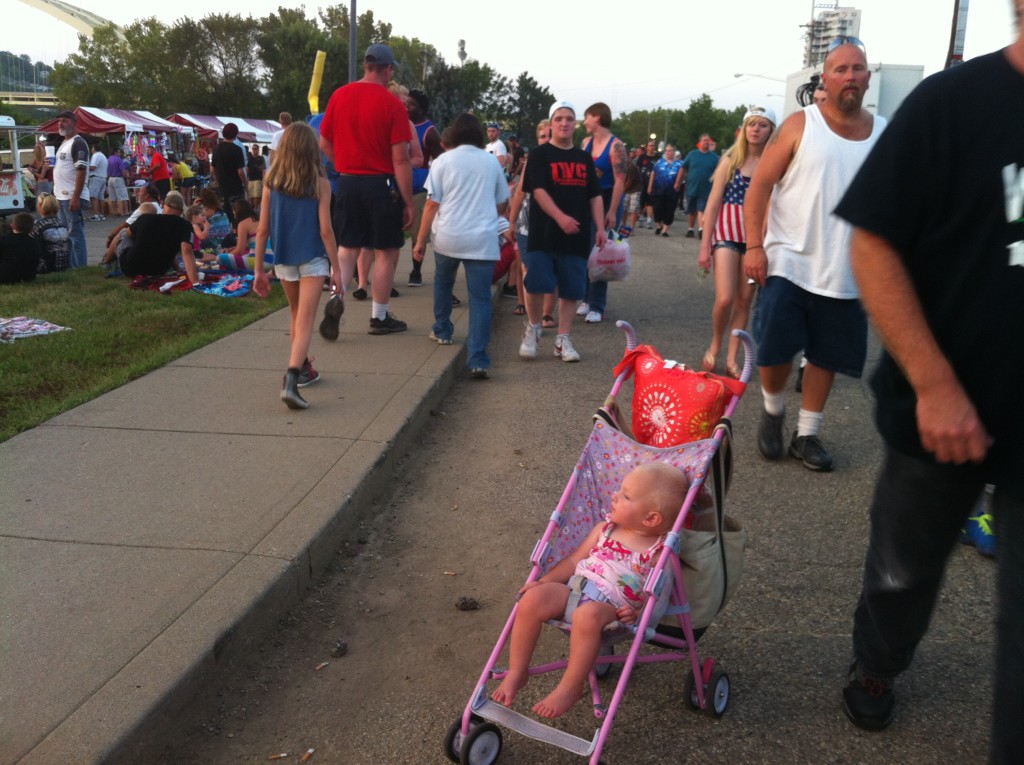 In the past, we have gone with young and adventurous people, and the favorite place to sit is on the cliff of the river bank. This year we had a baby but we decided to still sit on the cliff! You should have seen people's faces when Theo walked by them pushing a stroller to the edge of a cliff. We took Tera out, Theo climbed down, and then I handed her down. Thankfully she did a great job of just sitting with us and not trying to crawl or run away!
This is a terribly unflattering angle of me, but it shows the cliff!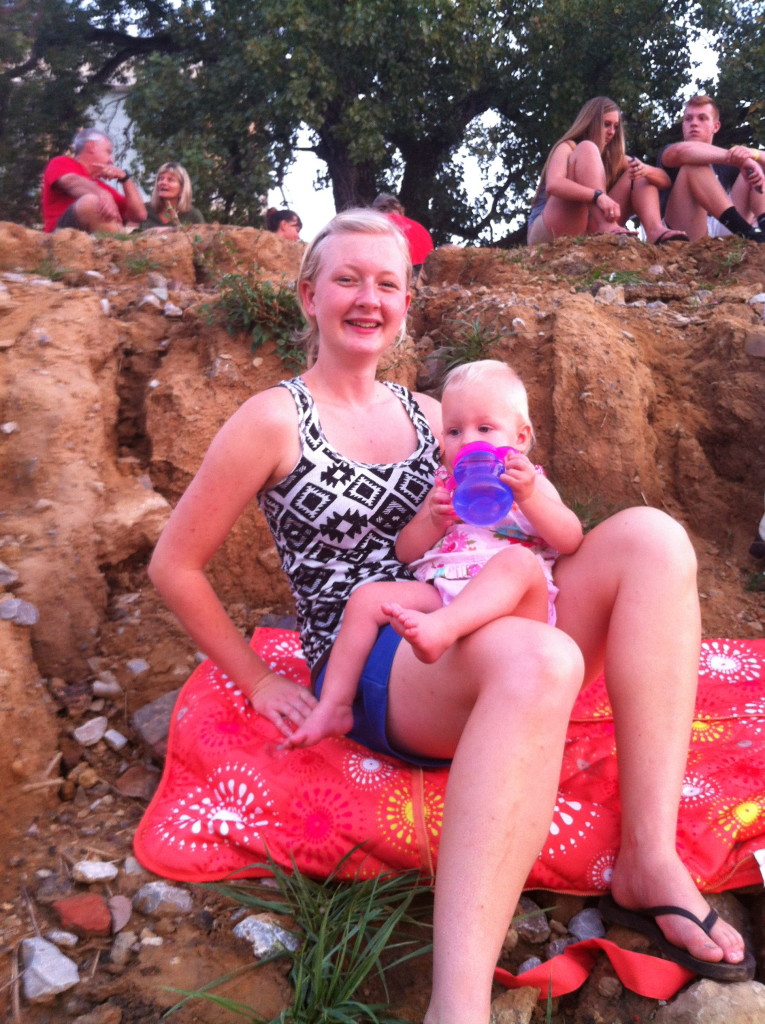 There were people all above us, and every time they walked past they would knock dirt down on us. We just decided to laugh about it instead of getting annoyed! Also, lots of other people were trying to climb down the cliff and we had a couple of good laughs when people would just lose their footing and slide right on down. I'm surprised that they let people sit on the cliff because honestly some of the people attempting it probably shouldn't have been!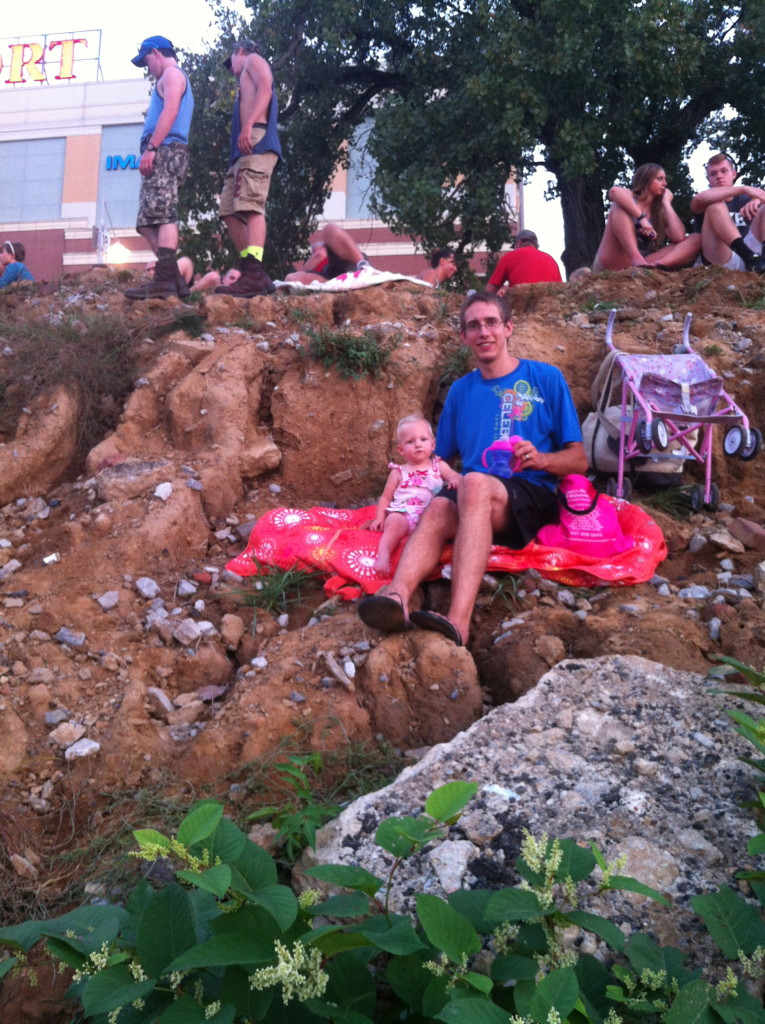 Family of 3…it might not be like this for much longer!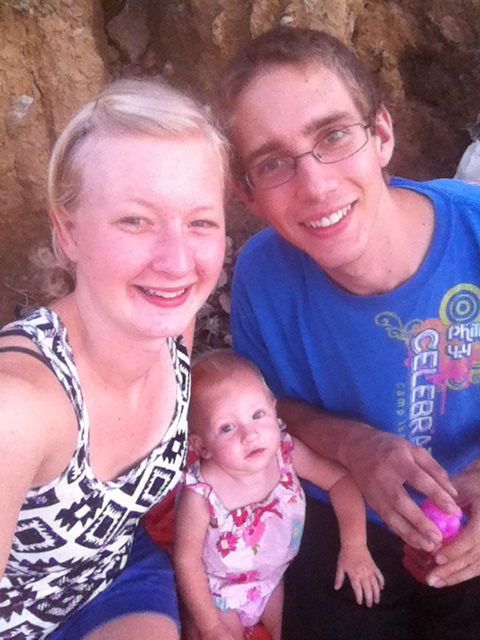 The Cincinnati skyline. The barge is the black thing along the opposite bank.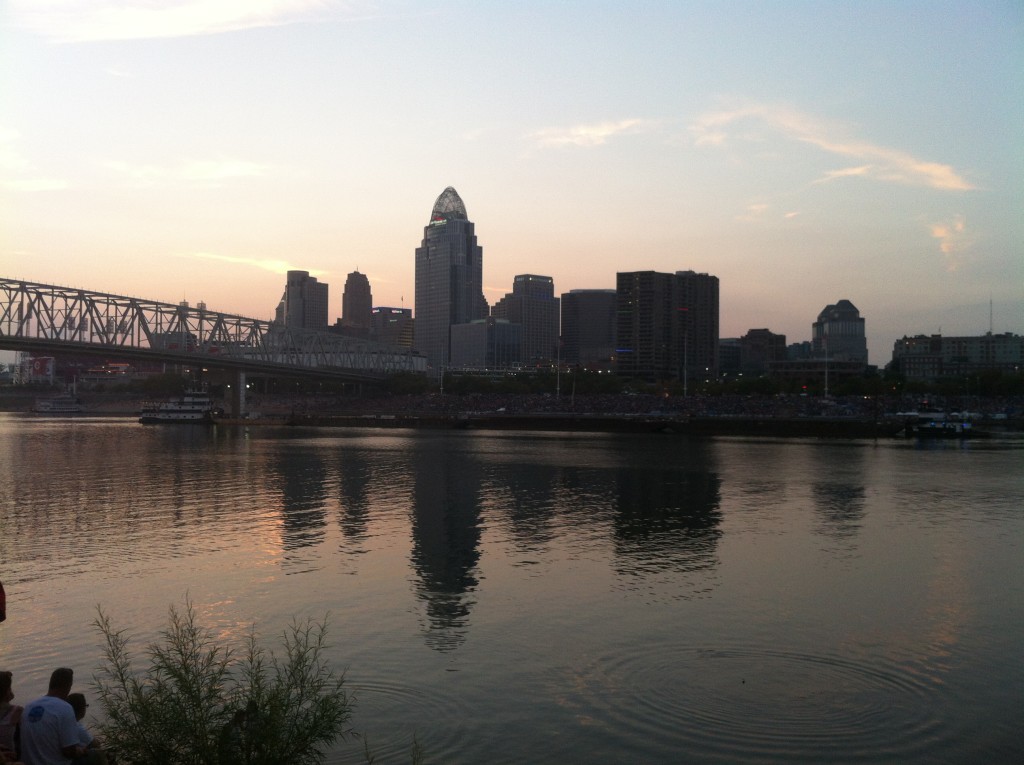 We got there about an hour before the fireworks started, but by the time we got there it was alreaday crowded. I don't want to know what time you have to get there to get a good spot on the banks/not cliff.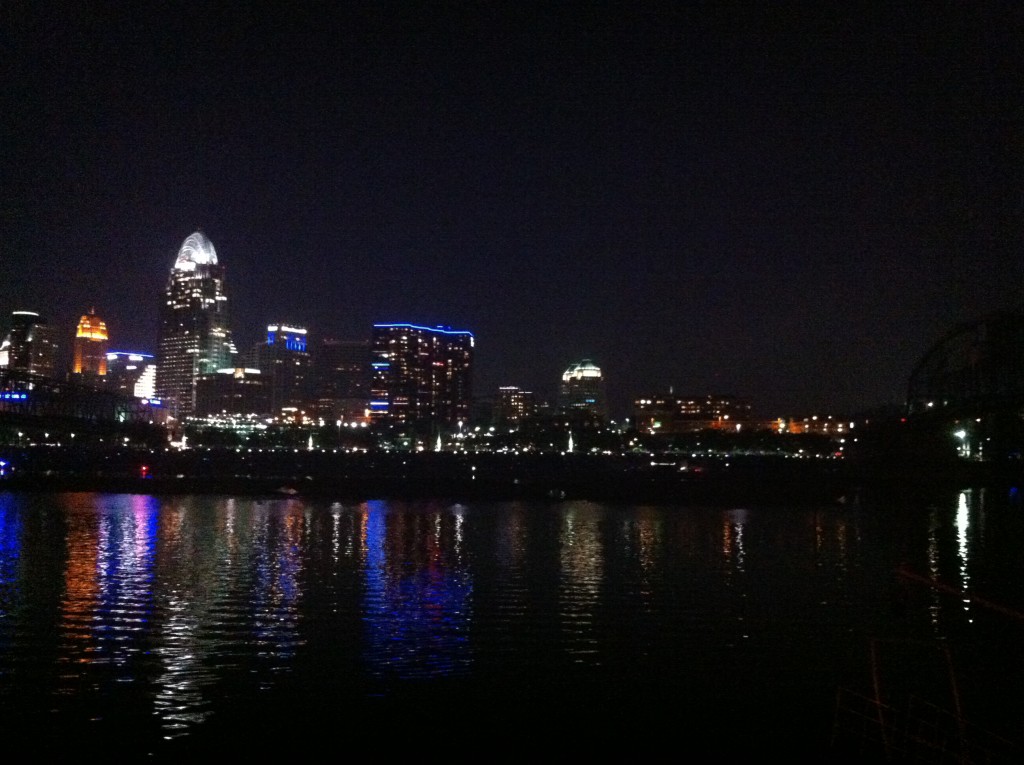 We brought earplugs and noise cancelling headphones. It made the fireworks so much more enjoyable!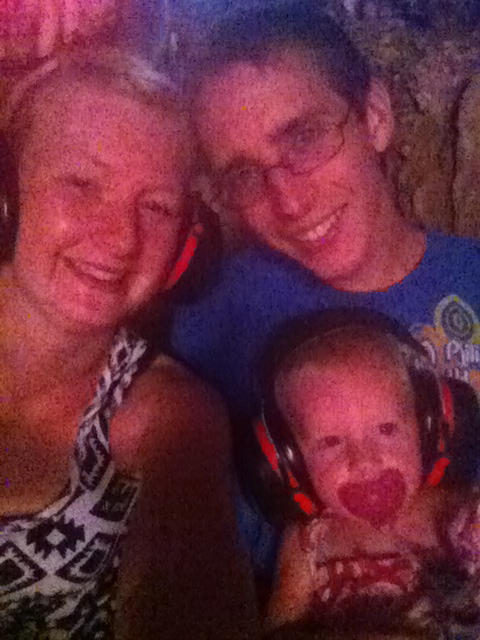 Spectacular!!!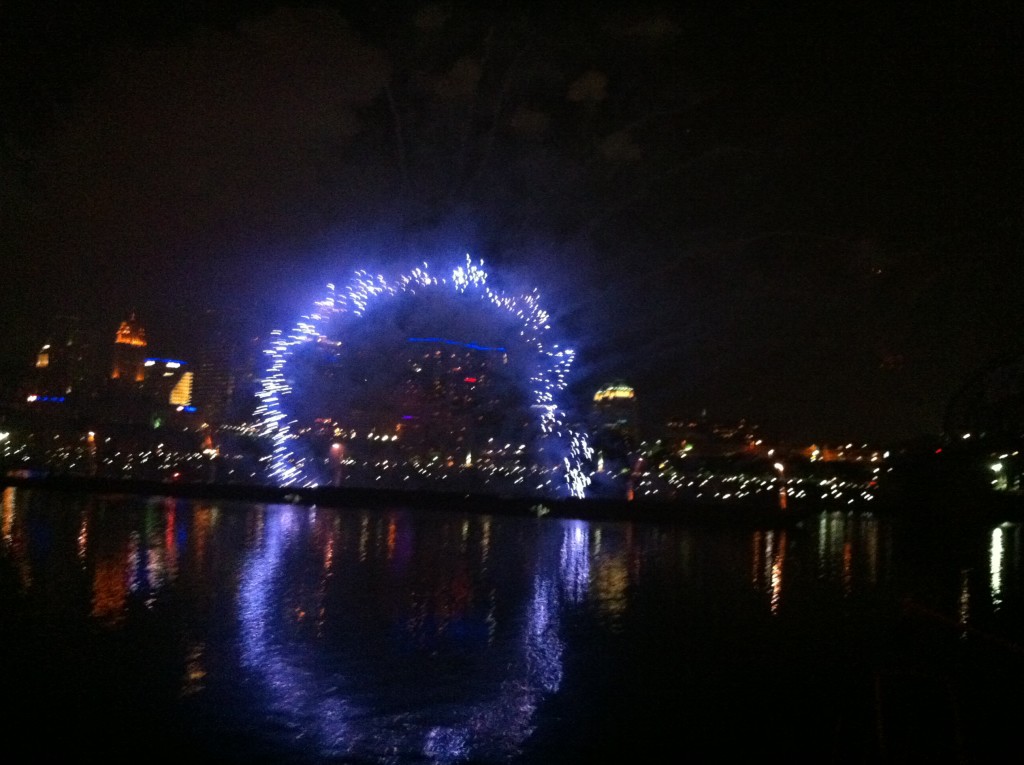 Tera wasn't too sure at first. She didn't like the headphones and then she seemed alarmed by the fireworks, but then she settled down and really seemed to enjoy the show. The next time I looked over at her, she was asleep!
This is an amazing fireworks show! It's huge and beautiful, and about 30 minutes long!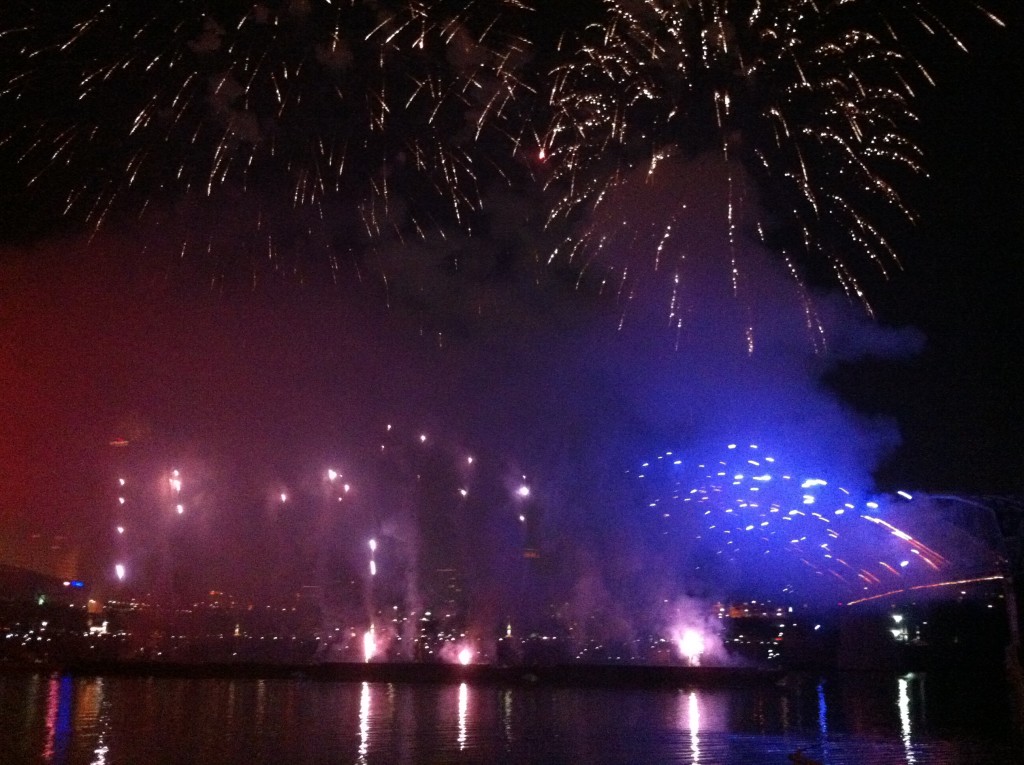 I wasted $6 on this stupid funnel cake, and it was GROSS. Then, when I put it down on the blanket, people climbing down the cliff kept raining dirt on it. I told Theo I should have just thrown $6 in the river instead.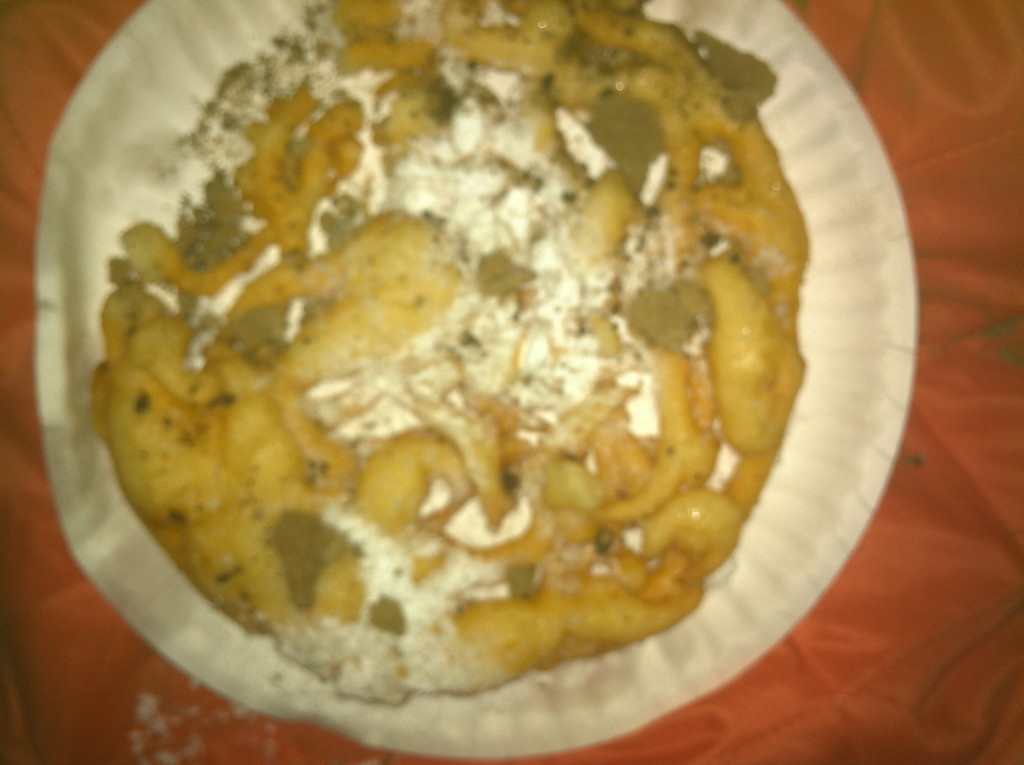 Theo and I went for a walk and found some awesome trash pickins! We also realized we were wearing the same shirt. It happens all the time!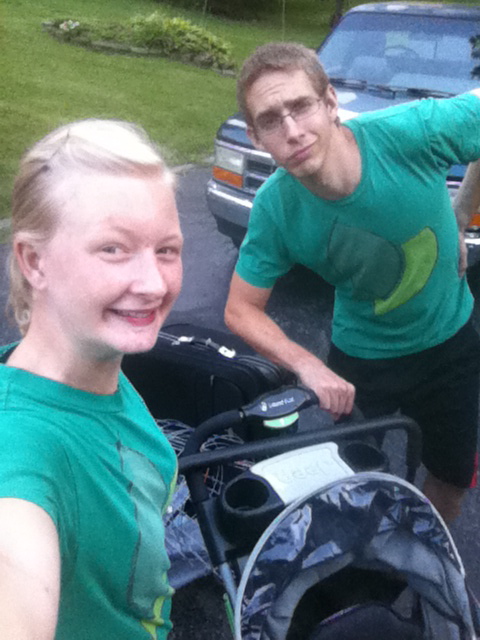 This age is awesome! Tera plays so creatively. Here Theo was acting like a four-legged creature and growling at her. She was getting down on her hands and knees and trying to crawl under him. It was hilarious.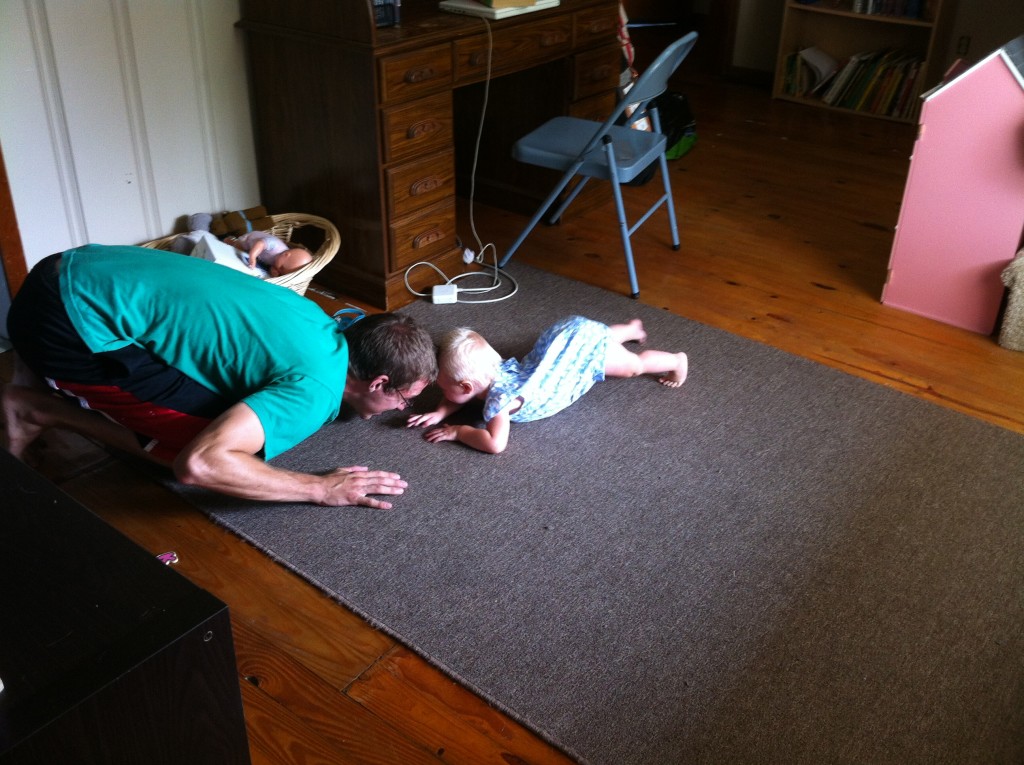 We have more fruit than we even know what to do with! Tera loves gnawing on the pears and the apples!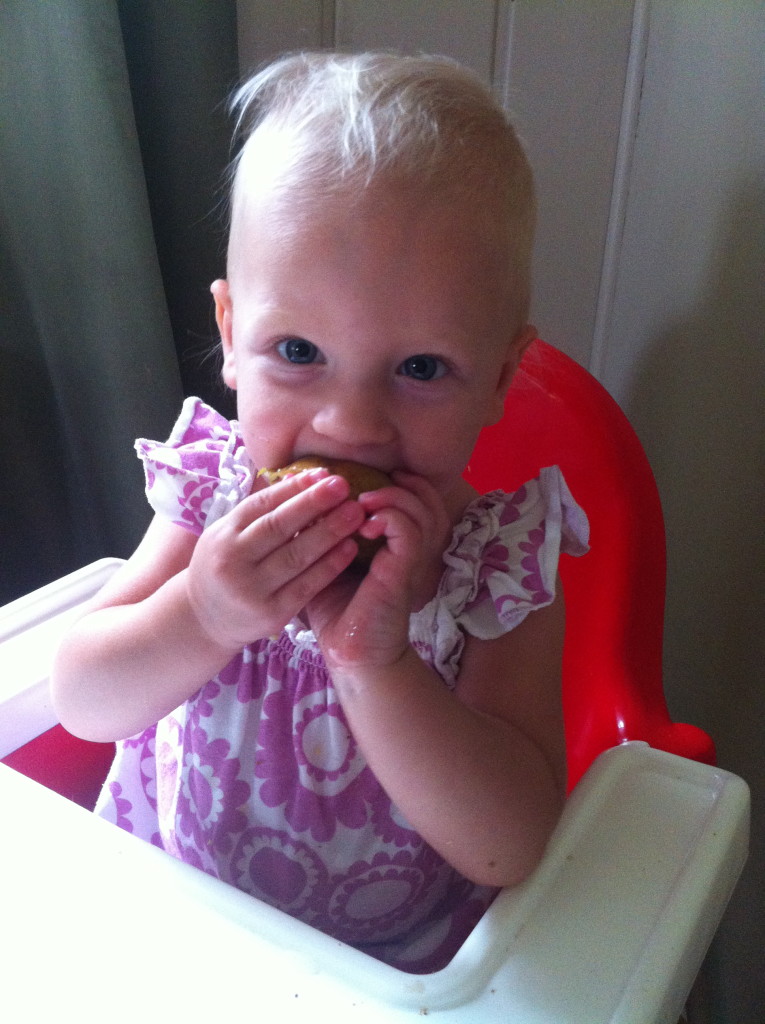 Tera discovered the steering wheel in the truck and it is now her favorite place to play!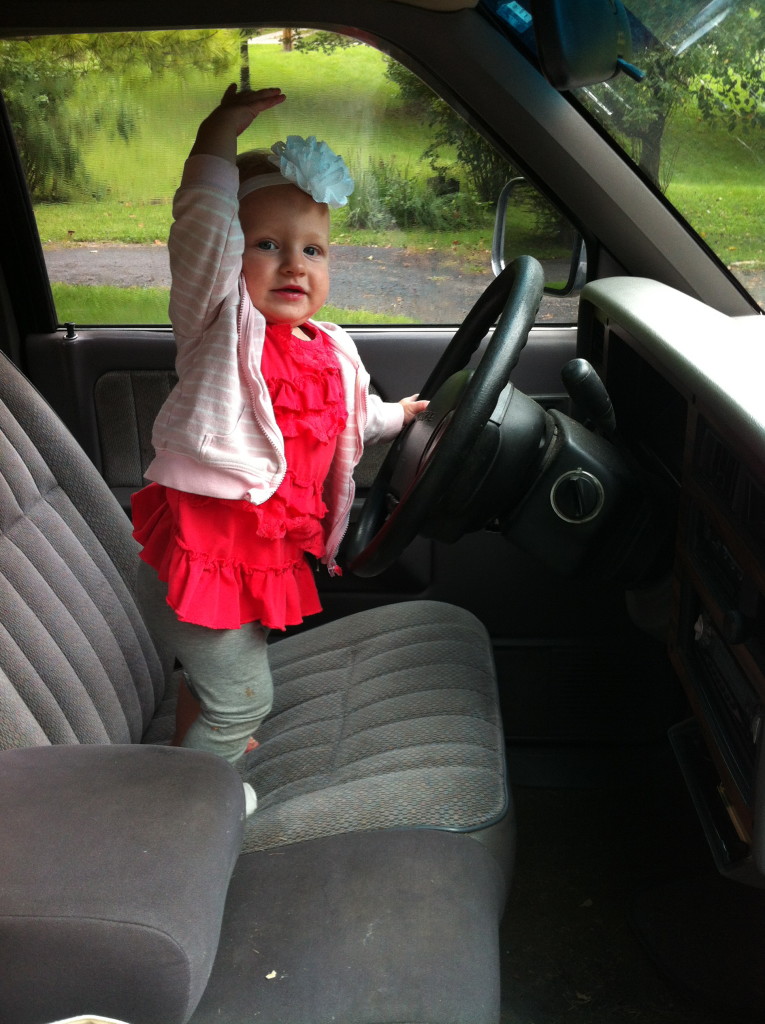 This past weekend was busy, busy, busy! Beavercreek Popcorn Festival was all day Saturday and all day Sunday. Our church has a booth at the festival, and it is one of the most popular booths because we do free face painting!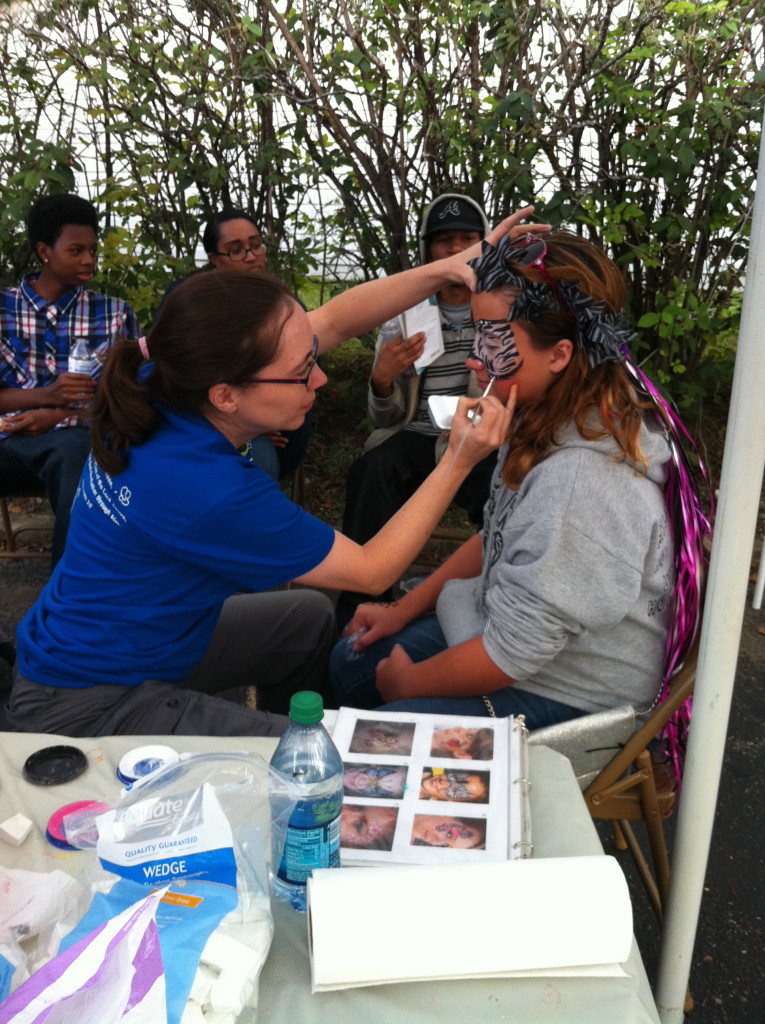 Over the years of doing this, our church has gotten more and more organized. We now have it down to an art. We take names and the designs that the child (or adult!) wants, and write it on the clipboard. Us three ladies manned the clipboards for most of the weekend. Megan also helped, but she was on a break when this picture was taken. Once we wrote down the names and the design number, we would tell the person how long of a wait it was (usually 30 mins-an hour). We would then shout out the next name on the list as soon as someone was ready to paint a new face! It was sometimes chaotic, but it worked really well!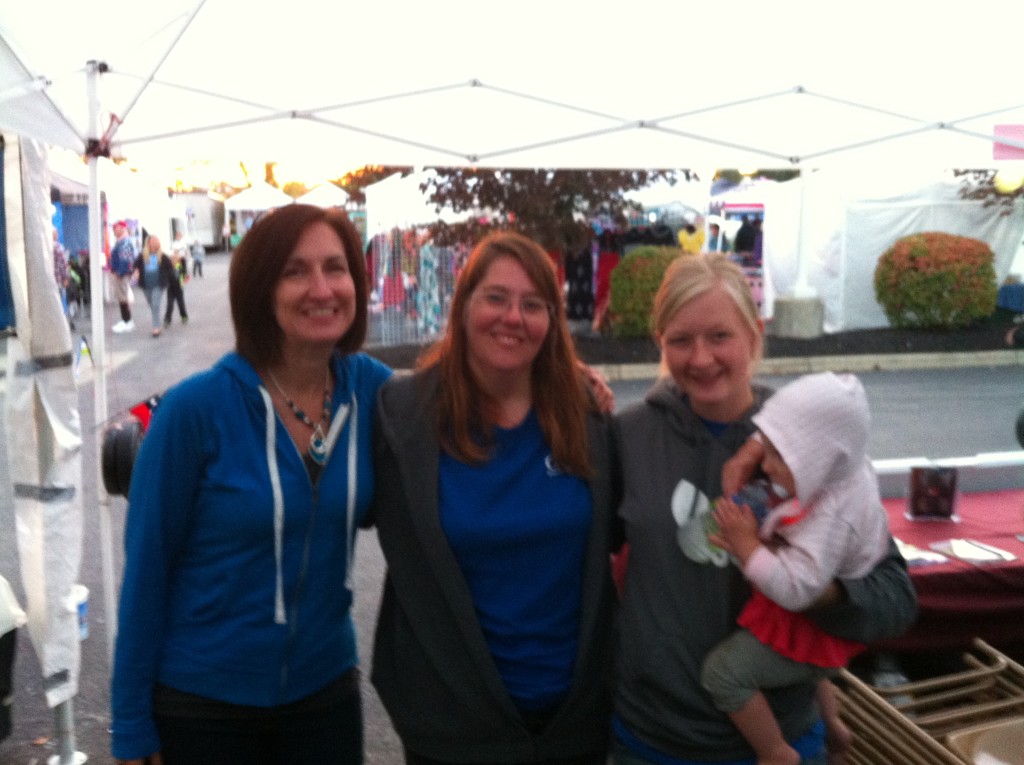 Fall suddenly swept through the area and I assembled this adorable outfit for Tera. I layed her down for a nap before heading to the popcorn festival, and when she woke up she was covered in pee. Bye-bye to that cute outfit!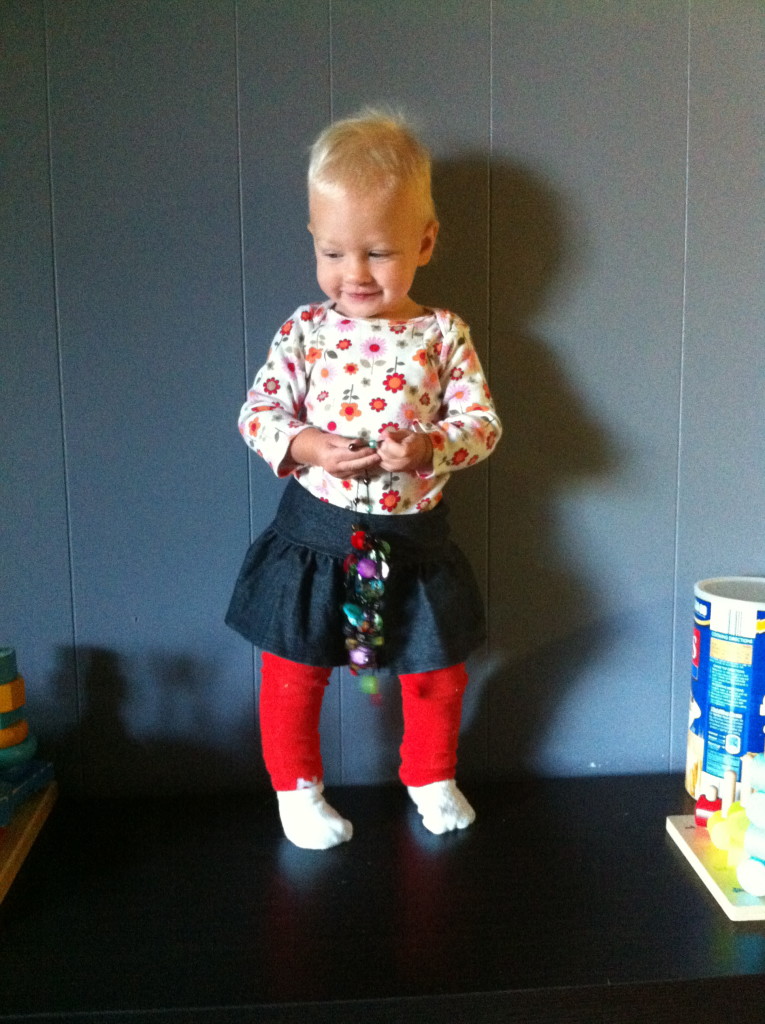 Rachel and Isabelle are two of our teens, but they stepped up and helped out in major ways at the popcorn festival! They painted faces all day on both days!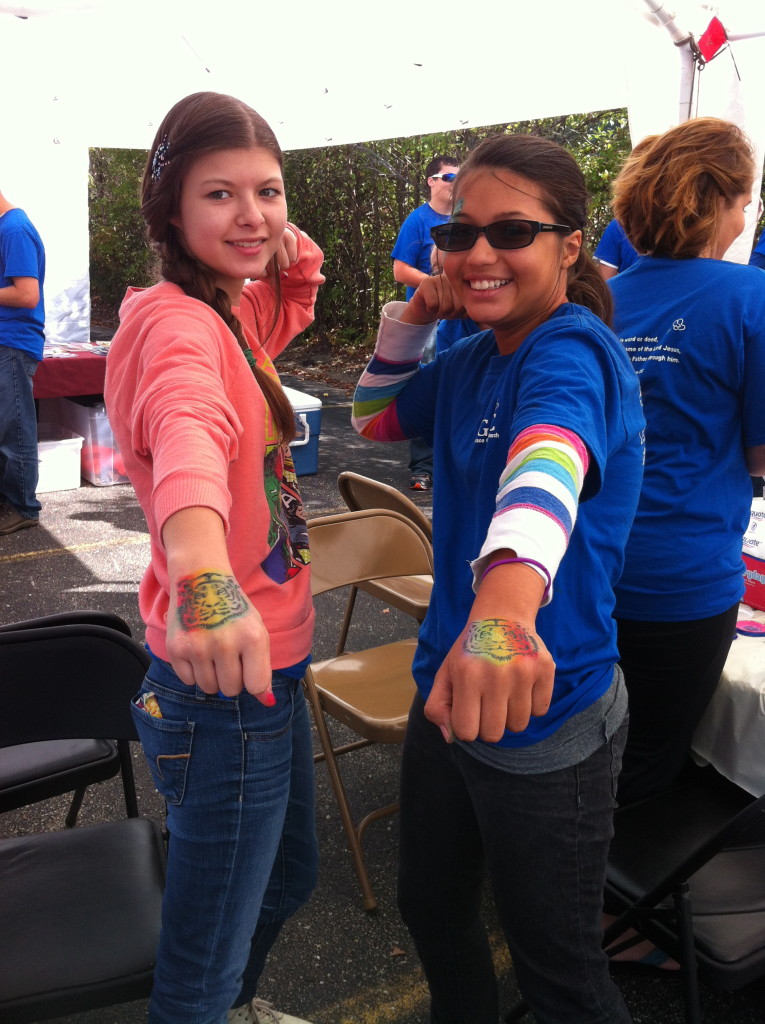 Theo worked all day Saturday, and on Sunday after taking a much-deserved nap, he brought Tera to the festival and we were able to walk around. Of course Tera now prefers to walk S L O W  L Y everywhere we go instead of riding in her stroller.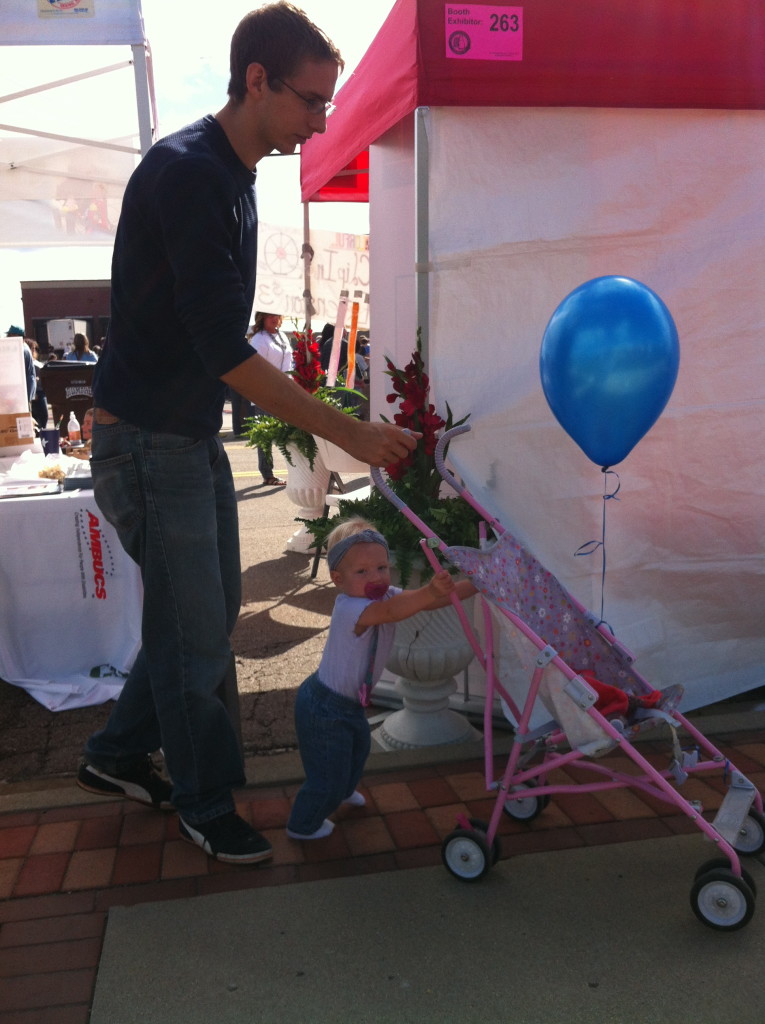 The festival is PACKED!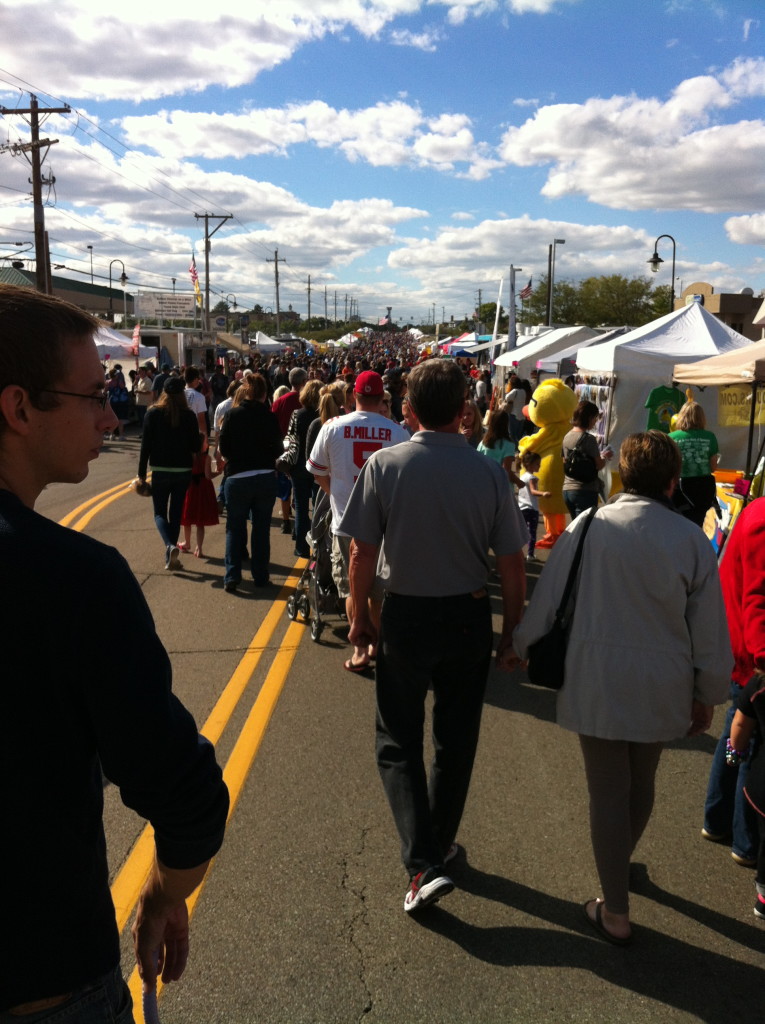 Little cutie posing with a fire truck!
Face painters gonna pain, paint, paint…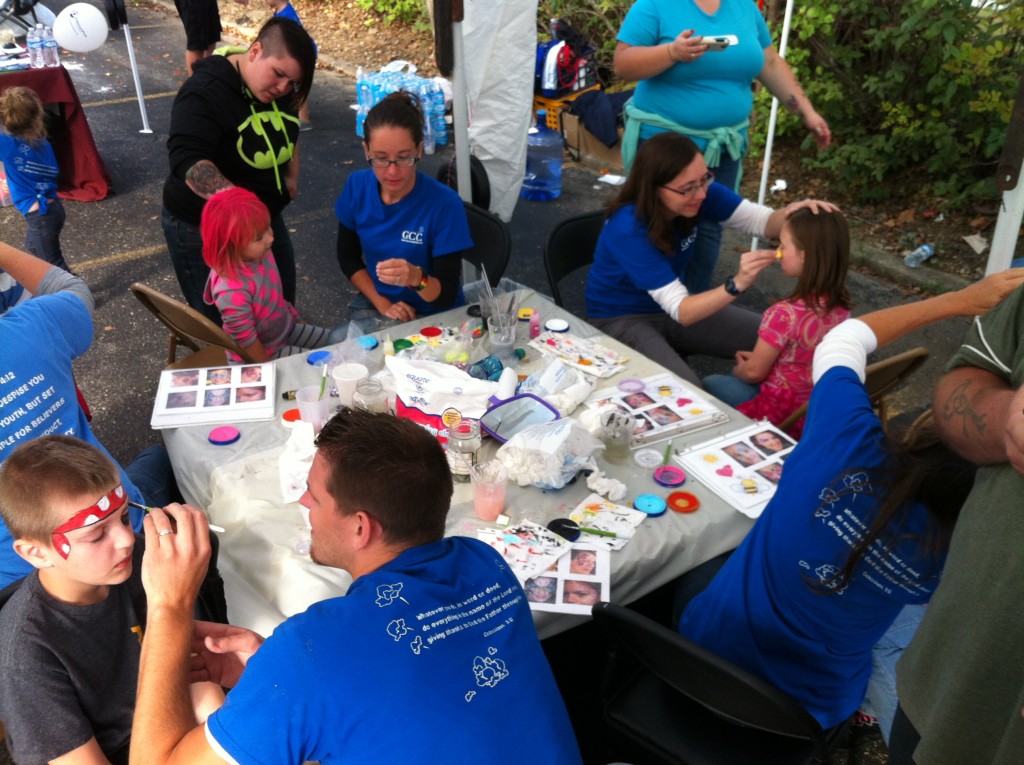 And that's all for life lately!