I'm a Christmas grinch.
There, I said it.
Growing up, we had a little tree that was about two feet high. We would spend one Saturday morning playing Christmas music and decorating that tree. We never made it a big deal. Since we lived in a small village in Africa, no one else around us celebrated Christmas. We were already seen as incredibly wealthy because we had electricity, running water and cement floors. My parents decided to not make a big deal out of the decorations and presents because that really isn't the meaning of Christmas. We always had a Christmas church service and meal with the church on Christmas day.
I think the holidays in America were the biggest part of culture shock for me. The materialism and the complete lack of the real meaning of Christmas have always made me a little sad and a little angry, too.
I have to admit that after living in the States for almost seven years, I have started to feel a little less grinch-y about Christmas and have gotten into some Christmas-y things. One of my favorite parts of Christmas is being able to decorate for Christmas. I love transforming the house and smelling the "christmas" scent. And Christmas is even more fun with children!
I still have to wait until after Thanksgiving to decorate, though! This past Saturday I told Theo that I would like to decorate the house for Christmas.
Tera was totally onboard with the idea, but had to put a diaper on her dolly first. Haha.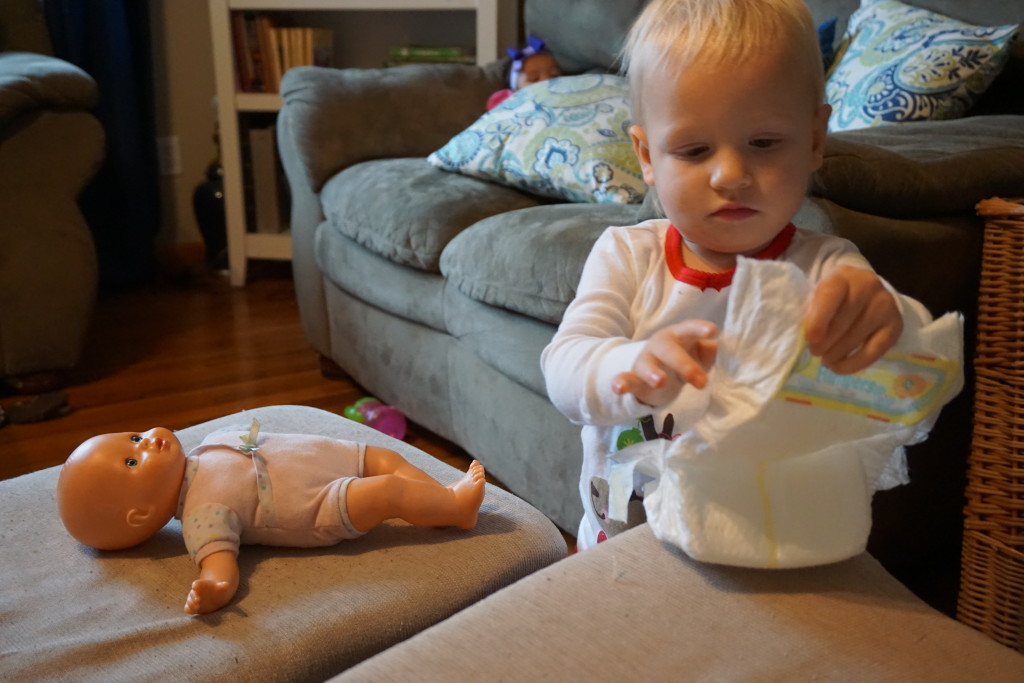 Then, she unpacked the toy nativity scene while Theo hauled the tree in from the truck.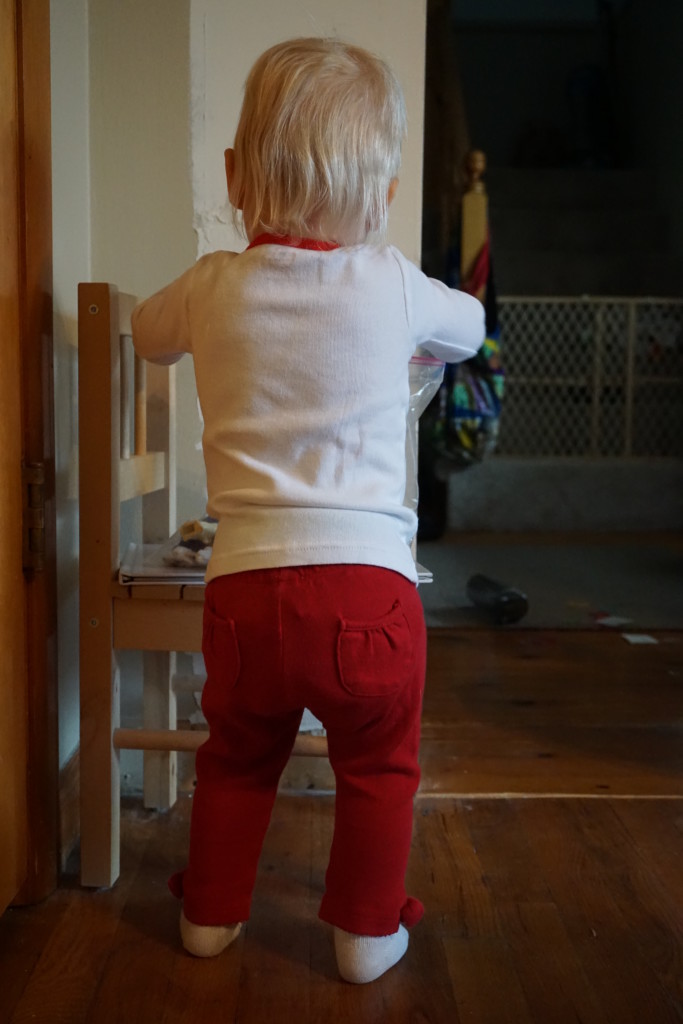 Tera got really interested in it when Theo started pouring water in the base.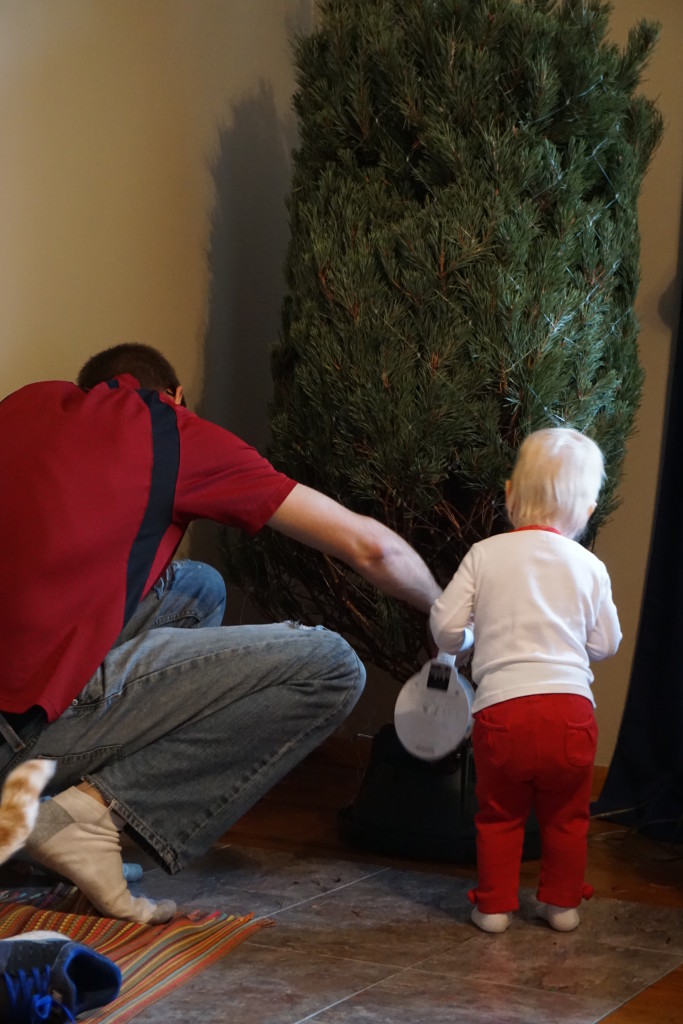 This is real life. I know the living room is particularly messy because of the Christmas decorations, but it truthfully looks like this on a regular basis. Also, notice how I'm not decorating? I realized I had promised someone I would have a published blog post ready that day….and I had to sit down and work on it.
Daniel and Kelly came back to the house and Daniel and Theo put the decoration on the tree while Kelly and I directed them where to put the ornaments. Or better yet…where NOT to put the ornaments.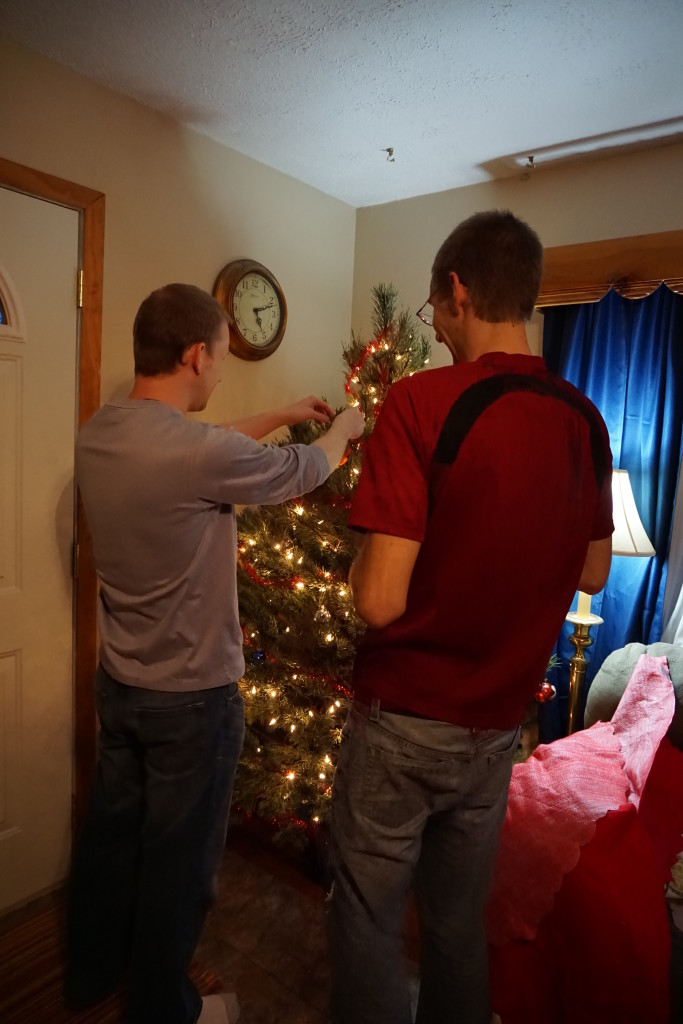 My handsome man. He ended up doing all the work. I didn't hang a single decoration. Lol.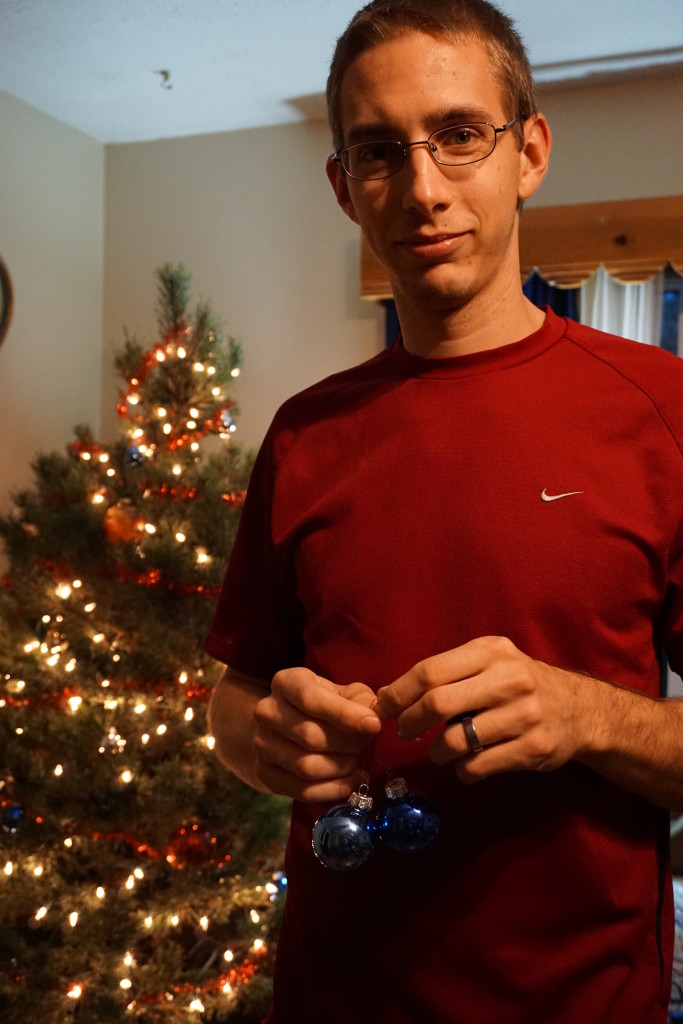 Then, it was time for pizza!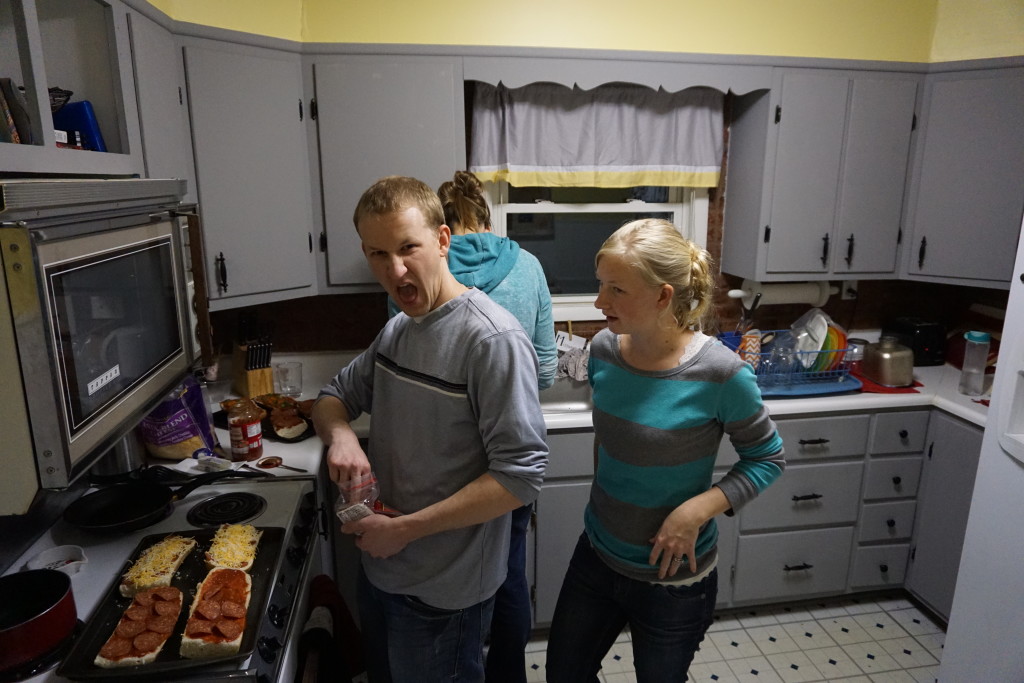 Tera woke up from her nap and I wanted to catch the wonder and excitement in her eyes when she saw the lit up Christmas tree for the first time.
To be honest, she wasn't really that interested! Pictures can be deceiving, huh? She was more interested in going to the kitchen to hang out with Uncle Dan and Aunt Kelly than looking at the tree lights!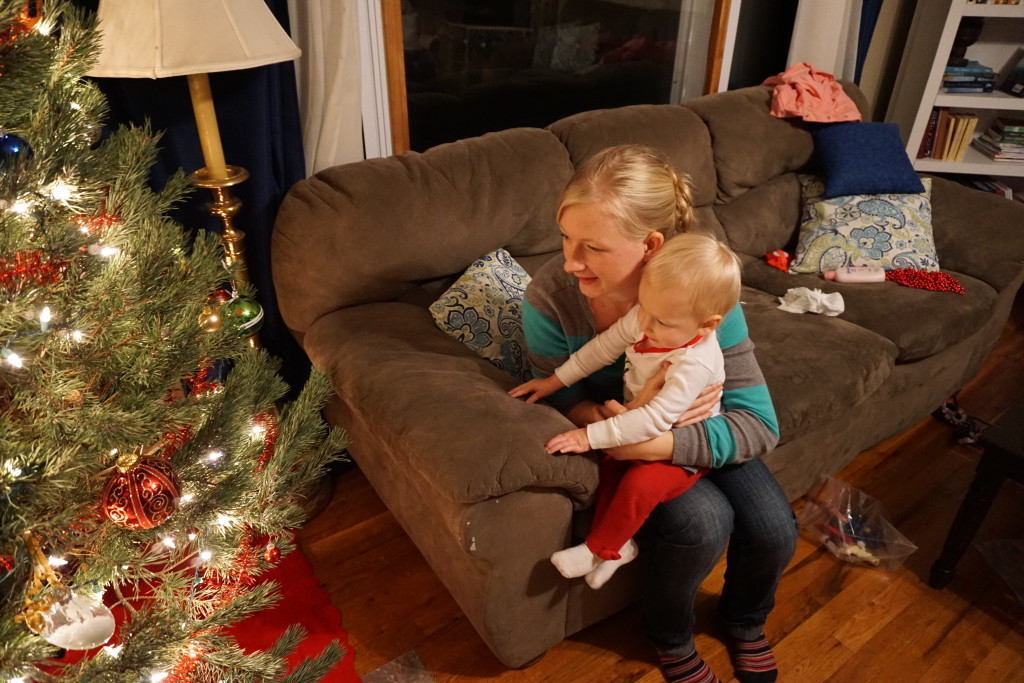 I love this picture.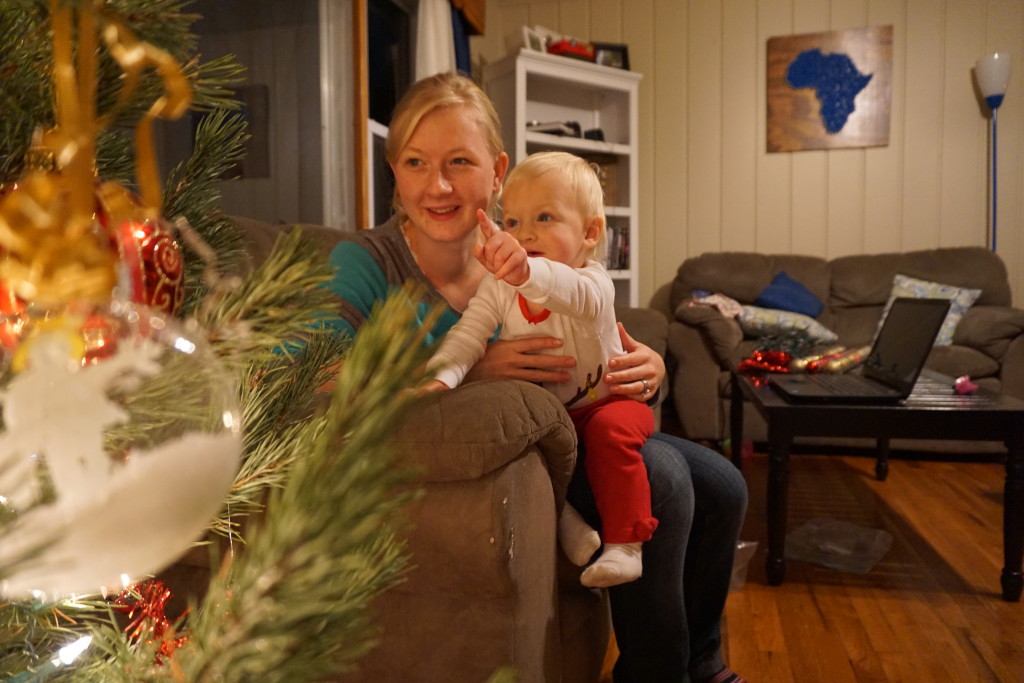 There, that's where she wanted to be. With Uncle Dan! And the pizza!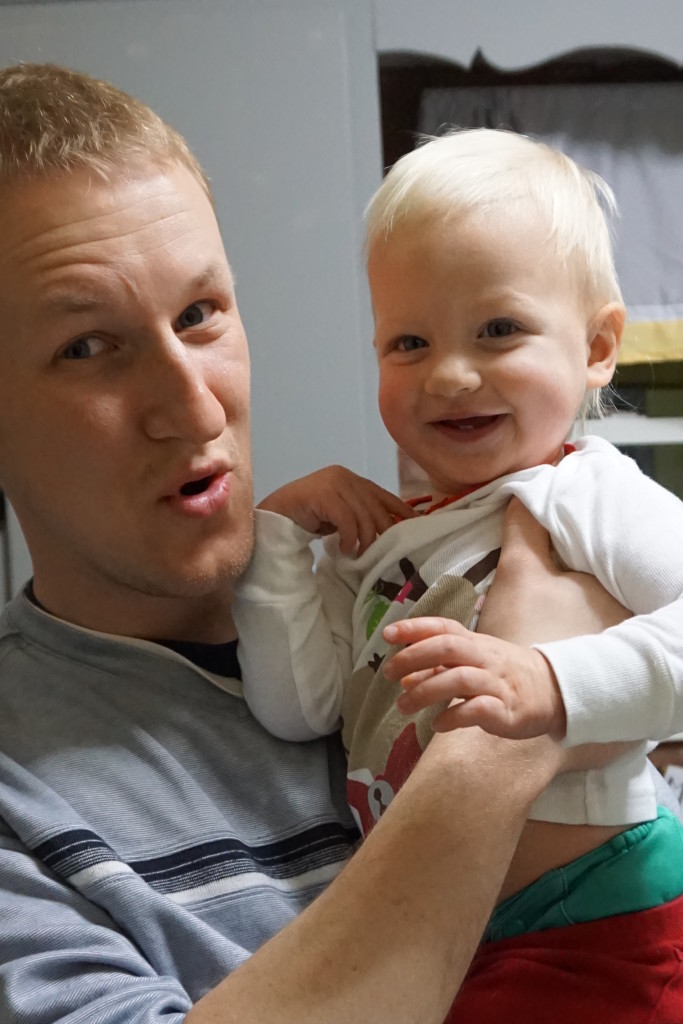 I also really wanted a picture of Tera and Little Miss just looking in wonder at the tree. Trust me, neither of them were as interested in the tree as this picture portrays! But I still love the picture.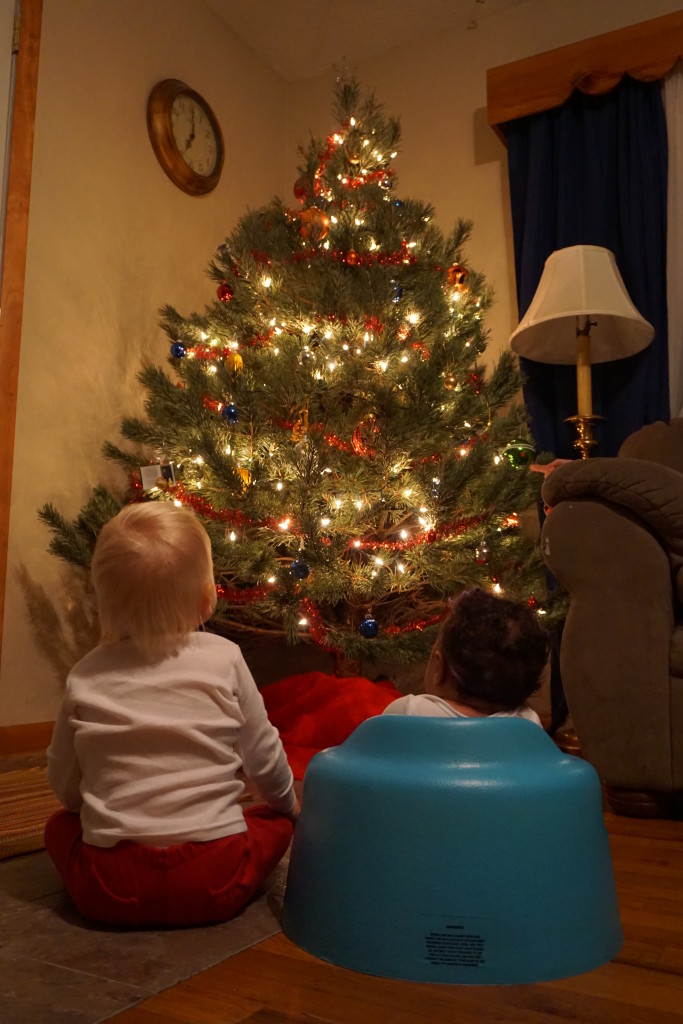 And I love this one, too. Most of my absolute favorite people are in this picture.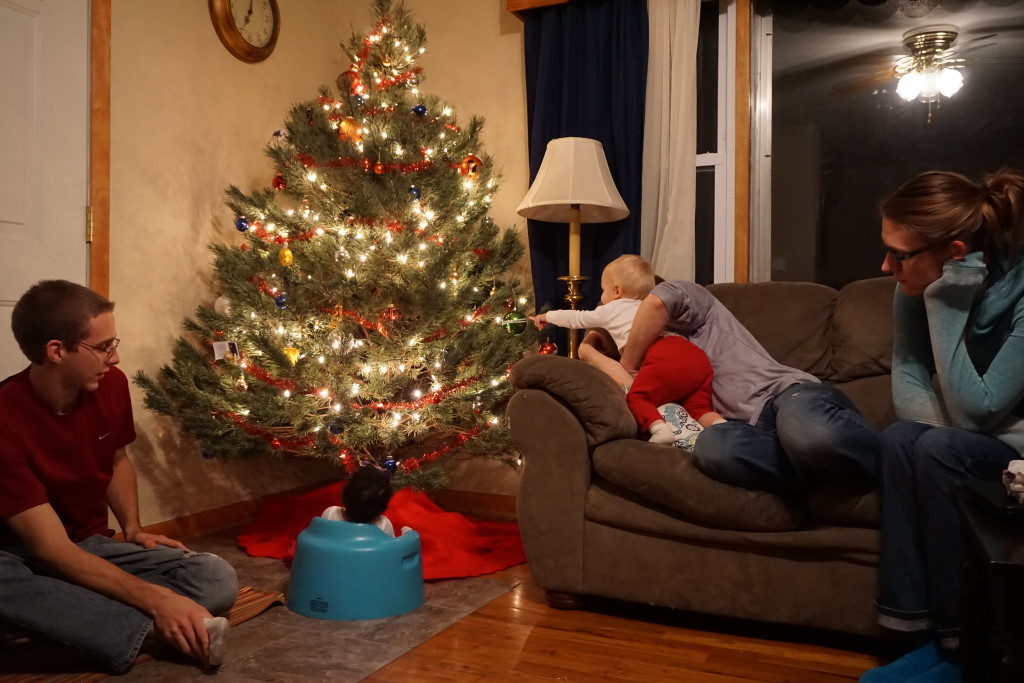 Theo and Tera then built us a fire and we watched a couple Hallmark Christmas movies.
We are so blessed. So, so blessed.