It's time to link up again with Andrea at Momfessionals   for Show and Tell Tuesday! Today's prompt is "Christmas Decorations".
My Christmas decor strategy is this: keep it simple, keep it inexpensive and point it all towards Christ. This is my fourth Christmas as a married woman, so I'm still at the very beginning of family traditions and collections. I'm in no rush to spend hundreds of dollars in one year, instead I think I will slowly add to my collections and decor items. It might look a little sparse in my home for a few years, but eventually I'll have all the Christmas decor I need, and most of it will be meaningful!
The first thing we did was set up the Christmas tree! We love choosing a live tree, but we usually skip the "chopping it down" part. We bought our tree this year from a boy scouts troop for $22! Yes!!
It was rainy and wet and the girls were both needing naps, so we made the adventure as fast as possible! Pull up, get everyone out, walk to the "cheapo" section, pick a tree, get it "wrapped", throw it in the truck…DONE. Probably took about 10 minutes. Lol.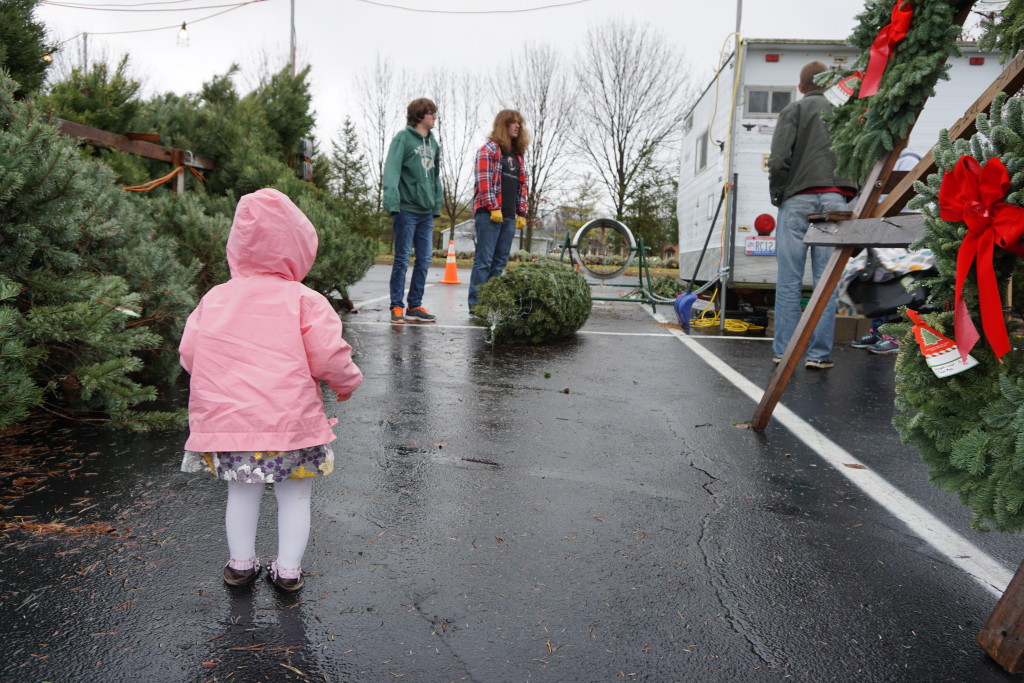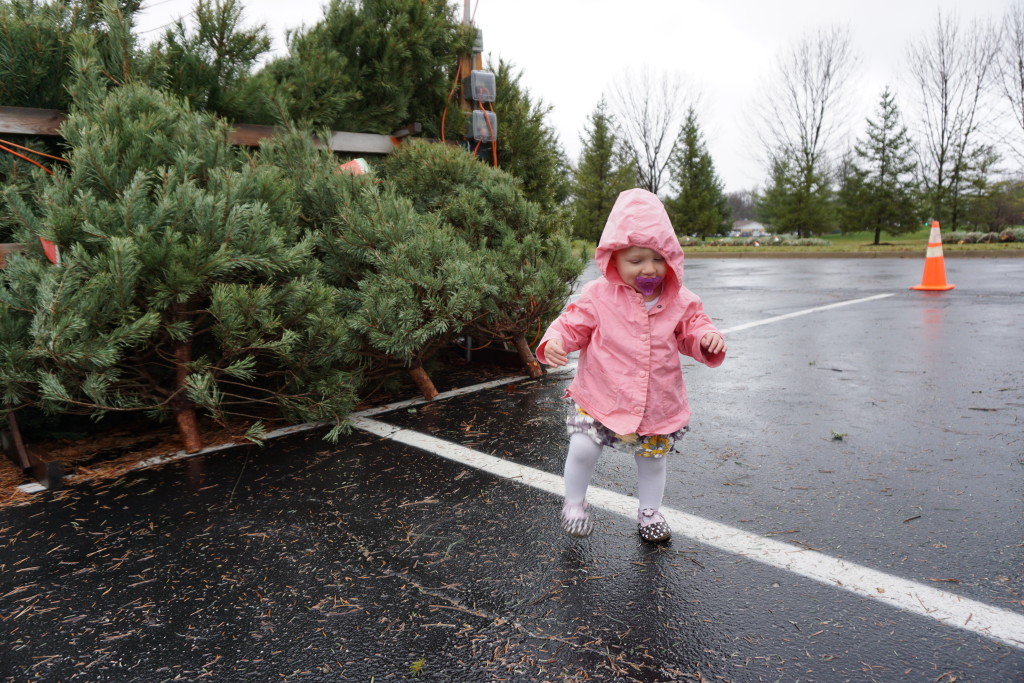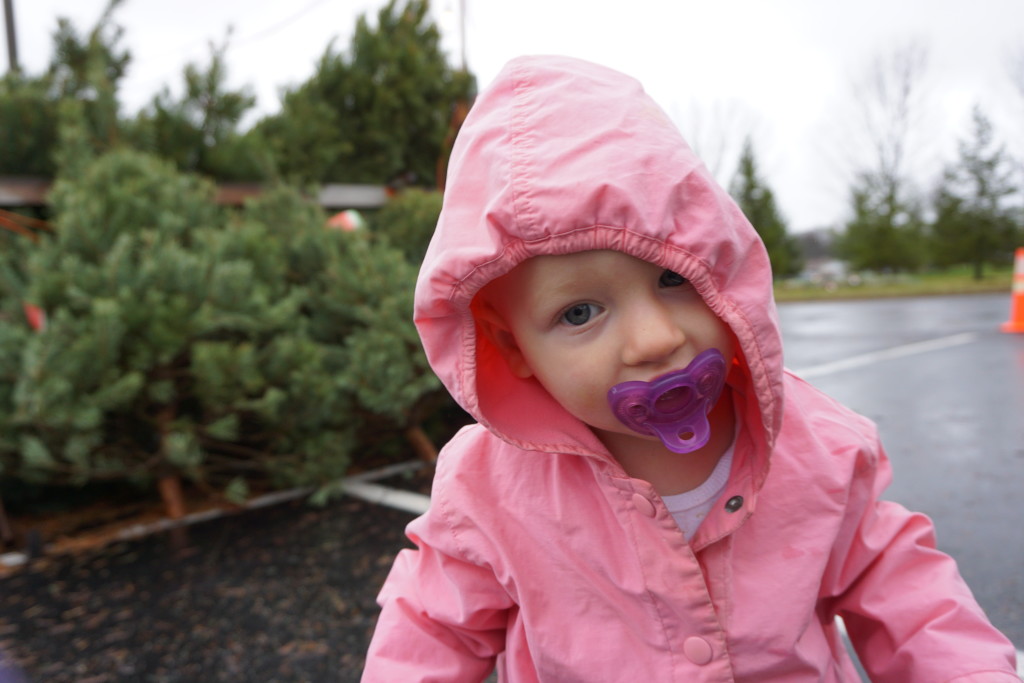 My husband and brother decorated it for me 🙂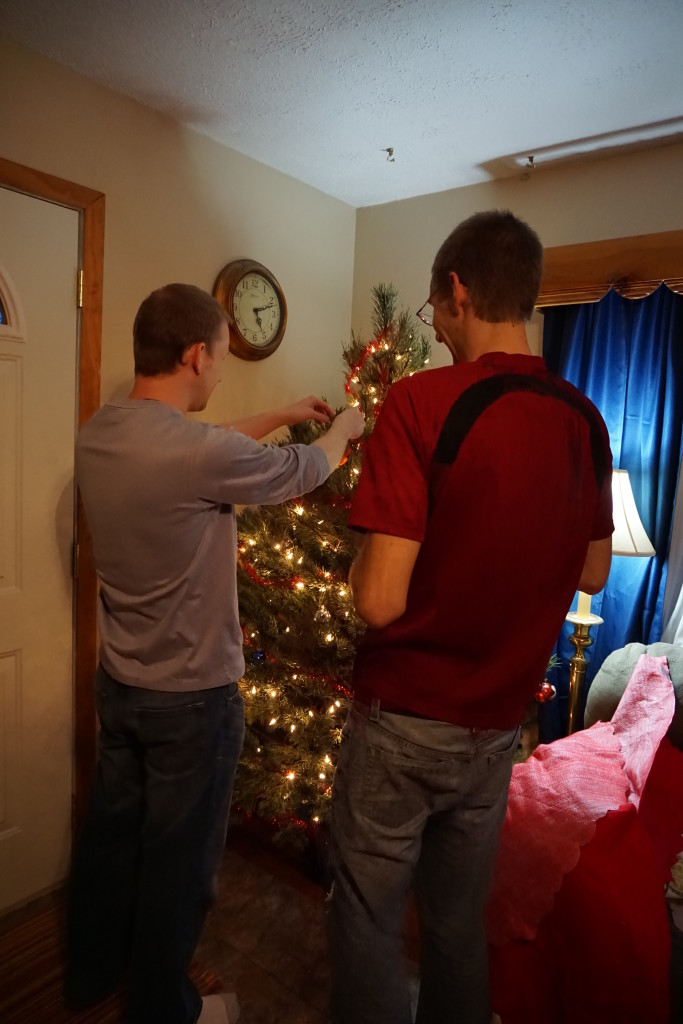 Despite what this next picture looks like, Tera has almost no interest in the tree!
One of my favorite pictures of all time!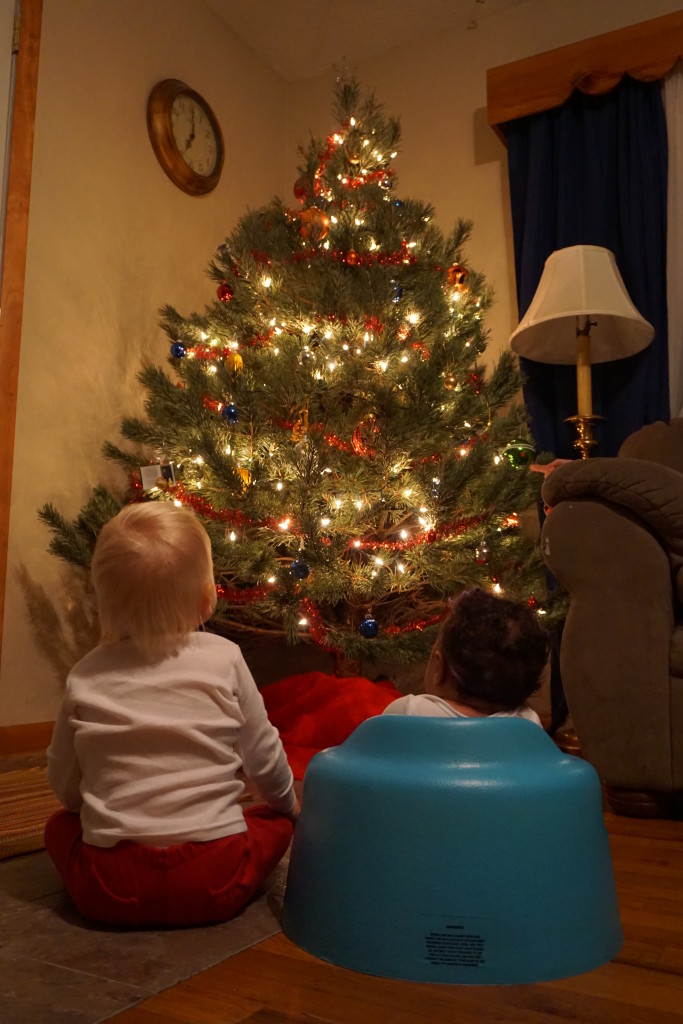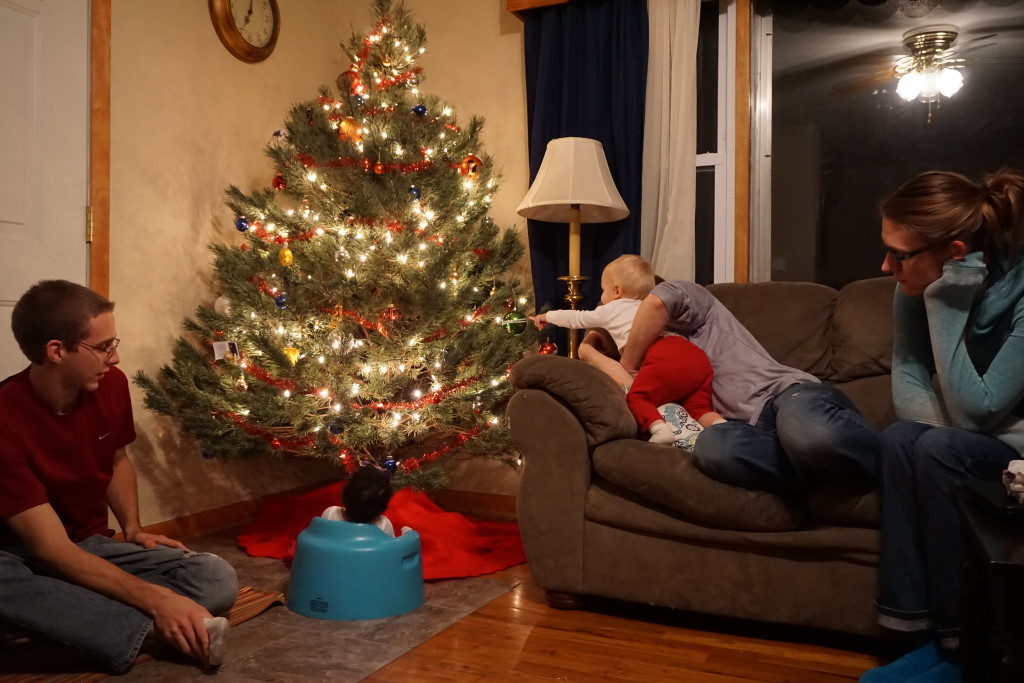 And here it is, all lit up at night!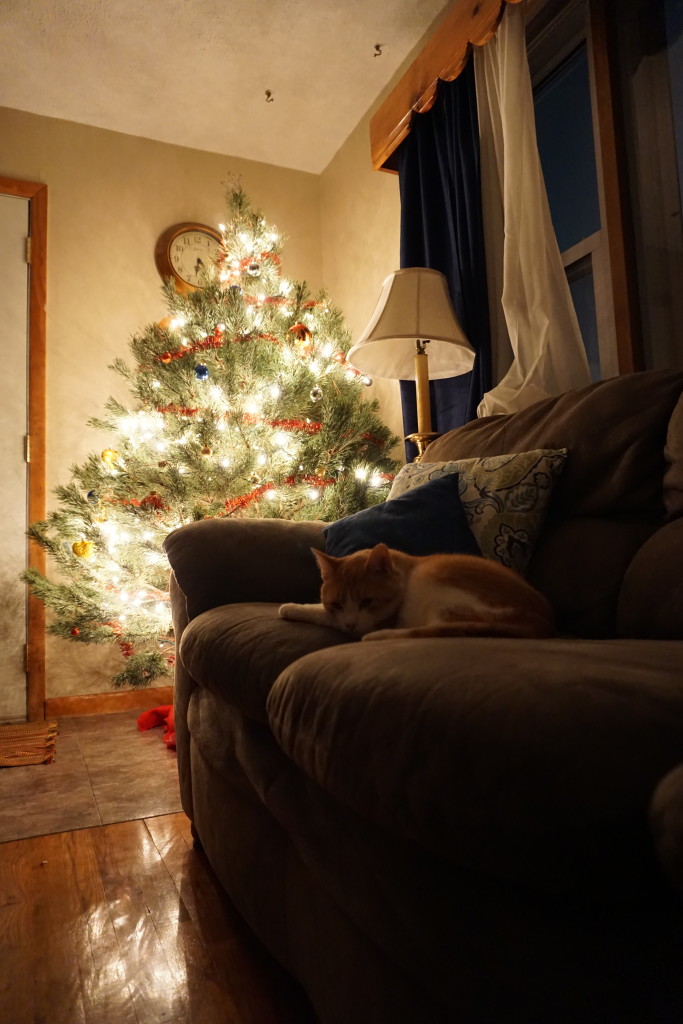 Our living and our dining room are the same room, so I love being able to sit at dinner and see the tree sparkle in the background. This was an impromptu "date night". We were getting so desperate for quality time together that I knew I had to someone make a date night happen. What you can't see is the toddler throwing food everywhere, and the baby crying and fussy in the bouncy seat. Lol.
With trimmings from the tree, I decorated the mantle. I then bought some of these gold ornaments at the Dollar Tree and placed them throughout the tree trimmings. I'm not really into gold too much, but I love the look of gold and evergreen together- especially at Christmas time!
I love our wood burning stove and our mantle. It's simple and I don't have to do much to dress it up, since the stone makes it pop so much.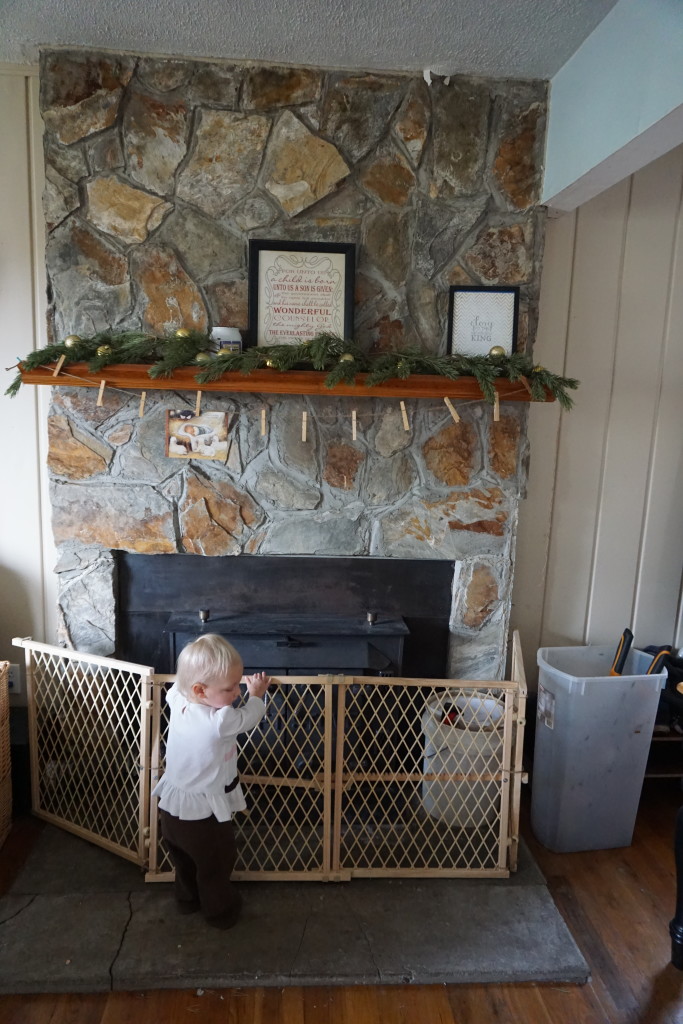 Just for kicks and giggles, here is what this exact spot looked like exactly a year ago:
Yeahhhhhh. It's come a long way.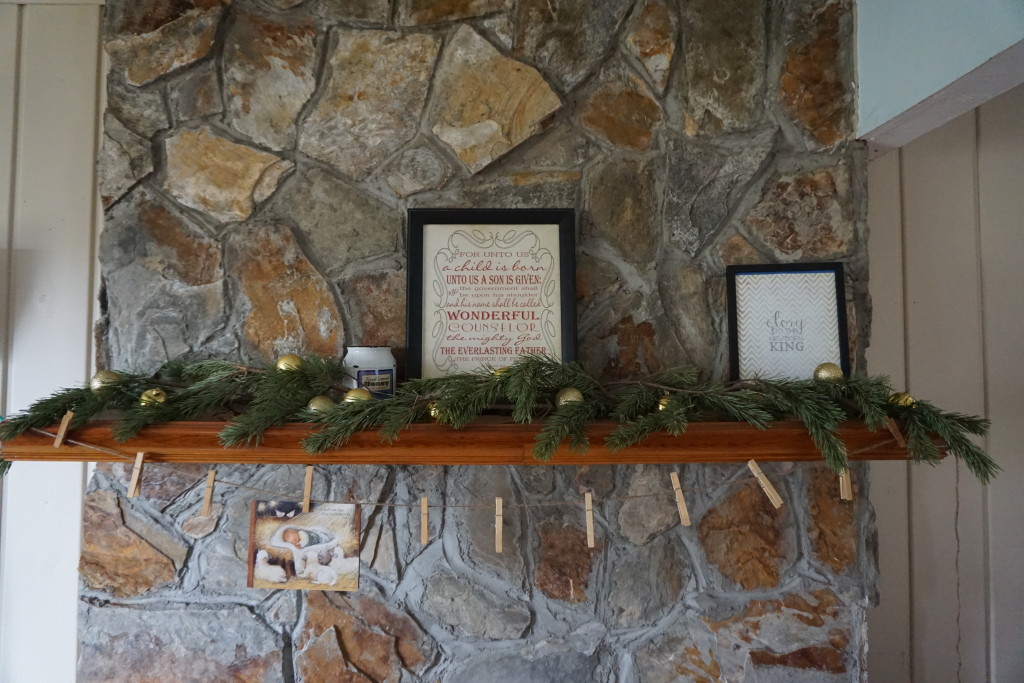 I found these free printables on Pinterest (sources listed below). I went to Office Max and printed them off, then framed them in the regular frames that I usually keep on my mantle year-round. I tried to stick with the gold theme.
Under the mantle, I hung some hemp with clothespins. As I get Christmas cards I'll hang them with the clothespins. This is one of my favorite parts of Christmas decorations!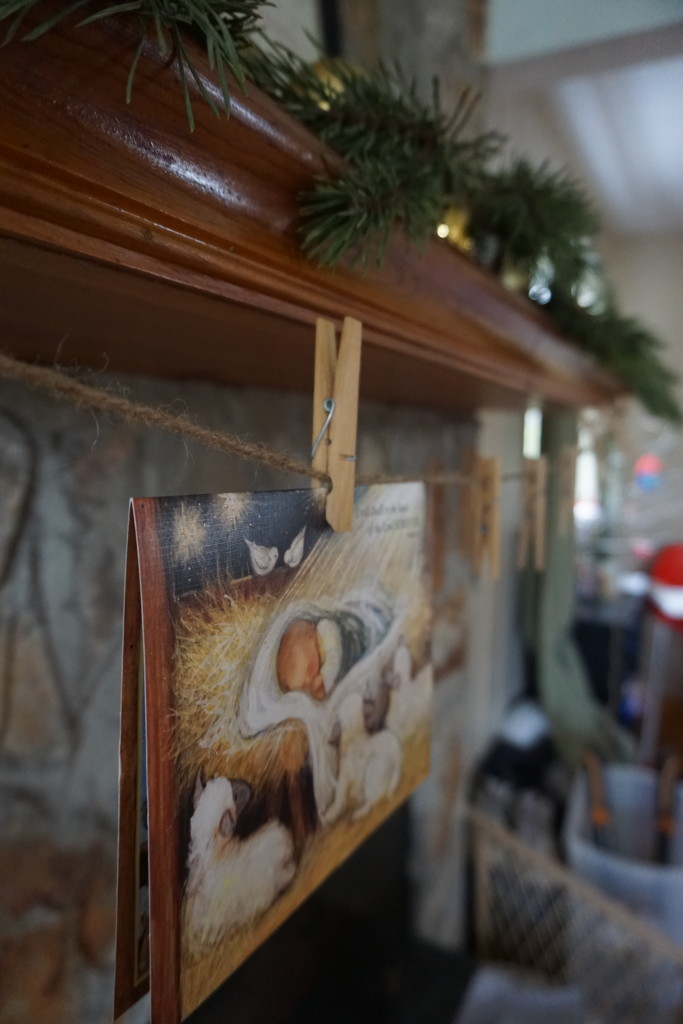 I also try to update my chalkboard so it celebrates the season! Theo and I made this chalkboard and it certainly has character! It's also HUGE, and is longer landscape than vertically. I usually look up chalkboard designs on Pinterest and then just do my best to "replicate" it with my own twist. Sometimes I love it…sometimes not so much. But I sure have come a long ways after doing all Tera's pregnancy update chalkboards!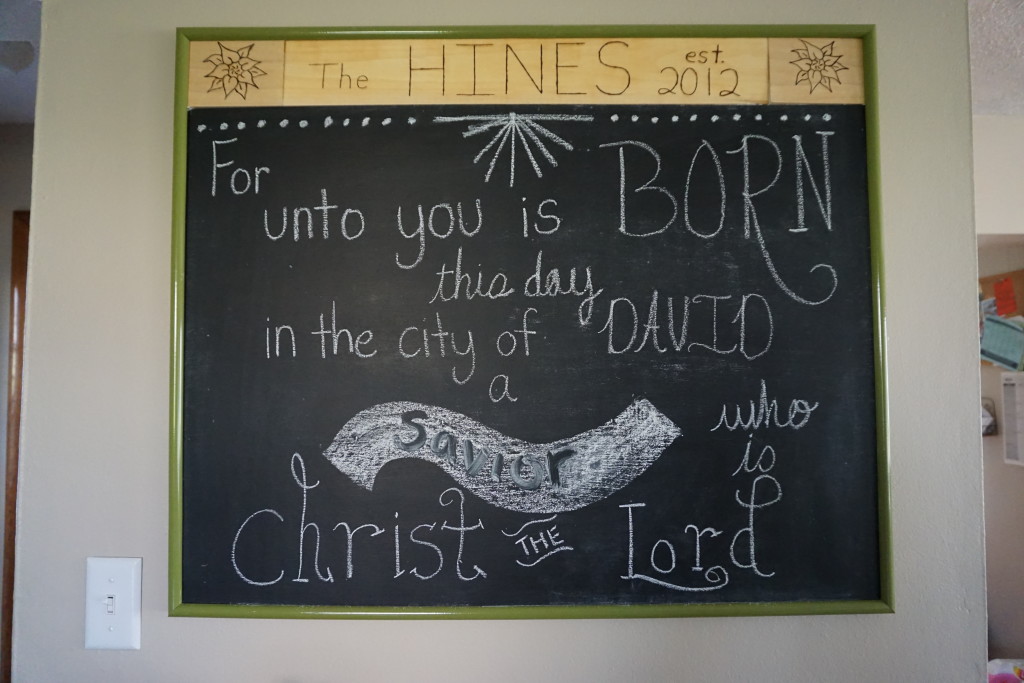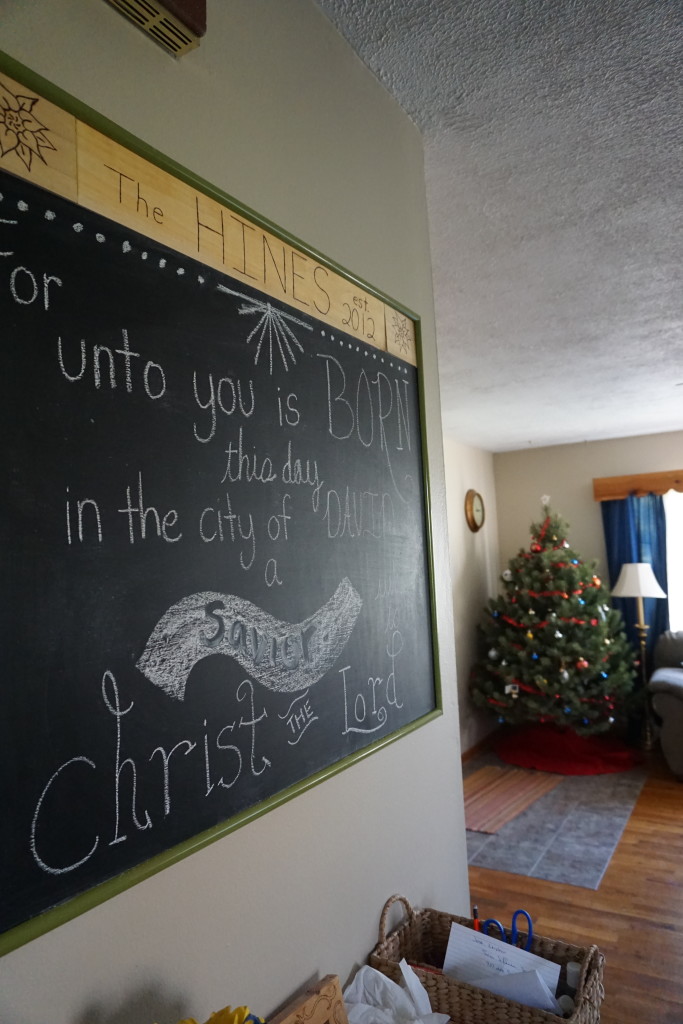 The final item of Christmas decor I have in my house is an advent tree. This is called the Jesse Tree Advent and this is the first year we are doing it. It has 25 ornaments to countdown the days until Christmas. Each Christmas ornament corresponds with a Bible story. Not only does each one correspond with a Bible story, but the advent walks through the promise of Jesus throughout the Scriptures, from the very beginning, in the garden. It is called a Jesse Tree Advent, because the entire premise is focusing on the promise of Jesus through the line of Jesse. The main audience is children for this advent, but it's one of those things that contains so much truth that it also pertains to adults. It's just understandable for children!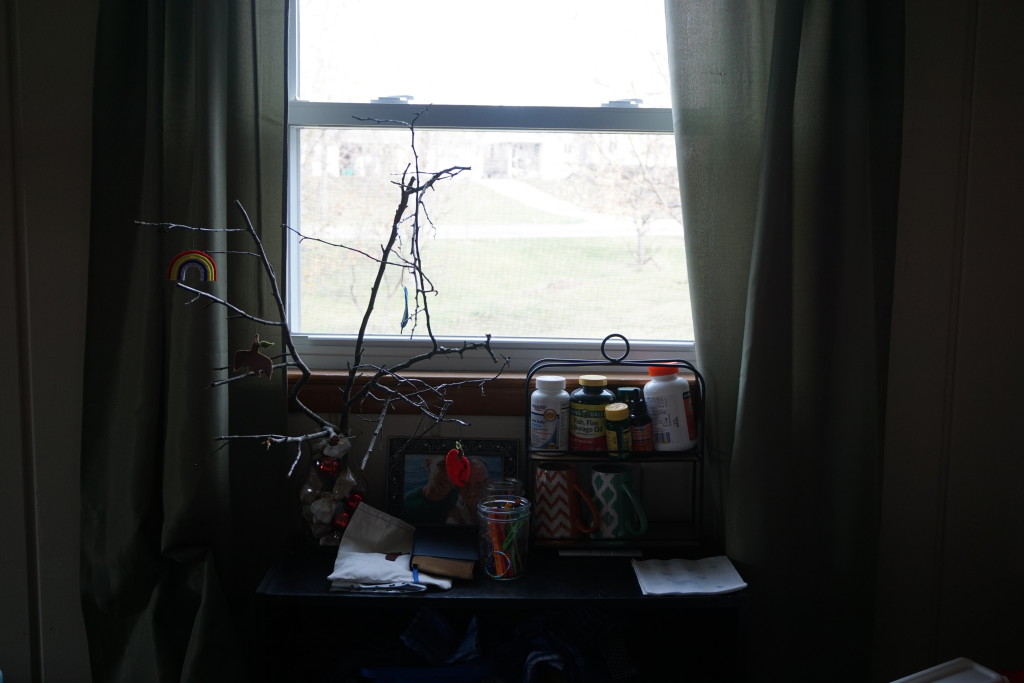 If you go on Pinterest and search for "Jesse Tree Ornament" you can find lots of different kinds. I've seen ones that are coloring pages for the children to color each day. I've seen ornaments that people make out of wood, or felt, or paper, or any type of media out there! I've heard of people doing Jesse Tree Ornament making parties, where 25 friends get together and all exchange the ornaments. I loved the look of the felt ornaments, and I thought for .25 seconds that I could make them myself….but I scratched that idea as soon as I remembered that I have a toddler and an infant and I'm not the least bit crafty. So I looked on Etsy for some ornaments and found TONS. I found some affordable ones and ordered them! They came all the way from Australia and arrived just in time for advent to start! They are PERFECT!!!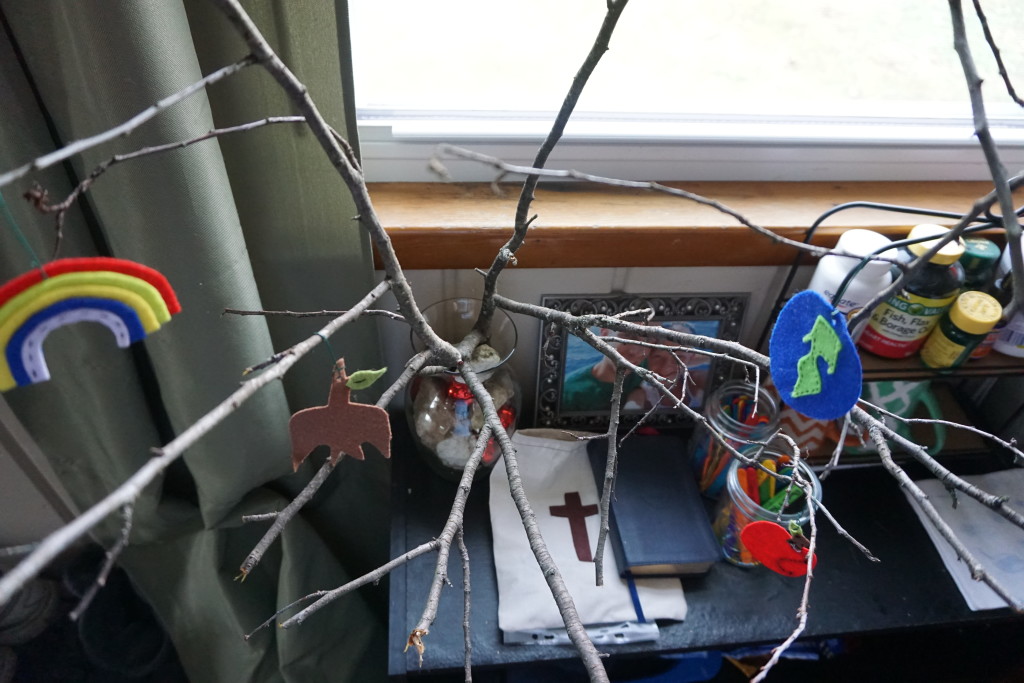 I chose a tree branch from a tree outside, but you could put the ornaments on your regular Christmas tree, or get a small Christmas tree to use for it. Or, like me, you could save $$$$ and keep your advent tree separate from the regular tree by using a dead branch from outside. haha!
Each day we read the corresponding Scripture and then hang the ornament up on the tree. Here is my little assistant "helping" me….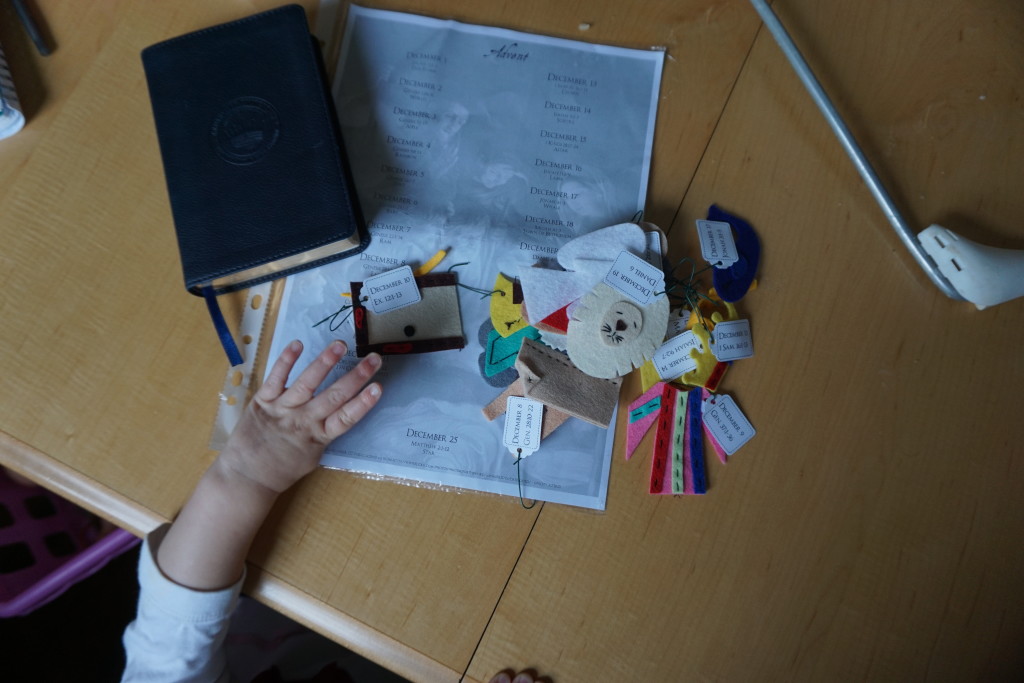 I just love the detail and creativity that went into each of these felt ornaments: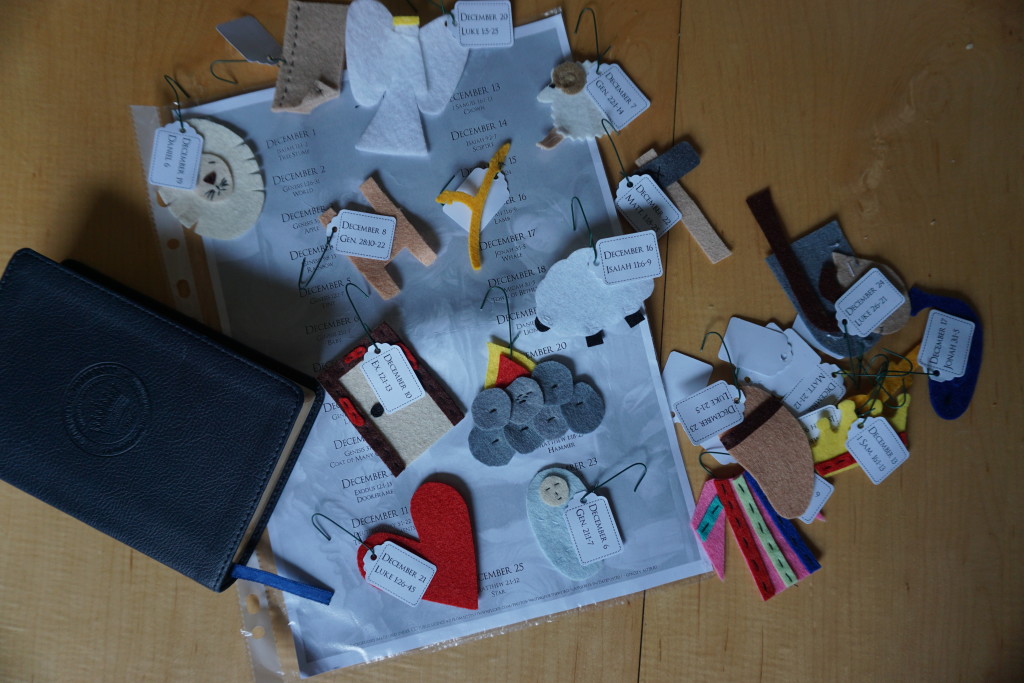 And a huge bonus of the Jesse Tree Advent is that it goes right along with the Jesus Storybook Bible. If you don't have the Jesus Storybook Bible for your kids, stop right now, click this link and order it for your child. RIGHT. NOW. Each Scripture and advent ornament goes with the stories in the Jesus Storybook Bible, starting from the first story right up until Jesus' birth. It's beautiful. Tera is too young to sit through the whole Bible story, so for this year we are just reading the Scripture and hanging the ornament each night at family devotions. But when our kids get a little bit older, we will go a little bit more in depth!
And that's all! Yes, I'm serious! I have nothing else Christmassy in any other room of my home! Like I said…I have years and years to collect stuff, and I'm mostly just into keeping it simple!
Sources:
Ornaments: The Dollar Tree
Jesse Tree Advent Ornaments: PinkScissorDesigns
Future "wish list":
A nativity set
Yearly ornaments for the girls/children in our homes