On November 2, Janet Varner passed into glory. Aunt Janet was a faithful missionary in the CAR, and a long-time friend of the Hines. Due to medical problems and necessary check-ups, Aunt Janet had to travel to the States once year. She always came back over Christmas, and always spent Christmas with the Hines. Aunt Janet passed away in the CAR, and her funeral was held there. She was buried where she wanted to be buried: in the CAR, amongst the people that she dedicated her life to.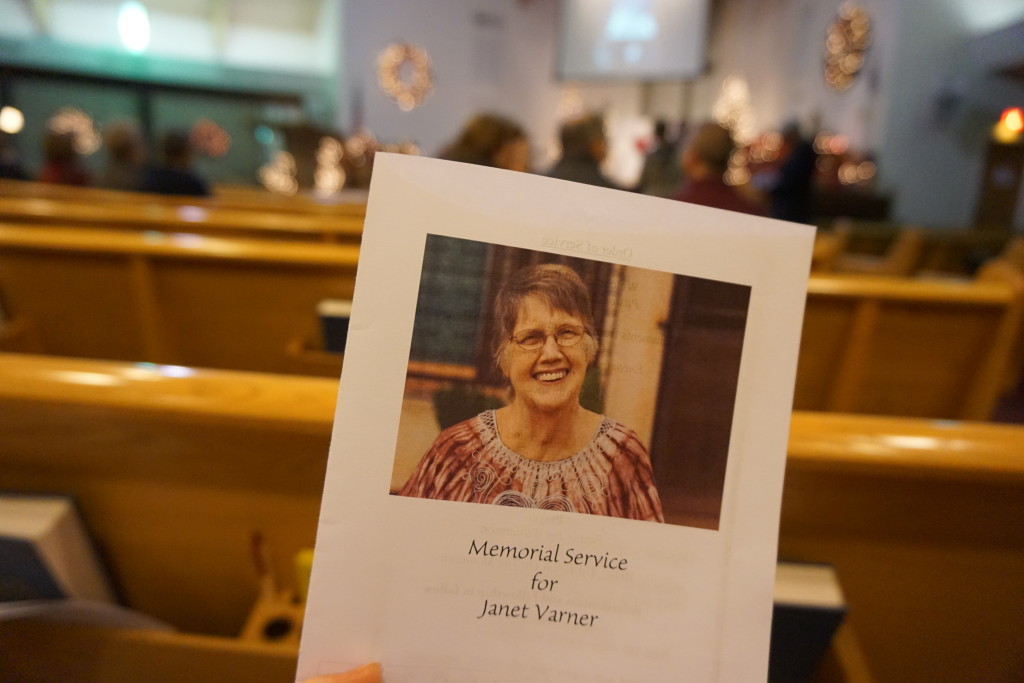 Since the Hines' couldn't attend her funeral service, there was a memorial service held this past weekend for her. When I realized that Theo had the weekend off, we decided that we would go up MI to attend the service. Through lots of string-pulling, we got permission to take Little Miss out of state, and we were off!
We arrived in the early afternoon, and spent the rest of the day with family. The memorial service was in the evening, so we packed up the girls and headed over. It was a beautiful, intimate service. Although there was mourning and grieving, it felt more like a celebration. Aunt Janet loved Christmas, and it was a sweet mix of sadness and rejoicing.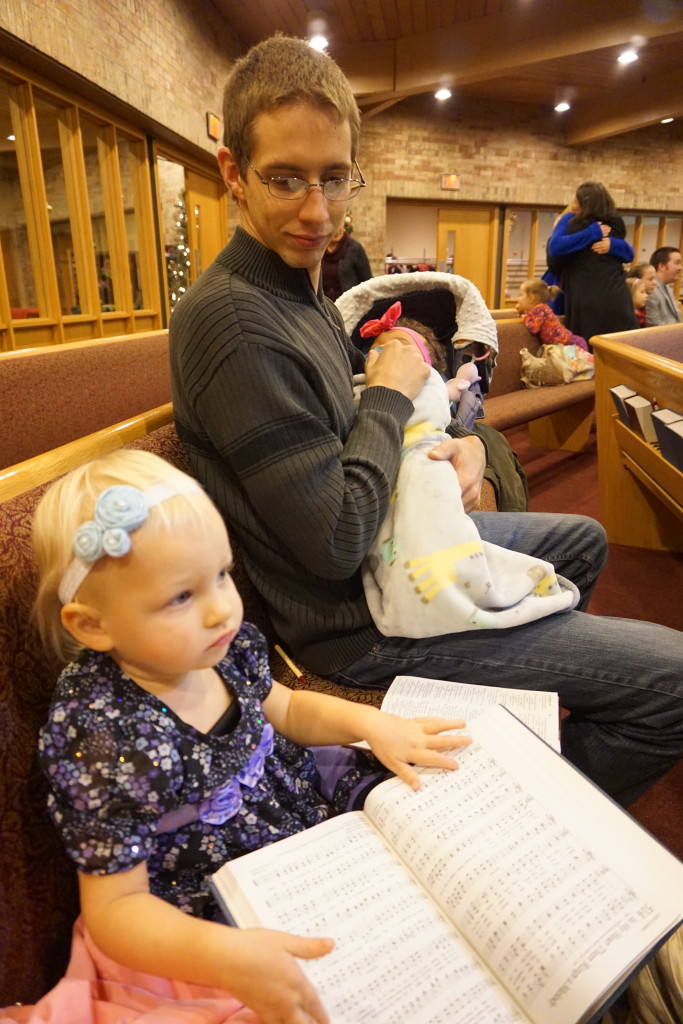 Aunt Janet also loved the bells, so my MIL put together two bell songs. All the people who had been to CAR and served with Aunt Janet were asked to come forward and play. It was beautiful. As you can see by some of the faces, there was crying all around!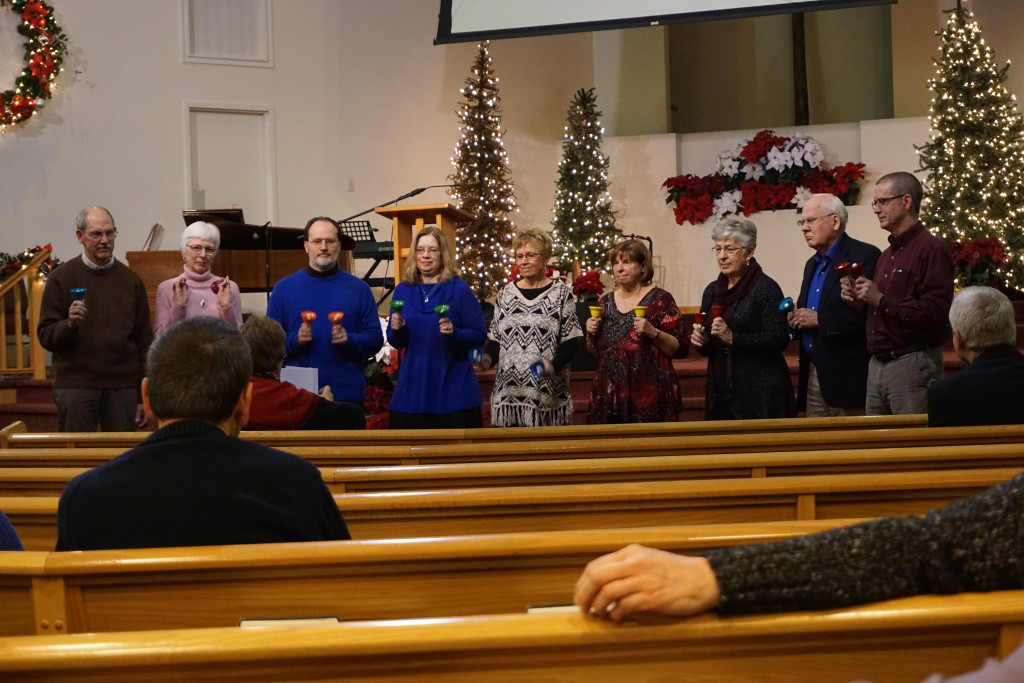 My MIL also set up this board honoring Aunt Janet and her work in the CAR.
After the memorial service, we headed home and crashed early.
The next day we spent with family, and it was delightful. Uncle Seth gave Tera some hugs…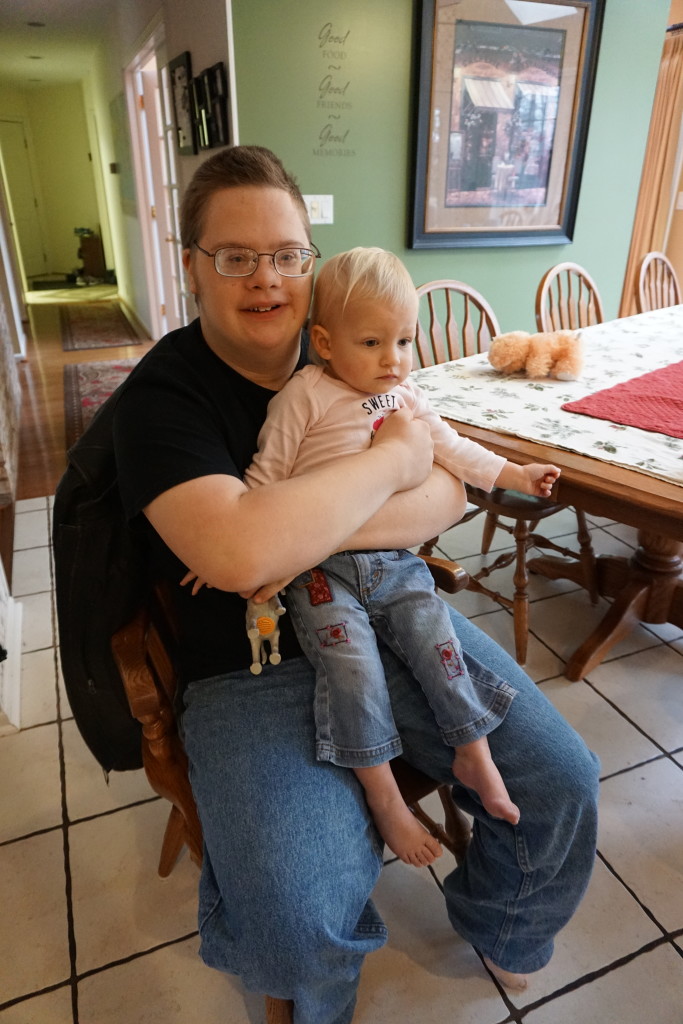 We went out for lunch (and ice cream). Tera wasn't looking because she's too into the ice cream!
In the evening, my in-laws hosted the senior citizens church group. They all went out for dinner and then came back to the house for desserts and a white elephant gift exchange. We got to participate, and it was a blast. Old people are hilarious.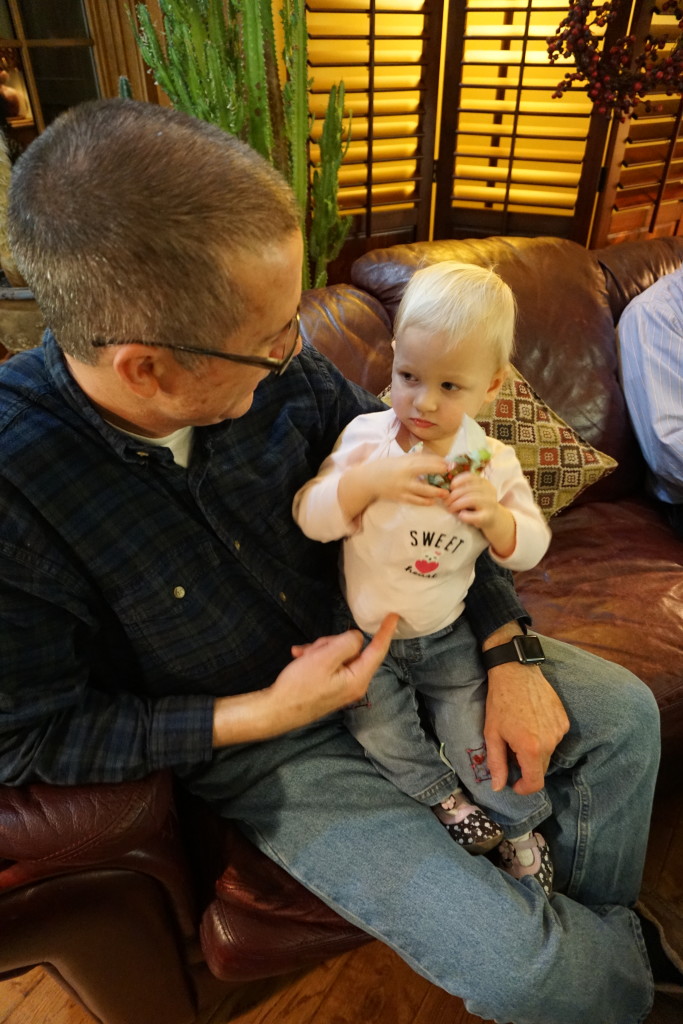 Tera was a big hit!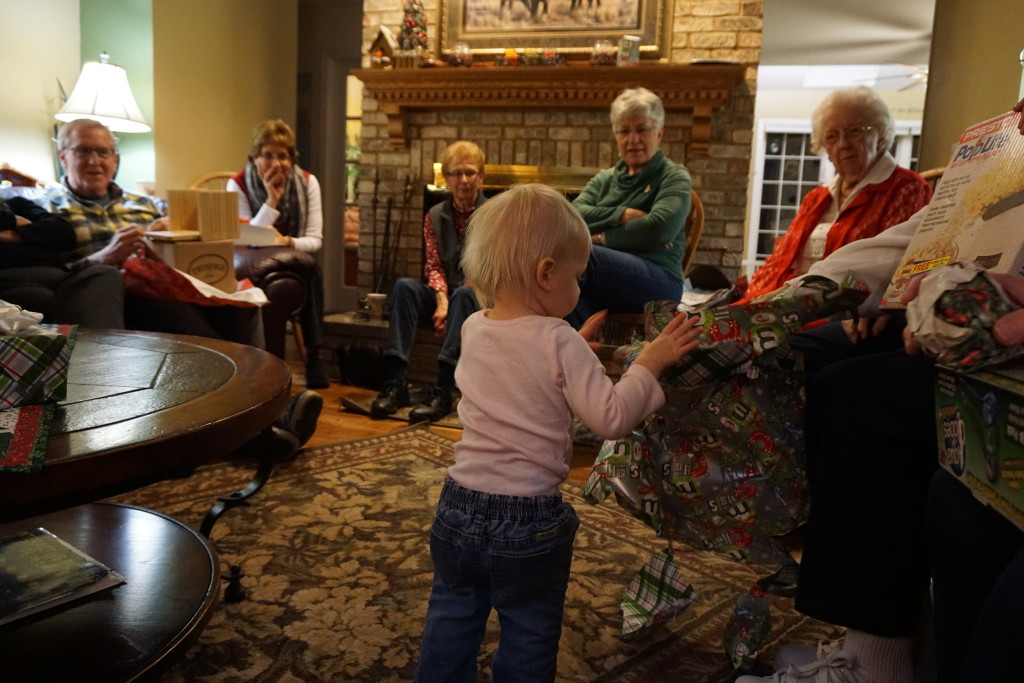 Of course, whenever we are around Grandma, she trims the girls fingernails! She is PRO and I'm more than happy to relinquish that job!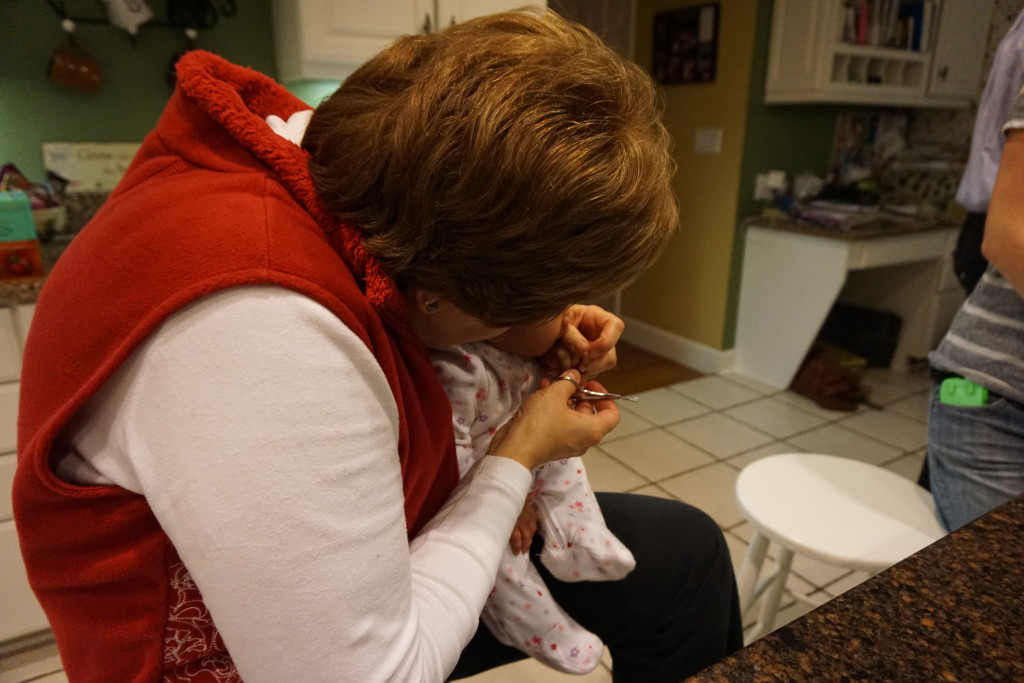 Sunday morning we headed to my brother and sister in laws house! Since this was kind of a last minute trip, we decided we also wanted to spend a day or two with Dan and Kelly, and have a little DeValve Christmas celebration.
Little Miss loved to look at the tree. Let me just mention here: Little Miss had one of the worst weekends of her life. The screaming and crying was unreal. We weren't sure if it was because we were traveling to a different place, if she had some sort of gas problems, or if she was just having a rough few days. Whatever it was, it was a huge test in patience for us.
I absolutely love Dan and Kelly's apartment. It is so, so homey and Theo and I both felt like we were able to just relax while there.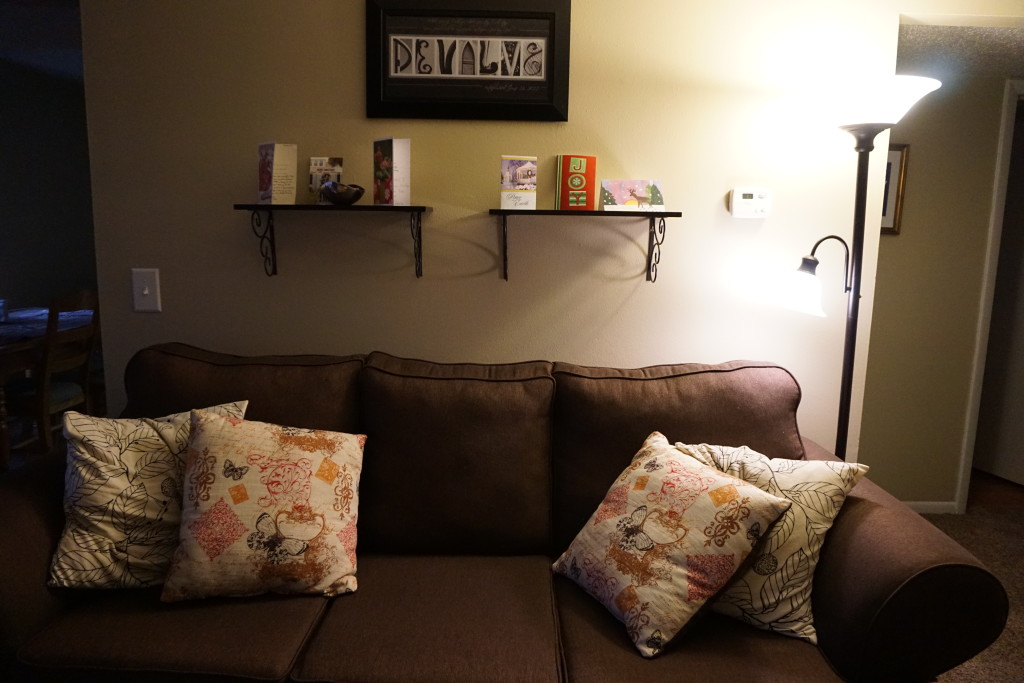 Family!
My love.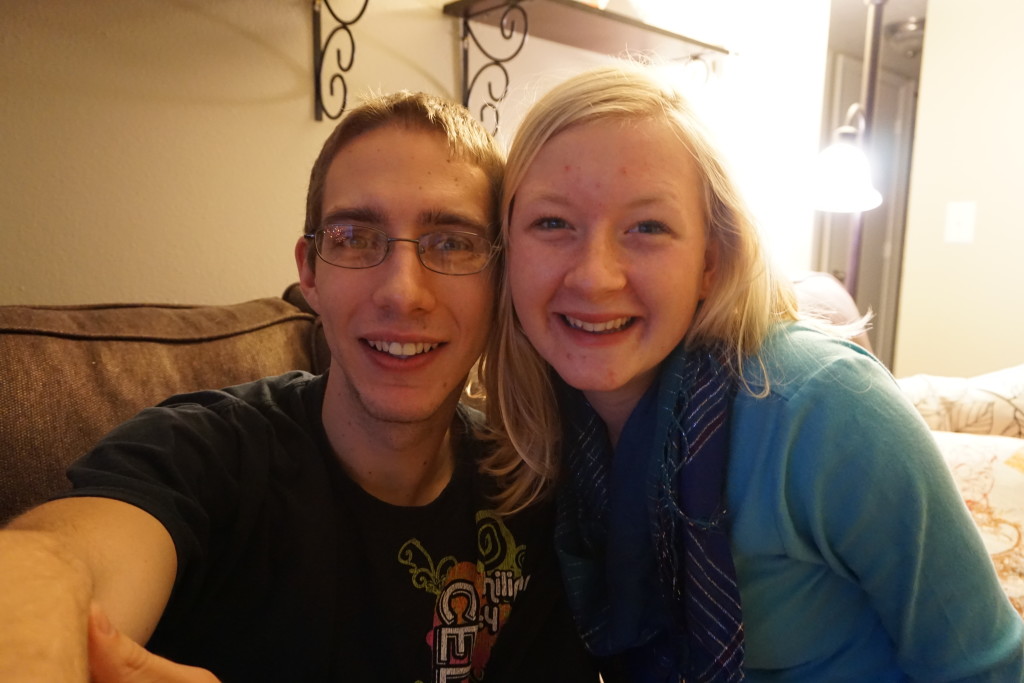 I'm so thankful we got to spend time with them!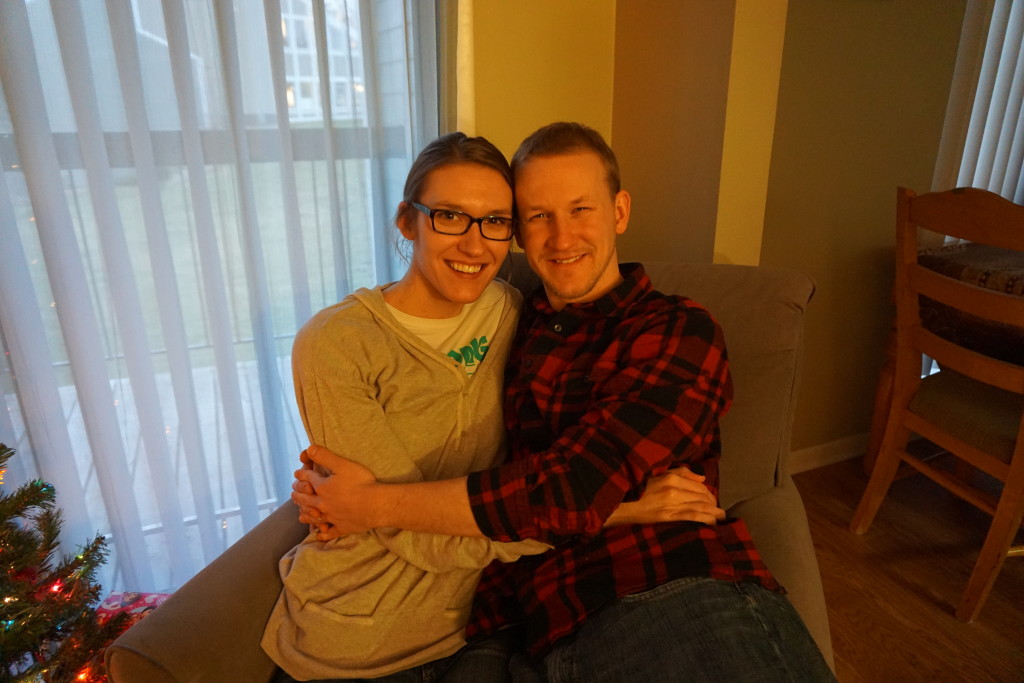 The sister I always wanted!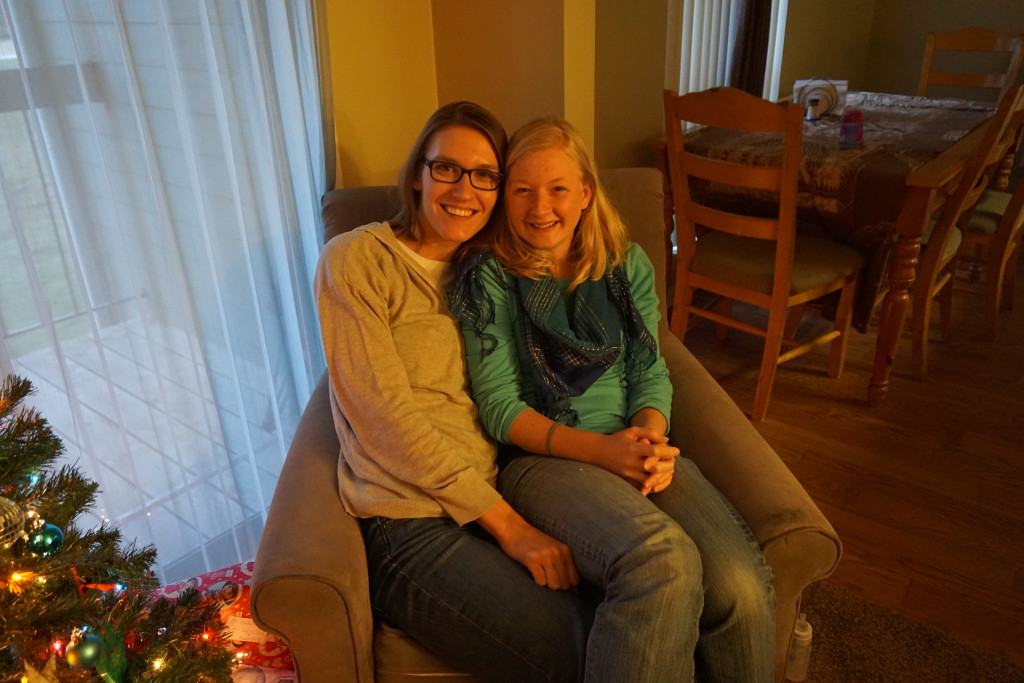 Daniel's niece…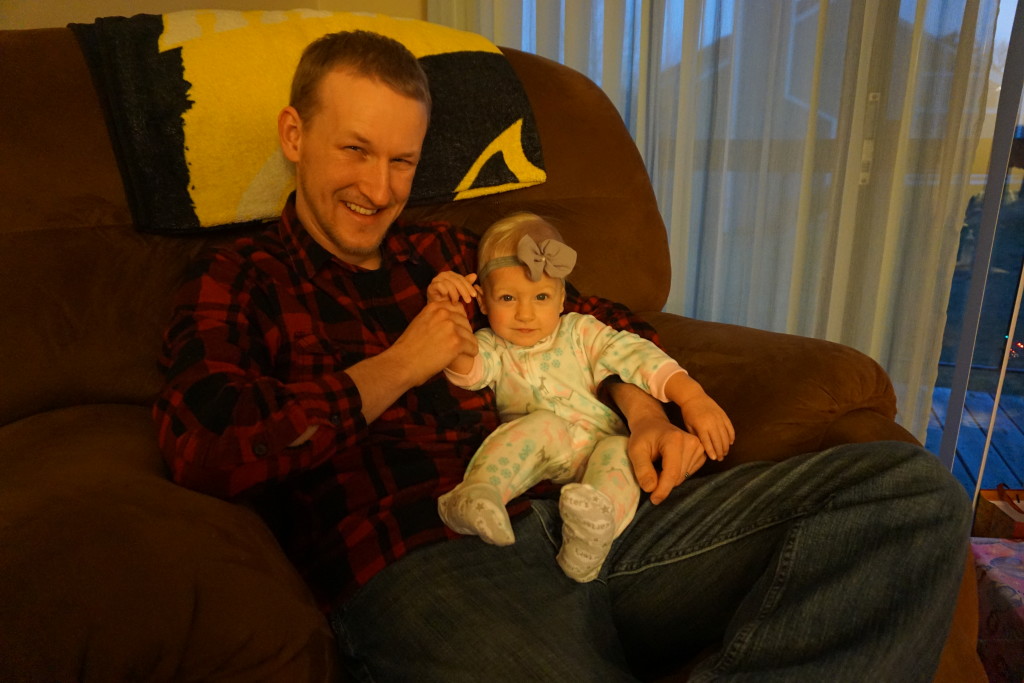 Uncle Dan with both his nieces!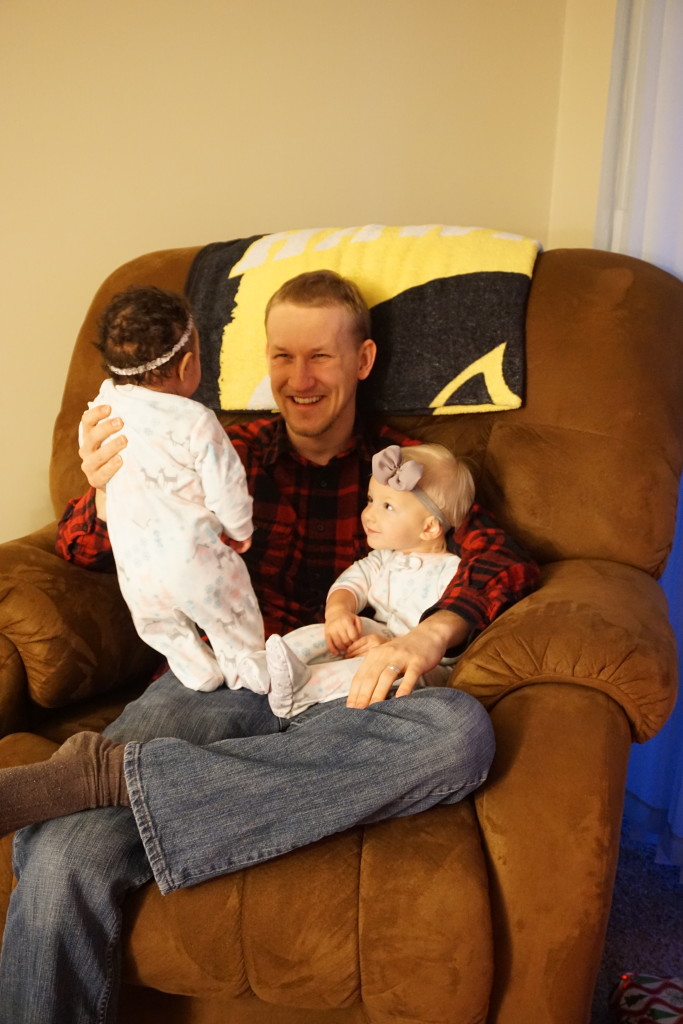 For our Christmas celebration, we did appetizers. We each picked one appetizer and then we got a few generic ones. Kelly and I went to trader Joes and bought everything pre-packed/frozen/already made. When we came home, we chopped veggies, made pigs in blankets, baked the stuffed mushrooms and poured the chips into a bowl. Voila! Christmas dinner. It was perfection!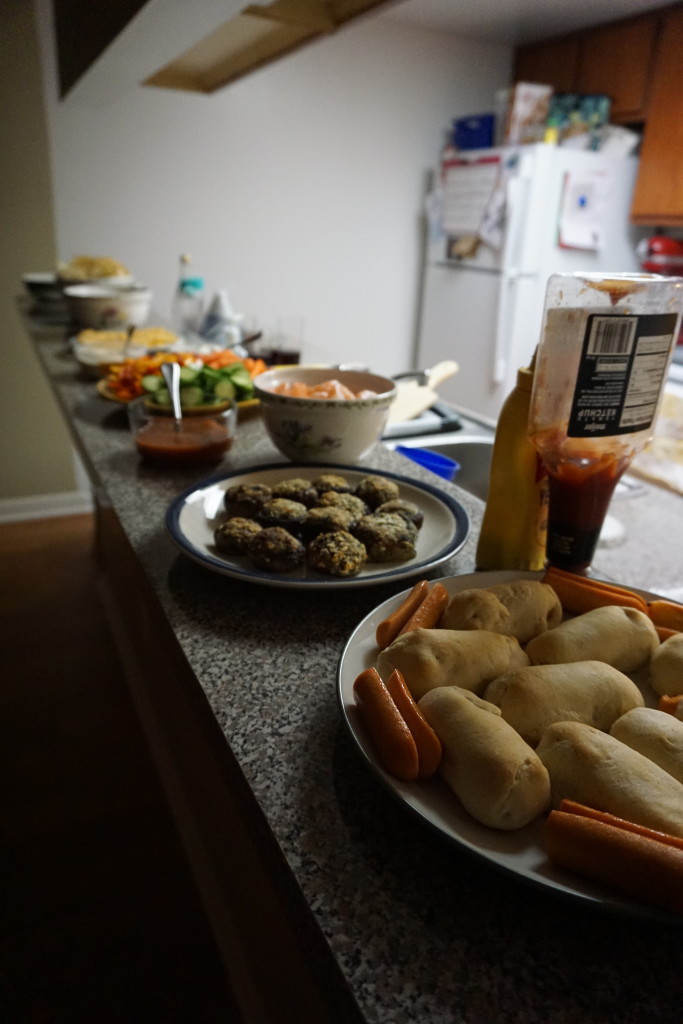 See?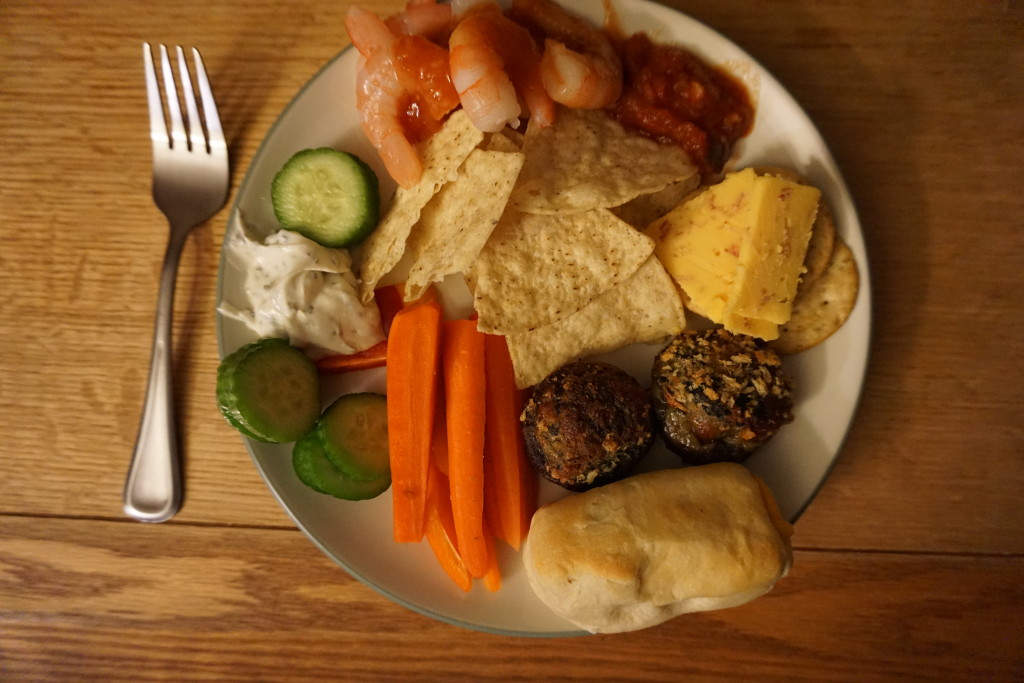 While we ate, we opened presents. Theo got a gift card!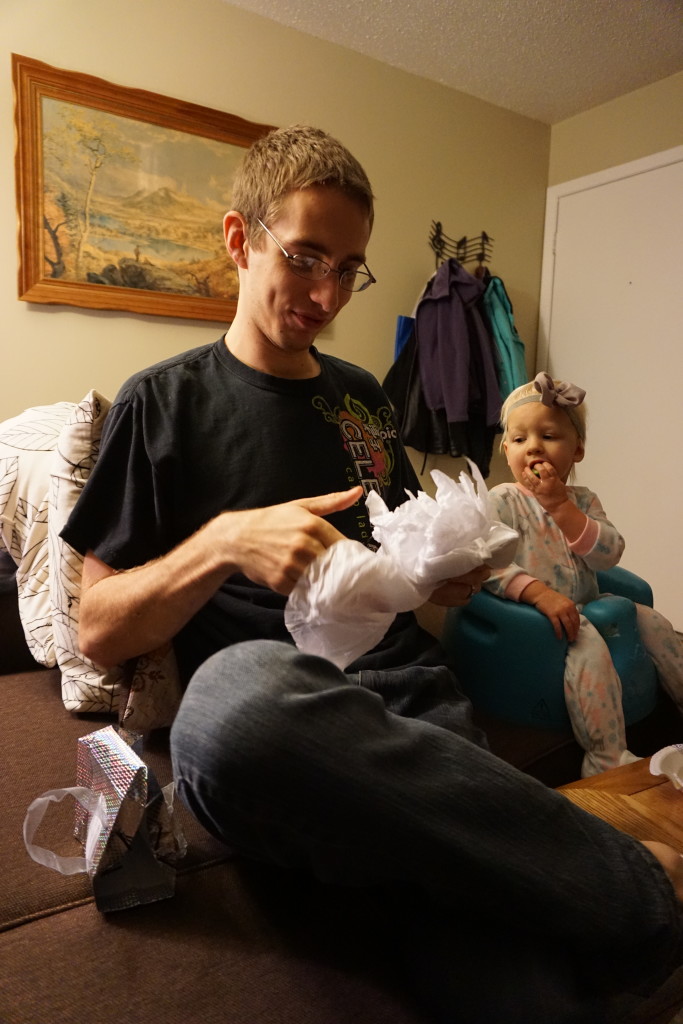 Dan got some books (no surprise there).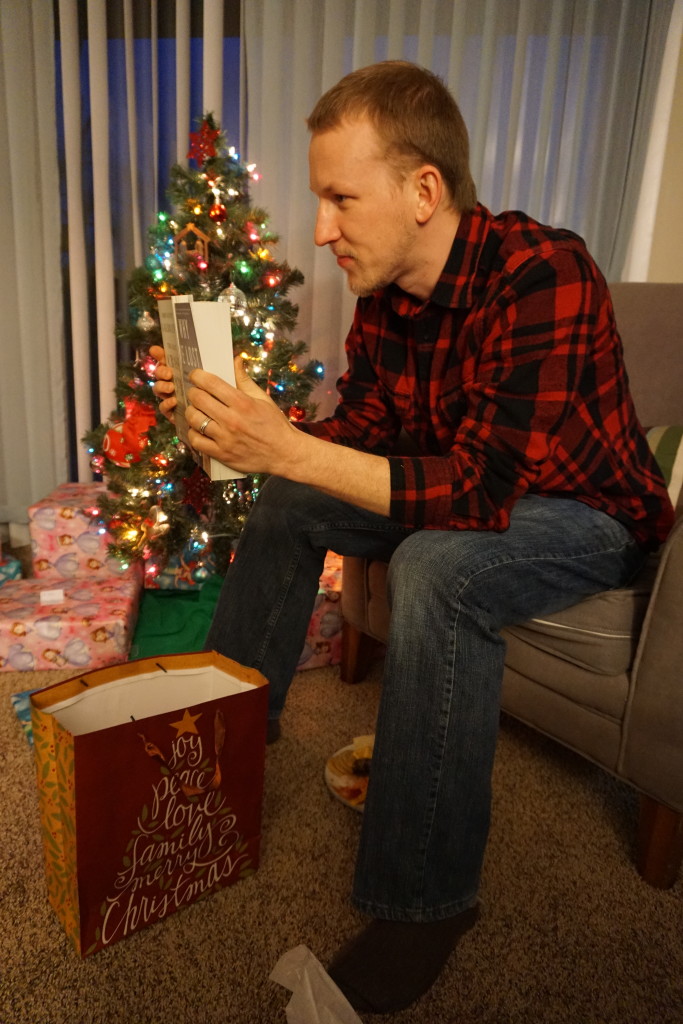 Tera had lots of assistance opening her present!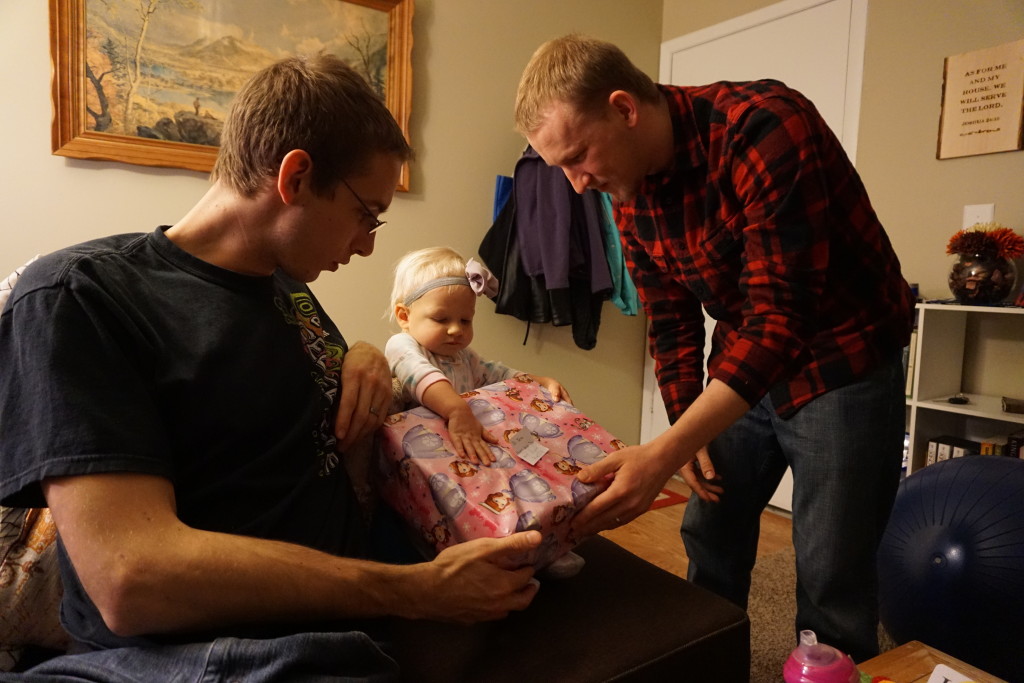 A tea set!!!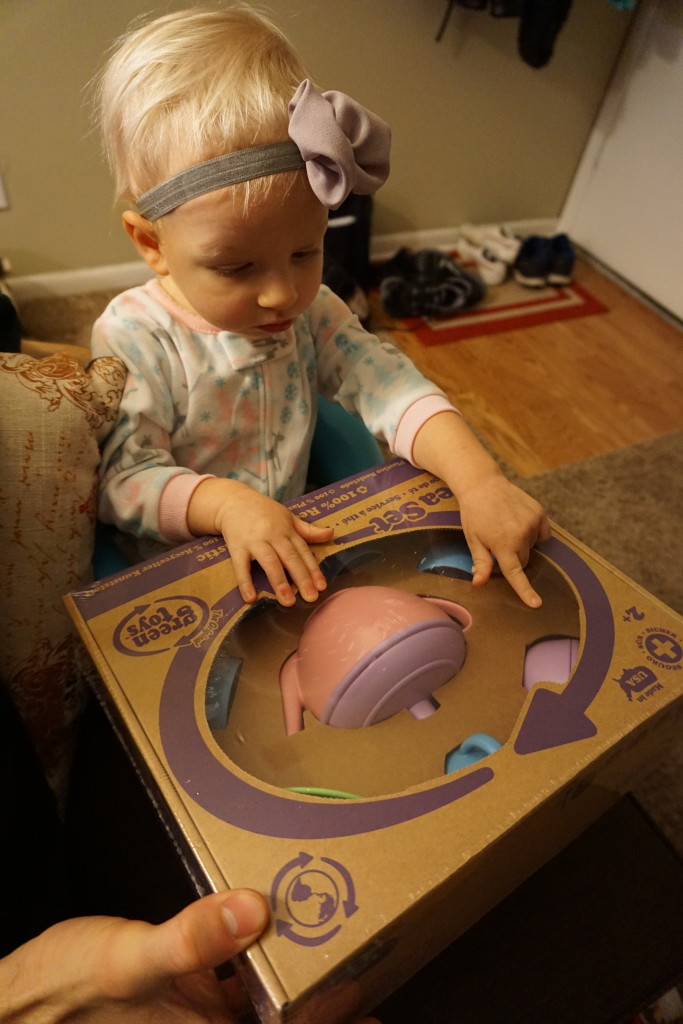 Little Miss got a present, too, but she really couldn't have cared less. She did really well during dinner and present opening, and then proceeded to cry throughout the movie and the rest of the evening. Oof, poor child. I think part of it is overstimulation and being in a foreign place. I also think that she is in that stage where she doesn't want to miss anything, so she absolutely refuses to fall asleep. Then she is so exhausted that she can't fall asleep, and it results in a major meltdown. Oh, parenting. It's not for the faint of heart!
After opening presents, we watched Elf! Tera was all over the place the whole movie, but her favorite spot was bouncing back and forth between Uncle Dan and Aunt Kelly. At one point, she stopped, leaned on Kelly's knee and watched the movie while Kelly scratched her back.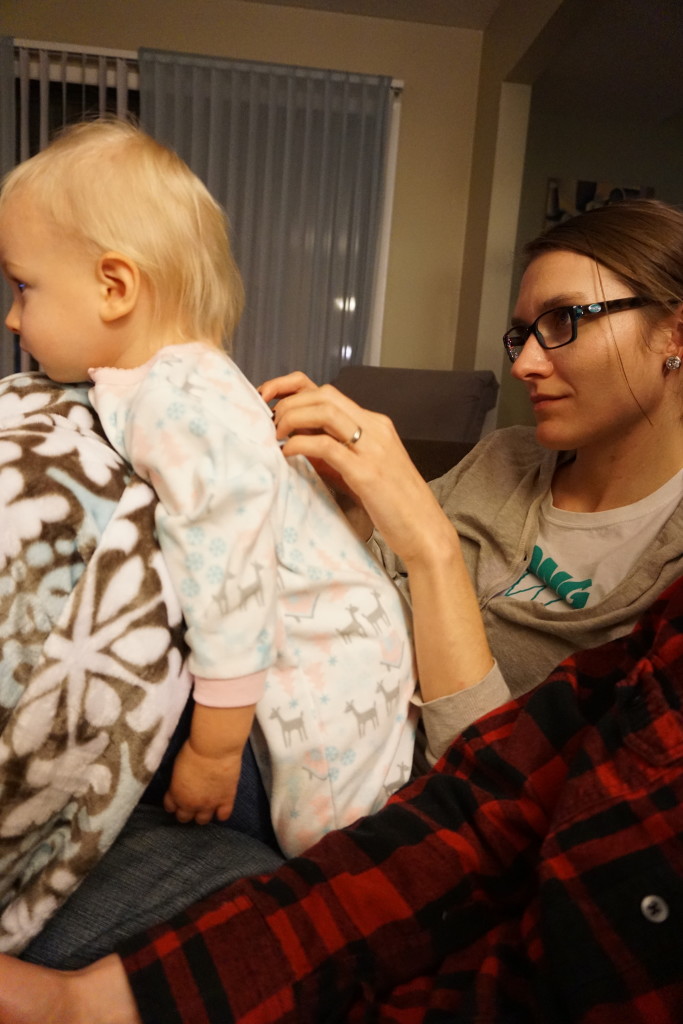 Family fun!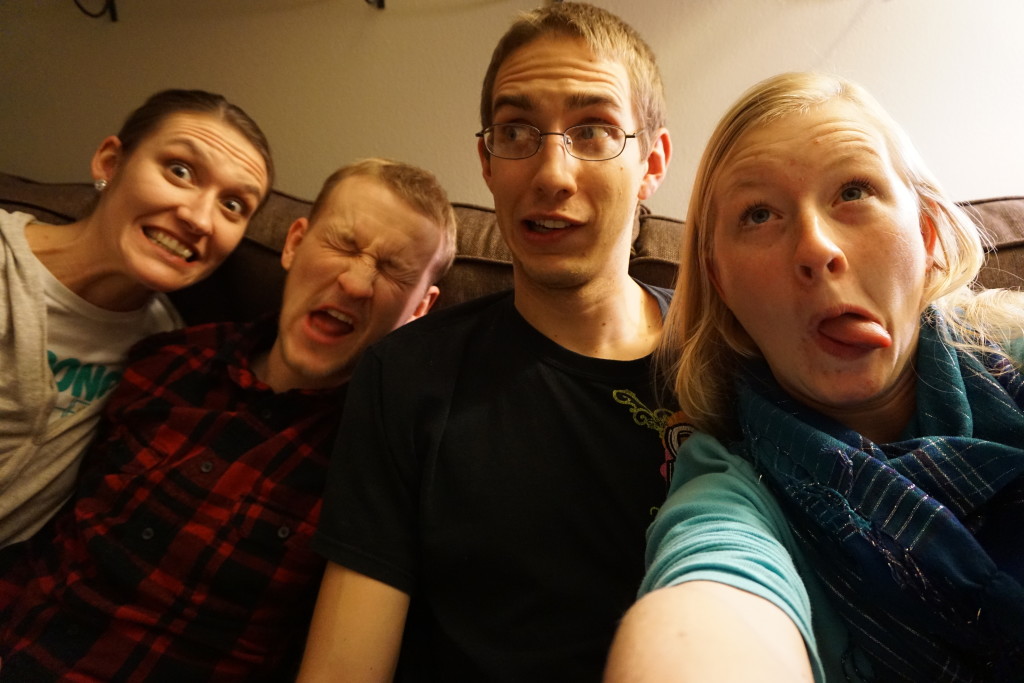 The next day, Daniel had to go to work and we wanted to kill some time, so Kelly took us to the Ann Arbor Kids Museum. It was $12 per person, kids under 2 were free. I was a little nervous that all the stuff would be way over Tera's head, and it would not be worth the price just to pay to get three adults into the museum, but that was NOT the case. The museum was fascinating for all ages, even us adults! There was also a preschool room that was much more age-appropriate for Tera.
At the museum gift shop, Kelly spotted this robot named "Tera".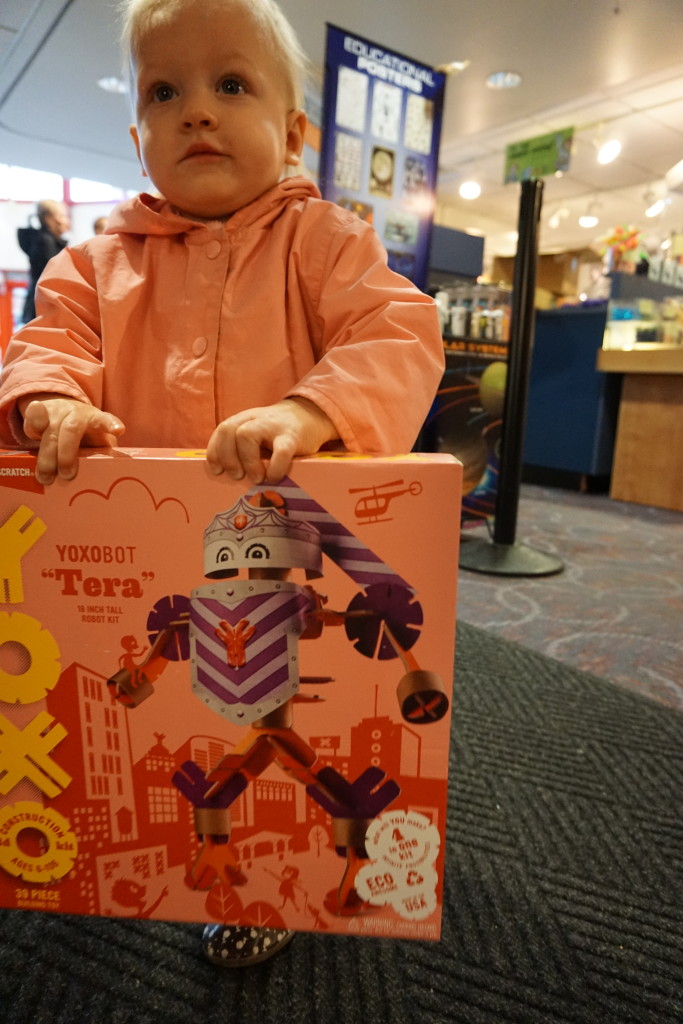 There was an h2O room. WAAAAYYY over Tera's head, but she had fun splashing her hands in the water!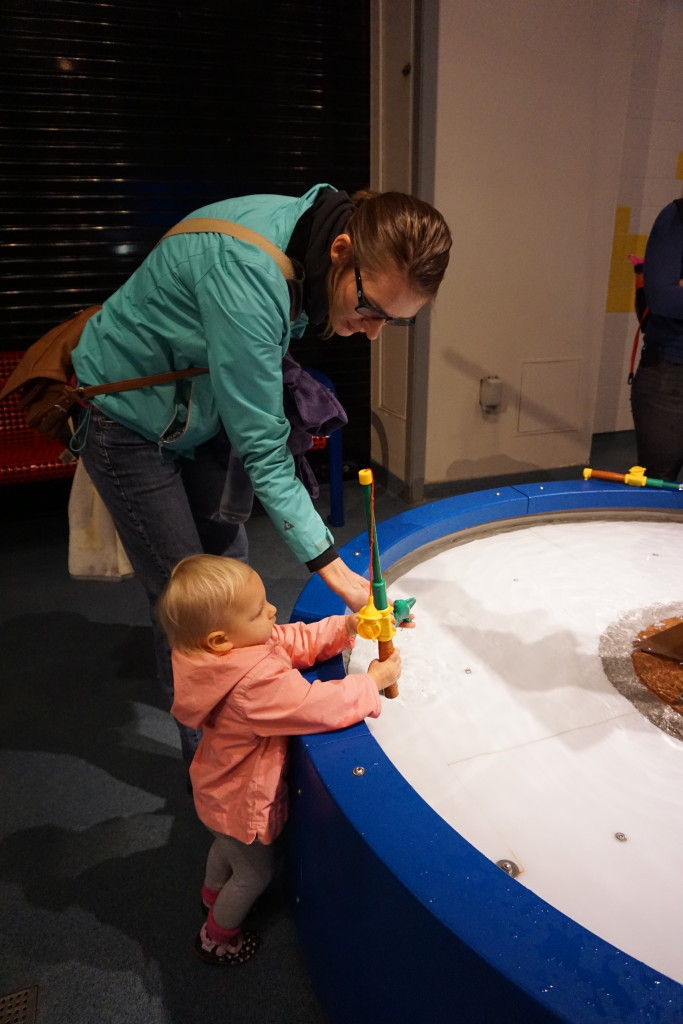 And pointing at all the things. ALL the things.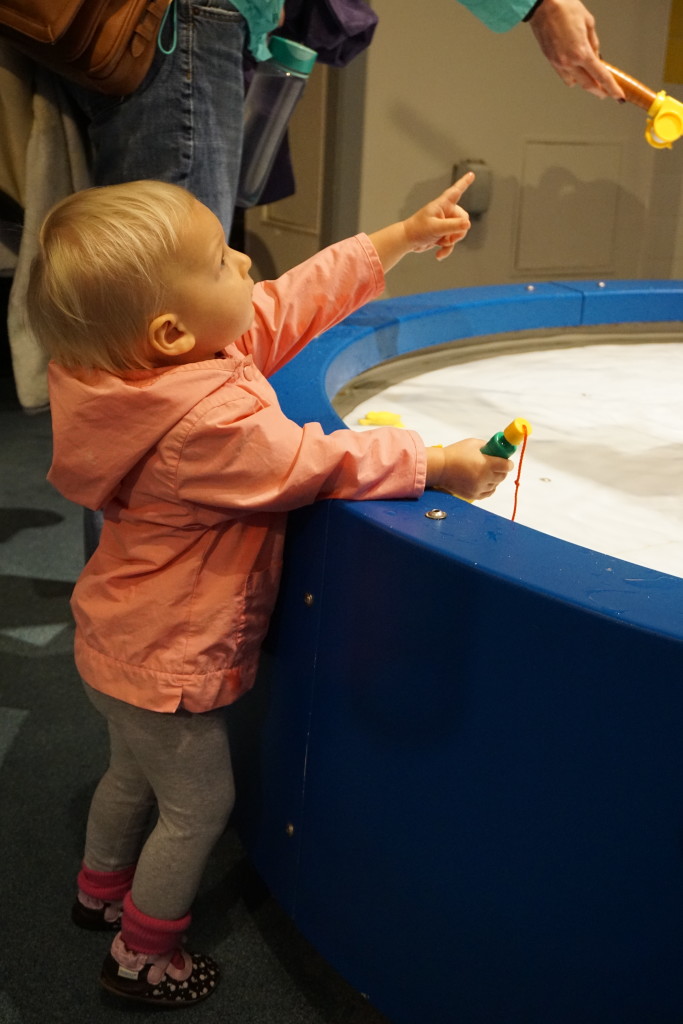 The H2O room was not above Theo's head, however, and he was super fascinated by it all. I'm telling you, it was awesome. For a 1 year old. A 6 year old. A 12 year old. Even a 24 year old!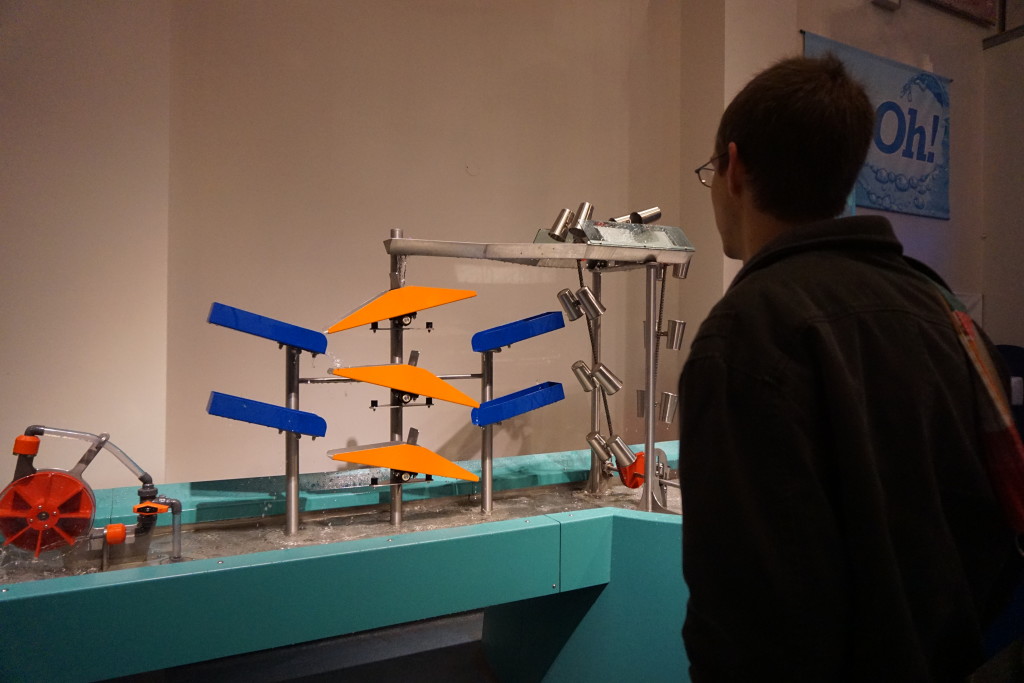 Block building room.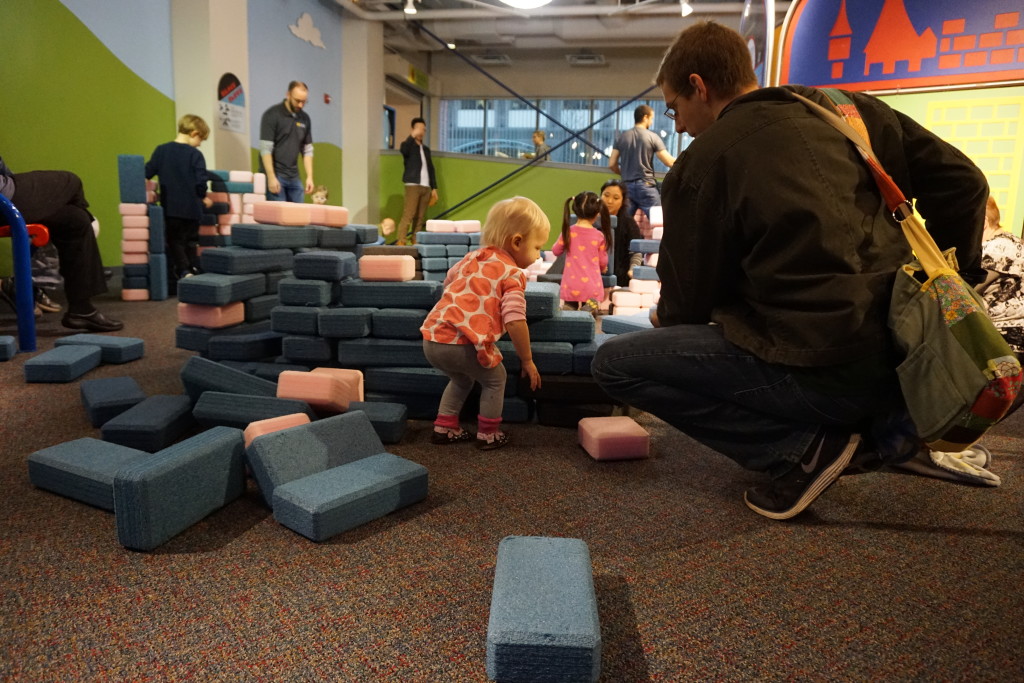 Fun with mirrors!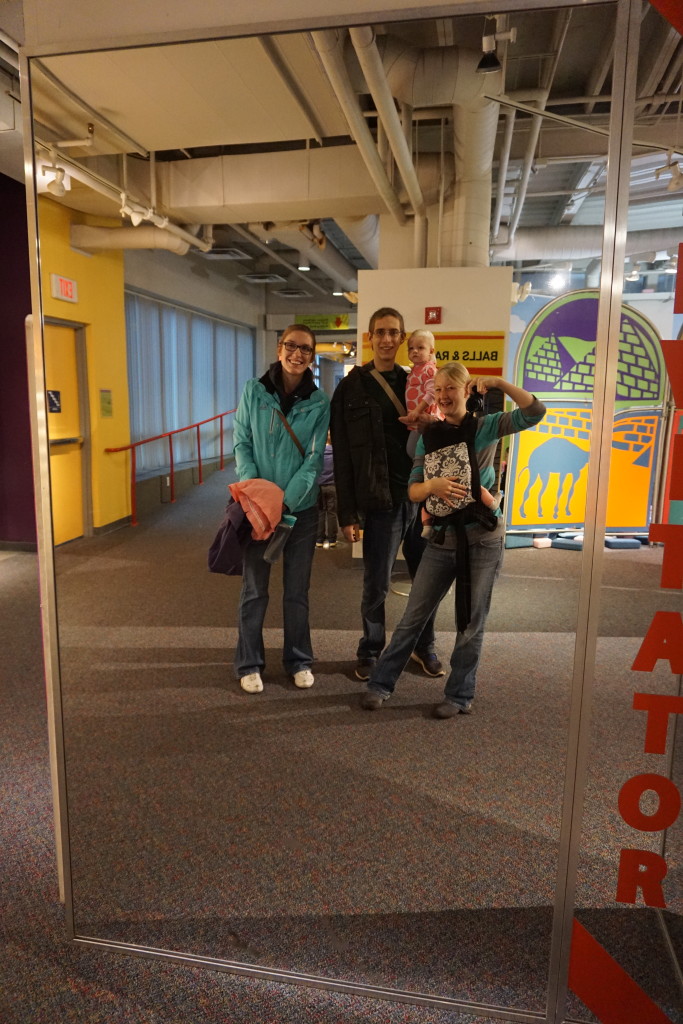 The preschool room had books, dress-up clothes, water tables, ball pits/chutes, playhouses, an infant area…basically everything you could ever want to entertain a child under 4!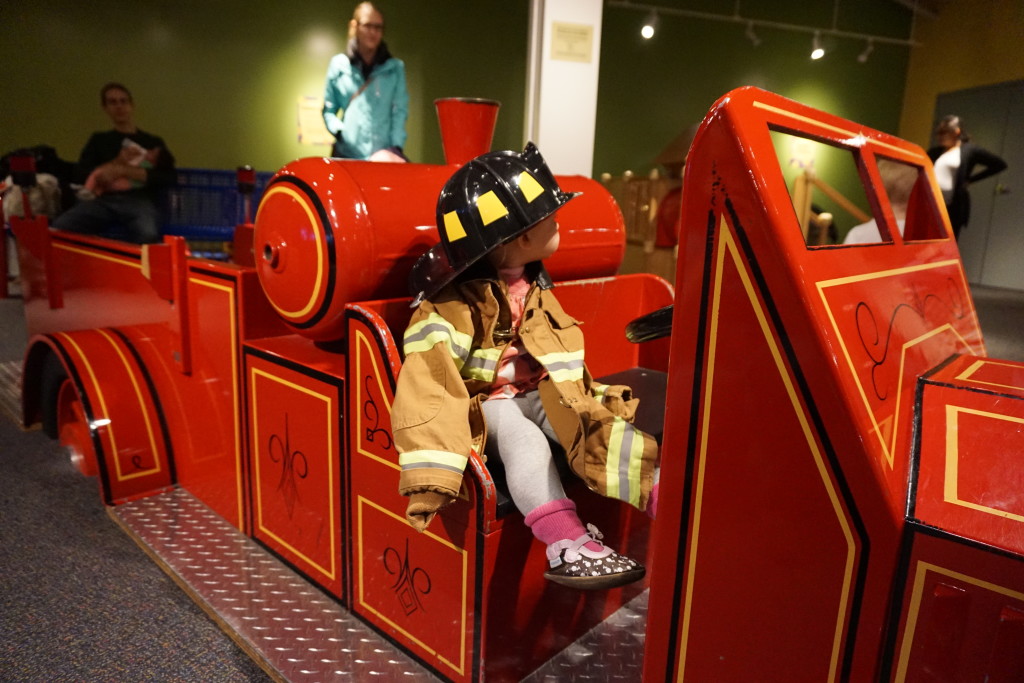 Climbing on the play house and finding a mirror!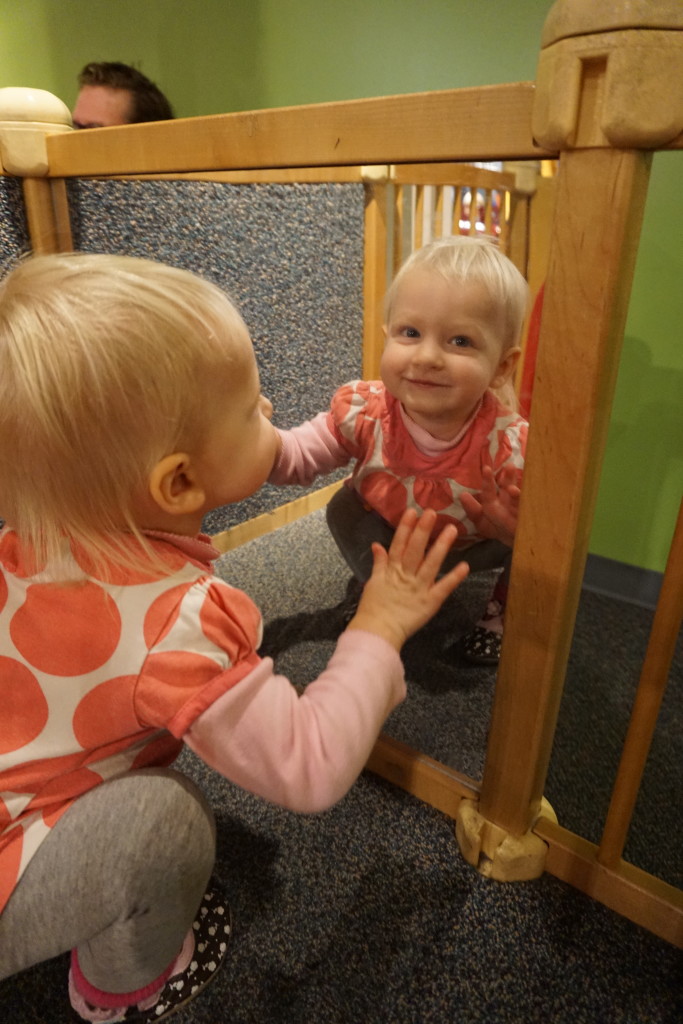 My multi-tasking man!
Can you tell I'm sleep deprived and somewhat stressed? I still thought it would be fun to document what I really look like in this crazy stage with two babies!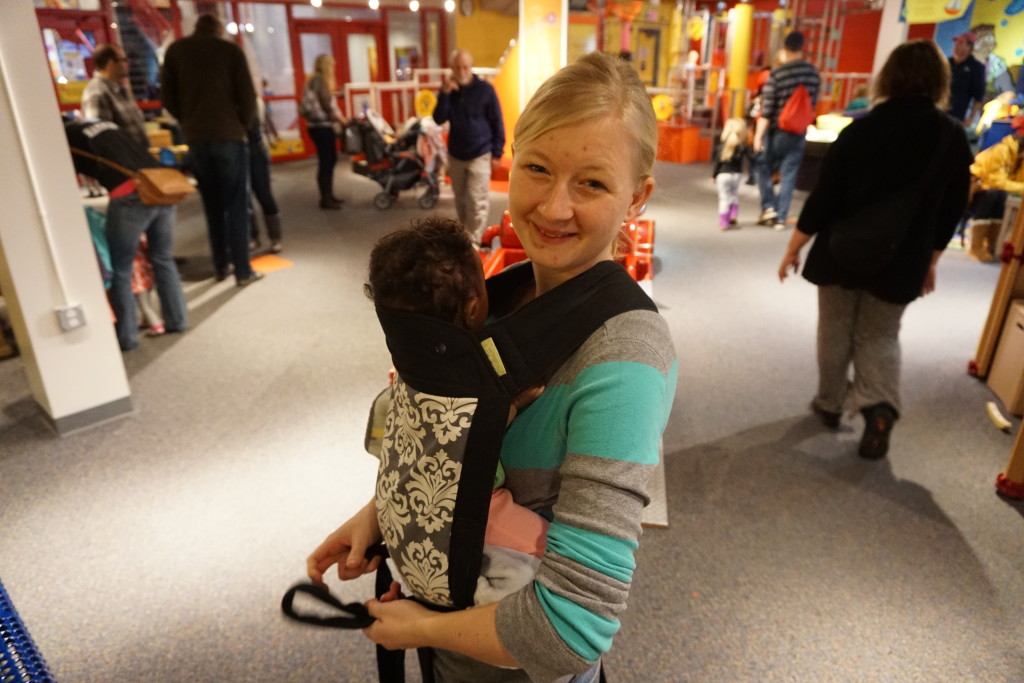 A heat sensor. That's Theo holding Tera and me holding Little Miss.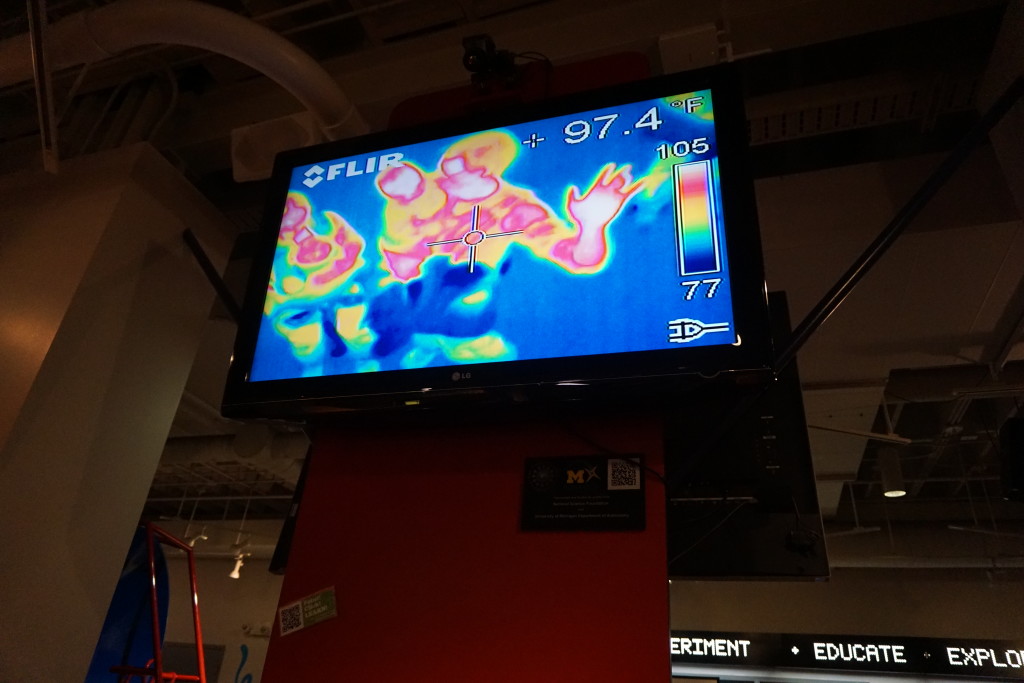 Testing out our heart rates.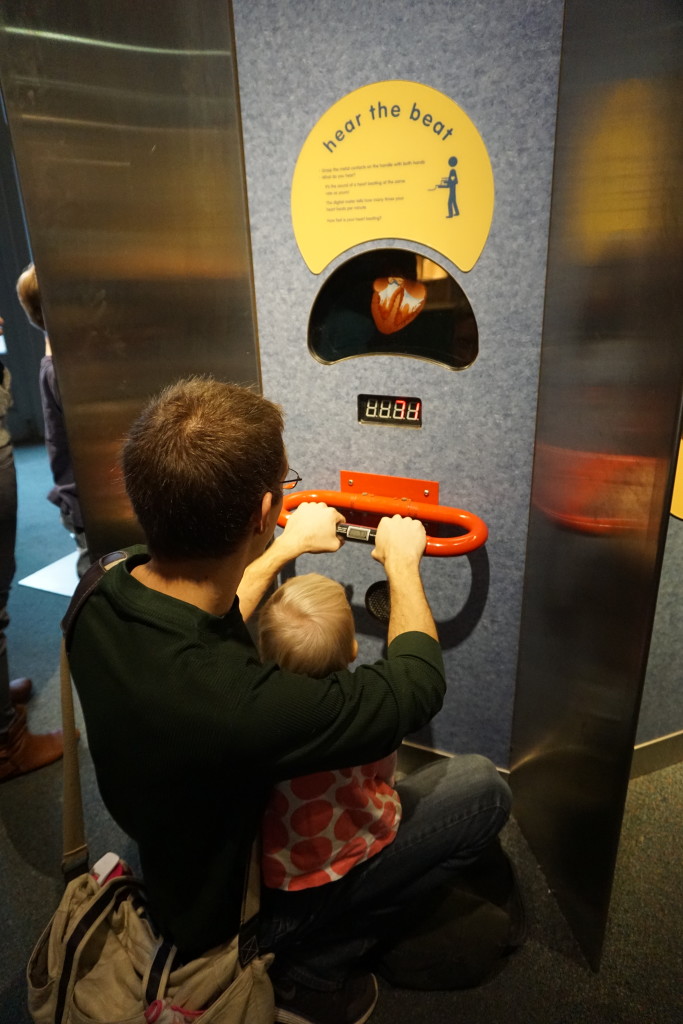 Nap time had come and gone and we realized that we needed to get both girls some lunch and put them to bed!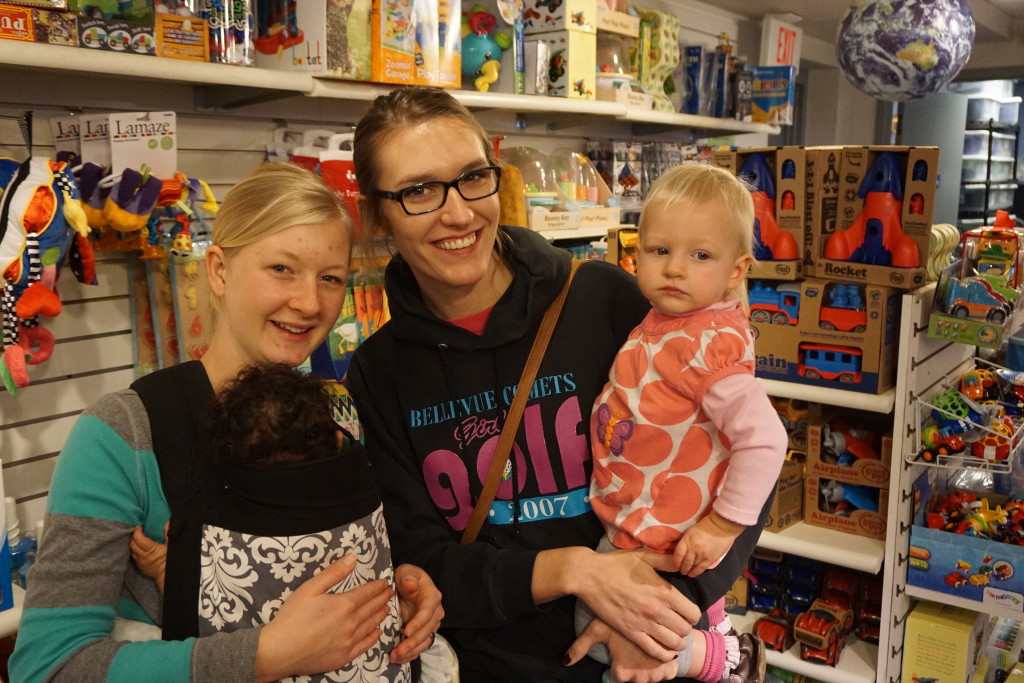 We stayed for one last dinner, which Kelly graciously made all by herself. It was so relaxing to just sit and watch Netflix all afternoon while Tera napped and Little Miss cried. Tera was really into helping Kelly in the kitchen. She wanted to help load/unload the dishwasher, and she wanted to help Kelly make dinner. Kelly let her help with the cornbread and it was the sweetest thing. She got cornbread on the floor and wasn't very helpful at all, but I'm thankful that Kelly got right down on the floor and let Tera help.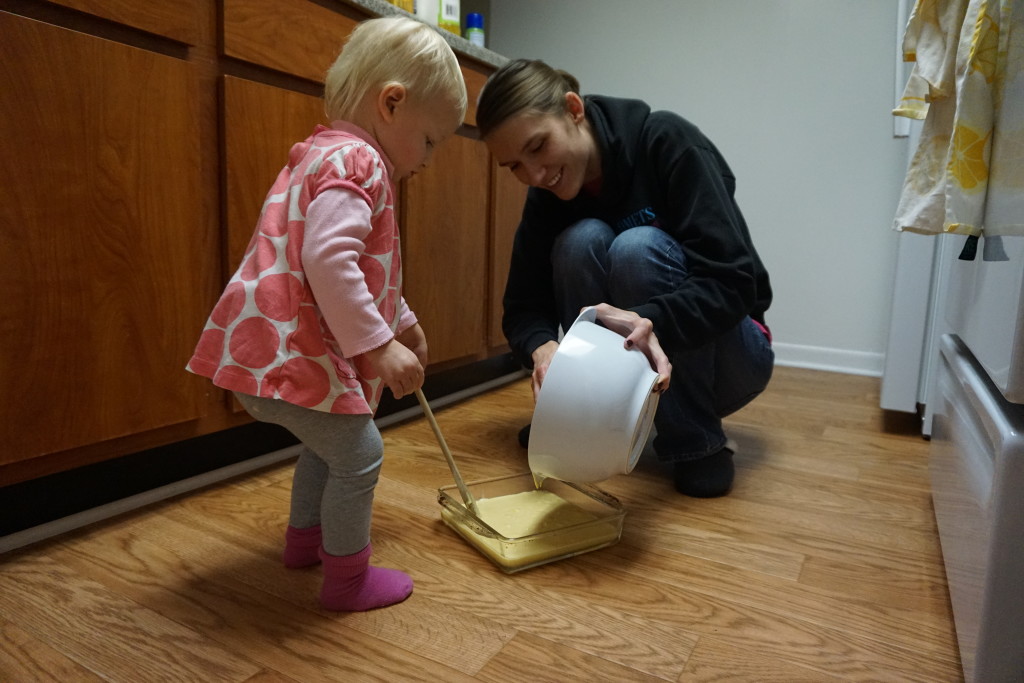 I'm so, so grateful for both sides of our family and how they love on both of our girls. I'm thankful that we were able to spend time with them and that they live within driving distance. We are blessed!