It's time to overwhelm everyone with 43 pictures of our Christmas trip Up North with the Hines family!
Due to Theo's work schedule, it was tough to make family time. Theo worked the 26th and we took off for Michigan on the 27th! I didn't take any pictures that day. We spent 6 hours in the car and both of the girls did really well! We only stopped once for about 15 minutes because we just wanted to get there to spend maximum time with family!
I didn't take any pictures until the following day when we gathered to do family Christmas!
Just a forewarning- if you don't know the Hines family, I'll give you a little intro. Dad and Mom have 7 sons- Barnabas, Ethan, Aaron, Titus, Isaiah, Theo and Seth. There are five sisters-in-law and 10 grandkids (plus Little Miss). Family get-togethers are just slightly insane- but we sure do love it.
This Christmas we were missing some very loved family members- they were greatly missed.
Here we are trying to gather everyone in one location to open presents!
Titus, Isaiah and Josie!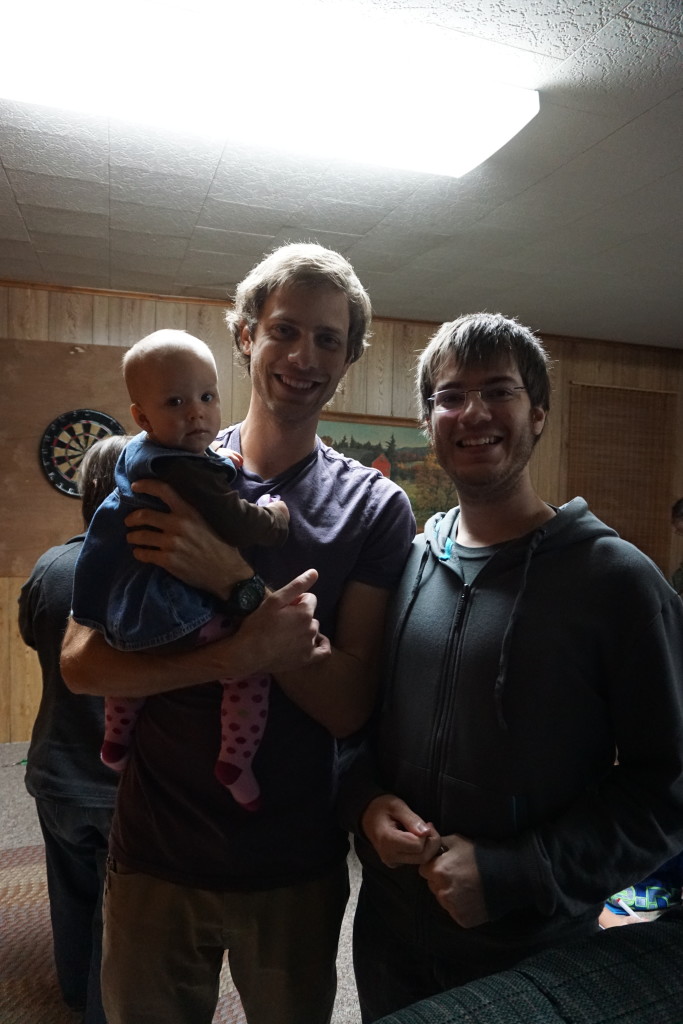 Titus, Josie Faith and Seth.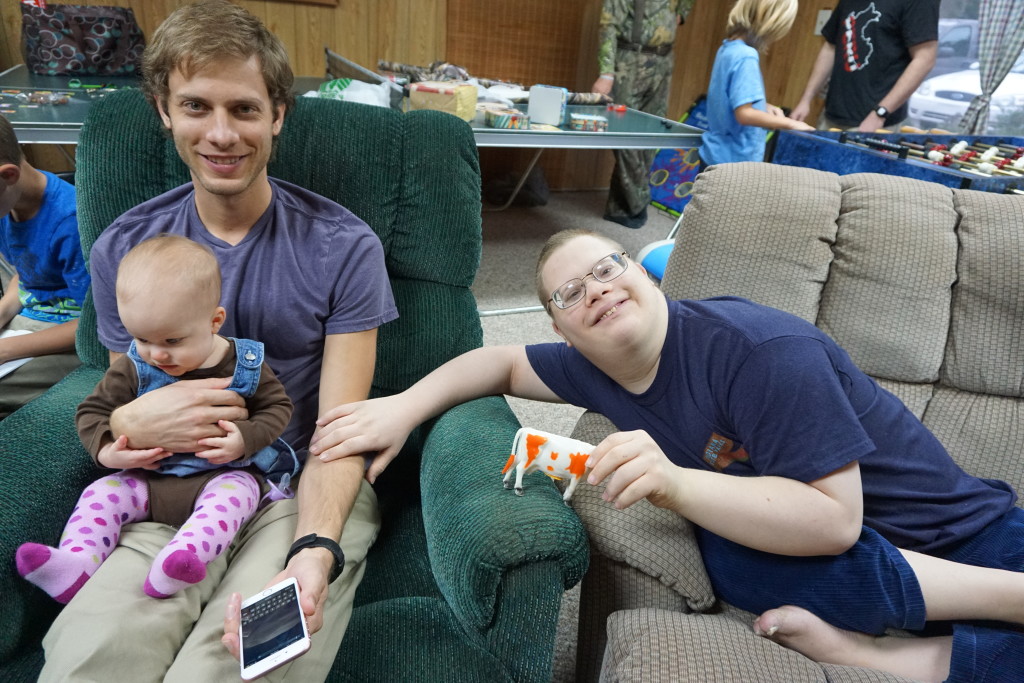 The guys were so funny all weekend. They claimed the chairs were not comfortable and carried these cushions around everywhere they went. And, no, I' not talking about the young boy cousins. I'm talking about the grown brothers. It was hilarious.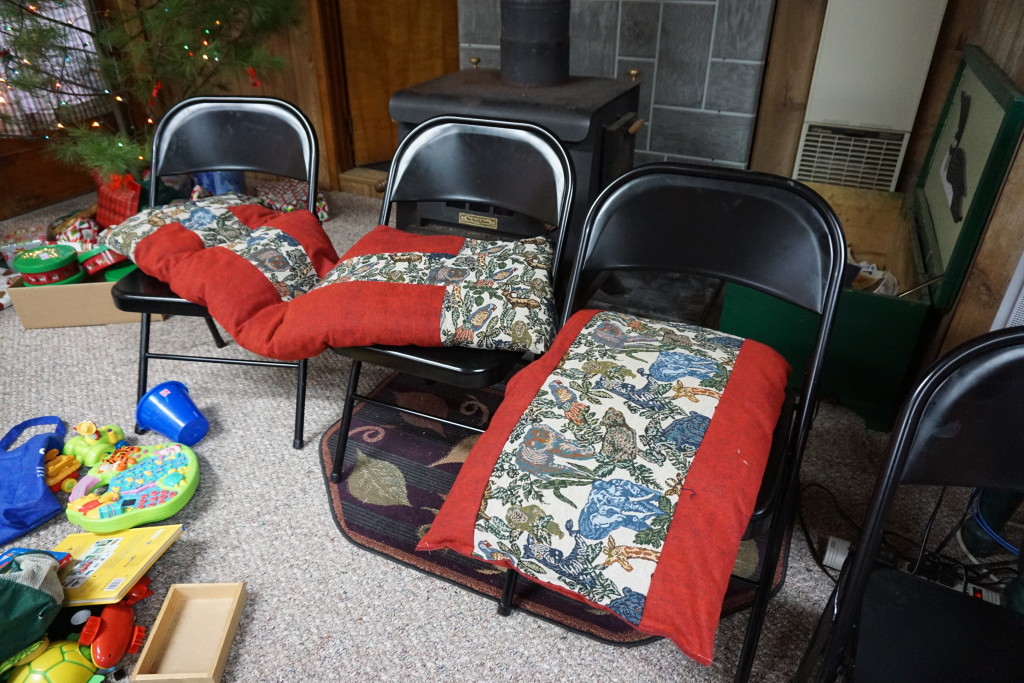 Eryn and I mostly wrangled children all weekend. She has three girls and I had my two!
Tera Evelynne loved these hats Grandma found at the dollar store!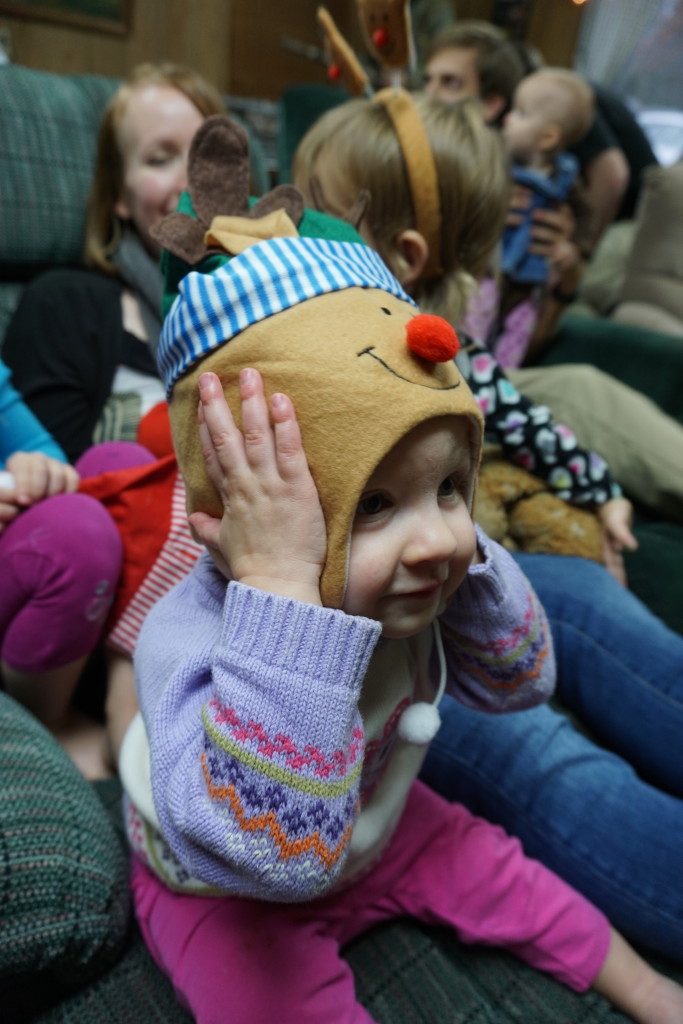 We were all gathered around waiting for Dad to arrive. Before he got there, we all decided to hide. Over 20 of us crowded into closets, the bathroom and the laundry room and then jumped out and yelled SURPRISE when Dad walked in. It was priceless!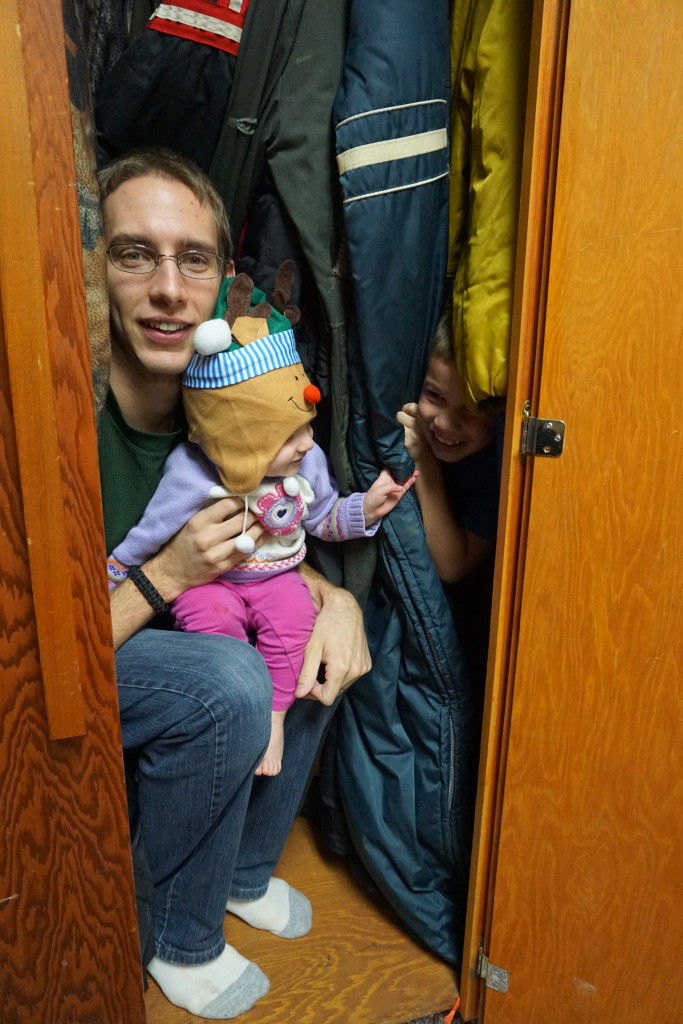 Tera wanted nothing to do with pictures! Grandma, on the other hand, looks so delighted! I love it!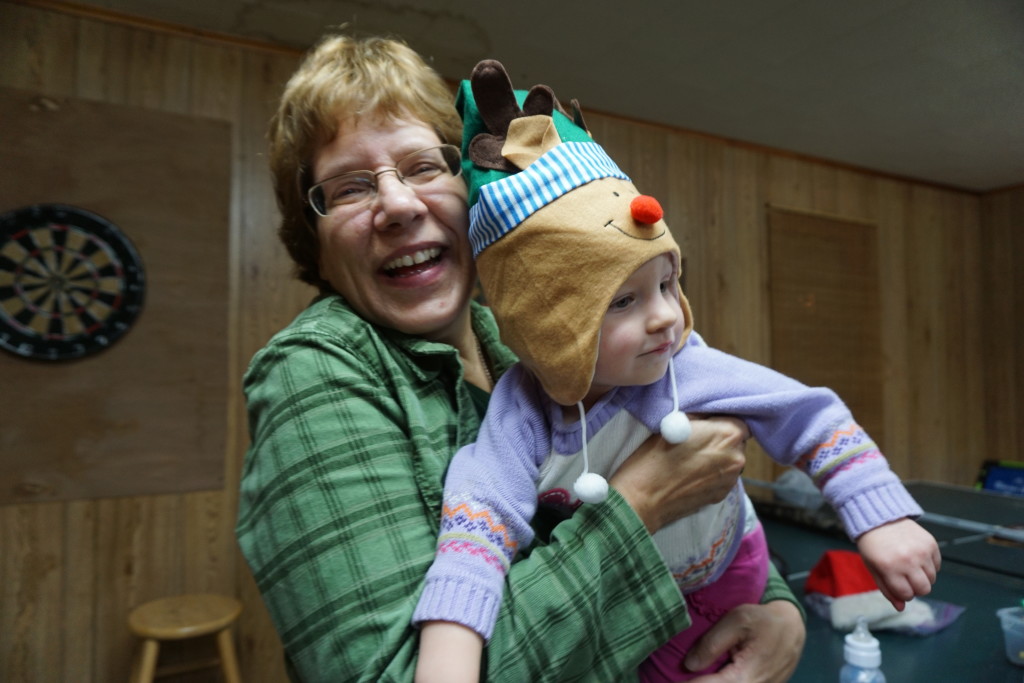 30 minutes later…still gathering.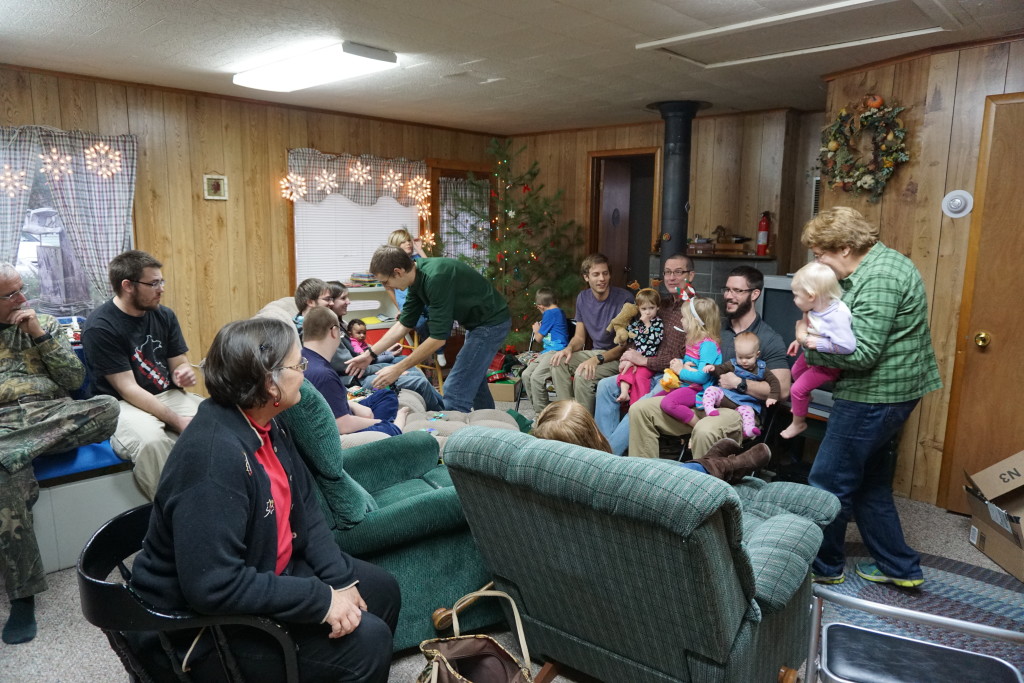 Say "cheese"!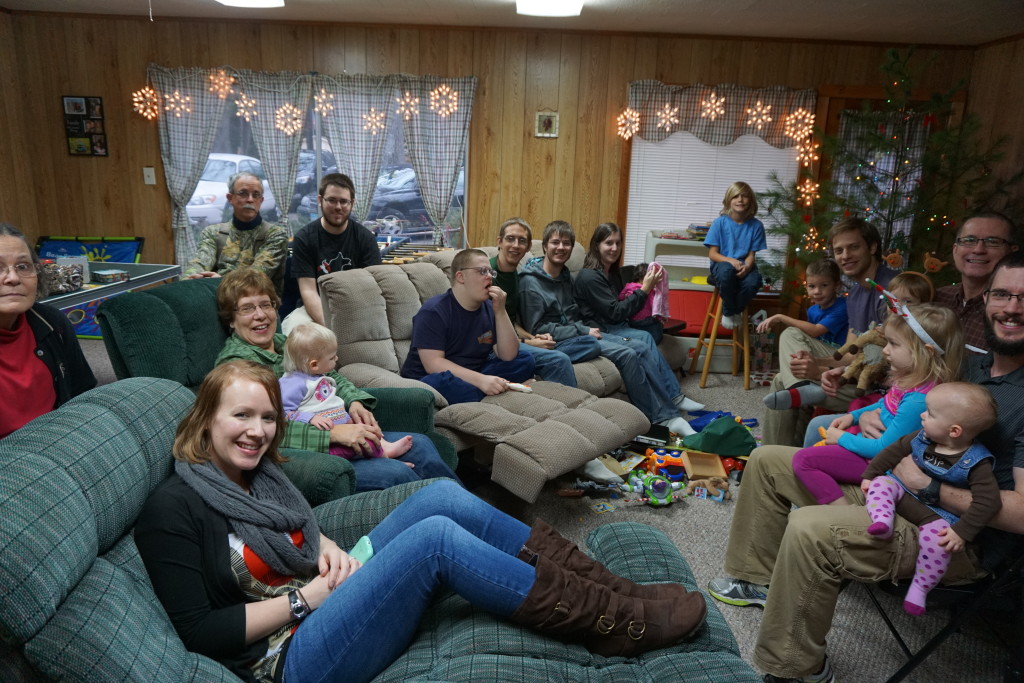 Theo and I with Isaiah and Sarah.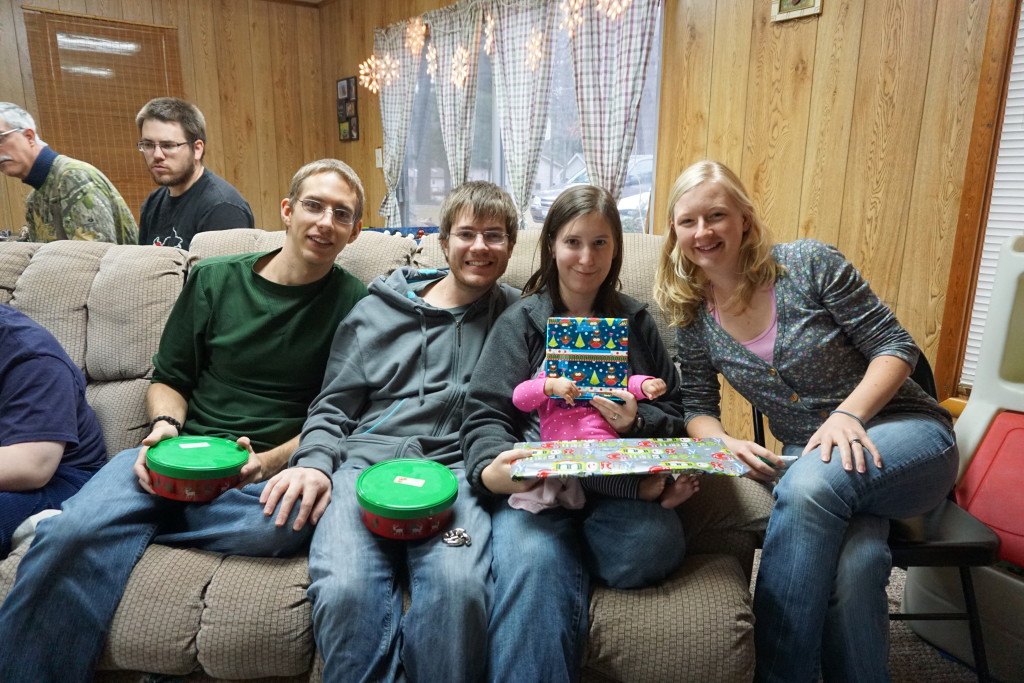 Isaiah and Sarah win the prize for most creative presents! We do a gift exchange where each brother draws and brother and each sister draws a sister. We have a budget and this way each person only has to buy one present instead of buying a present for everybody. Isaiah made it look like Theo was getting a gun…even though that obviously isn't in the budget. Turns it, it was actually the $20 in coins, wrapped up like a gun. Haha!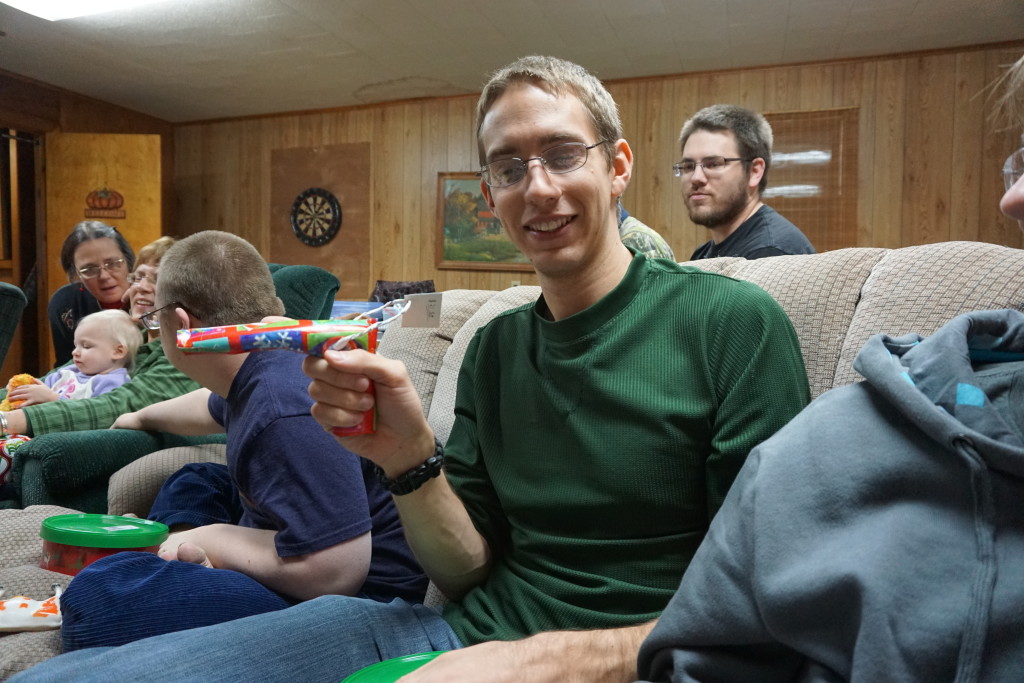 Sarah and I! And Isaiah photobombing.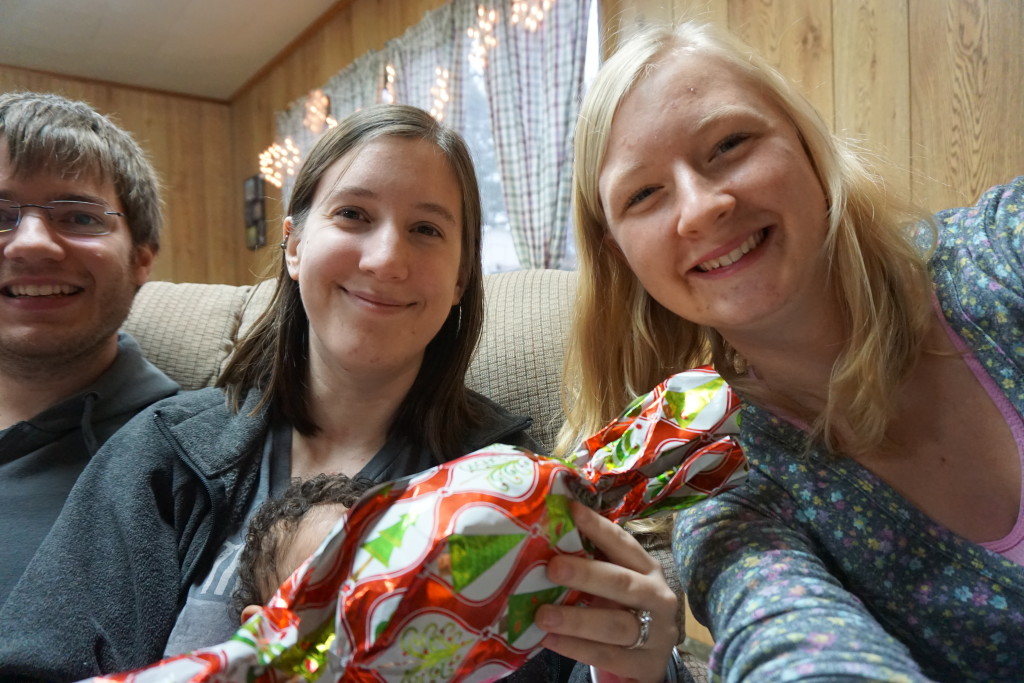 I think candid shots of the Hines get togethers are my new favorite. My camera has this awesome shutter speed that takes a ton of pictures in just a few seconds. Here is a series of Tera opening a present…..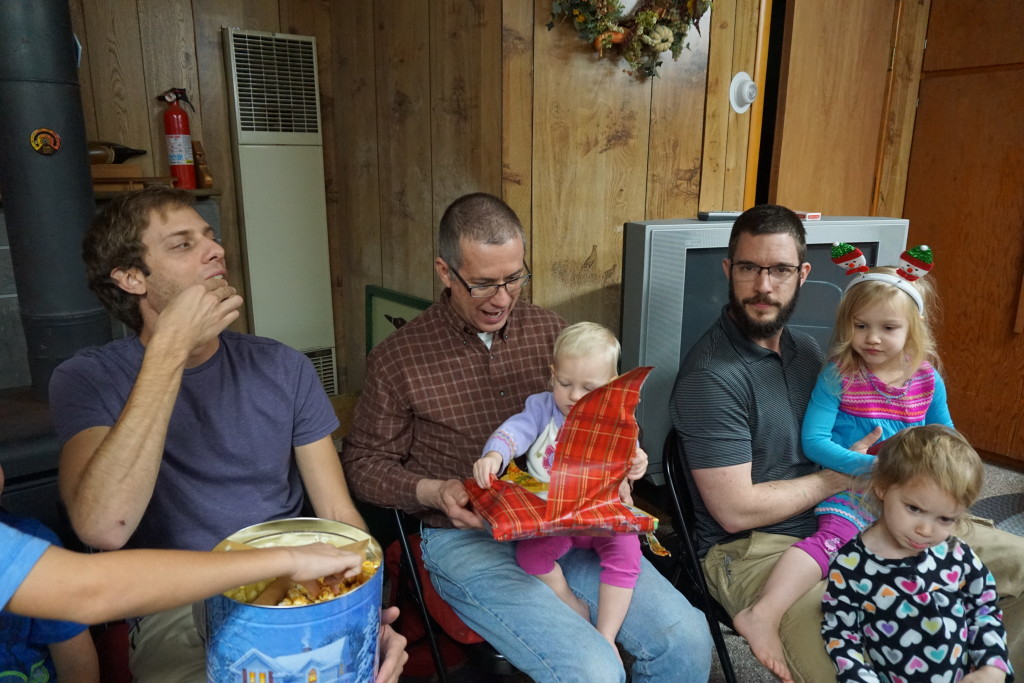 ….please observe Titus (on the left and his popcorn)….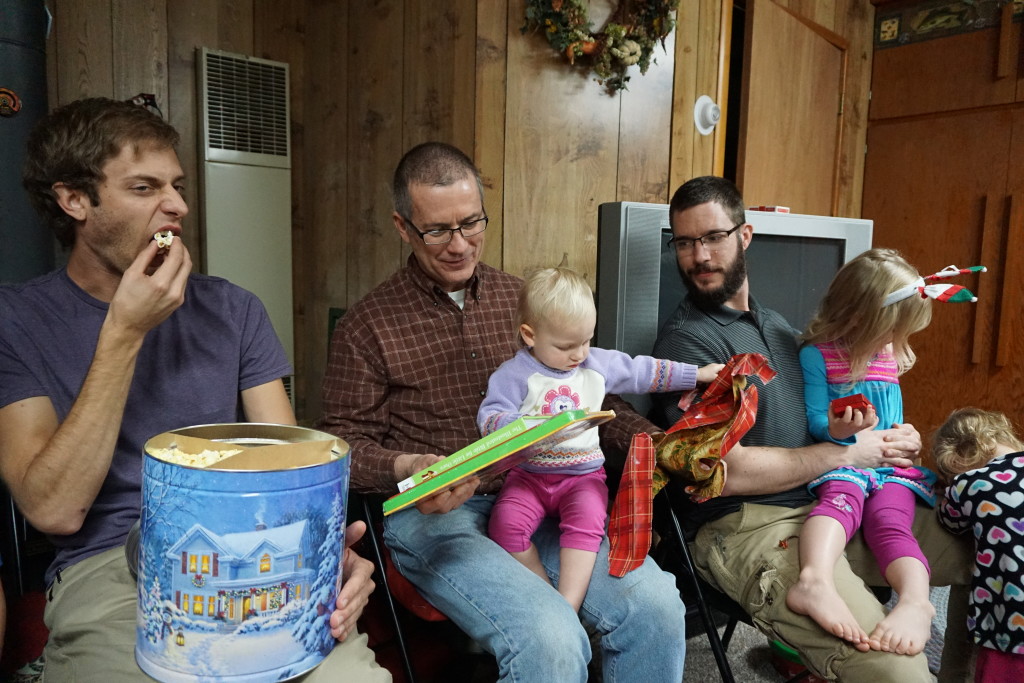 …and Barn (on the right), cheesin'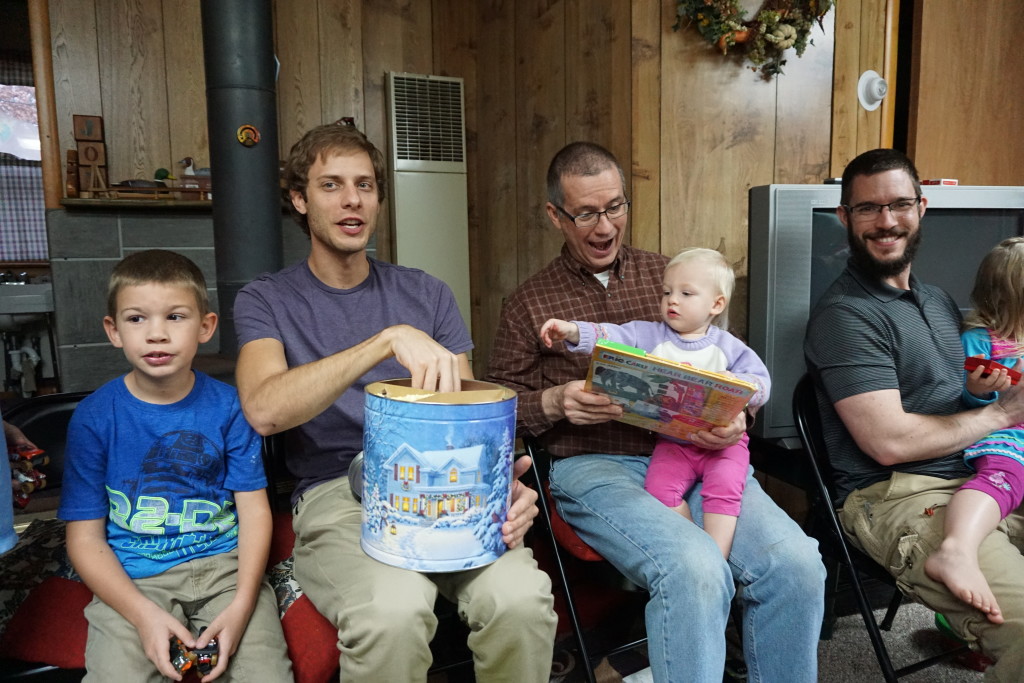 After opening presents, the polar bear swim happened! I randomly threw out the idea at lunch, and here I was less than three hours later standing outside in 25 degree weather about to jump in the lake for a polar bear swim.
Please note how Ian is dressed in this picture…that would be the appropriate dress for their weather.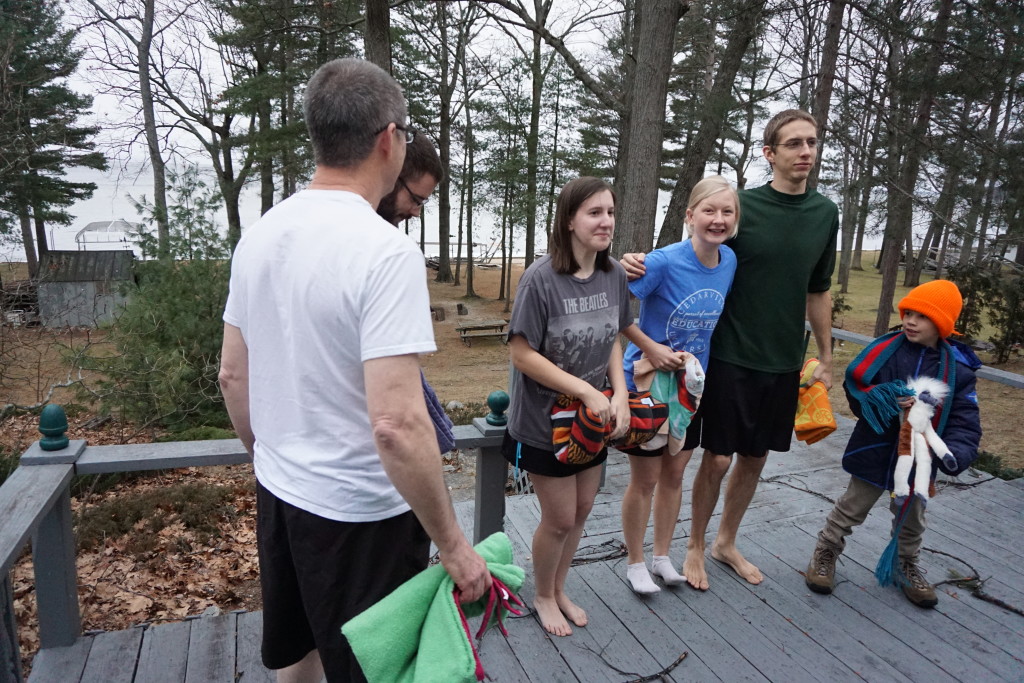 Before running down and jumping in the lake!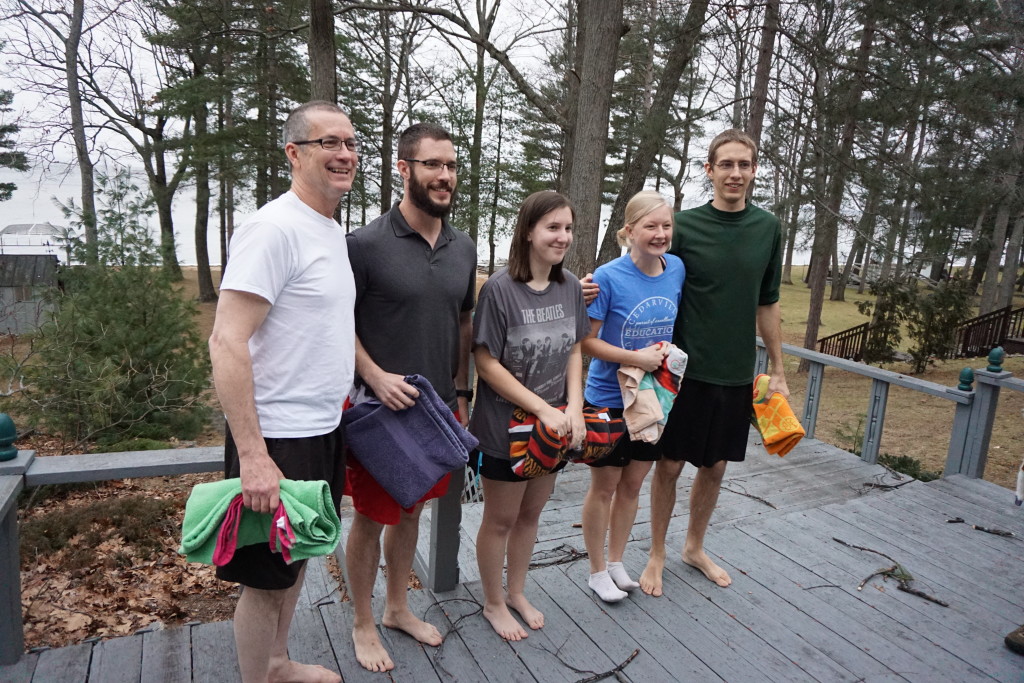 here we go!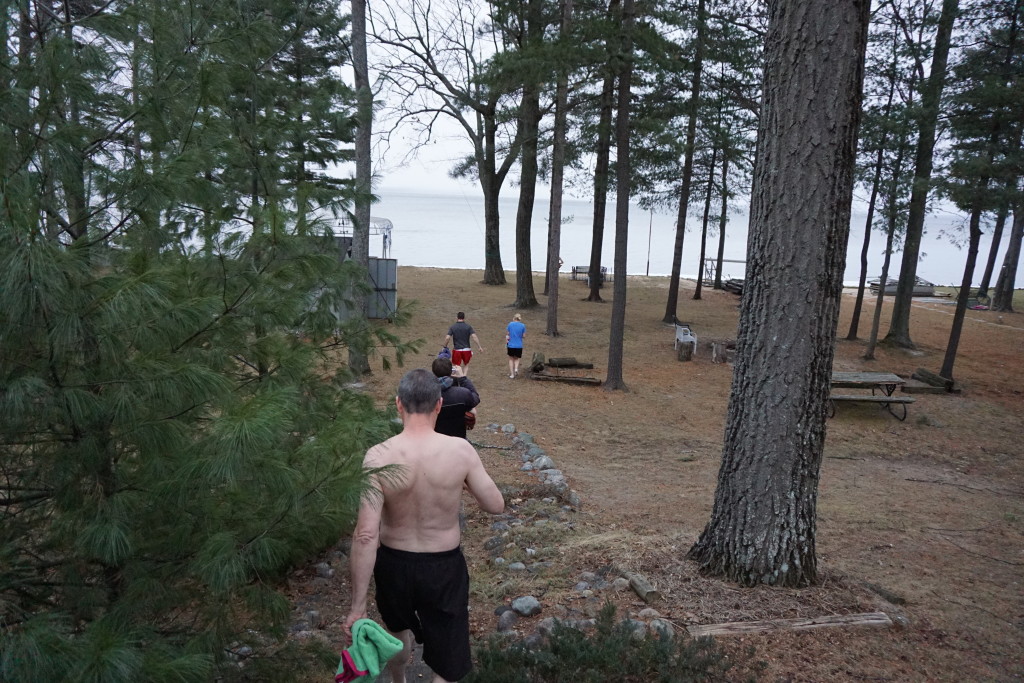 Again, I wanted you to note Ian dressed all nice and warm, Theo and I jumping in the lake and Barn taking off his shirt.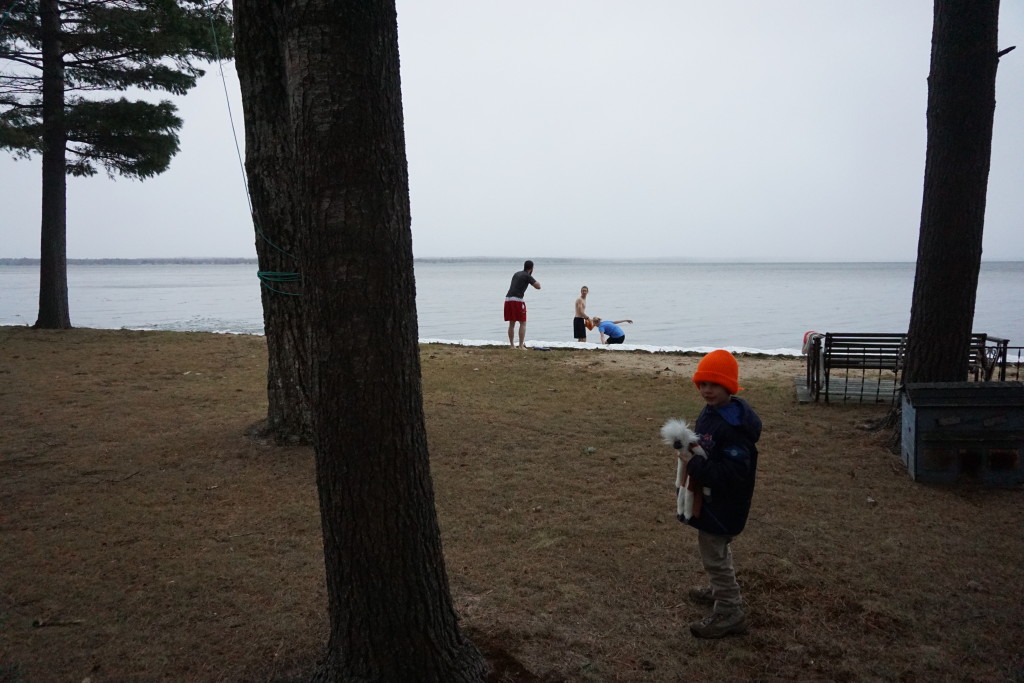 Snow and ice…and water. Frigid water. And a little seawall that we had to climb down.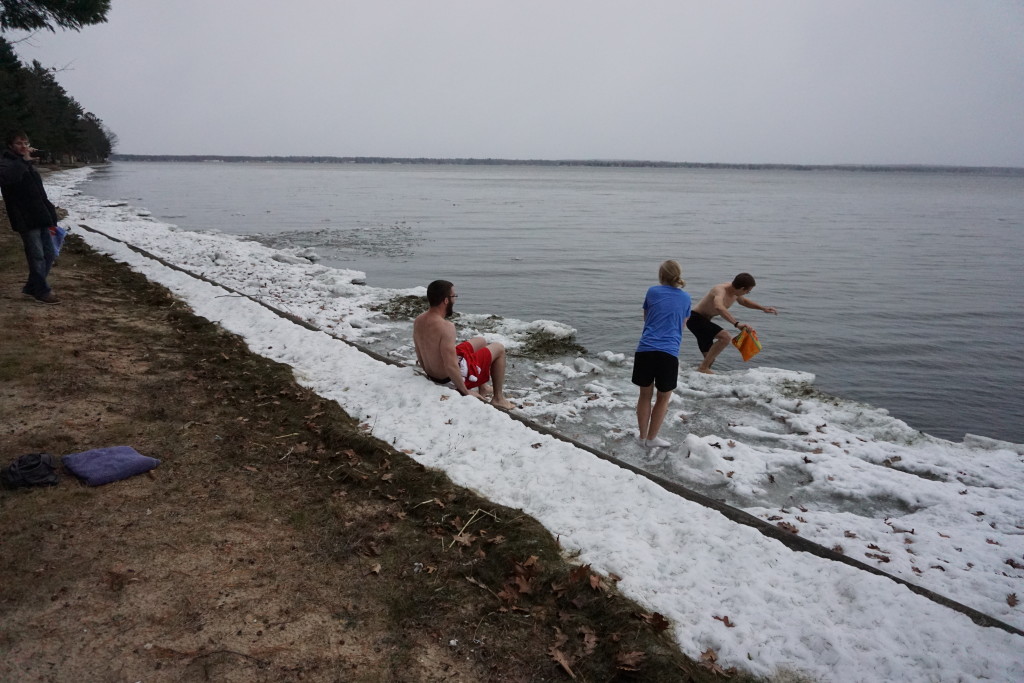 I decided right about then that my strategy was going to be this: DO THIS RIDICULOUS THING AS FAST AS HUMANLY POSSIBLE AND GET MYSELF BACK INSIDE.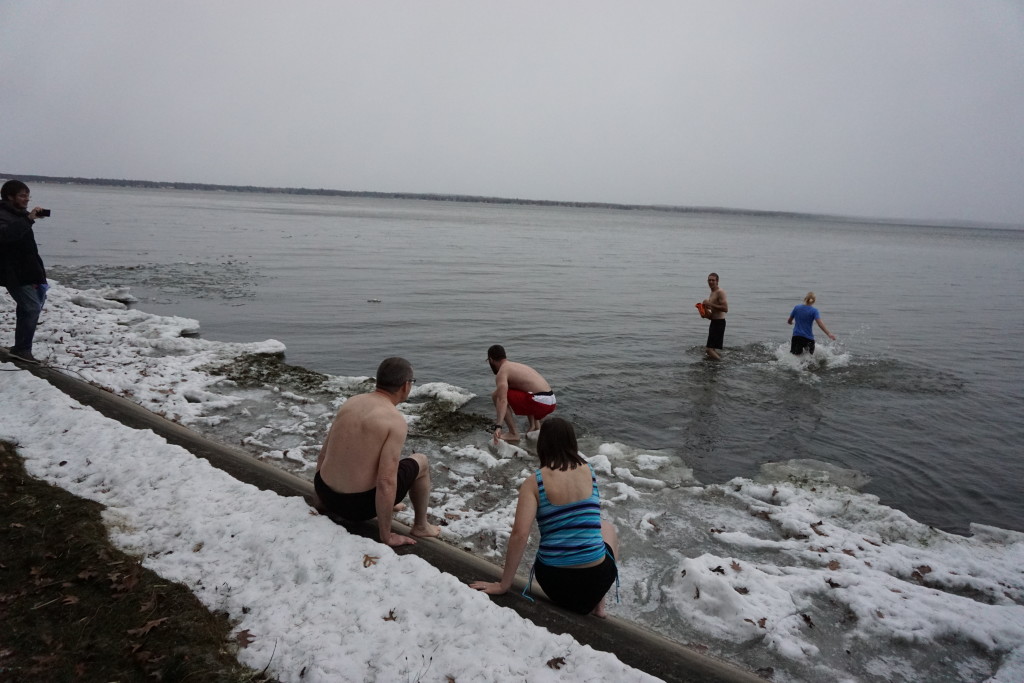 See? I'm done. I dipped down and came back up and was outta there as fast as I could.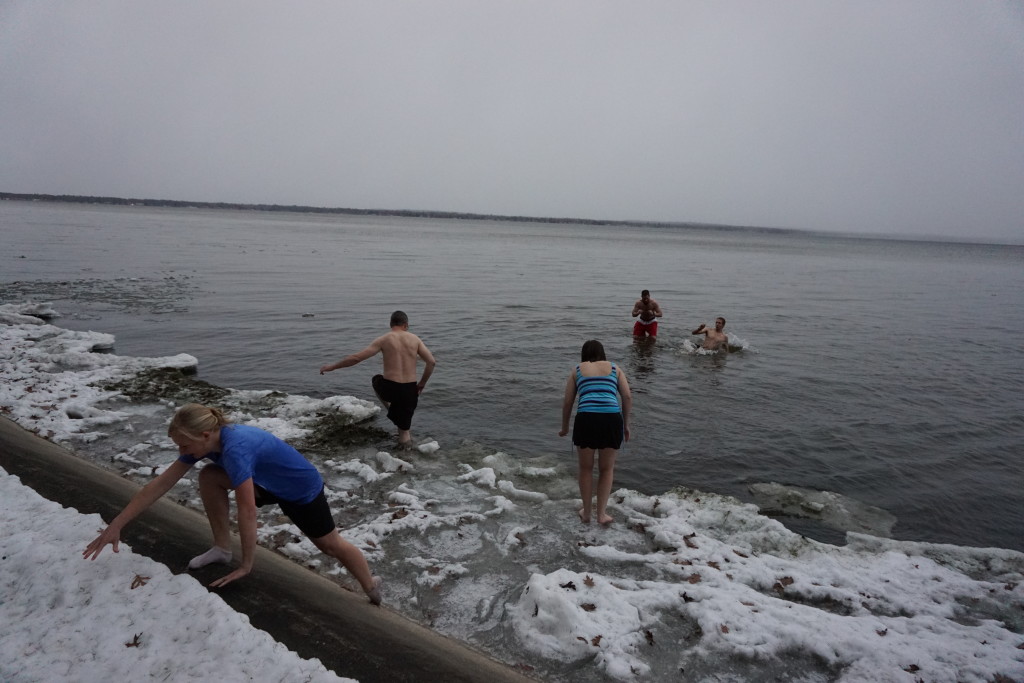 Theo went in with his towel haha.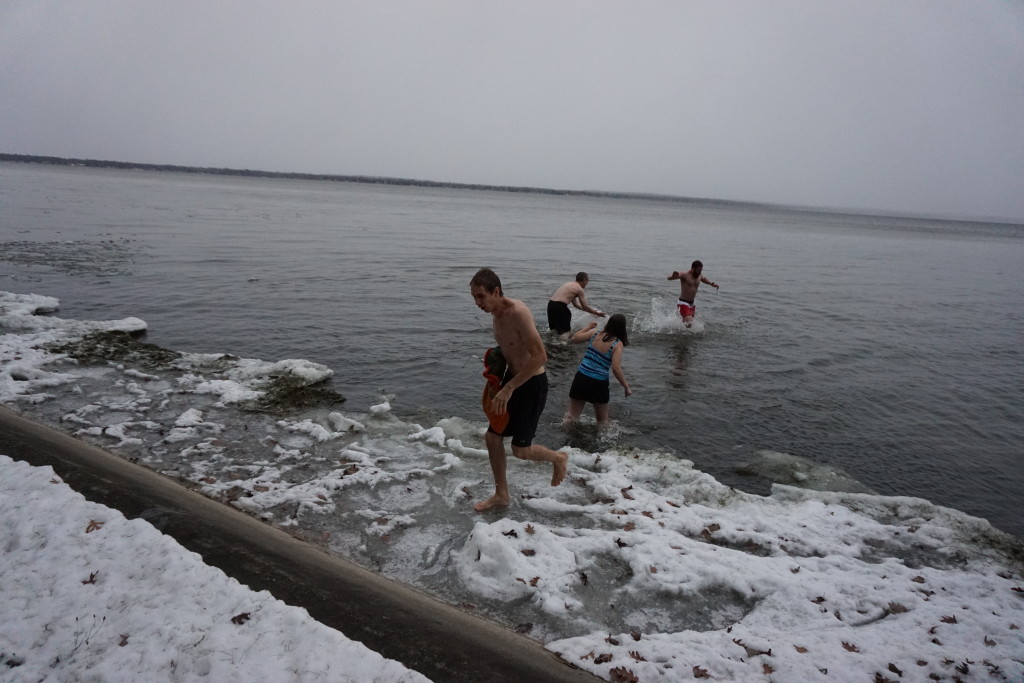 Sarah was seemingly unfazed by the whole thing and was the last one out of the water. I love how Isaiah is waiting with a towel (and a camera) to help her out! I was already back in the house by this point.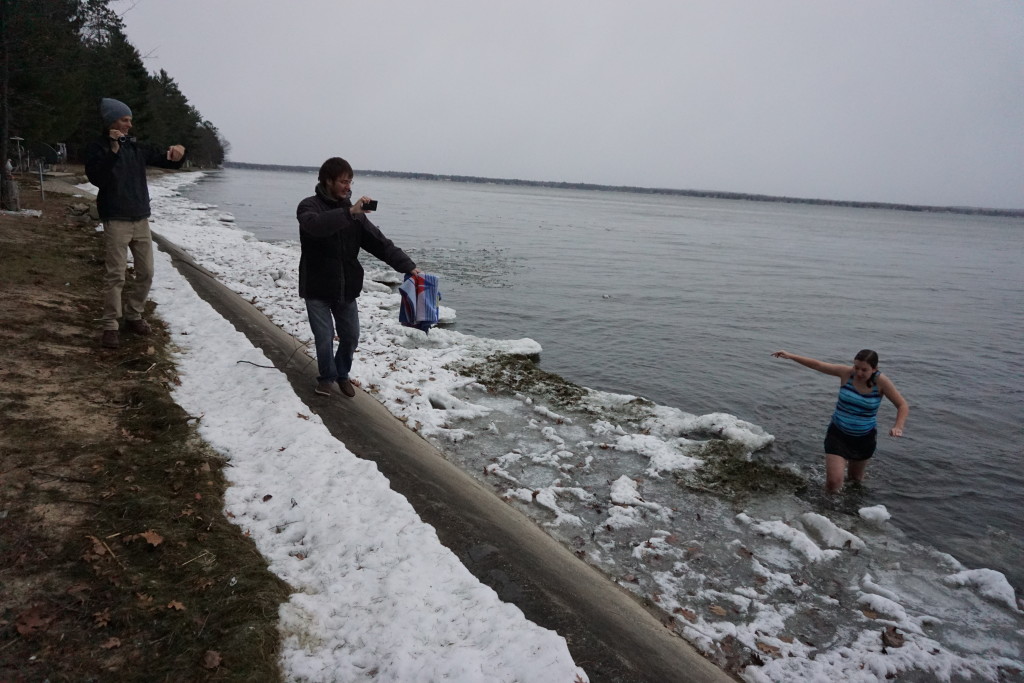 Thoughts on the polar bear swim: It was cold. 25 degrees air temp, and I have no idea what temp the water was. Probably right around freezing, as you can see there was ice on the edge of the lake. Honestly, it wasn't as bad as I expected. I think once the adrenaline kicks in, it's not too bad. The absolute worst part was how cold my feet were. They were so numb I couldn't feel anything else! I was warned that I would be cold allll day after doing this, but I actually wasn't…and I'm ALWAYS cold. Worth it? Sure, for bragging rights! Will I ever do it again? Maybe!
Right after the polar bear swim, Theo left to head back to Ohio for work. That's right…we drove up the 27th, Theo left the afternoon of the 28th, he worked the 29th, drove back the 30th and then we both drove home the 31st. It wasn't ideal, but it's family, and that is worth it.
We also ate tons of good food. Tera was fed all day long by all sorts of people! It was wonderful having so much help with the girls, especially when Theo was gone.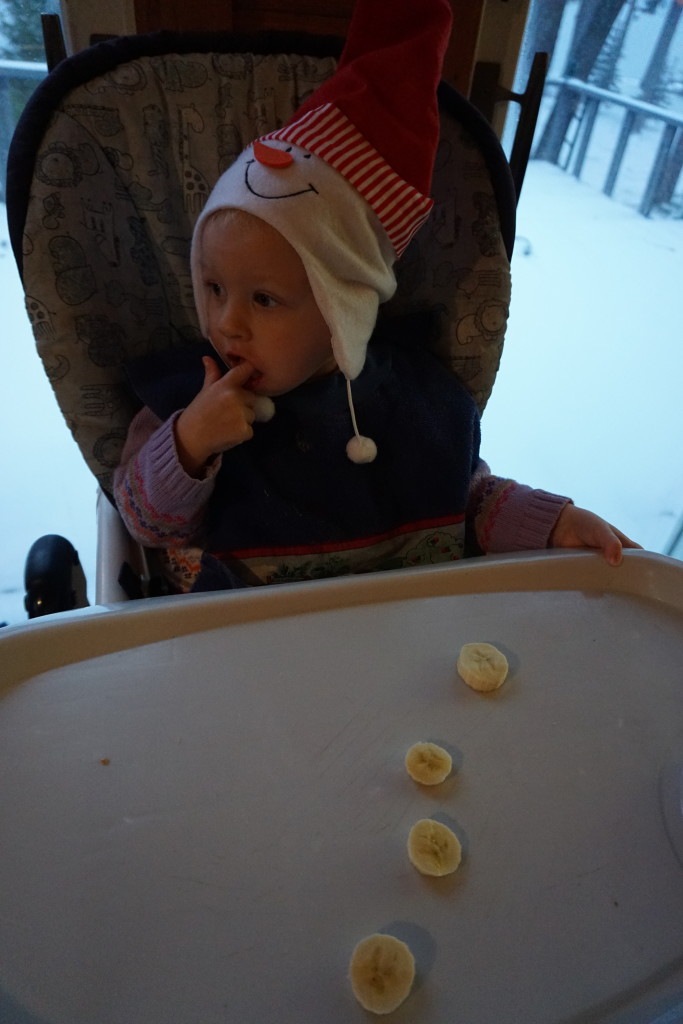 The ladies all did a bunch of coloring (in between kid wrangling) while the boys played super intense strategy games.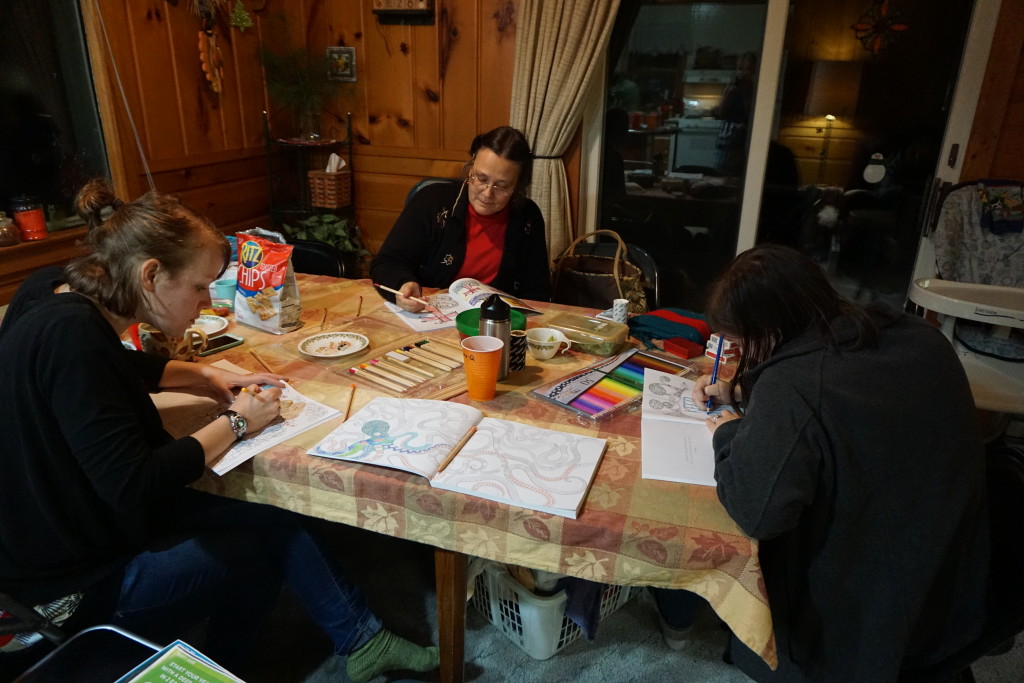 Tera got this monkey from her cousins and carried it around all week long! She's still carrying it around. #pleaseexcusethemullet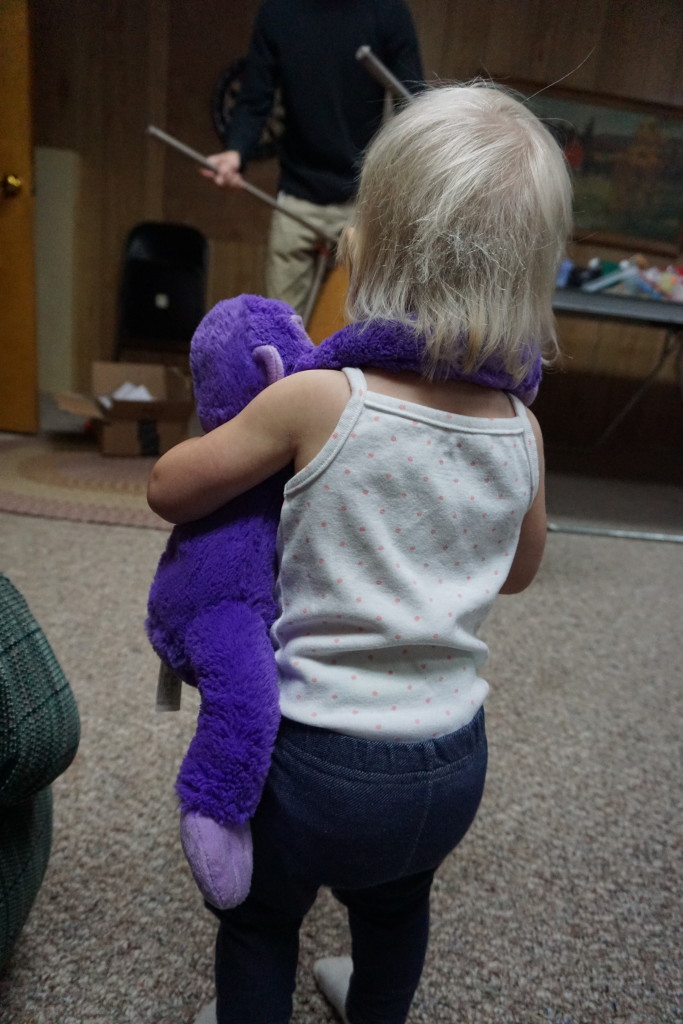 We wanted to get a picture of all the cousins, but this is the best we got! Tera and three of her girl cousins.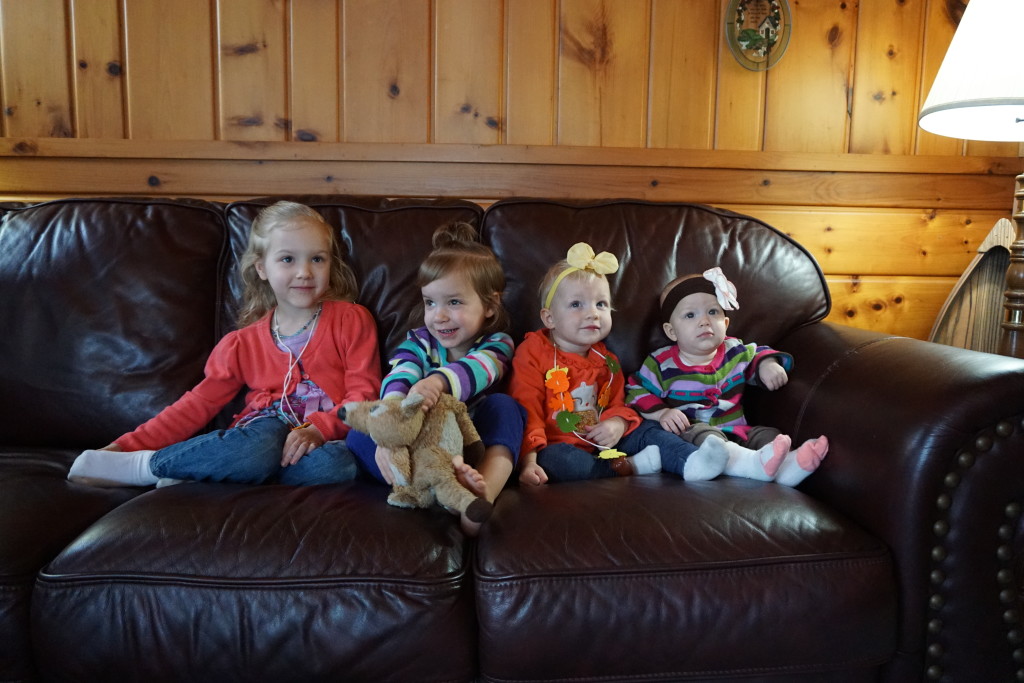 One morning I had Little Miss crying and Tera needing to be fed her applesauce, so I asked Ian if he could do it. He was so proud of himself! Ian, I'd love to keep you around!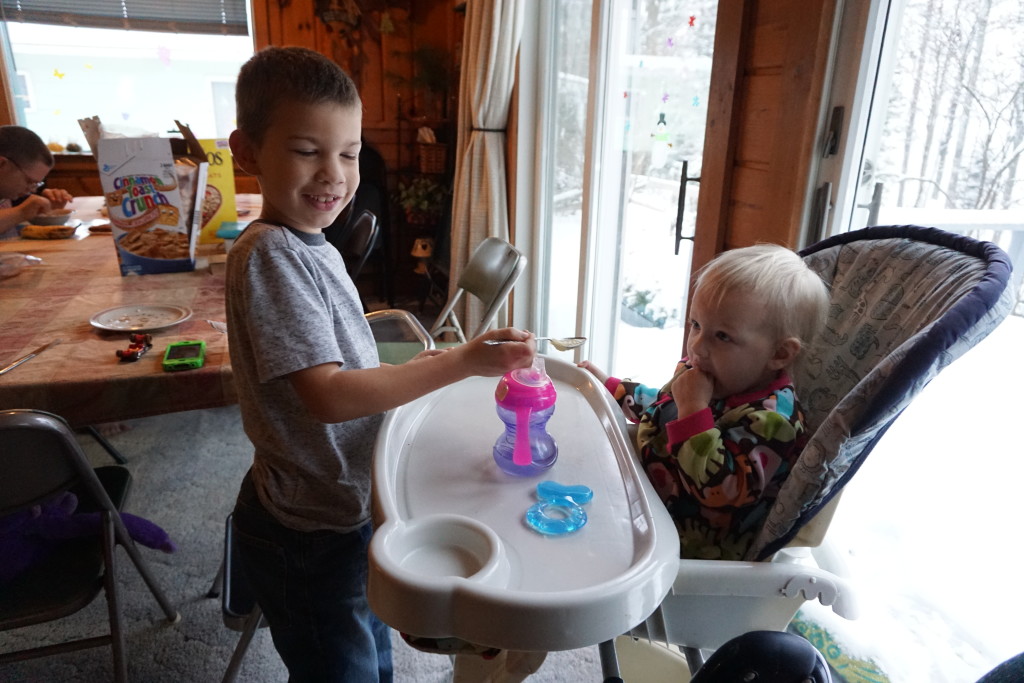 After spaghetti night, we threw all the girls in the bath. They loved it!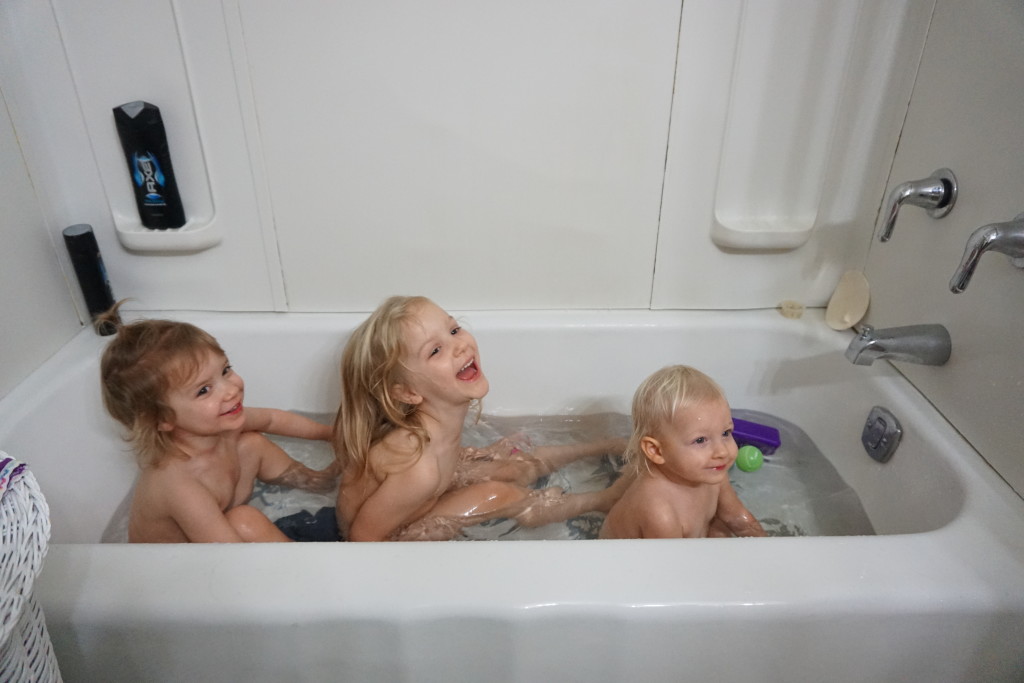 Sisters//Friends//Moms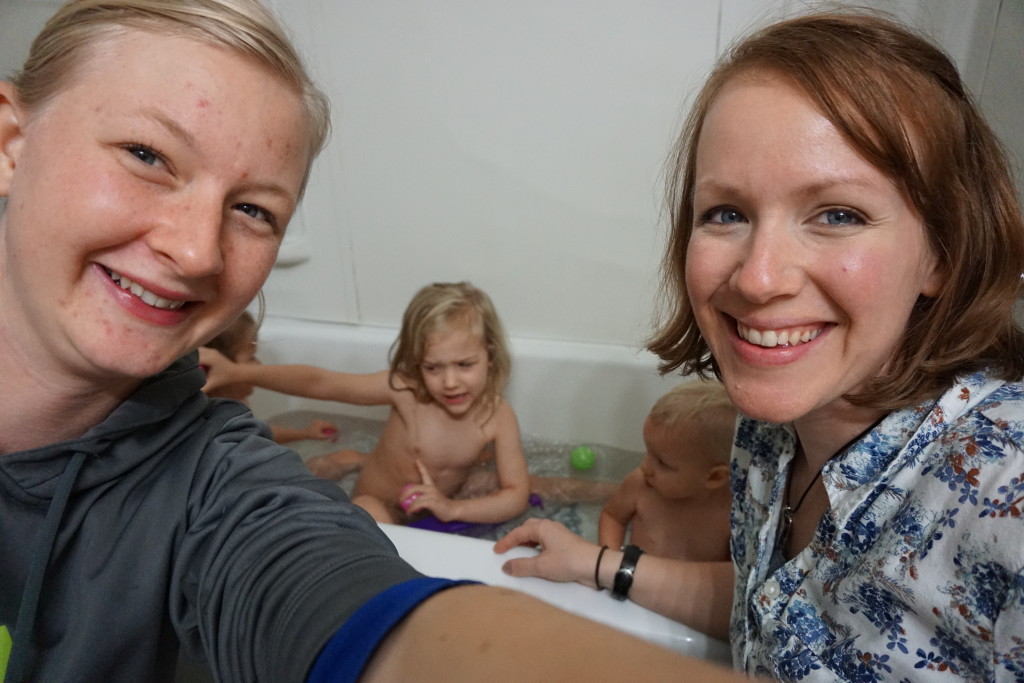 Dad also had to leave to go back to work, but when he arrived back he opened up the Treasure Box for his grandkids! They looooove this tradition!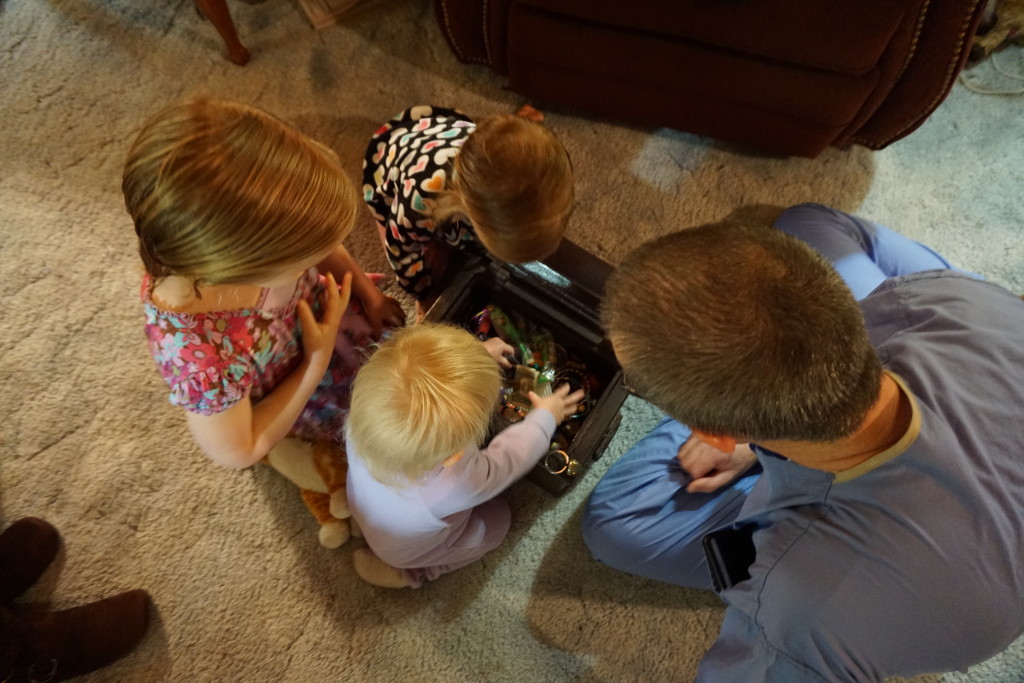 Little Miss did great all week. She had someone to hold her almost the whole time. Uncle Tony and Aunt Cindy were celebrating with us, and they were both baby whisperers! They would just swoop her up when she was fussy and love on her. Her whole nap schedule was off, and she really wasn't even interested in sleeping, but as long as she had someone holding her, she was happy! I also discovered one reason for her extreme fussiness: two teeth! They are coming through, and she is NOT happy about it!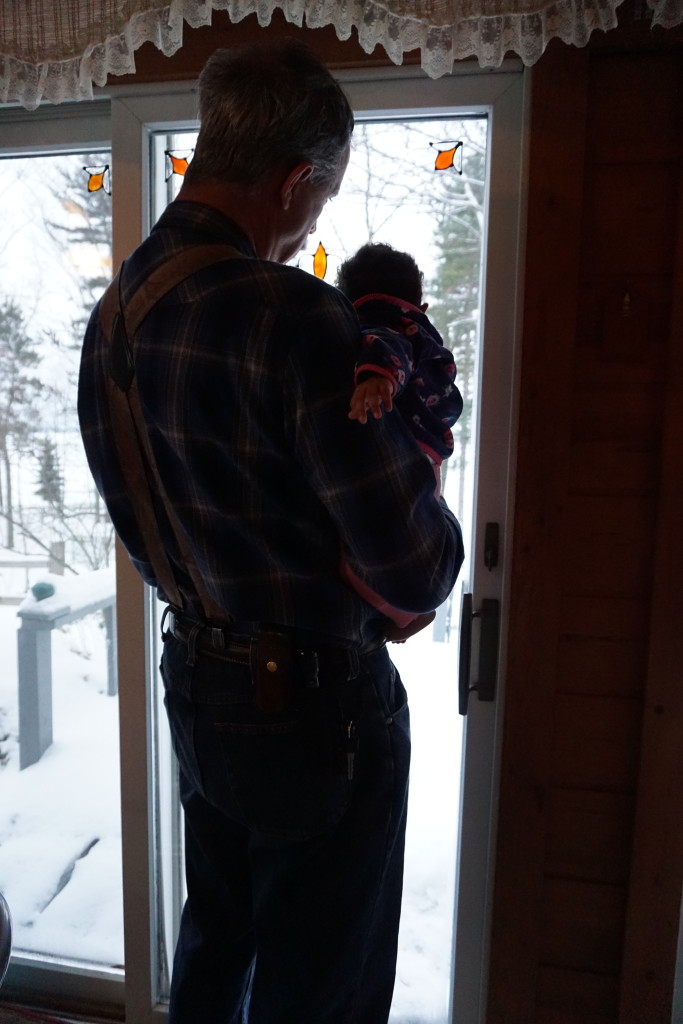 Right after the polar bear swim, it started snowing! We got almost a foot in the last two days we were there. Grandpa pulled out the snowmobiles and we all got to enjoy some ride time! First, up: the grandkids!
We couldn't find a snowsuit for Tera, so we made do with what we had: lots and lots of layers! And huge man-gloves duct taped on!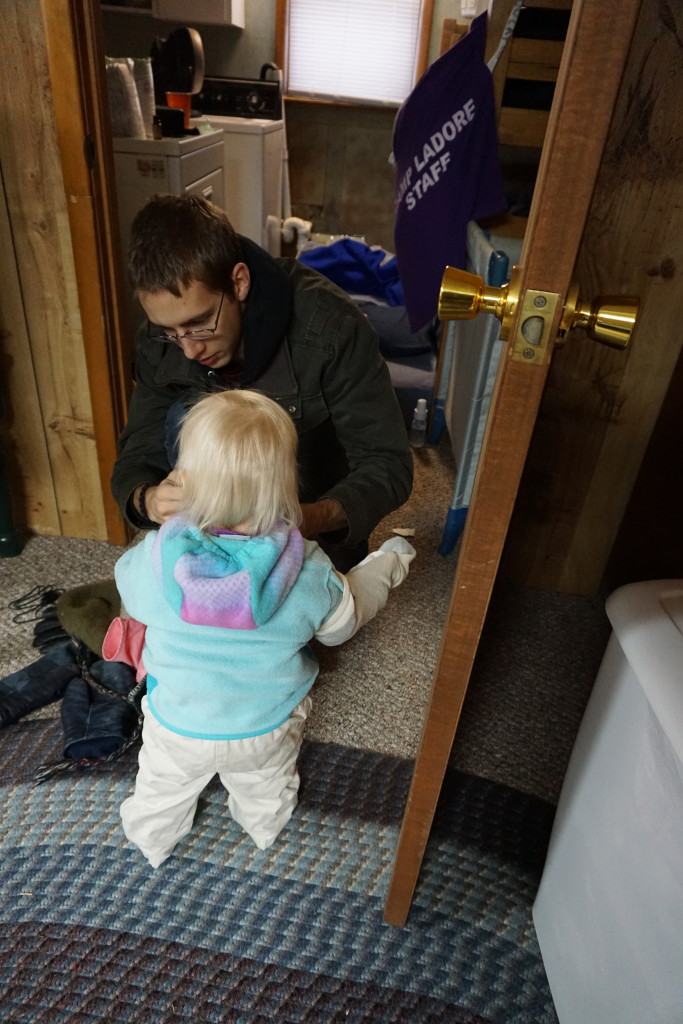 Ready for the snow!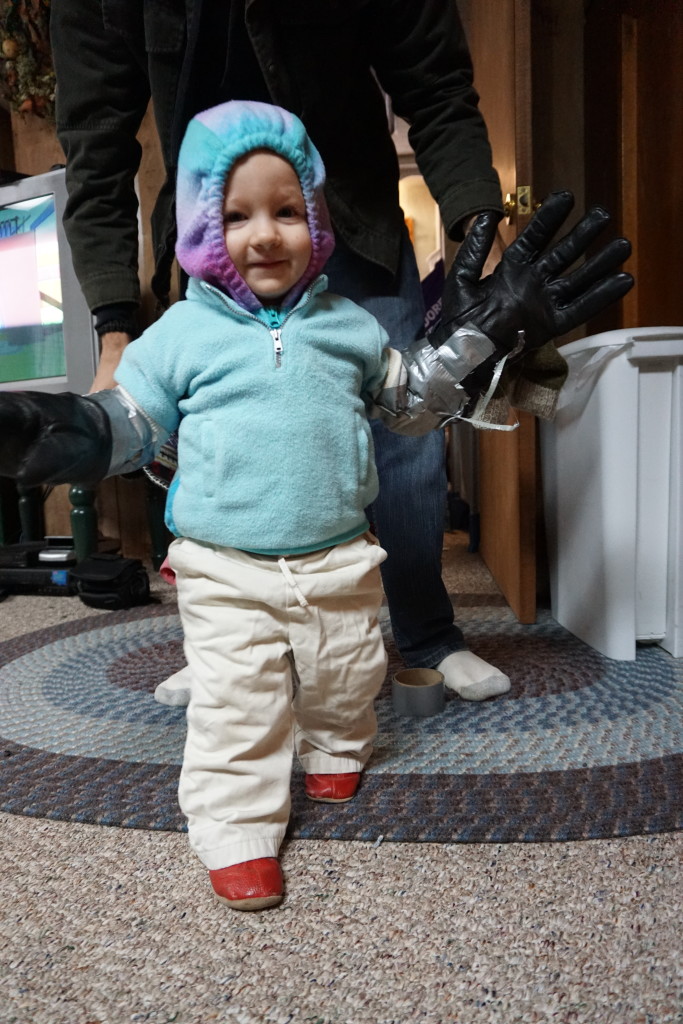 Loading them up!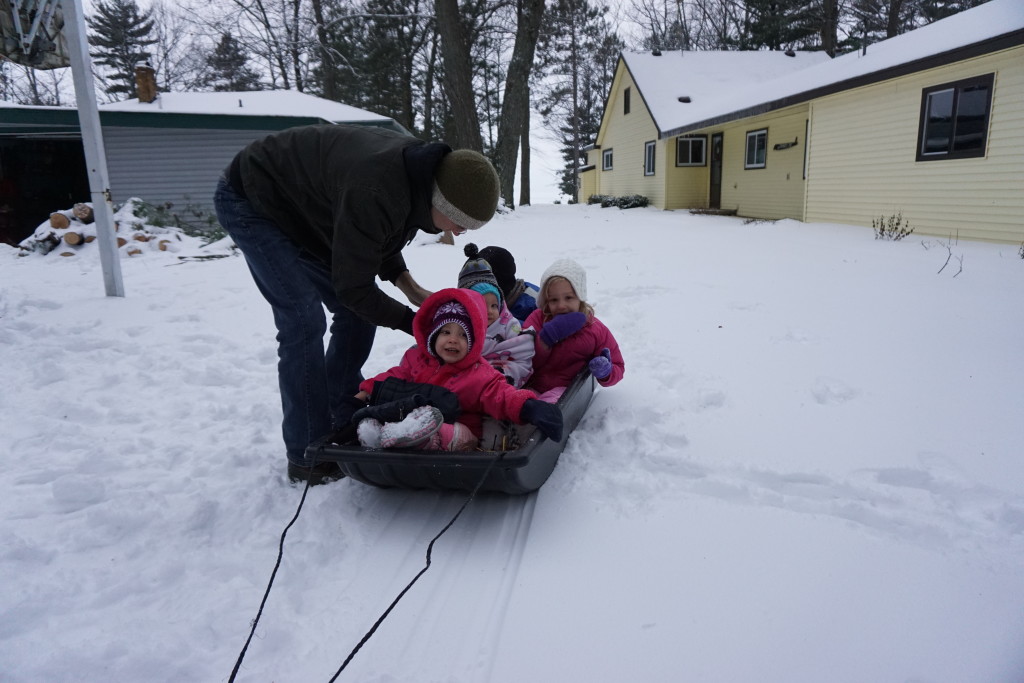 And their off!
With the Dads running alongside!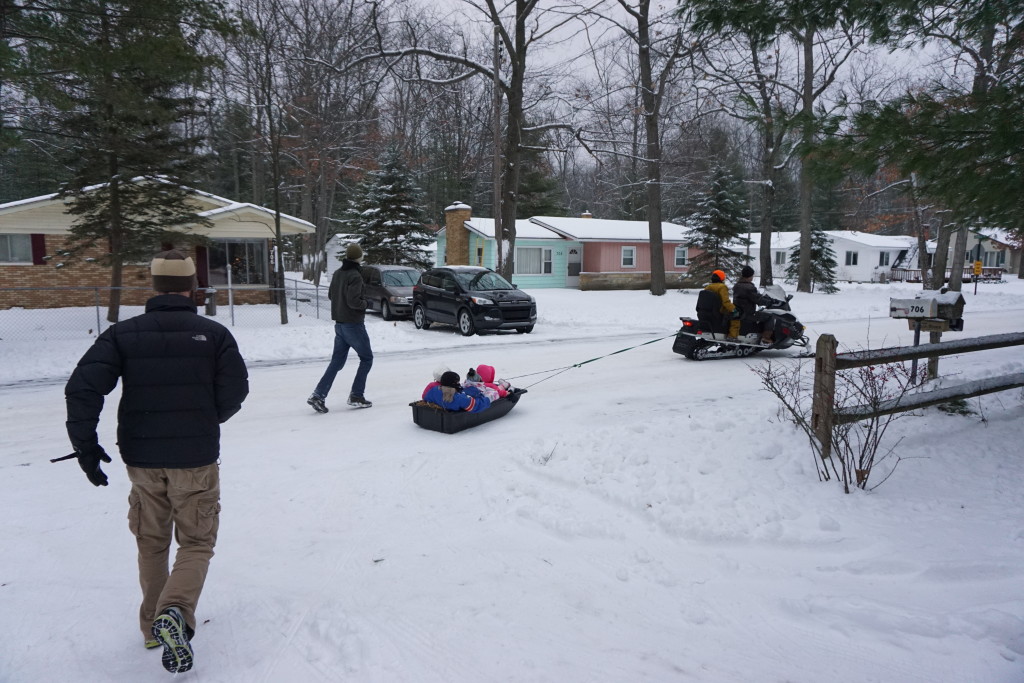 The view out the back of the cabin: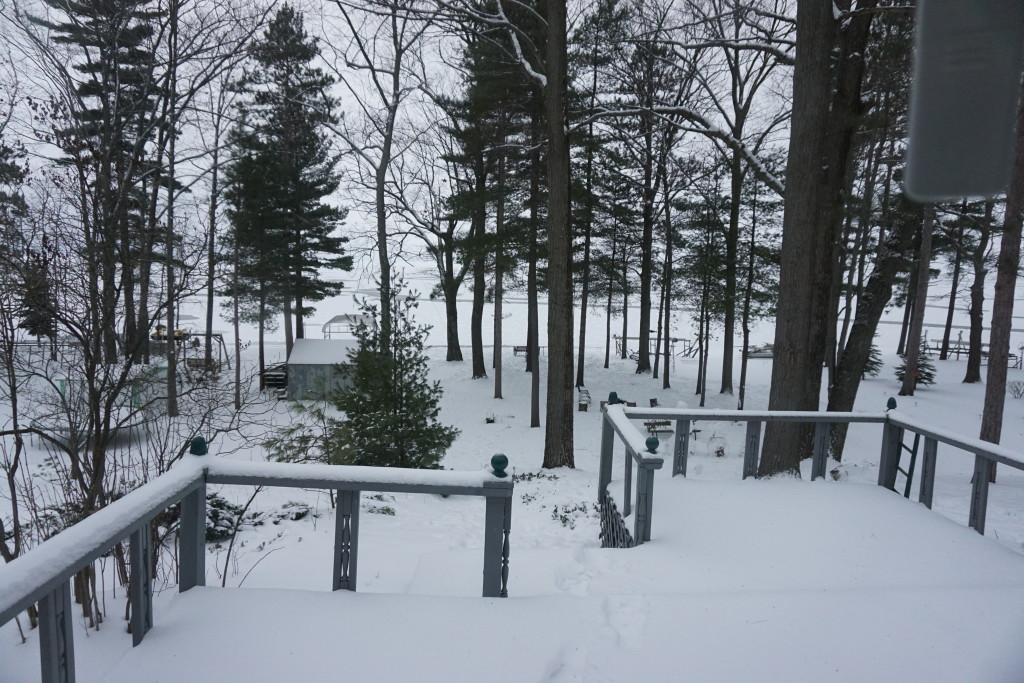 Josh and Jamie also came up for a day. It was wonderful seeing them again, since the last time we saw them was at their wedding a year ago! We got to go snowmobiling with them and it was a blast!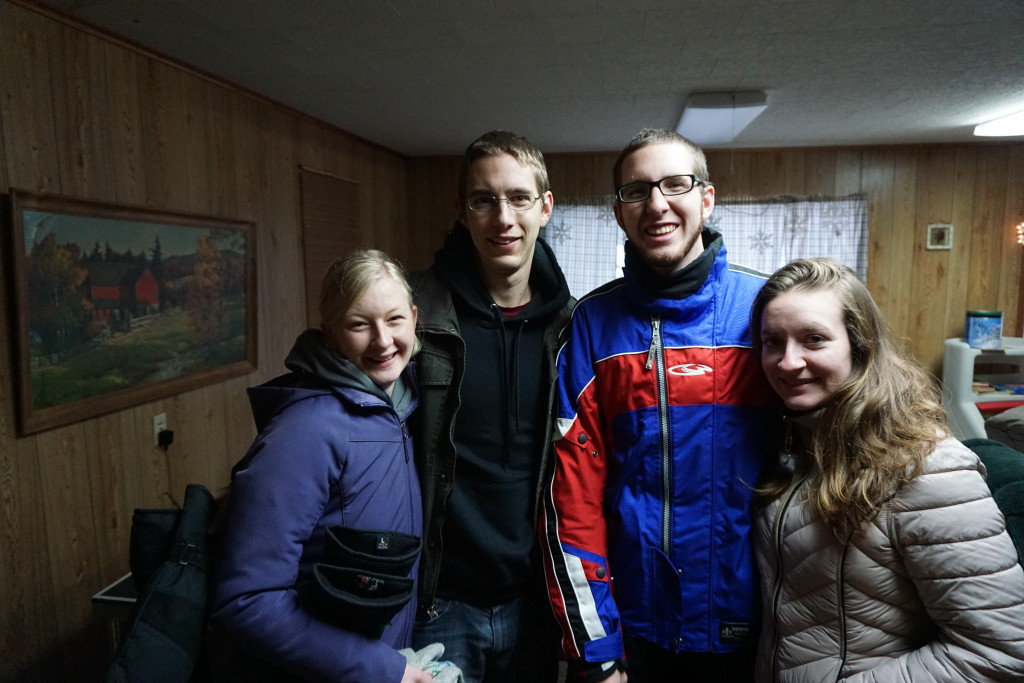 And that's it! We really enjoyed our time with family, although it was not easy having Theo gone for a good portion of it. Lack of sleep and the fact that there is no alone time at the cabin really added up to some stressful moment for me. We love getting together with everyone, but we sure are glad to be back home!
P.S. A lot of people have asked me what it takes to travel with foster children. The process isn't hard, but it can be made really difficult. We had to get approval from Little Miss' birth Mom. A lot of birth parents will put up a fight about this. I mean…it must be difficult to sign off for some strangers to take your child out of state and do fun things without you. We actually didn't expect any trouble from Little Miss' Mom, she is very reasonable and kind to us. But nobody could find her. And the date was drawing closer where we needed her signature, and I was starting to think we wouldn't be able to go. Finally, our caseworker just went to the court and got a signature from someone higher. I have no clue how it works for other agencies or cases, but in this case it was not hard, but it was a little scary there for a little bit!