My latest BookLook Blogger book to review was A Beginner's Story Bible Activity Book.
I remember the beginners story Bible from when I was growing up! I loved the bright pictures and illustrations and would just leaf through my Bible for and look at the pictures! When I spotted this Sticker Activity book, I knew that I wanted to get it and let Tera start playing with stickers and doing some activities.
I was very dissapointed with the time that it took the activity book to arrive at my home. I ordered it near the end of November, and it didn't arrive until mid-January. Other than the amount of time it took to get to me, it was an awesome book!
As soon as it (finally) arrived, I immediately realized that this was WAY over Tera's head. I'm not really sure what I was thinking since Tera is only 17 months old! I thought that it was a sticker book that you simply place the stickers on the page, and I thought it would be fun to do that with Tera since she has recently discovered stickers.
However, this book was much, much MORE than that!
Since I knew it wouldn't do any good sitting in my house (unless you count ripped to shreds by a toddler as "doing good"), I took it to Discipleship Group and offered it to another family who had older kids. They took it home and worked on it and the results on in… they LOVED it!
Here is Ava (who turns 7 TODAY! Happy Birthday, Ava!) working on it after school one day: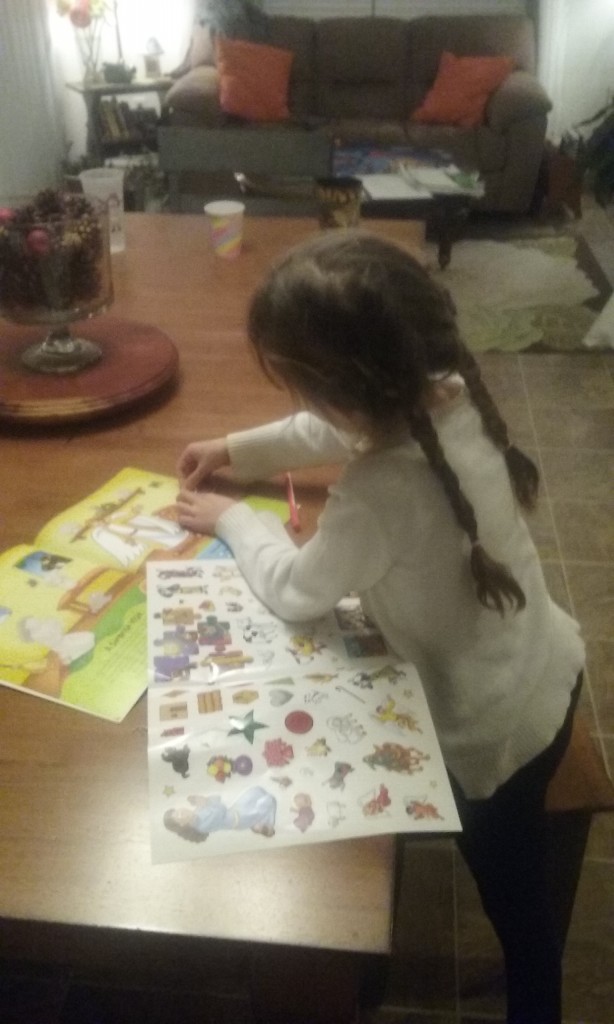 The book has activity pages, seek and finds, word searches, and coloring pages. On almost every page there are directions to place the corresponding sticker on the correct spot.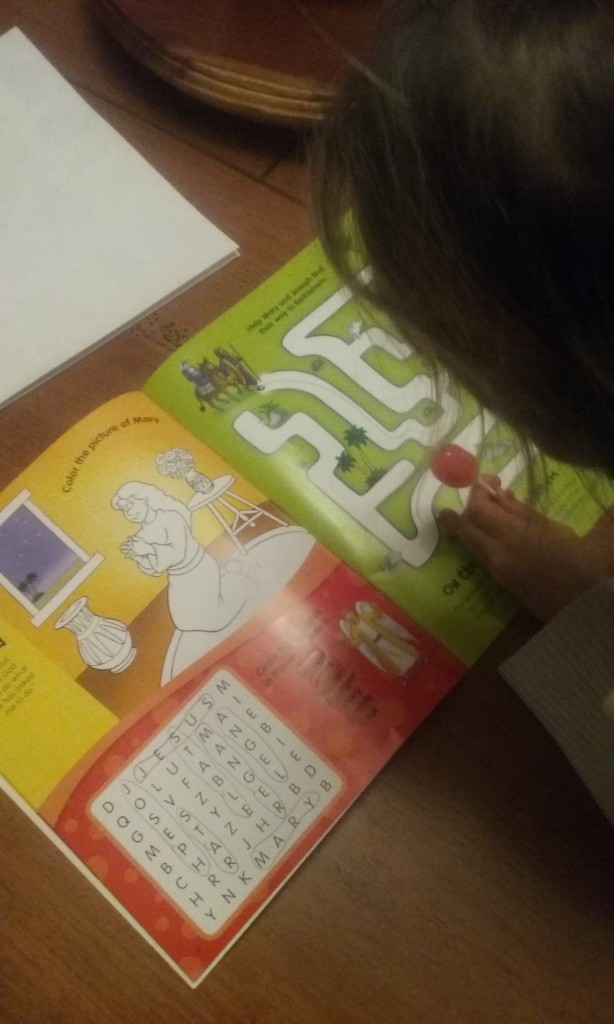 For example, on this page, Mary and Joseph are traveling to Bethlehem, and the directions are to place the corresponding stickers on the correct spot. This type of activity is on almost every page!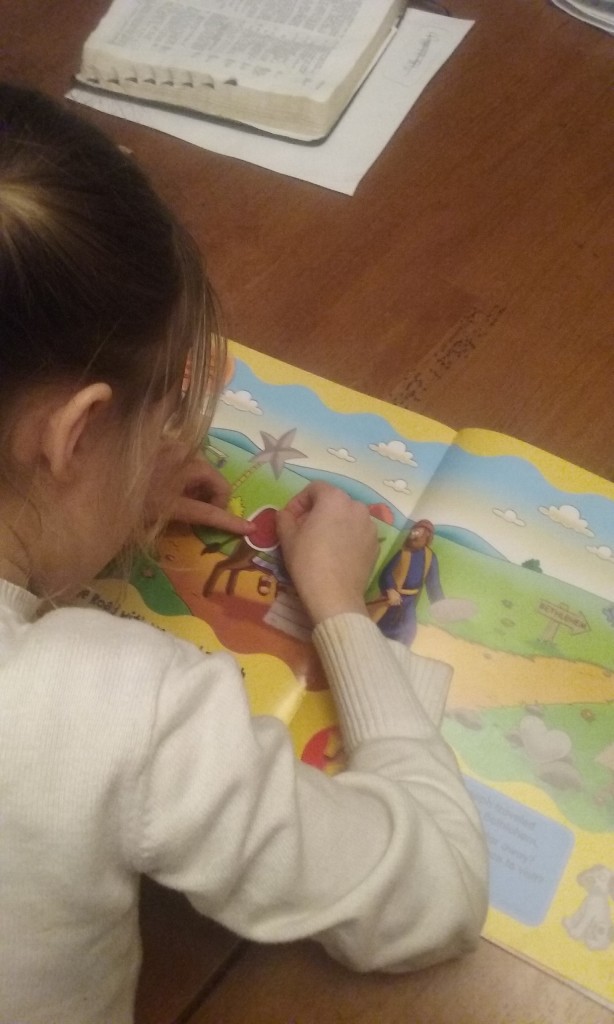 The sticker page is located in the center, but is removable so that it can go with the child throughout the book.
The entire book is sprinkled with Scripture and overall does an excellent job of keeping the focus on the story of Christ and his birth. The page and the sticker qualities are very high.
Overall, we agreed that this is a very fun and interactive Christmas story activity book! Ava had a blast doing it, so we recommend that this book is for ages 4 and up, due to some of the activities being fairly advanced (word searches, reading instructions, etc.). It is NOT just a sticker book!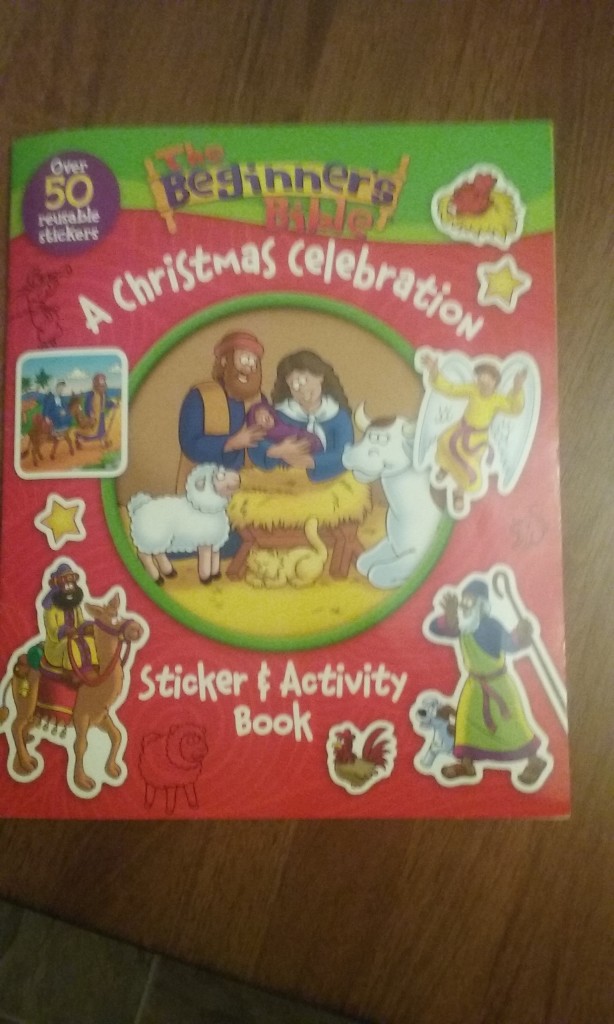 Thank you, Sarah and Ava for reviewing this Activity book for me!
BookLook Bloggers is a faith-based website that provides free books in exchange for a blogger review! You can visit the website by clicking here.
You can see my other BookLook Blogger review here:
Grief: A Mother's Unwanted Journey
Sacred Marriage