Two weeks ago, I had the privilege of hosting a baby shower in my home! Christine and Ryan are new in our church, and we wanted to make sure that they were blessed as they transition into parenthood. Since they are a newer couple, I wasn't sure how many church members would attend the shower, and I decided my living room would be plenty big for everyone. Boy, was it a tight squeeze!!!
Theo and I stayed up late Friday night setting up for the party. I would have done it earlier, but…toddler tornado Tera and party décor do not go hand in hand, unfortunately. Still, we had fun hanging the streamer wall and setting up what we could for the next morning.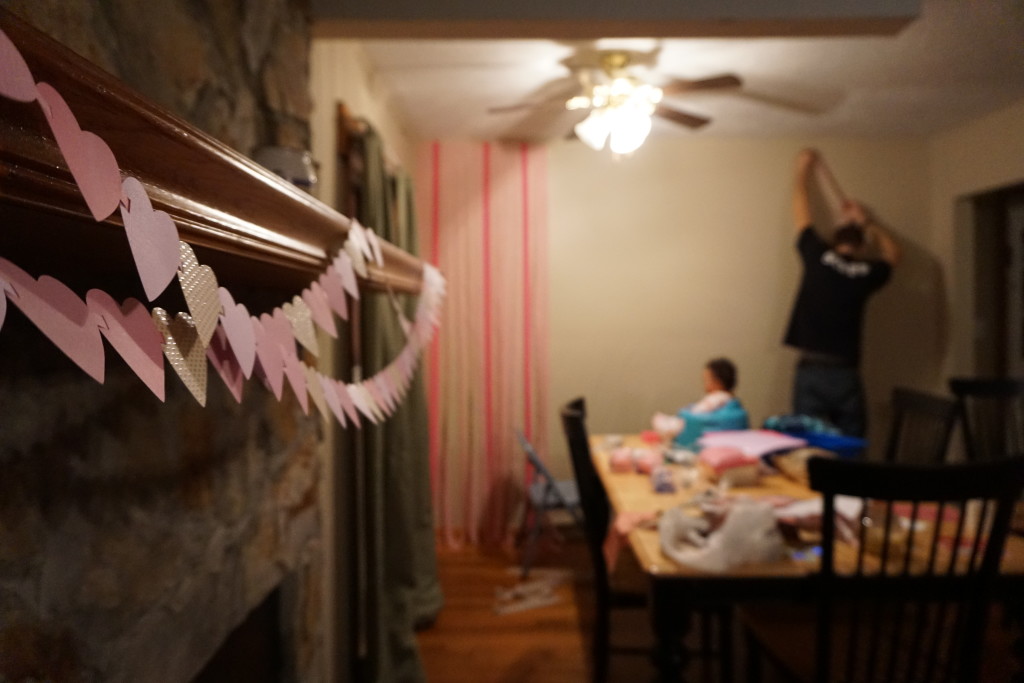 I made this banner and although I loved it, I was disappointed that it didn't match better. I was also intending to hang the whole thing on the table, but then we ran out of room on the table. Things always look so much better in my head.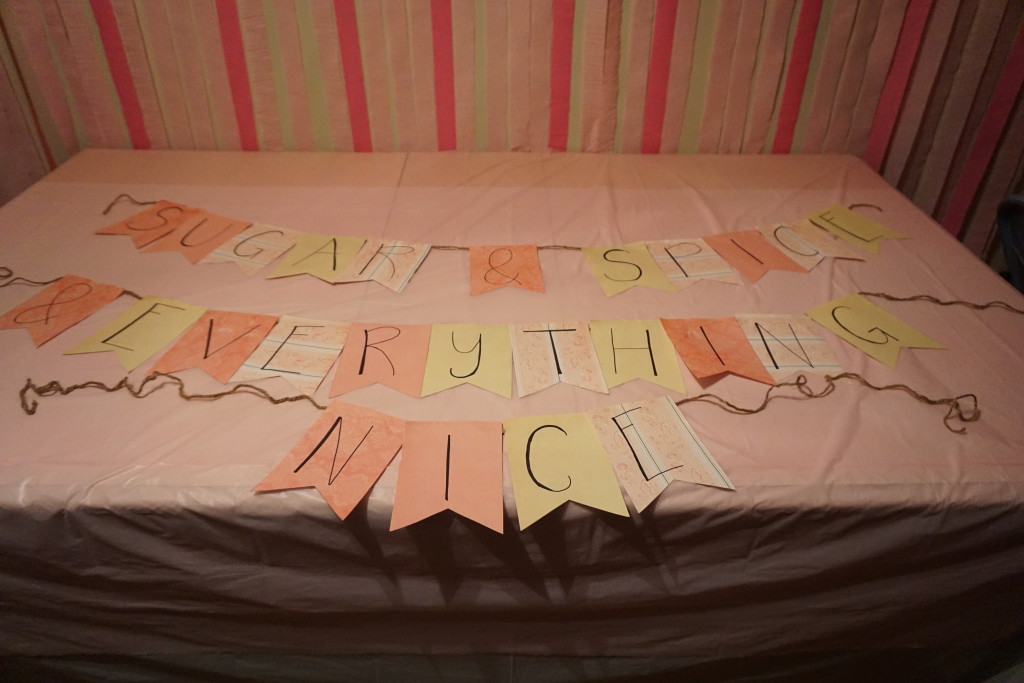 The finished décor before the party ladies descended upon my house! The sugar and spice part is on the food table, and the everything nice is hanging on the mantel where the gifts were placed. In my head, it worked…but it really bugged me that the sugar and spice an everything nice were backwards. Oh, well!!

As the RSVP's climbed higher and higher I started to worry about seating in my living room! We pulled the couch out of our back office and found every single chair that was in our house!
Tera was really surprised when she woke up in the morning to find a new couch in the living room! She grabbed her books and her monkey and climbed right up! Theo and I were getting stuff ready in the kitchen and we both realized it was really, really quiet. I was pretty sure my whole streamer wall was going to be found on the floor, but there she was…just reading away on the couch.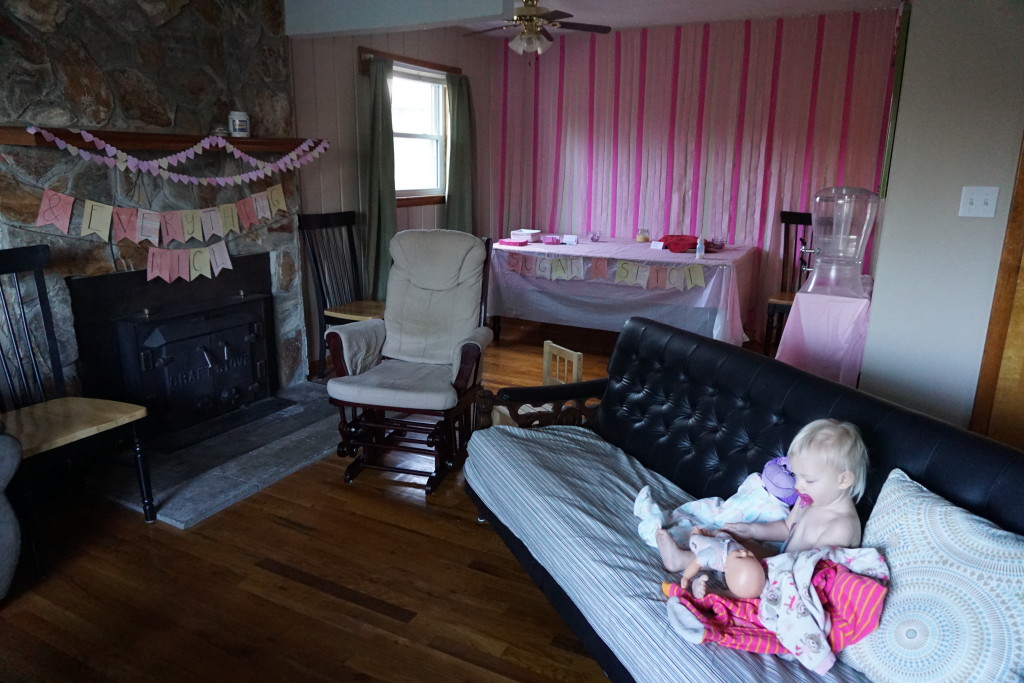 The food table and the drink table: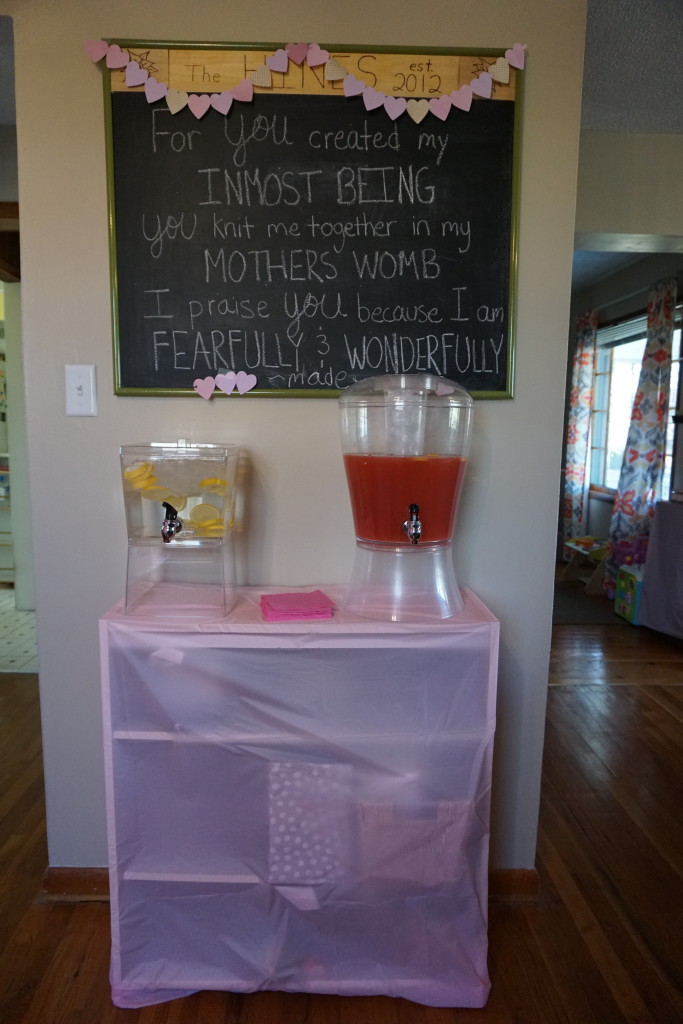 And the mantle with the gifts. I sent Theo to the store on Saturday morning to get ice and "pink flowers". I'd say he did really great picking them out!!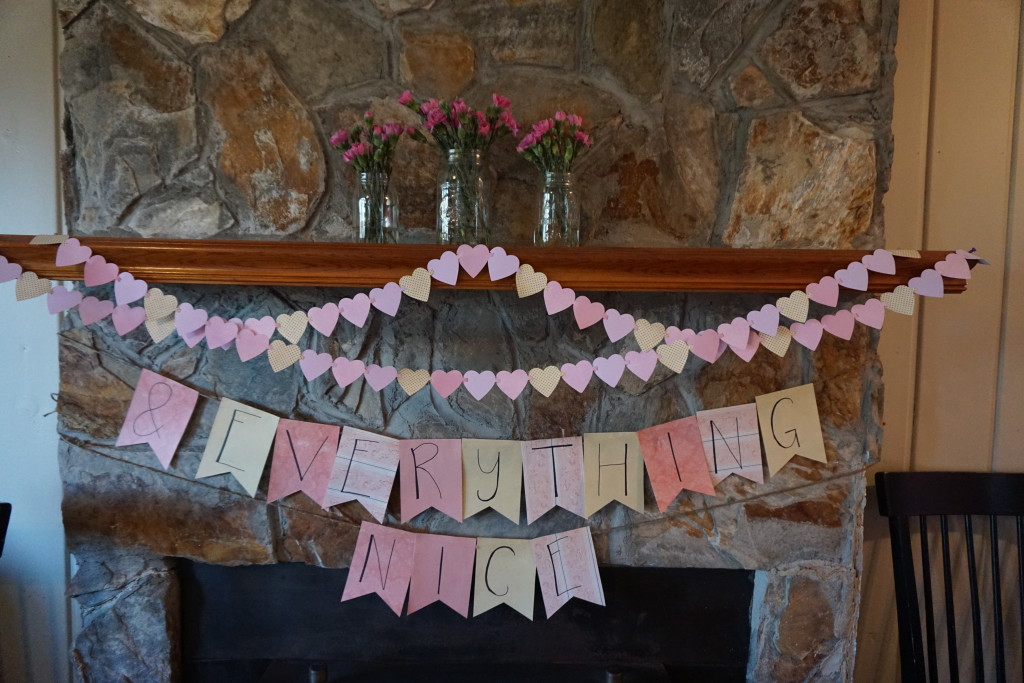 I also made these favor jars with cinnamon sugar in them. I used baby food jars that I had left over from Tera. I spray painted the lids pink and then put gold glitter spray paint over them. The scrapbook paper around them was a total afterthought. After Theo and I spent hours trying to figure out how to get the sticky residue off, Theo finally suggested that I just glue some scrapbook paper around the jars! Brilliant! It ended up taking much less time than if I had tried 900 more solutions to remove the sticky stuff.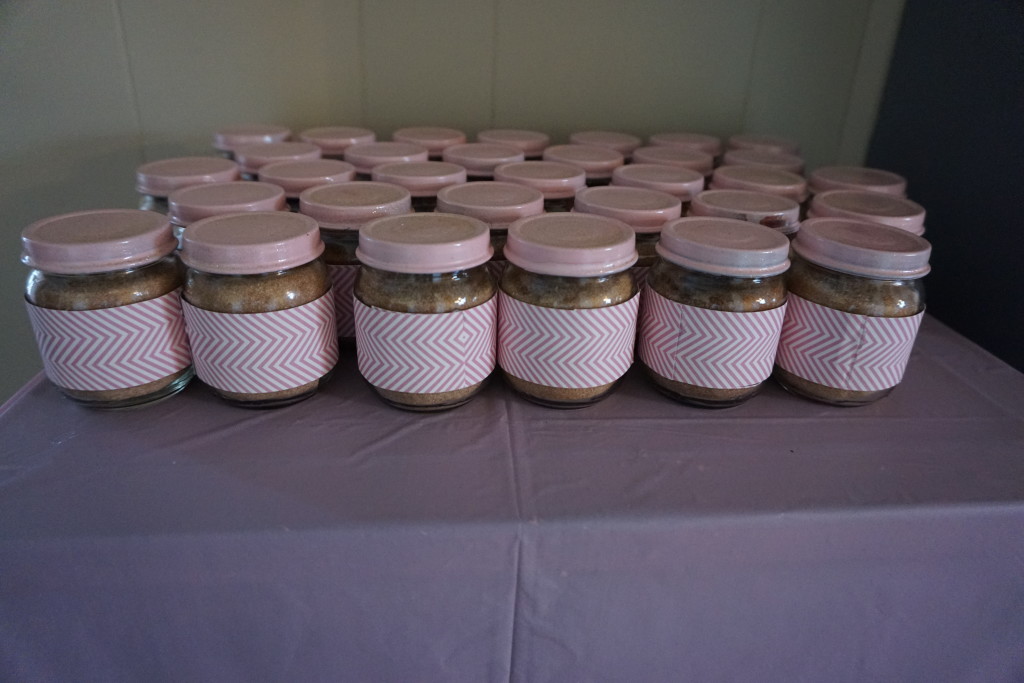 The guests started arriving right at 10:30, and the shower was off to a great start! Once it started, I had very little to do, and I could mostly just sit back and relax. I had asked various people to bring food. I also delegated out the devotional and the game time, which worked out so well!
Food & Fellowship
We had water and punch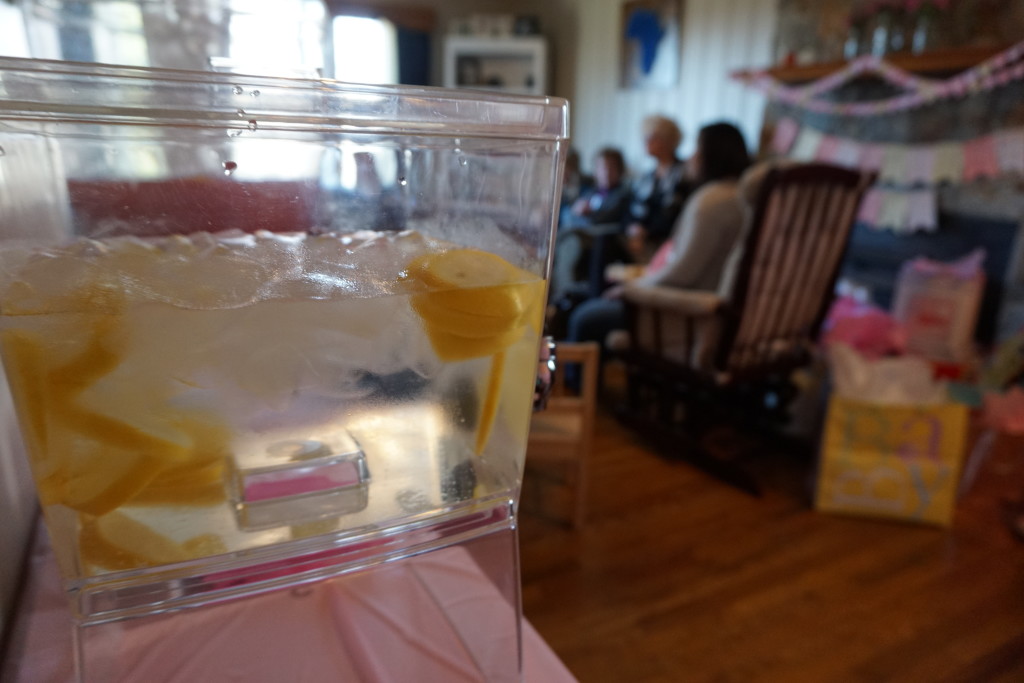 Rosann led the devotional, and did a beautiful job sharing a short story about the trials and triumphs of motherhood. I think every mother in the room was nodding along and wiping some tears from their eyes. I'll have to ask Rosann for a link to the story, because it was beautiful!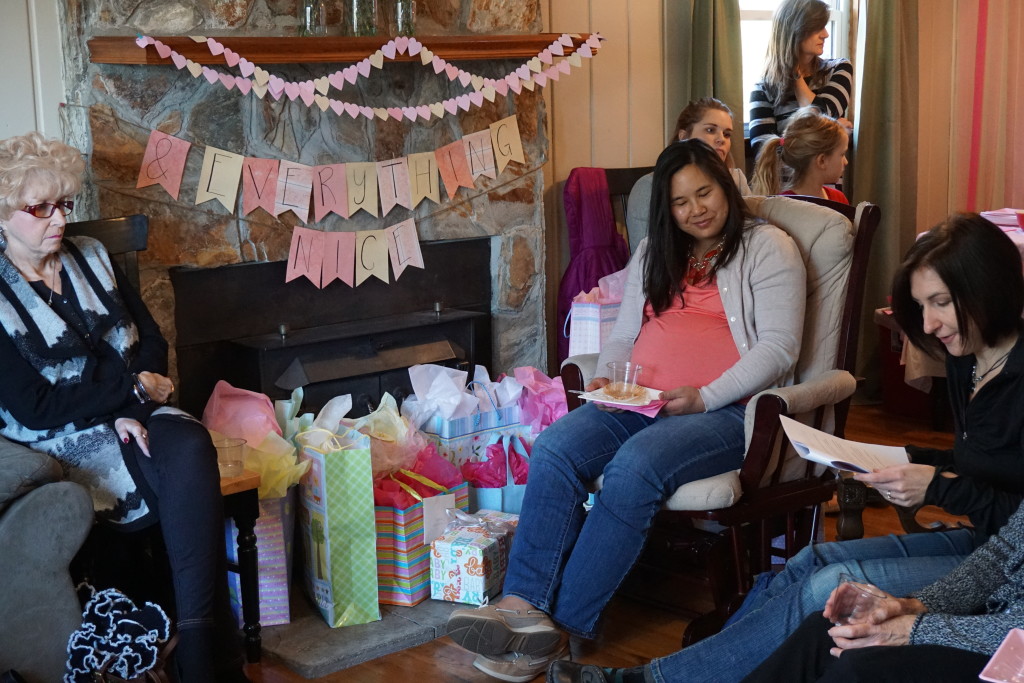 Time for gifts!! Isn't Christine beautiful?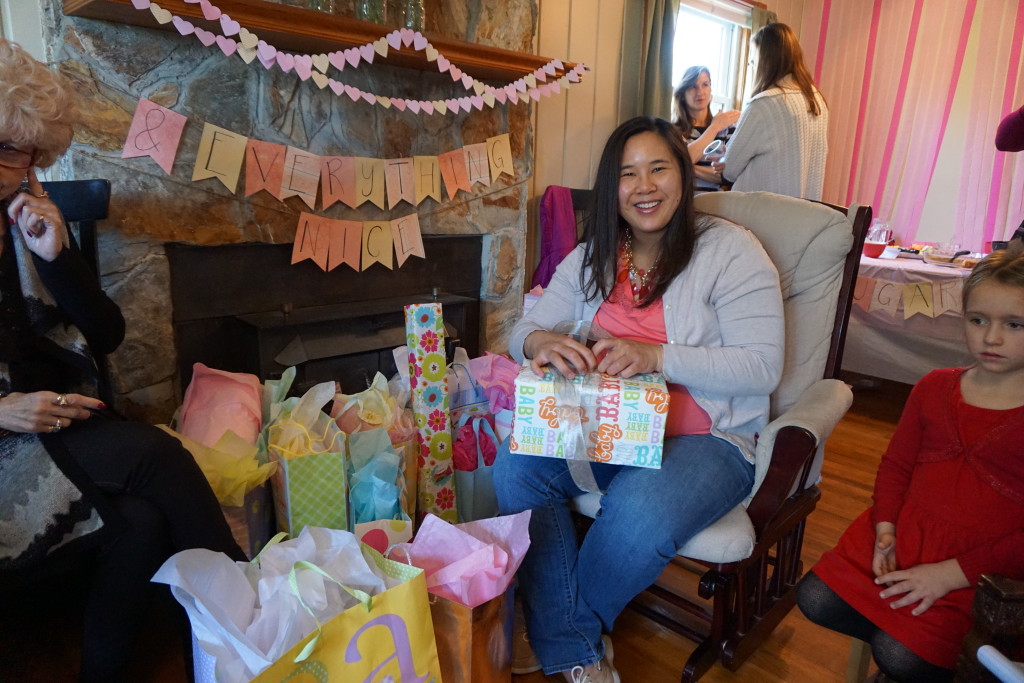 Baby girl gifts are the sweetest! This blanket was hand tied by a church member. Our church is so good at giving thoughtful shower gifts!!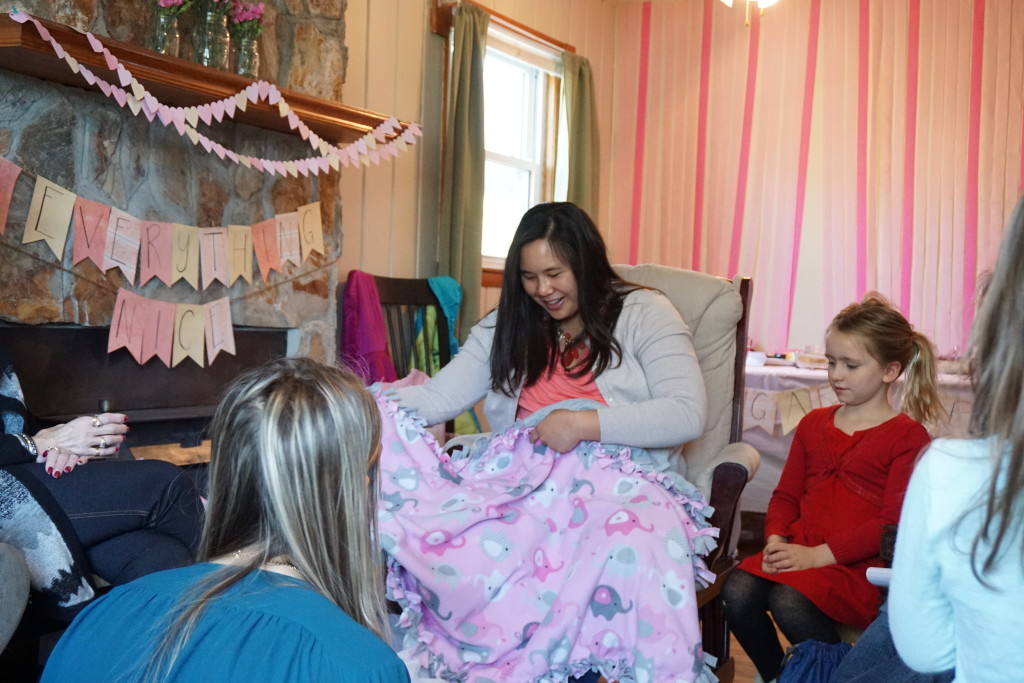 Aftermath. If Christine is anything like me, she will have baby girl gift bags and tissue paper for the next 3 or 4 or 5 years! Haha!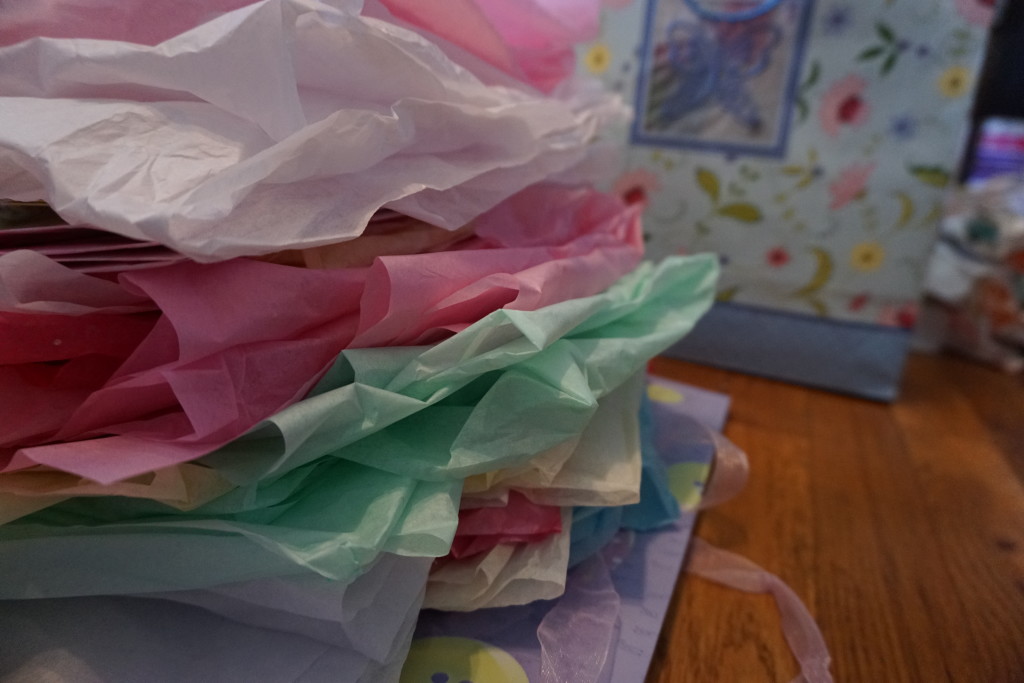 At the end of the shower, we got a group picture. I find it hilarious to take pictures of people getting ready for group pictures 😉
The group! Minus about ten people who had already left.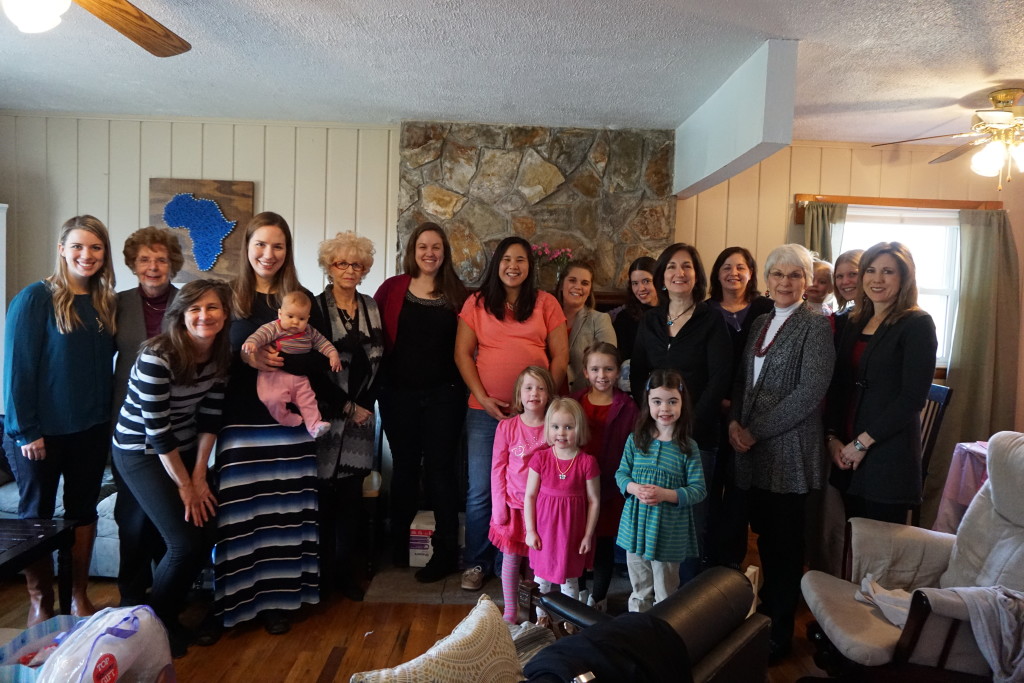 Christine and I. So crazy to think that baby Elise was born a week later!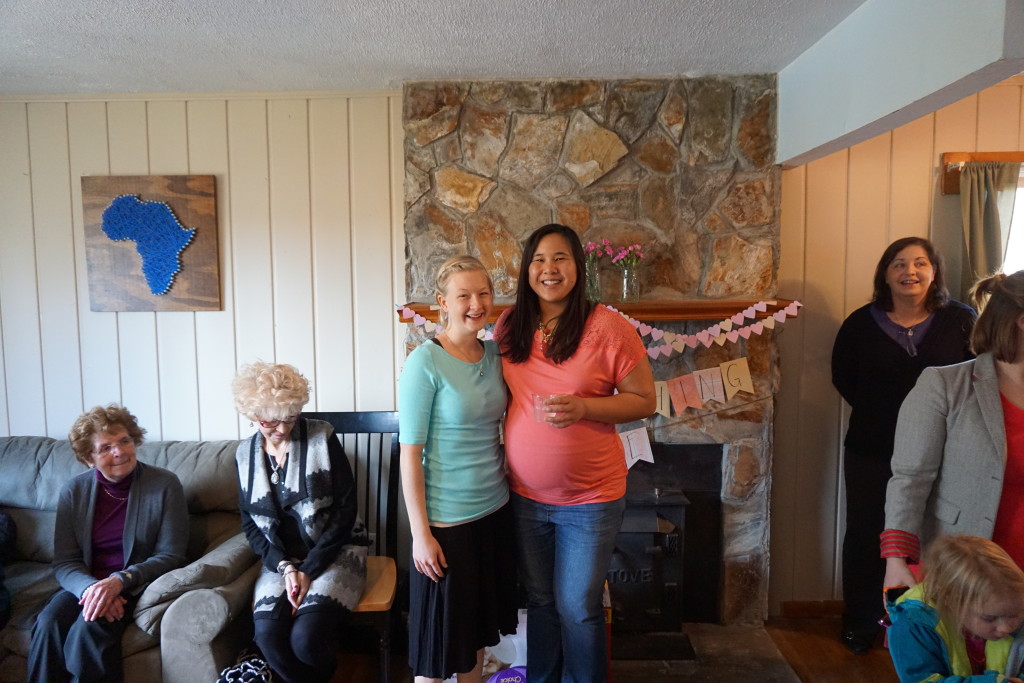 Meredith helped me out a ton by bringing food, planning the games and being a huge supporter to Christine. She's holding Little Miss, hence why the babe is cut out of the frame.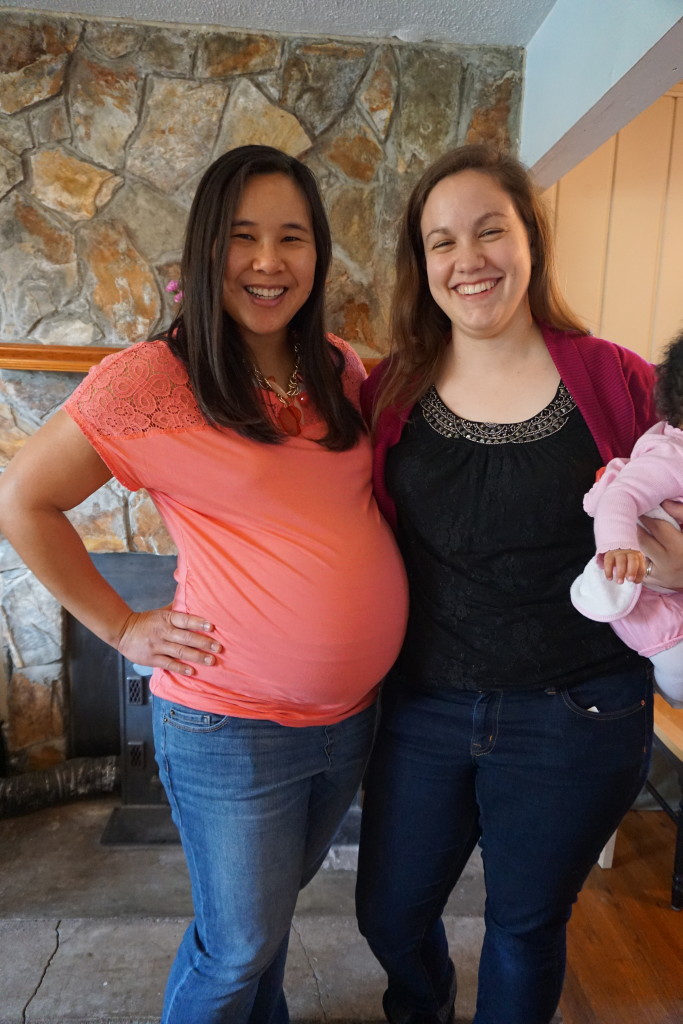 And that's a wrap! Hosting showers and get-togethers is something I really enjoy, but decorating and making things Pinterest perfect is not my cup of tea. I think this shower was a resounding success, and I hope that Christine and sweet baby Elise were greatly blessed through it!