How is February almost over? I always feel like the winter drags by, but here we are at March!
I'm doing a little photo dump/life lately today.
Aunt Natlie found this little play kitchen on an online Facebook garage sale site. It's PERFECT! She came over one night and hauled it all the way up our steps and then said, "Surprise!" Tera took to it right away.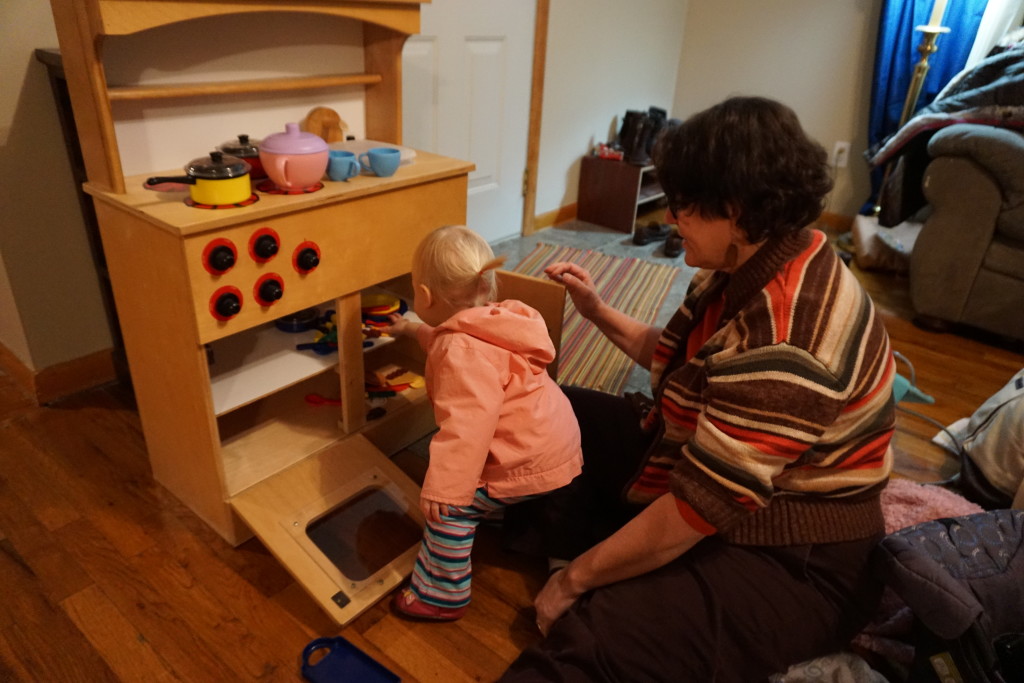 We put it in her closet under the stairs, which is still a work in progress. She has a little reading nook, her giant bear, the kitchen and then some dress-up clothes.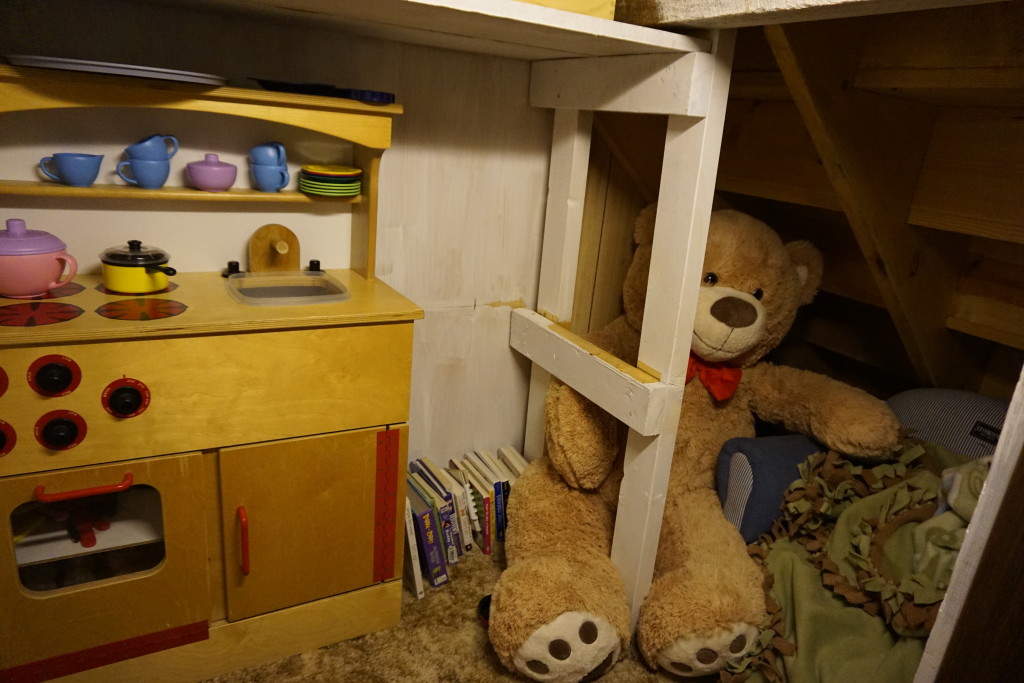 Little Miss has moved past the newborn stage and is now proving herself to be a rather difficult child. I don't want to write too much about it all, but Theo and I are for sure struggling with all the implications of her needs. I think the hardest part about it all is that no one else sees how hard she can be. I literally get comments all.the.time when we are out in public about how she is "the happiest baby" and "doesn't make a fuss" and yada yada. But at home, when the doors are closed, she literally cries all the time. She cries if you put her down right next to you. She cries while being worn, she cries while being played with. It makes it so darn hard to get anything done. I think the that the #1 reason she cries so much is because she is exhausted. The child never sleeps. Most days she takes two 20 minute naps in the entire 14 hours she is awake during the day.
The last weekend in January I hosted a baby shower at my house. Theo and I stayed up late on Friday night decorating for the shower.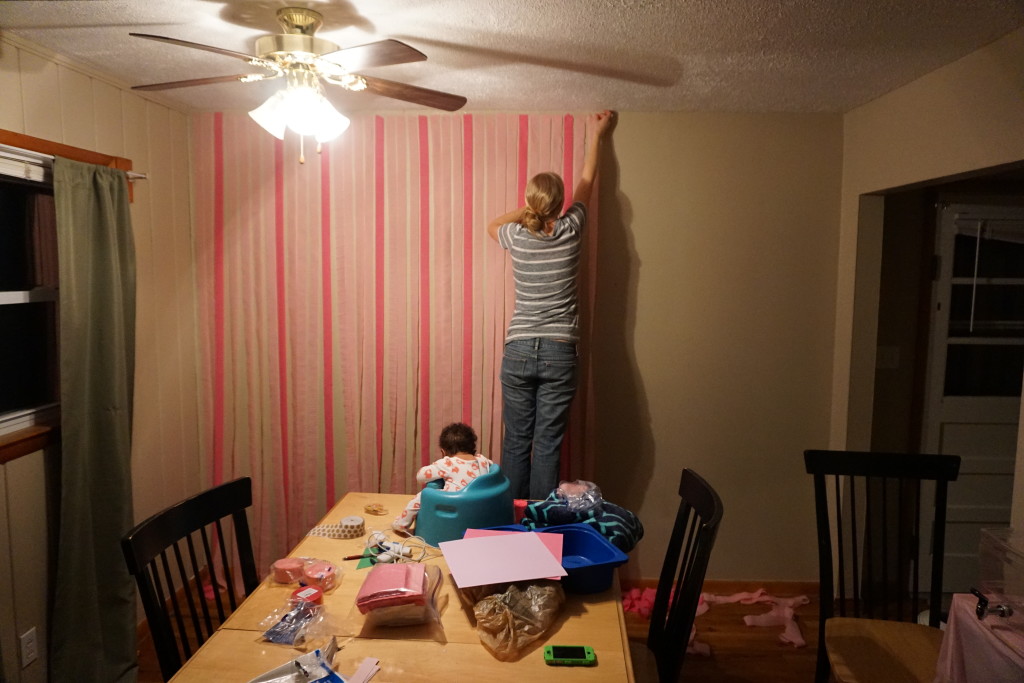 All the décor!

The beautiful Mom to be! You can find all the details from this shower in my blog post: Sugar and Spice and Everything Nice baby shower.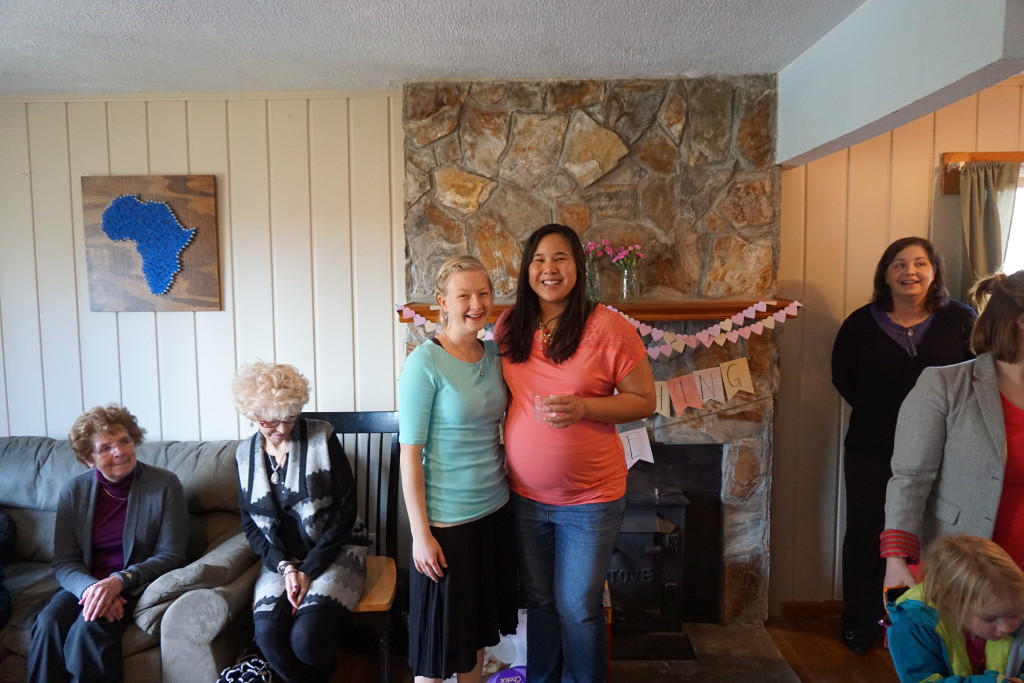 We had some gorgeous weather at the beginning of the month and we discovered a local trail nearby! All four of us LOVE being outside, so it's a win-win-win-win when the weather warms up!!!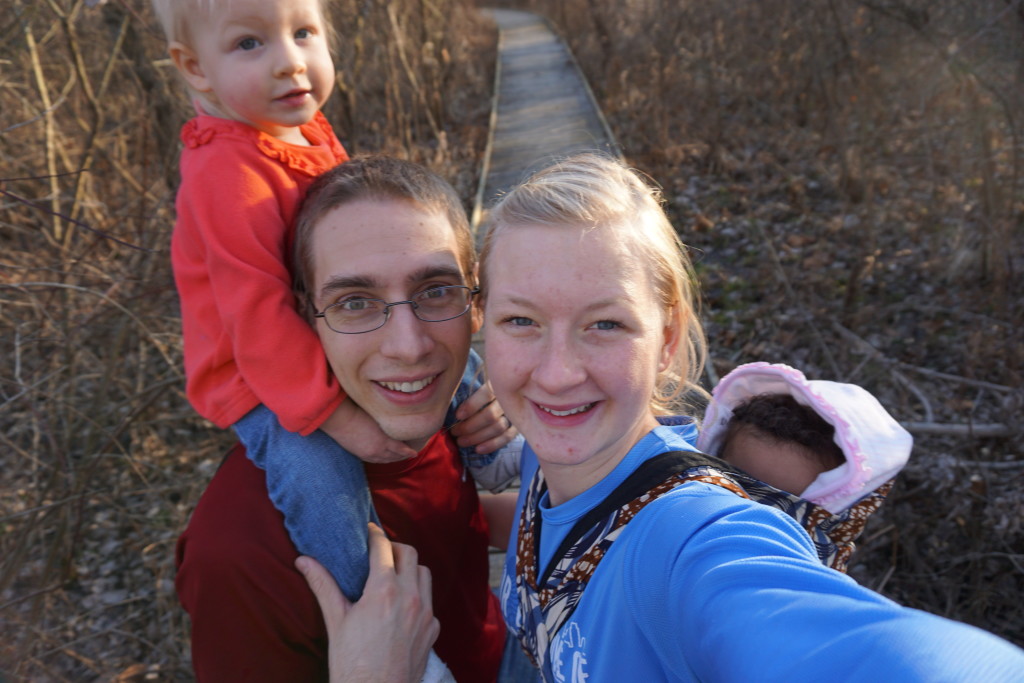 Theo carried Tera most of the way, but she also loves to walk/run along with us.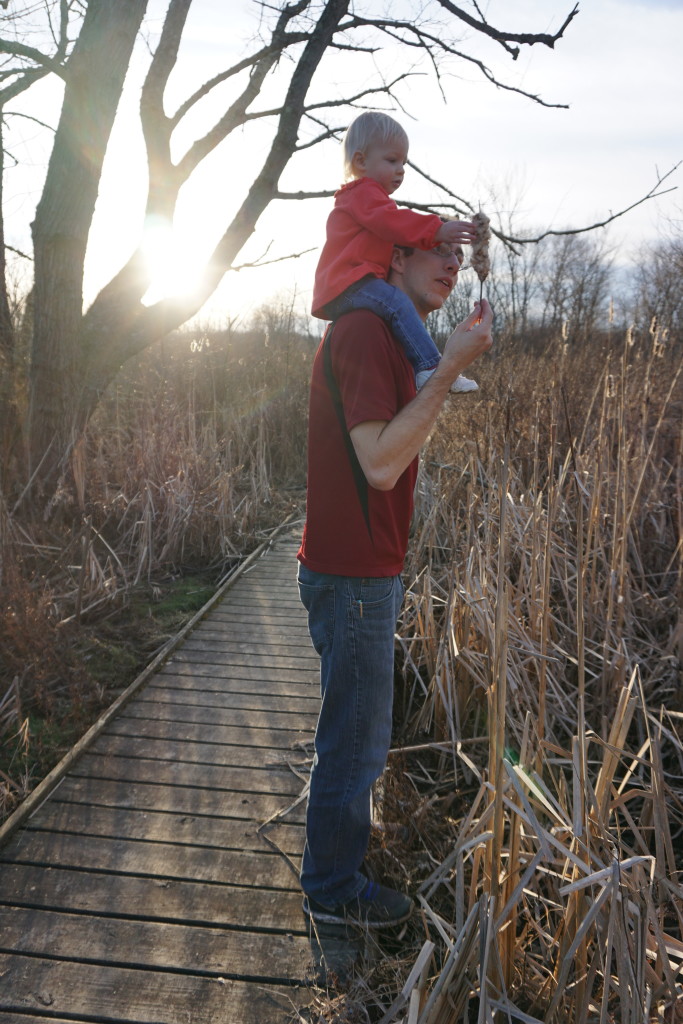 This little one turned 5 months old on February 1st. She seems to be perfectly on track developmentally, which is wonderful!!!!!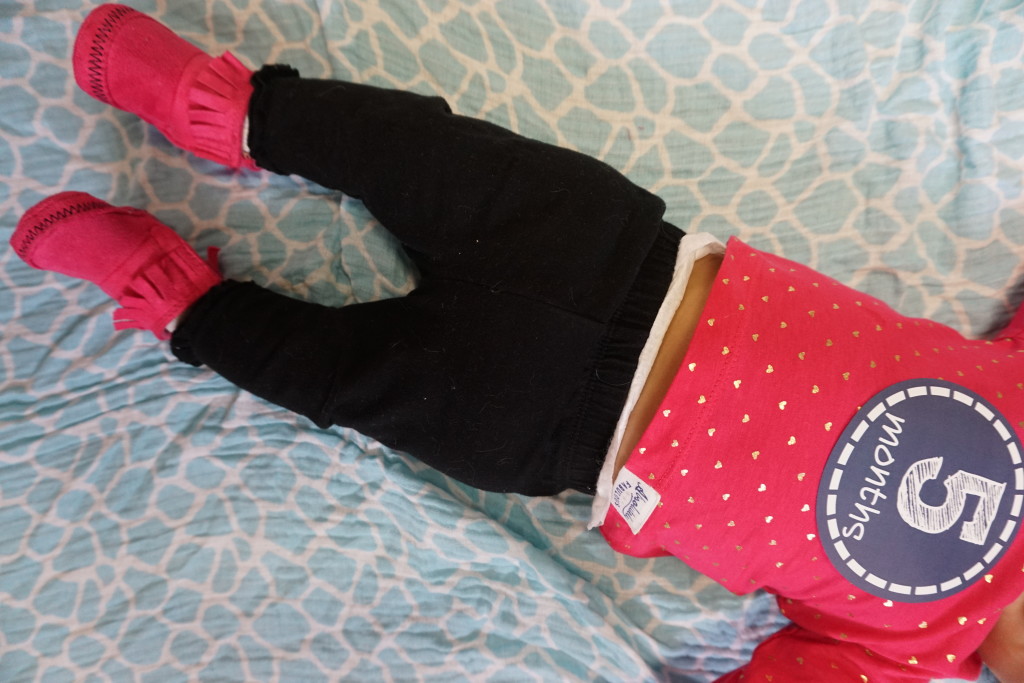 I finished our playroom and posted the before and after pictures here.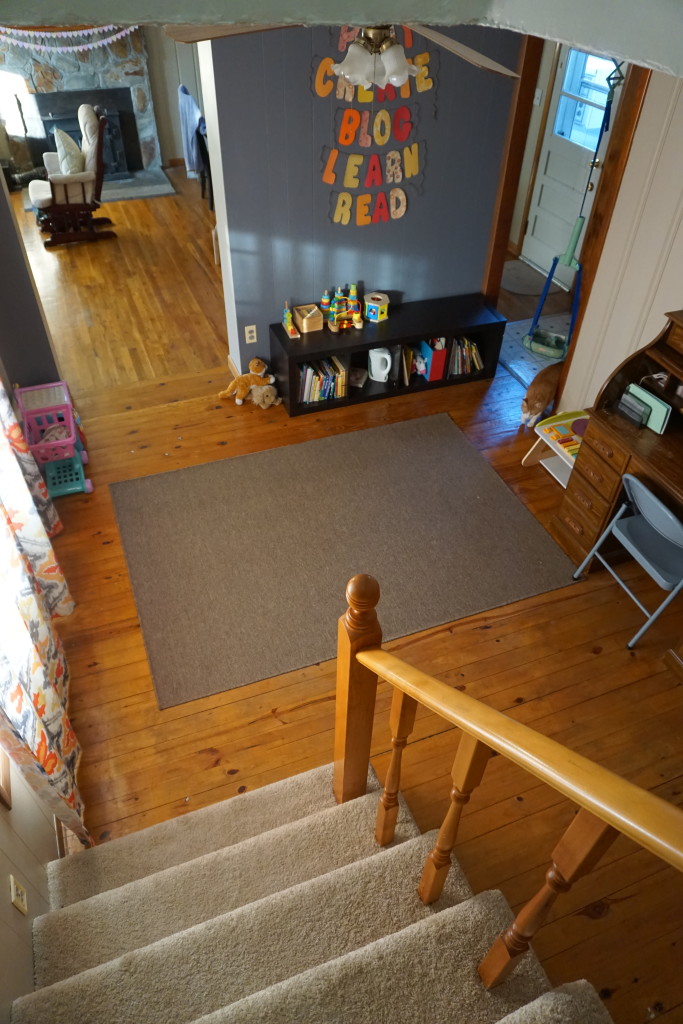 Tera has been keeping us all entertained, especially as she is learning to be more independent and is talking a lot! She really discovered her doll house and has been taking out the furniture and playing with it. Her favorite is the little couch, which she carries around and tries to sit on. I wonder what is going on in that head of hers..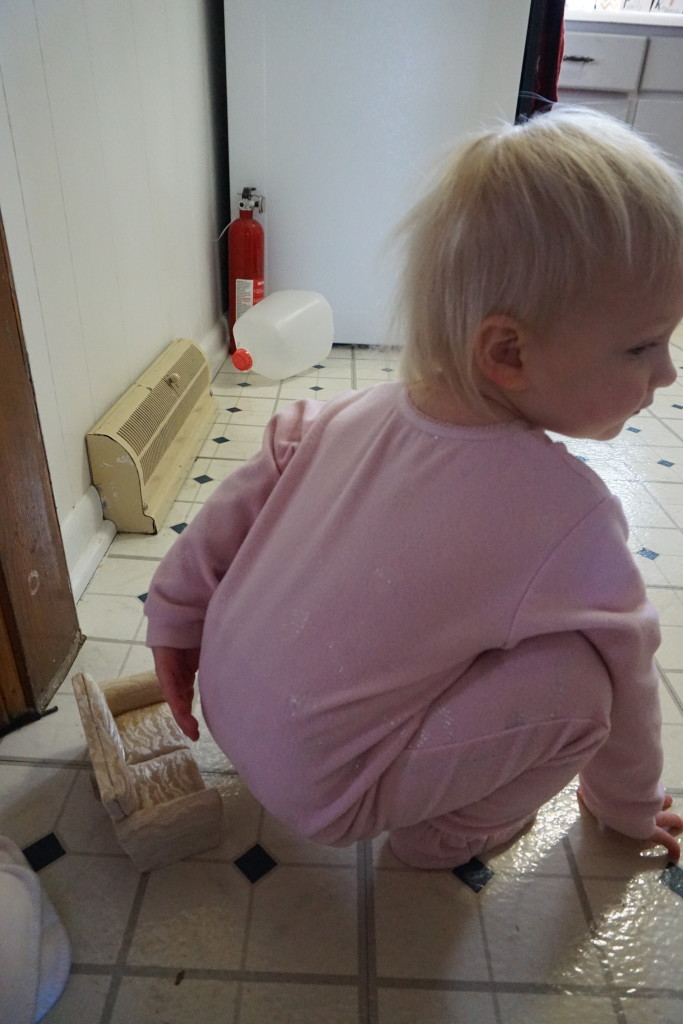 Of course, February has to bring about a sicky bug in our house. It's inevitable. All four of us came down with it and it was a little miserable for a while there! Thankfully we got over it within the week and have felt much better since then!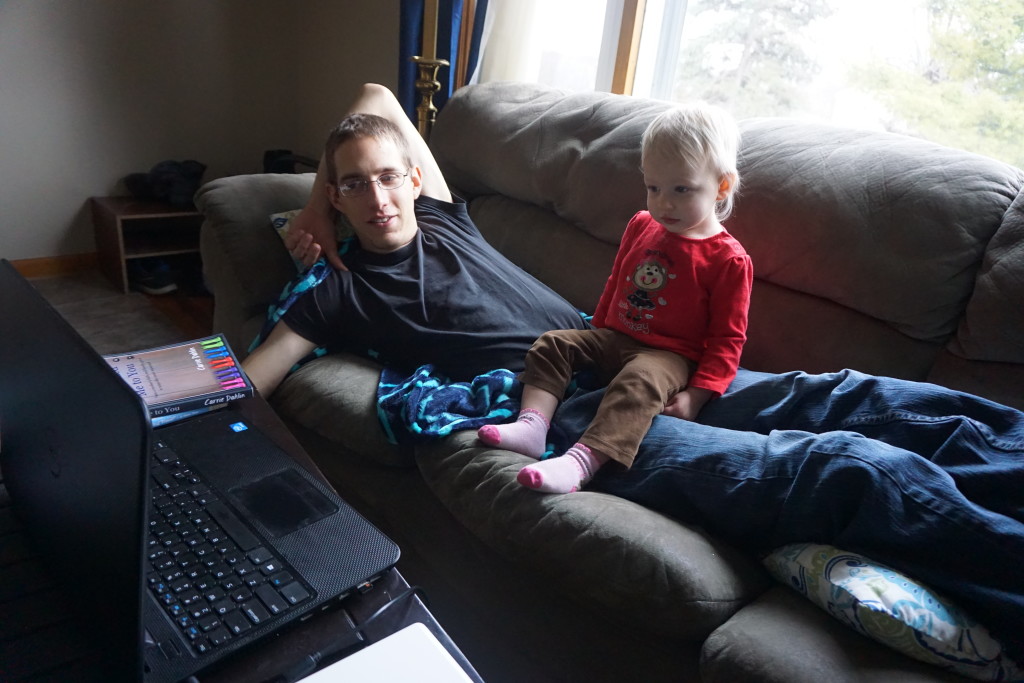 Tera is really starting to become more interactive, too, and wants to always be right up in the action. Lately she wants to "help" me cook and "help" wash the dishes. I just sit her on the counter and let her watch. It's moral support, right?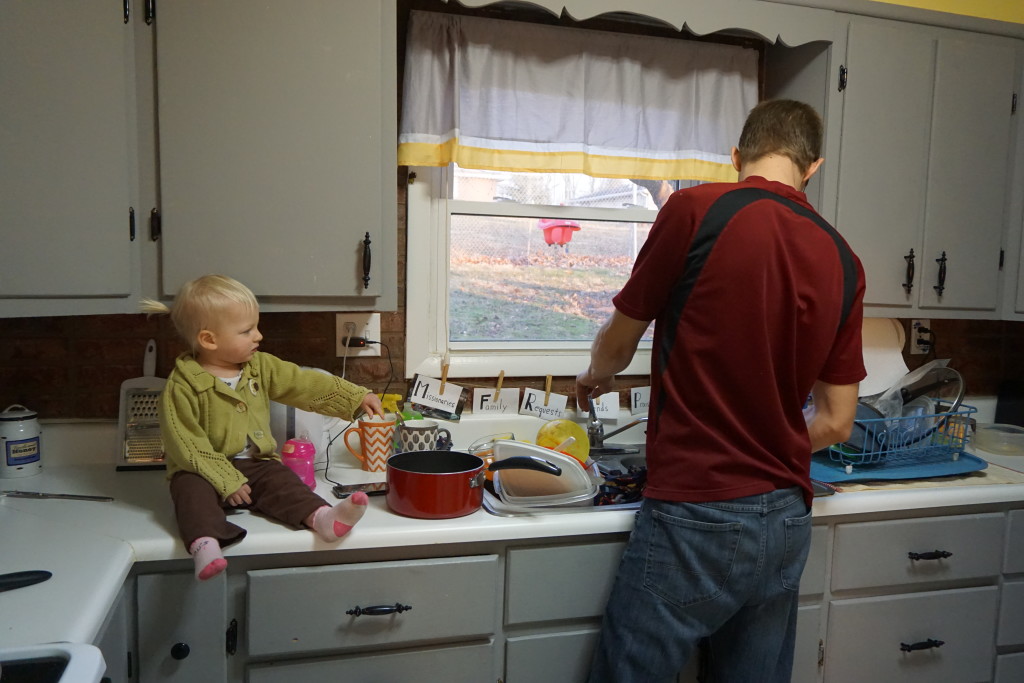 Tera also turned 18 months old! You can read her whole 18 month post here.
Tera has this book that goes through the alphabet and all the emotions. Each emotion has a corresponding baby making a face. She absolutely loves the book and says, "baby! baby! baby!" the whole time she is reading it. Here she is giving one of the babies a kiss.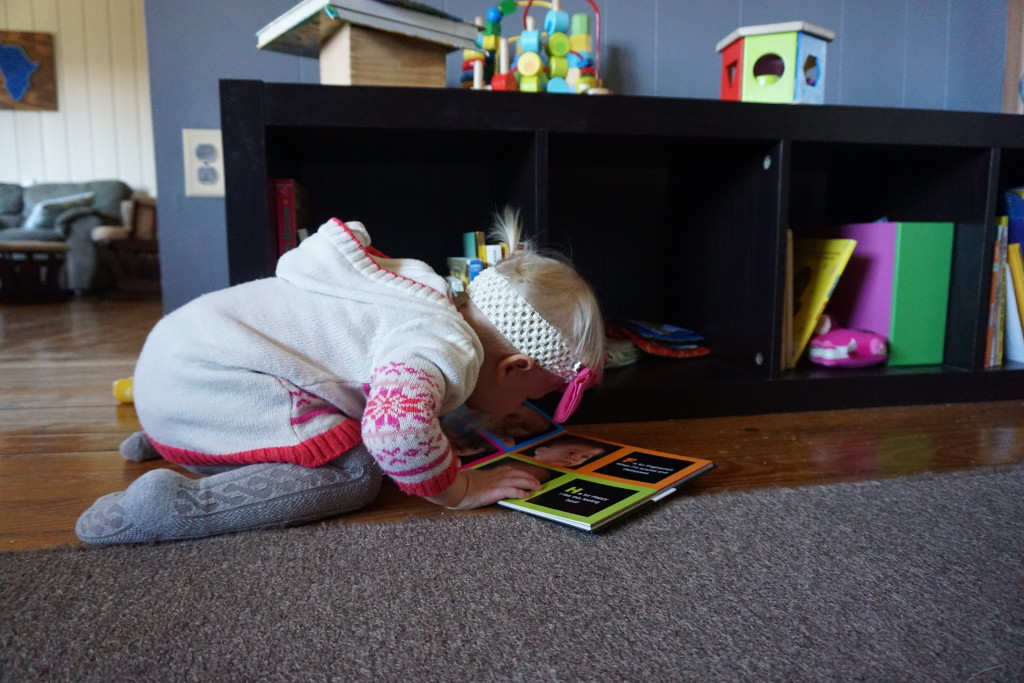 Here Tera is "helping" me make cookies. She unpacked the utensil drawer, put it all back inside and unpacked it again while I made the cookies. Haha.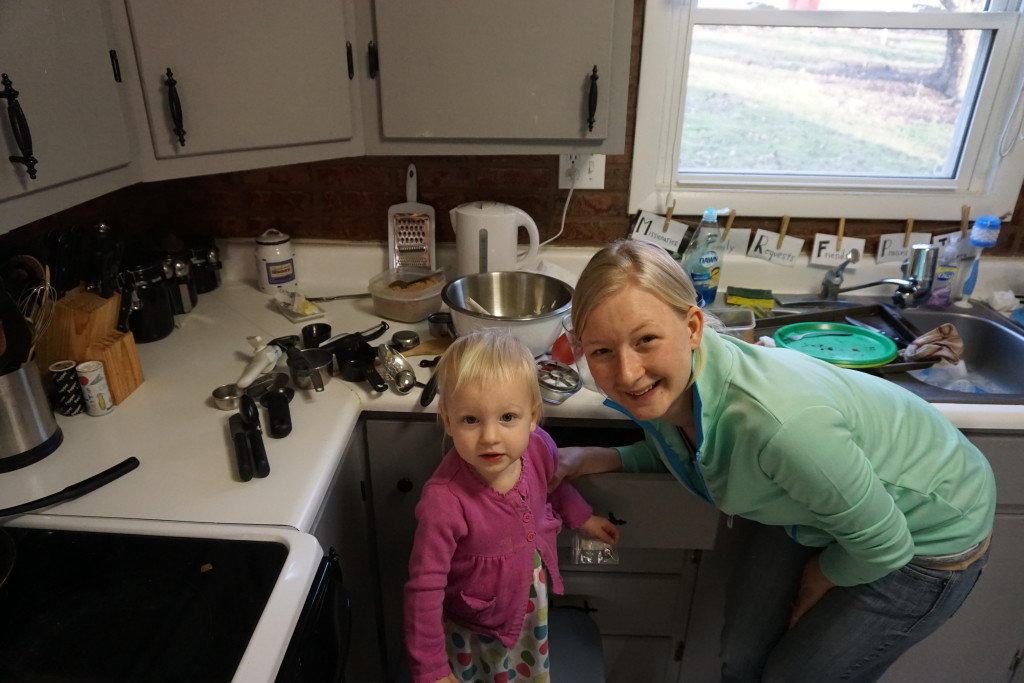 I was trying to get a shot of how different our hair is.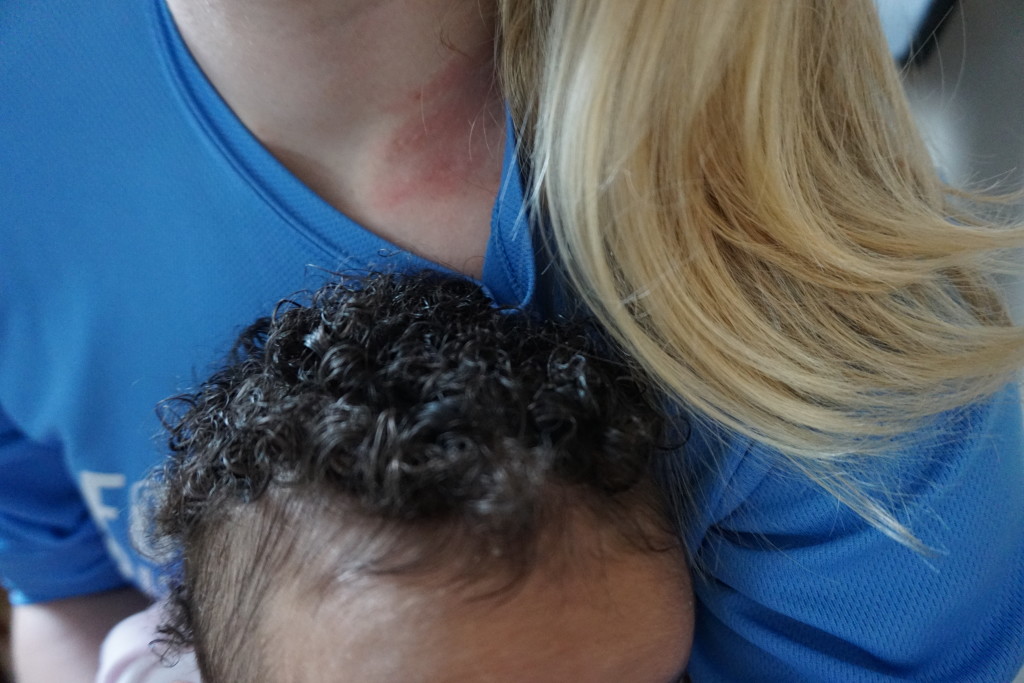 We got some snow, too! One day I decided to visit Theo at work but my windshield wipers died on the way! So Theo fixed them for us. I sure am thankful to have a handy man!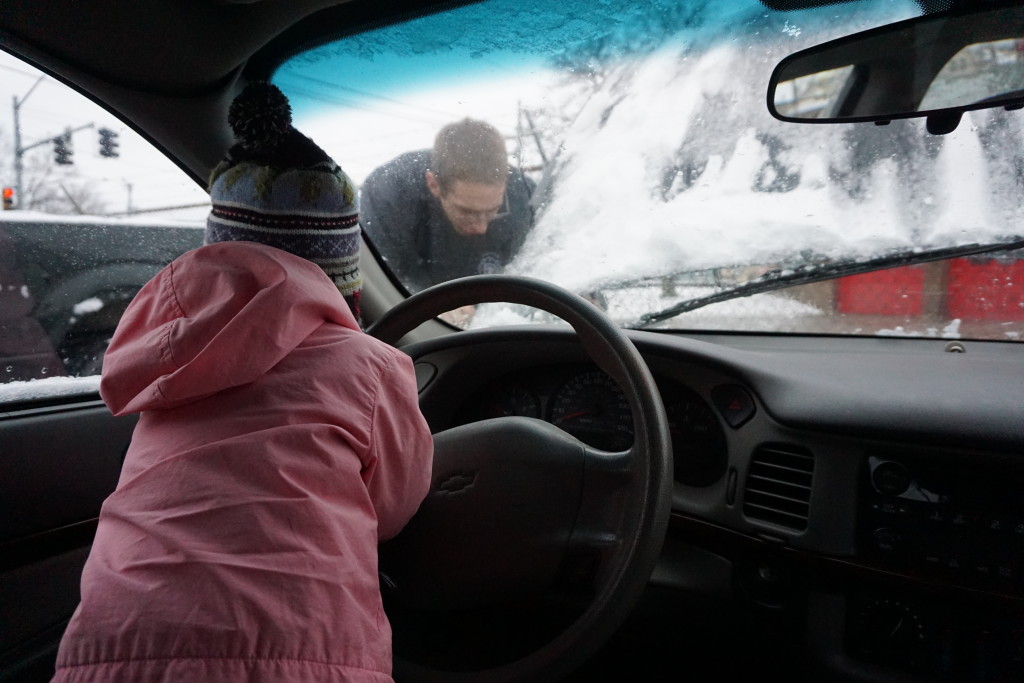 Tera and Little Miss both had to get shots at their most recent appointment. Look at poor Tera's face that day. Thankfully, we are all done with vaccines until Tera has to go to Kindergarten! Wooohooo!!!!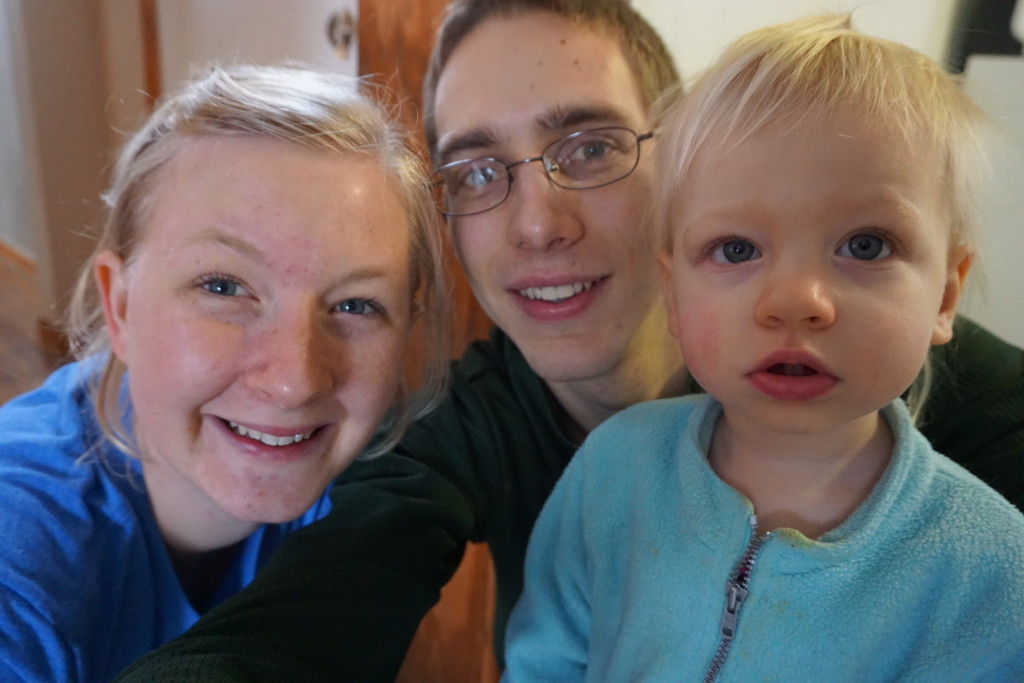 Family. Little Miss was there, too. This picture feels so empty without her in it. Like I can't label it "family" when I'm missing one of the members.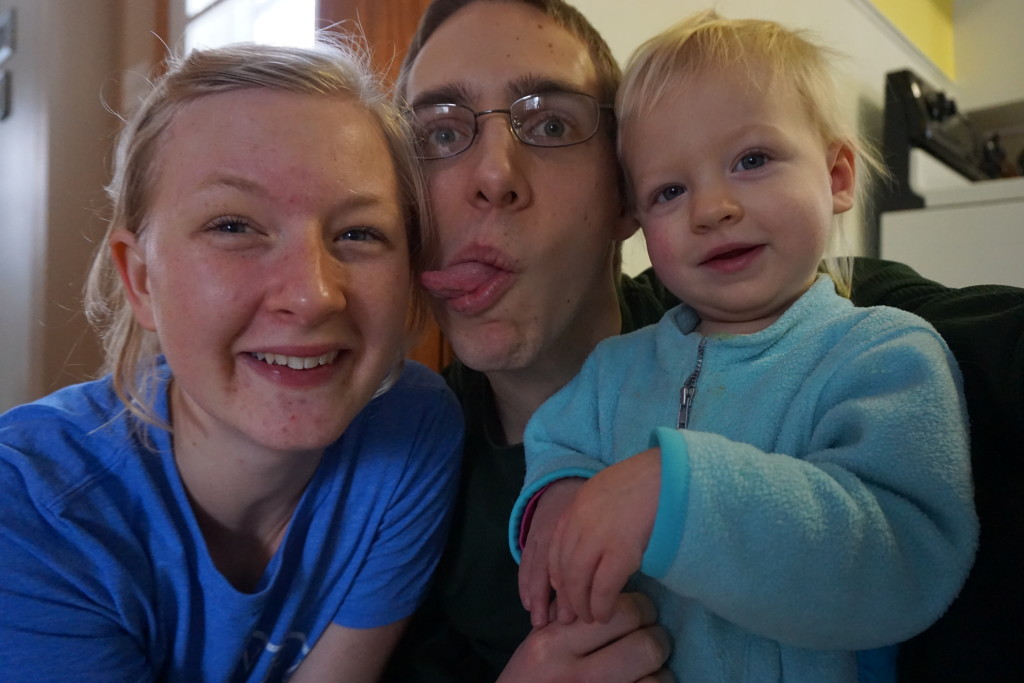 I love this picture of my Tera.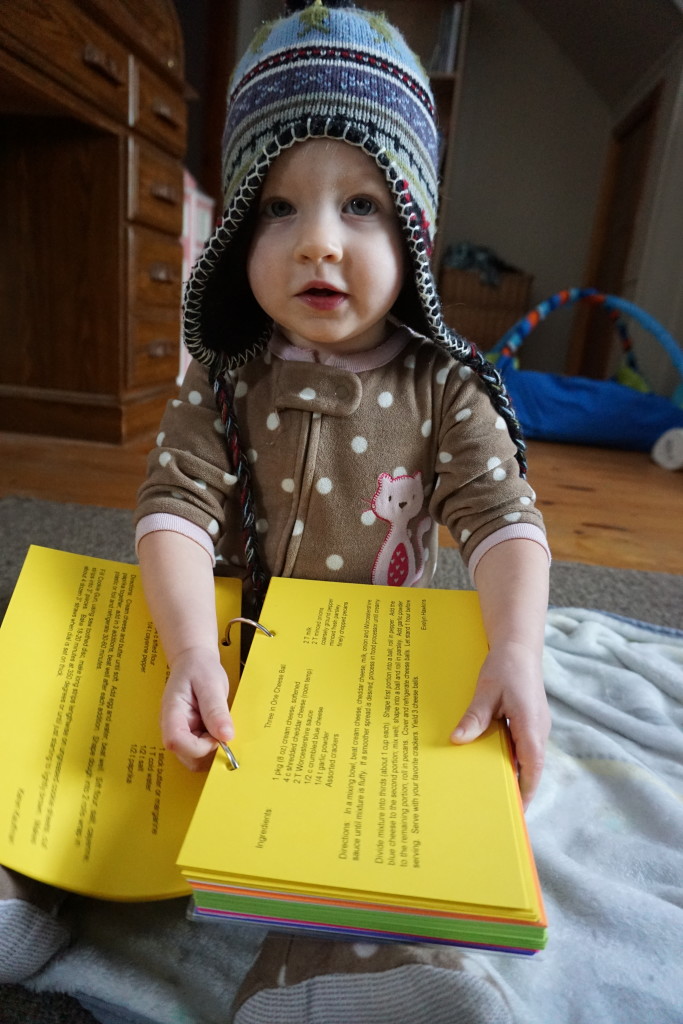 I also love watching Theo interact with the girls. I'm a total morning person, so I tend to be the one that wakes up with both of them. I then function awesomely all throughout the day until we reach 5pm, then I just hit a brick wall. Thankfully, I've learned how to mostly cope with getting through dinner, but after dinner I'm just DONE. That is usually when Theo takes over, getting the girls to bed while I wash the dishes and clean up downstairs.
Also- do you see who is sitting up now???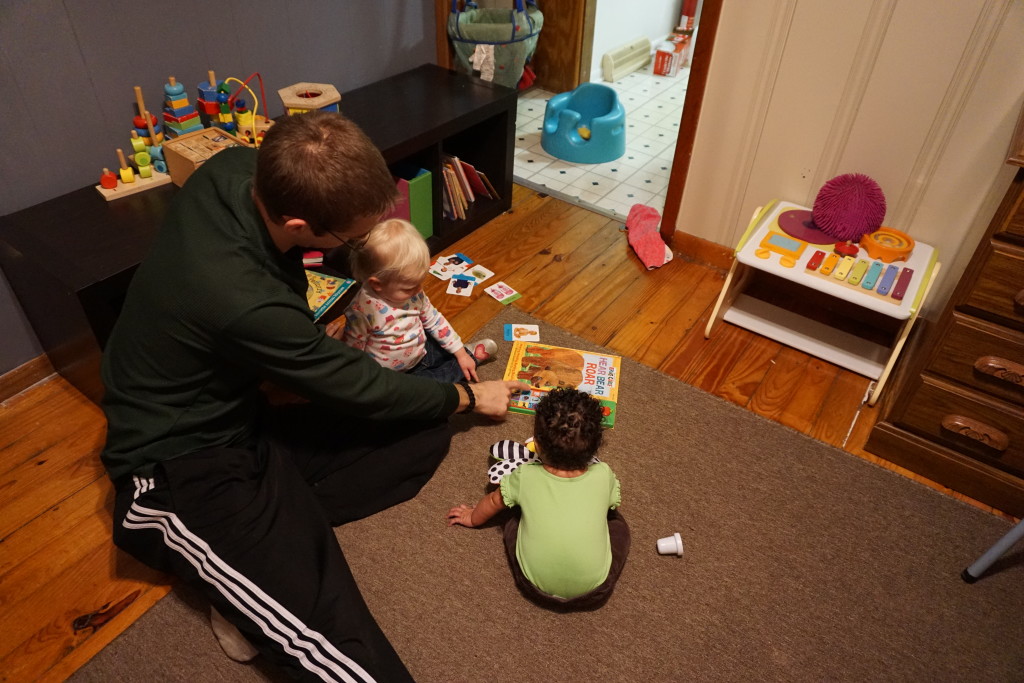 One day I hit 5 pm and was at the absolute end of my rope, so I loaded the girls up and took them to chick-fil-a. Little Miss fell asleep on the way there (finally!!), and slept most of the time in her carseat. Tera and I enjoyed our little date together. And I cannot say enough about the people who work at chick-fil-a. They went out of their way to serve me since it was obvious I had two little ones by myself and couldn't just hop up to get some ketchup refills.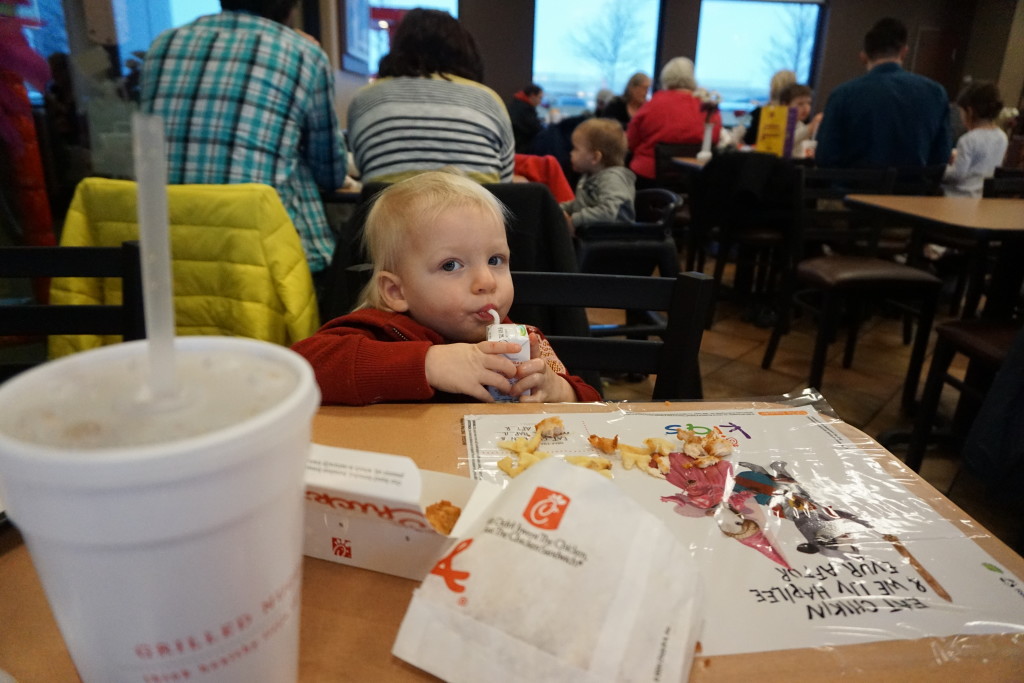 Our family has been loving our YMCA membership. So far we use it all the time, and it is SO worth it. If Theo is working on Saturday, we go to family swim time at the Y. Tera loves it (although she always gets cold!), and Little Miss is not too sure, but at least she's not crying!! This picture was taken after family swim time at the Y. I'll give you two guesses who dressed her after swim time. Hint: it wasn't me.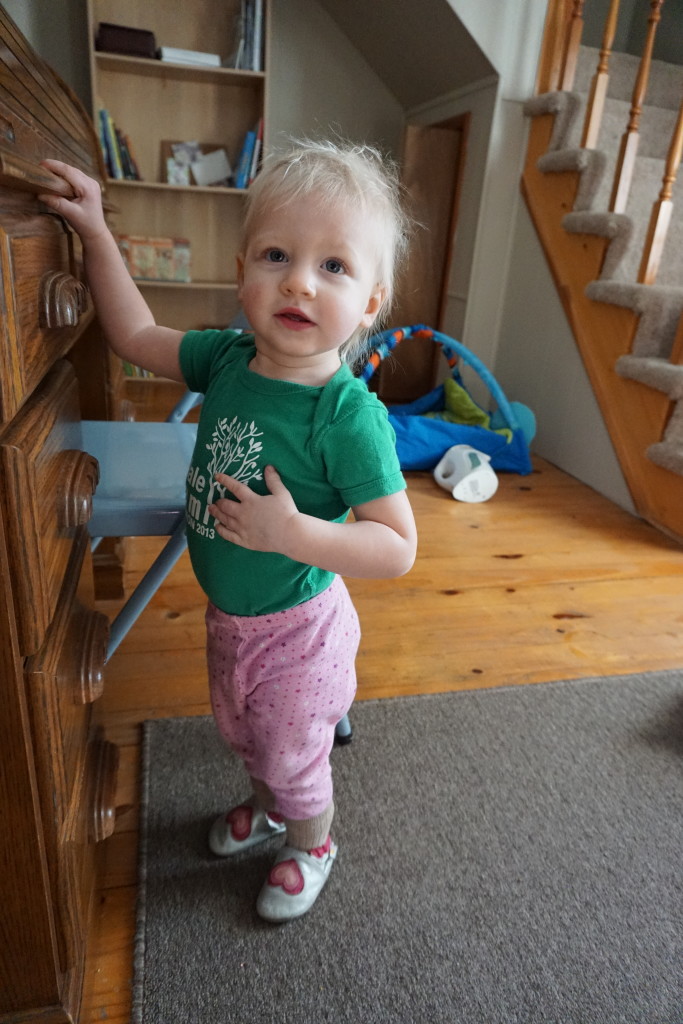 Valentines Day!
Little Miss had visitation with her relatives the whole Valentines weekend. She came back to us at night (and cried). While it may seem like we "got a break" it was really hard to begin that transition of her leaving our home. I was thankful to have her back in my arms, even if it is only temporary.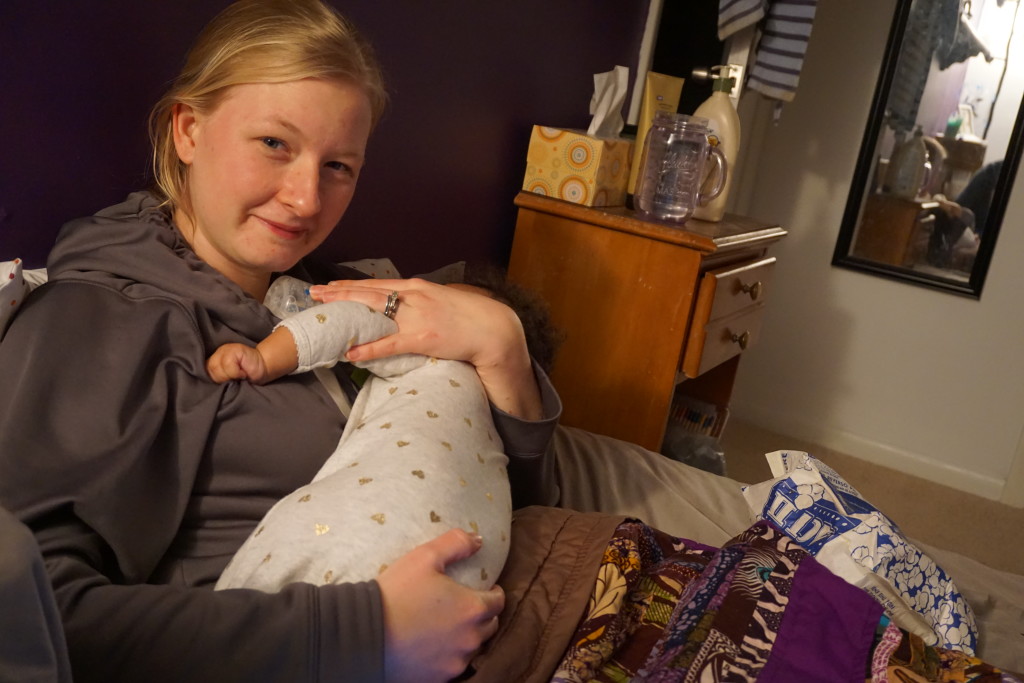 I dug out this seat thing for Little Miss, but it has proved to be just as entertaining for Tera.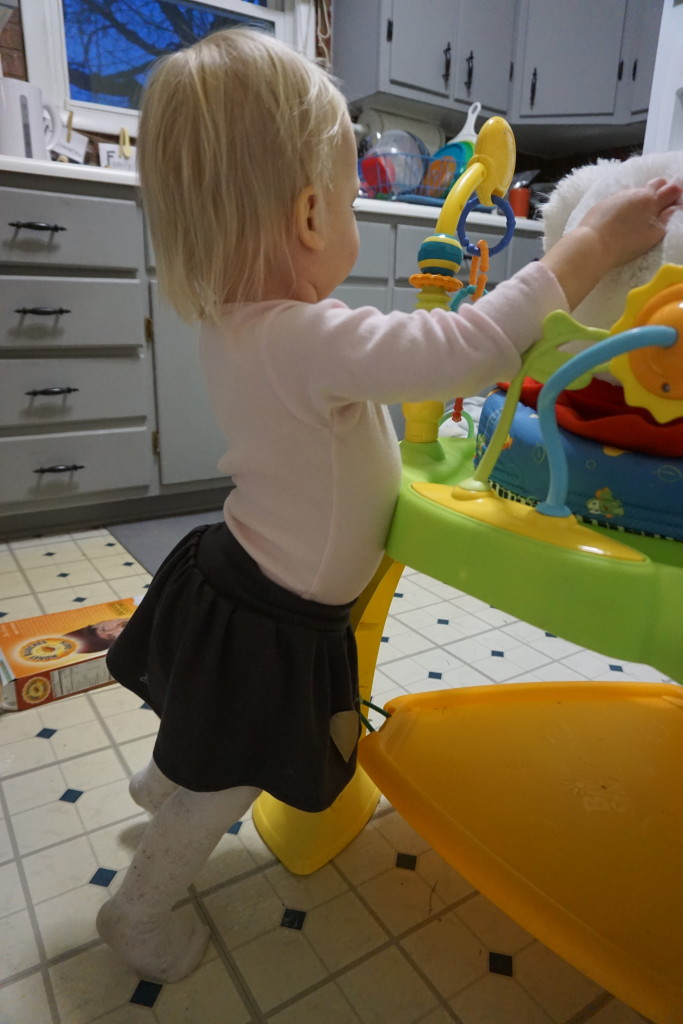 Is there any doubt that this child is Theo Hines'? She's going to be climbing the trees outside by this summer. Slow down, child!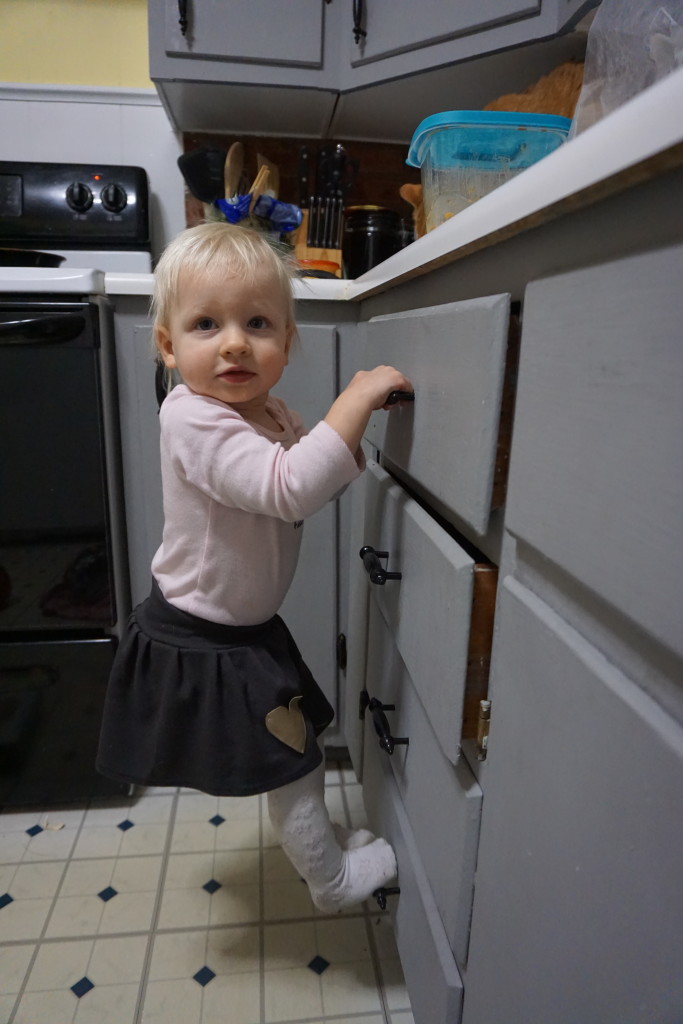 One day after nap I went in to get Tera, and I found this.
I have no idea how many she ate, or if she ate any at all. I am so glad, though, that she didn't get the chocolate icing open!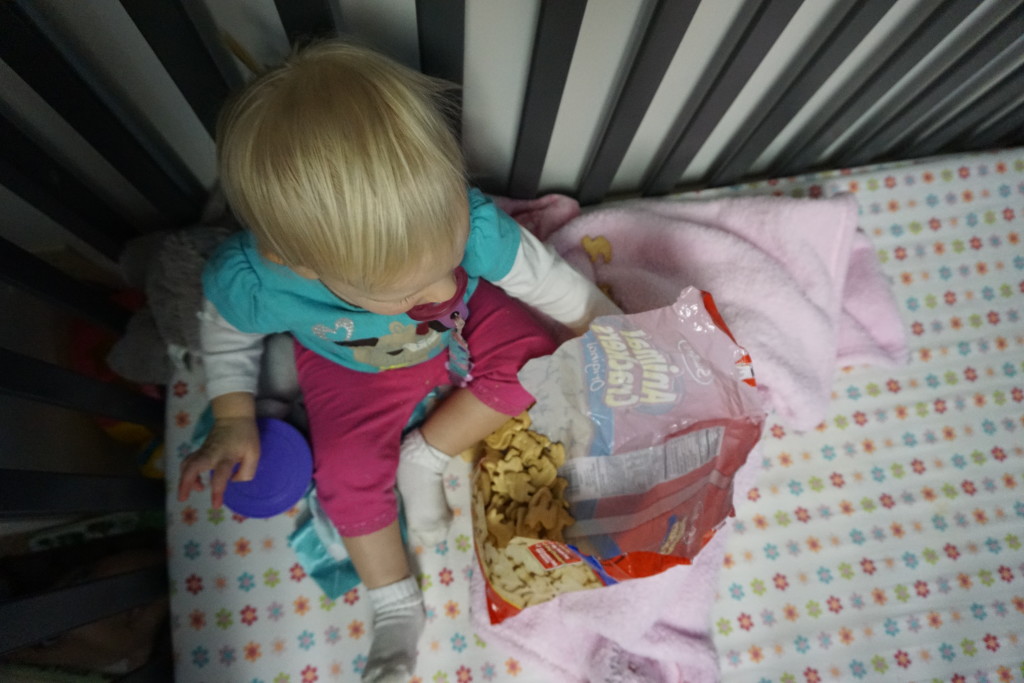 February also brought lots of time to sit and read. I recapped all my February reads here.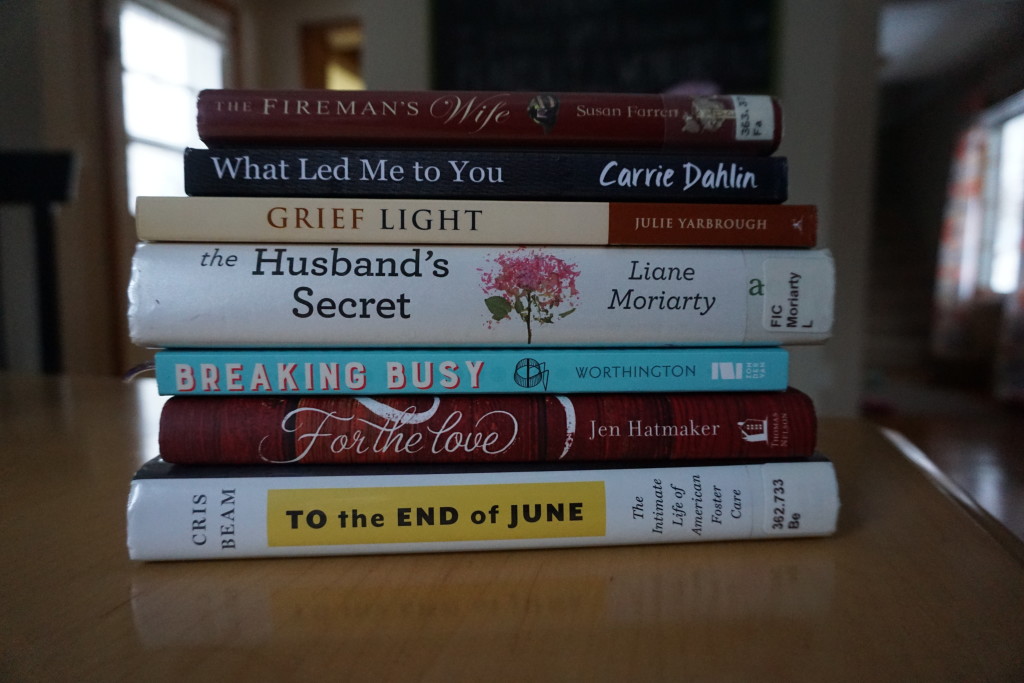 Theo and I did manage to get a date night this month, too. It was actually quite the adventure trying to go on a date. First, our Plan A fell through. Then our Plan B also fell through. Then our babysitter called and said she had the stomach flu and couldn't make it. After bawling my eyes out for a while, we settled on plan C and called my Aunt Natalie in for last-minute backup. We went out to eat and browsed around the Oregan District in Dayton. Not what we had originally planned, but better than nothing!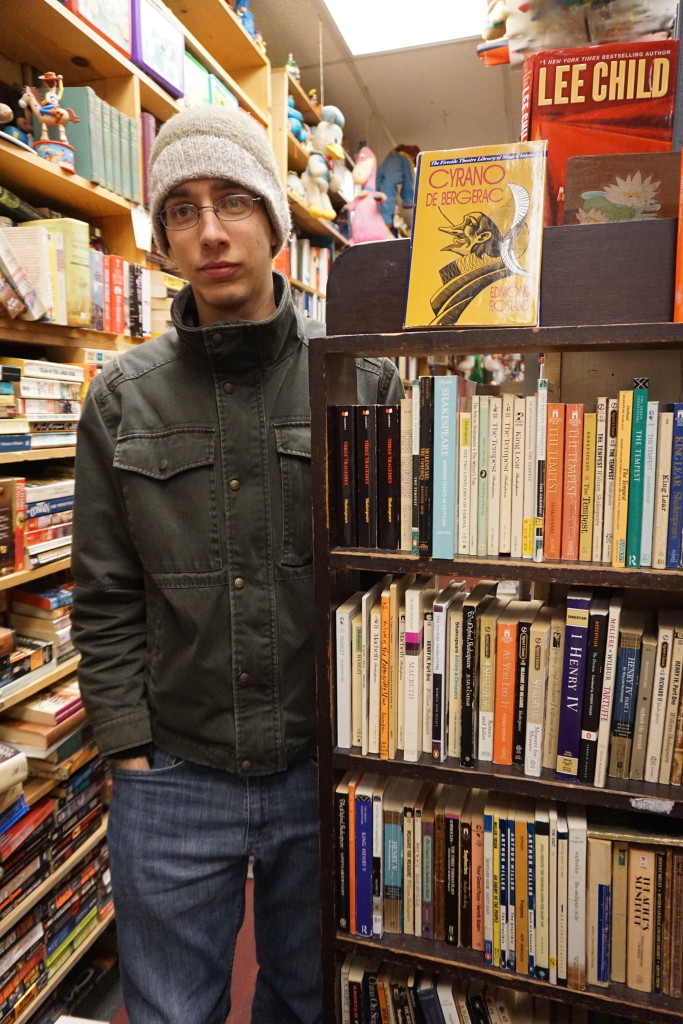 Last weekend, we spent time with the Hines family Up North in Michigan. We had some cold days and some warmer days, and we sure did have a blast! You can read the whole recap here.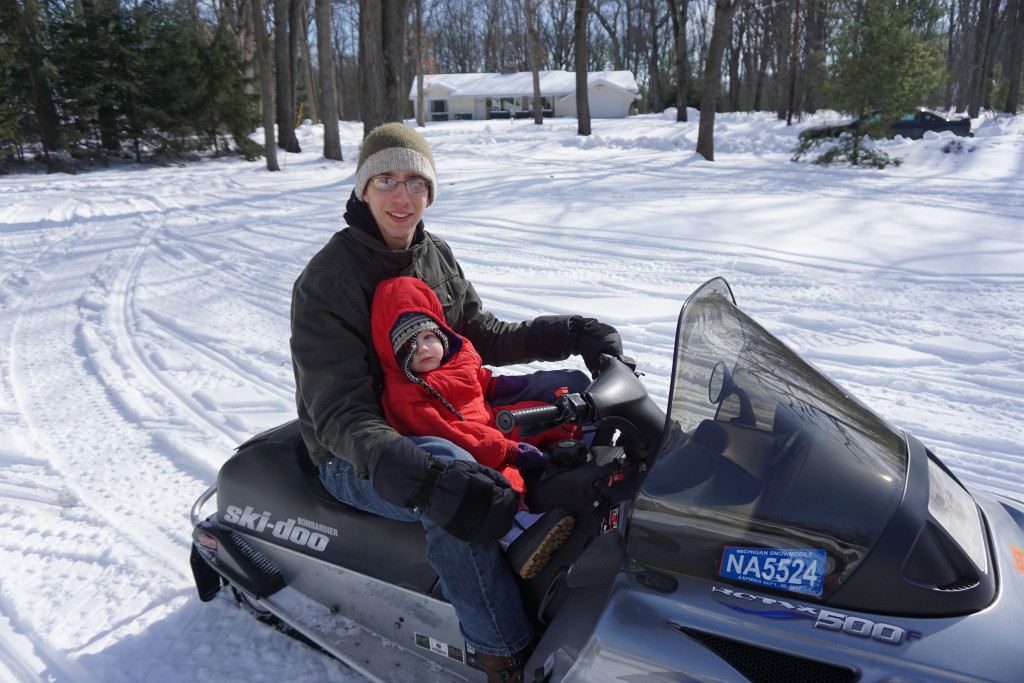 This week we just layed low and got settled back into work and home routines after our trip. We are looking forward to warmer weather and spending lots of time outdoors in the next few months!