With my first pregnancy, I did weekly pregnancy updates with intricate chalkboards and every detail filled in. My updates were always blogged on time, and I always had photographs to go with it all.
That's just not going to happen this time around, but I am going to do my best to still document as much of this pregnancy as I can. I do plan to do weekly updates, but I will be cutting back on some of the more intricate details, and the updates may not be published right on time. Still, I want to be able to look back and remember all the little details that went into the pregnancy.
I also want to jot down some other notes to myself, mostly about our current life. This might be pregnancy #2, but I think of it as baby #3, since Little Miss is clearly a second child in our home. She may not be around when I have this baby, but I don't think I will ever be able to call this baby our second child. Little Miss gets that title, fair and square.
The theme of my first trimester has been: "morning" sickness! I have literally taken almost no pictures, written down almost nothing, and have had very little energy to be excited about this pregnancy. Thankfully, at 10 weeks I am starting to get there. I am starting to feel excited and starting to get some energy back. It's been a rough few weeks, I won't lie about that! But without further ado, here is my 10 week pregnancy update! (March 19-26, 2016)
How Far Along: 10 weeks!
Size of Baby:  A green olive!
Total Weight Gain: -2 pounds
Gender: I have no clue. Absolutely none. A lot of people are guessing boy because so far this pregnancy has been so different from my pregnancy with Tera. The Ramzi method and the hearbeat gender guess both say girl, but Theo think we are having a boy. Last time my mother's intuition was a boy and clearly that didn't happen, so I don't trust my intuition anymore! It would be super fun to have a boy, but then what would I dress the kid in? I mean, of the 10 current Hines grandchildren, the oldest three are boys and then the next 7 are girls! The Hines family is due for a boy!
Movement: Of course not. Although I've heard that a lot of women can feel the baby move much sooner the second time around.
Sleep: Sleep has been a little bit rough this pregnancy. Considering the fact that I have a 6 month old who does not sleep through the night, I'm up A LOT. Theo and I switch off who is up to feed her, but I am still up at least five nights of the week with her. Besides getting up so often in the night because I have to, I am sleeping great! The morning sickness usually gets really bad for me in the evening, but when I fall asleep it seems to fade (until I wake up in the morning haha).
What I miss: I miss not being nauseous. It pretty much follows me around like a cloud all day long. I have also really struggled with my energy levels. Not just physically, but mentally, too. Not only do I feel unable to make dinner or play with my girls, but I also have absolutely no motivation to do those things. In the last week or so I have noticed that the motivation has come back. I actually WANT to make dinner, but the energy is still lacking to actually do it.
Food Cravings: None, really. Sometimes someone will mention a food and I will have that food floating around in my brain until I get it. But it's always something different, just depending on what was mentioned.
Food Aversions: Food. Yeah, it's bad. Anything that I have to cook or prepare is repulsive to me.
How I'm Feeling: Morning sickness, all day. Tired, all day (but I think that's mostly a side effect of the meds I'm one for morning sickness). Super-nose (I had to move the diaper pails from the hallway outside our room to downstairs. They have been there all along, but suddenly I can smell them so strongly when I'm in bed and I can't stand it!). Aversions to certain smells. Emotional. The past few weeks have been difficult for our family, and I think the best way to sum up how I'm feeling is: discouraged. I'm so excited about this new life and what it means for our family, but I have not yet had the energy to process it!
What I'm Looking Forward To: I'm looking forward to feeling better (please say it's possible!).
Best Moment this Week: Waking up on Monday morning and actually having an appetite. It was the first time in 6 weeks that I didn't have to FORCE myself to eat some breakfast. I actually wanted it! I'm hoping I'm on the upswing from the morning sickness!
Worst Moment This week: This weather. It goes from sunny and 70 to 32 and snowy. I'm needing some serious warmth so I can get my crazy busy toddler out of the house and run off some of her energy!
Exercise This Week: Many of you will remember that I was super excited to be training for another half marathon at the beginning of April. When I first found out I was pregnant, I really wanted to keep up my training and still complete that goal. For a few days after I found out I was pregnant, I was still running and had even built up to 7 miles. And then the sickness hit, and I have literally been laying on the couch for 6 weeks. I'm serious. Since I started feeling a little bit better this week, I would really like to start picking up again in the next few weeks. I'm really determined to work towards a healthy and active pregnancy this time around!
The Family: Theo is thrilled to be having another baby! Tera has no clue what is going on, although she loves babies and I'm not at all concerned that she will adjust well to being a big sister a second time around. Little Miss is her usual self, and she obviously has no clue what is going on. We are still waiting to find out how long she will be in our home and what the plan is for her next steps. Overall, we are thrilled, but just waiting for this horrible morning sickness to pass so that we can begin to return to our family routine!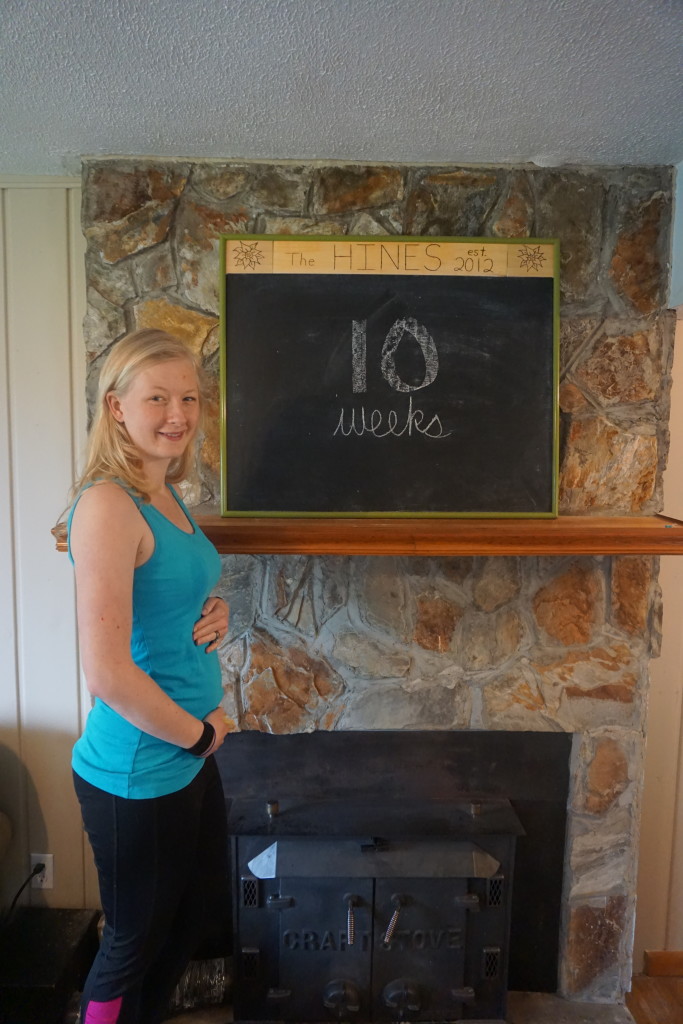 P.S. I have realized that if you read my blog through an email subscription or on your phone (possibly?), the pictures are sideways. I had no idea! When you read it on a browser or a computer, they are right side up! I'm sorry for all these months that my pictures have been sideways! I promise you that I turn them right side up. I'm not sure how to fix the problem, so I hope you don't all have cricks in your necks from having to turn your head sideways to see my pictures!