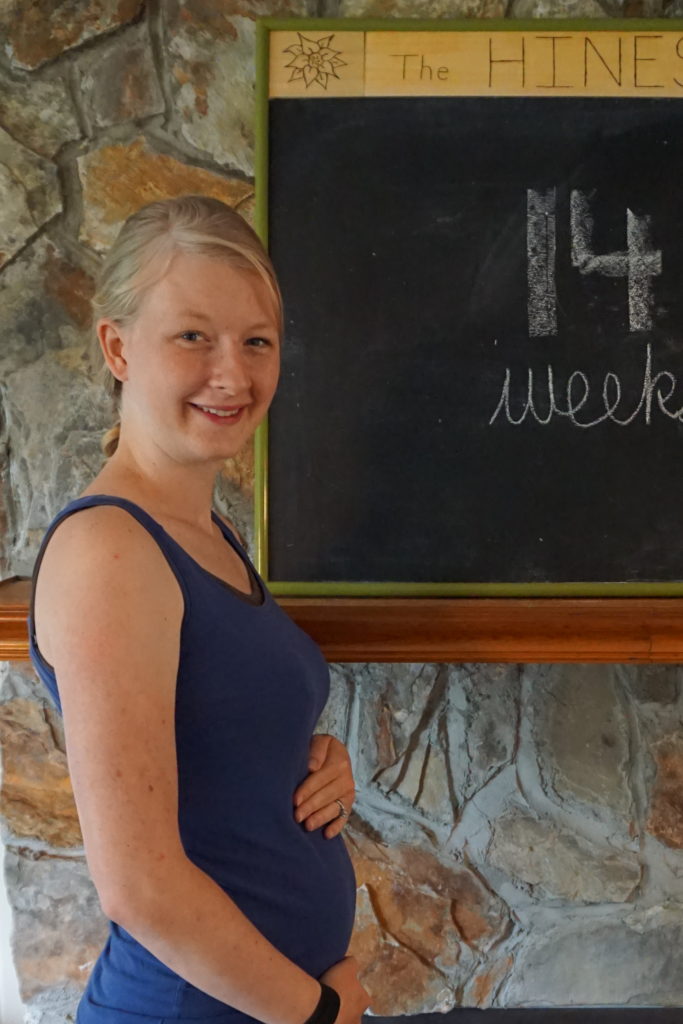 I hit 14 weeks on Saturday, but it's taken me until today to get some pictures and write up the blog post.
How far along: 14 weeks!
Size of Baby: Baby is approximately 3 1/2 inches long now and about the size of a lemon!
Weight Gain: 0 pounds. I'm exactly at my pre-pregnancy weight. It's funny how much I've fluctuated. I sure look like I've gained weight! Haha! That baby bump is NO JOKE!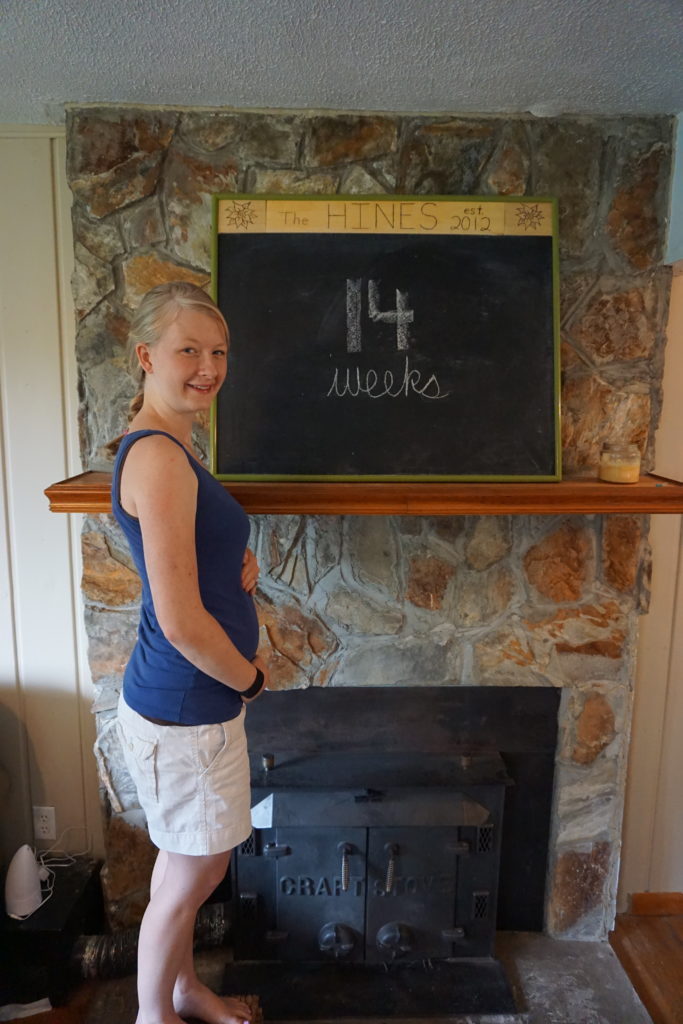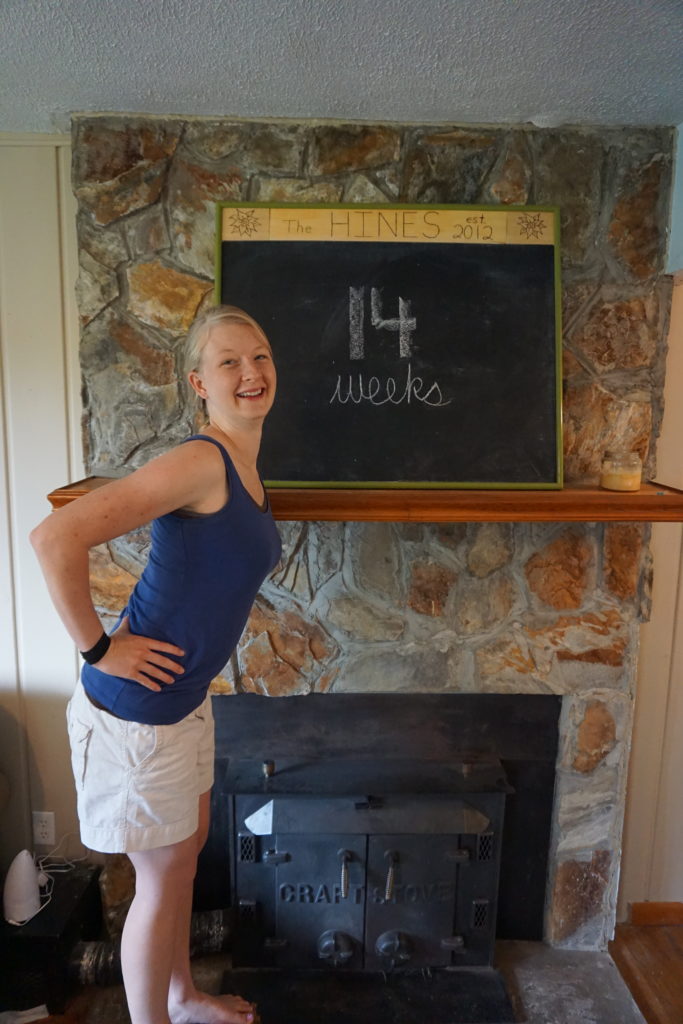 Symptoms/How I'm Feeling: This past week was one of my best ones yet (until Friday…but more on that in a minute!). I'm finally feeling hungry…all the time. My hips are a little sore and I really am showing now! I'm starting to feel more bonded to this baby and really looking forward to feeling it move and kick! I've had some nausea, but it's mostly in the evenings and has been totally manageable. I even went two days this week without taking my meds (and regretted it the next day)!
Sleep: Sleep has been average… If I wasn't waking up with Little Miss I would sleep the whole night through, no problems. On Tuesday night this week my Aunt came and slept over and took Little Miss for the night. The child slept almost through the night, only waking at 5! I woke up once to go to the bathroom. The next night, Little Miss was up at 11:30, 1:30, 3:30 and 5:30, then up for the day at 7. I was SO exhausted the following day, I could hardly function.
What I Miss: I truly miss being able to accomplish what I want to in a day. I'm the type of person who does not sit down throughout the day. I just like to get things done. But I'm learning that I can't do that. I have to take the time to rest, even on my good days.
What I'm Looking Forward to: I'm really looking forward to feeling movement! I keep wondering if I felt movement, and then I realize that I'm only 14 weeks along and that would be crazy. So until I actually feel it, I'm looking forward to it! I'm also looking forward to our gender reveal…we have some pretty epic plans in the works!
Food Cravings: I could eat all day. I seriously finish eating and just feel hungry again. I will pretty much eat anything! Lately, it's been cold, fresh veggies. I eat carrot sticks every night!
Food Aversions: Yogurt has not been appealing to me at all. And leftovers in the fridge are still big nausea triggers. I'm fine once the leftover are heated up, but taking it from the fridge to the plate to the microwave is an act in training my gag reflex.
Best Moment this Week: The weather!!! Thank you, LORD, that it is warm out!!!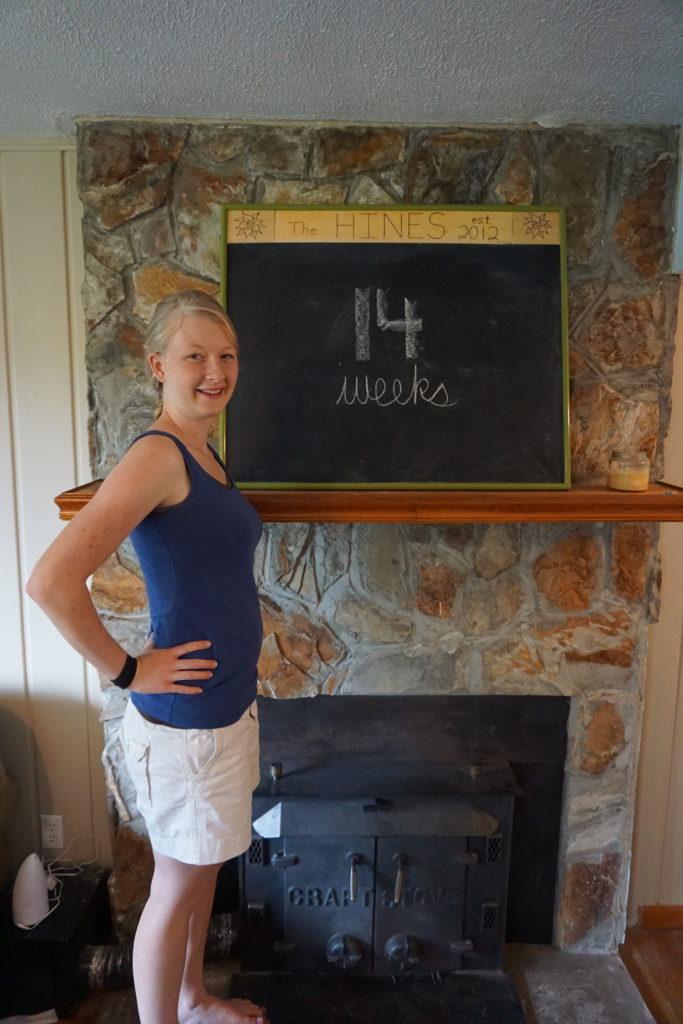 Worst Moment this Week: Twice this week I have woken up in the night and had to run to the bathroom for….bathroom things. It's awful. The first time was because I ate about 10 pickles the day before. I won't be making that mistake again. The second time was because the stomach bug finally caught up with me. Thankfully, I seemed to have it pretty mildly and I was able to get over it quickly. Still, it was not fun.
Exercise this Week: Not as much as I would like. I went on several walks, we went on a hike and we went on a family bike ride (Theo pulls both kids). I only ran once this week, but it was the farthest I've run since being pregnant (2.5 miles).
The Family: Theo has had an exhausting last few shifts at work, and we are very thankful that he now has a long weekend. Tera is being the adorable almost two year old that is, with a little side of ornery! And Little Miss has had the BEST WEEK she has ever had!! One day she hardly cried at all, and I would stop periodically throughout the day to just look at her playing contentedly and wonder who she was and what she did with my foster daughter. Seriously, I was in shock the whole day that she was so content!! Now, we just need to get her sleep habits on track, and she will be a wonderful, wonderful child! Of course, I should totally knock on wood or whatever because I'm sure that as soon as she starts becoming Little Miss delightful, we will get a phone call that she will be moving on. Ha.
And here I am at 14 weeks with Tera Evelynne