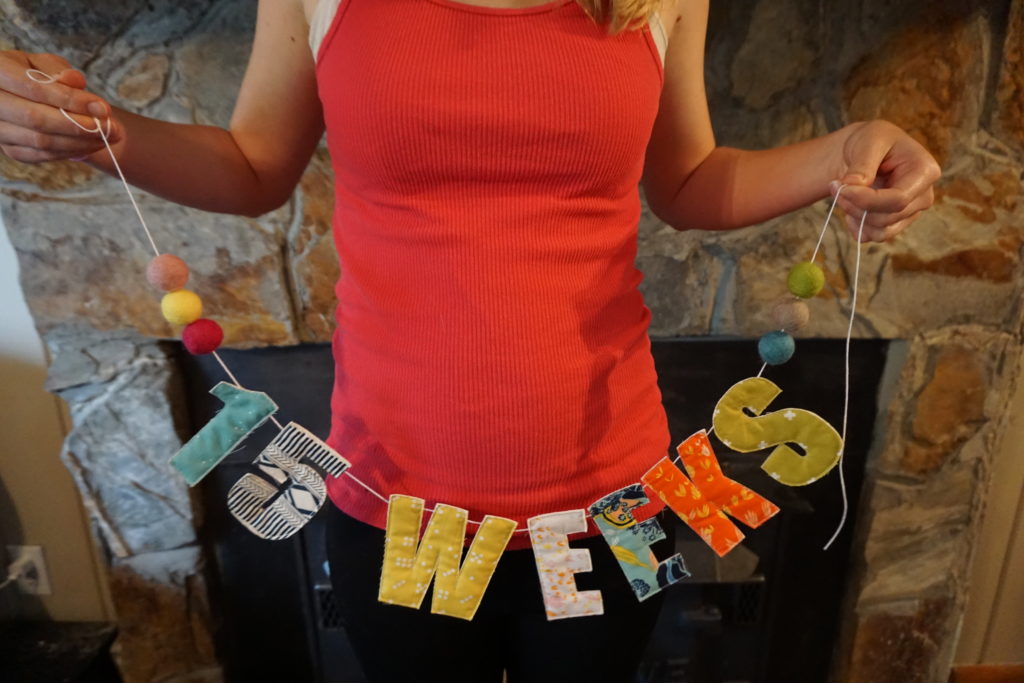 How Far Along: 15 weeks!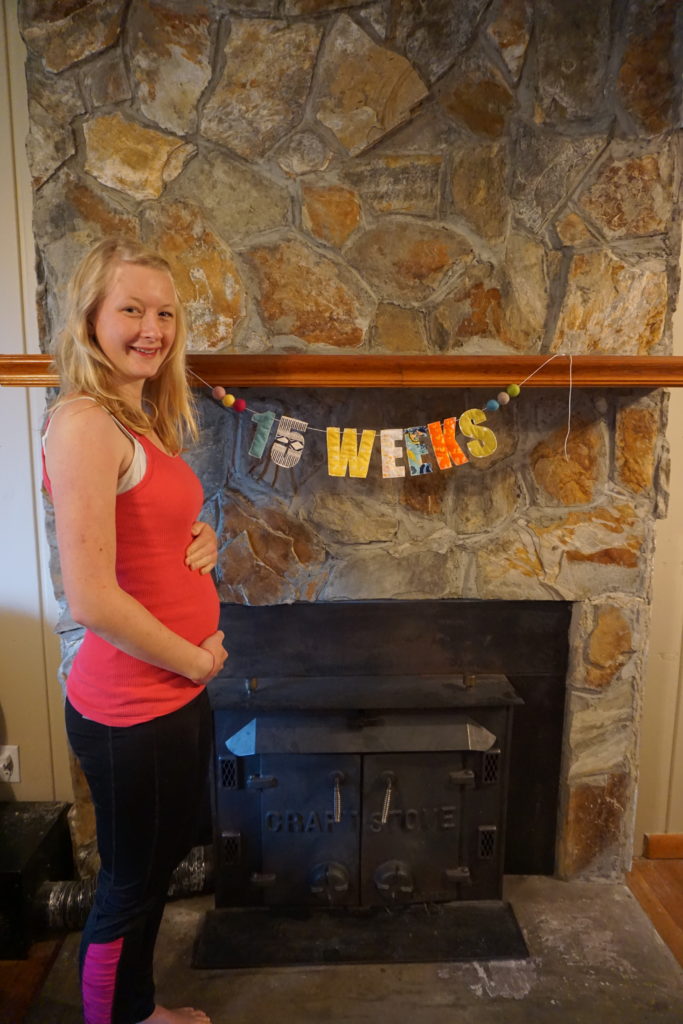 Size of Baby: About the size of an apple! (Um, I have a HUGE apple in my womb based on the size of this baby bump! Yikes!). Baby can hear, sense light and is starting to breathe the amniotic fluid in and out. So crazy!!!
I'm pretty sure I'm starting to feel movement, but it hasn't happened repeatedly yet. I'll feel something once, and no matter how much poking and prodding I do in return, nothing happens. So maybe not? I'm really not sure this time around!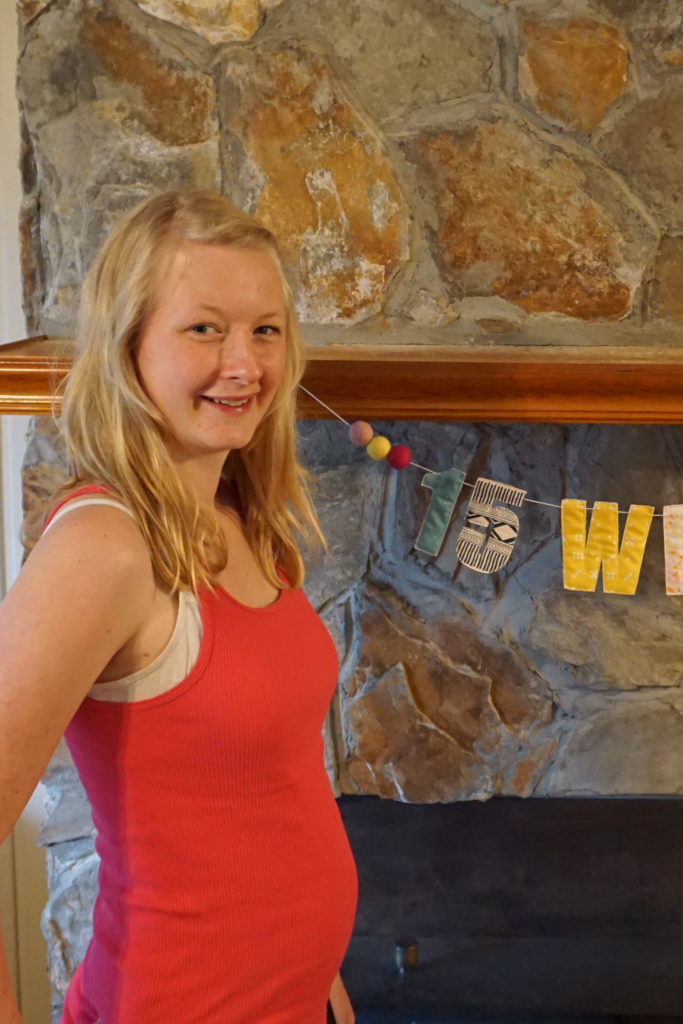 Weight Gain: Down a pound. So, basically, I've stayed within two pounds of my pre-pregnancy weight so far, even though I have fluctuated a lot in the past few weeks!
Symptoms/How I'm Feeling: I finally feel like I'm in that sweet spot where I feel like a normal human being when I want to, and a pregnant human being when I choose to. I'm not deathly sick 24/7 anymore, but I'm also not as big as a barn.
I have for sure had an increase in appetite this past week, and it's great! I'm so thrilled to finally WANT to eat! Right now I'm craving mostly healthy stuff…I want salads and sweet potatoes and I'm trying really hard to push the proteins, so I'm really happy with that craving!
I have started to wean myself off the anti-nausea meds. I used to have to take that little magic pill every 6 hours or so, then I went down to once a day and now I'm getting to the point where I can take it every other day!
I still LOVE olives and pickles, so I'm pregnant all the way!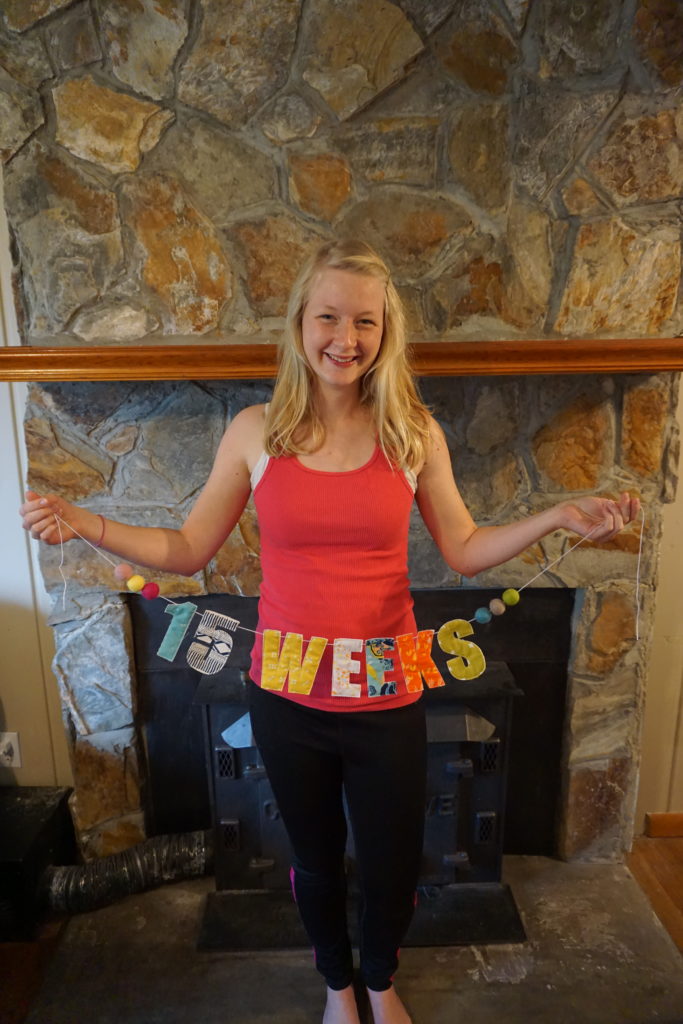 Sleep: Sleep is wonderful….when I actually get it. Honestly, it's not so bad now that I'm not feeling sick all the time. I find that I can get myself through the day without a nap and do pretty well. Little Miss is still up at least twice a night, so that makes it difficult, but it's a part of life and it could be much, much worse.
What I Miss: This week, I'm not missing too much!
What I'm Looking Forward To: I'm SUPER excited to find out the gender!!!!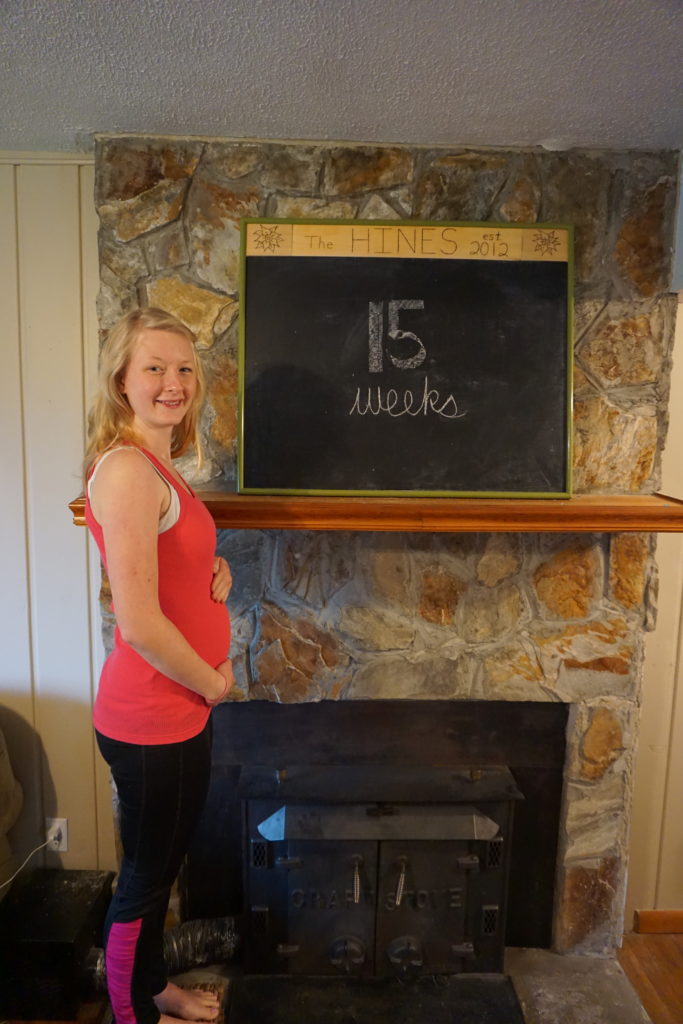 Food Cravings: Pickles and Olives, healthy food. I also find that I want FLAVOR. Bland things sound so meh to me. One day the only lunch option I had was some pasta. Normally I'm a pasta lover and will eat it with just butter, salt and pepper (maybe a little cheese on top). But this time when I made it, I had to raid my spice cabinet and add some chipotle and other herbs just to add some flavor.
I eat carrot sticks every night to help curb my nausea (I get it the worst in the late evenings). I don't know if that's a thing, but there is something about cold, juicy carrot sticks that I have to chew on that make me feel A LOT better. But, of course…I add dressing for flavor.
Food Aversions: The smell of the fridge still gets to me, but I really don't mind leftovers any more. Progress, people!
Best Moment This Week: I really enjoyed going to a consignment sale today and finding the jackpot on maternity clothes! It was fabulous!!!
Worst Moment This Week: Little Miss has had some rough days this week. Foster care is always such an up and down journey, and it can be really lonely at times. That was the hardest part about this week for sure.
Exercise This Week: I went for some great runs on Wednesday and Thursday this week, but other than that I haven't done anything. I'm getting there! We went for a bike ride on Tuesday as well. I'm hoping to get myself back to the gym to go to some exercise classes.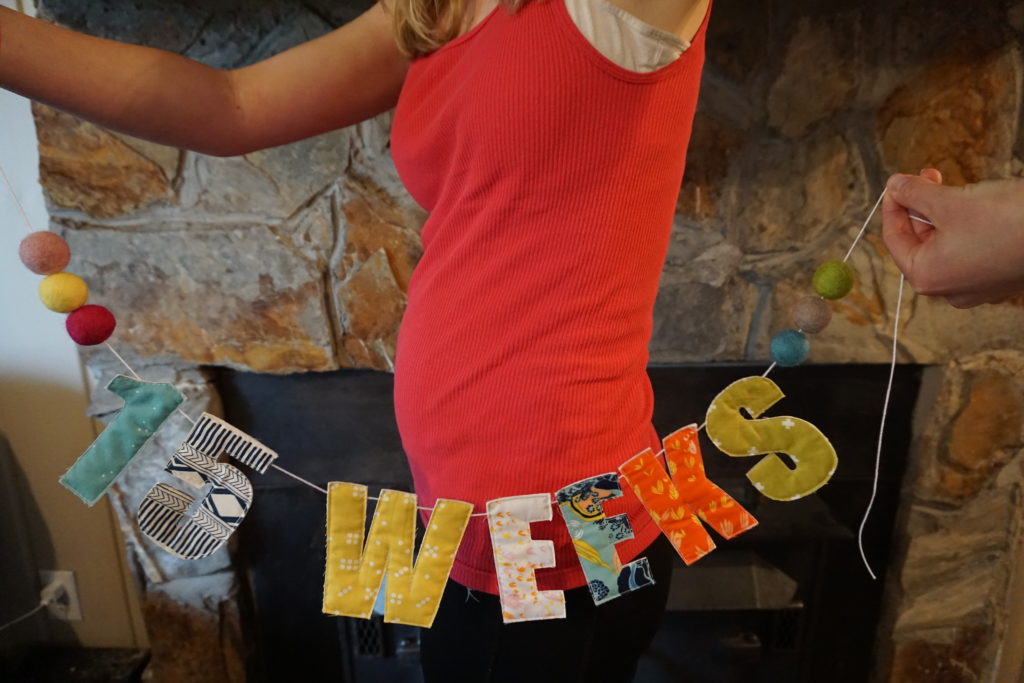 Also, I'm just going to be honest and say that the same shirt deal-io is just not happening. I don't even know where the first blue tank top is, and the second blue tank top is sitting in the washing machine right now. Soooo, I give up. Really, it's just impressive that I am still taking weekly pictures.
Bloopers: Theo rolls his eyes every Saturday when I say it's picture time. It's not either of our favorite times. Theo does a great job, but I usually make him take about 100 pictures. So it would only be fair to share with you all some of those bloopers. This might become a weekly thing. Maybe.
Many/most of the pictures have a child in the frame of the photo. I don't mind at all, because it's a total reality of my life right now. But the problem is that they won't pose! They just want to crawl or run through the frame to be there…just because.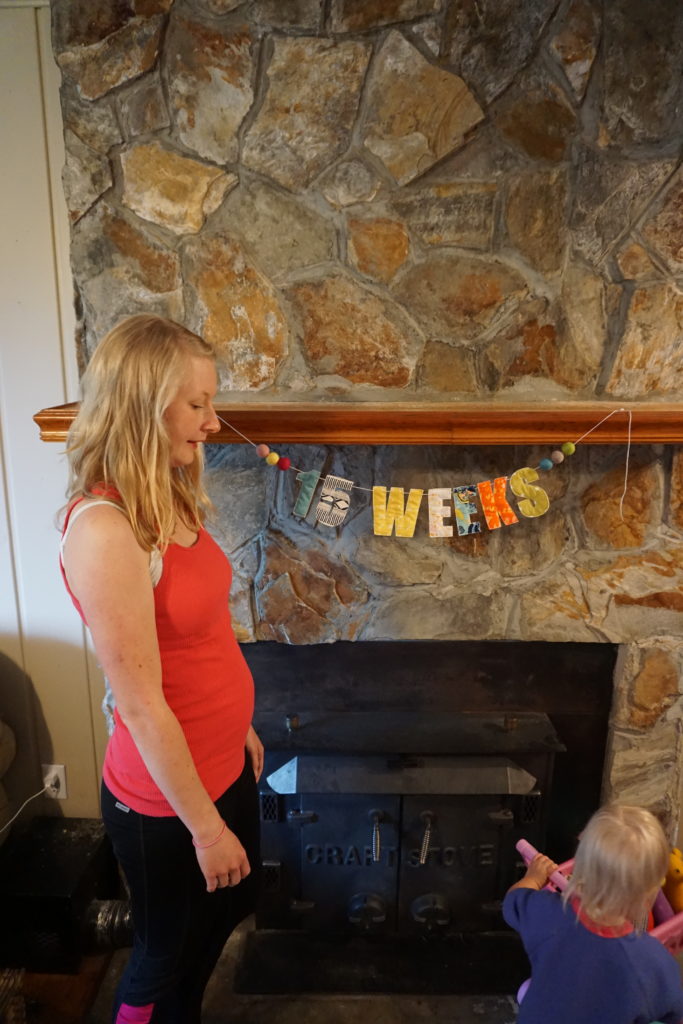 Or if one of them isn't careening through the side of the photo, they are doing something else equally distracting. In this next photo, Little Miss was yelling at the top of her lungs, and Tera was also yelling at the top of HER lungs. Theo and I literally could not hear each other say a word over the sound of them. And we were face to face, making eye contact. I felt like my head was about to explode.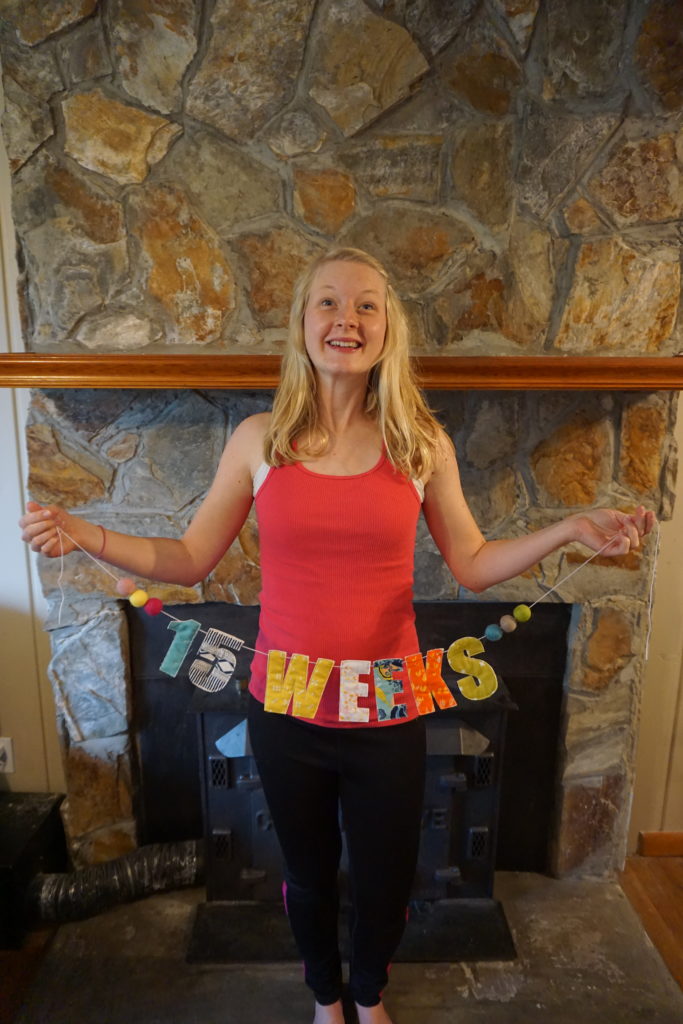 You may notice that I have also tamed down the chalkboards! But that's not all! I recently ordered the banner and I LOVE IT! It's so cute and I was able to custom order the colors that I wanted. The numbers are removable so I can change them every week. AND, I can also use this banner for after the baby is born to record the weeks and months of the baby! How fabulous is that????!! I know you are wondering where you can get yourself one of these…….so STAY TUNED! The Etsy shop is temporarily closed because Cassie is moving, but soon I will have lots of information and a shop feature!
And here's a little teaser: @modernclementine
And here is 15 weeks with Tera (the pictures don't work for me, either..I have no clue why not)