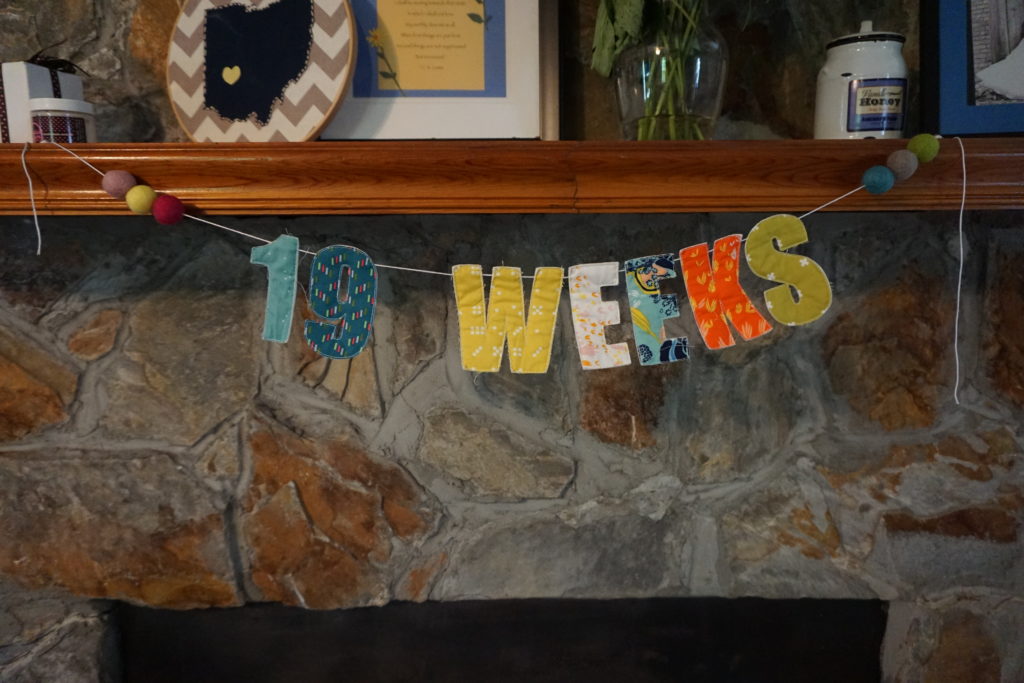 Weeks Along: 19 weeks! Only one week until halfway!
Size and Growth of Baby: Baby is the size of an heirloom tomato! He/she is about 6 inches long! Growing and moving SO MUCH now, I love it!
Total Weight Gain: 4 pounds total!
How I'm Feeling/Symptoms: I'm feeling…good. As with anybody, the week after vacation isn't always the easiest. But one of my biggest pet peeves is when people complain after getting back, so I am determined to NOT do that! I'm just a little bit more exhausted and as a result, a little more nauseous. I'm loving feeling the movement and actually starting to feel like I'm pregnant!
I'm not such a huge fan of how I'm looking, though. I know I haven't put on much weight, but my body sure looks like I have! I can't figure out how to dress and hate I how I look in all the pictures that have been taken. My bump with Tera looked like I just stuck the most perfectly round basketball under my shirt. But this bump looks like I stuck a spare tire around my waist. But I know that's just another part of pregnancy, and I'm going to have to learn to deal with it.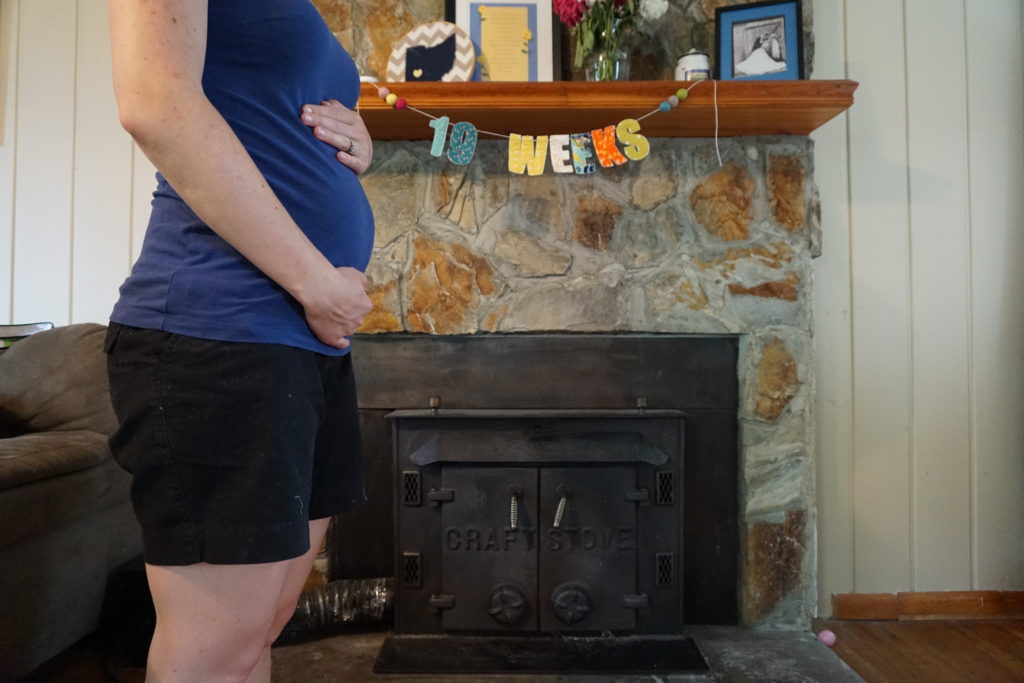 I do love the energy of the second trimester and I'm enjoying it to the fullest!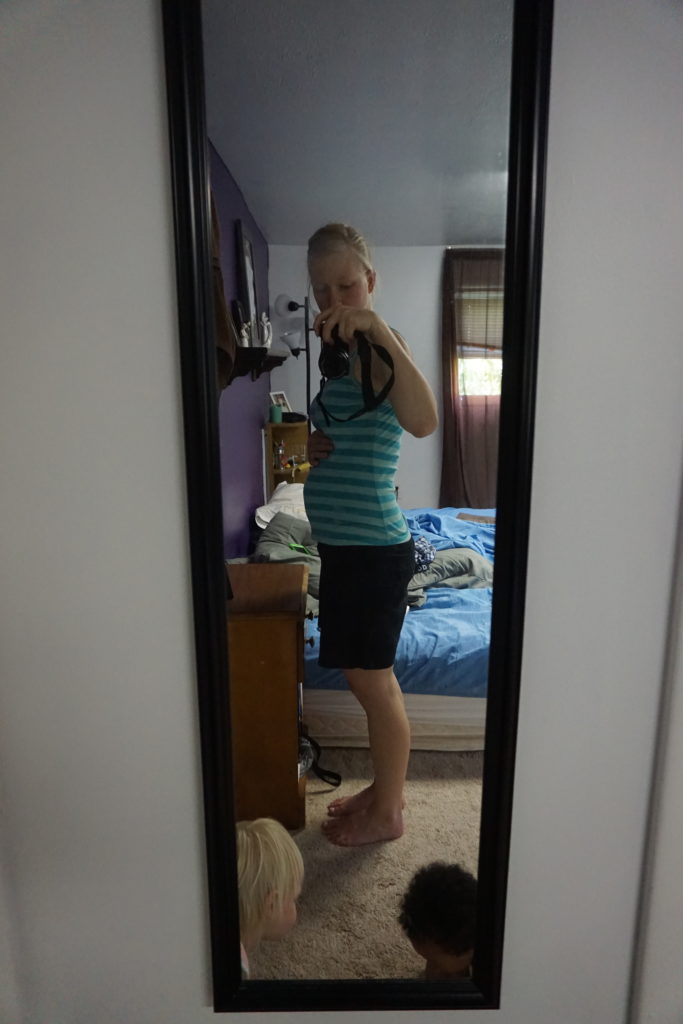 I have had some restless legs, more back pain and hip pain, and I officially need to lay on my side when I lay down because the back and the stomach are not working for me anymore.
What I'm Wearing: My basic Mom uniform. Goal for next week: photograph myself looking decent at least once. And maybe make my bed.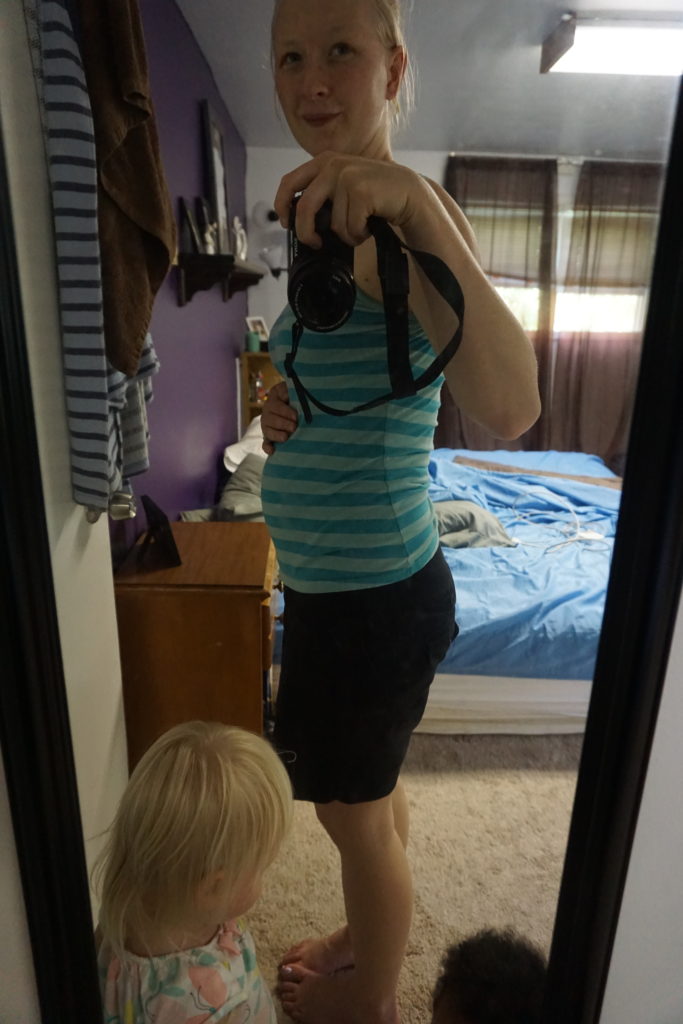 Gender: Honestly, I have no clue! I will be happy either way, but I'm kind of hoping for a boy! And actually, just now I looked at my pictures from 19 weeks with Tera and I don't look anything like that this pregnancy! So maybe it is a boy? Or maybe it's another girl. Who knows. But we find out in ONE WEEK!
Movement: Lots and lots! I don't usually feel it when I'm up and active during the day, but as soon as I sit down, I feel those kicks and punches and rolls. I LOVE IT! Theo has felt it once or twice from the outside, too, which is pretty exciting!
Sleep: I was really nervous about sleep this week getting back from vacation and collecting our girls from their respective caretakers. Little Miss usually has a really hard sleeping after getting back from visitation, but she has done great all week! I'm so happy about that! Tera was up for a few hours one night coughing and coughing, but I was finally able to help her and then we slept great. On the nights that they both sleep through the night, I'm sleeping through the night, too. I usually get up around 5 with a very full bladder and feed Little Miss, then we all go back to sleep for an hour or two.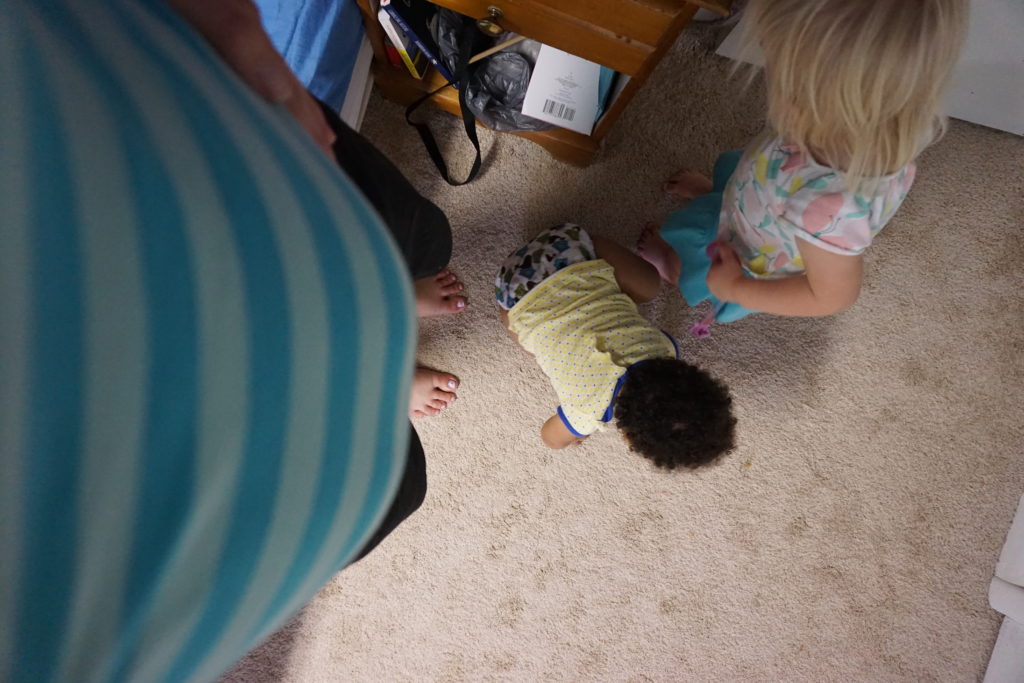 Food Cravings: I'm loving it all! Cold, juicy fruit is probably my favorite! And I just can't get enough of full, mouth-watering flavor. For example, I normally eat pasta with butter, salt, pepper and parmesan cheese. But now I have to add a myriad of spices including oregano, basil, chipotle seasoning, etc. Mmmmm…making my mouth water thinking about it!
Food Aversions: Nothing really this week!
Worst Moment This Week: My birthday was on Sunday and it was not a very great day. Theo worked and it was just sad that I didn't get to see anyone or be anyone special. My brother called and my parents tried to Skype, so that meant a lot, but it's just hard growing up! It's also been a difficult week in the foster care world as we prepare to say goodbye to Little Miss.
Best Moment This Week: Our 4th Anniversary was on Thursday, and that was a lot of fun!! Ethan and Kindrea offered to babysit (again!!), got approved to watch Little Miss, got their house approved, and took the girls so we could go out for dinner…even though we had just spent a week gallivanting around Texas without kids! I was not expecting to be able to do anything for our anniversary, so that was such a treat!!!
What I'm Looking Forward To: We find out the gender of this little one on June 6th, which is only a week away! And then I'm excited for all the traveling we will be doing this summer!
Exercise This Week: I went for a jog on Tuesday morning with the girls. Otherwise, I don't think I've done a single bit of exercise. I'm hoping to go out with the girls later this afternoon as it's a beautiful day and we need to get out of the house!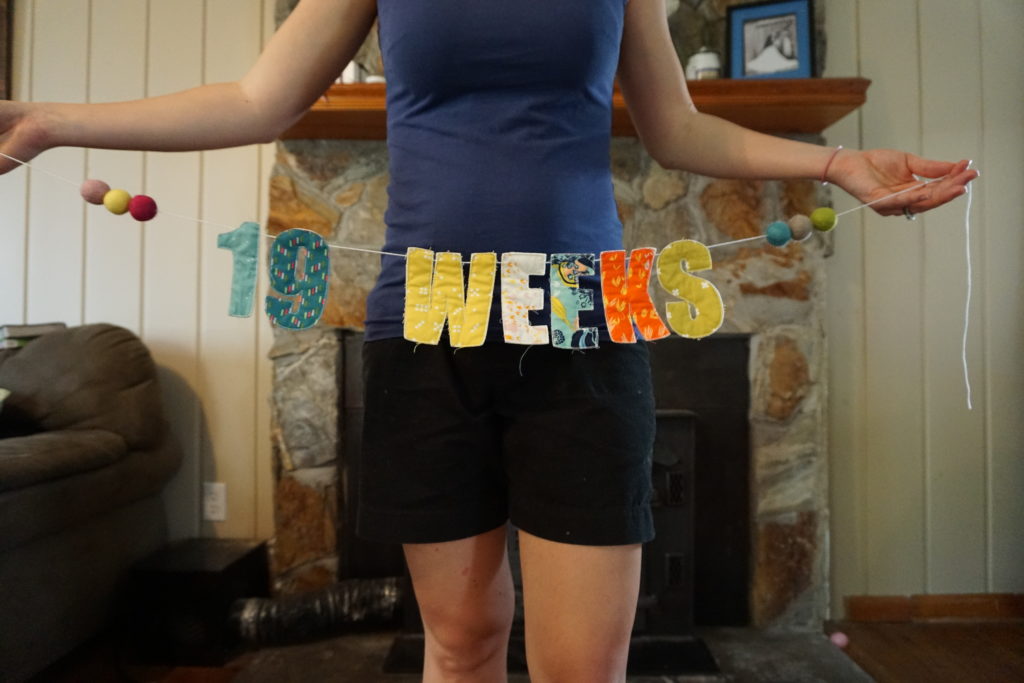 Here I am at 19 weeks with Tera (gosh, I was so cute…not feeling that cute this time around haha!)