Wow! May was PACKED for us!!! I didn't realize how non-stop we have been going until I went through my May pictures for this blog post! Hang onto your seats, folks…I have a lot of pictures to share!
(Disclaimer: If you are reading this post on your phone or through your email, the pictures will be sideways. I honestly don't know how to change this or why it does it. If you read the blog on your computer, they will all be right side up!)
Theo started out the month renting a stump grinder to grind up all the stumps in our yard. He rented it for a 24 hour period and we didn't realize that it would be raining for most of that! But since we only had it for a limited time, he went ahead and worked in the pouring rain!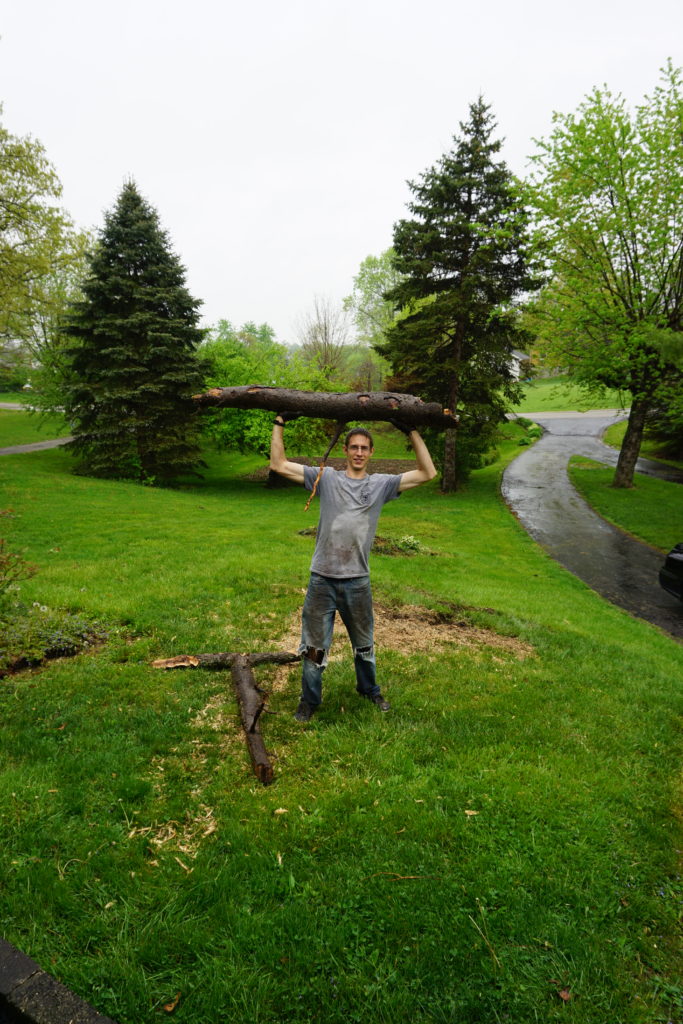 Our Tera-girl is a feisty little thing lately, and I absolutely love watching her learn so much on a daily basis!!! She loves signing and has a stack of signing flashcards that she knows by heart.
She sat herself in the crockpot one day and I had to grab a picture. I'll eat you up, I love you so, Tera!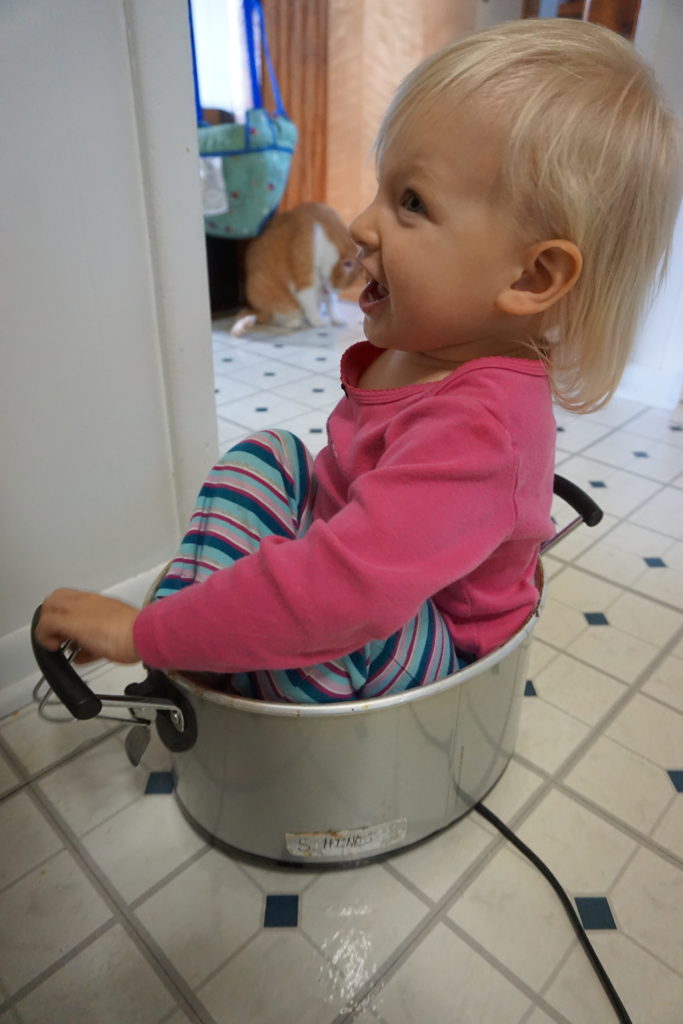 One day, after Theo took out the trash, Tera discovered that there was still a piece of gum stuck to the bottom of the trash can, and she HAD to have it.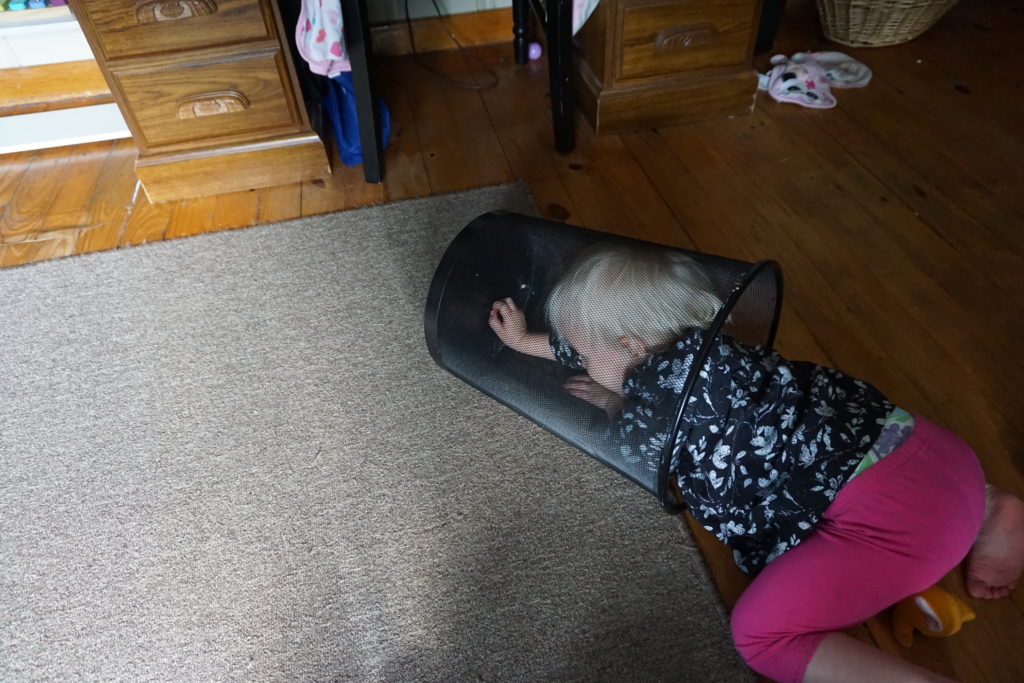 Of course, Little Miss also had to try her hand at getting that piece of gum….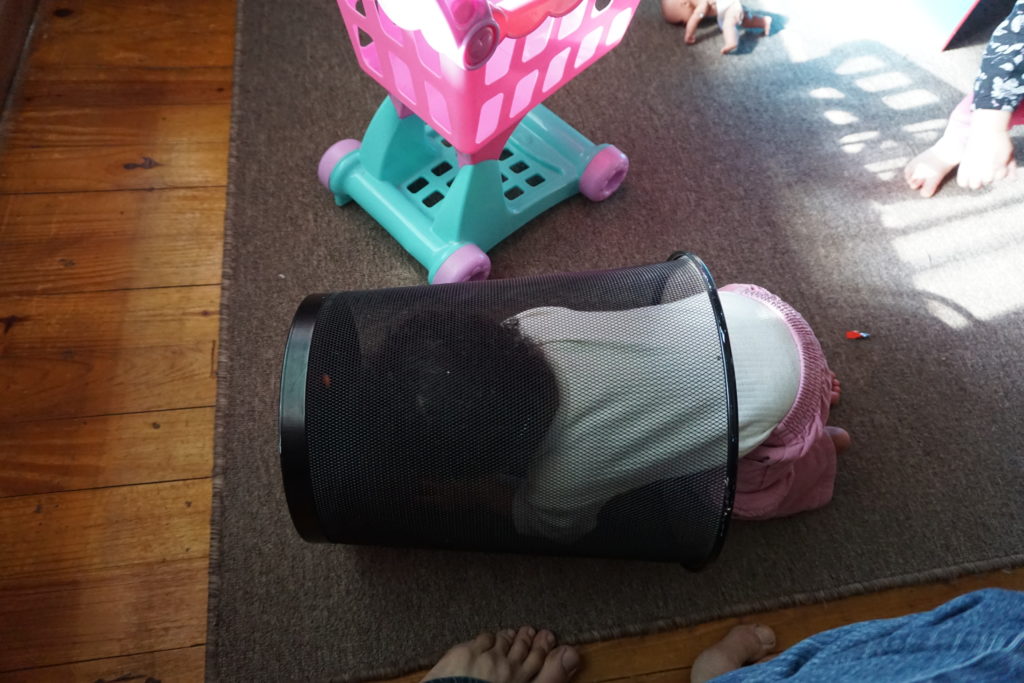 And big sister Tera had to put an end to that. Kids, I tell you. Siblings.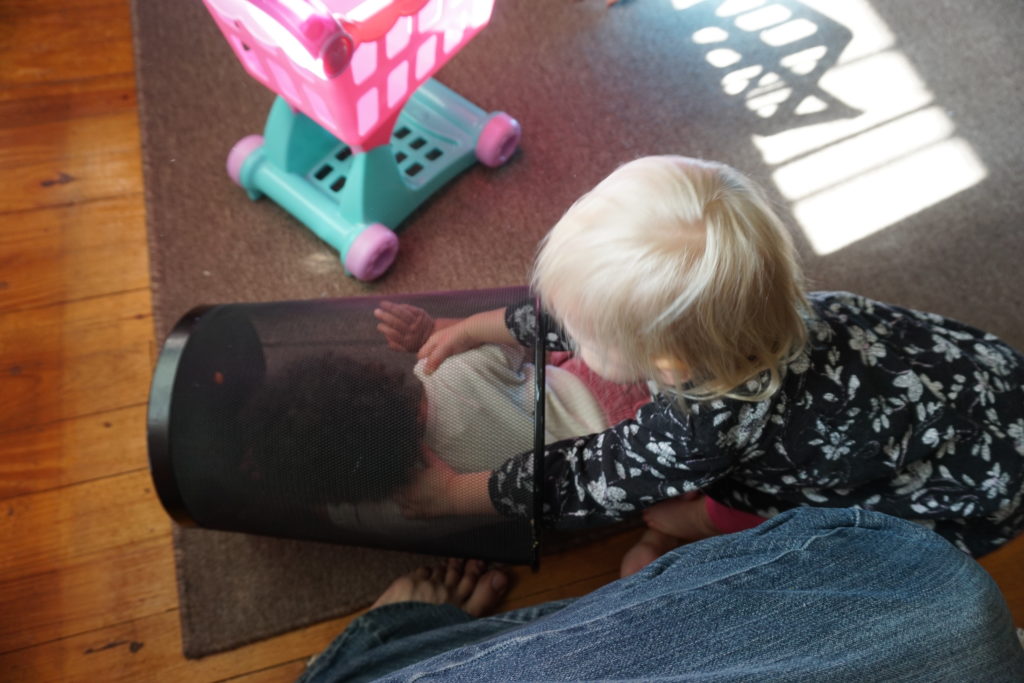 The girls love spending time with Theo! Now that Little Miss is old enough to be mobile, she loves to wrestle and get as much action as possible!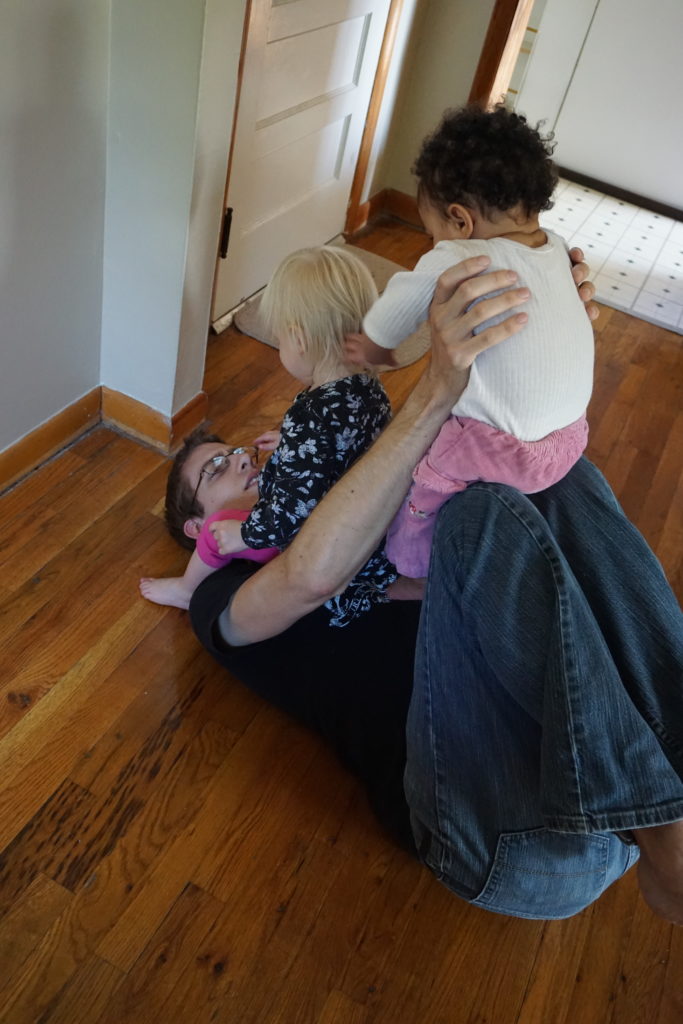 Have I ever mentioned that we love warm weather around here? We are so thrilled to be able to go to street fairs and be outside on a daily basis!!! Here I am with my two girls (maybe three?) at First Fridays in Xenia!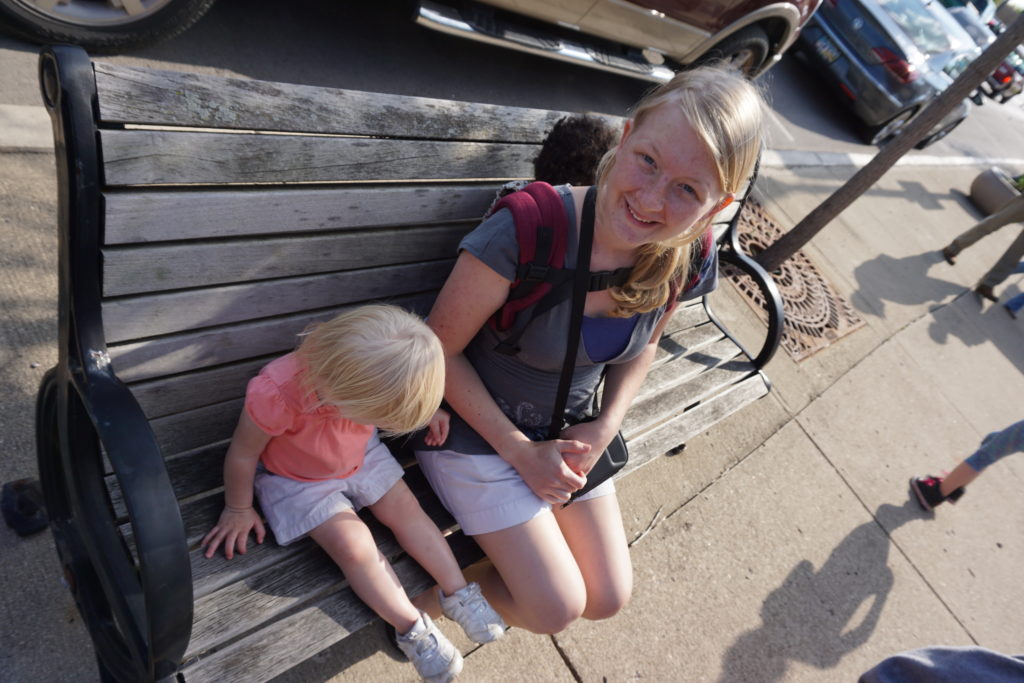 Tera and her Daddy.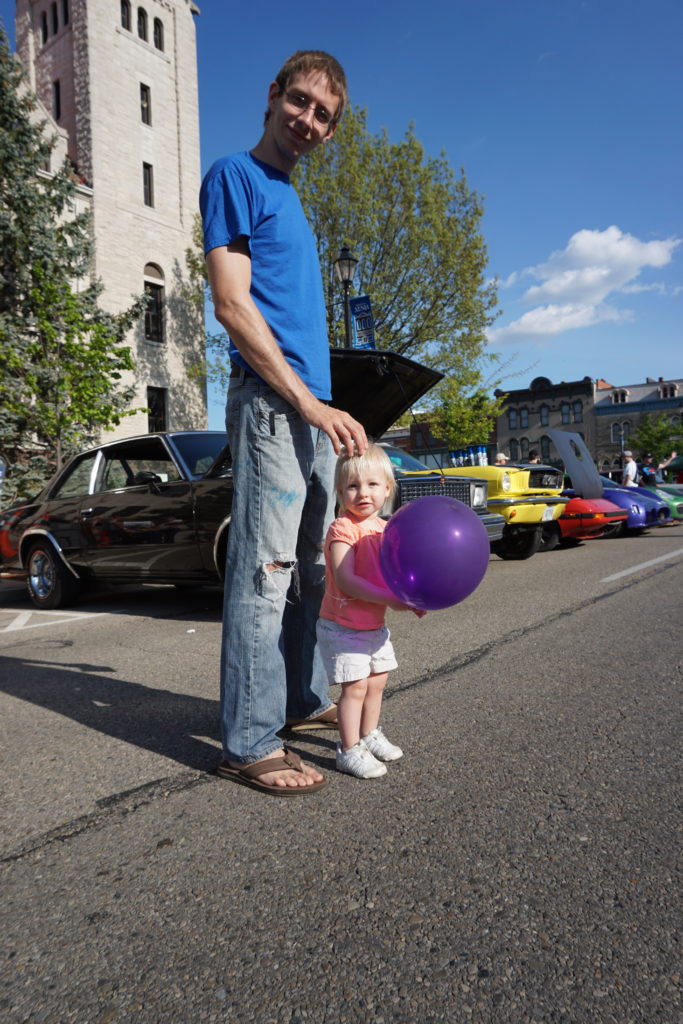 Street Fairs are our jam!!!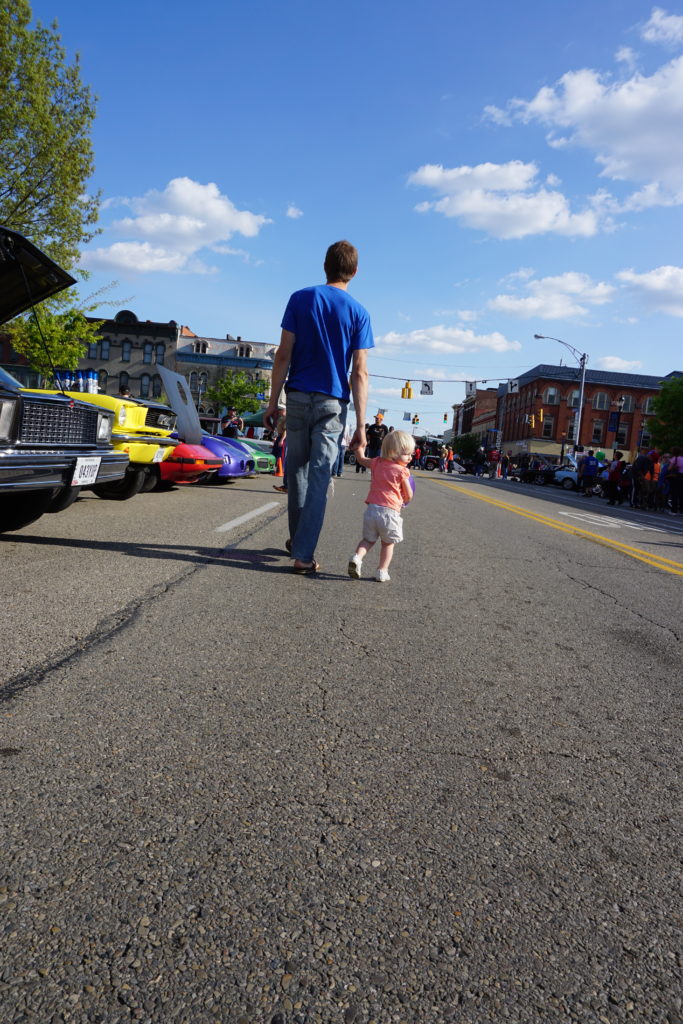 We even found a duck on a leash that let tons and tons of children pet it!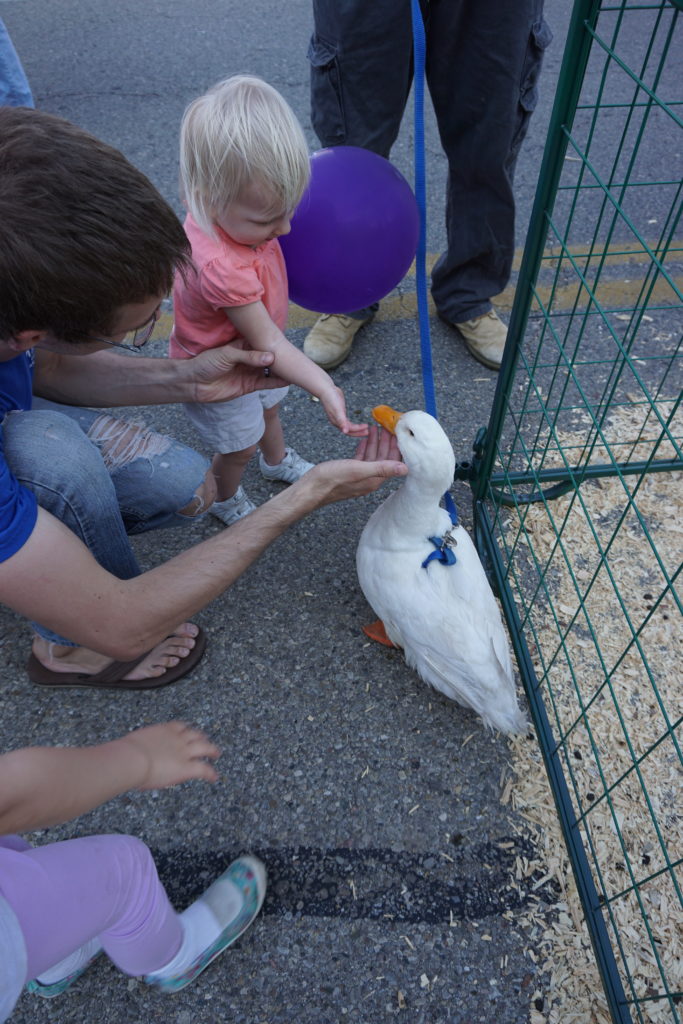 I ran my first 5k of the year in May, too! Kelly, a lady from our church, puts it on to raise money for their homeschool group. It's always fun and not too competitive, which is really what I need. Theo had to work, so I pushed both girls in the double jogging stroller. My goal was to run the entire thing without stopping, and I did! I was pretty proud of myself, especially since I was 16 weeks pregnant!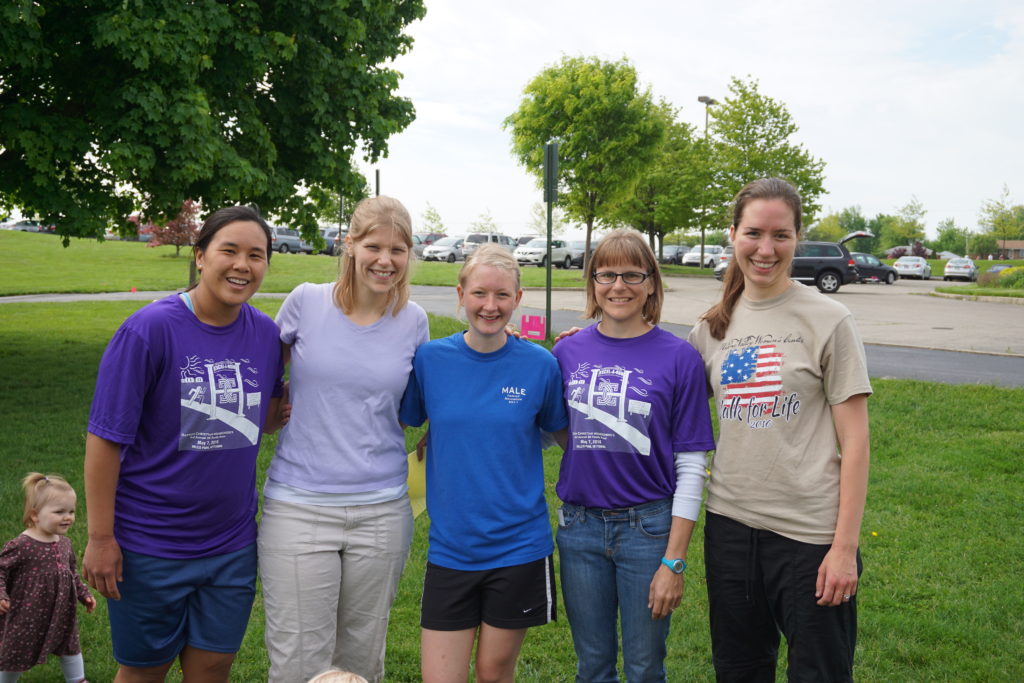 Of course, May also contained Mother's Day! Theo snapped some of my favorite pictures ever of me with my girls. Of course, I can't share 99% of them, because it wouldn't be a Mother's Day picture without Little Miss in it!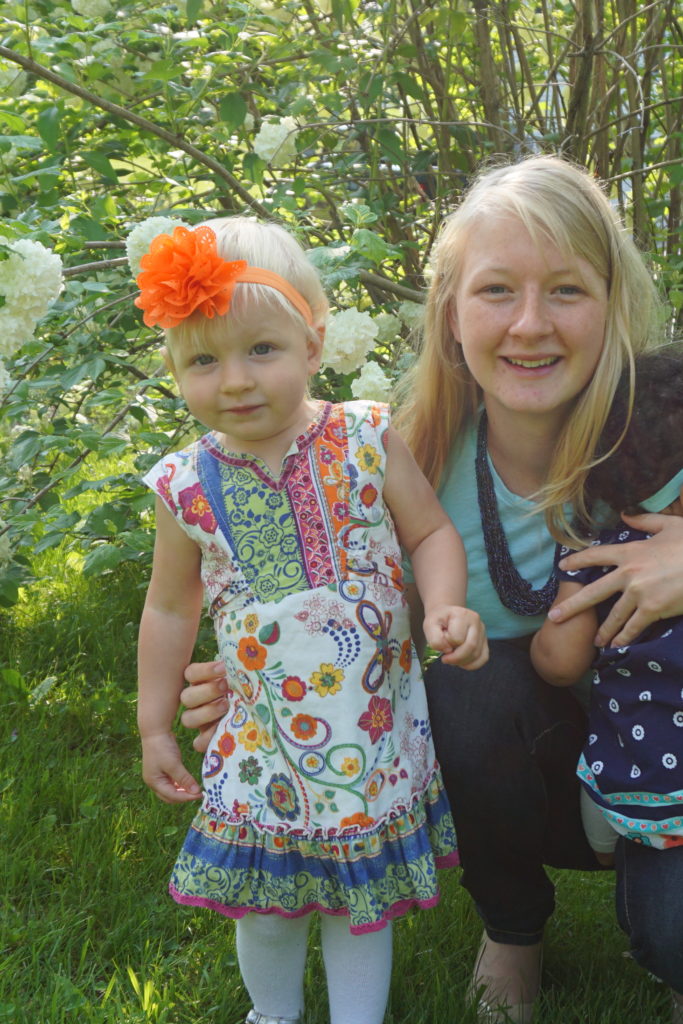 After church, Ethan and Kindrea & co came over for lunch. We did the traditional Hines Spaghetti (with venison!) and garlic bread.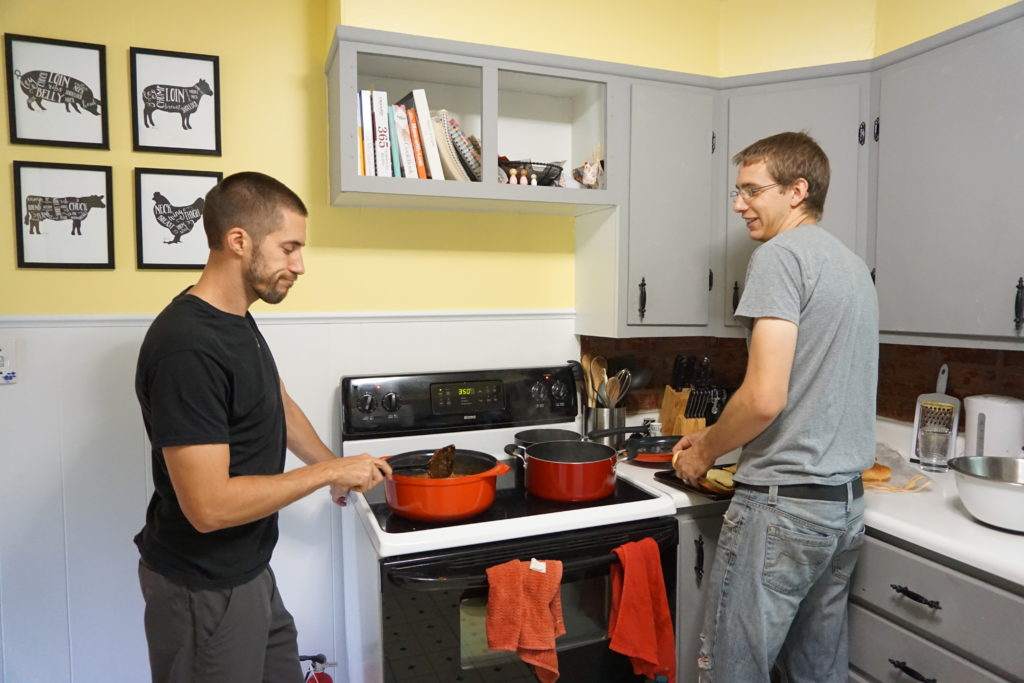 While Theo and Ethan were cooking, Kindrea and I loved taking a day off from cooking! We took some pictures outside together…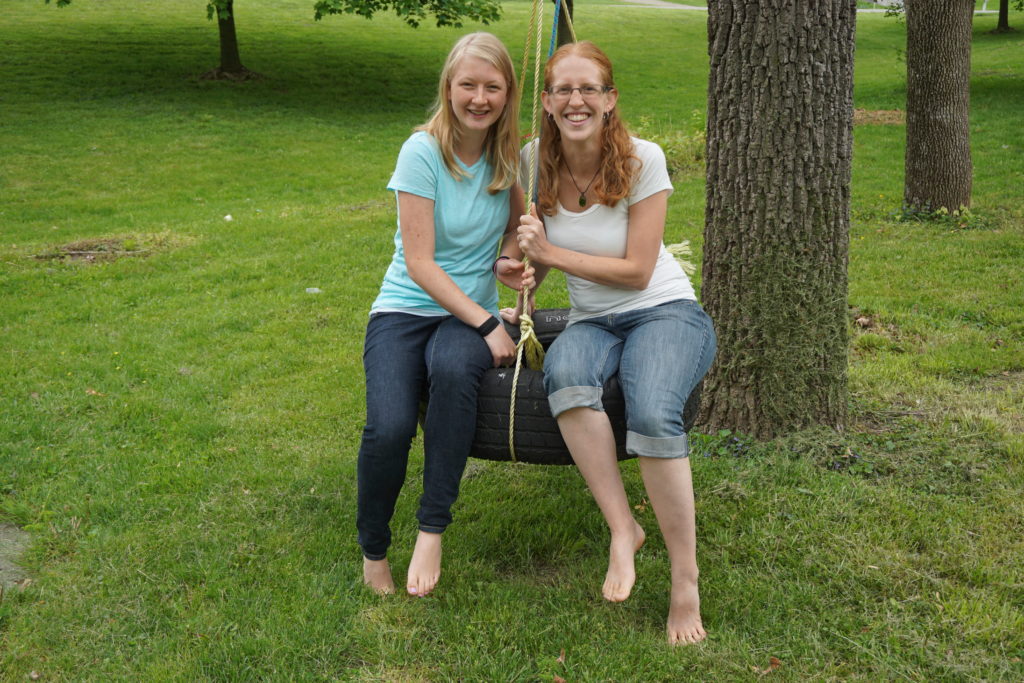 I'm so grateful to have this woman back Stateside and to be able to spend so much time with her!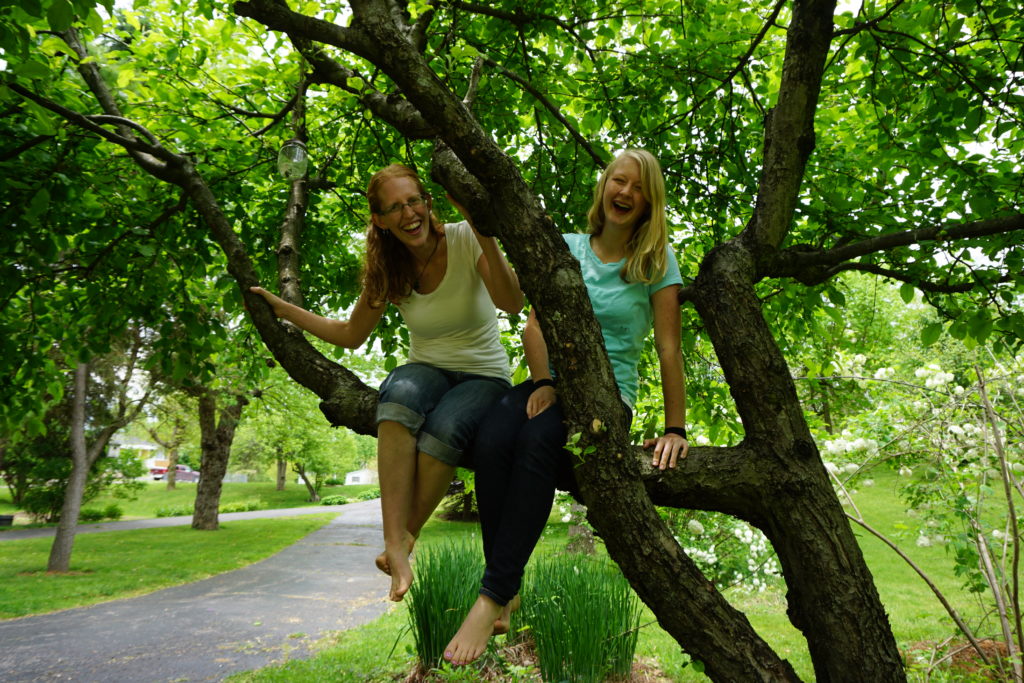 There was no place I would rather be for the day. Little Miss is behind Theo.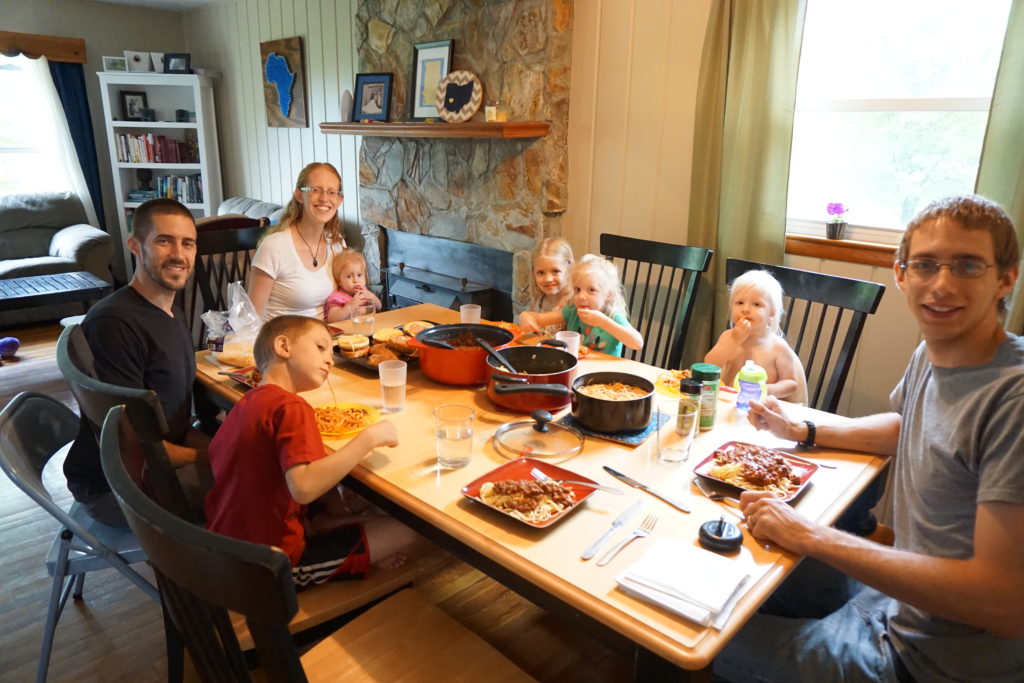 Since we celebrated Mother's Day with family, Theo decided to do something extra special for me on Monday night. He cooked up this fabulous meal, made a separate kid-meal for the girls, put them upstairs with Baby Signing Time, and we got to enjoy a "date night" in! It was perfect!!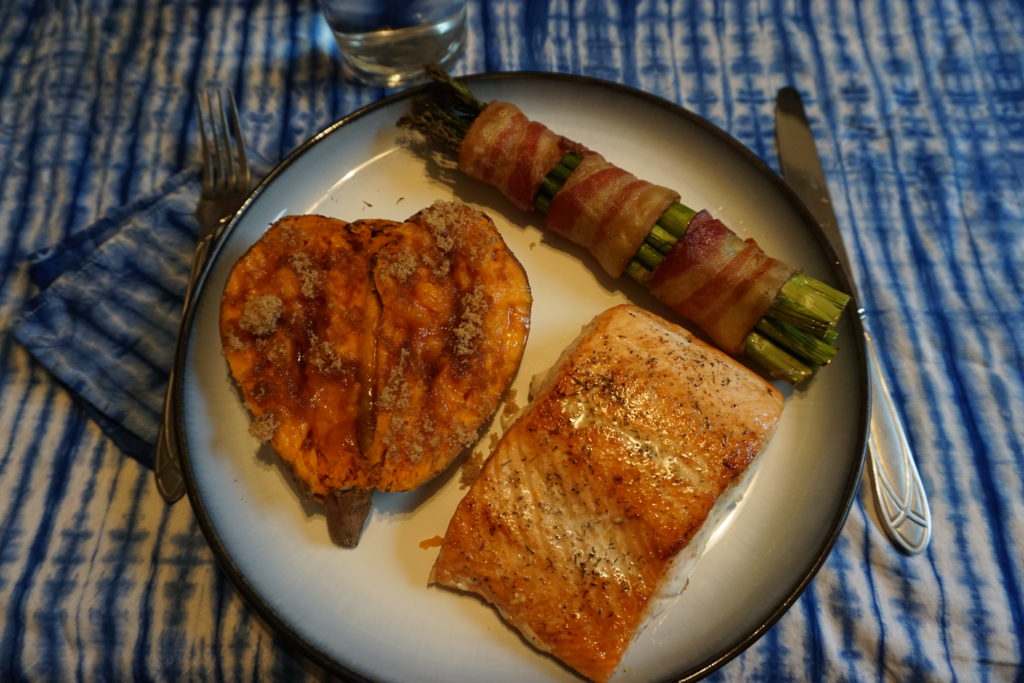 Don't I look exhausted?? It's because I am. I have two energetic children, plus one growing inside me snapping all my energy. This is pretty much what I always look like by 5 or 6.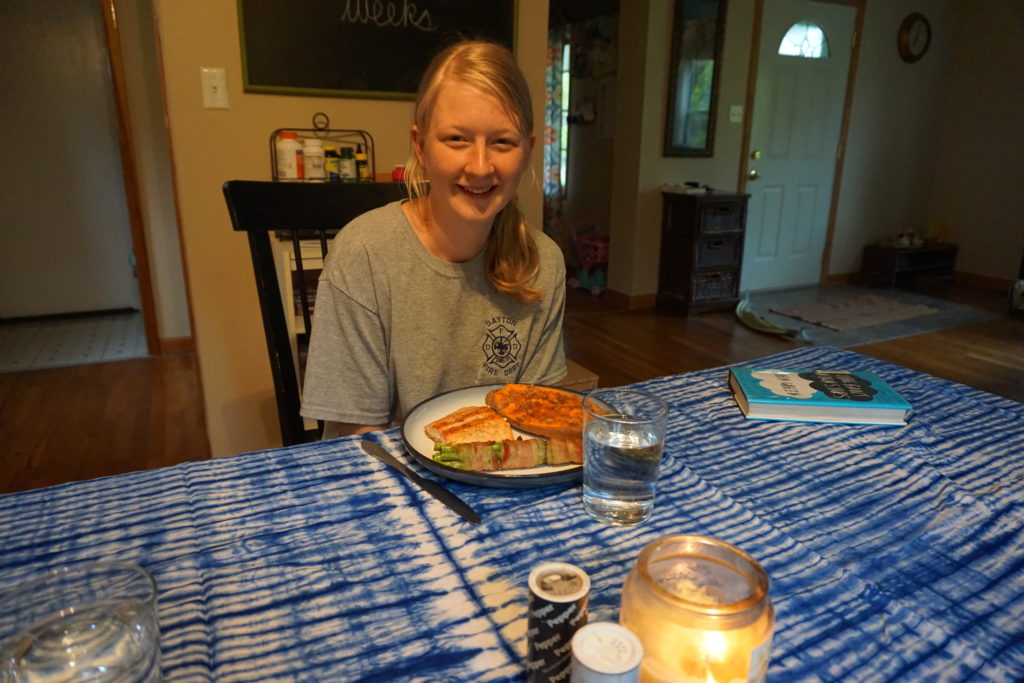 Of course, we also had our trip to Houston, which you can read about here: Part 1, Part 2, Part 3.
When we got back from Houston, Moose was so thrilled to see us that he actually sat in Tera's lap! He's warming up to her and I love it!!!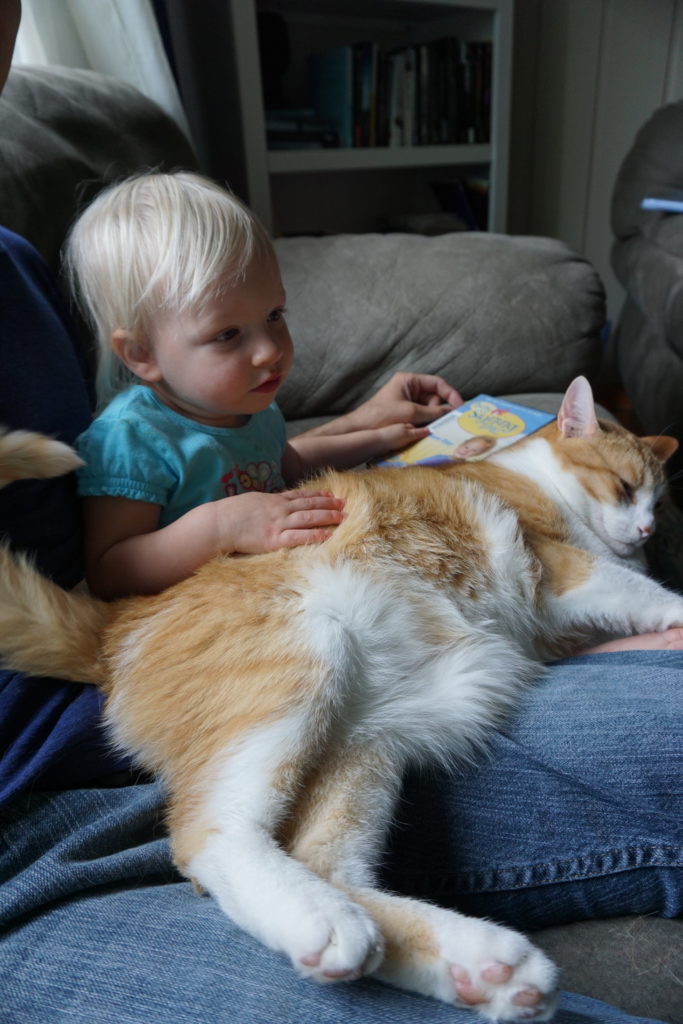 Look at this darling girl!!!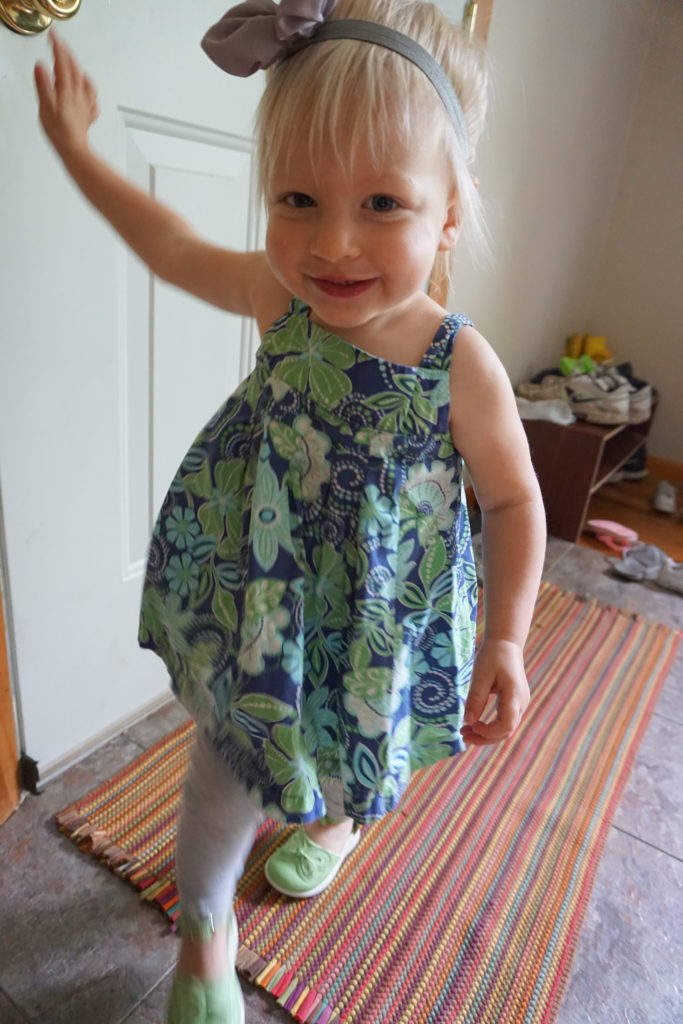 My birthday this year happened to fall on a day that Theo worked. I did not have a very good day, but after a lot of crying and bemoaning myself, I ate some cupcakes and took refuge in Scripture. Hopefully next year will be better and if not, well…this is life! Even if my adult birthdays are no fun anymore, at least I have kids to celebrate!!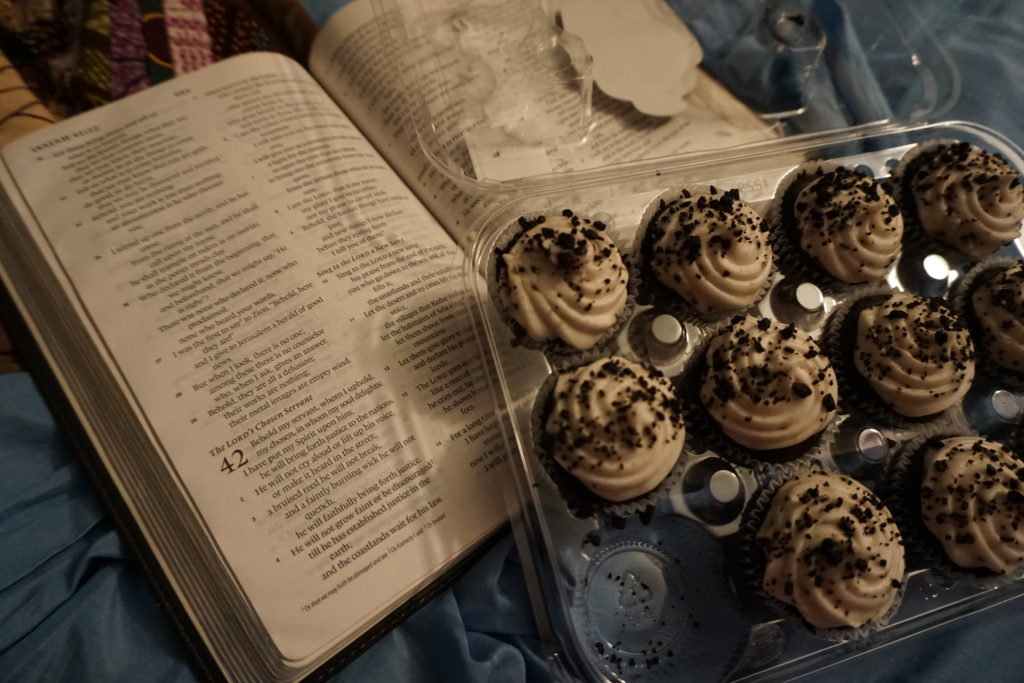 The following day we went out for my birthday and Kindrea's birthday! It was an absolute blast with some fabulous conversation.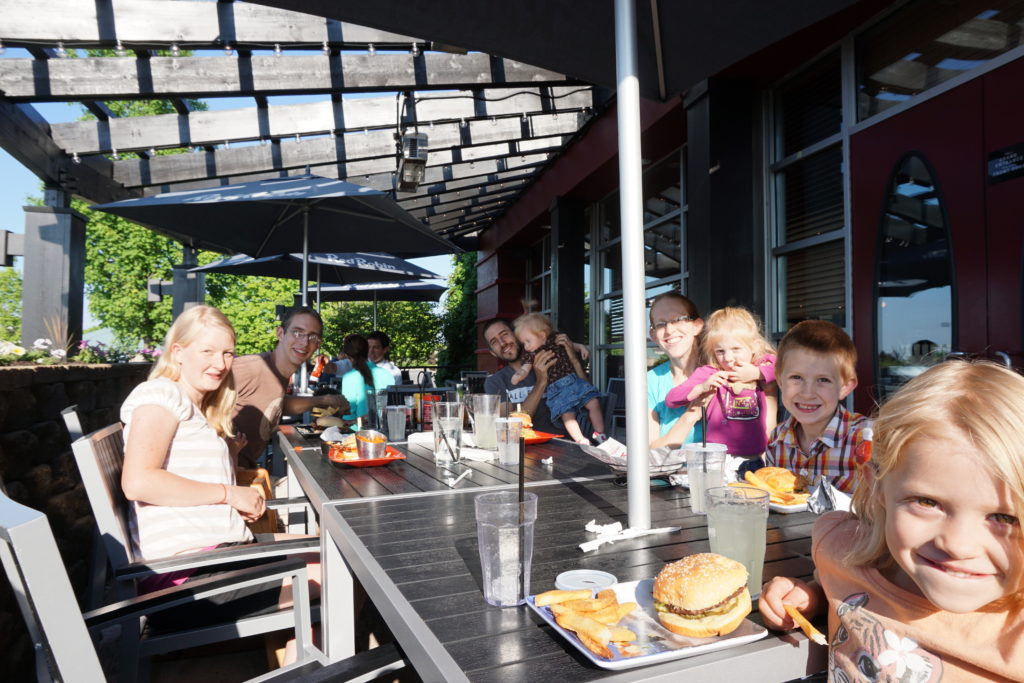 Tera found herself wrapped in this exercise mat and was running around the house just laughing hysterically. She cracks me up!
One day I was trying to put in an order for some jewelry. It would have taken a normal person about 10 minutes to do it, but it took me over 45. Do you know why? Because each time I tried to type in one word, one of my children would NEED me. For example, this is how I found Tera at one point: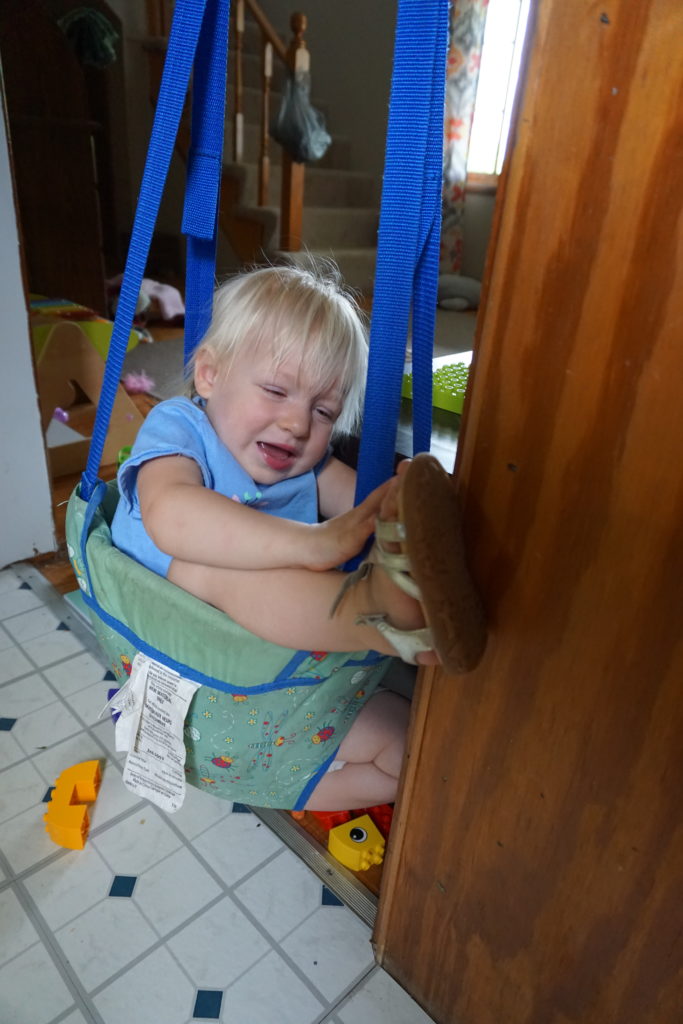 I still don't know how she got in there, and it was a lot of work to get her out! Notice where her other leg is?
Our peonies are in bloom, and I had to bring some inside the house! Tera helped me pick the flowers, but she's hasn't figured out how to be gentle with them…at all.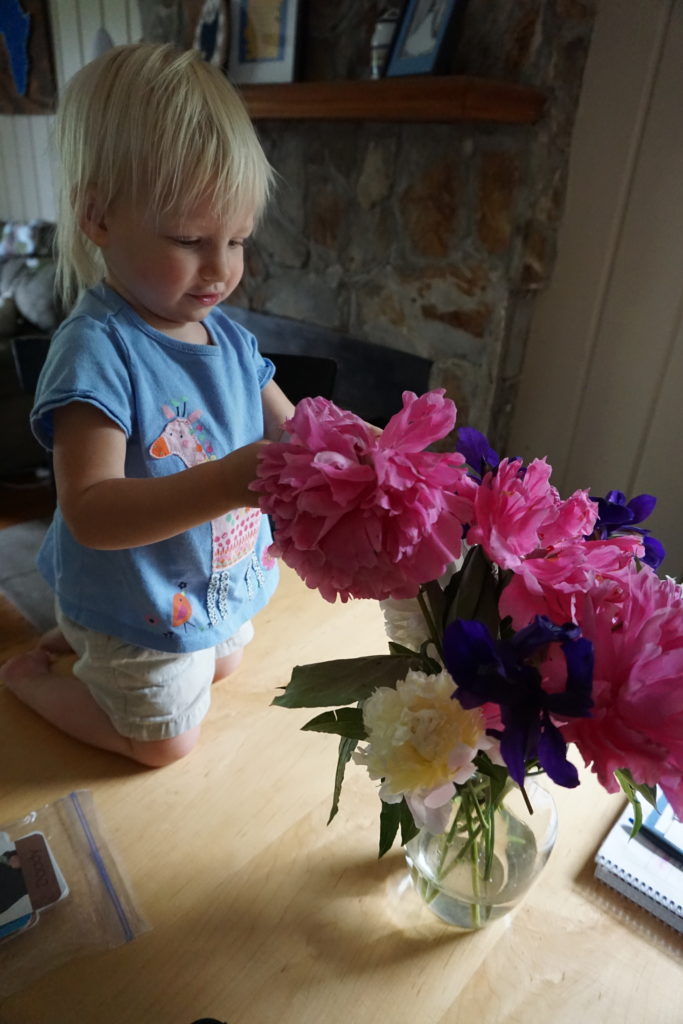 I just love bright colors!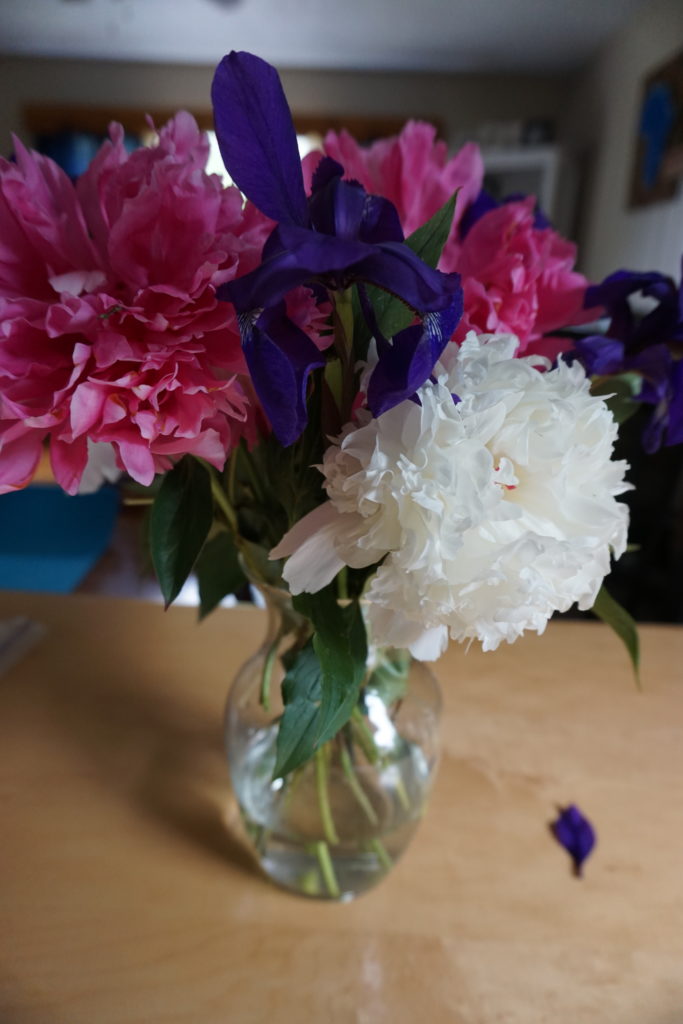 As most of you know, we are nearing the end of our time with Little Miss. We are literally waiting on a phone call to tell us to pack her backs. We thought for sure it was happening this past week, but of course it now looks like it will be this next week. I don't even know anymore, and I'm choosing daily to not dwell on it.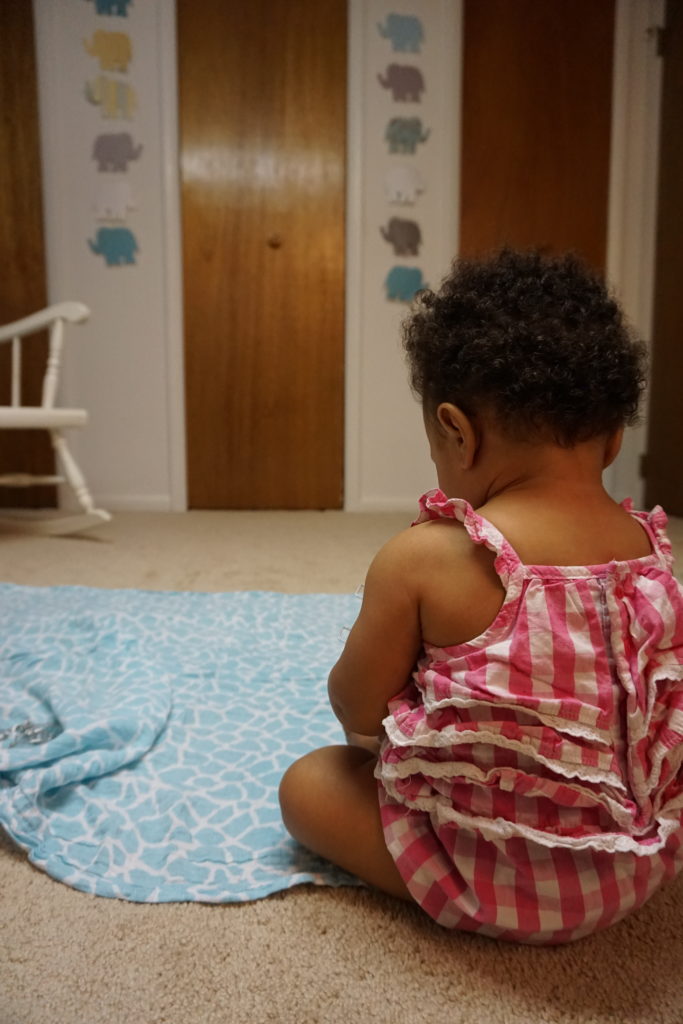 May contained our vacation, Mother's Day, my birthday, Little Miss' stuff AND our anniversary!
Theo surprised me by taking me out to Sakai! We had SUCH a great time!!!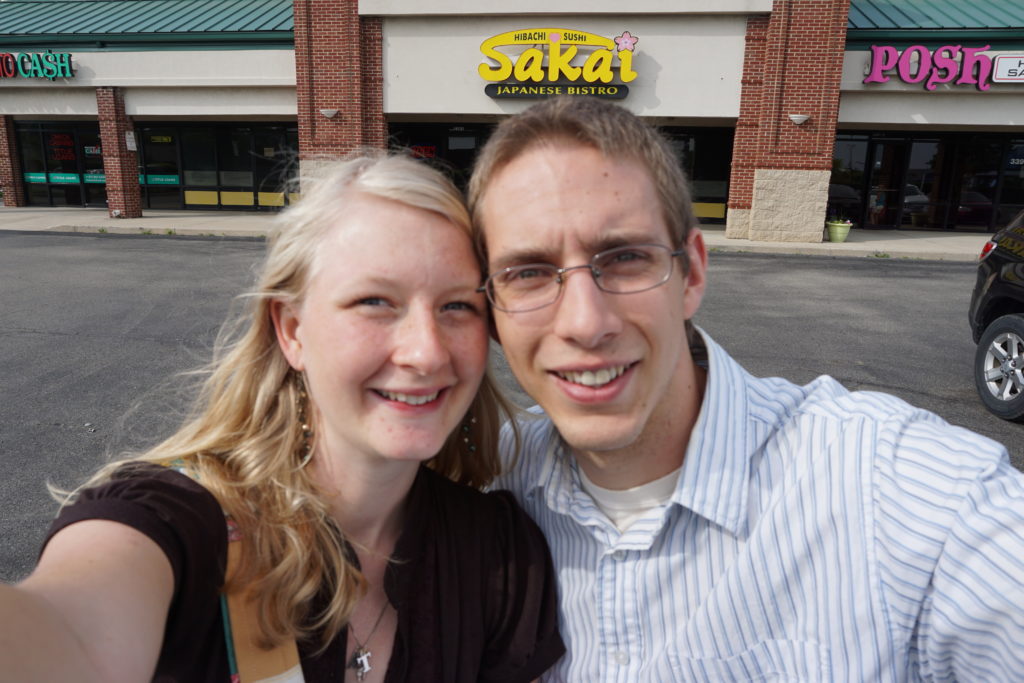 They cook the food right in front of you, and often make it a pretty great show, too. They often seat more than one family at a table, since that way they don't have to open multiple grills up. The people who were also at our table were…interesting. I'm 95% positive the guy was high because he was FALLING ASLEEP while they were cooking the food. We are talking, a huge wall of flame going up from the onions, while everyone is oooohing and aahhing, he was nodding off. I don't know, I didn't ask, but we thought it was strange that you would fall asleep while watching your $30 plate of food cook. Haha.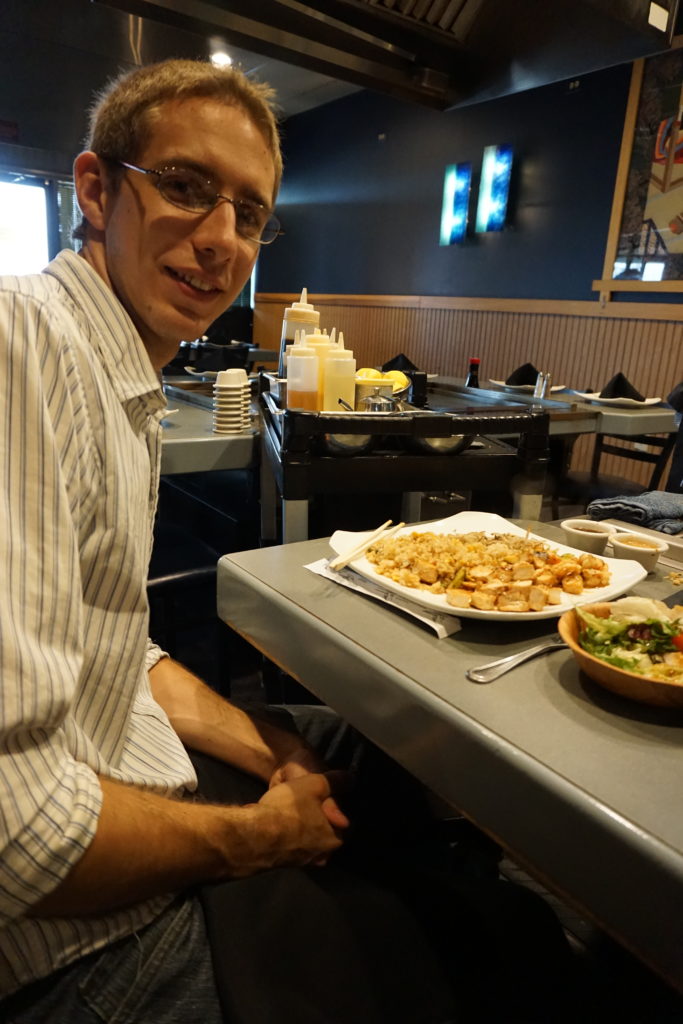 As soon as we got the news about Little Miss, I realized that I really needed to step it up and work on her lifebook/scrapbook. This is a book that is supposed to be made for all foster kids so that they can having something detailing their lives to take with them. It's been a ton of work, but I can say that I'm almost done with it!!
We also had a goodbye party/prayer shower for Little Miss on Monday night. It was a beautiful time and it showed just how well-loved she is!
I picked up a cake at Walmart. It has her name written very boldly across the top, so I can't share that!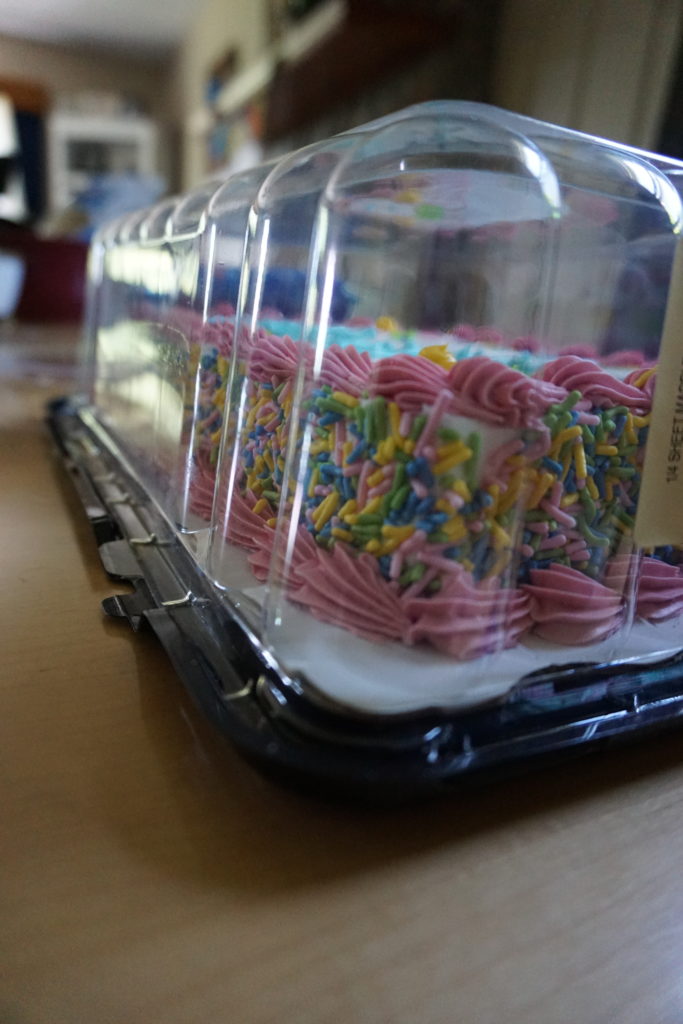 I had a table containing her lifebook, some pictures, notecards to write her a note and a piece of paper detailing how you can pray for her and us.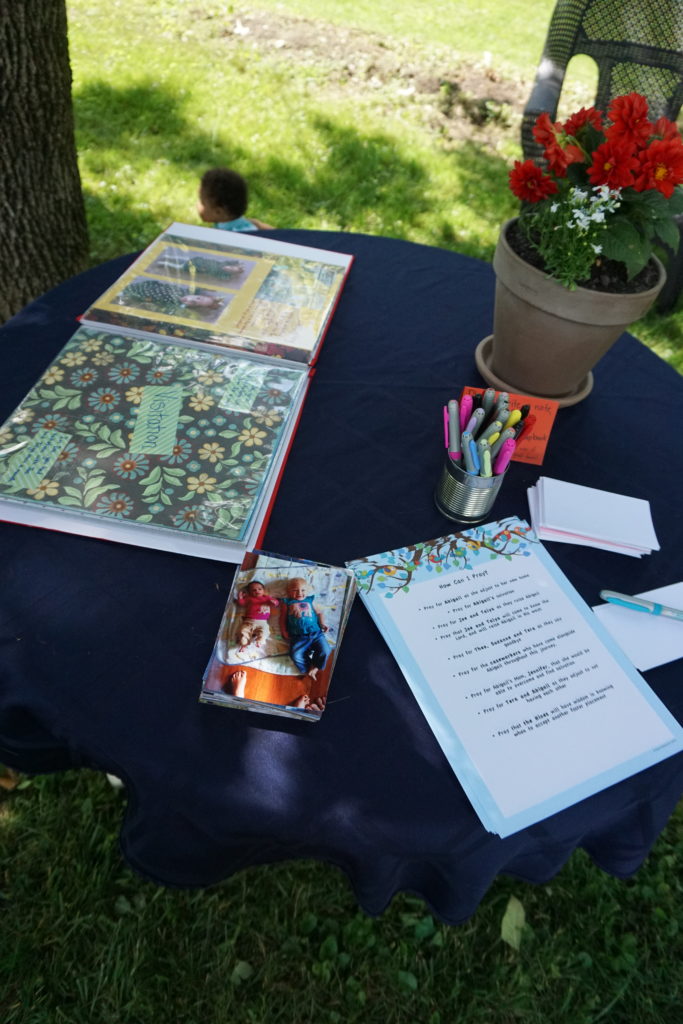 We had TONS of food. And it was good!!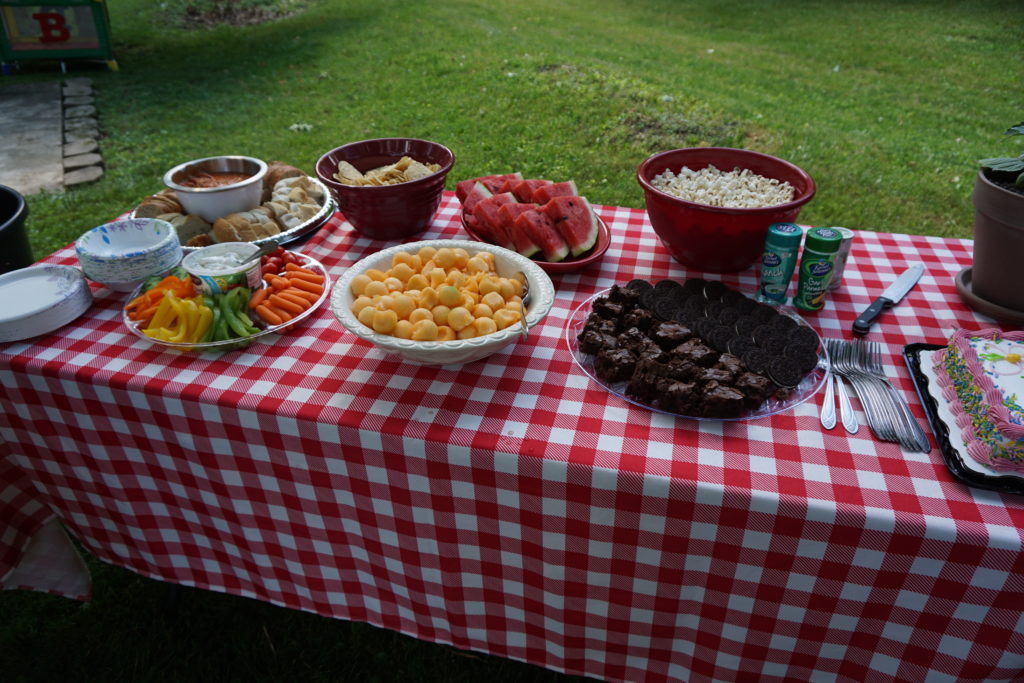 I kept it simple with water and iced tea.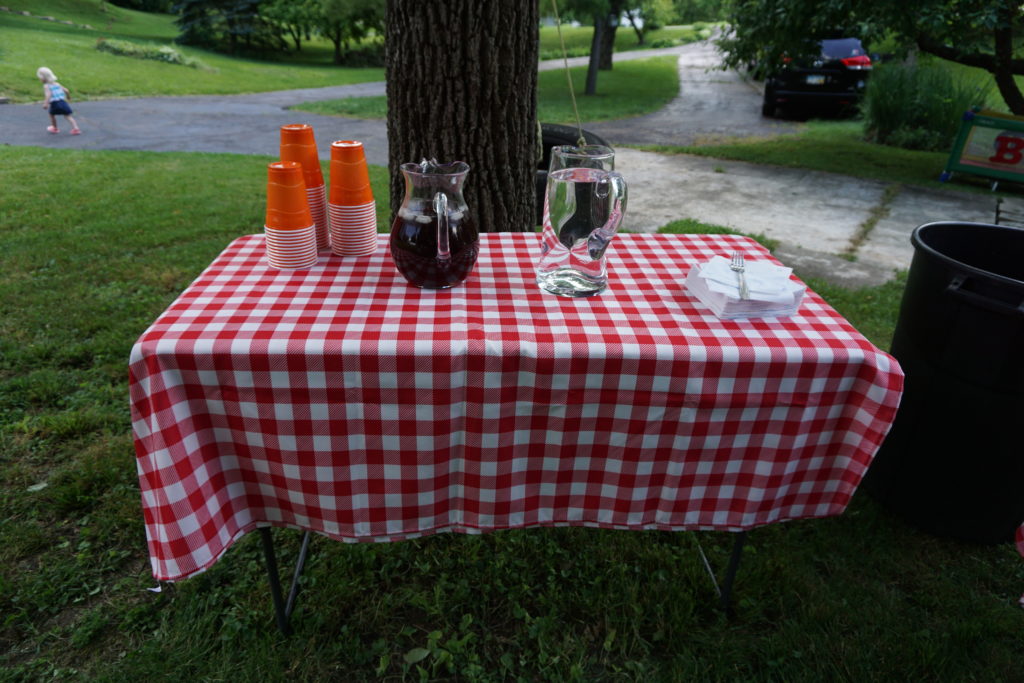 We had a lot of people come, which meant so much to me. Little Miss won't know or remember any of these people, but she will see the pictures and it's not lost on me that their impact will continue on in her life. Theo and I appreciate so much getting any support in this journey, and it was encouraging to me to have that support system all there in one place on Monday evening.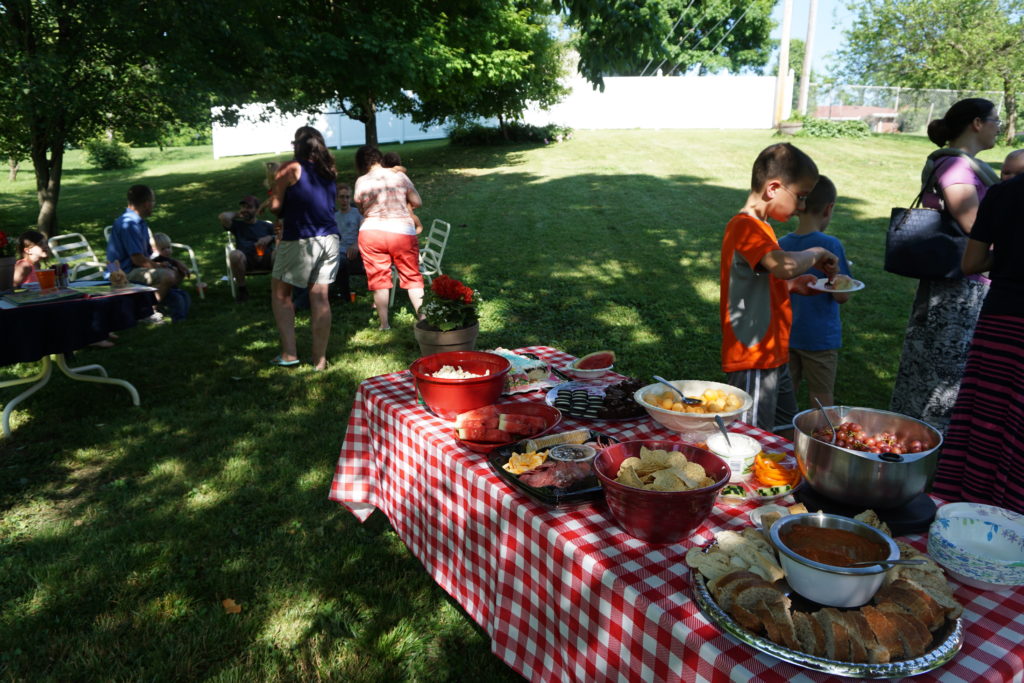 This is what Tera looked like by the end of the party…I'd call it a success!!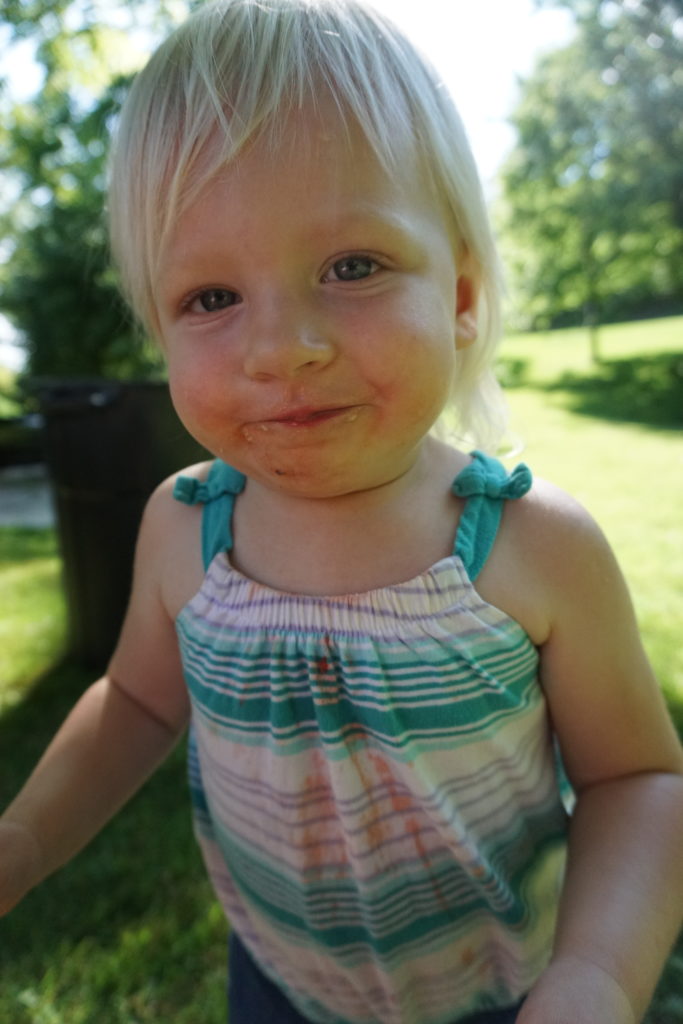 And here is what most of June will probably look like…except without that little brown-skinned one…