Hi there, faithful blog readers!
Well, I guess you would be faithful readers if I actually blogged.
It's been a few weeks and I've posted sporadic blog posts that I already had completed in my drafts folder. It's been a pretty crazy month for us so far, including two road trips and one heartbreaking goodbye to our Little Miss.
The first road trip we took was the second weekend in June, and also the last weekend we had Little Miss with us. I was so thankful for this family trip, time to spend as a family of four, and also one last goodbye for Little Miss and our extended family. I wanted to recap that trip here!
This was the longest trip we have taken with kids! It was 7 hours without stops, and we did manage to do it in 8.5 hours. Both girls did fairly awesome! Tera was happy as long as she had her paci, and we only had to her entertain her every 5 minutes, so that went well. Little Miss also did really well, and was surprisingly content almost the whole drive!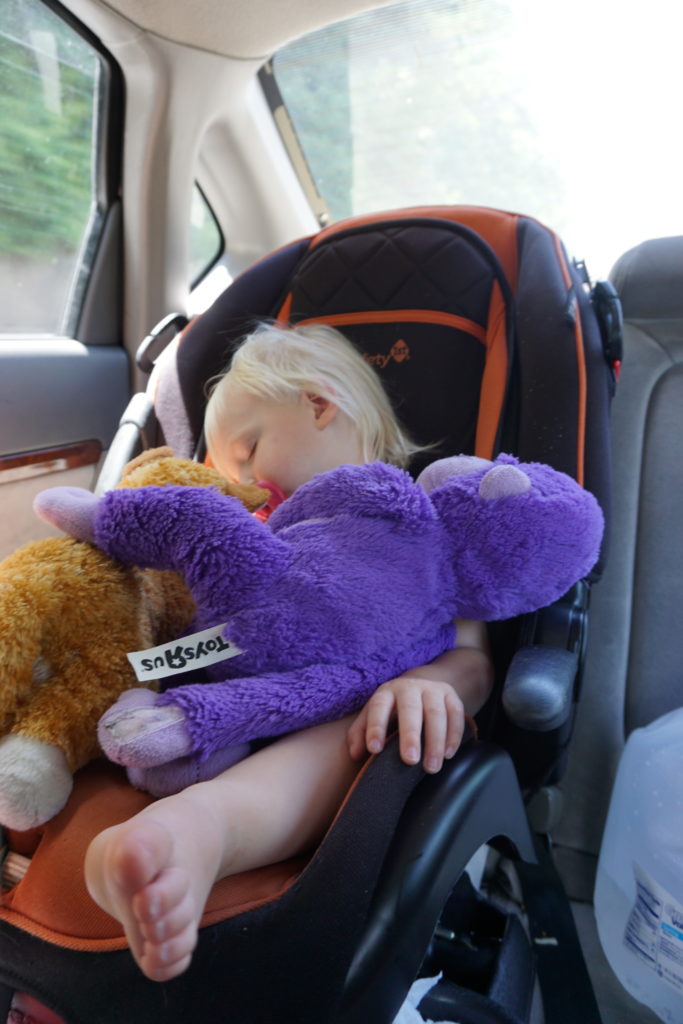 We got to our hotel in Charlotte, and I was less than impressed. It was fine, and we couldn't find anything exactly wrong with it, but I felt nervous about the cleanliness the whole time we were there. It was mostly that the hotel was poorly managed, and I always assume that if it's poorly managed, there are some major things slipping under the cracks. Theo and I watched all the available seasons of Hotel Impossible a few years back, and now we feel like experts on picking out problems with hotels. Anyways, we did end up sticking it out and we LOVED the gorgeous pool!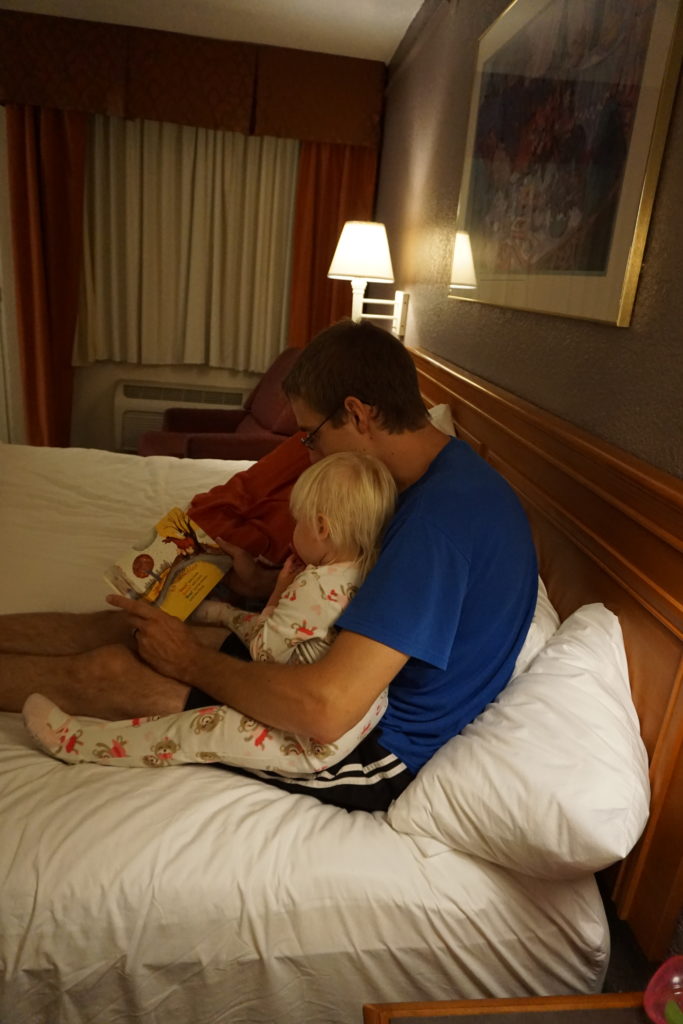 We arrived late Tuesday night, and thankfully both girls slept fairly well. Little Miss slept in the pack-n-play and Tera slept in the closet, which happened to be the perfect size for her.
Wednesday morning Theo left early for his job interview and fitness test. He had no idea how long it was going to take, and he wasn't allowed to take his phone into the center. So from 8-3, I had the girls…by myself, with no car. The pool looked so inviting, but I had no flotation devices and I wasn't about to attempt taking both non-swimmers to the pool by myself. Not to mention the whole ordeal of getting swim diapers and swimsuits on. #thestruggleisreal. I did have the stroller and decided to take the girls for a walk, but about 10 minutes into said walk I realized that we were not in the best part of town, and I had not seen someone else of my ethnicity in quite a while. Now, before you think that is a racist comment…it's not. It did not bother me to be amongst people who did not match my skin color…but common sense also reminded me that I was standing out like a sore thumb and that was probably not the safest place for me to be roaming around with my two young children. So back to our jail cell hotel room we went and waited until Theo got back.
THEN, we took the girls for a swim which they LOVED. They could have stayed in that pool all day long!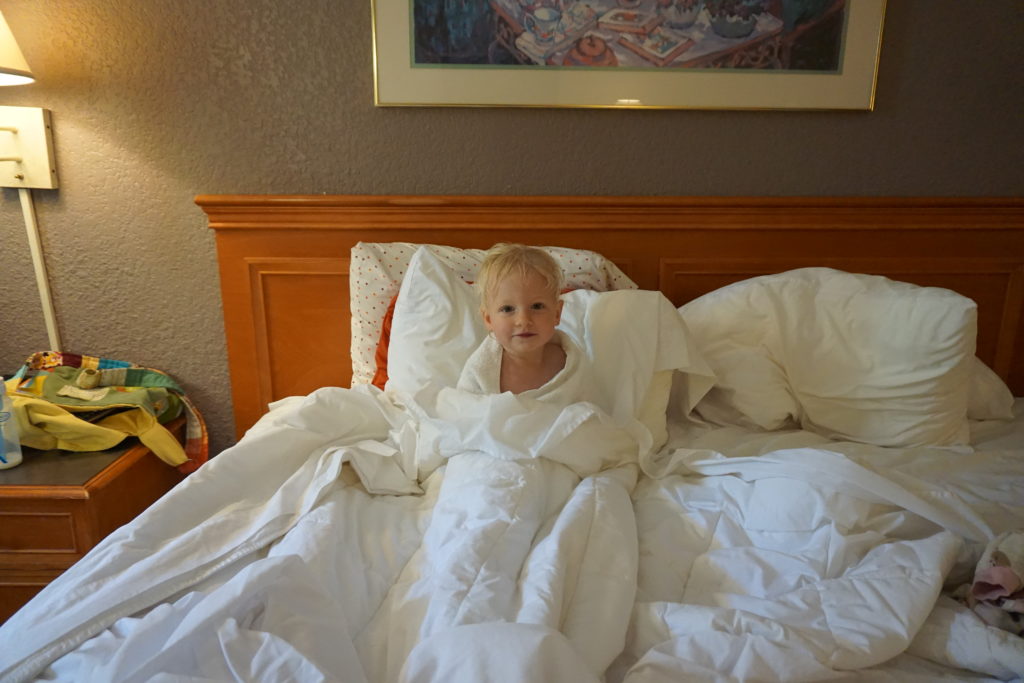 But we wanted to see Charlotte and meet up with some friends, so we headed to downtown to walk around a bit.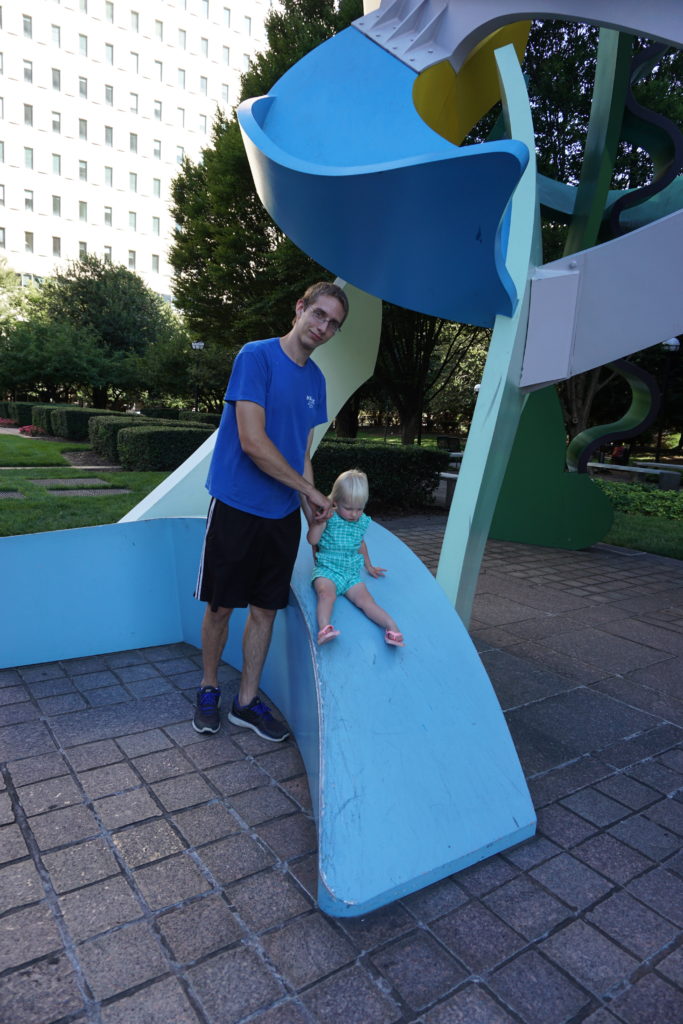 When we were in Houston, Theo and I took to the city miles and miles at a time. This time, with two kids in tow, we only ended up walking about two blocks. Haha.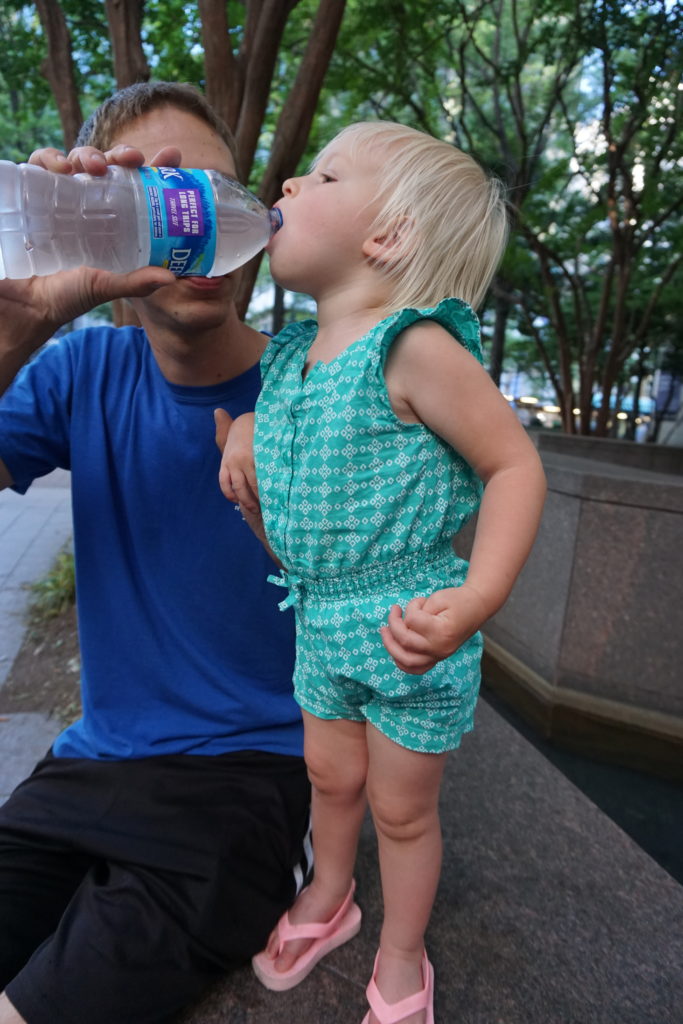 We paused by this fountain to take some pictures and enjoy one another's company.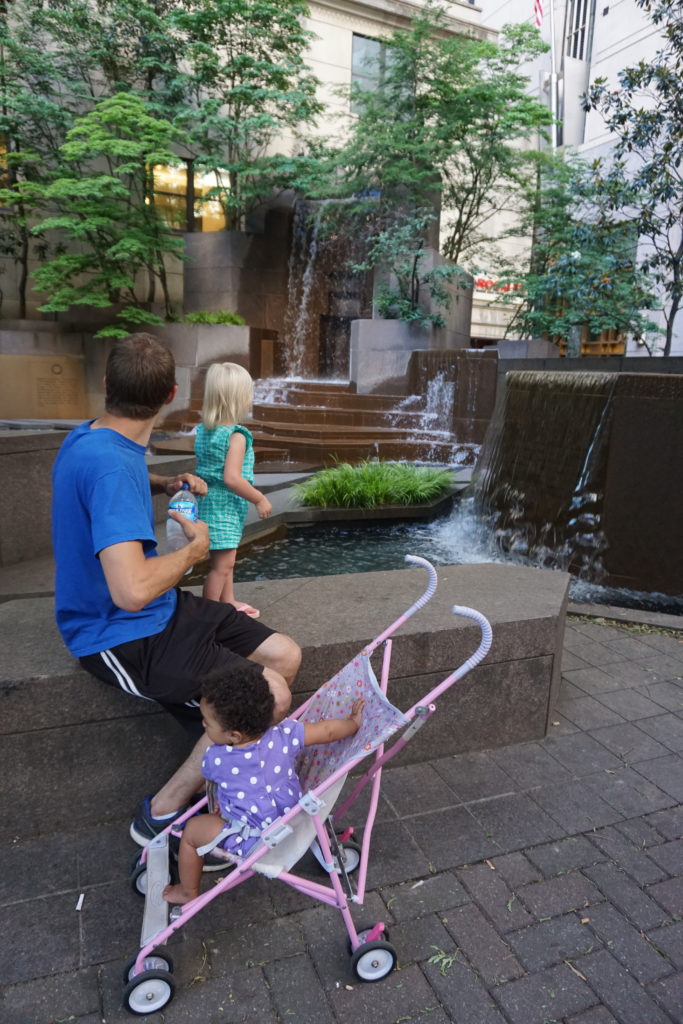 Taking family selfies…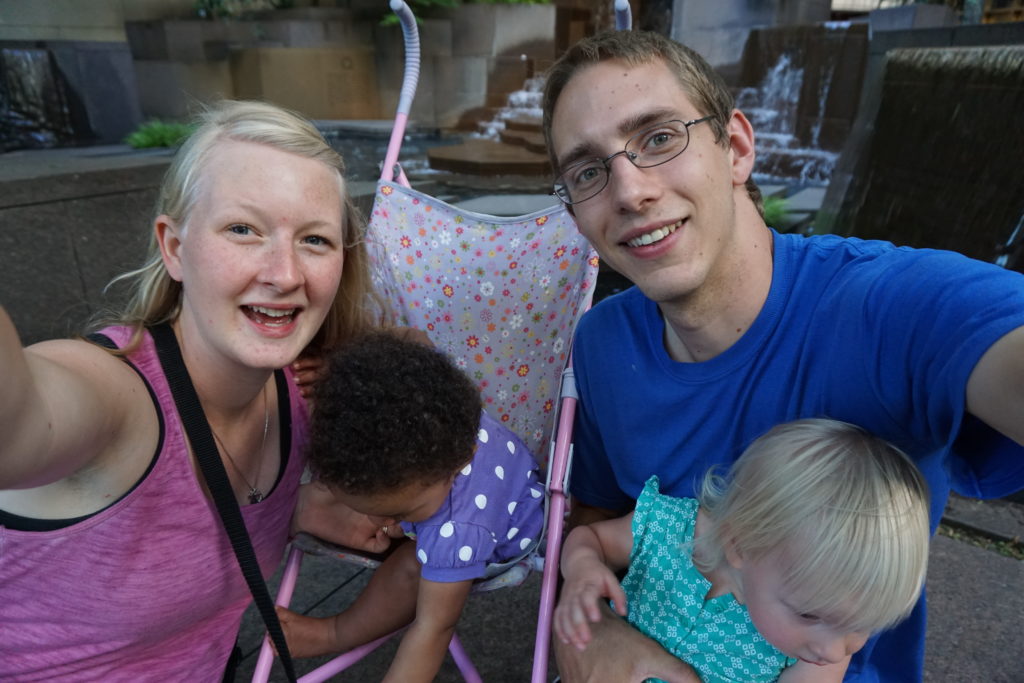 All four of our feet. We were feeling especially sentimental as we knew we only had a few days left with Little Miss. We took so many great family pictures, and they make my heart both so happy and so, so weepy as I look back on them. (Pending her hopeful adoption, I think I will be able to share pictures of her face!!!!!!!)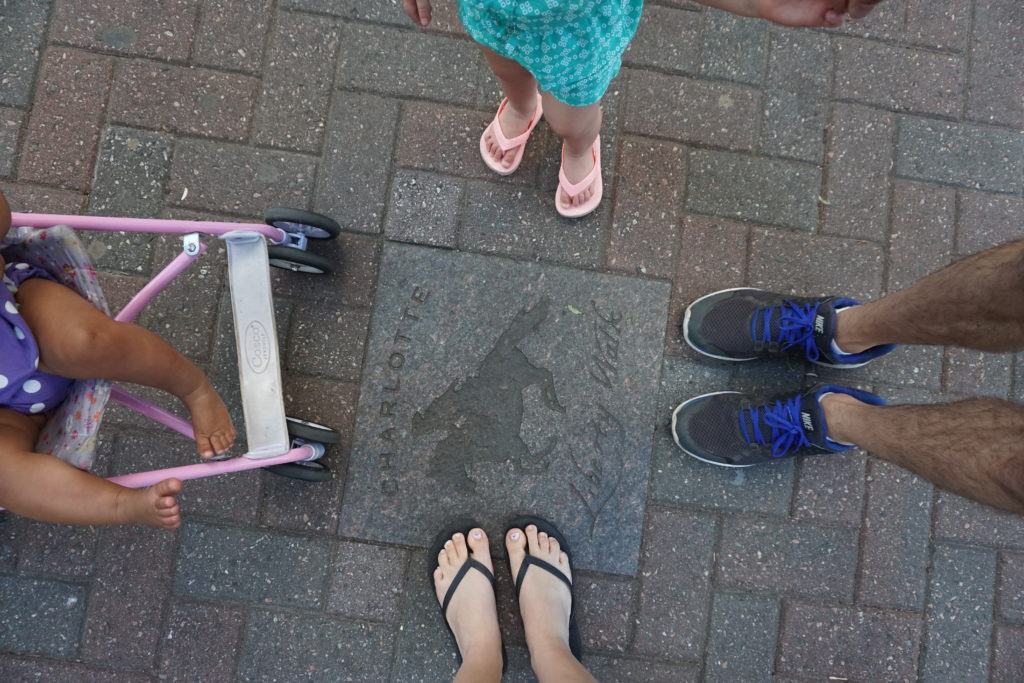 After walking around the city for a bit, we met up with some of our friends at Chick-fil-A. I didn't take a single picture and I'm kicking myself for it!! Jeremie was one of my fellow missionary kids growing up, and we have had the privelage of getting to know he and his wife and son pretty well in the past few months. We had a great dinner with them, and then also saw Joe and Leandra! It was fun meeting up with childhood friends, meeting and loving their choices in wives, and seeing all our children play together! What a blessing!
Thursday morning we checked out of our ghetto hotel and went to Cracker Barrel for breakfast. The hotel had a "complimentary" breakfast, but I was NOT impressed and the girls could not eat any of the offerings anyways. And, honestly, I'm not a picky person or a super germaphobe, so for me to say it was below my standards is really saying something!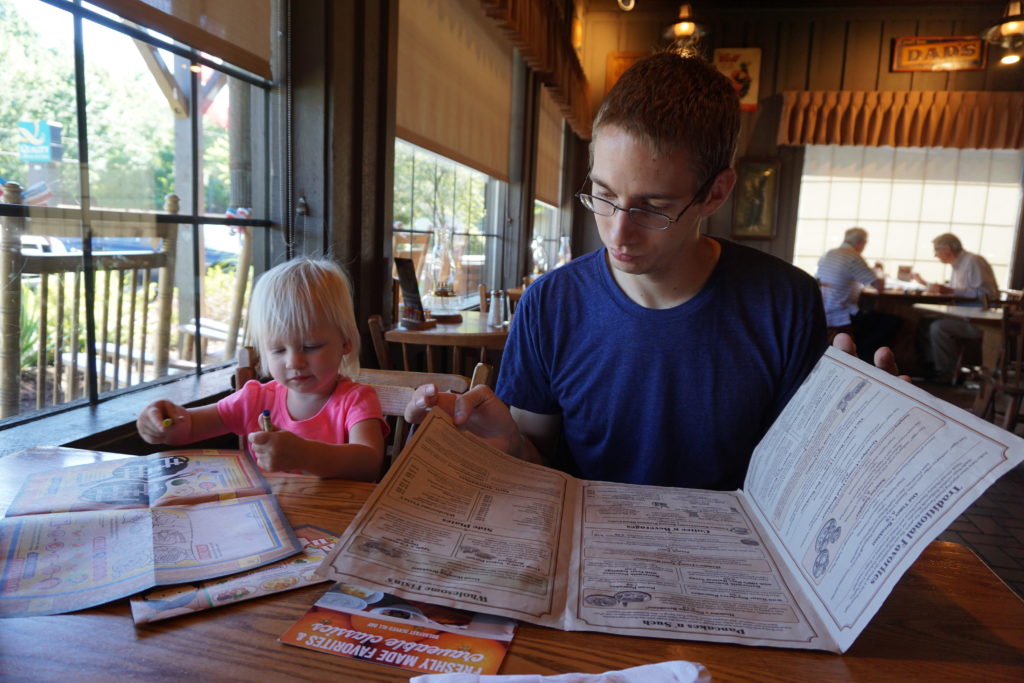 We had a relatively short drive to Bristol, TN and wanted to plan it so that it was during nap time. We hit up Freedom Park in Charlotte, and it was GORGEOUS. To get to the park, we had to drive through a historical residential district of Charlotte, and the houses were SO FUN to look at! Theo and I were oohing and aahing and dreaming after driving past each one.
Tera and Little Miss enjoyed flying down this hill in the stroller. How did I let this happen? Well, I was in the bathroom when the first attempt was made, and after no accidents they realized how incredibly fun it was to get an adrenaline rush flying down the hill. No children were harmed.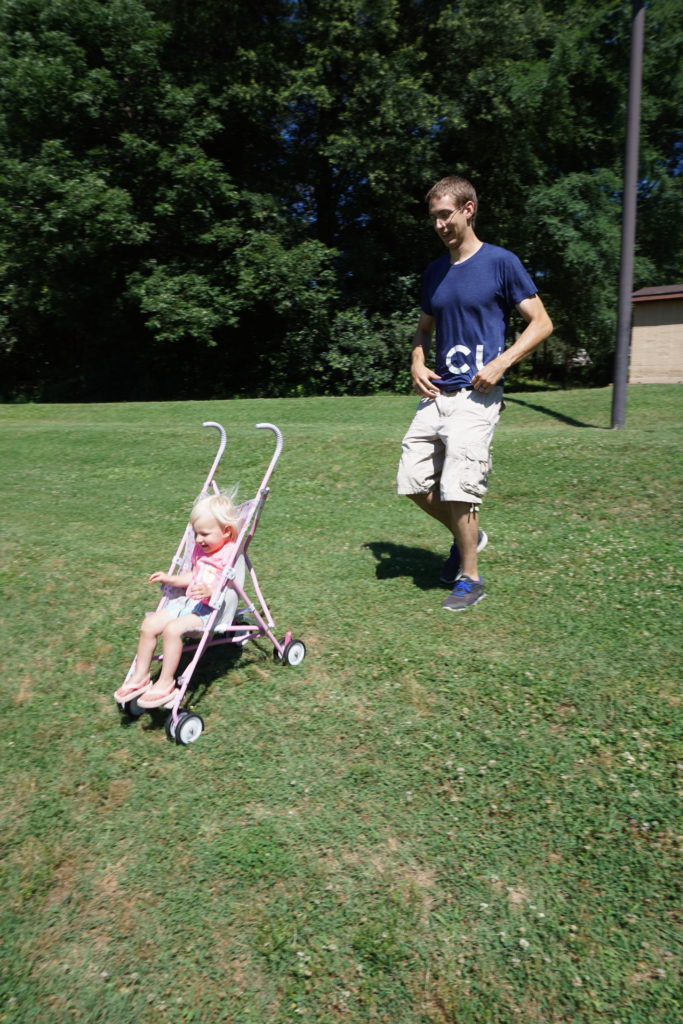 We took more family pictures and enjoyed watching the ducks on the pond.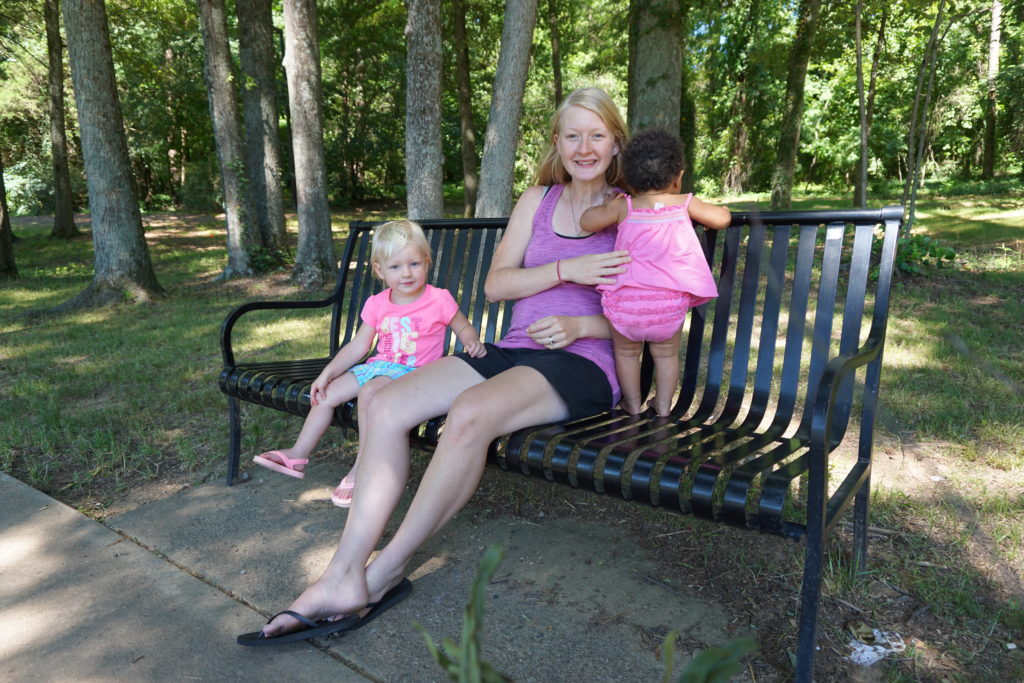 I love you, Theo. I love adventuring with you!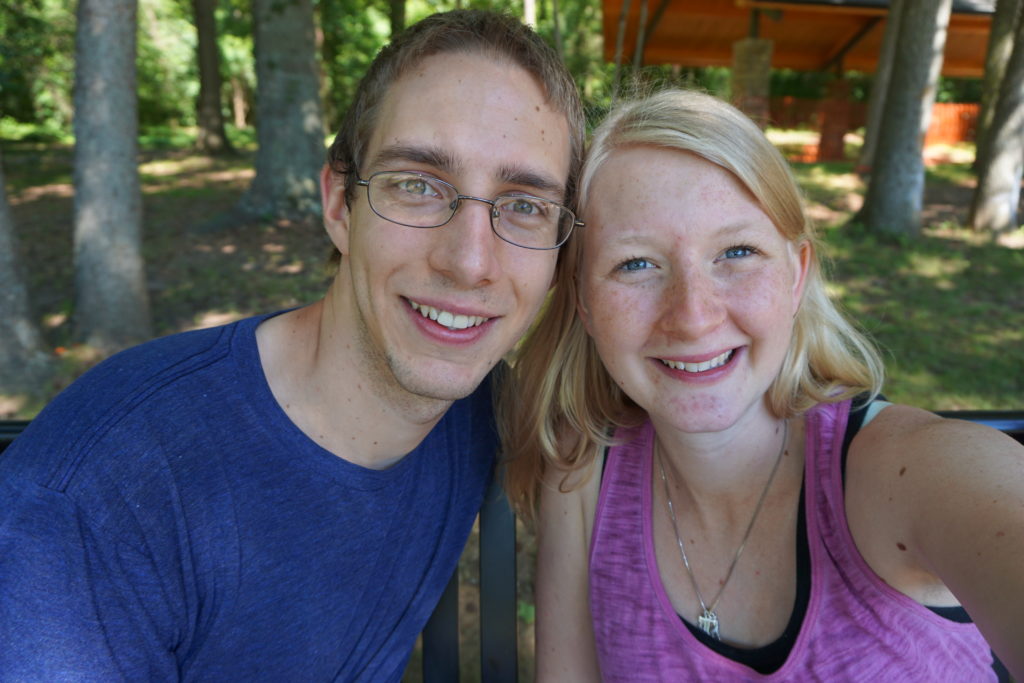 And I love my Tera-girl, too! And she really is the best big sister. She already has nine months of big-sistering under her belt, so I'm hoping the transition to having another baby will be super easy for her!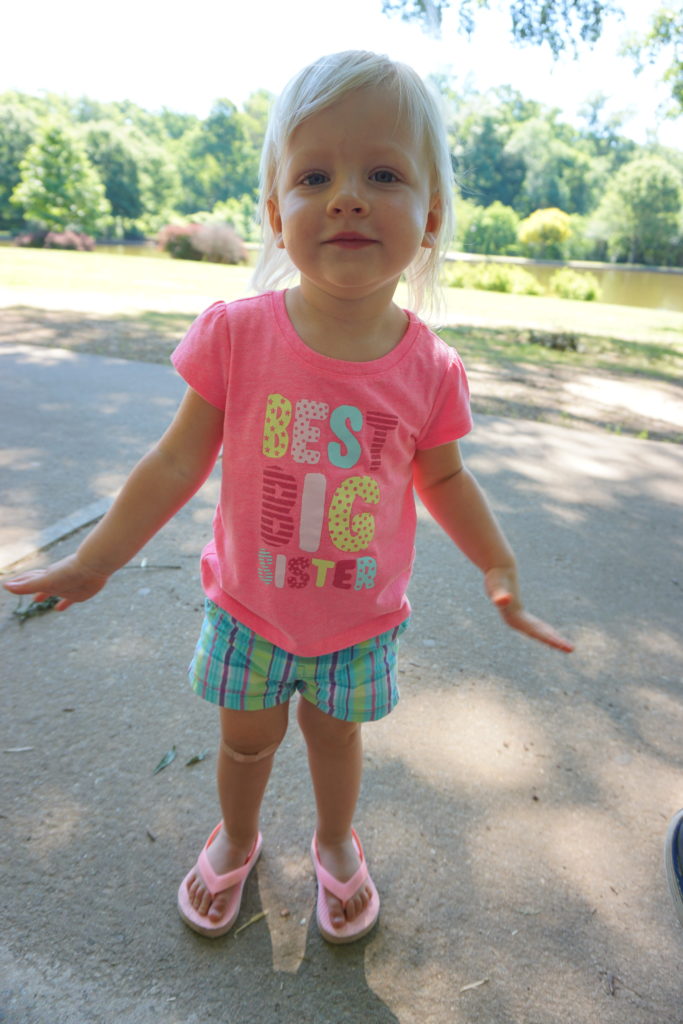 And our Little Miss. We love you so, so much, too.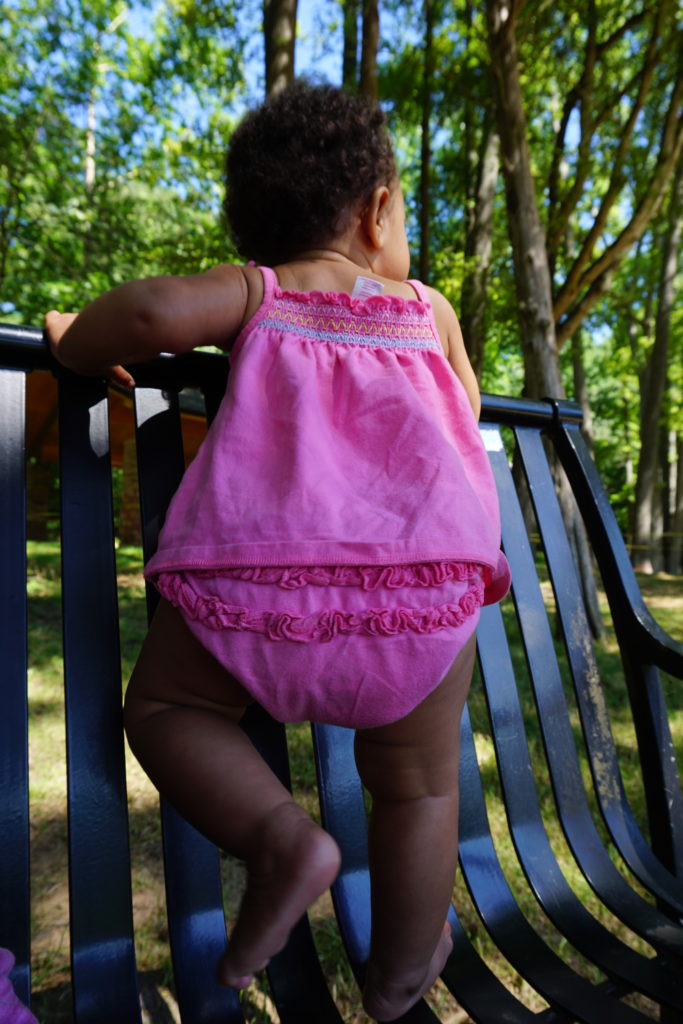 This park was seriously so beautiful, it was seriously so calming!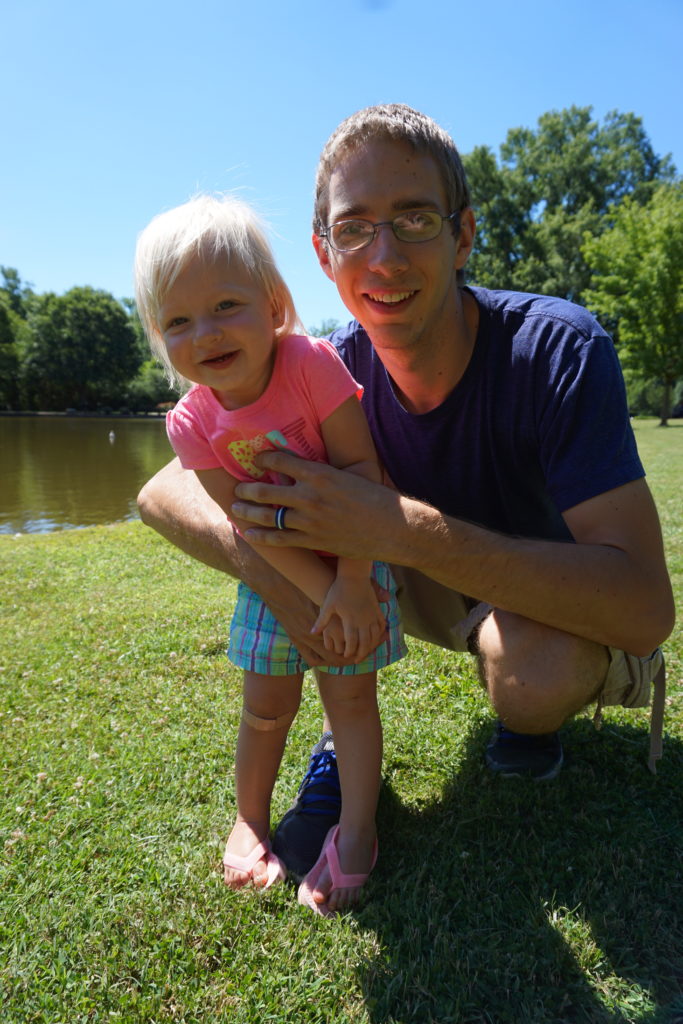 After leaving the park, we hit the road for Tennessee! This meant driving over the mountains…which meant some crazy turns, up and down hills, and some incredible views! I never get carsick, but I had to put my book down while we were driving over the mountains- both to keep me from feeling sick, and because I didn't want to miss the views!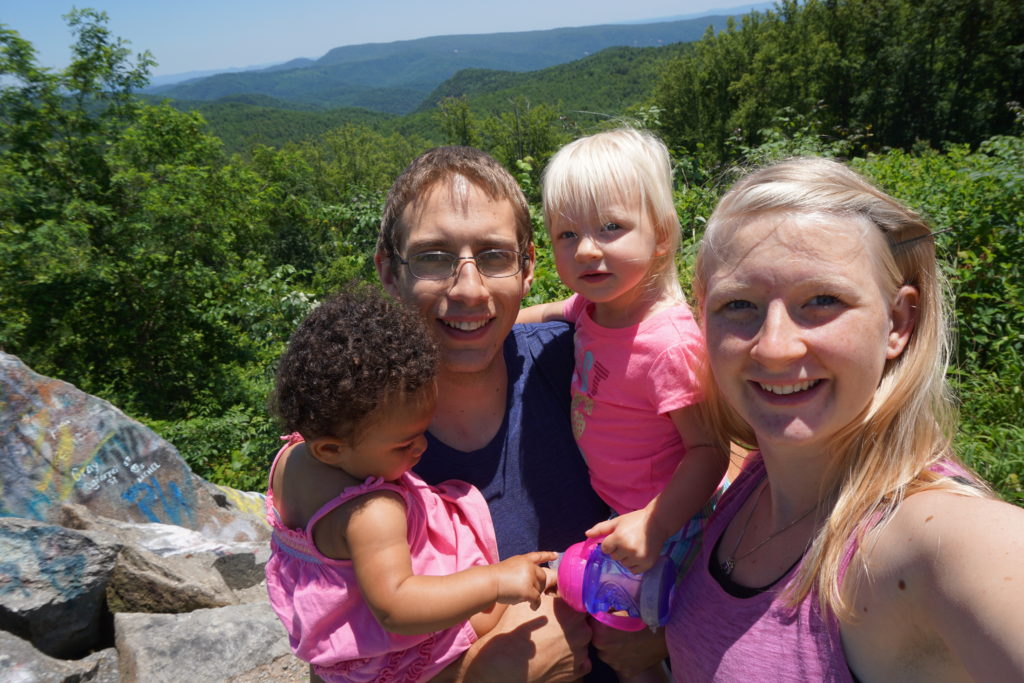 Tera was not so sure about standing on this rock by herself. Also, how sad is it that someone decided to graffiti these rocks? I mean, it isn't even talented graffiti! Totally ruins the view…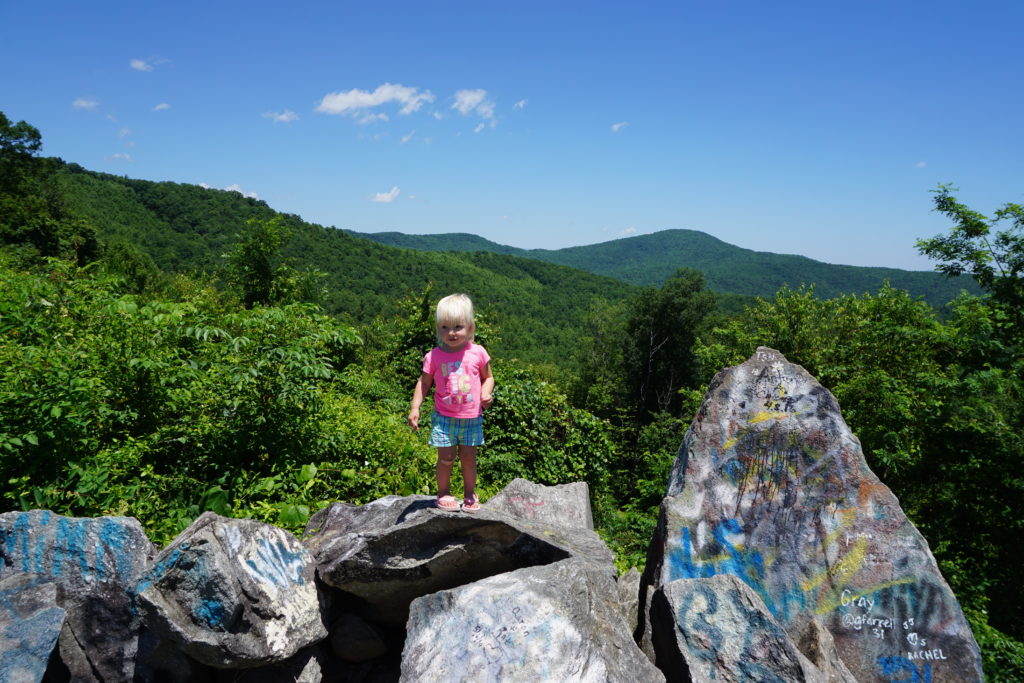 But this view, on the other hand? I could get used to that!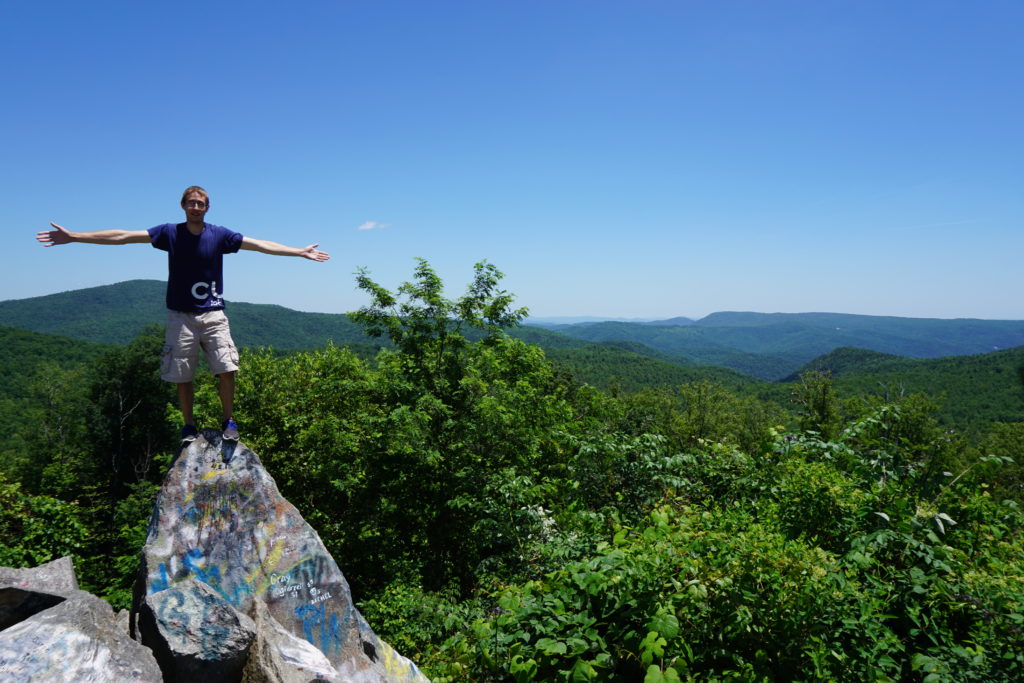 Next stop: Barnabas and Eryn's house in Bristol, TN!