How Far Along: 23 weeks!!!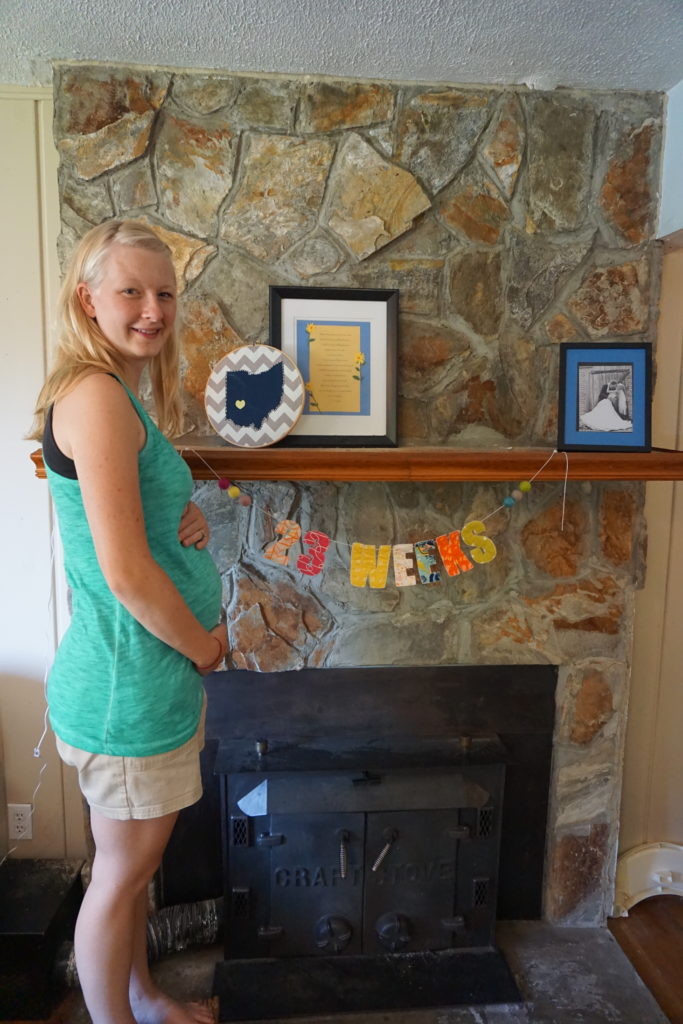 The last update I posted was at 20 weeks, so I have a bit of catching up to do! Since that time, we have been really busy traveling, finding out the gender of our baby, saying goodbye to Little Miss, being in a wedding and just trying to catch up with the whirlwind of June!
Gender: We found out two weeks ago that we are having a BOY! You can read the entire gender reveal story here. Although I'm half expecting to deliver a girl in October still. My father in law looked at the ultrasound picture and said that he wouldn't count on it being a boy! Haha. I do trust the tech, though, as she had about an hour to determine the gender. I do agree that the picture is NOT clear and that makes me a little indecisive! I guess we will find out in October!
Size of Baby: Baby is the size of a mango! Mmmmm, a juicy mango sounds SO good right now! Apparently, baby can officially feel me if I dance. I guess he must have really enjoyed Abby's wedding last weekend! He is also 11 inches long (almost an entire foot!!) and should weigh around a pound. Boy, it feels like so much more than that! He is moving SO much and can now be seen from the outside! Tera has not yet experienced this movement, but I'm super excited to show her!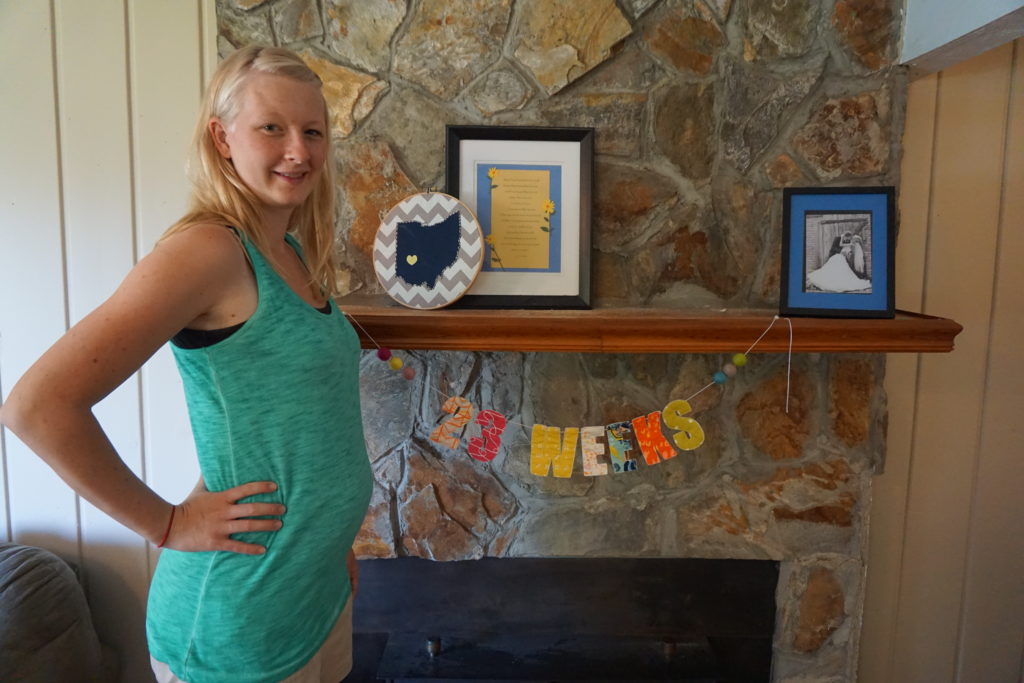 Total Weight Gain: 9 pounds. Crazy how I was at negative poundage just a few weeks ago!
How I'm Feeling/Symptoms: I don't know if it's because of the craziness of the last few weeks of my life, but this past week I've felt how I felt full term with Tera. I've had round ligament pain, back pain, sciatic nerve pain (so painful!), exhaustion, Braxton Hicks, nausea, swelling…need I go on? It's been such an emotional roller coaster for me since saying goodbye to Little Miss, and it's amazing how feeling emotional can also manifest in my physical body. I'm really, really hoping that most of these symptoms will go away and it won't actually get worse from here, and that this week was just a tough week. I do not want to deal with these side effects for another 17 weeks!
What I'm Wearing: I was a bridesmaid in Abby's wedding last weekend, and I got all dolled up! I got my hair done and I felt like a queen! She asked us all to wear navy blue, and I ordered a dress that I fell in LOVE with…but that didn't fit with my pregnancy (womp womp). So I reordered and went this lovely dress!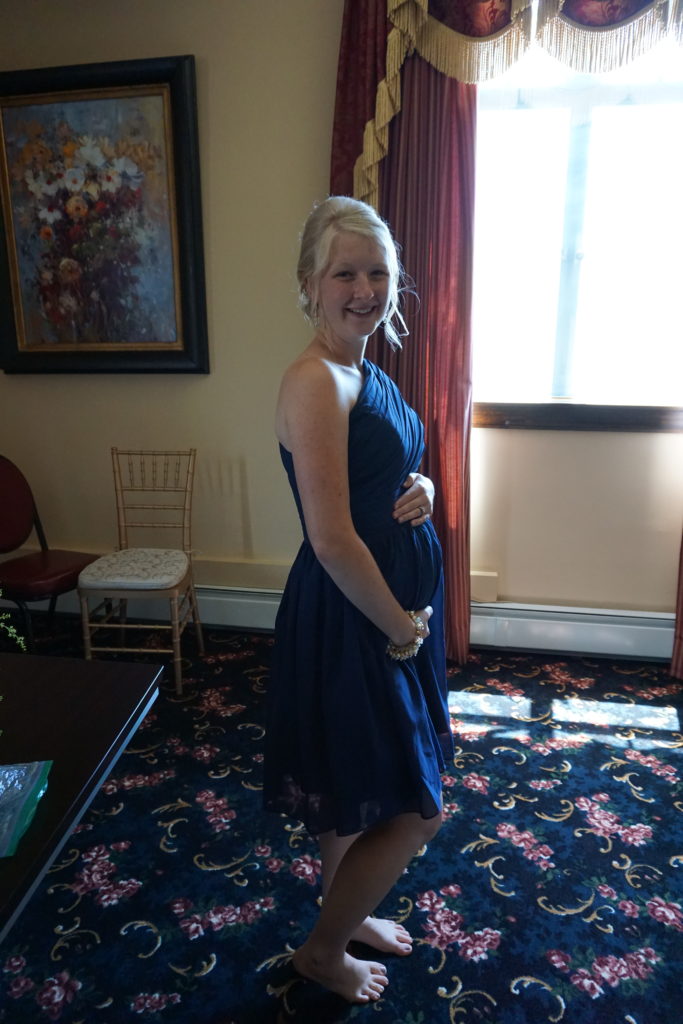 Otherwise, I'm totally wearing shorts and t-shirts or a loose tank all day long. Every day.
Sleep: I cannot stop sleeping. Since we said goodbye to Little Miss, all I feel is exhausted. I think it's my way of "coping". Then, add a really long and busy wedding weekend in there, and I'm extra exhausted. Then, add the nausea and I'm back to taking my B6/Unisom combo. Unisom happens to be a sleeping pill, so that just knocks me out and usually leaves me feeling really groggy for 24 hours. So, even though I've been sleeping great at night and getting naps in, I still feel exhausted. Doesn't it show in these pictures?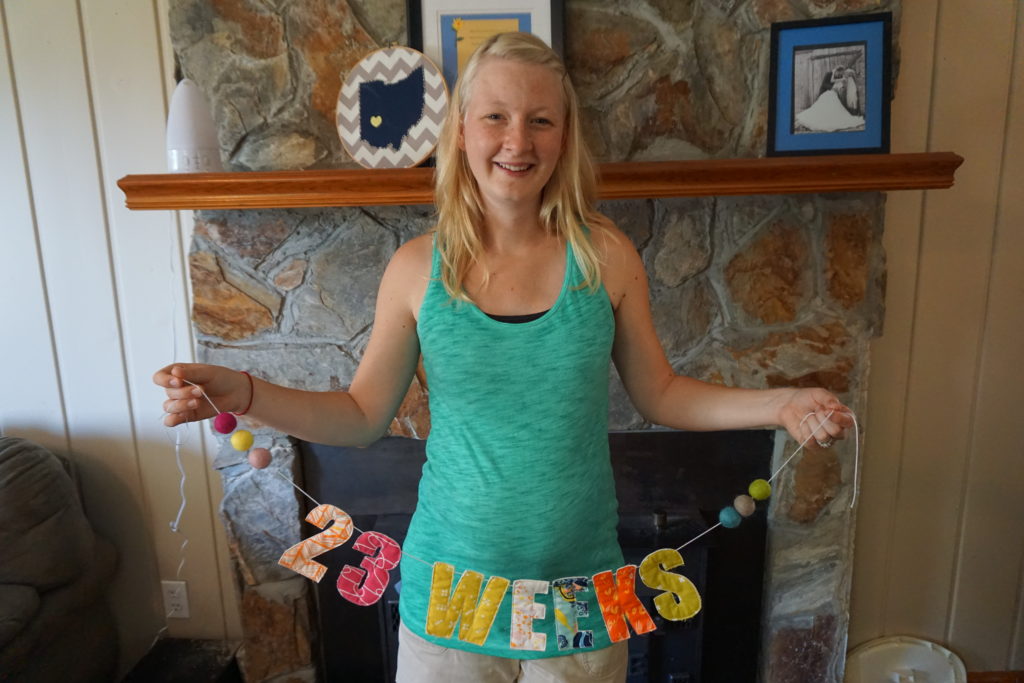 Food Cravings: Sweet, cool and summery food…cantaloupe, watermelon and cake. I think I could eat a whole cake by myself.
Food Aversions: Meh…The nausea came back this week, so my aversions have simply been to food. Ugh.
Worst Moment This Week: All the pain my body has been in! I've been trying to stretch, make sure to stay active but also rest appropriately, but it's been a painful week physically.
Best Moment This Week: Finally being at home and spending time with my Tera-girl. I didn't realize how draining foster care has been for the last nine months until we weren't doing it anymore.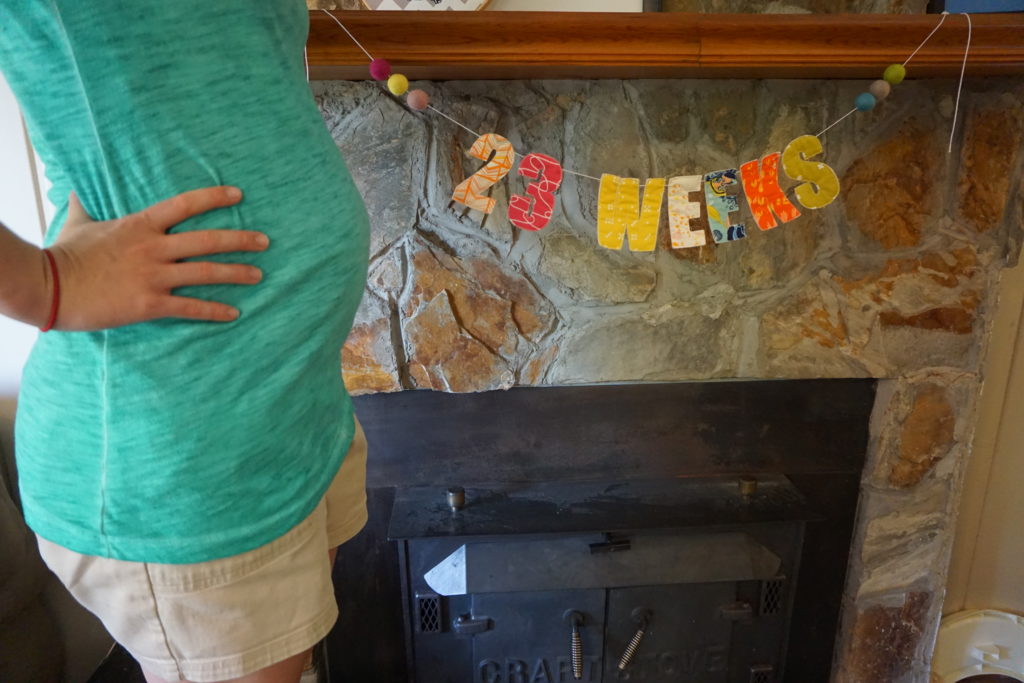 What I'm Looking Forward To: I'm SO looking forward to Tam's bridal shower, our family reunion and Tam's wedding coming up this summer! Tera and I also made a summer bucket list and I'm excited to just cross things off that list and enjoy the summer with Tera and Theo.
Exercise This Week: This week has surprisingly been great for exercise. After the two weeks of traveling I was ready to get a routine back. We went for a family hike on Monday, I went for runs on Tuesday and Thursday, I went for a long walk with Tera on Wednesday, and Tera and I went for a hike on Friday! Today I went to a community yard sale and probably walked a mile or two…that totally counts, right??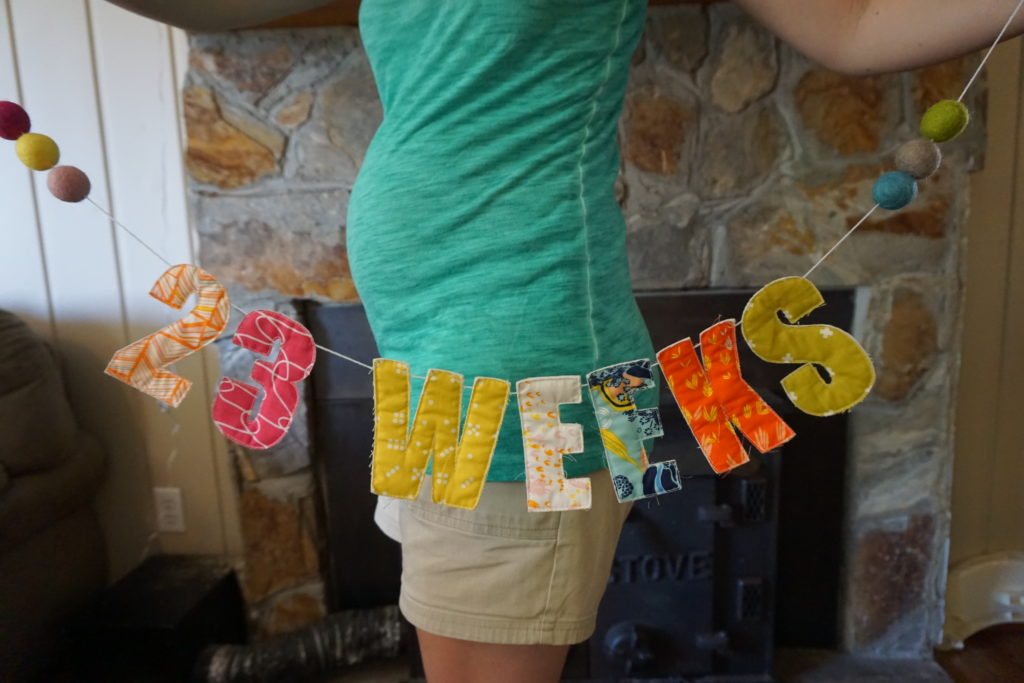 Apparently I skipped 23 weeks with Tera, but here are 21 weeks and 22 weeks with Tera!