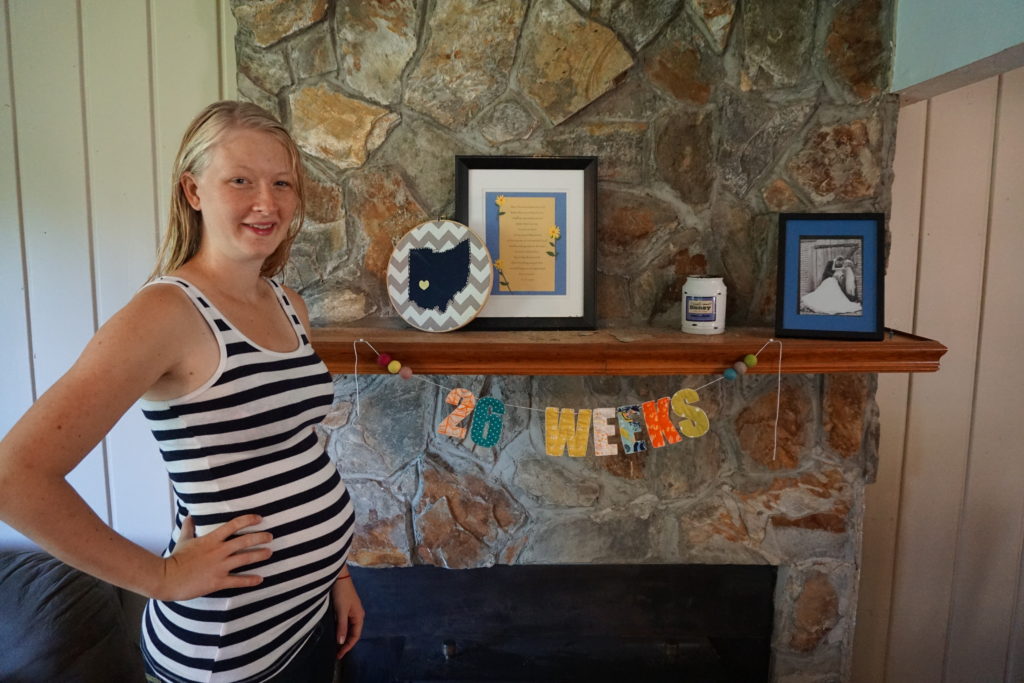 How Far Along: 26 weeks! I just a week away from the third trimester! Now I finally feel like this pregnancy is picking up speed!
Size of Baby: Well, google told me that my baby is the size of a scallion. But to me, a scallion looks like a tiny little onion. So I'm going to go with another thing that google told me, which is a head of lettuce. That sounds much more accurate and makes me feel much better about the bowling ball sticking straight out of me than thinking of this huge bump holding a scallion.
He should be well on his way to two pounds and should measure about 14 inches long! So crazy how big he is getting!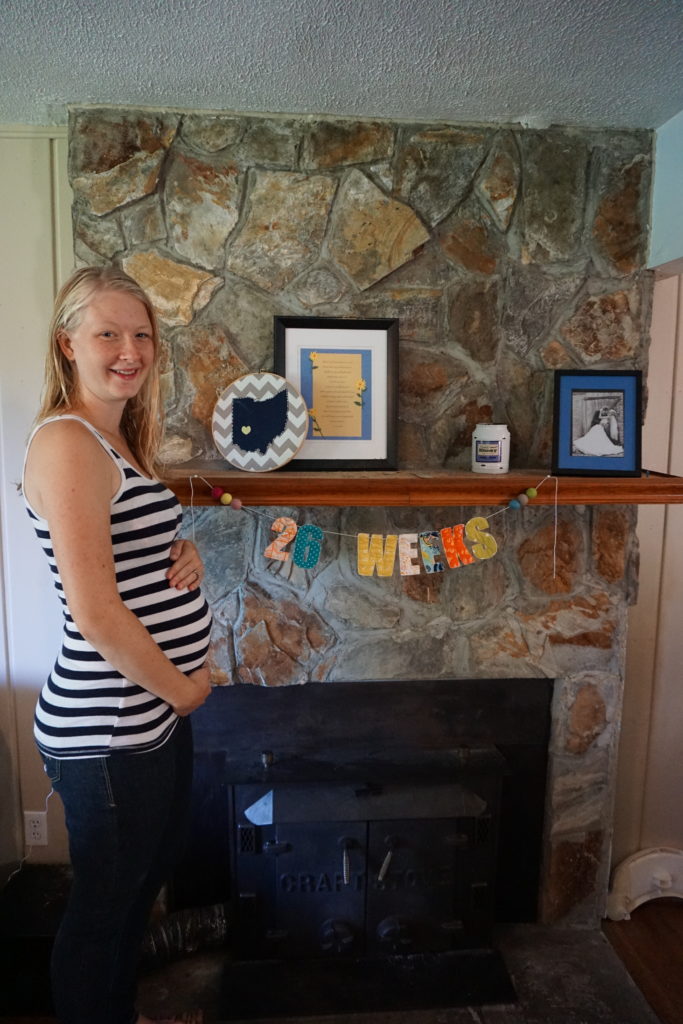 How I'm Feeling/Symptoms: Feeling pretty good this week. I am starting to feel uncomfortable more and more, but it's not horrible yet.
This week, I have been SO HOT. I was crying to Theo that I just couldn't stop sweating. It's been in the high 80s and 90s and usually, that doesn't bother me AT ALL. Look, I know I sound totally and completely wimpy to all my Niger folks. But I thought it was worth mentioning since I usually don't view the 90s as miserable. Ha.
I'm having a hard time bending over now and I'm realizing that there are some things I'm just not able to do as well anymore. My exercising is slowing down and my energy levels are decreasing. I usually only have one day of nausea a week, so that's nice to finally, finally feel like I have escaped the clutches of the horrid nausea.
I've still been sleeping great- usually waking up at least once a night to use the restroom, but I have no trouble going back to sleep. In fact, I have such a hard time getting up in the morning, which is really unusual for this morning person! I do wake up very sore and tired and that's no fun, but hey- it's pregnancy after all. I'm incubating a human.
Total Weight Gain: +14 pounds. And all of that has been in the second trimester. It seems like a small number, but I'm anxious to see how this +2 pounds a week turns out in the end.
Food Cravings/Aversions: This week, I got a serious sweet tooth. I mean, out of nowhere I just want sugar and especially in the form of chocolate. I saw some chocolate caramel squares at Aldi and I just knew I had to have them. But they were a little bit pricey and I knew I had an excellent recipe at home, so I went home and made them for myself. Guys, I ate the entire pan in about 4 days. On the last day, there was a large chunk left- enough for both Theo and I to have a serving. Well, when Theo went outside to do something I ate the whole chunk. I purposely ate it, even though I knew I should have shared with Theo. Ha.
No aversions this week, hallelujah!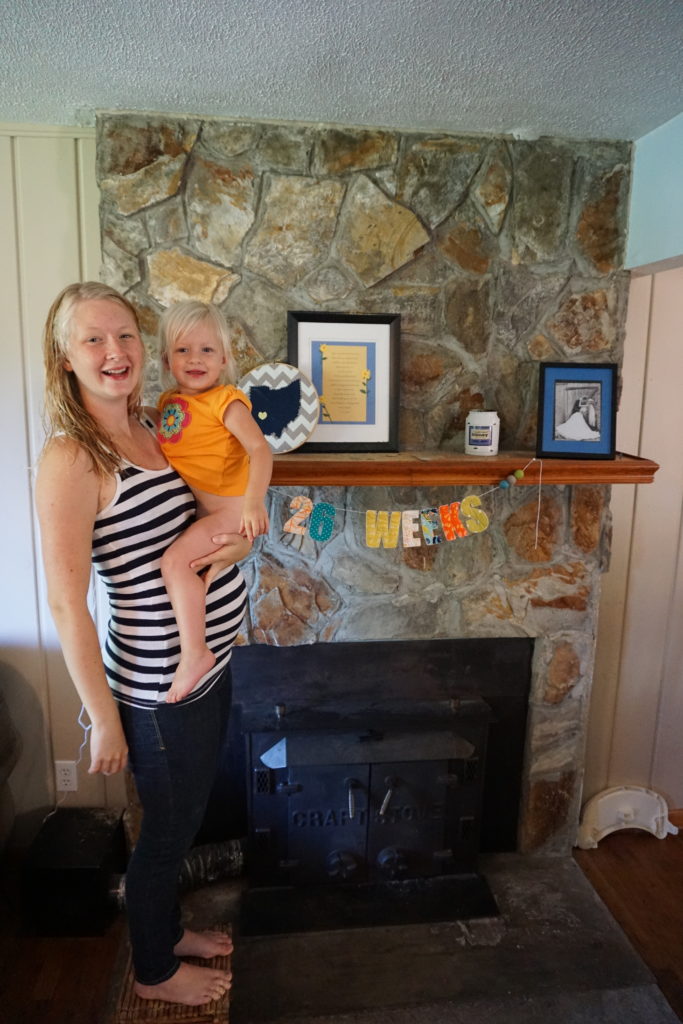 Best Moment This Week: Tera and I went to the zoo with Uncle Dan and Aunt Kelly! We had a blast!
Worst Moment This Week: Feeling exhausted and stressed out. Between now and August 9th, I'm planning a bridal shower, going to a family reunion, in a wedding and planning my daughters 2nd birthday party, not to mention growing a human. Each of these events are SO EXCITING and I will love them all, but they all happen within the next three weeks and it's a little bit overwhelming for my already exhausted body.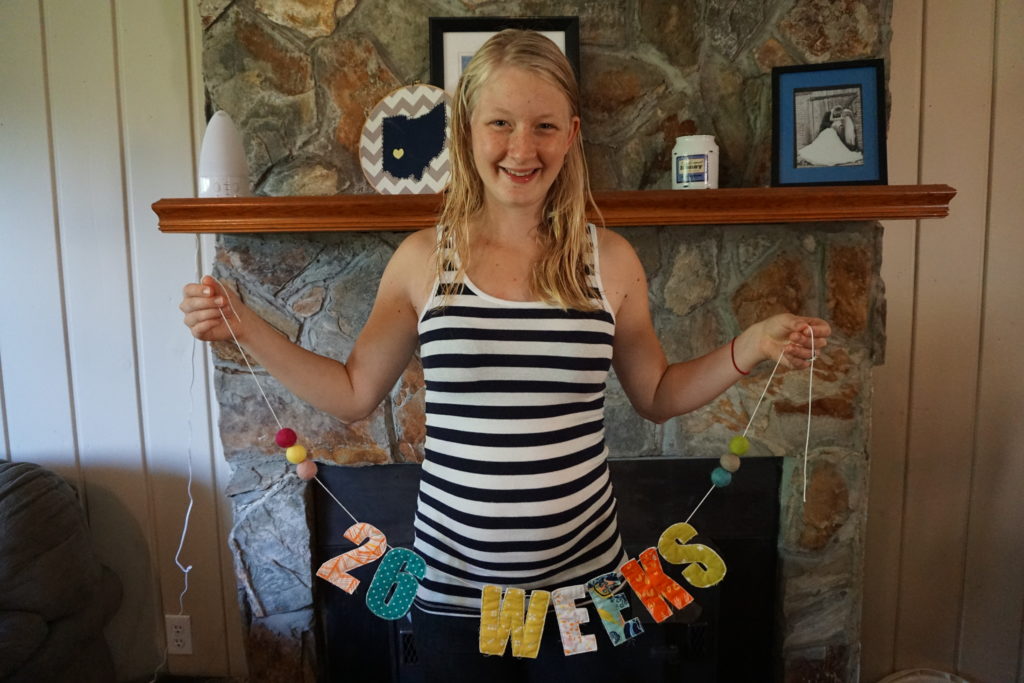 What I'm Looking Forward To: Flying out today to see my Tammy-loo!!! I'm so, so excited for a little girls weekend and celebrating her upcoming wedding! I'm also so excited for her wedding in just a few weeks!! I cannot believe this is all happening! It's so exciting! Our annual Hines family reunion is coming up and I'm so excited for that, too! Then, Tera's birthday party…and it's going to be fabulous!!! After Tera's party, I literally plan to do NOTHING except incubate this human for the last 6 weeks of my pregnancy.
Exercise This Week: Meh. Like I said, I've been really tired and having a really hard time getting out bed, so my workouts haven't been as consistent as they should. I went running once and hiking another time and did an at home morning workout one morning. So, I've worked out three times this week. I'll take it. And try to do better next week!