And another trip of my grand summer 2016 is in the books!
This was a special trip as I got to fly to DC to visit my friend Tam and throw her a bridal shower! I had an absolute blast, although I seriously missed Theo and Tera back home.
I won't bore you with too many words about my trip, but I do have lots of pictures to share!!!
I flew out Saturday afternoon, which worked out perfectly for us! Theo worked Friday, got home early Saturday morning, crashed for a few hours and then drove me to airport. It made it so much easier to not have to find a babysitter for the weekend.
I arrived Saturday afternoon and Tam and I hit up Target and then went out to eat. We talked and caught up and just enjoyed each others company.
Sunday morning we were able to sleep in and take the morning a little bit slower. We headed to church around 11, and enjoyed the simple service at Tam's church. Immediately after the service, the church served a meal to the homeless population in the area, so we spent about 30 minutes relaxing while that went on in the kitchen.
As soon as the meal was over, we took over the kitchen with all the last minute bridal shower preparations! It was a little bit of a tricky situation, because as Tam put it, "I've chosen the life of a Nomad!". She grew up in Philadelphia, then her parents headed overseas where she had the privelage of meeting me ;). Then she moved back to Philly, but her parents have made their home in Virginia. After living in Thailand for 13 months, she moved to Washington DC where she works at L'Arche! So, whoever was going to be planning her bridal shower was going to be doing it from a distance. I don't recommend this, but between myself and Tam's Mom, we worked with what we had, and we pulled it off!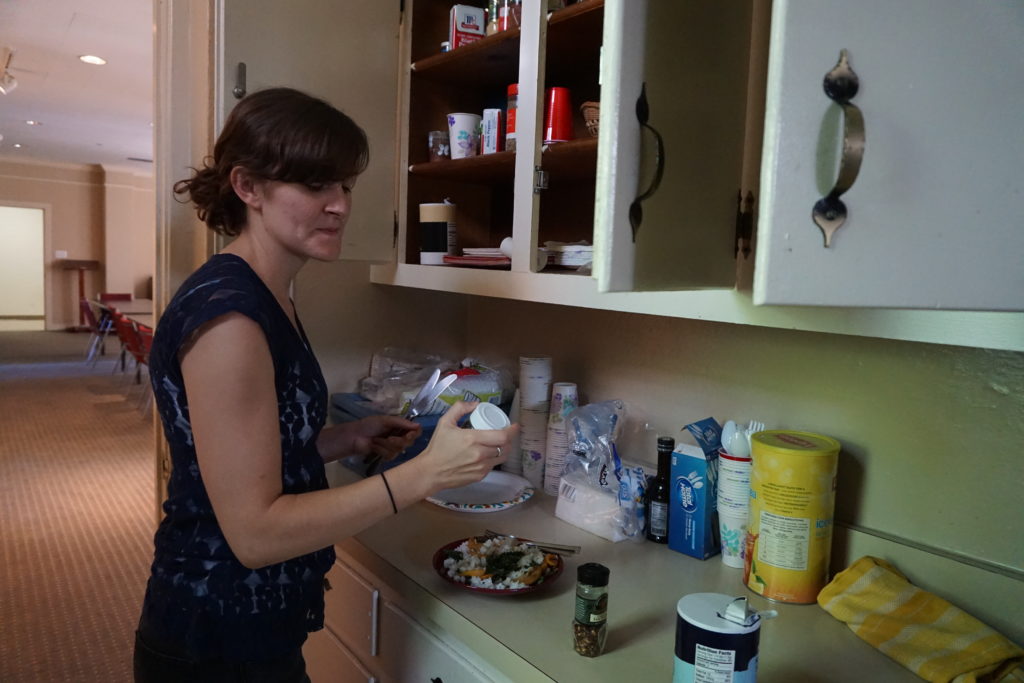 I didn't take many pictures of the set-up and décor because we ended up being a little crunched for time, and because I was too busy MC'ing the event to take many pictures. But I did snap a few!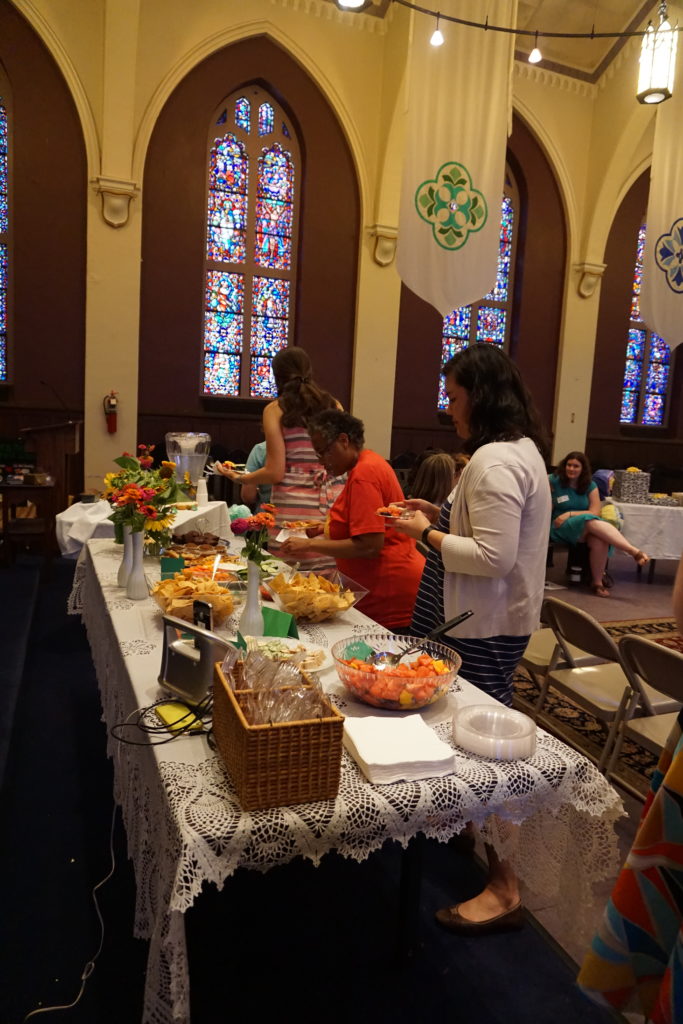 We kept it super simple with a food table, a dessert table, and a gift table. We played two games and had a beautiful time of prayer over Tam and Vince's upcoming marriage. It was perfect, really.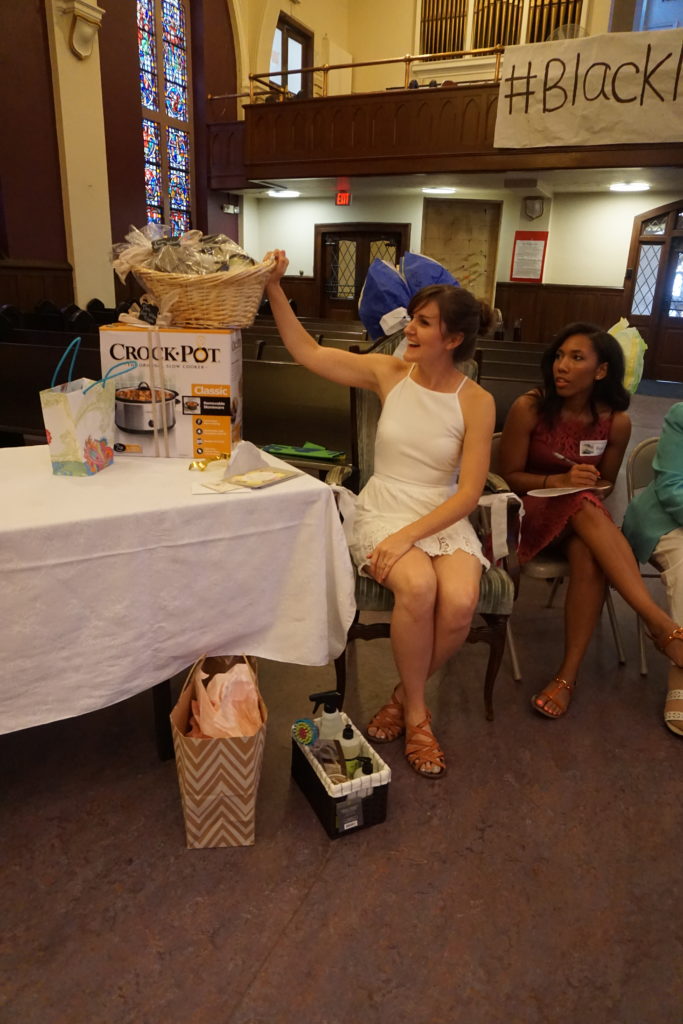 Tam's Mom did all the décor, including fresh flowers from her garden! It was beautiful!
There were people from near and far, and I'd say that fun was had by all!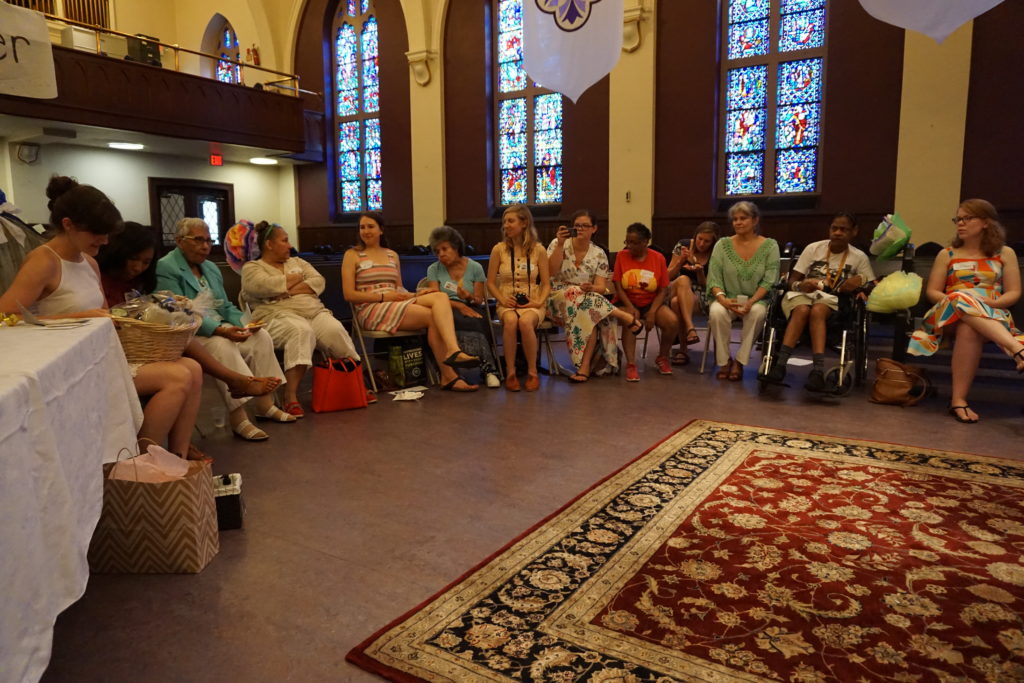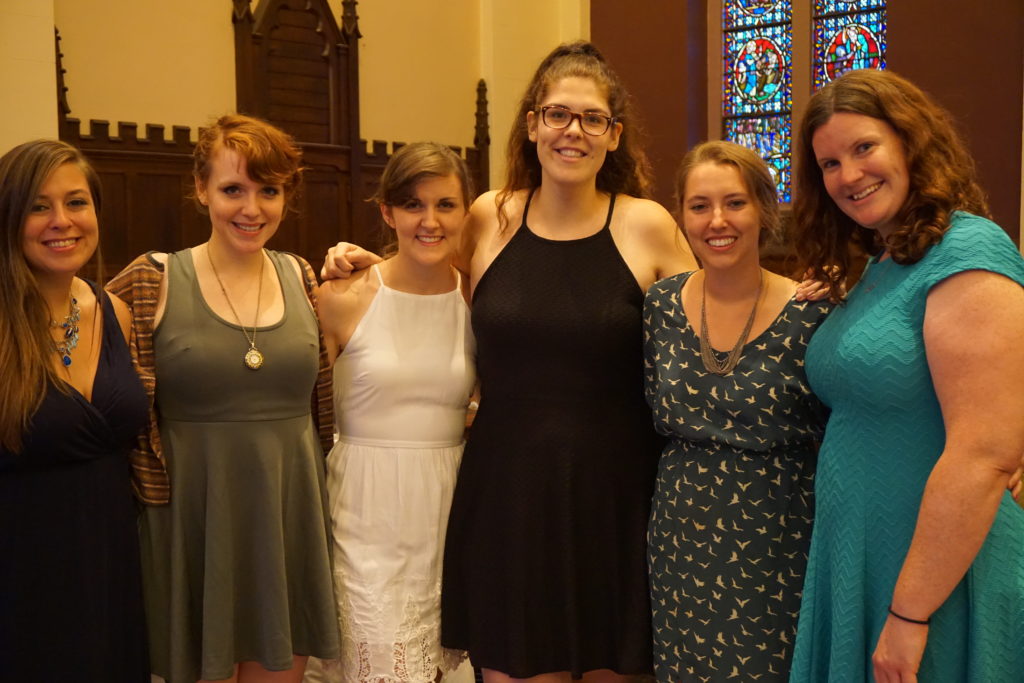 Despite how crazy and emotionally taxing this summer has been for me, I am SO, SO, SOOO glad I was able to be there to support this beautiful lady as she takes this next huge step into marriage.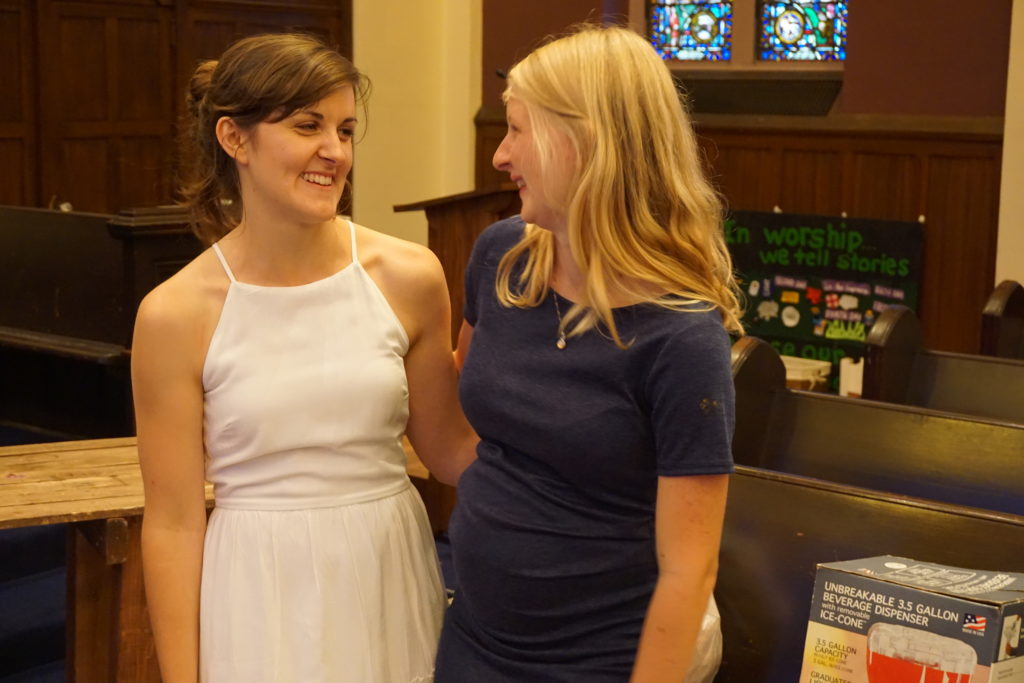 The shower was from 3-5 and immediately afterwards we went out to eat with Tam's family, future in-laws and some friends. It was a beautiful ending to a beautiful day! And it was super fun to be able to catch up with Becca, who is also a Mom and just totally gets it. Sometimes I feel like I have to hold back from constantly talking about Tera and Little Miss, but not with this group!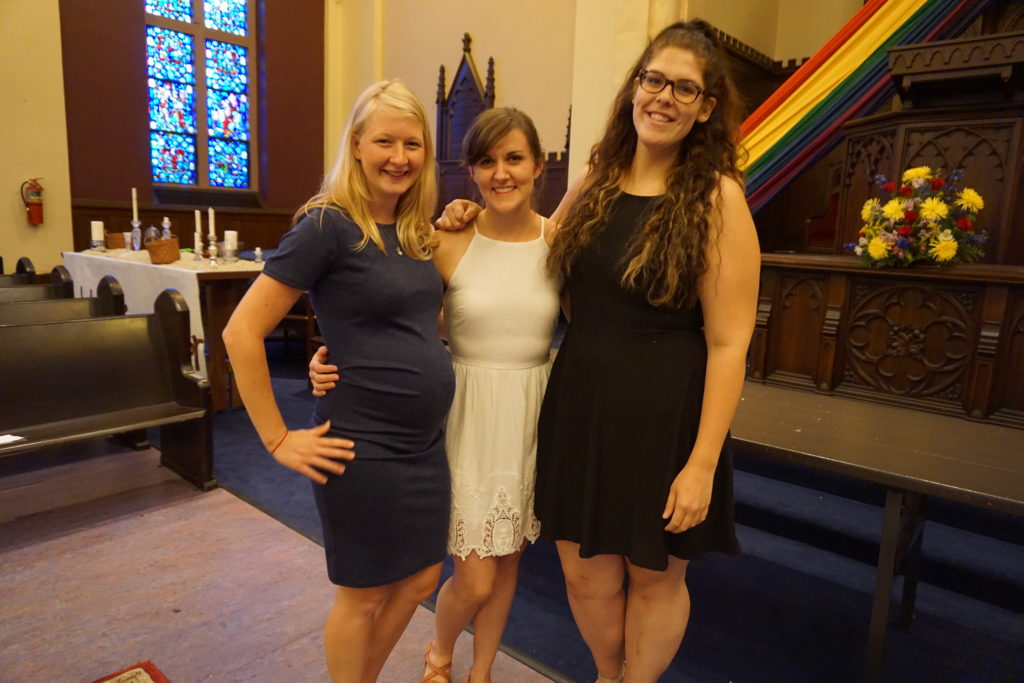 Sunday night we got back to the house and I asked Tam to grab some pictures of me in my new dress. Don't worry, there will be a full post coming on Monday! The lighting was so perfect so I also took some pictures with Tam and got a few of Tam and Vince, too. Then, we just crashed. We were both exhausted and needed rest, so we relaxed and hit the sack!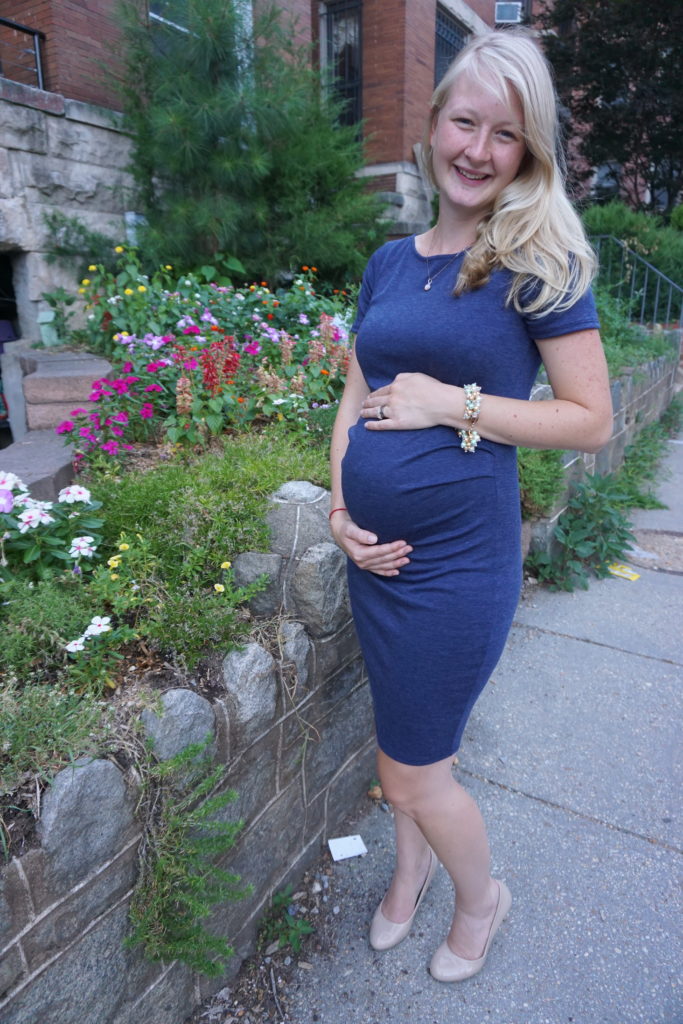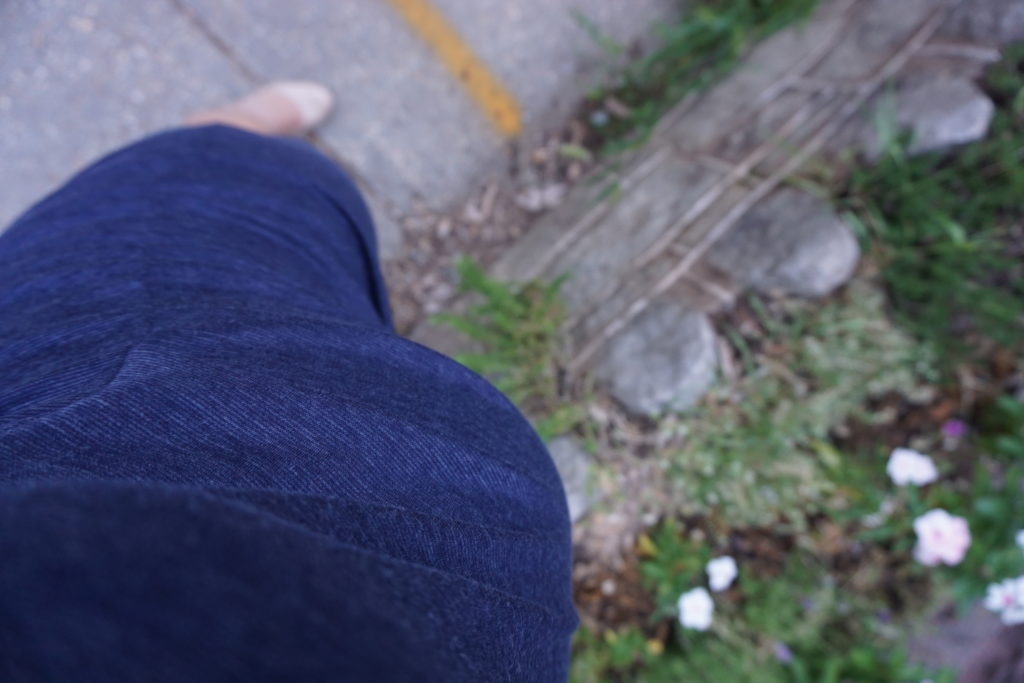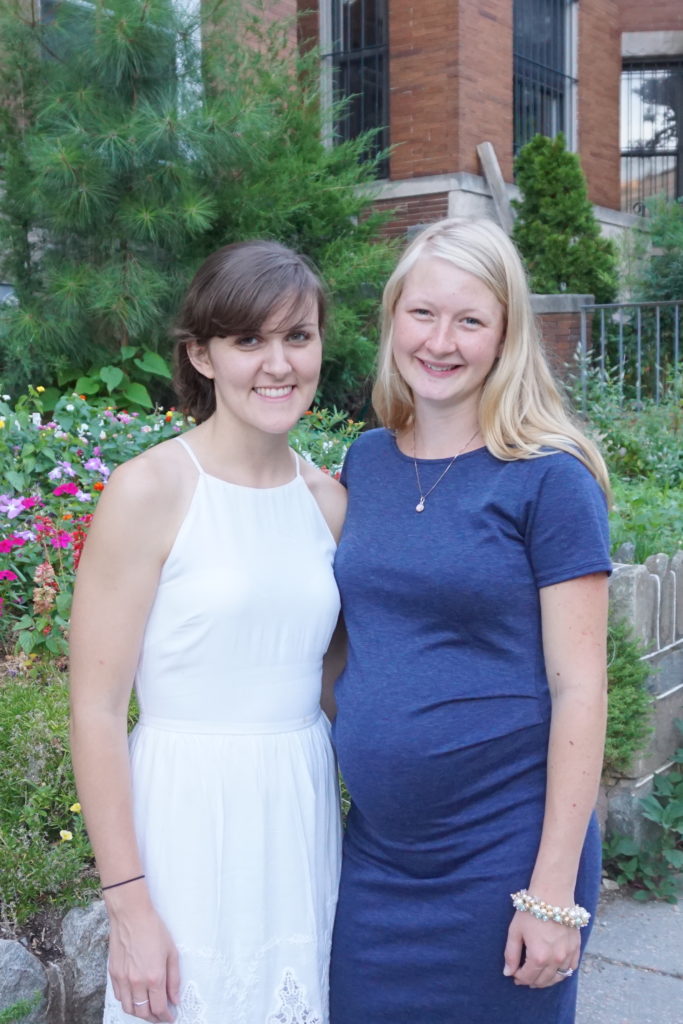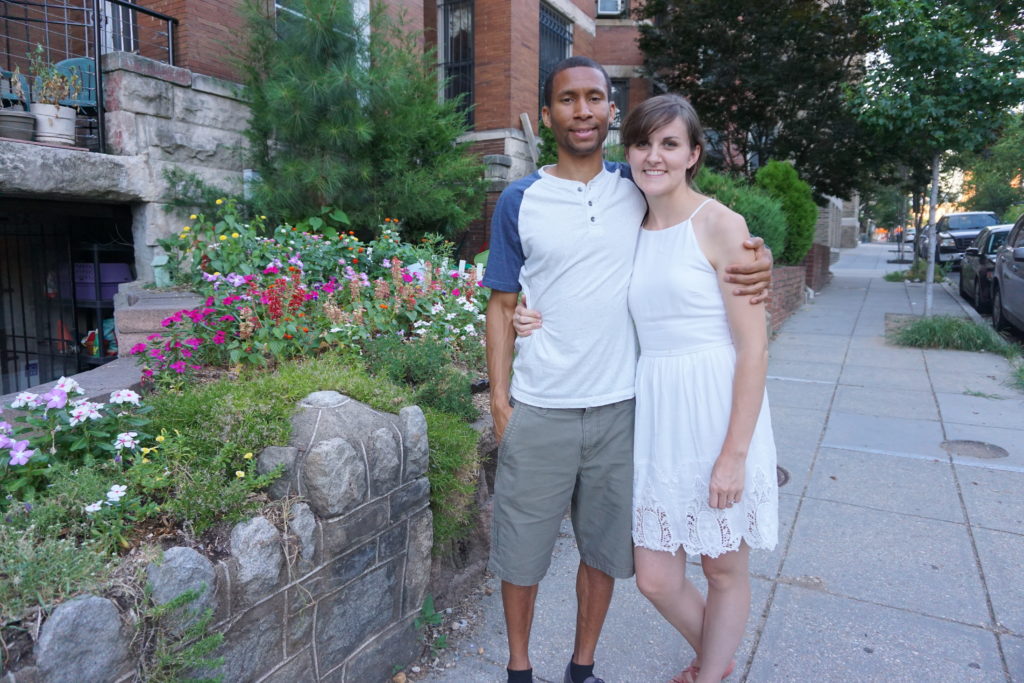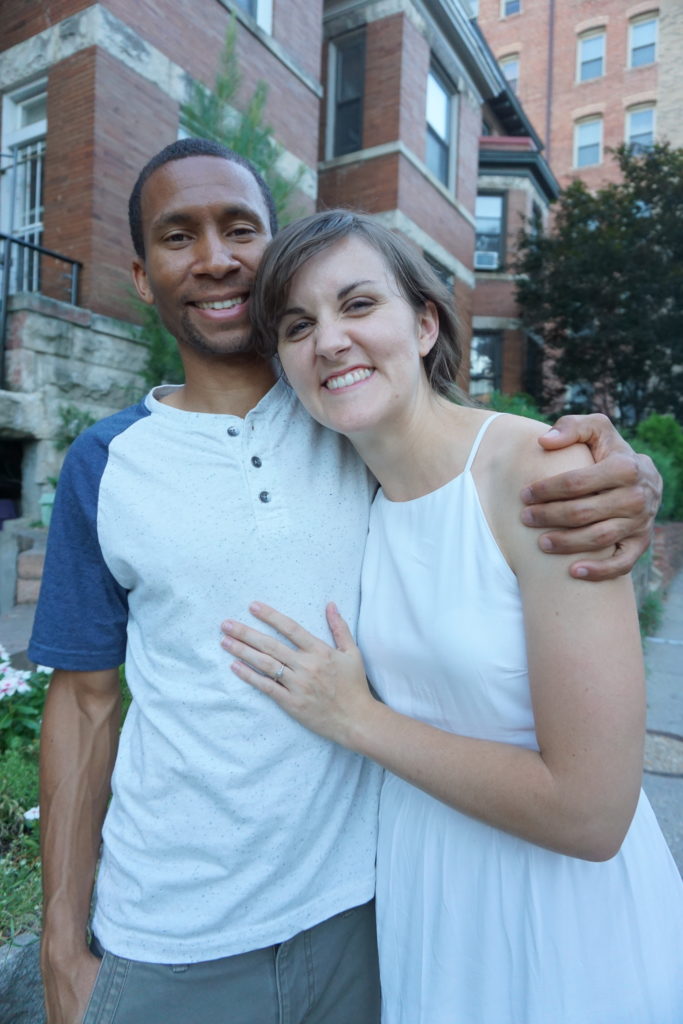 Meanwhile, back in Ohio, Theo figured he would go backpacking with Tera. I do not mean camping in the backyard. I do not mean camping in the woods. I mean backpacking. We got this awesome Kelty Kids backpack carrier at a garage sale, and Theo has been dying to try it out! He said that they both had an absolute blast. I'm still in complete amazement that he pulled it off, even through a thunderstorm!
Monday was so delightful because I had all day to spend with Tam…and we had nothing on the agenda! I've already done DC a few times in my life, so we decided to just take it really slow and have a relaxing day. We slept in, got breakfast, and then went to a local hotel that had day passes. It was $20 for the day, which is not something I would do on a regular basis, but I think it was worth the $20! It was a gorgeous day!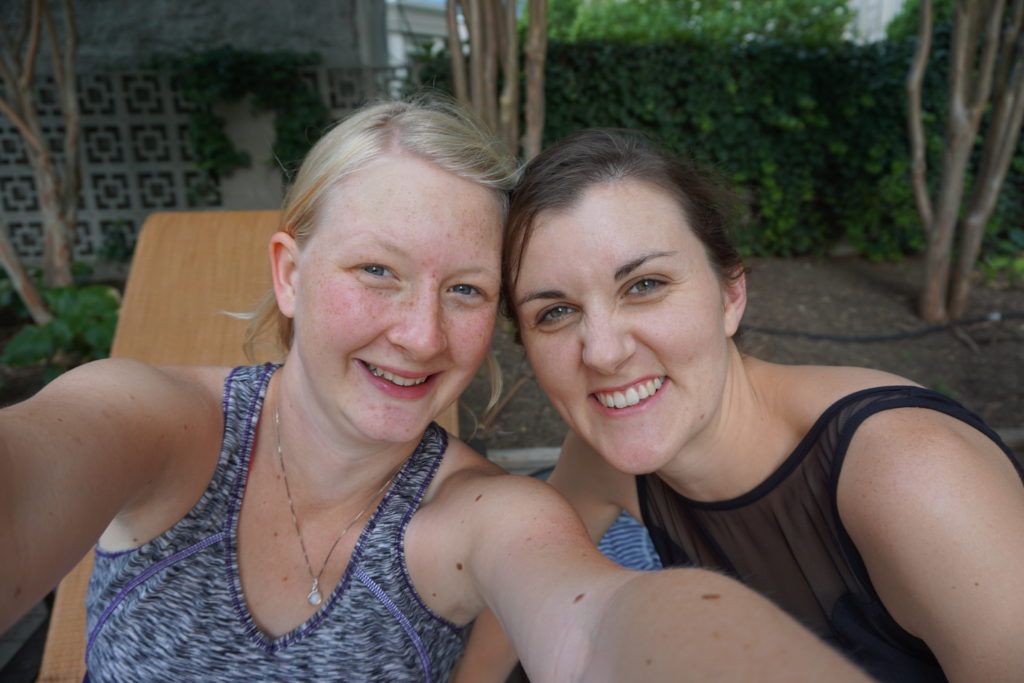 I cannot even explain to you how relaxing it is to go to a pool without children! Oh.my.word. It was SO lovely!!!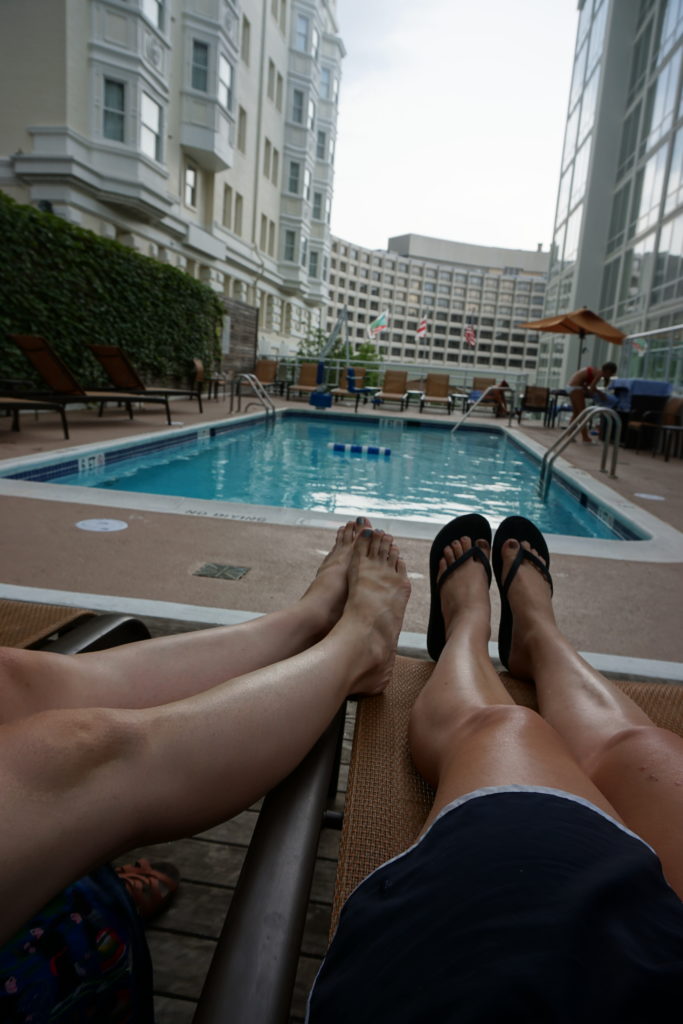 After a few hours at the pool, a huge storm rolled in. It came out of nowhere and was complete with wind and these dark, rolling clouds. It was actually breathtaking to sit next to the pool and watch it all unfold.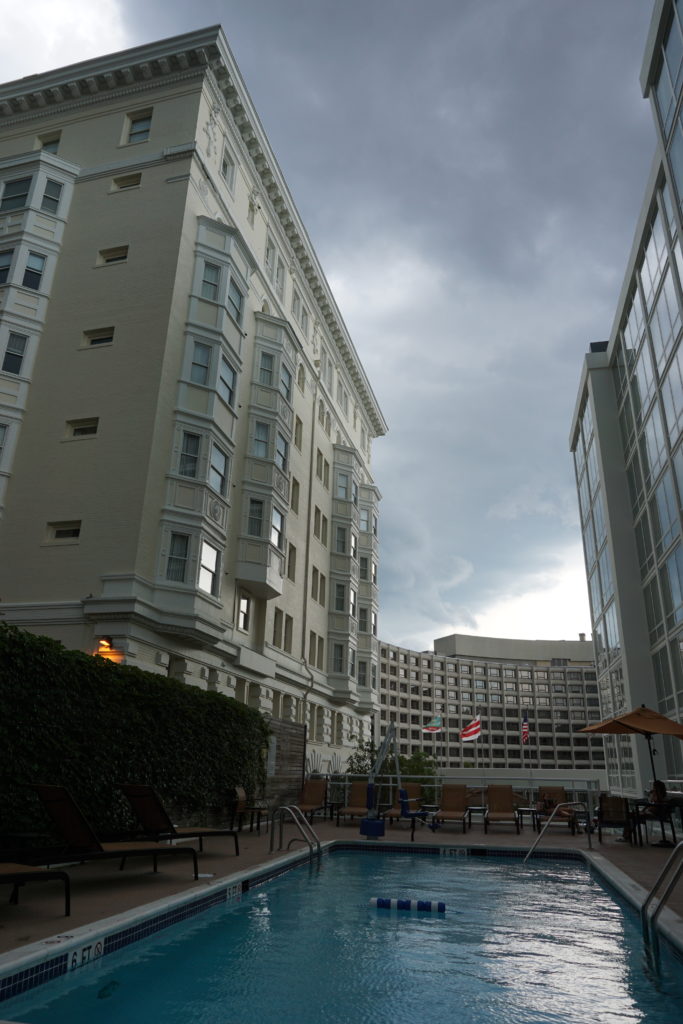 Vince came and picked us up (since it was pouring), and we got some pizza for dinner before heading to the airport to drop me off. I arrived two hours before my flight was going to take off, but my airport motto is "you can never be too early". Wellll, I might take that back this time around. I made it to my gate right away and knew I had two hours before boarding. About 20 minutes beforehand, I went to the bathroom and got myself ready for them to call boarding. I should have been ON my plane by 9:40, and leaving around 10. I would arrive in Columbus around 11:30, and then we had an hour drive back to the house. I knew it would be a late night, but I had no idea just how late it would be. Around 9:40, the other passengers and I started to notice that there was no action at the front desk. None. The cute little lady at the desk came on the intercom and politely announced that we had no plane yet, so we would not be boarding until 10:15. Then 10:40. Then 11:15. Finally, around 11:45, we boarded our plane and took off. It was only an hour flight, but we didn't even take off until after we should have arrived in Columbus. We arrived in Columbus around 2 am, and finally got back to the house at 3. Poor Theo had been planning on leaving for the airport at 10, so he didn't go to bed at all before coming to get me! Let's just say we were all exhausted and are still recovering!
It was totally worth it, and I'm getting my rest and recuperation to do it all again in just two weeks for the wedding!