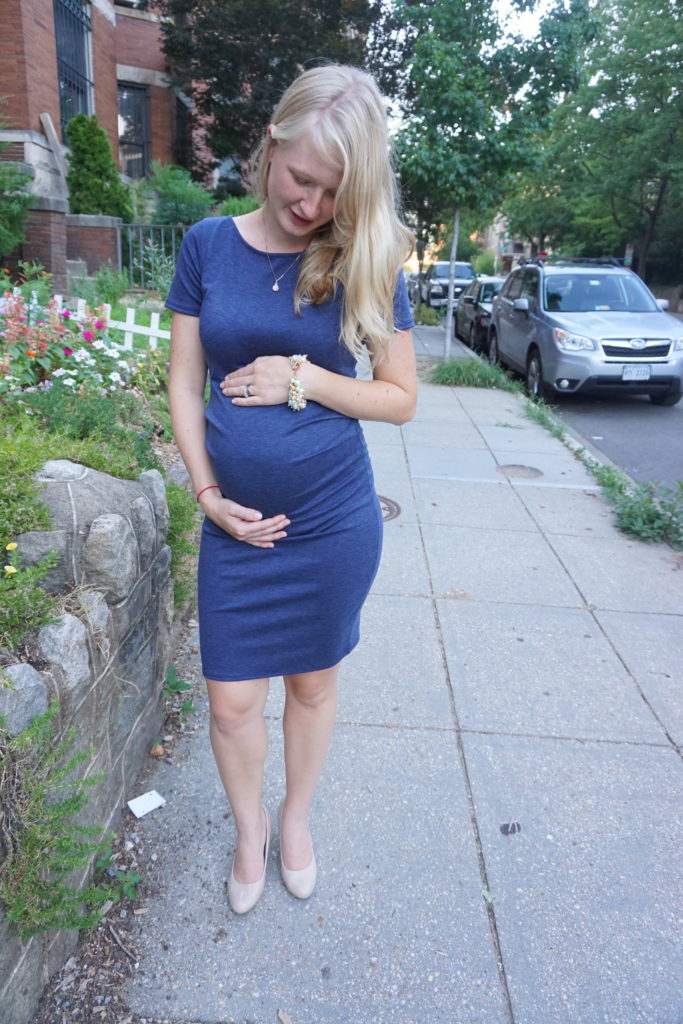 (Note: If you are reading this blog post on your phone, the pictures are going to be sideways. I'm working on fixing this problem, but as of now if you want to see me upright, just open up the post on a computer browser!)
As most of my readers know, I am not much of a "fashionista".
It's a little bit embarrassing, but I've kind of fessed up and learned to accept that it's simply not who I am.
I am, however, a huge fan of dressing nicely, dressing comfortably, and dressing appropriately for my body and current stage of life.
Currently, I am a busy Mom to a toddler, and up until recently an infant as well. I am a blogger and a stay at home Mom, so my goals for my wardrobe include comfort and function. I'm outside, I'm on the floor, I'm active and I'm probably going to be getting flour and applesauce all over myself on a daily basis.
Oh, did I mention that I'm also 27 weeks pregnant?
Because I am.
So, now, on top of all the other things that I need to keep in mind when I get dressed, I also have to think about a large baby bump. Maternity clothes are not always the cheapest things, or the easiest to find! So far, this hasn't been too much of an issue when I am at home. I can simply throw on a t-shirt and shorts and I'm ready to tackle the day.
However, I have several big events this summer where I need to show up and look a little bit nicer than my typical stay at home Mom uniform. I sifted through my closet several times trying to come up with outfits that would carry my bump and I through two weddings (including the rehearsal dinners), two bridal showers and maternity pictures. While I had a few items, I knew I was going to have to take the plunge and get some more nice dresses for these various events at various stages during my pregnancy.
Enter Pink Blush Maternity.
I first stumbled upon this company when a friend of mine posted some of her maternity pictures on her Instagram. I was in love with the dress that she wore, and I just had to check out the website.
All the heart eyes. All of them.
Pink Blush Maternity has so many different styles, colors and fits. There is something for everyone! I spent an hour or so just browsing through their selection trying to pick out a dress for my friend's bridal shower. I narrowed it down to my three favorites and then had my husband help me pick out the best one. I ended up getting the Navy Blue Short Sleeve Fitted Dress.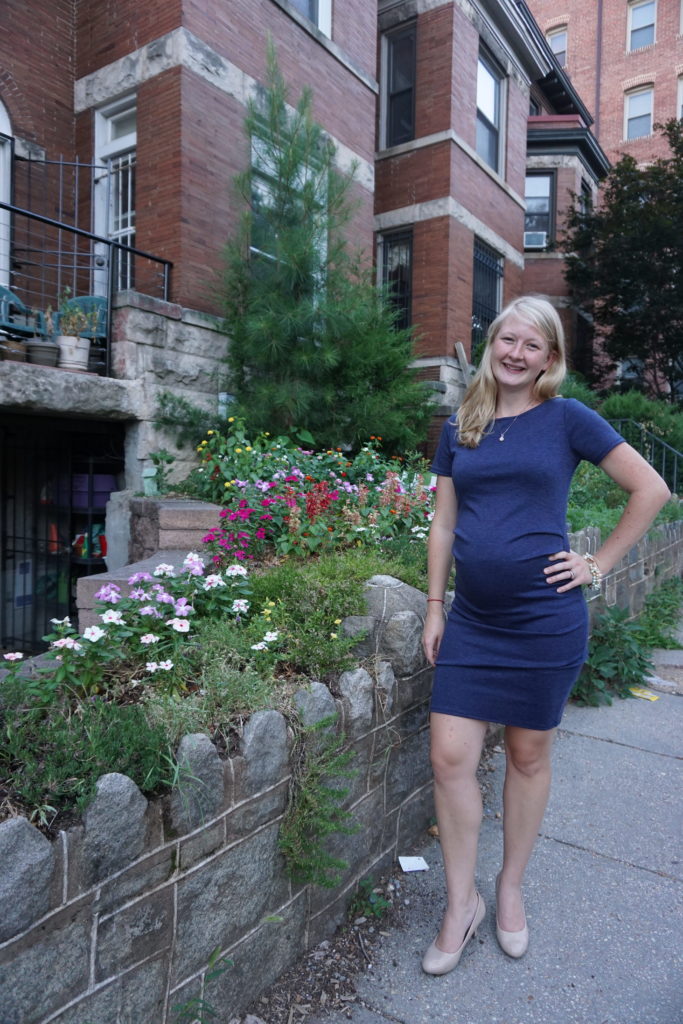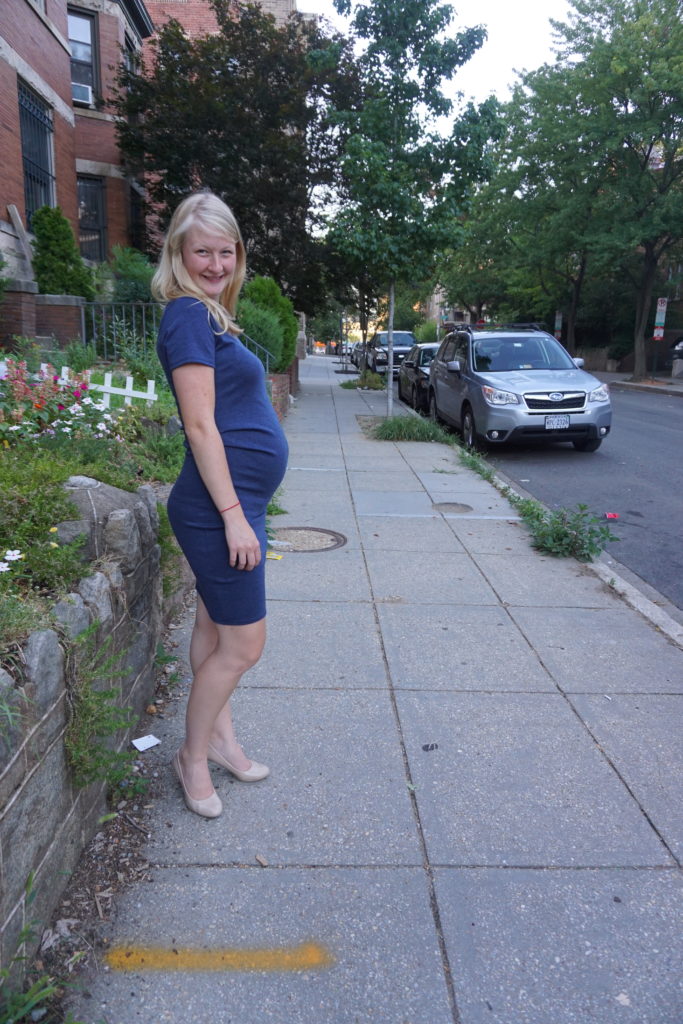 I went with this one for several reasons. First, this dress can be worn for more than one occasion. I love dresses that can be worn for more than one occasion. Not only can I wear this dress more than once, I can also dress it up or down!
Second, it is so functional! There is nothing worse than showing up to an event feeling uncomfortable in your own clothes. I don't like dresses that are prone to fall open at the top, ride up at the bottom or that fit my body all wrong. I was so happy to find that this dress did none of those things! On top of all that, I would gladly wear this dress around my children, which is saying a lot, because all Mom's know that children tug and spill and require a lot of bending over. I cannot tell you how many times I've had to worry about my skirt while bending down to pick up all the cheerios that Tera spilled. But not in this dress!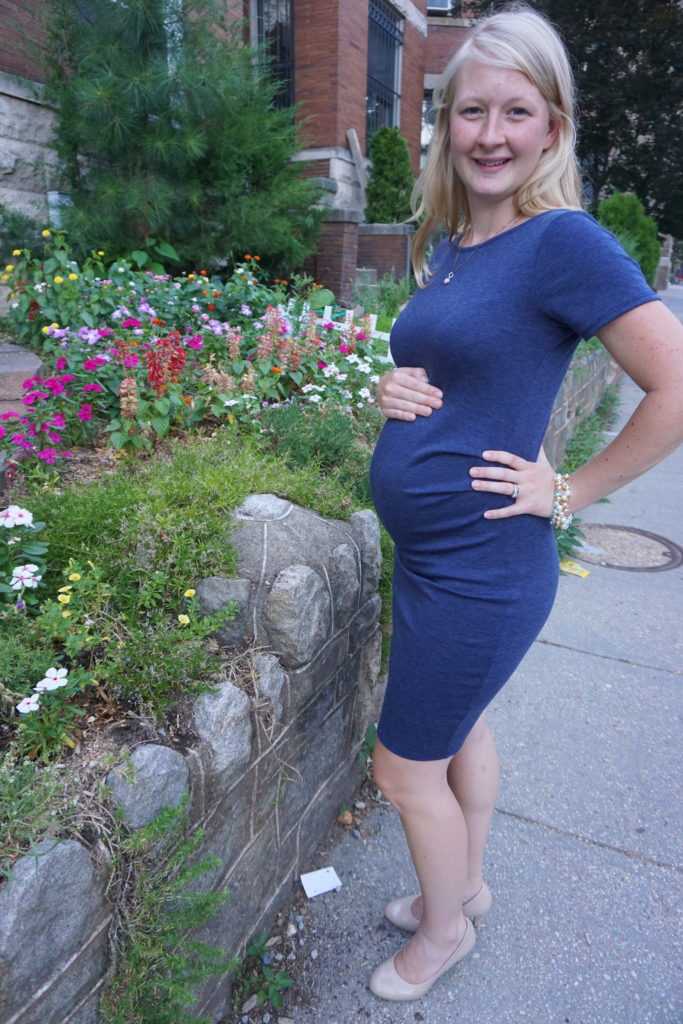 Third, this dress was so comfortable. It is made out of polyester, rayon and spandex. I felt like I could wear it as a nightgown! I will say that this dress is not ideal for an outdoor event in the summer, as it was a bit heavy. However, for an indoor, air-conditioned bridal shower, it was perfect!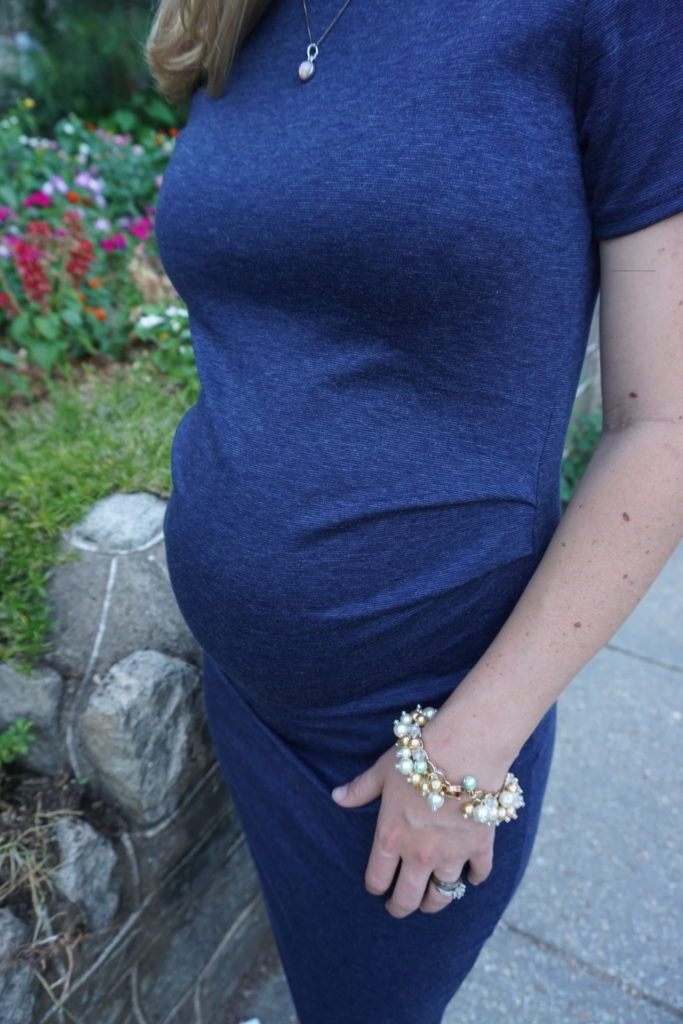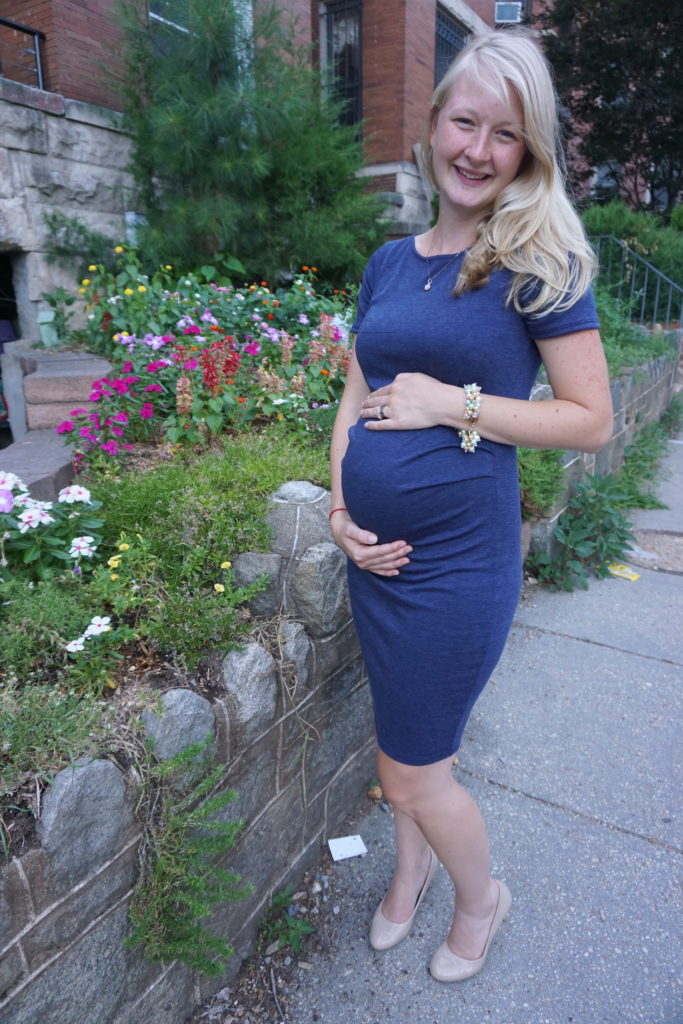 It was really hard to pick one dress from Pink Blush Maternity, but I am glad that I went with this one. I need to get a date night in the books so I can wear it again out on the town with Theo.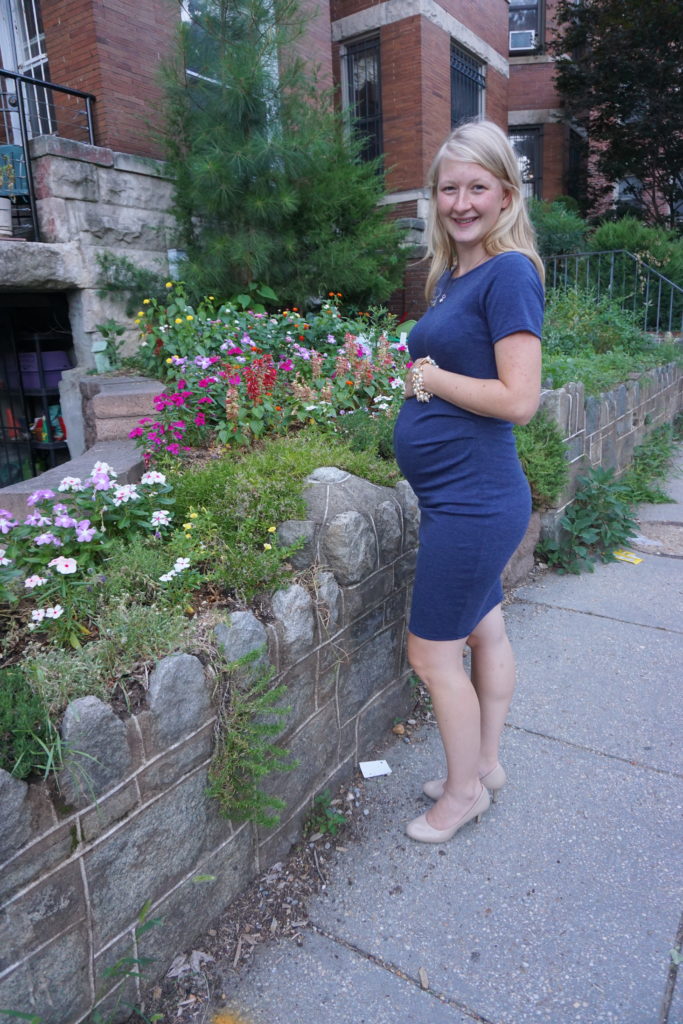 Don't forget to check out Pink Blush Maternity and all the items that they have! There are so many things that I am loving about this company. Not only do they have maternity clothes, but they also have women's clothing, plus size clothing, plus size maternity clothing, maternity gowns, robes (perfect for the hospital stay after baby is born!) postpartum/breastfeeding clothing, baby gear and accessories! Many of their pieces are designed specifically to fit through more than one life stage. For example, this maternity top will fit over a growing baby bump, but can also be worn for breastfeeding AND while working to get that post-baby body back! Everything on their website is gorgeous and I especially love the huge selection that they offer in colors and patterns and body types. It's not easy to find a company that can "cover" such a wide range and style of women, that is also affordable and so fun to work with!
Did I mention that I got the chance to work with members behind Pink Blush? Unlike going to a department store, I loved having a Pink Blush maternity dress because I felt like I was supporting a company with real people behind it. You can learn more about them at their website.
And now…for a GIVEAWAY! Yes, you read that right!!
I'm giving away a $75 gift card to Pink Blush!!! This is an AMAZING giveaway! There are so many things that you can get with $75. And remember…Pink Blush is not just for maternity! There is wonderful pre and post pregnancy items available as well!
How to enter?
Head on over to the PinkBlush website
Come back here and leave a comment telling me what your favorite item is (don't panic if your comment doesn't show up right away)
Head on over to my Instagram to earn some more points
This giveaway will run from Monday, July 25th at 8:00 am EST until Friday, July 29th at 6:00 pm EST. The winner will be announced on Monday, August 1st by 12:00 pm EST.
If the winner has already won a PinkBlush giveaway with 3 months, she will not be eligible to win, winners must wait 3 months before they are eligible to enter to win again.