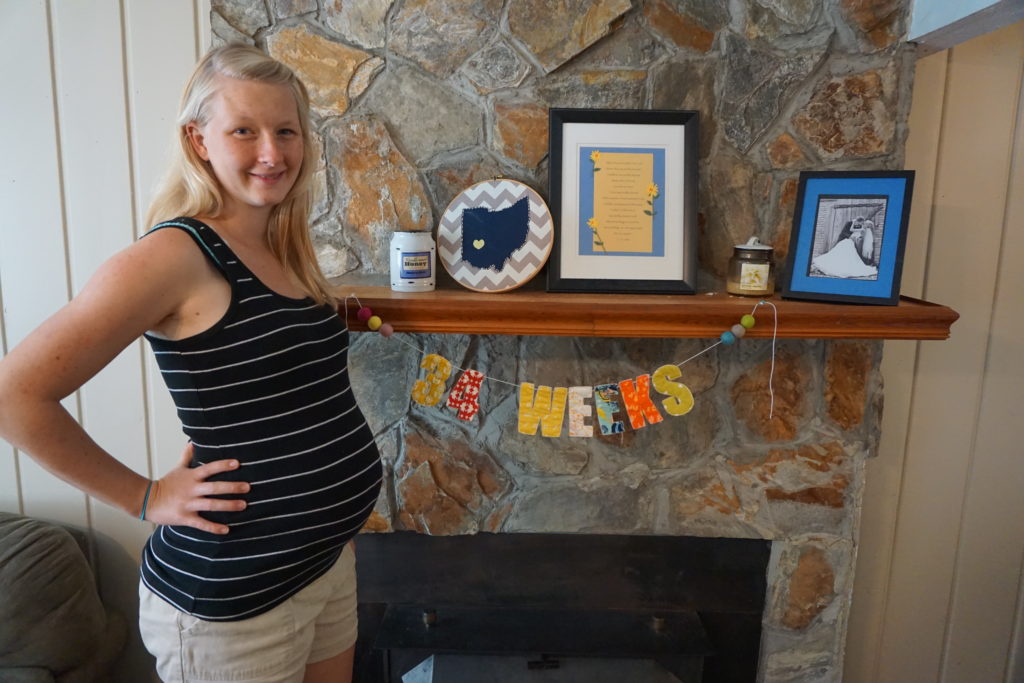 How Far Along: 34 weeks. Unfortunately, I missed a 33 week update, and I'm fairly late on this one, but I'm cranking it out now!
Size of Baby: The size of a cantaloupe. WOAH, baby! He should be over 4 pounds and packing on the weight now. He should also be around 18 inches long, which was Tera's length when she was born! So crazy! As usual, I'm measuring about two weeks small in my fundal height. I'm tracking about the same as I was with Tera. Tera was almost 7 pounds, so on the small side of average. I'm guessing that baby boy will be on the small side, too, but probably over 7 pounds. Theo was a 10 pounder, so I'm hoping that won't be genetic!
Weight Gain: 22 pounds.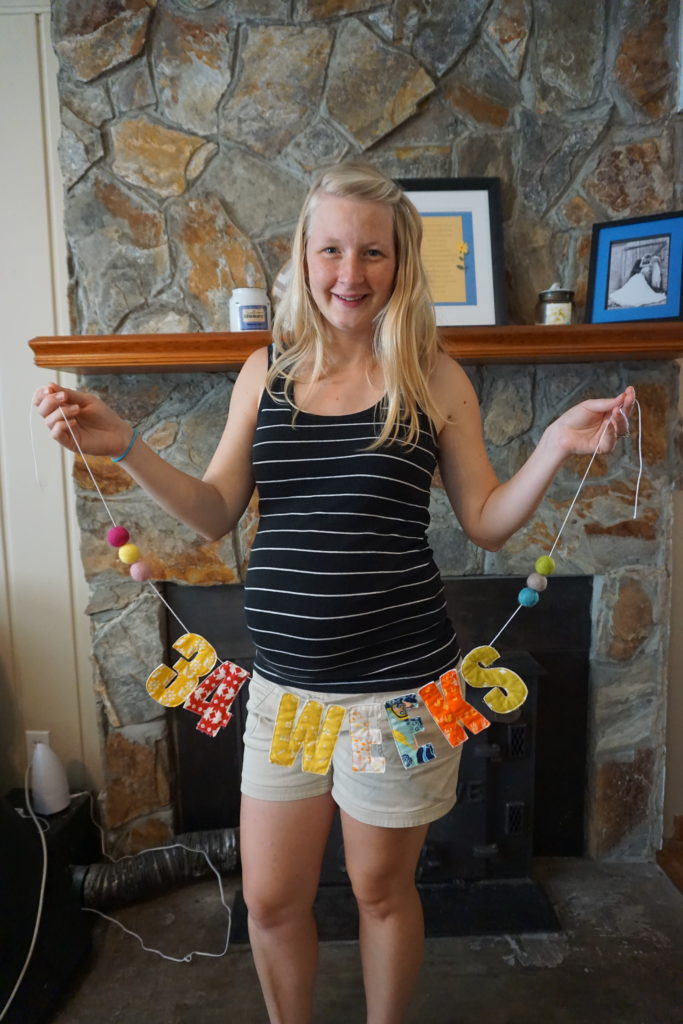 Symptoms/How I'm Feeling: Well, the past two weeks have been difficult for me. Right at 33 weeks, I had an entire day of consistent contractions. It was not only painful and annoying, but also a little bit scary because I do not want a premie baby. Not if I can do anything to help it.
Added to this prodromal labor has come two different types of infections and neither of them have been fun. Each thing has been back to back to back and just downright painful and discouraging.
I'm officially also having a lot of back pain, but mostly I think that is just a regular ol' symptom of pregnancy. I'm having a hard time getting comfortable anywhere, especially sleeping at night. However, once I fall asleep I'm sleeping great and usually only wake up once a night to use the bathroom. I'm exhausted and completely out of energy. I have made a specific list of things that I need to do each day just to boost my energy, and I'm working on not crashing on the couch all day long everyday. Haha!
For the most part, this pregnancy has been so much more difficult than my first. I don't know if that is just because I now have a toddler to chase around, or because it's just a different pregnancy.
I know I can't complain. Prodromal labor is painful and frustrating, infections are no fun…but baby boy is tucked safely inside and therefore I can deal with each of these symptoms. I have had excellent weight gain (according to the scale lol), I have wonderful blood pressure, I have been able to stay active, I don't have to be on any medications and our baby boy is growing safely and healthy away in my womb. So much to be thankful for.
Dr. Appointments: They are every two weeks now, and usually pretty routine. I'm usually in and out in 30 minutes.
Taking Tera to appointments with me is always an adventure. She loves to announce everything that is being done, which can be cute…or it can be embarrassing. The funniest is when I have to take her into the bathroom with me and she gives a (loud) running commentary on everything that is happening. At my OB office, they have a little window cut into the bathroom wall with a two way door. After giving a sample, you open the door and place your sample inside. Then the nurse opens her door on the other side and takes it out. It also happens to be a metal door. Today when I opened the door and put my sample inside, Tera yells "Mommy's cooking in the oven!" Haha.
Cravings/Aversions: I have the most insane sweet tooth. I mean, I will eat anything that is sweet. Even if I've never liked it in the past. I'm actually really working on this by getting rid of all the super sweet treats in our house. Of course, that means…eating them up. But I'm not allowing myself to buy sweet treats or bake much until I can resist a bit better. The sweat tooth is wreaking havoc on my skin and my immune system!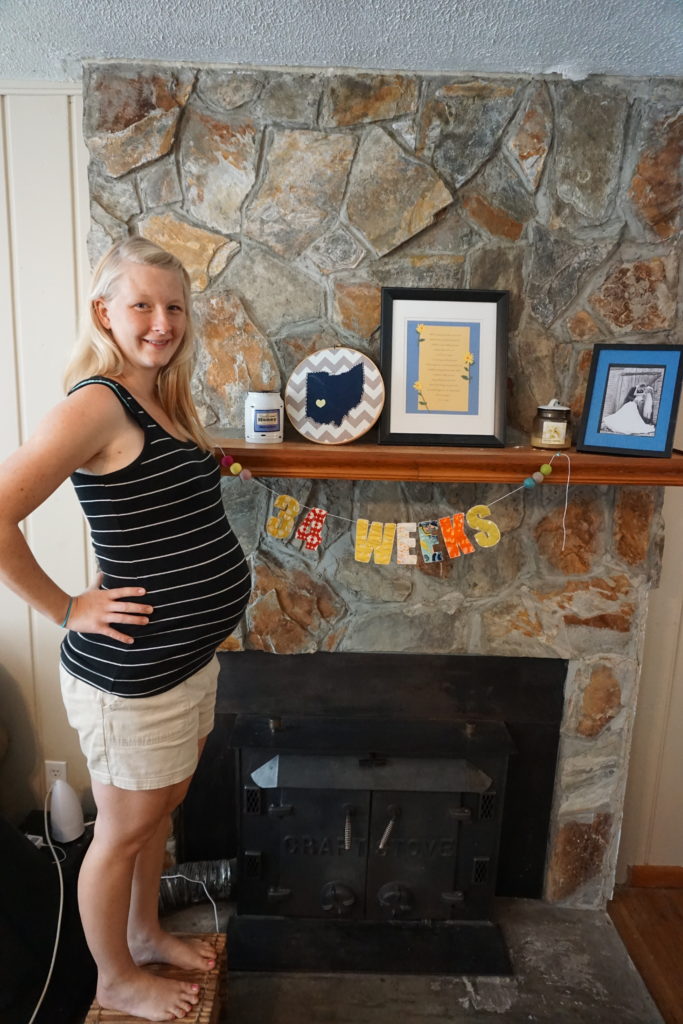 Exercise this Week: Does practically being in labor count as exercise? I had consistent contractions for 6 hours straight…which was the equivalent length of Tera's labor. I was SO sore and exhausted the next day and it took me a good week to feel recovered. I mostly focused that entire week on taking it easy and resting, but now that I'm feeling so much better, I'm trying to consistently go for a walk everyday. My goal is a mile a day, and so far I've done that about 3x this past week.
Best Moment this Week: A date night!!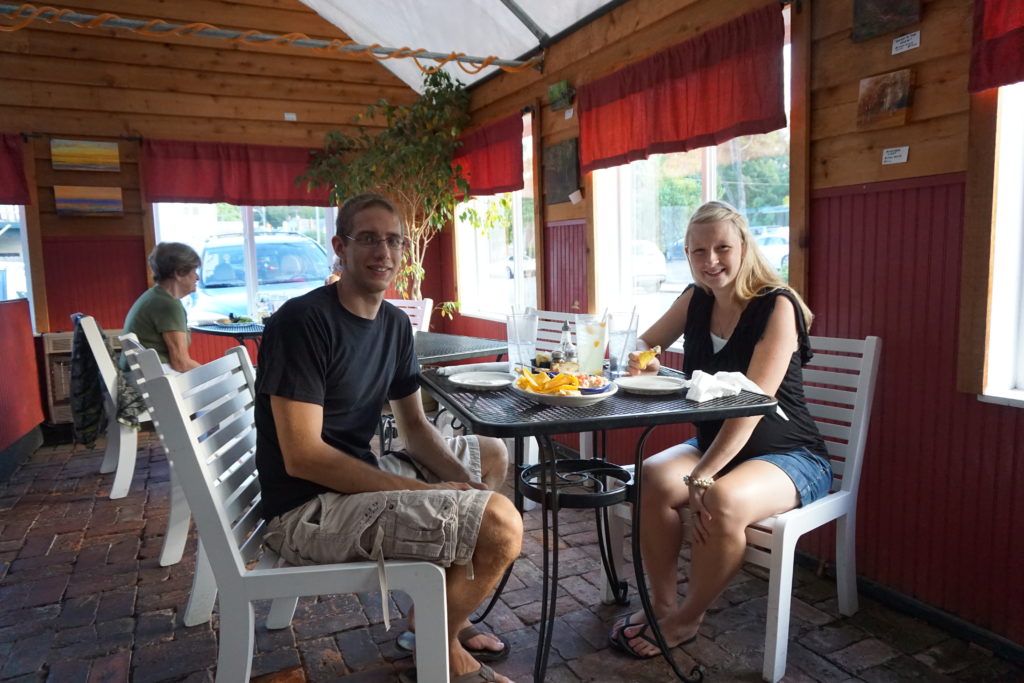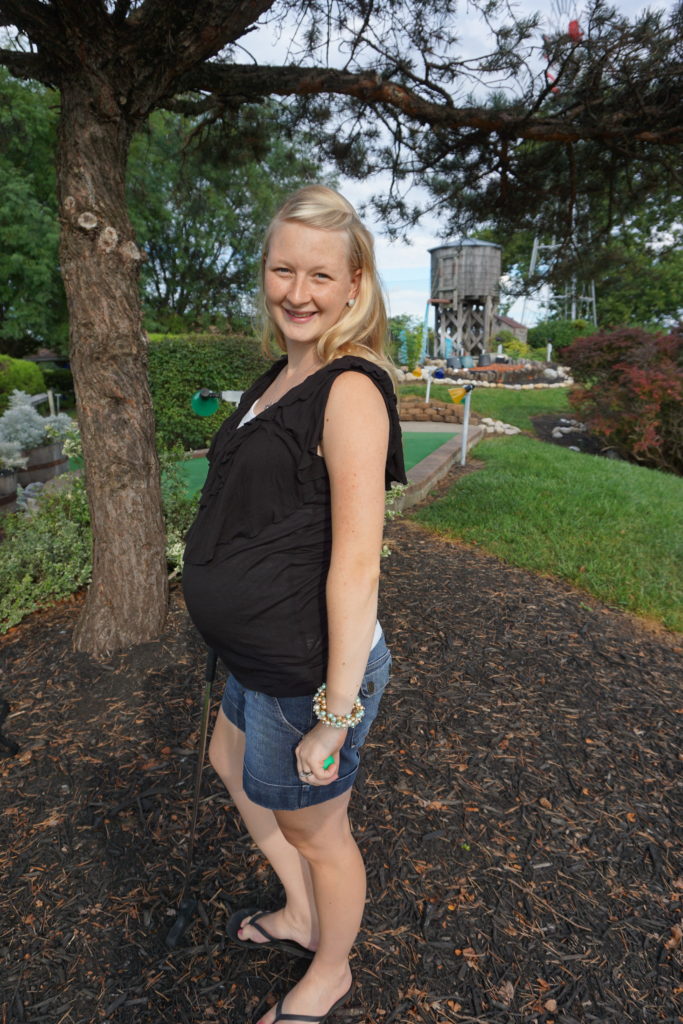 Worst Moment this Week: My body deciding contractions would be fun! It wasn't…
What I Need to Do before Baby: In order to kick myself into gear, I'm going to record some things that I need to do before baby gets here:
Go to clothing sale/consignment shops to build his wardrobe
Pack hospital bag
Prep a bag for Tera and instructions for a babysitter (just in case I go into labor before my parents are here)
Prepare at least 10 freezer meals for after his arrival
Clean and organize/decorate Tera's and baby boy's shared room
Order items off Amazon that we still need for baby boy
Order big sister/little brother clothes for when they meet (eeeek!!)
Read birth books (at least 5)
Write birth plan and have Family Beginnings all set up
Paint and clean guest room
Work ahead on blog so I can take some time off without any blogging
Find/order any breastfeeding supplies I no longer have
Pull out and clean bassinet and other baby stuff