September is coming to a close, and what a packed month it has been!
Just as a little note: many of these pictures may show up sideways if you are viewing this post on a mobile device. I have been offered several suggestions on how to fix them, and none of them have worked. I'm still working out some kinks and upgrades, so just bear with me.
The first thing we did in September was take a trip to the sunflower patch. You can see the pictures from that trip in this post, here.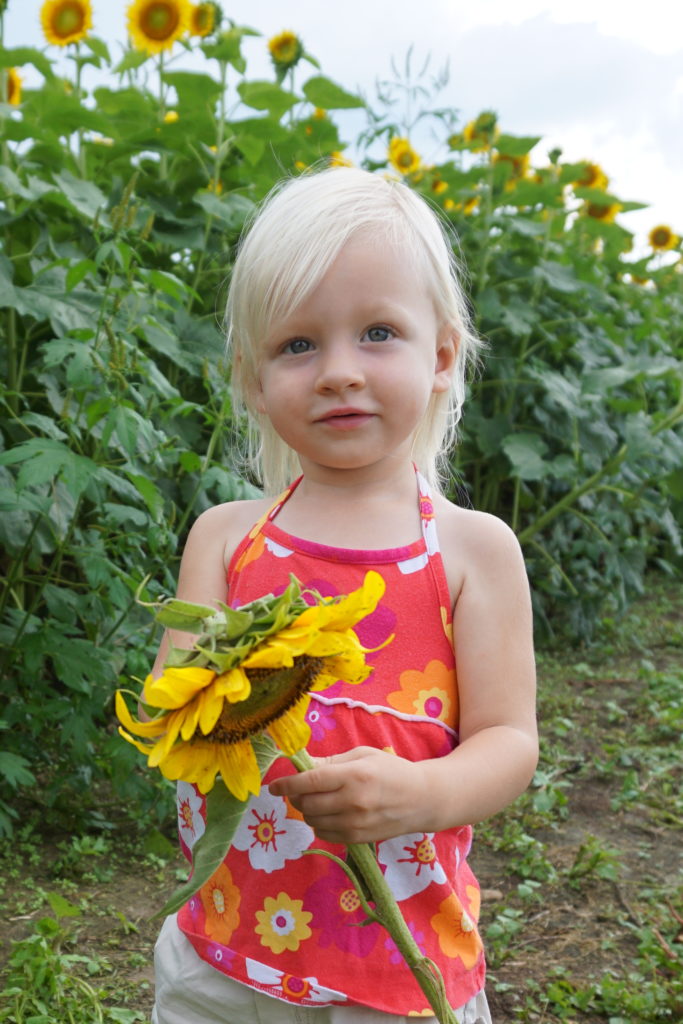 Over Labor Day weekend, we went up to Michigan to visit my brother and his wife. It was a gorgeous weekend and we had an absolute blast!
We went on a picnic…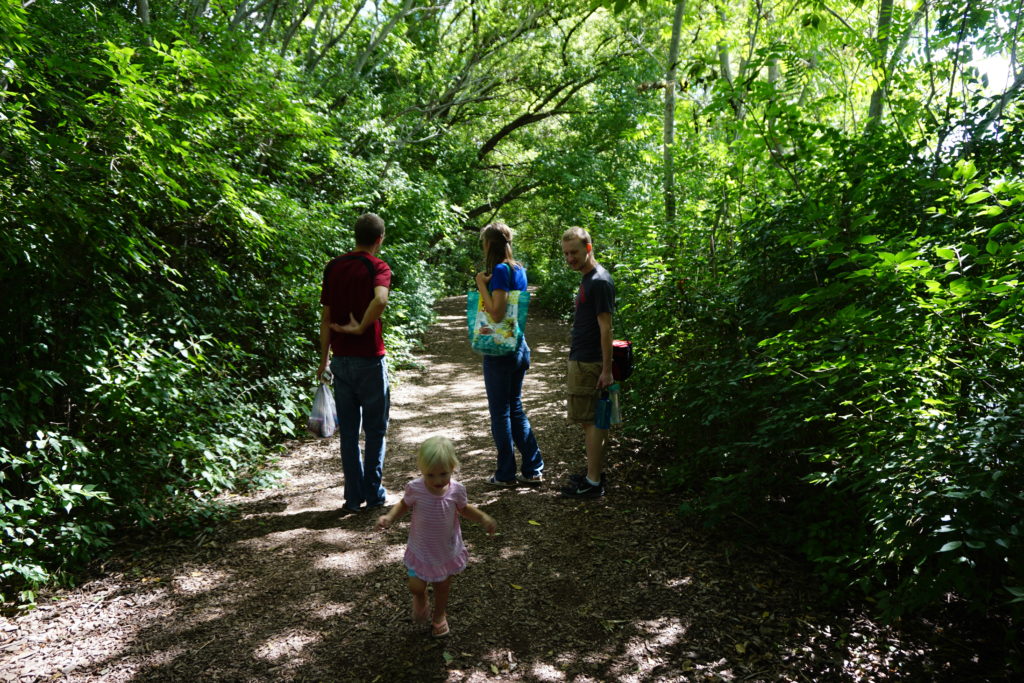 And we got to visit Aunt Kelly's classroom!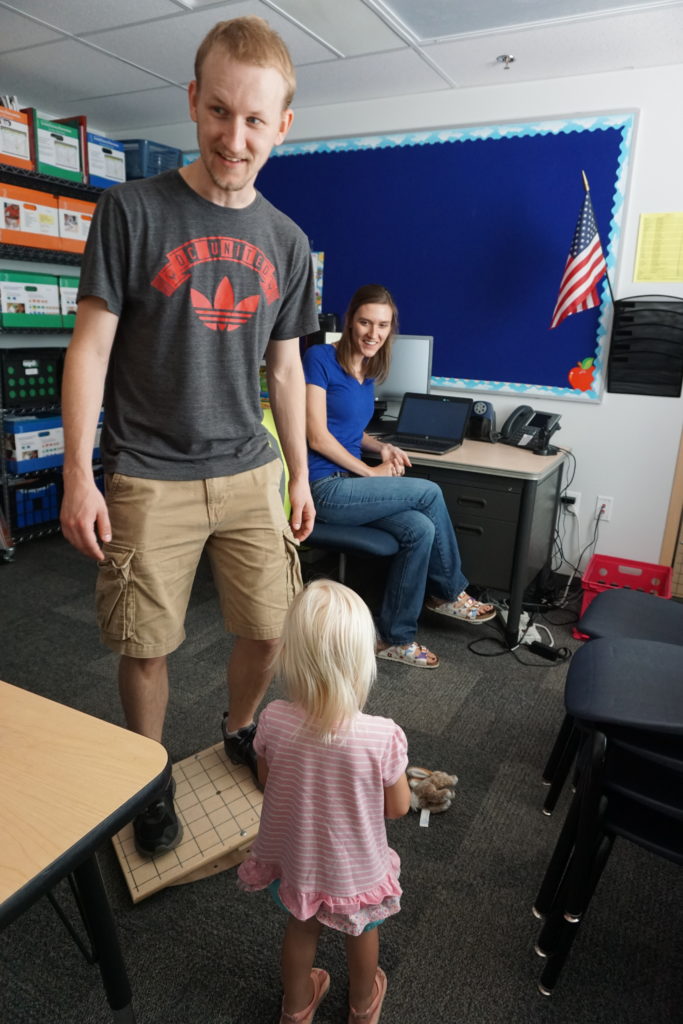 Mrs. DeValve is a FABULOUS teacher!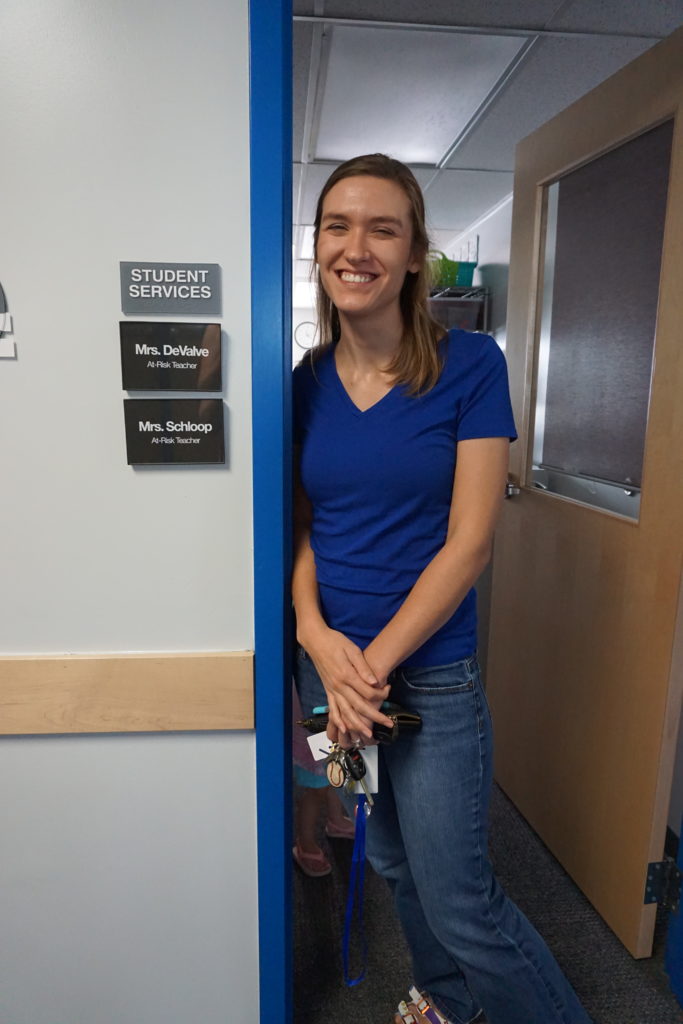 When we got back home, Tera decided to play with chalk. The funny thing is that she doesn't draw with the chalk, she just takes it out of the container and puts it back in. Somehow she ended up looking very…blue.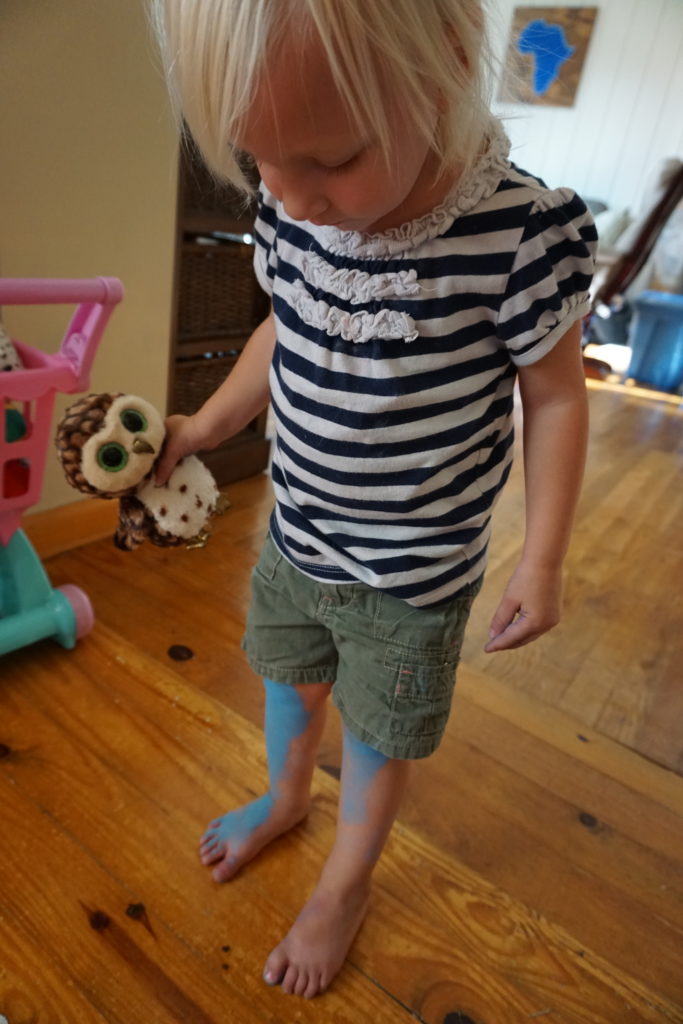 During the month of September, I've tried to buckle down and nest a little bit. I honestly haven't gotten the urge yet, but I have tried to do what I have energy for. Here is Tera helping me fold all the extra laundry I have accumulated for the baby coming!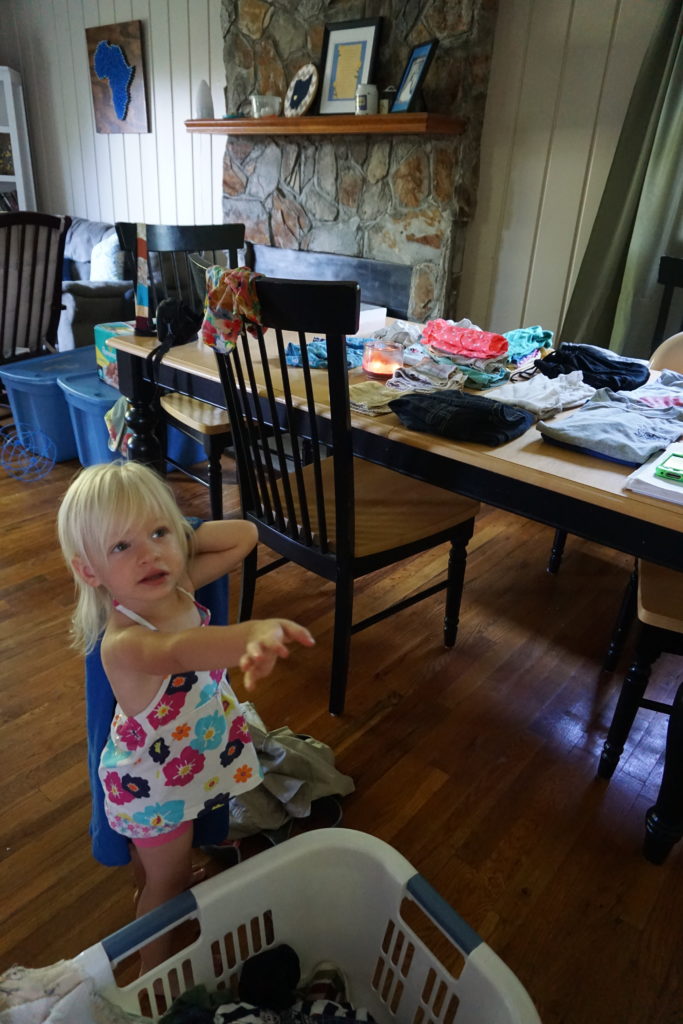 We made a big sister bucket list and have been checking all of these things off slowly but surely! We only have a few left to go!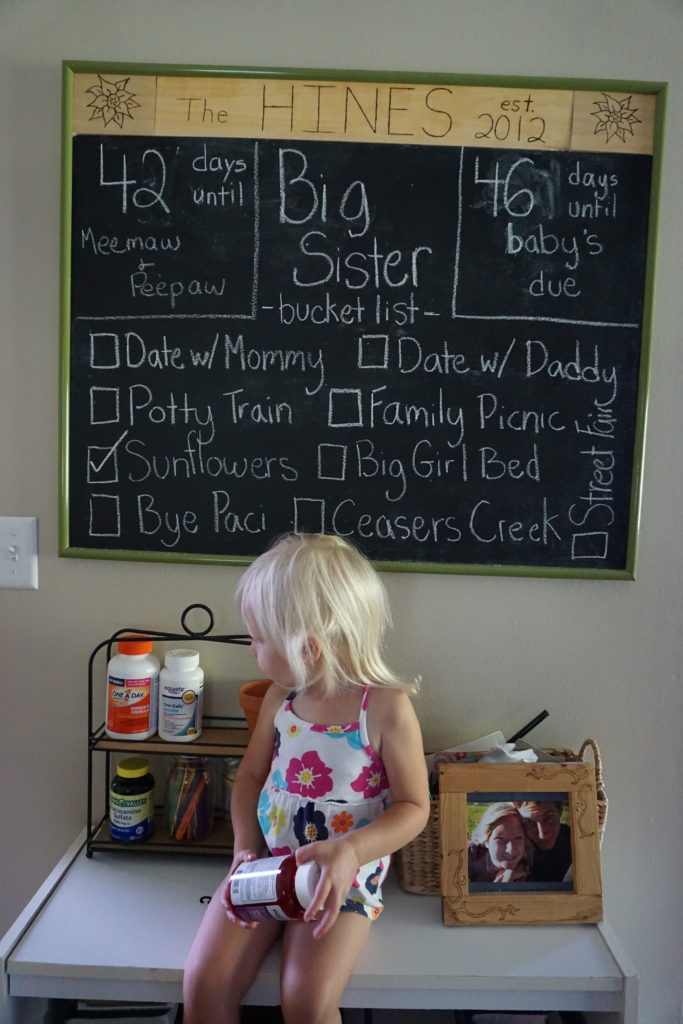 Theo and I got to go on a date night this month! Our first one since May. I will probably write a separate post on this subject, but we (obviously) have a hard time making dates happen. This one was a total blast and I'm so glad we were able to get out! We have set up a little babysitting exchange with another family in church which means that we will hopefully get at least one date every other month.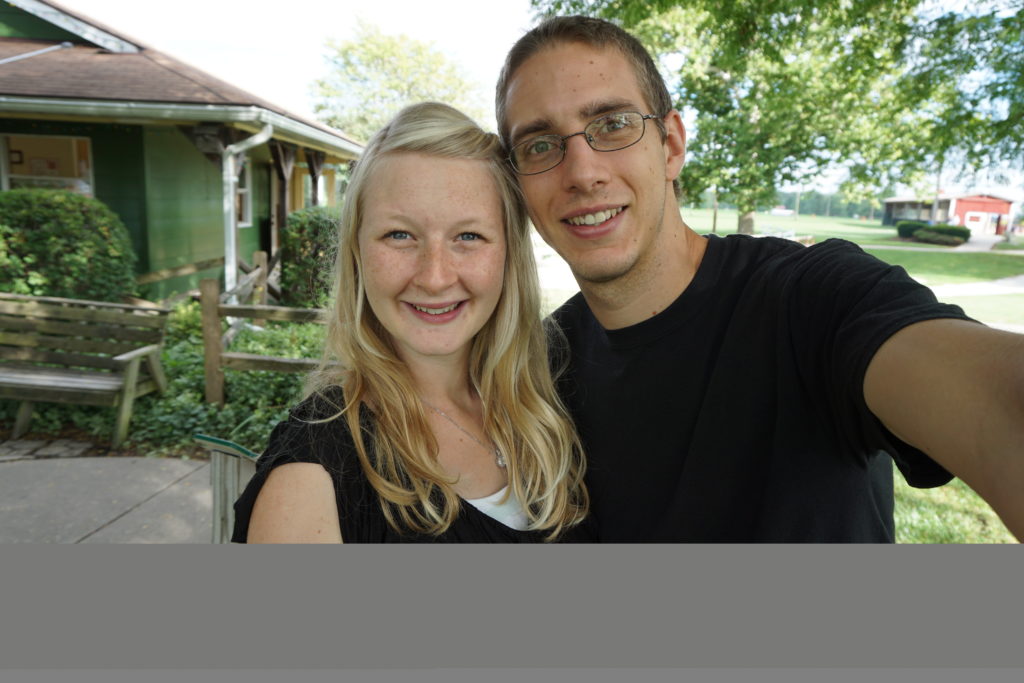 We went mini-golfing and then took some shots on the golfing range. Theo was a natural and I couldn't even hit the ball over half the time.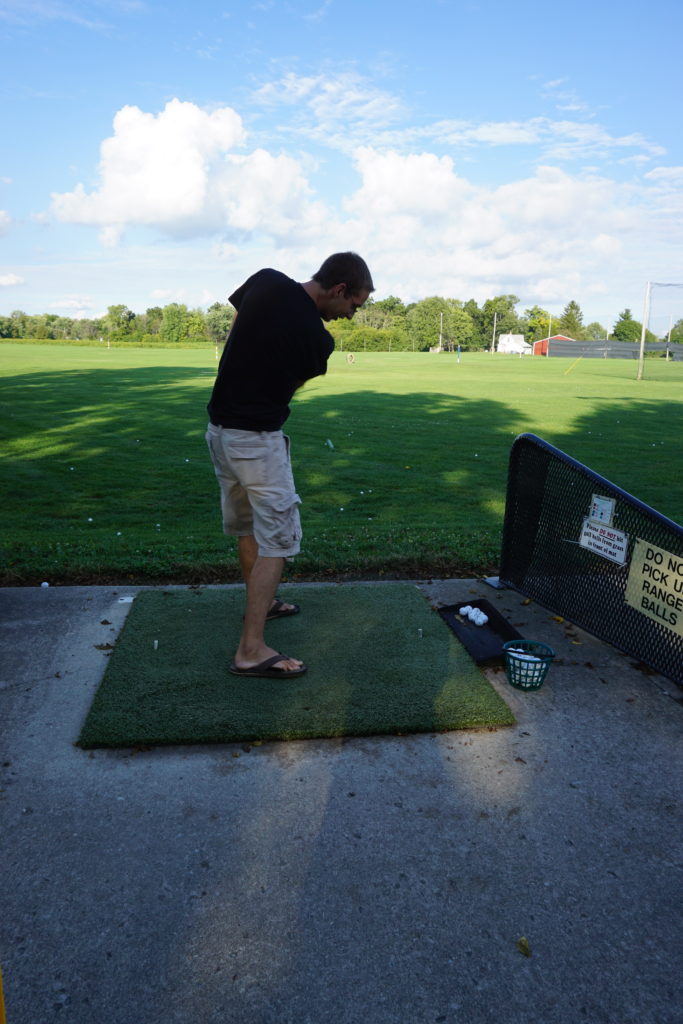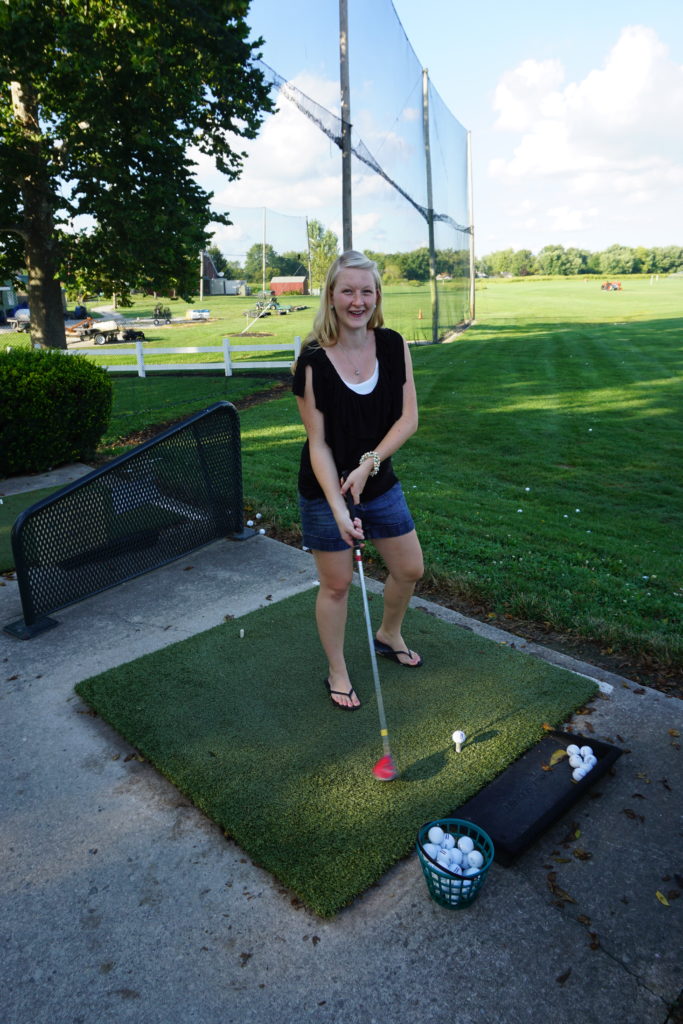 After golf, we enjoyed dinner with just the two of us at Williams Eatery in Yellow Springs. It was everything and more you would expect from Yellow Springs…the food was delicious, they do not serve alcohol…but you can BYOB and they will provide the glasses! The atmosphere was quant and quirky, and the service was great! We will for sure be going back there.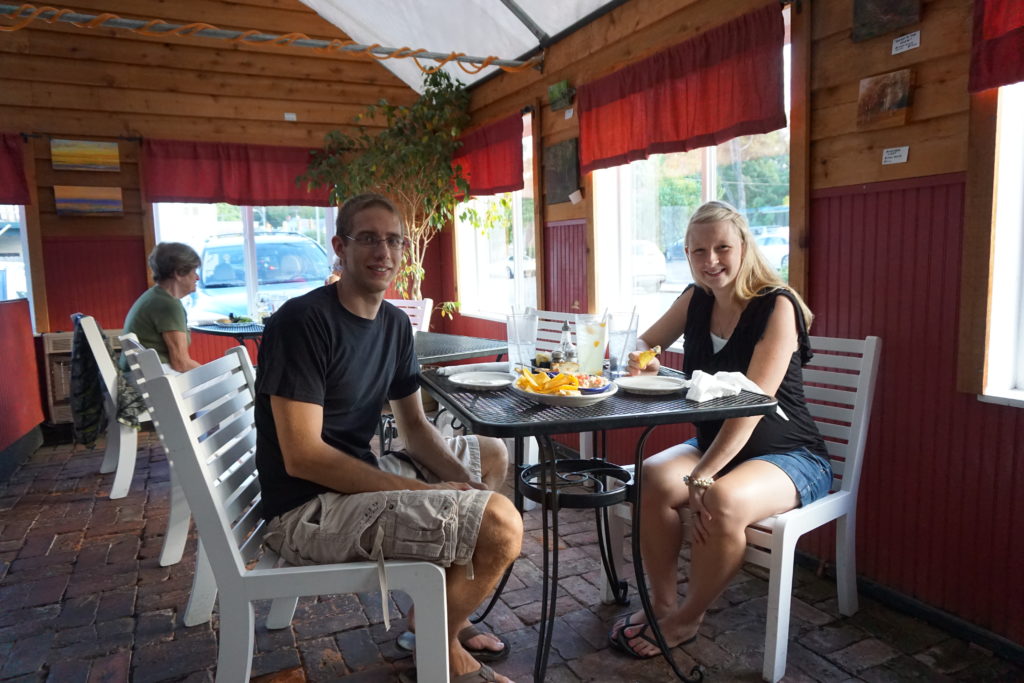 Another fun thing we did during the month of September was to go to on a family picnic! I had big plans to make bierrocks and pack a whole picnic and go for a long hike where we enjoyed the picnic somewhere in the woods, but that did not happen. Even though I started working on the meal early in the morning, nothing seemed to go according to plan. By 5 I was still working on the darn picnic and we didn't even leave the house until 6. Of course, going on a hike was out of the question, so we just went to the closest park and enjoyed our picnic and then let Tera play on the playground. She thought that was the greatest thing ever, so even if it didn't go according to plan, at least it was still fun!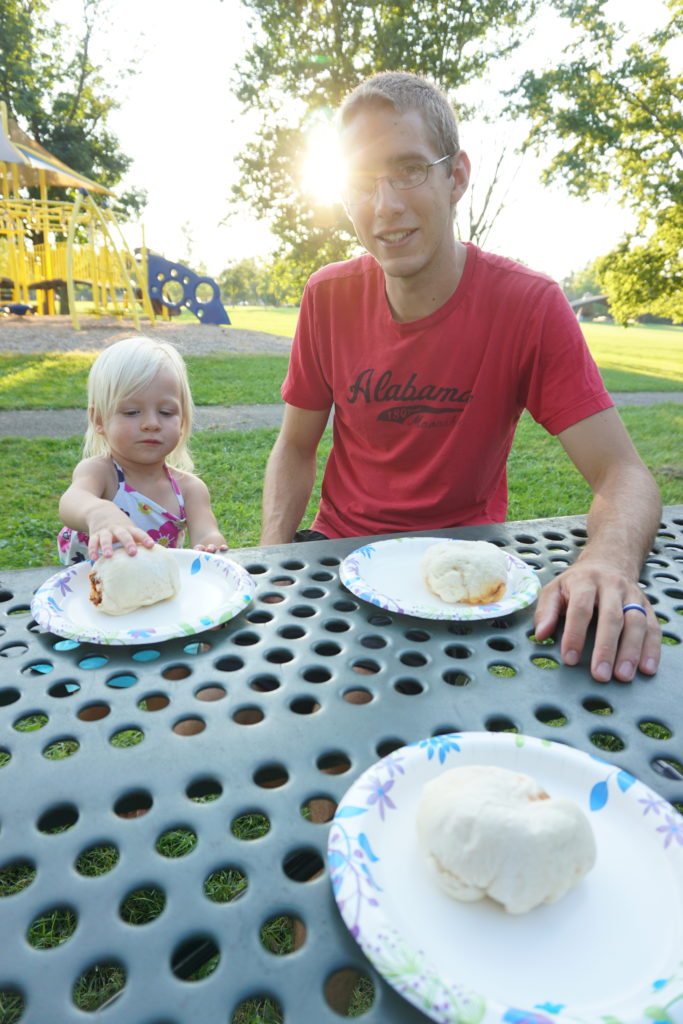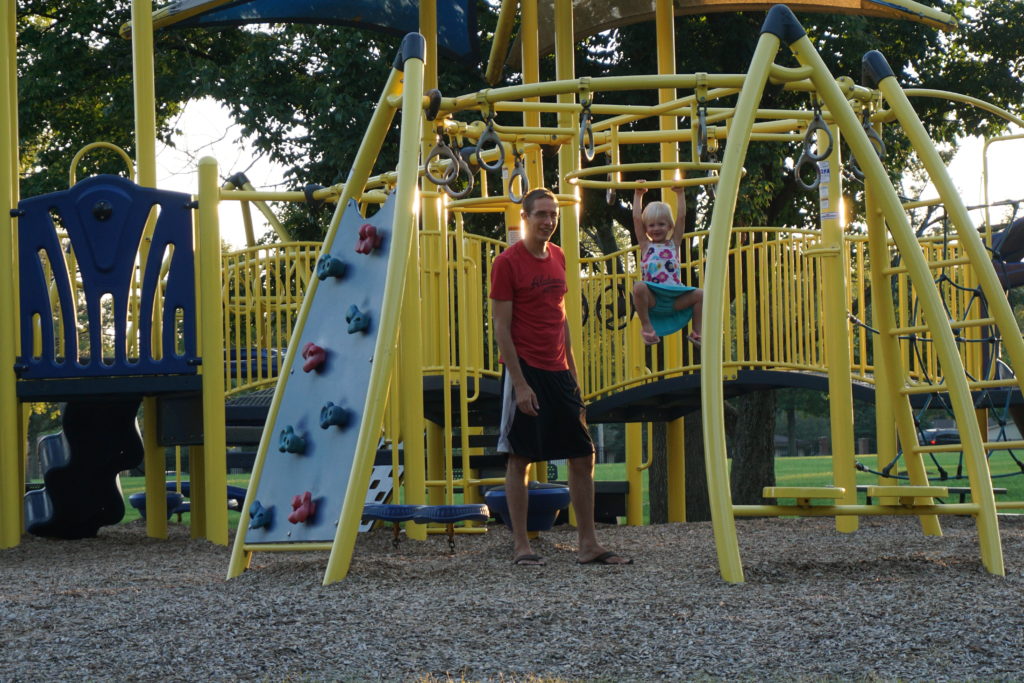 My favorite street fair of the year came to town: The Popcorn Festival! Theo (of course) had to work on Saturday, so I took Tera myself. Let's just say we lasted about 15 minutes because I was brilliant and decided Tera didn't need the stroller. Yeah, that didn't work out.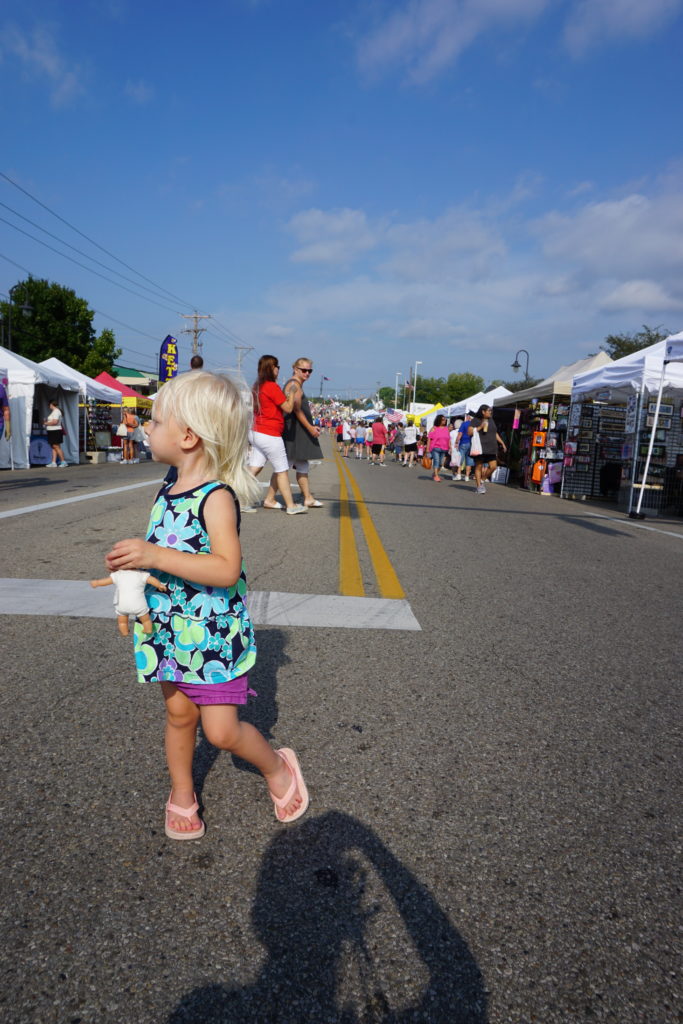 We did stop by our church booth (the #1 visited booth at the Popcorn Festival!) and Tera got a little butterfly painted on her thigh.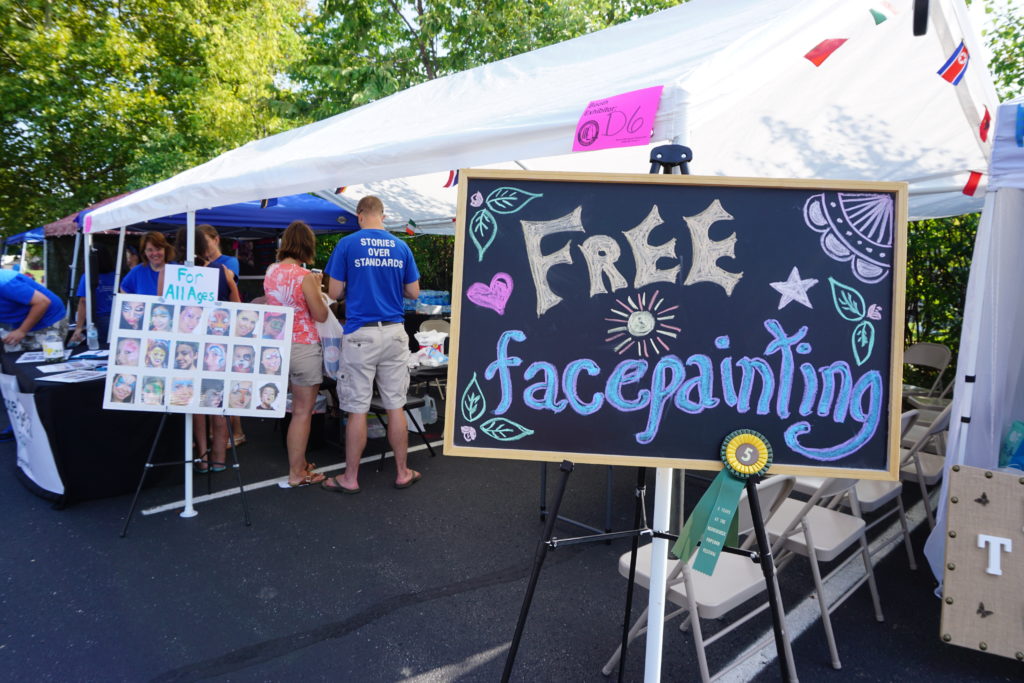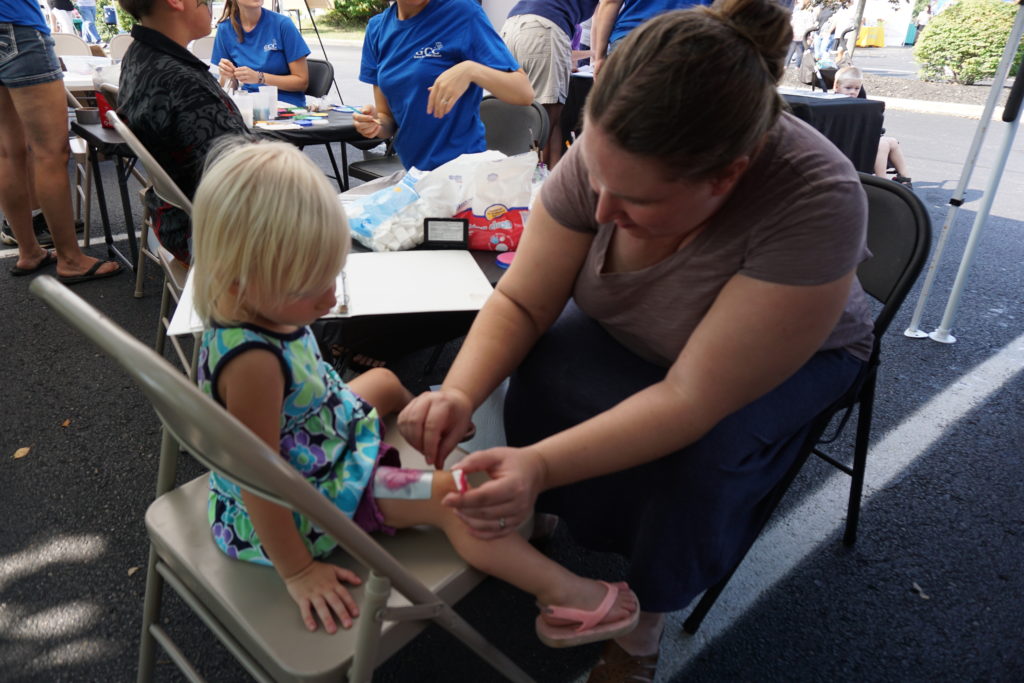 Fun fact: The Popcorn Festival is the place that we originally began our foster care journey. We picked up a packet at the festival, filled out the application and sent it in within the next week.
On Sunday, I worked our booth at the popcorn festival all day. It's one of my favorite things to do, but MAN, I was exhausted and sore after that!
Theo and I live right next to Wright State University, and when we heard about a soccer game, we decided we wanted to go. Let me tell you what…Americans are missing out on so much, because there was practically no one at this soccer game, and it was pretty good!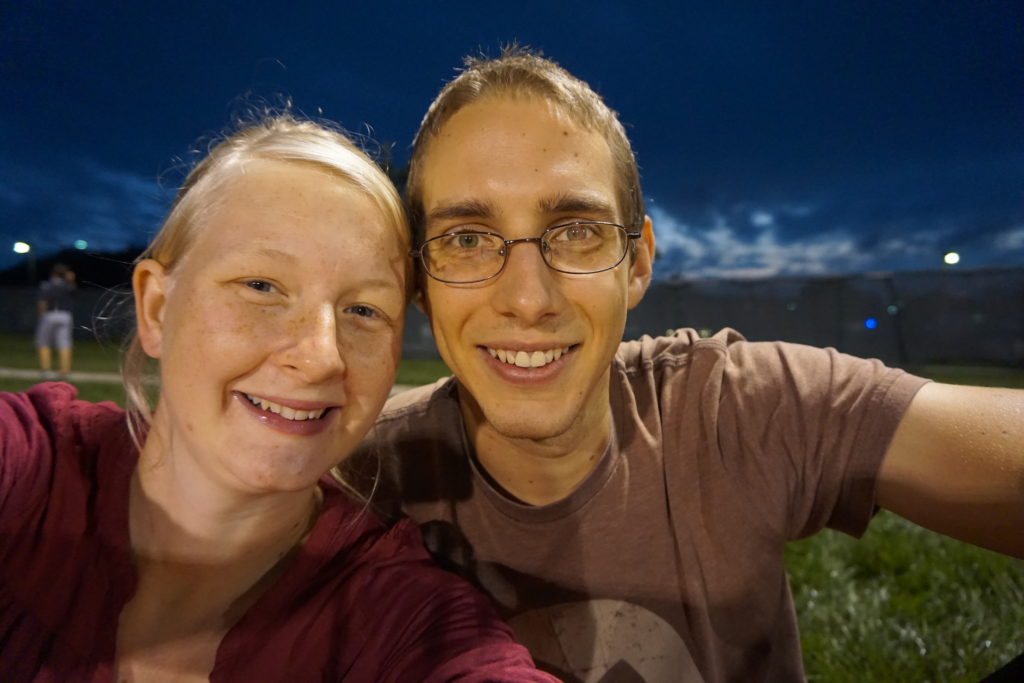 Tera even enjoyed watching the players run up and down the field and she had a blast running off all her extra energy during halftime!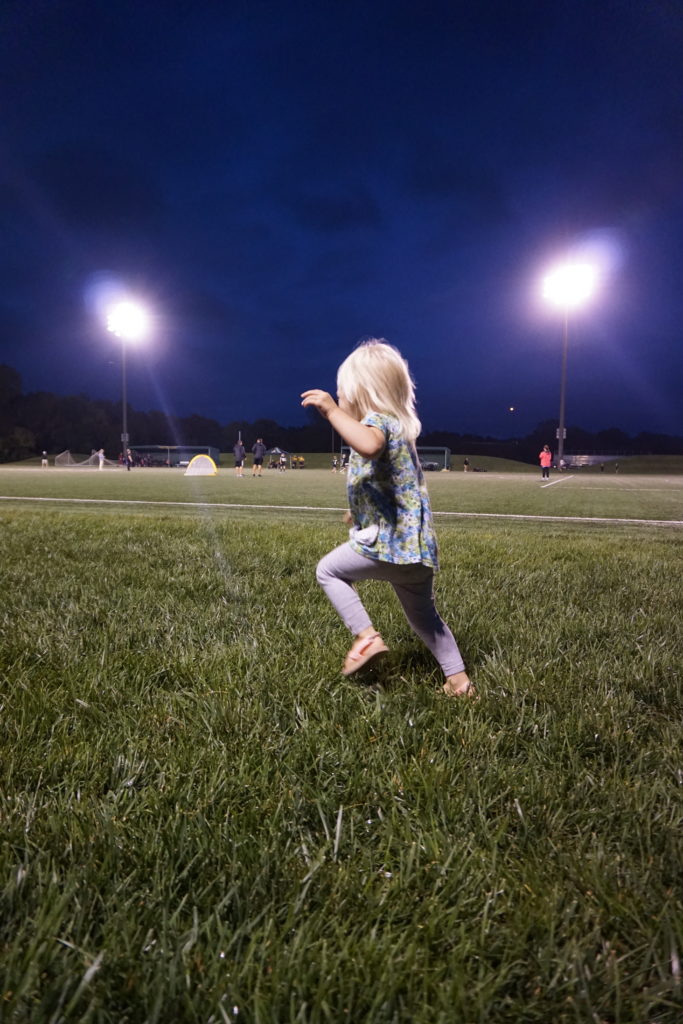 Theo is the best Dad in the world, and things like this never cease to make me laugh. The shorts I had picked out for Tera were way too big, so instead of going upstairs and grabbing a clean pair of shorts, Theo used a pipe cleaner to tie them up in the back.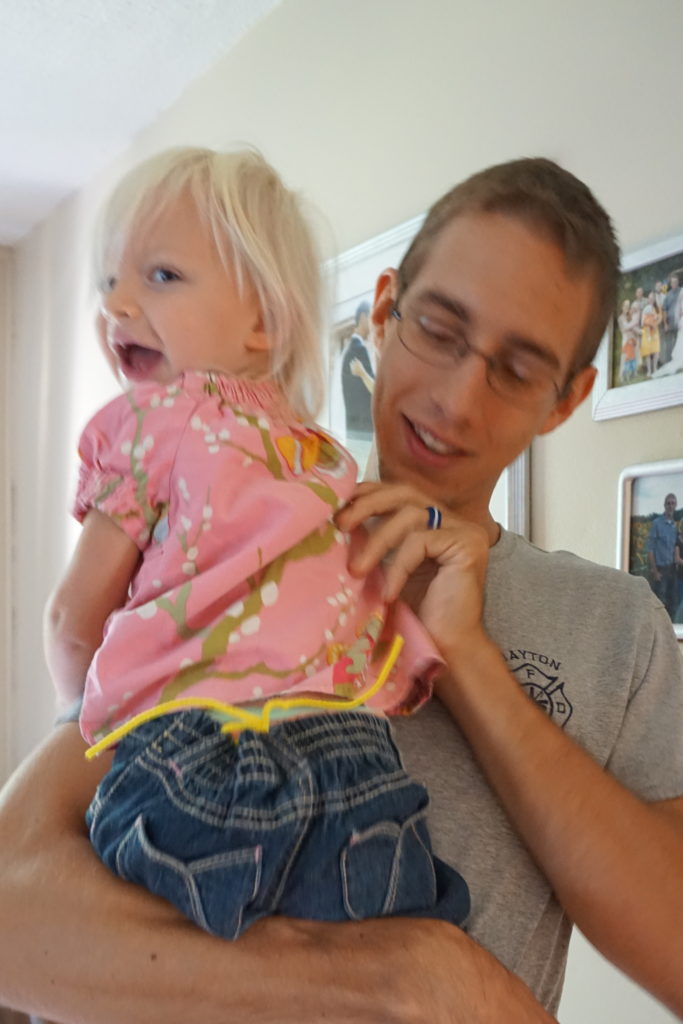 Tera has quickly become her very own person in just the last month or so. She is opinionated about what she wears and how she wears it. So far, she still will wear the clothes that I pick out, but she often adds something funny like a hat or backwards shoes. She prances around in it for hours. This outfit totally cracked me up because the pants and the shirt were too small, and I HATE crocs, but it's what she insisted on wearing.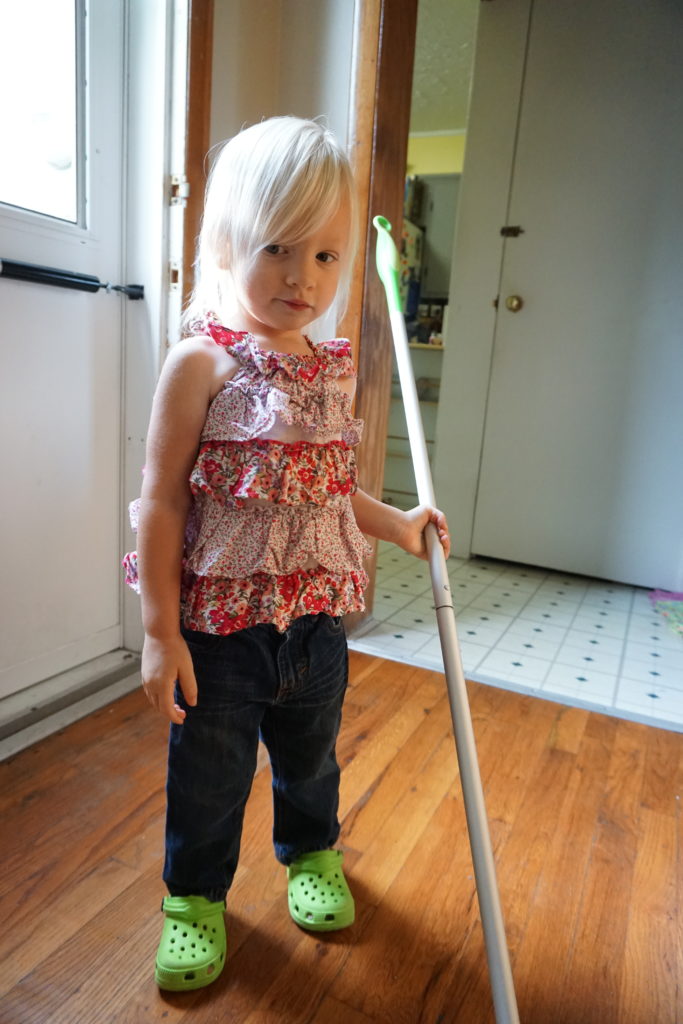 Here is another prime example: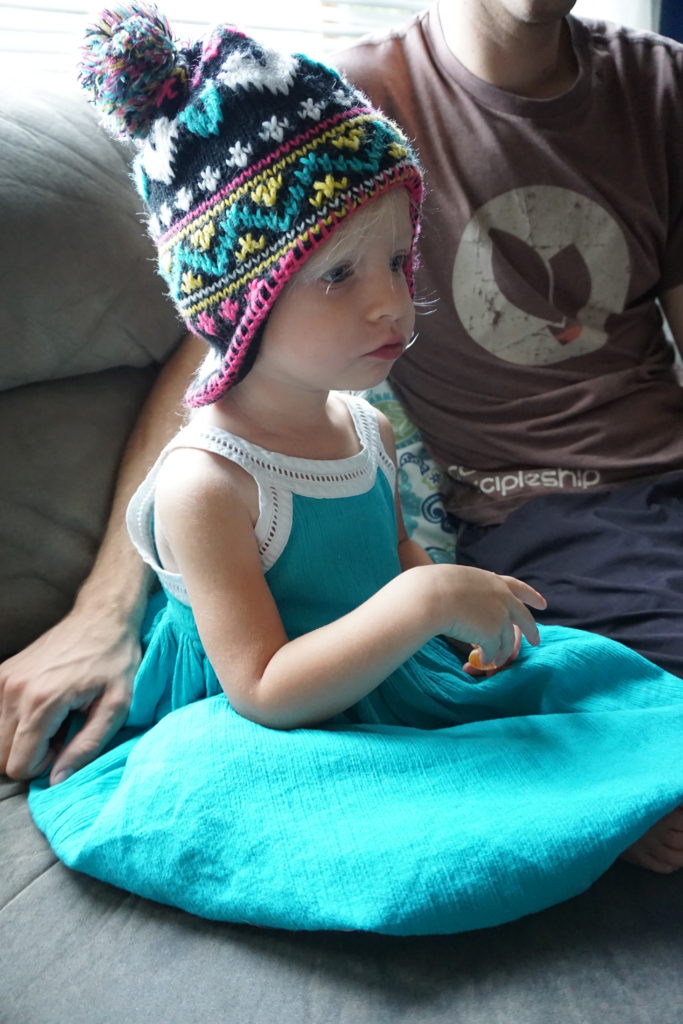 As I near the end of my pregnancy, I've been spending a lot more time than usual laying on the couch. Monkey see, monkey do!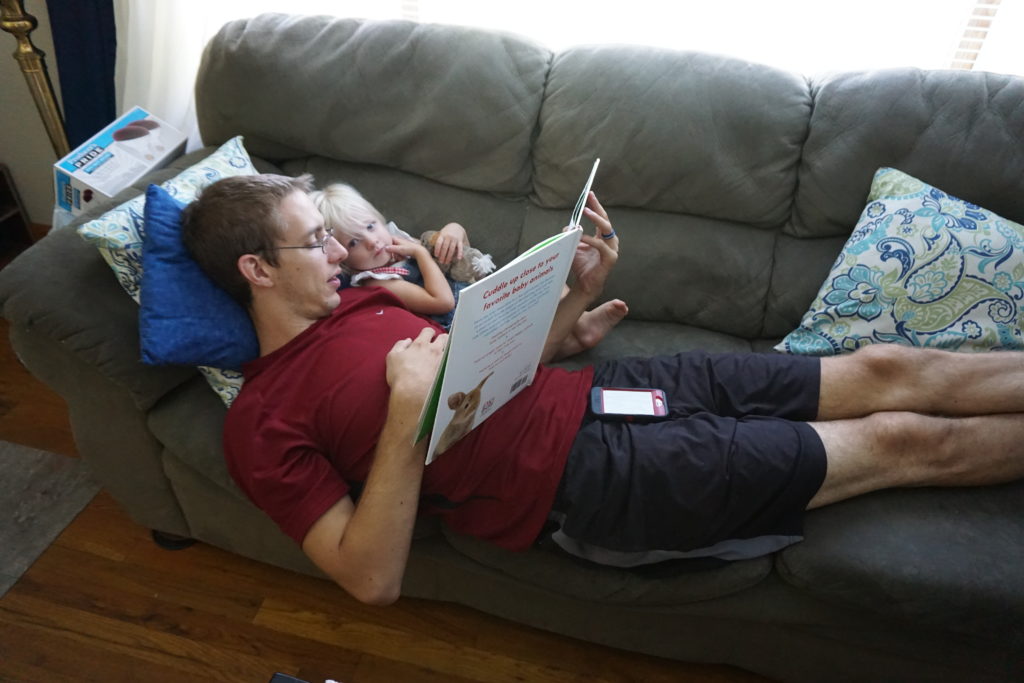 Also…potty training has been mostly successful! The real test of it will be when I have the baby.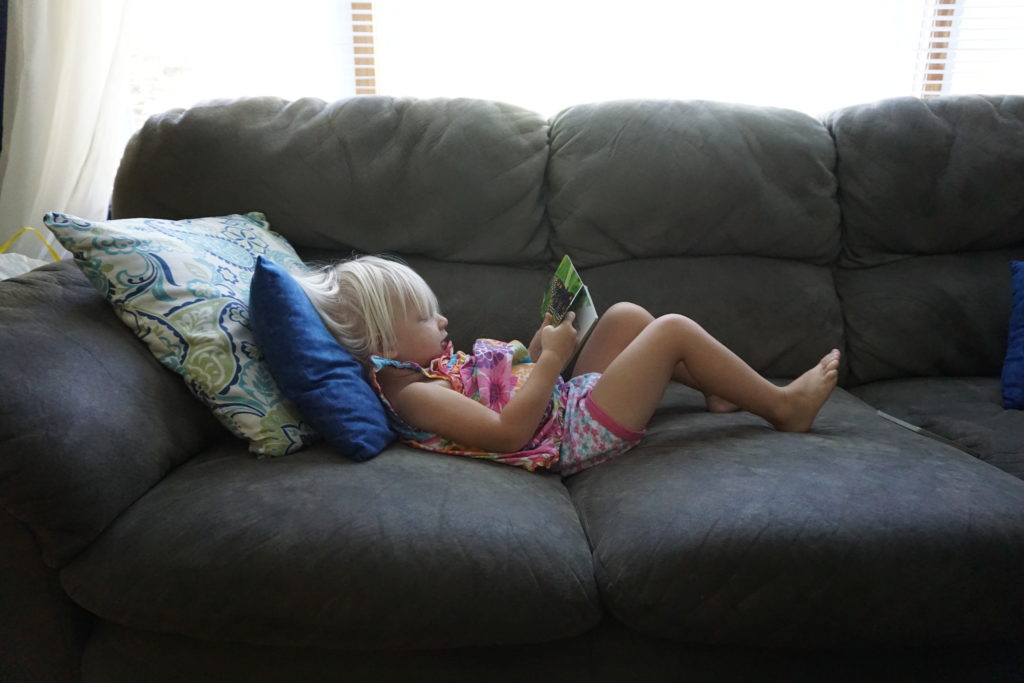 September 21st marked one year since we brought Little Miss home. Ethan and Kindrea gave us this beautiful gift and told us to open it on the morning of the 21st.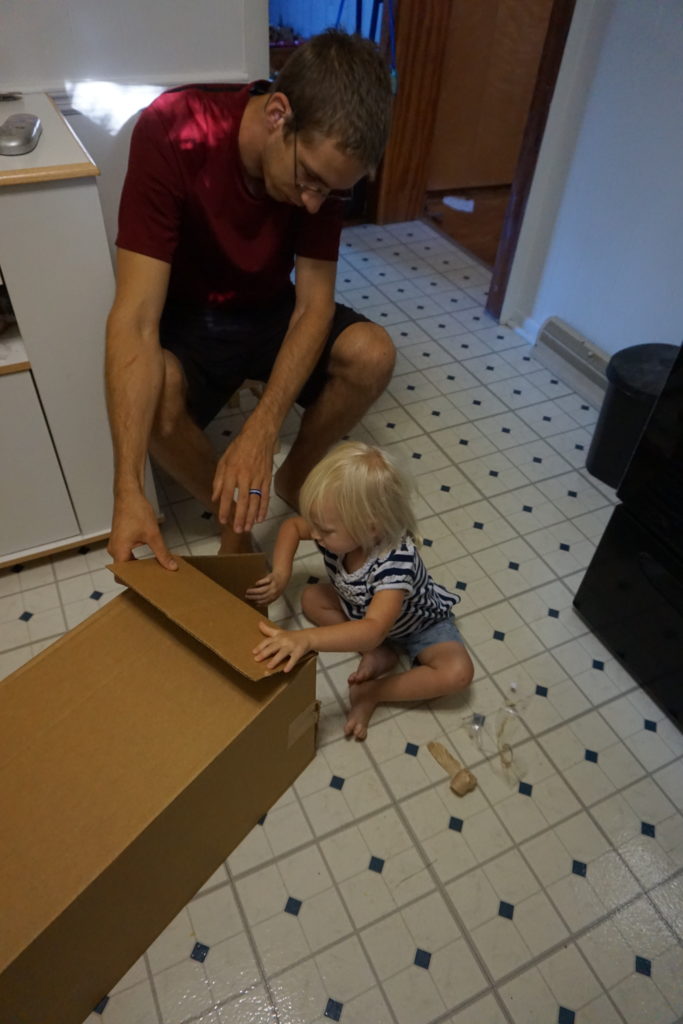 Tera was far more interested in the bubble wrap than the significance of the gift!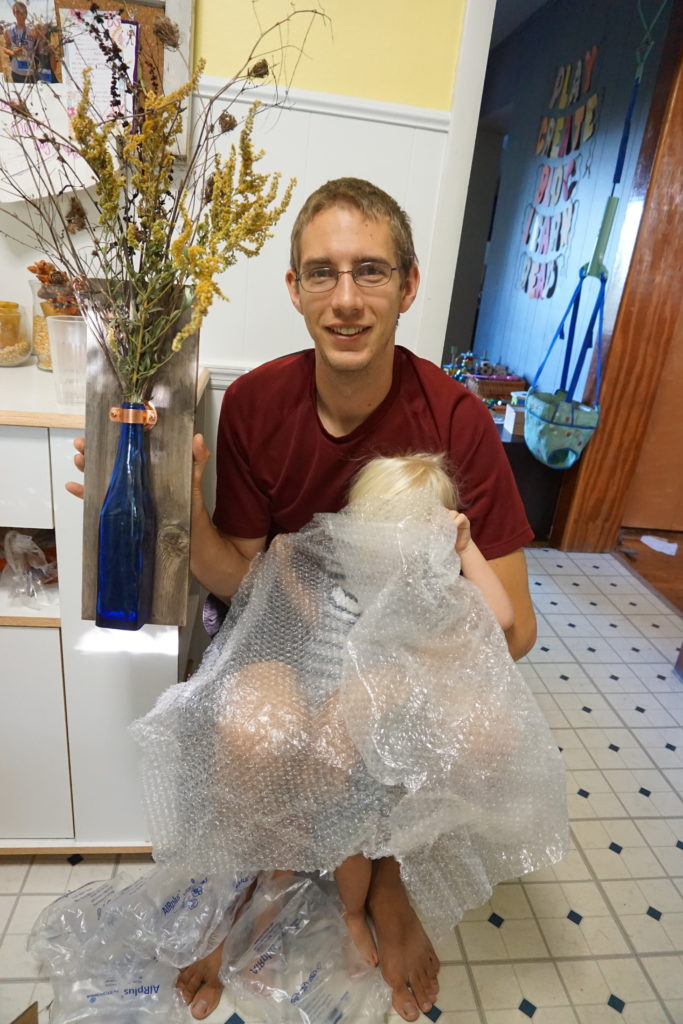 It is a "remembrance jar" and each component signifies something special in our foster care journey
The flowers are hand-picked with care, representing how God hand-picks each child for our home
There is a special letter hanging from a branch for each foster child we will have in our home
The dried/dead flowers signify the brokenness of sin in our world, and how foster care is a direct result of that.
The bright blue vase and yellow flowers signify that there can be beauty from brokenness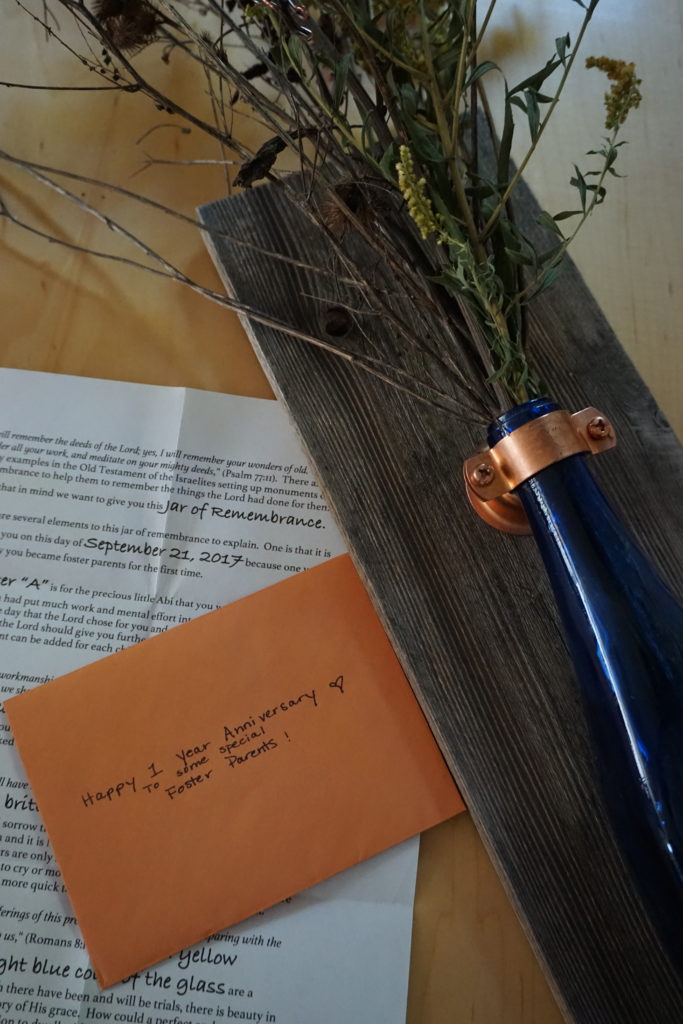 How beautiful is that?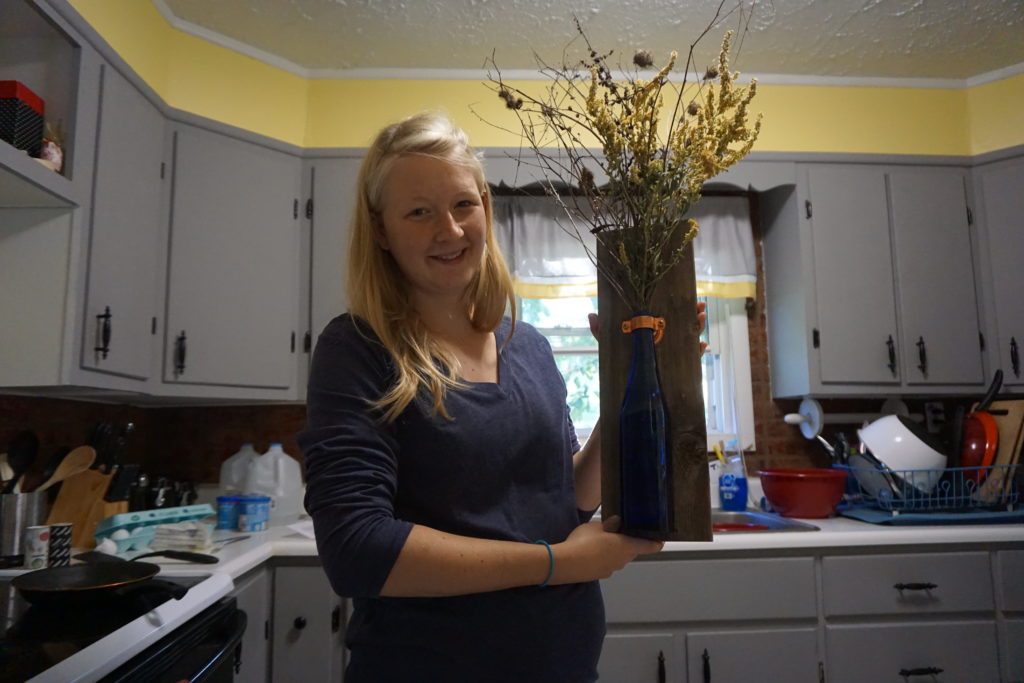 One thing on Tera's big sister bucket list was going on a date with Mommy! I decided we would both go get our hair cut together, then go to Chickfila for lunch.
While I was getting my hair cut, Tera accidentally knocked over an entire glass shelf containing lots of bottles and hair stuff. It was the loudest noise and poor Tera was SO embarrassed. And honestly, it was a complete accident, not a result of rambunctious behavior or disobedience. Poor thing was traumatized.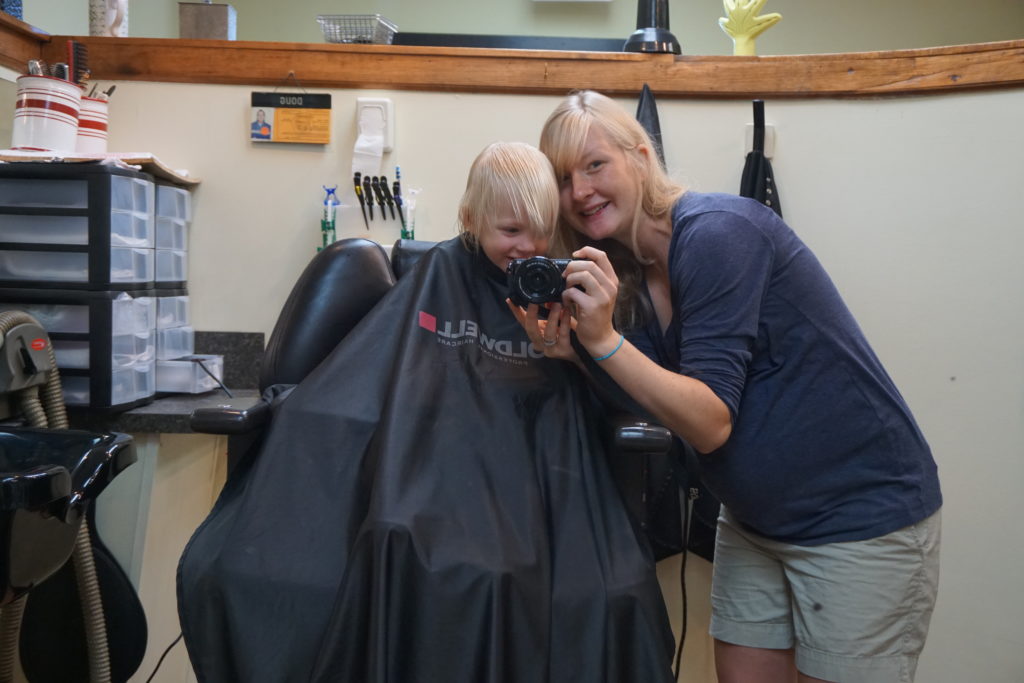 Tera did awesome during her haircut! I was so proud of her. She even tolerated having her hair blow dried!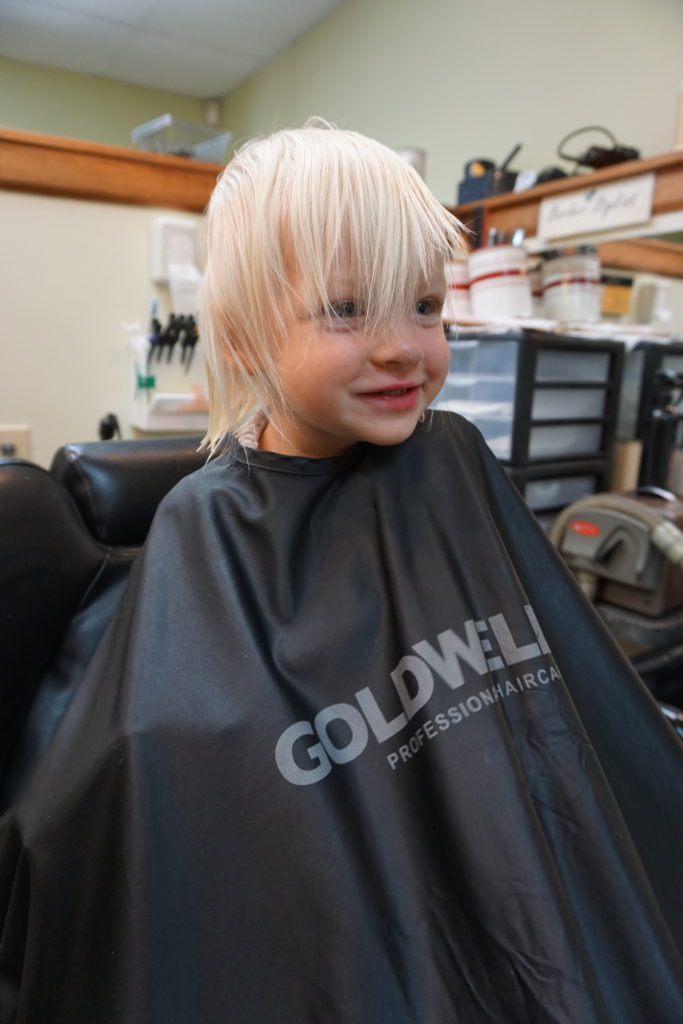 Ummmm, unfortunately I wasn't really happy with how it turned out. It's way too cropped and straight across the front. I cried. My poor baby girl doesn't look like a baby anymore…she looks like a boy with a bowl cut!!!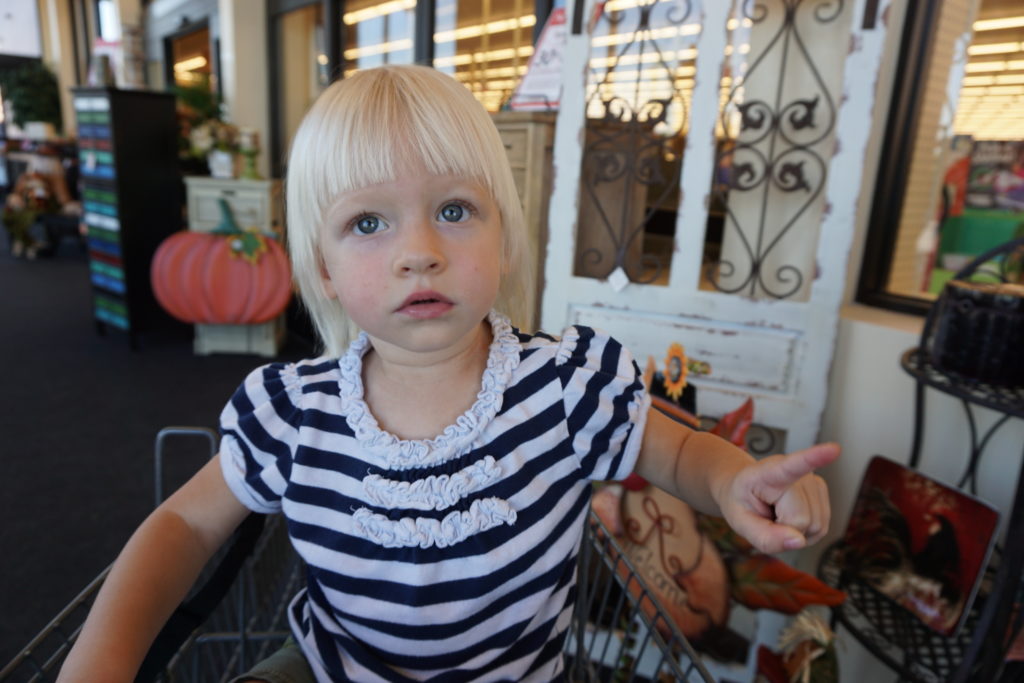 We hit up Hobby Lobby to make us feel a little bit better about the haircuts 🙂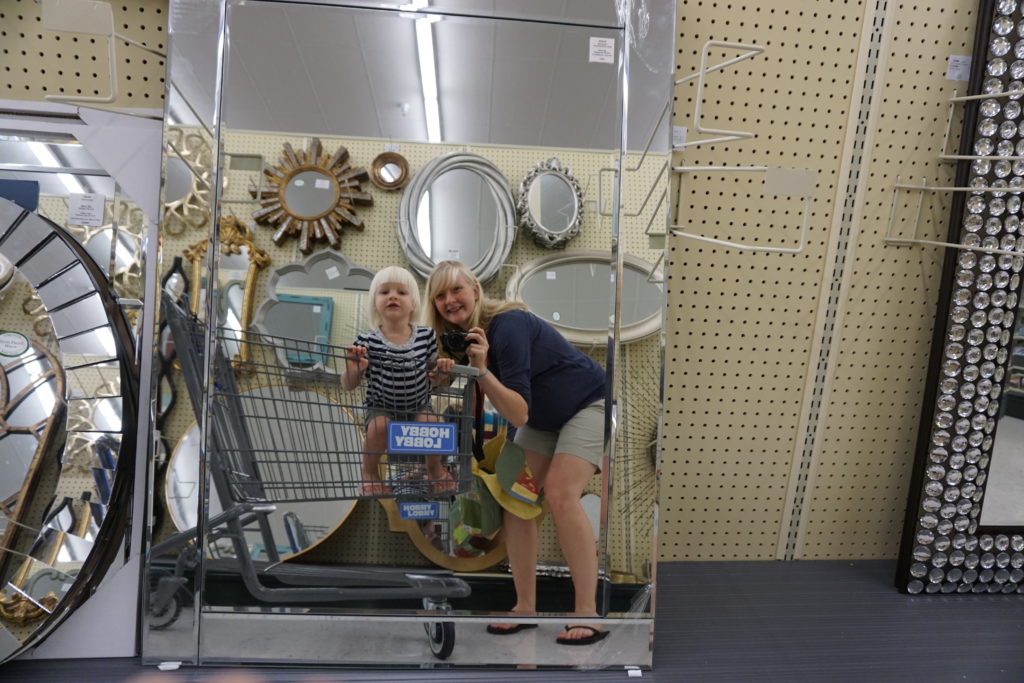 And then had Chikfila for lunch!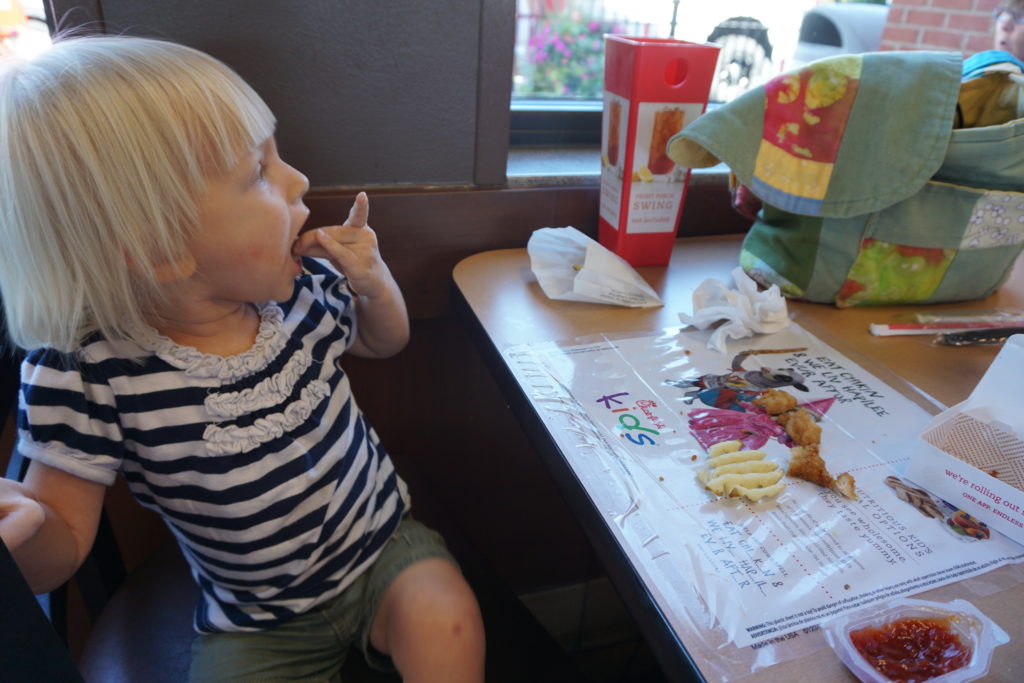 Daddy took some pictures of us together when we got home 🙂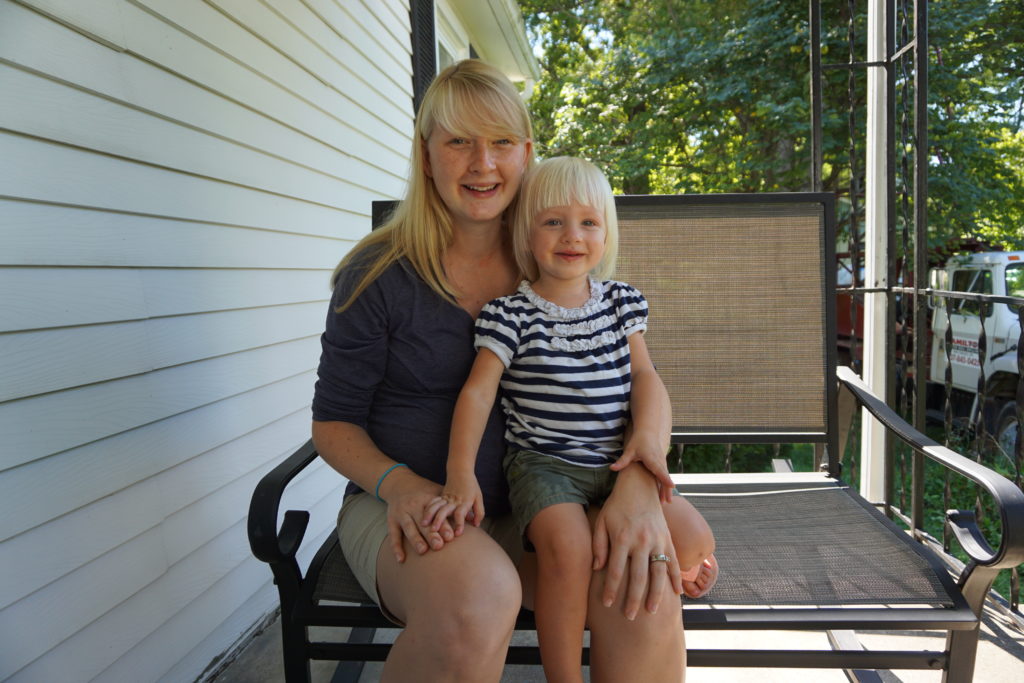 It'll grow out, right?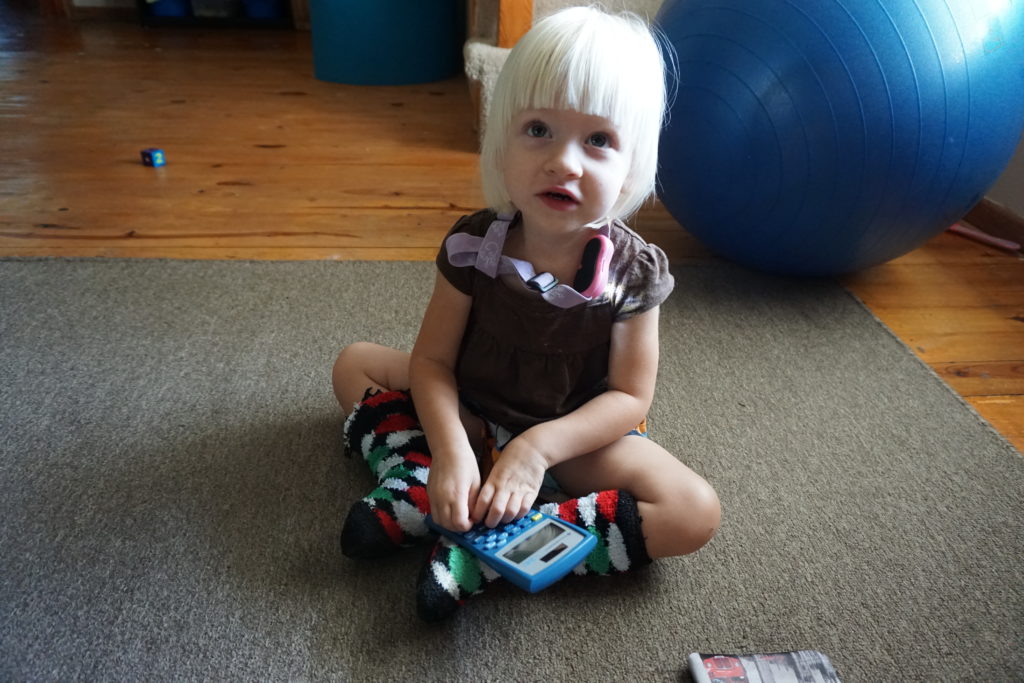 Two going on fifteen…she insisted on the socks and talking on her "phone" (which is Daddy's calculator that she is not supposed to have because it's kept stored on an off-limits shelf. Oh, toddlers.)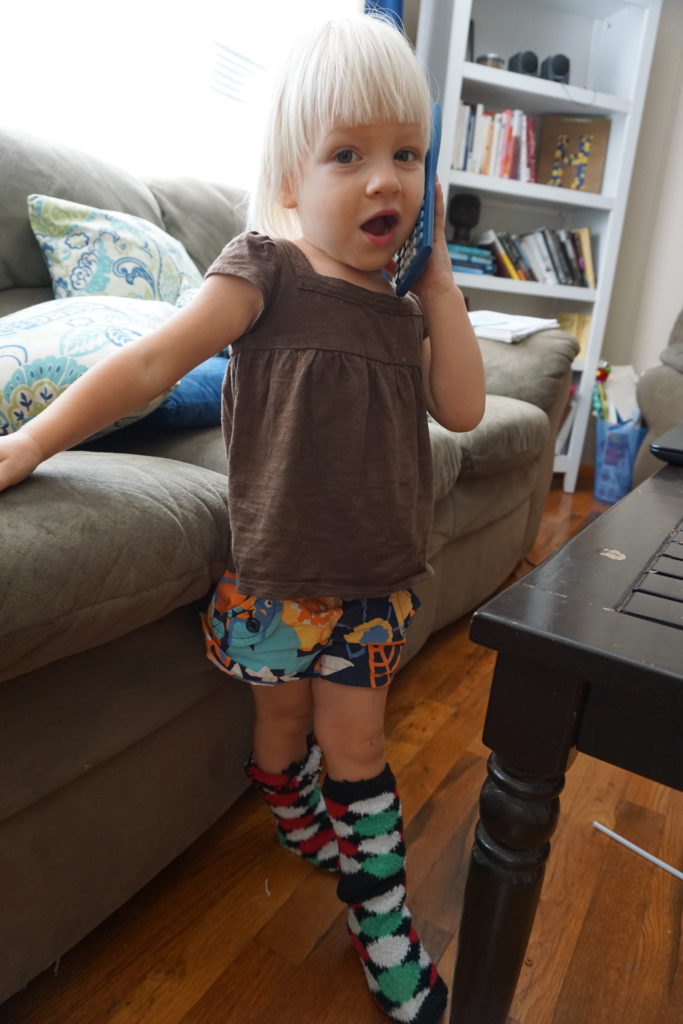 Have you noticed that I haven't mentioned anything about our well? Well, that's because I have an entire blog post dedicated to that very subject. Let's just say that the last two weeks of the month we have been living without running water…and we are racking up quite the bill trying to get the running water back!
On Saturday, we went to Learning Tree Farm for their Autumn Fest! You may remember that I LOVE THIS PLACE from this blog post or this blog post.
Autumn Fest did not disappoint!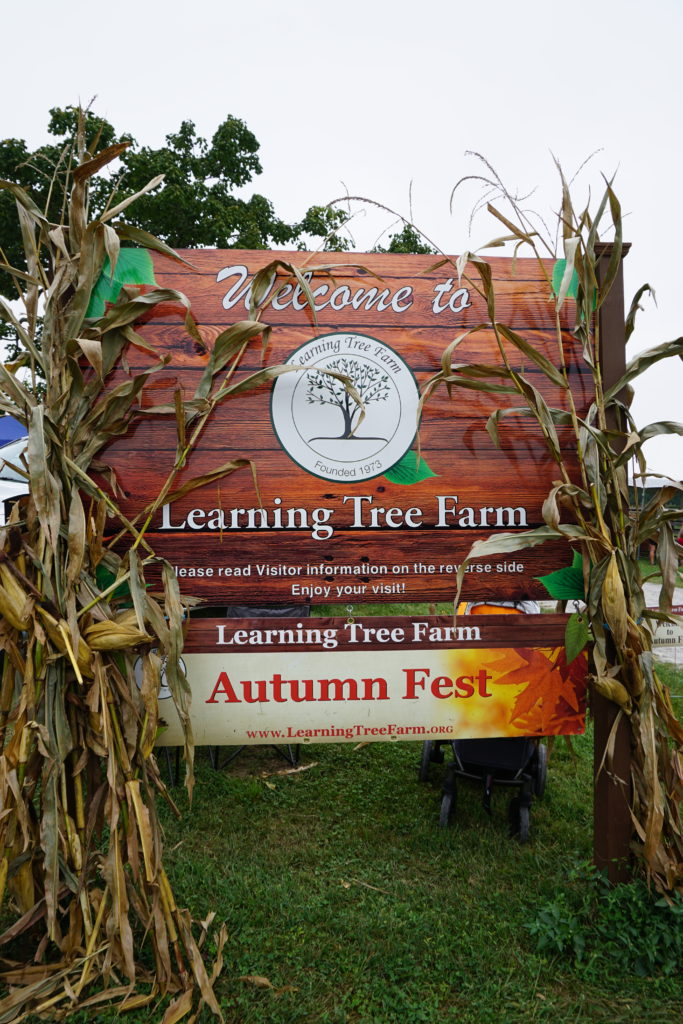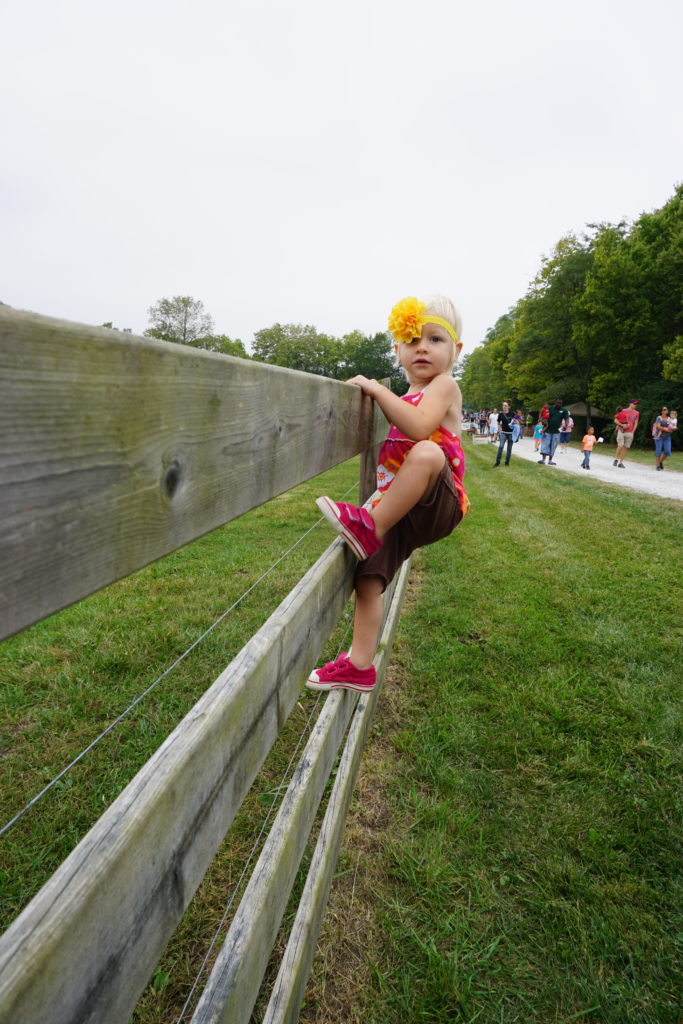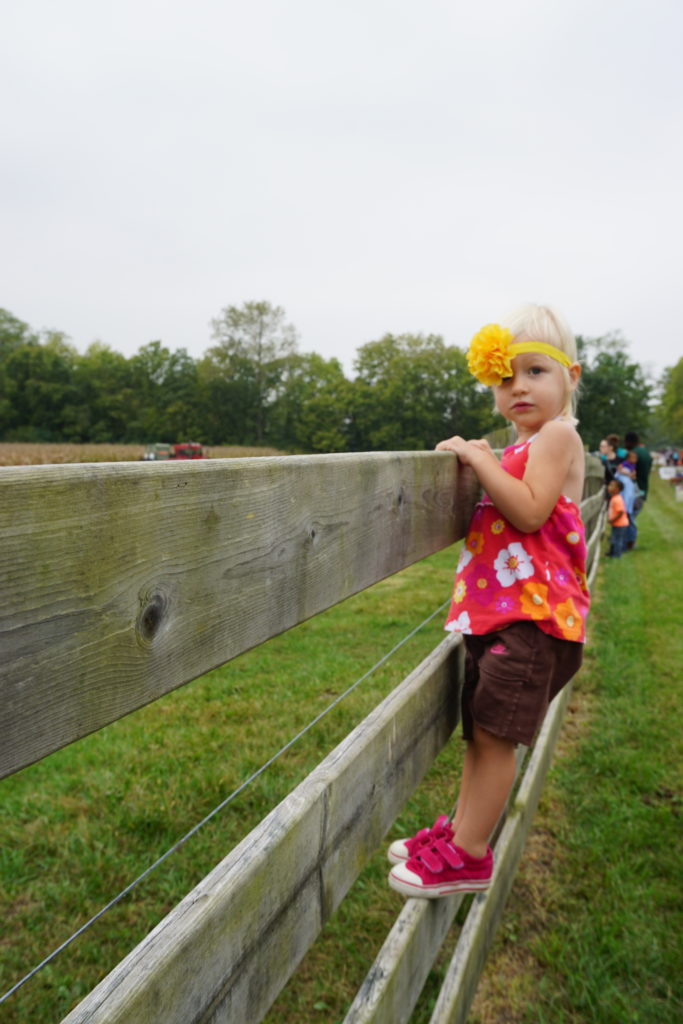 Hay rides!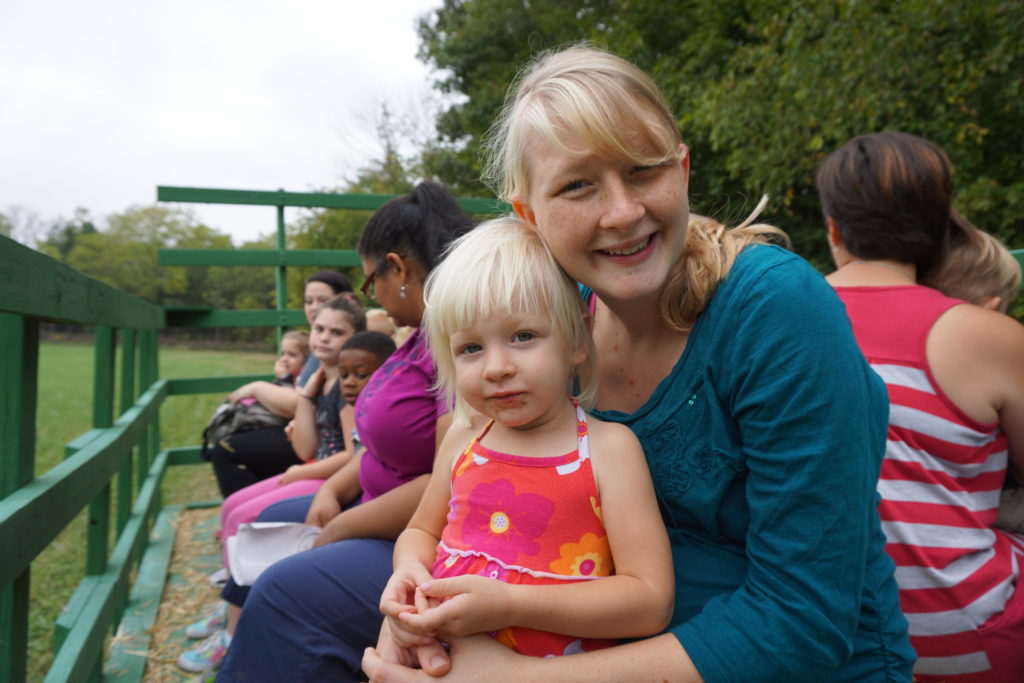 All four of us!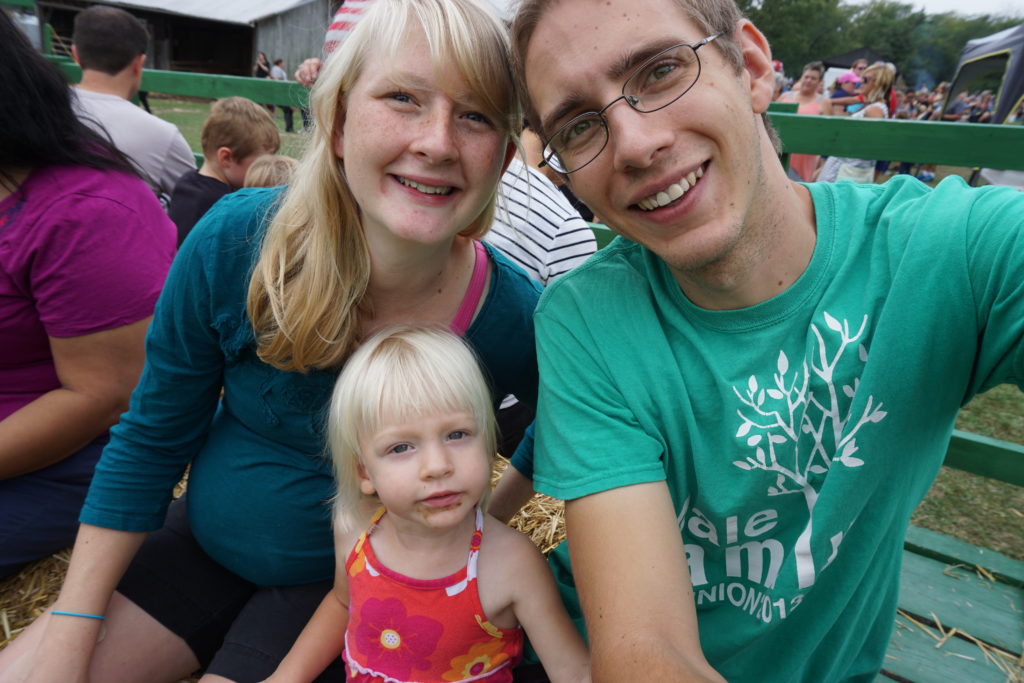 Pony rides! Guys…everything at Autumn Fest was FREE. Free admission, free hay rides, free pony rides, FREE! It was amazing. We did spend a whole $1 on popcorn, so there's that.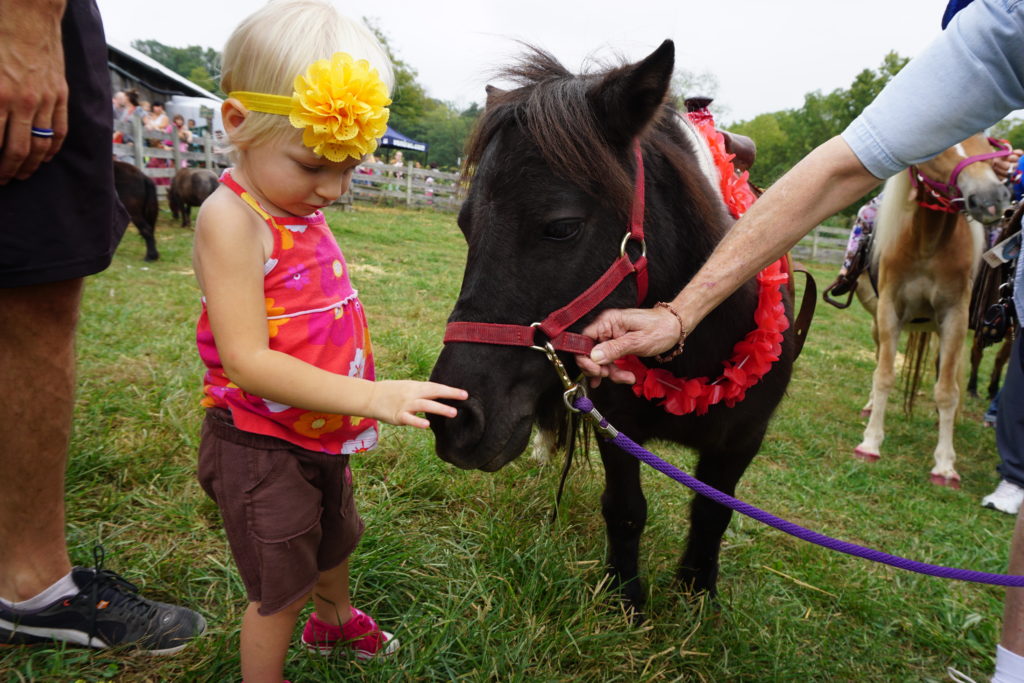 The line was pretty long for the ponies, and I felt bad for all the parents/kids who waited in line and then the kid would.not.do.it. There were so many kids who panicked and I was kind of expecting Tera to do the same.
NOT A CHANCE. This girl was a natural and loved every single second of it.
Her pony was TINY. I mean, she could have climbed on the thing herself. They would only let kids under 50 pounds go on the tiny ponies. It was adorable.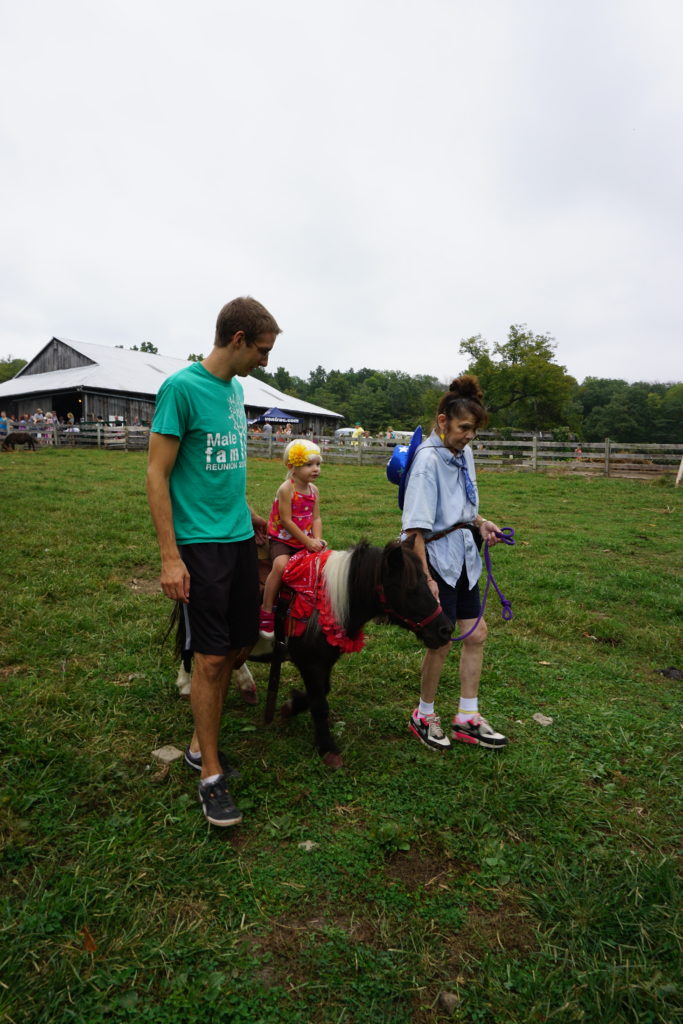 She also loved the chickens and all the farm animals, but especially the chickens. She so badly wants to hold it, but it's so heavy for her!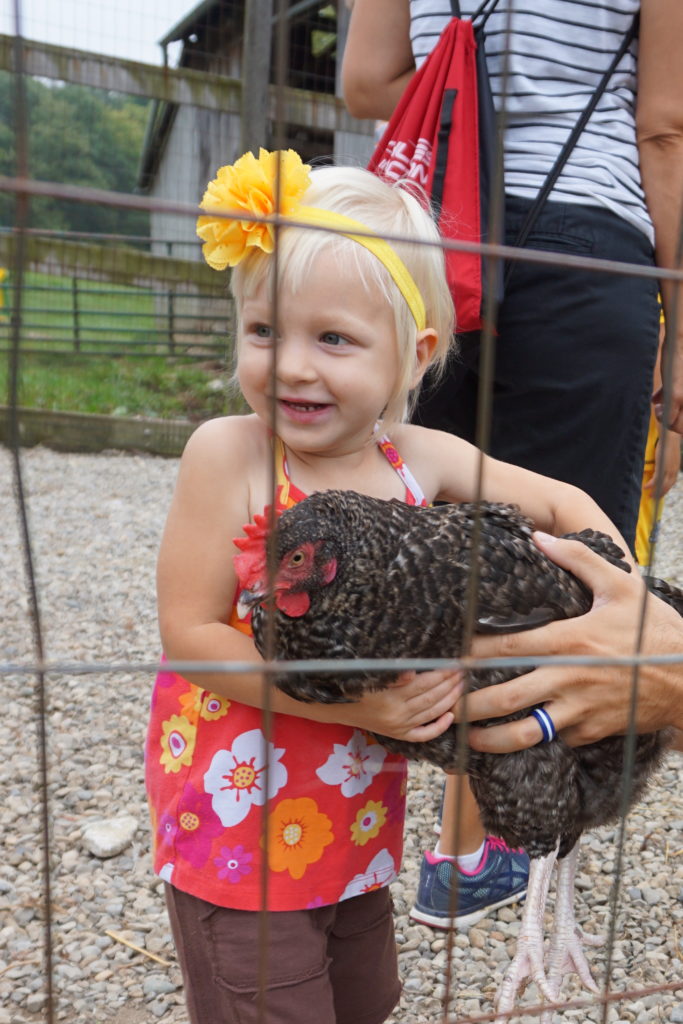 The poor chickens are probably traumatized for life after that day. There were probably over 400 people there and I don't even know how many times each chicken got picked up (and dropped). They were all huddled in a corner with their heads tucked under their wings. Theo and I joked that they probably won't be laying eggs for at least two weeks! But the kids were all having a blast and I LOVE that the Learning Tree Farm lets kids get in there with the animals.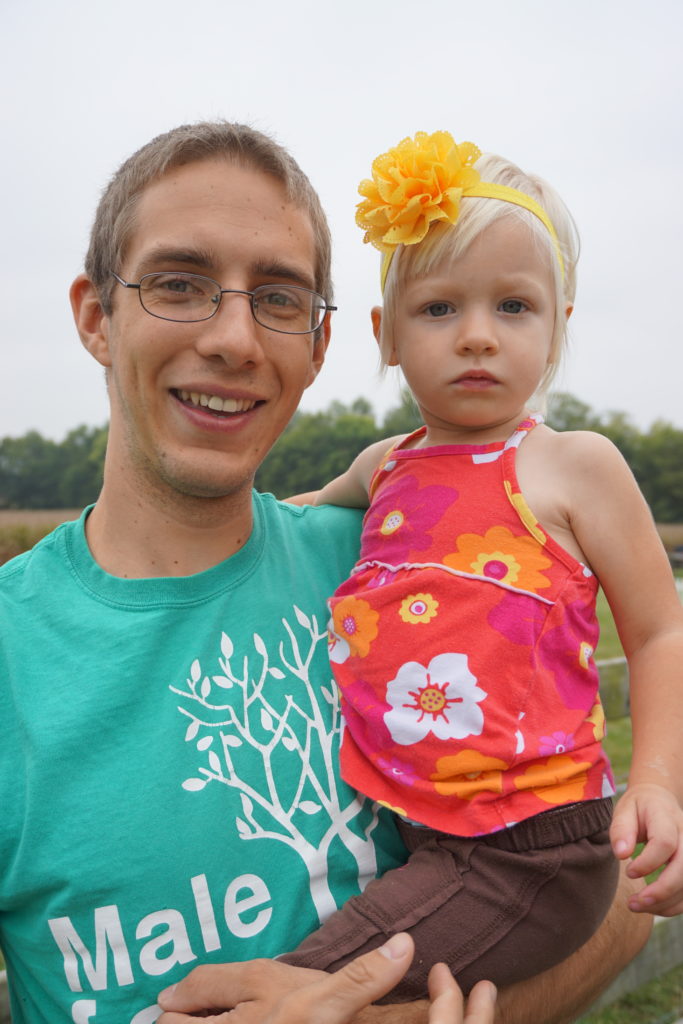 And I'll leave you with this shot: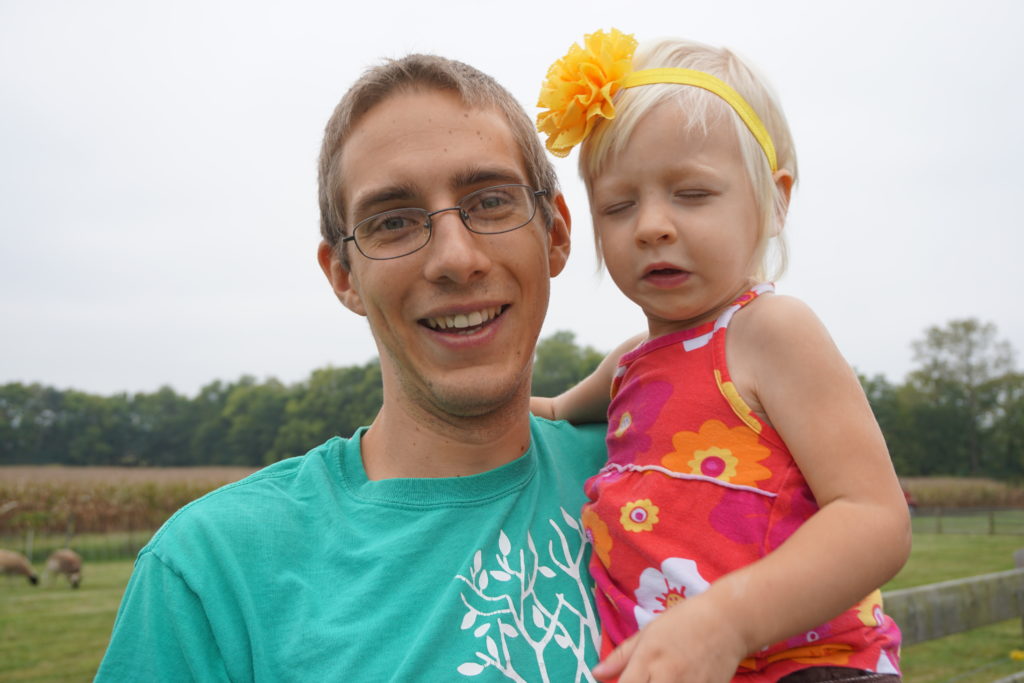 Right at the second that I snapped the picture, there was an incredibly loud noise from a steam engine. That is Tera's scared face. And Theo apparently has a very delayed reaction. But it was one of those things were EVERYBODY jumped and nobody was expecting it. Hahaha.