Happy October!
It's baby month!!!!
Several years ago, several blogs that I followed started doing something called #write31days. The idea is to pick a topic (any topic) and write about that topic for 31 days during the month of October. Two years ago, I didn't hear about it soon enough to even pick a topic, so I didn't do it. And last year we had just gotten Little Miss two weeks before, so I was not prepared to write every day.
Well, this year I'm having a baby this month, so I while I wanted to join in, I wasn't sure I would be able to.
But I'm hear to tell you that I will be joining in with #write31days!
I will be cheating a little bit, however, as I have already written all the posts in advance and simply have them scheduled to go live each day during the month of October. This not only gives me an opportunity to join in, but also gives me an opportunity to take the month of October off of blogging.
Today I just wanted to do a little intro to #write31days. You can find the website here. Feel free to browse around and find other bloggers who you might want to follow along with. You can also see who accomplished this incredible goal last year and the years before that!
Oh, were you wondering what my topic was going to be??
I will be publishing a post every single day this month and my topic will be: Foster Care.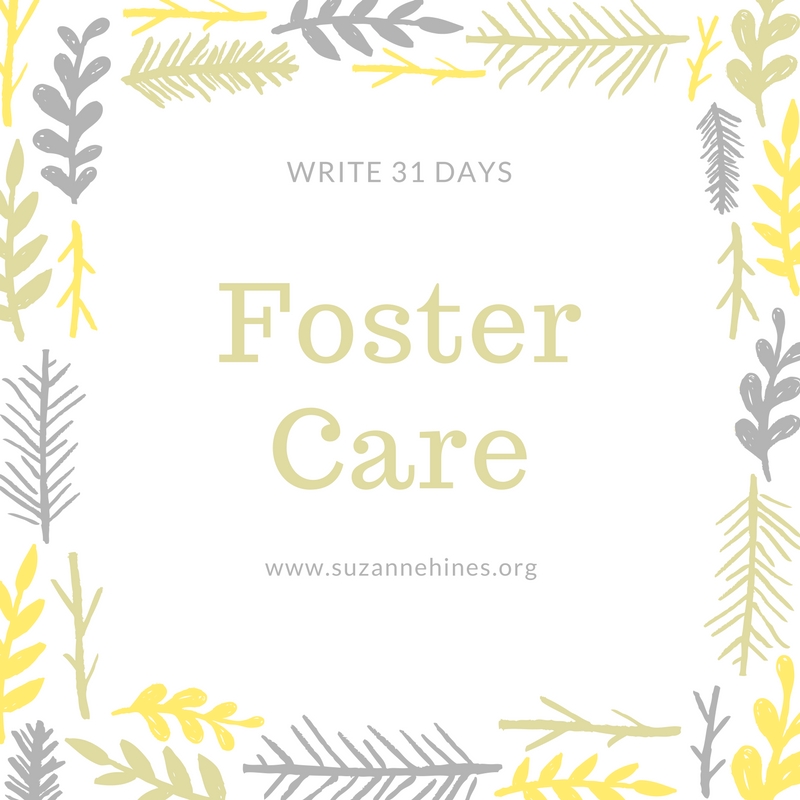 I am SO EXCITED.
I will write our story.
I will include some posts with lots of facts about how the system works and why things often turn out how they do.
I will also be including some posts that contain opinions and some controversial subjects and myths in the world of foster care.
I will be reposting some posts I have written in the past.
I will be continuing with my Monday shop features, featuring shops who support adoption and foster care!
I will be taking questions the entire month and dedicating a final post to answering those questions.
Here is the line-up:
Oct 8: The Goal: Reunification
Oct 10: Shop Feature: Ransomed Cuffs
Oct 17: Shop Feature: Together We Rise
Oct 20: Foster // Foster to Adopt
Oct 21: Books, Blogs and other Resources
Oct 22: Public or Private Agency?
Oct 25: Helpful Resources
Oct 26:  Myths on Why You Can't Be Involved
Oct 27: How You Can Get Involved
Oct 28: FAQs
Oct 29: Conclusion
Oct 30: Scripture
Oct 31: Shop Feature
I hope that you are as excited about this series as I am!
Save
Save
Save
Save
Save
Save
Save
Save