Ok, so maybe you are interested in fostering.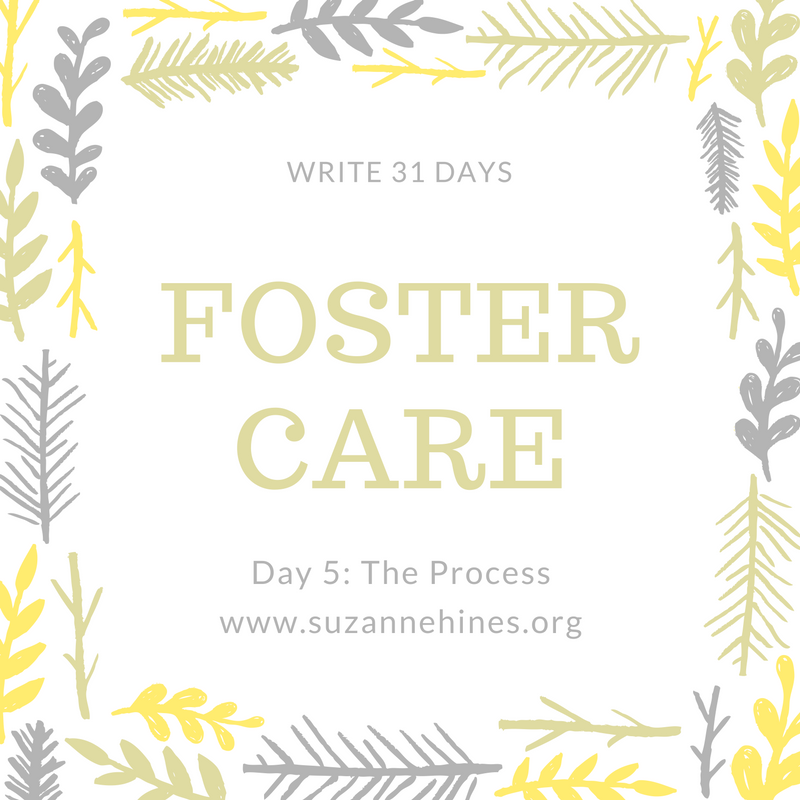 What's the process to become foster parents?
First…ANYONE can be a foster parent. Yes, there are some difficulties that might come up depending on your circumstances, but yes, YOU can be a foster parent.
Single? You can foster.
Not enough money? You can foster.
Too young? As long as you are over 21 you can foster
Physical disabilities? Yep. Pretty sure you can still foster, although there are some things that will be taken into consideration
Live in a small house? Yes, you can foster.
Military service? Yes, you can foster.
Little kids in the home? Yes, you can foster.
Teenagers in your home? Yes, you can foster.
Empty nesters? Yes, you, too can foster.
So, the steps to become a foster parent go a little bit like this:
Do your research. Do you want to foster? What does fostering entail? What ages are you interested in? Do you want to go with a private agency or a government agency? Do you want to foster, foster to adopt or both?
Contact a local agency. Trust me, if you pick up that phone and make the first call, you will be hooked up! These agencies are just waiting for the phone to ring…and for it to be good news, like a member of their community wanting to know more about being a foster parent.
Begin initial application paperwork. This is paperwork like filling out your name, contact info, number of people in your home, income level, etc.
Homestudy and PAPERWORK. Once your application is accepted, you will begin to go through the ringer. The paperwork is incredibly intense, and it includes a lot of filling out applications, getting fingerprints, getting a background check, submitting a driving abstract, etc. It kind of feels like a really, really intense job interview. On top of the paperwork, there are interviews. A caseworker will come to your home and ask you 8 million questions. Maybe not that many…but it feels like it. Questions about strengths, weaknesses, goals, dreams, why you want to foster, how you would respond in different circumstances, etc. This same caseworker will then inspect your home for all safety requirements. Honestly, it's not that hard to pass the safety requirements, also there are a few hoops that have to be jumped through such as getting your well water tested, putting outlet covers on all your outlets, contacting the fire department to do a safety inspection, etc. You also need to have beds for every age group you want to foster. If you want to foster babies, you need to have a crib. If you want to foster older children, you need to have a twin (or larger) bed. Some of the regulations are pretty silly, but all that needs to happen during this step, too.
Pre-Service Training. Training comes in the form of weekly or bi-weekly classes totaling around 40 hours. Yes, that is a lot of classes. Yes, they can be SUPER boring. But, we had an excellent instructor and actually loved our classes for the most part. We learned SO much, and not just in relation to fostering.
License! Once all this is complete, the agency takes it from there, and then you receive a license in the mail!
Placement. Then, you wait. You wait for a phone call that tells you a child will be at your doorstep in a few hours. And it's the most beautiful thing you will ever experience.
How long does this take?
It took us two years. It shouldn't take that long. From the time we started to the time we got our first placement, we had one biological child, we both switched jobs, AND we moved to a new house (but still in the same county). I know people who have done it all in two months, but most people take 6-9 months to complete all of that.
How much does it cost?
Around $100. The agency pays for pretty much everything, but there were a few things that we had to cover, such as the cost of the well inspection and fire inspection.
Questions?
If you have any questions at all about foster care or adoption from foster care as I go through this series, please don't hesitate to ask. You can leave a comment or send an email. At the end of the series, I will have a Q&A day and will be answering any questions I receive throughout the month.
Previous posts:
Day 3: Shop Feature: Karla Storey
Please share and interact!
As a blogger, it means SO much to me if you like, comment and share on these posts! You can share the whole series or just a particular blog post, but your support in that way means the world to me!
#Write31Days
You can find the official #Write31Days and all the other bloggers who are linking up by clicking here.
Save