Well, here we are at 38 weeks.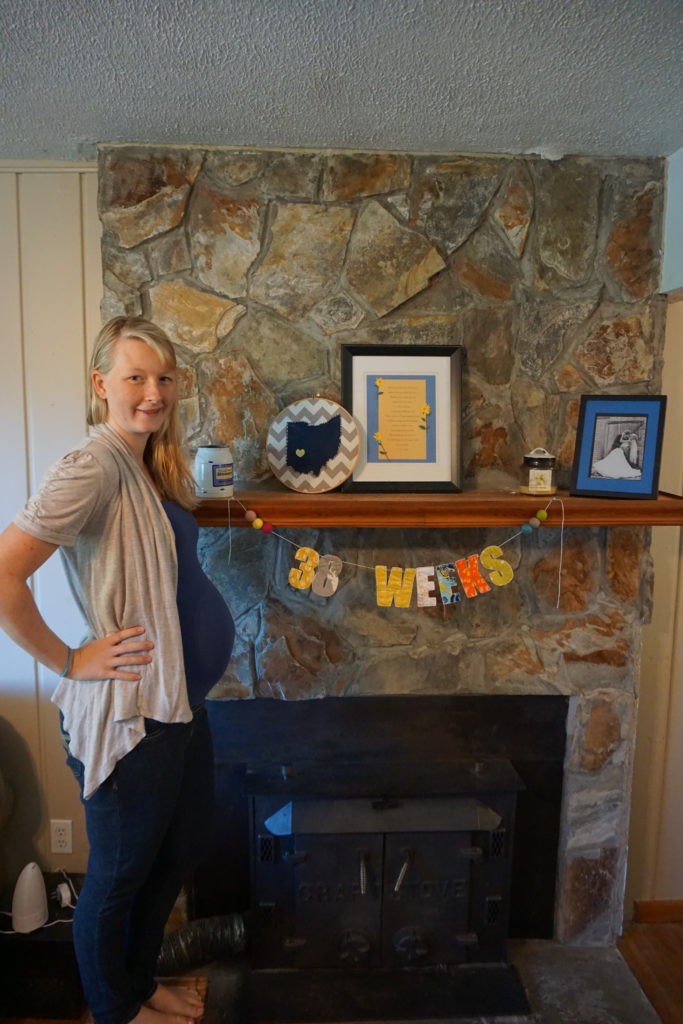 I don't even know where to begin with this update. I know it's been three weeks since I did a pregnancy update, but it sure has not been a boring three weeks. In fact, it has probably been some of the hardest three weeks of my life. Honestly, pregnancy has been on the back burner. It sounds so strange, especially so late in the pregnancy, but life has just overwhelmed us with circumstances that are mentally, physically, emotionally and spiritually exhausting.
But enough complaining! Onto the 38 week update!!!
How Many Weeks: 38 weeks! Only two left until my due date!
Size of Baby: He is the length of a leek, probably around 18 inches! And he is the size of a pumpkin! I should take a picture with a pumpkin sometime this week, since that sounds about accurate! He should be around 7 pounds and just plumping up and getting ready for labor now! He is fully ready for life outside the womb!
Symptoms/How I'm Feeling: I am feeling it all!
I am feeling rather large, although when I look at these pictures I think I might look smaller than I did at 35 weeks and smaller than I did with Tera at 38 weeks? I really think that labor is imminent, but that my body is just holding out until life can settle a little bit. Maybe he has dropped?
I'm not having too much trouble sleeping, only waking up once or twice a night, but man…rolling over is equivalent to an Olympic event. I often wake up in pain just because I have been in this one really heavy position for a really long time.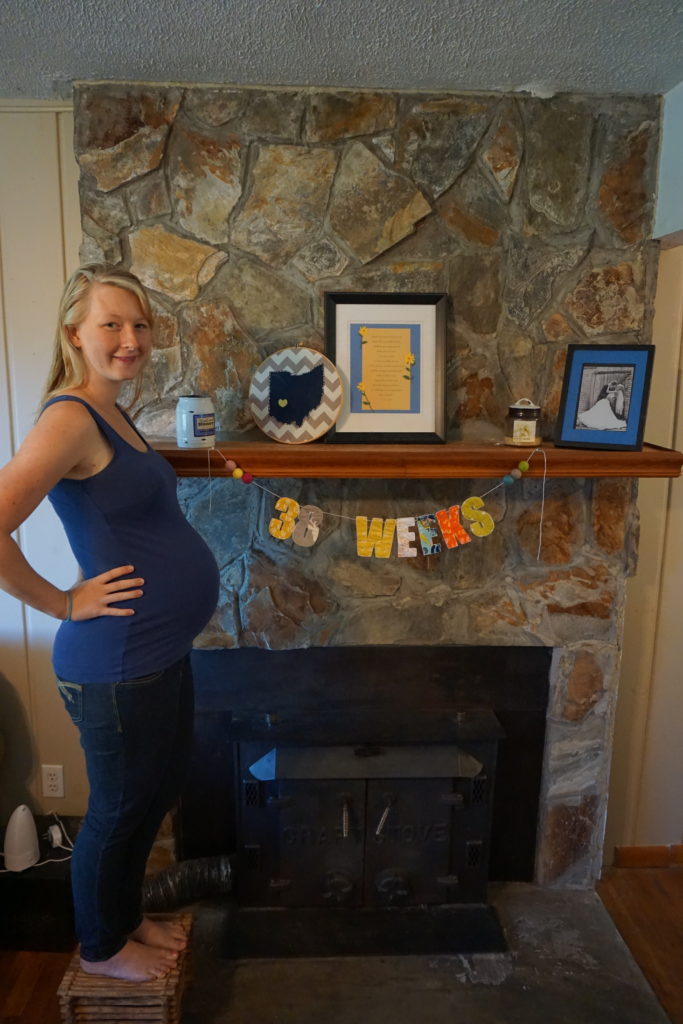 I've had a huge loss of appetite the last few weeks, which is both a combination of the stomach bug that hit our house and just the general end of pregnancy blah-ness. I still always have my nightly bowl of Frosted Flakes, though!
I have stretch marks like crazy this pregnancy, but they are more stretch dots than marks. Weird, I know.
Contractions are daily and frequent, and sometimes VERY, VERY strong. Since Tera's labor was 7 hours from start to finish, I'm kind of expecting this baby to go really, really FAST. I know that these contractions are more than just Braxton Hicks, so although I have declined all cervical checks, and have no clue where I am at, I think I am already well on the way to having this baby! We shall see, though…I know that every pregnancy and birth is different!
I've been really nervous about going through labor again, and the past three weeks have been so draining. As we all struggled through no running water and the stomach bug, I was so anxious about going into labor with all that happening. Now that the air has cleared a little, I think I am more prepared to go through a natural labor again. I just need at least another week to get my mind wrapped around the facts of labor and I *think* I will be good to go!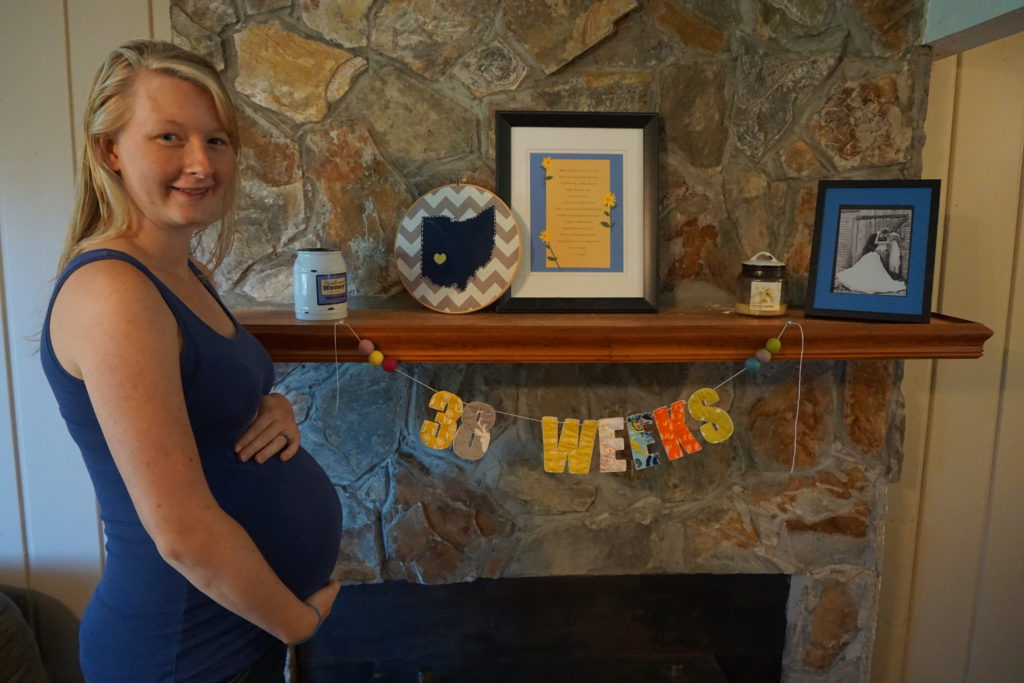 Weight Gain: 25 pounds
Dr. Appointments: Appointments are every week now, although I missed my appointment this week due to the lovely stomach bug wreaking havoc on me the night before. They are mostly routine and I have declined cervical checks so I'm mostly just being monitored for blood pressure, weight and my urine!
Exercise this Week: Surprisingly, I have gotten my fair share of exercise this past week! With the cooler weather, evening walks have been lovely, and it kills time to push Tera in the stroller for a little while! She LOVES stroller rides and we love our walks, so I have gone on at least one walk almost every day for the past few weeks!
Best Moment this Week: The Grace of God, in the good times and bad. I really can't say much more than that. I am thankful for everything that He has provided for us, including a support system that has been there for us when we really, really need it the most.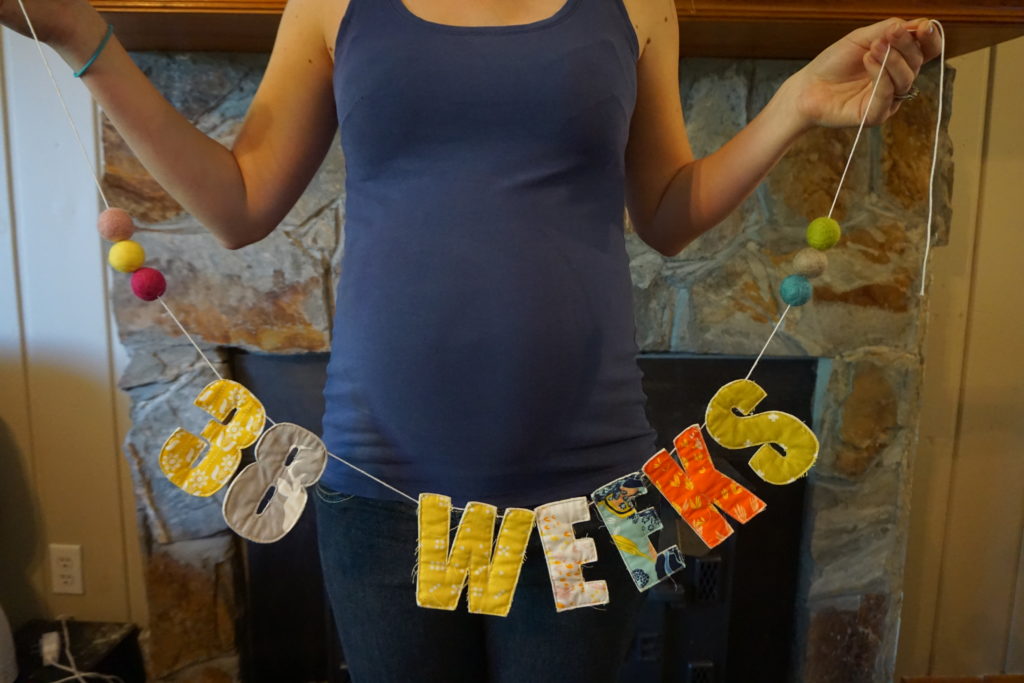 Worst Moment this Week: Well, three weeks ago, our well collapsed. We not only lived without running water for two weeks, but we also paid a verrrryyyy hefty price tag, to the tune of over 10 thousand dollars for a new well. Yeah, that was not fun.
We rejoiced and frolicked in the water as soon as it was turned back on, and ONE DAY LATER, Theo came down with the worst stomach bug that has ever graced the walls of this house (literally and figuratively). I was able to escape to my sister in laws house before Theo even got sick (he called me at church and told me NOT to come home), but after a little over 24 hours away I knew I needed to be at home taking care of Theo. So I returned home and lo and behold, I came down with it, too. It was awful. Thankfully, we had meds on hand and I was able to stop it before it even really began, but I actually begged Theo to kill me. I actually wanted to die. It was not fun. So far, Tera is her normal chipper self and seems to have escaped it? All prayers for her health and safety (and that of the baby!!!) would be GREATLY appreciated. Phew, it was rough.
What I'm Looking Forward To: Well, now that I am emerging from the last three weeks of horror, I am realizing that my parents are coming in just NINE days!!! That is insane! It has been over two years since we have seen them, and I am SO EXCITED. Even as a grown woman with children, I want my Mommy.
I'm obviously also really looking forward to meeting our little man! I can't believe he will be here SO SOON!
What I'm Dreading: There's not too much I'm dreading right now!
What I Need to Do Before Baby: 
Go to clothing sale/consignment shops to build his wardrobe
Pack hospital bag
Buy newborn diapers
Prep a bag for Tera and instructions for a babysitter (just in case I go into labor before my parents are here)
Prepare at least 10 freezer meals for after his arrival
Clean and organize/decorate Tera's and baby boy's shared room
Order items off Amazon that we still need for baby boy
Order big sister/little brother clothes for when they meet (eeeek!!)
Read birth books (at least 5)
Write birth plan and have Family Beginnings all set up
Paint and clean guest room
Work ahead on blog so I can take some time off without any blogging
Find/order any breastfeeding supplies I no longer have
Pull out and clean bassinet and other baby stuff
Here is 38 weeks with Tera!