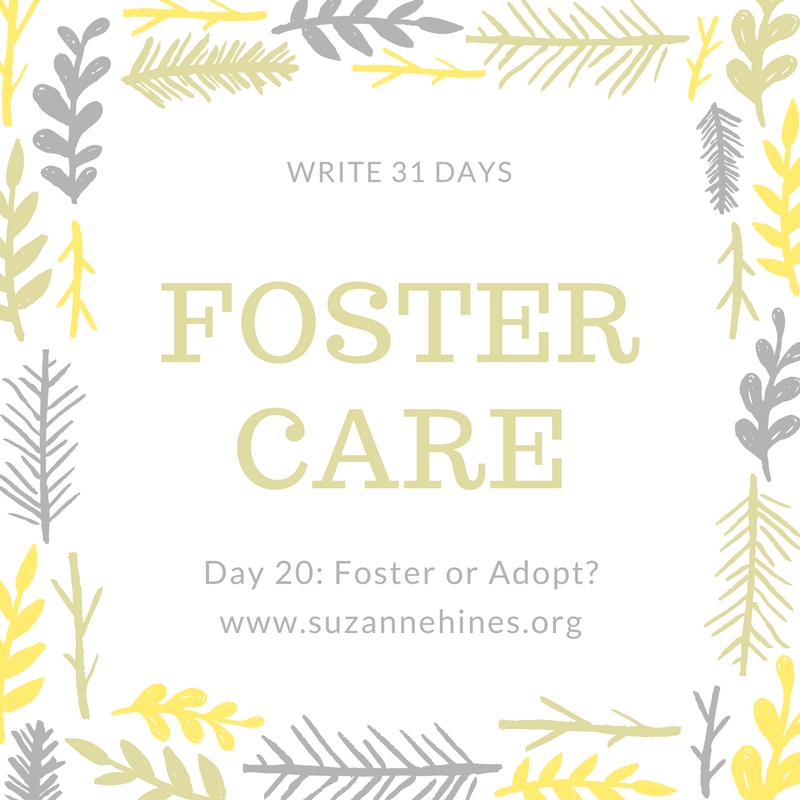 Another common question that I get is "What is the difference between foster care and adoption?"
First, please understand that there is a huge difference between foster care and domestic adoption. Domestic adoption is an entirely different field, and that happens when a birth mother/birth parents relinquish their rights and give their baby up for adoption.
Now, back to the question.
If you are becoming a foster parent, one thing that you need to decide is if you will FOSTER or FOSTER TO ADOPT or BOTH.
It is notable here that your agency and your county/state has some say in what you choose. I know some foster parents who are required to certify for both in their location. In our county/agency, we had a choice, but we were strongly encouraged to do both.
When entering into foster care, please keep in mind that the goal is reunification. The goal of Children's and Family Services is not only to remove the child, but then to restore the family.
This is where FOSTER comes in. You sign up to become a foster parent with the goal of reunification. You are fostering these children knowing that you will most likely say goodbye. You are fostering not necessarily to build your own family, but to restore another family. That is foster care, and it is beautiful.
But as we all know, this does not always happen. Oftentimes, a long period of time passes or a parent is deemed unfit to care for the child. At this point, the parental rights are terminated and the child is available for adoption. When you sign up to FOSTER TO ADOPT, you are on the fast track to the process of adoption of that child.
Yes, you can ADOPT from foster care without FOSTERING. You still have to go through all the same stipulations (classes, background checks, homestudy) that foster parents have to go through, but you don't have to foster children. For example, if you have a relative you are wanting to adopt or feel led to adopt a specific child, you can do that (and the costs are very, very minimal). Remember, this is NOT the same thing as a domestic adoption!
So, now that we have discussed the differences, let's discuss a few more ins and outs of why you might want to choose one or the other.
In the world of foster care, it can get a little bit tricky. A placement that was initially going to be "short-term" suddenly turns into an adoptive case. Or the opposite happens: a for-sure adoptive case suddenly dissolves as a relative steps forward to take the child.
If you sign up to foster, you may find your placement available for adoption and want to pursue that. That is when it would be beneficial to have both certifications on your license. For example, we have both certifications and if Little Miss had become up for adoption, we would have been the first ones able to adopt her. That may not have been the case if we were not also licensed to adopt.
Some people go into foster care with only a foster to adopt certification. That means that they should only receive placements whose parental rights are terminated and the child is up for adoption. Of course, this is the way it goes on paper, and it does not always go that way in real life. If you are signed up to adopt please remember that things can happen (like a relative stepping forward) and that child is not up for adoption anymore. It can be heartbreaking.
For this reason, my recommendation is to go into fostering and get both certifications. Even if you only intend to adopt, or if you never intend to adopt from the system, in the end it is the strategy that covers all the bases. And as I mentioned above, your county/agency may require it anyways. As always, stay informed and remember that foster care can really throw some curveballs, even if you think you have it all planned out!
Questions?
If you have any questions at all about foster care or adoption from foster care as I go through this series, please don't hesitate to ask. You can leave a comment or send an email. At the end of the series, I will have a Q&A day and will be answering any questions I receive throughout the month.
Previous posts:
Day 1: Introduction
Day 2: Meet the Hines
Day 3: Shop Feature: Karla Storey
Day 4: Why We Chose to Foster
Day 5: The Process
Day 6: The Cast of Characters
Day 7: The Paperwork
Day 8: The Goal is Reunification
Day 9: Reflections
Day 10: Shop Feature: Ransomed Cuffs
Day 11: The Placement
Day 12: The Daily Life
Day 13: The Extra's
Day 14: Bonding
Day 15: The Goodbye
Day 16: Reflection
Day 17: Shop Feature: Together we Rise
Day 18: Finances
Day 19: Rules
Please share and interact!
As a blogger, it means SO much to me if you like, comment and share on these posts! You can share the whole series or just a particular blog post, but your support in that way means the world to me!
#Write31Days
You can find the official #Write31Days and all the other bloggers who are linking up by clicking here.