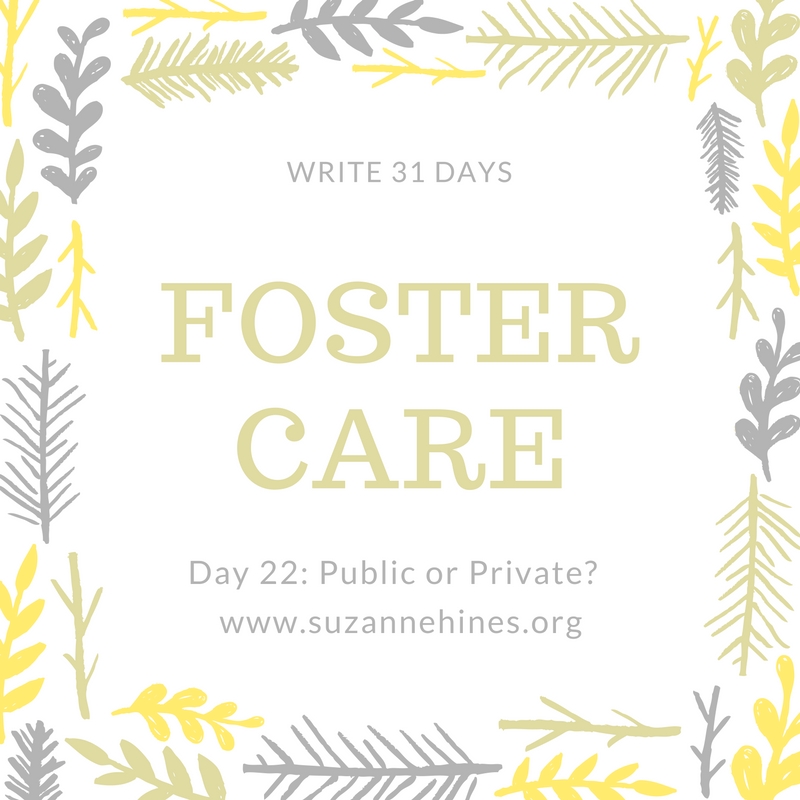 Another question that comes up as you get into the throes of researching foster care is whether to choose a public agency or a private agency.
The public agency is government mandated and there should be one in every county, or if very rural one for every several counties. This is "CPS" or Children's Services, and is obviously the biggest foster parenting recruiter.
But there are also many, many private agencies. Private agencies can be Christian, Catholic, or just simply a private agency (as opposed to the county).
Here's how it works.
A county caseworker is notified of a child who may need removal. They respond and decide on whether or not the child needs to be removed. If the decision is removal of the child, they caseworker starts calling people on their list. The caseworker works through the list of foster families that will accept the child, and if no county liscensed foster parents are able to take the child, the caseworker will pass the information onto a private agency.  A caseworker from the private agency then begins calling their foster families looking for an available home.
(Side note: I had a really hard time finding ANY information about this process, so please feel free to correct me if I am wrong or missing information!)
As you can imagine, there are pros and cons to each type of agency.
County:
Infant placements are more likely through the county
Classes and pre-requisites are often easier to obtain just because they are offered more frequently
You will probably end up paying a little bit less for the whole licensing process
Private Agency
Most private agencies deal with the harder to place children (older, special needs). In my research, I found that most people do not recommend going with a private agency if you are looking into infant or toddler placements.
Private agencies often have a higher per diem payment rate compared to the county
Since a private agency has a lower volume of intake, they are often much more personal and quicker to respond to you. This is the #1 reason I have heard people encourage a private agency…your phone calls are returned faster, your emails are responded to and they often know you and your foster children AS A PERSON, not just another case file.
If you choose a private agency, you can choose a Christian agency (or your personal religious affiliation). Your social workers will also be Christians and this can take away from so much of the tricky waters around religious differences
As with everything else in foster care, the availability of private agencies and how they work in your area may vary. You may not have many options and that is ok! I strongly encourage you to do your research and thoroughly research the private agencies in your area as well as researching the differences between the county and private agencies.
Questions?
If you have any questions at all about foster care or adoption from foster care as I go through this series, please don't hesitate to ask. You can leave a comment or send an email. At the end of the series, I will have a Q&A day and will be answering any questions I receive throughout the month.
Previous posts:
Day 1: Introduction
Day 2: Meet the Hines
Day 3: Shop Feature: Karla Storey
Day 4: Why We Chose to Foster
Day 5: The Process
Day 6: The Cast of Characters
Day 7: The Paperwork
Day 8: The Goal is Reunification
Day 9: Reflections
Day 10: Shop Feature: Ransomed Cuffs
Day 11: The Placement
Day 12: The Daily Life
Day 13: The Extra's
Day 14: Bonding
Day 15: The Goodbye
Day 16: Reflection
Day 17: Shop Feature: Together we Rise
Day 18: Finances
Day 19: Rules
Day 20: Foster or Foster to Adopt
Please share and interact!
As a blogger, it means SO much to me if you like, comment and share on these posts! You can share the whole series or just a particular blog post, but your support in that way means the world to me!
#Write31Days
You can find the official #Write31Days and all the other bloggers who are linking up by clicking here.