One of the biggest things I have been learning through our foster parenting journey is how important a good support system is. It is CRUCIAL to the sanity of the foster parents to have a support system. Through our year of processing and preparing, our nine months of our fostering and our time of grieving, we have had some incredible people do incredible things to support us. I have also collected some fabulous ideas from other foster parents on what some of the most helpful/supportive things are that can be done before, during and after a friend has a foster placement.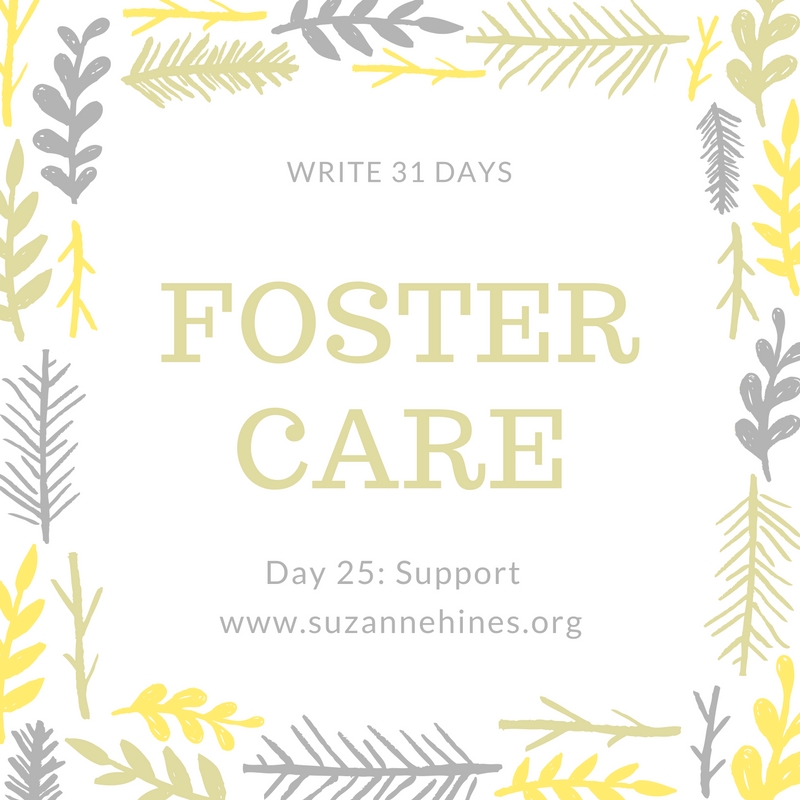 I just want to dive in and create a list here, and maybe you want to bookmark this for future reference in case someone you know becomes a foster parent.
Before a Placement Arrives – some people in the adoption world refer to this time as a "paper pregnancy", and I find that so very fitting.
Ask for updates. It means a lot when people show that they are following along with the journey.
Pray. Make sure that you are telling the friend that you are praying! A text, a note or even an email can go a long ways!
Throw a shower! Especially if this is the couples first expected child, they will need to have a lot of things on hand for when they get "the call". Even if it's not the couples first child, you can get together with friends and have a book shower, a diaper shower, a prayer shower or even a "collection" shower, where you all bring items that the foster parent may need. And hey! If everyone brings a blanket, that's great…because you never know how many foster children they will have!
Offer to babysit children. When we were preparing to be foster parents, we had to go to 40 hours of classes…without Tera. We desperately needed babysitters, and so many people stepped up to watch her (sometimes ALL day) while we went to classes.
Offer/donate some of your stuff. Some people might frown at hand-me-downs, so hopefully this is well-placed advice. In order to be certified in our county, we had to have a bed for every potential child. We are certified to take children ages 0-12 which means that we needed a bassinet, a crib, a toddler bed and a regular bed…all at the same time. And as soon as we got a placement, we needed TWO cribs. Before running that pile of stuff to Goodwill, ask your friend if they need it. Other items that foster parents need to have on hand: a carseat in every level (rear facing, forward facing, booster), clothes in each gender and size, diapers in each size, formula and bottles.
When a Placement Arrives. This is often an INSANE and tumultuous time for everyone involved. Support is so necessary
Give a gift. Actually, make that two. If a friend of yours has received a placement, treat that child like you would a brand new baby. Go out and buy them something, no matter their age. And then…buy two of the exact same thing, giving one to the child for keeps (no matter where they end up), and one to the foster parent to also keep (so if the child leaves they can hold onto it for memories sake).
Bring a Meal. Meals are always helpful, am I right?
Offer to make a run to the store. Sometimes, we get a call and 30 minutes later we have a new child in our home. That child doesn't have shoes that fit or formula or a carseat. Can you imagine how insane it would be to have to drag that child (plus other children) to the store just to get a can of formula? Enter…YOU! Offer to stop by the store and pick up whatever might be needed. Hopefully the foster parent will have the mind to reimburse you, but give a little grace if they are forgetful 🙂
Give a gift card. Sometimes bringing a meal at the last minute is just not possible, and that is fine. But picking up a gift card to Chipotle or even McDonalds is often much more plausible, and super practical.
Letters and Scripture. For those words of affirmation people, this time is going to be really insane in their lives. A letter can go so far. Just write out a prayer for them and deliver it to their mailbox.
When a Placement is in Their Home
Babysit!!!!!!! I cannot emphasize this one enough. The dates that Theo and I were able to go on while we were fostering were such a breath of fresh air. I know that ALL parents understand that, but the burden of foster care is so great and sometimes these foster parents just need to get away from it all.
Gift Cards. We all have crazy schedules, and bringing meals is not going to happen. But as a foster parent, they have SO MUCH going on in their schedule, and so much of it is unpredictable. Having gift cards on hand to be able to eat out or stop by a restaurant on the way home from visitation is like pure gold. SO HELPFUL.
Letters, Emails, Scripture. This is a running theme, but these foster parents need to hear these words so badly. Send them a cute canvas with a  Scripture verse, or a sweet note in the mail, or just shoot them a text with some Scripture! It will go a long, long, long ways. Trust me.
Treat the child like their own. It gets complicated in the world of foster care. Is the child staying, or going? How long? Why? All of these questions are so hard to answer, but one thing that meant so much to me was when people treated Little Miss just as they would Tera. If Tera got a present, Little Miss got one, too.
When a Child Leaves- obviously, this is going to be a really hard time for the foster parent. Please try to treat them as if they are grieving, because they are. Even if they knew that this would happen all along, they still need to be treated like they are going through something difficult.
Meals. When Little Miss left, I found that my grief manifested itself most in exhaustion. I just couldn't do anything except take a nap on the couch (or in my bed). Cooking dinner was the last thing on my mind.
A Personalized Gift. Buy a gift for the foster parent to remember the child by. On the day Little Miss left, Theo went to the store and had a picture printed and framed of Tera and Little Miss. It was so meaningful to me that he did that, and I now have that picture on my dresser. My sister in law made an incredible remembrance jar for us that signified what foster care means in our home.
Just let them know you are thinking of them. Don't just say, "that must be so hard". That just makes it harder when that comment is followed by…nothing. Say, that must be so hard…here is a hug. Or a letter. Or a pint of ice cream, and I'll sit down and eat it with you.
These are just SOME ways that you can support a foster parent. There are so many other creative ways to give them support! And remember, if you feel that you can't do foster care…that's fine! But I bet that you could do one of the things on this list for a foster parent, and you never know the encouragement that it will give them to keep on going. That in itself is the best impact you could have on foster children.
Questions?
If you have any questions at all about foster care or adoption from foster care as I go through this series, please don't hesitate to ask. You can leave a comment or send an email. At the end of the series, I will have a Q&A day and will be answering any questions I receive throughout the month.
Previous posts:
Day 1: Introduction
Day 2: Meet the Hines
Day 3: Shop Feature: Karla Storey
Day 4: Why We Chose to Foster
Day 5: The Process
Day 6: The Cast of Characters
Day 7: The Paperwork
Day 8: The Goal is Reunification
Day 9: Reflections
Day 10: Shop Feature: Ransomed Cuffs
Day 11: The Placement
Day 12: The Daily Life
Day 13: The Extra's
Day 14: Bonding
Day 15: The Goodbye
Day 16: Reflection
Day 17: Shop Feature: Together we Rise
Day 18: Finances
Day 19: Rules
Day 20: Foster or Foster to Adopt
Day 21: Public Agency or Private Agency
Day 22: Books/Resources/Blogs
Day 23: Reflections
Day 24: Shop Feature: The Archibald Project
Please share and interact!
As a blogger, it means SO much to me if you like, comment and share on these posts! You can share the whole series or just a particular blog post, but your support in that way means the world to me!
#Write31Days
You can find the official #Write31Days and all the other bloggers who are linking up by clicking here.