Ok, so maybe you have sat down and considered foster care, but after praying about it and evaluating your home/family, you have been led to the decision that you truthfully cannot be foster parents.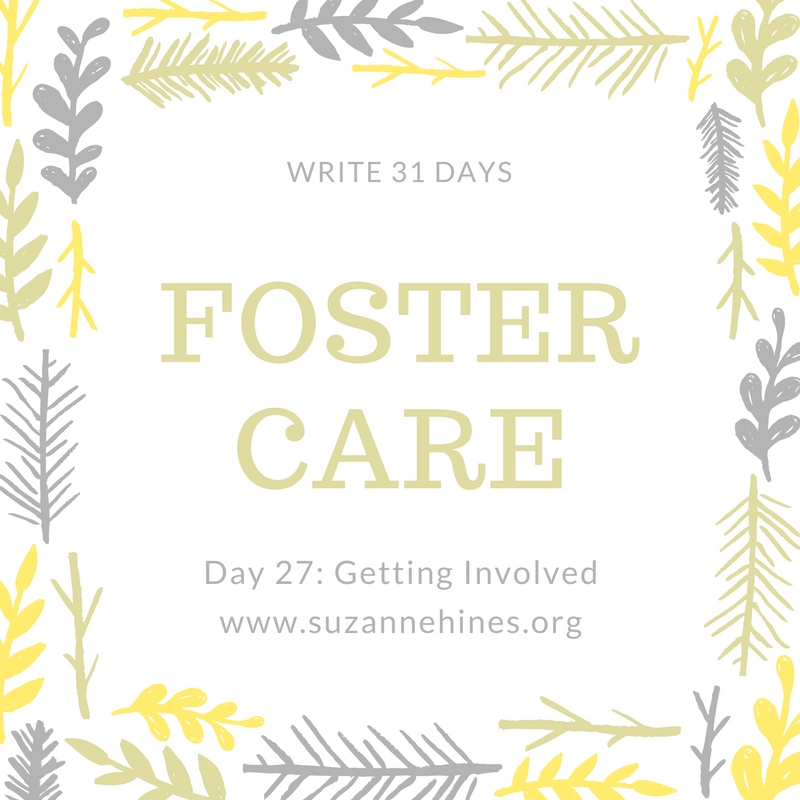 Are there other ways to be involved? If you can't be a foster parent, can you still impact foster youth in our country…in your county?
OF COURSE!
Here are some ways that you can involved:
Respite care. To become a respite caregiver, you do need to go through all the training that a foster parent has to go through. Then, you take children in on a very temporary basis until a home can be found for them. Respite parents also watch foster children while their foster parents go on much needed vacations, to conferences or when they just desperately need a break. A respite foster parent can have a foster child in their home for up to two weeks!
Alternative Caregivers. This the fancy term for babysitter! Get certified to babysit foster kids, and some foster parents will love you forever. Not that I know from experience or anything…
Visitation Help. A foster child will usually have visitation days with their biological family. These days are hands down the hardest days to be a foster parent and a foster kid, as they often have to face the people they are angry with, or that they miss greatly. Some children are filled with anxiety and fear on those days, sometimes it's hard to eat and function and use good manners when the emotions are so overwhelming. This in turn spills over into the foster parents laps, as they are often dealing with misbehavior, not to mention their own schedule change and the hours that it might take to facilitate visitation.  Help a foster family transport to and from visitation, or provide a meal on visitation days. Babysit other children while the foster parent goes to visitation.
Tutor or mentor a foster child who may be struggling in school (new flash: that is most foster children). This might require once a week (or however often you decide) time with the foster child in their foster home going over their homework, reading with them, answering questions, doing catch-up work. Not to mention the fact that you would be building a relationship with that child, letting them know that you care. One-on-one time for a kid in foster care could make the BIGGEST difference in that kids life.
Support the Foster Parents. I already wrote a whole post on that!
Donations. You may happen to have several items that are needed (clothing, shampoo, an extra baby crib, etc.). Maybe your child is not in that stage or they have just outgrown some jeans or shoes that you JUST bought and they got worn once. Perfect. Those donations would be more than welcome. Especially if they are delivered. You can also call your Children's Services and ask what they need. Most Children's Services have a closet or a shelter that accepts donations. In my opinion, this goes to much better use than taking the stuff to Goodwill!
Play Dates. If you have children of a similar age to the foster children, throwing together a play date would be awesome! This applies to children of ALL ages. Most foster children have been moved from a different school district and don't have any friends or any activities outside of school…yet. Initiating a hang out or inviting a foster child to youth group or laser tag or anything that your child is interested in would be incredibly helpful
Become a CASA. A CASA is a Court Appointed Special Advocate, and each child in foster care is appointed one. This person volunteers their time to meet with the people involved in the child's case. They are present in court and will speak out for the child based on what they have seen of the child's situation.
Volunteer at CPS. I have never asked, but I'm sure there are SO MANY odd jobs that need to be done at the Children's Services office. Those caseworkers are in over their heads and I know that any help would be beyond appreciated. It might be as simple as organizing the closet or taking in brownies once a week for the staff meeting. Trust me…supporting a caseworker IS supporting a child.
Support for a Group Home. If a foster home is not found for a child or their behavior is unfit for a foster home, they are often moved to a group home. A group home is a difficult place for a child to live. If you contact Children's Services, there are SO MANY things that you can do for children in group homes. Deliver brownies. Donate Christmas presents. Play basketball with the kids there. Spend some one-on-one time with each child. Mentor them. Oftentimes, children in group homes age out and are spit into the streets and become just another statistic. Imagine if you could give just a little bit of your time and be the difference in that child's life?
Support for Youth who have aged out. Once a child turns 18, they are no longer supported by Children and Family Services. They have aged out, and they receive no more support…from anyone. Most of these children are homeless at that time, with absolutely NOWHERE to go and NO ONE to turn to. They often don't know how to apply to jobs or show up on time for an interview. Often, the only thing between them and homelessness/drug addiction/position are RESOURCES. Someone to ask questions to. Someone to live with until they get on their feet. Someone to spend Thanksgiving and Christmas with. This is something that you can consider doing.
As you can see, there are SO many ways you can be involved, even if you aren't a foster parent! I hope that you will take the time to consider at least one way to help out a foster parent/caseworker/foster kid today!
Questions?
If you have any questions at all about foster care or adoption from foster care as I go through this series, please don't hesitate to ask. You can leave a comment or send an email. At the end of the series, I will have a Q&A day and will be answering any questions I receive throughout the month.
Previous posts:
Day 1: Introduction
Day 2: Meet the Hines
Day 3: Shop Feature: Karla Storey
Day 4: Why We Chose to Foster
Day 5: The Process
Day 6: The Cast of Characters
Day 7: The Paperwork
Day 8: The Goal is Reunification
Day 9: Reflections
Day 10: Shop Feature: Ransomed Cuffs
Day 11: The Placement
Day 12: The Daily Life
Day 13: The Extra's
Day 14: Bonding
Day 15: The Goodbye
Day 16: Reflection
Day 17: Shop Feature: Together we Rise
Day 18: Finances
Day 19: Rules
Day 20: Foster or Foster to Adopt
Day 21: Public Agency or Private Agency
Day 22: Books/Resources/Blogs
Day 23: Reflections
Day 24: Shop Feature: The Archibald Project
Day 25: How You Can Be Supportive
Day 26: How You Can Be Involved
Please share and interact!
As a blogger, it means SO much to me if you like, comment and share on these posts! You can share the whole series or just a particular blog post, but your support in that way means the world to me!
#Write31Days
You can find the official #Write31Days and all the other bloggers who are linking up by clicking here.